Let me guess…You're here because you're looking for something more than just a budgeting app. You're looking for the Swiss army knife of digital financial tools. Something that will track not only your cash flow but analyzes your net worth and investment accounts – all in one place.
Perhaps you've already heard about their remarkable features like Retirement Planner, Fee Analyzer, and Investment Checkup.
Or, maybe you're curious about their wealth management service. They've got plenty of expert financial advisors who can help you construct a custom investment portfolio.
Either way, you're here because you want to be better with your money, and you're looking for ways to optimize it. But you need the right tool to get you there. In this Personal Capital review, we're going to examine their mobile app and investment management features.
What Is Personal Capital?
Personal Capital offers both a free, finance tracking app and a wealth management service. It blends cutting-edge technology with people power to help manage your financial life.
Their award-winning mobile app has two million users and tracks $650 billion in combined account value.
They've described themselves as – digital wealth management with a holistic approach. Personal Capital parks all of your accounts in one garage and is lauded for being one of the best personal finance apps in the industry.
Some of their key features include:
User-friendly Dashboard
Net Worth Calculator
Investment Checkup
Built-in Investment Intelligence
Cash Flow and Budgeting
Personal Captial Alternatives
Cost
Free
Apps
iOS/Android
Budgeting Style
Business Style
Reporting
Income, Expenses, Investment Performance, Holdings, Allocation, Net Worth
Investing Tools
Retirement Planner, Retirement Fee Analyzer, Investment Checkup
Alerts and Reminders:
Email Alerts
Security:
Encryption, MFA
Cost
Free
Apps
iOS/Android
Budgeting Style
Category Tracking
Reporting
Spending, Income, Debts, Assets, Net Worth
Investing Tools
Performance Analyzation, Allocation, Value, and Stock Market Comparisons
Alerts and Reminders:
Email Reminders and Alerts, Goal Reminders within the App
Security:
Encryption, MFA
The Free Tools and Features They Offer
Creating a Personal Capital account is quick and straightforward and you can do it from either your phone or laptop. After you enter basics you will then move to linking your external accounts like banking information and any other assets or liabilities to provide Personal Capital with an accurate financial picture.
You'll then complete an investor profile that involves answering questions regarding your risk tolerance, spending habits, annual savings, and current net worth. The entire process takes around five minutes. Boom. You're up and running.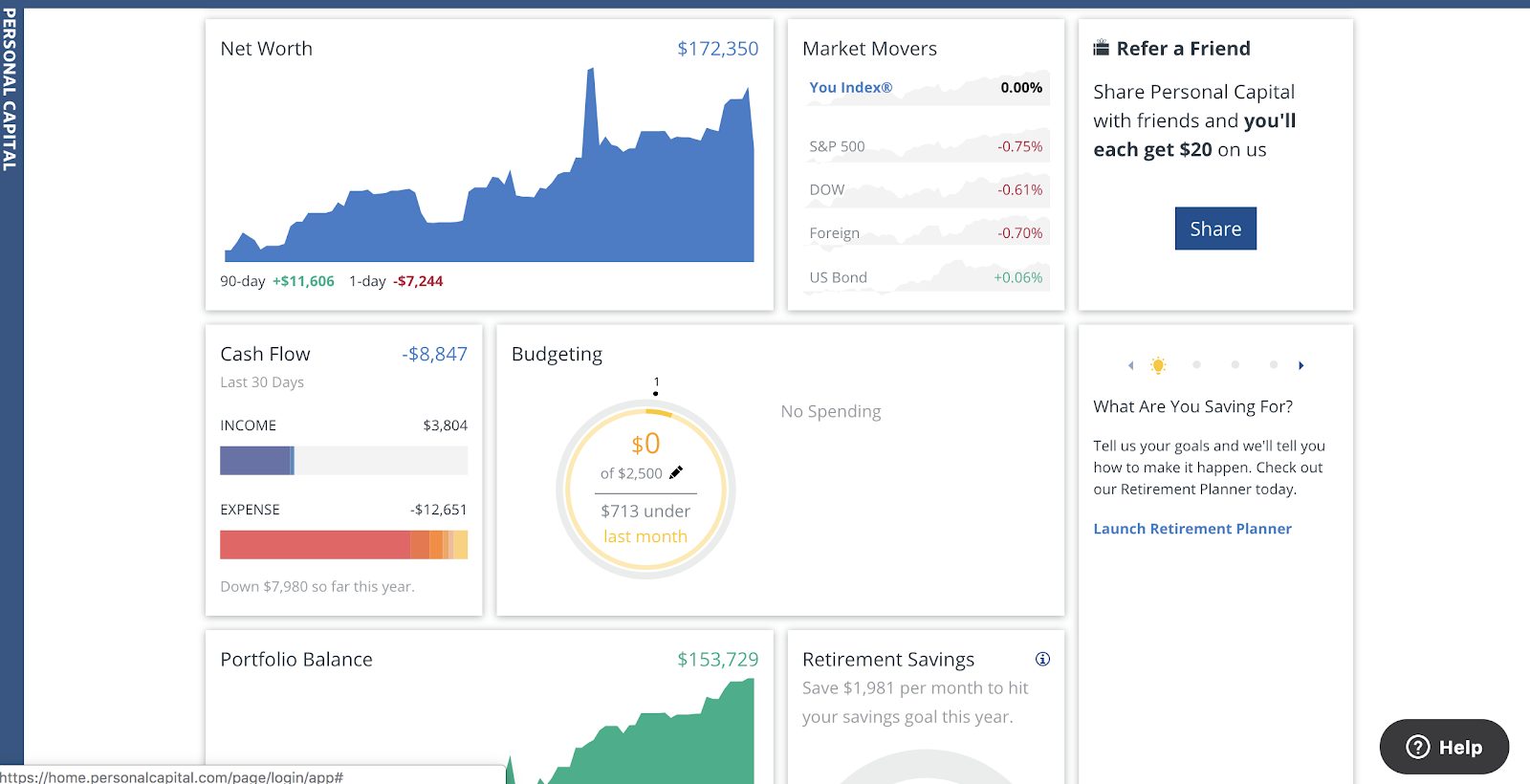 If you're a fan of colorful charts and sexy graphs, you're gonna love the dashboard. It displays your net worth, cash flow, budgeting, and portfolio balance on one consul. It's a user-friendly experience with aggregated account data displayed in real-time.
Now on to the real magic.
Net Worth Calculator
The net worth calculator is the aggregate of every account you've linked – bank accounts, investment/taxable accounts, retirement accounts, credit cards, mortgages, home equity, jewelry, art, and alternative investments.
After you've linked your accounts, Personal Capital breaks down everything you own into assets (things that put money in your pocket) and liabilities (things that take money out of your pocket).
The app lets you compare yourself against others your age, or tracks your net worth based on your income bracket. Your progress gets measured over time. It also sends financial advice on ways to improve.
With Personal Capital you can help manage your net worth in several ways:
By your financial accounts
By your portfolio performance as a whole
How it's performed by month, year, or account's lifetime
The net worth calculator shines the spotlight on your debt too. Track it by setting a goal to have it paid off. Personal Capital will keep you on the path with notifications. The blue is your entire portfolio while the green is just your investments and the red is your debt.
Retirement Planner
This tool is the bee's knees. In the Retirement Planner, you can run scenarios including how far into retirement you plan on working or additional windfalls you might receive.
Retirement Planner lets you add spending goals into the equation too. Planning an exotic vacation? Saving for a home? A wedding? You can even run multiple scenarios including income events like pensions, annuity income, rental income, and inheritance.
Retirement Planner lets you run all of these different variables to see how they'll affect you in your golden years (or whenever you hit financial independence). You can also run multiple scenarios against each other. Find one that fits like a fantastic pair of shoes.
It's a retirement readiness assessment using your financial data. They combine it with a Monte Carlo analysis to see how prepared you are (Monte Carlo analysis got its name from famed casinos in Monaco that use a computer to run large numbers of simulations to identify probabilities of various outcomes).
If you're a client, the Smart Withdrawal feature, helps you extend the life of your portfolio by:
Generating cash flow
Leave a legacy to your loved ones
Retirement Fee Analyzer
This is where Personal Capital shines. We're bombarded with warnings about the danger of fees. Even 1% sounds small until you add it up over 30 years. That's tens of thousands of dollars lost. Don't let yourself be surprised. Get in front of it now and fix it – before you retire.
This tool paints a vivid picture of exactly how much fees are nibbling at your nest egg.
Your data gets analyzed in comparison to their benchmark. You're shown another sexy graph displaying your lost earnings (lost earnings are not sexy, however).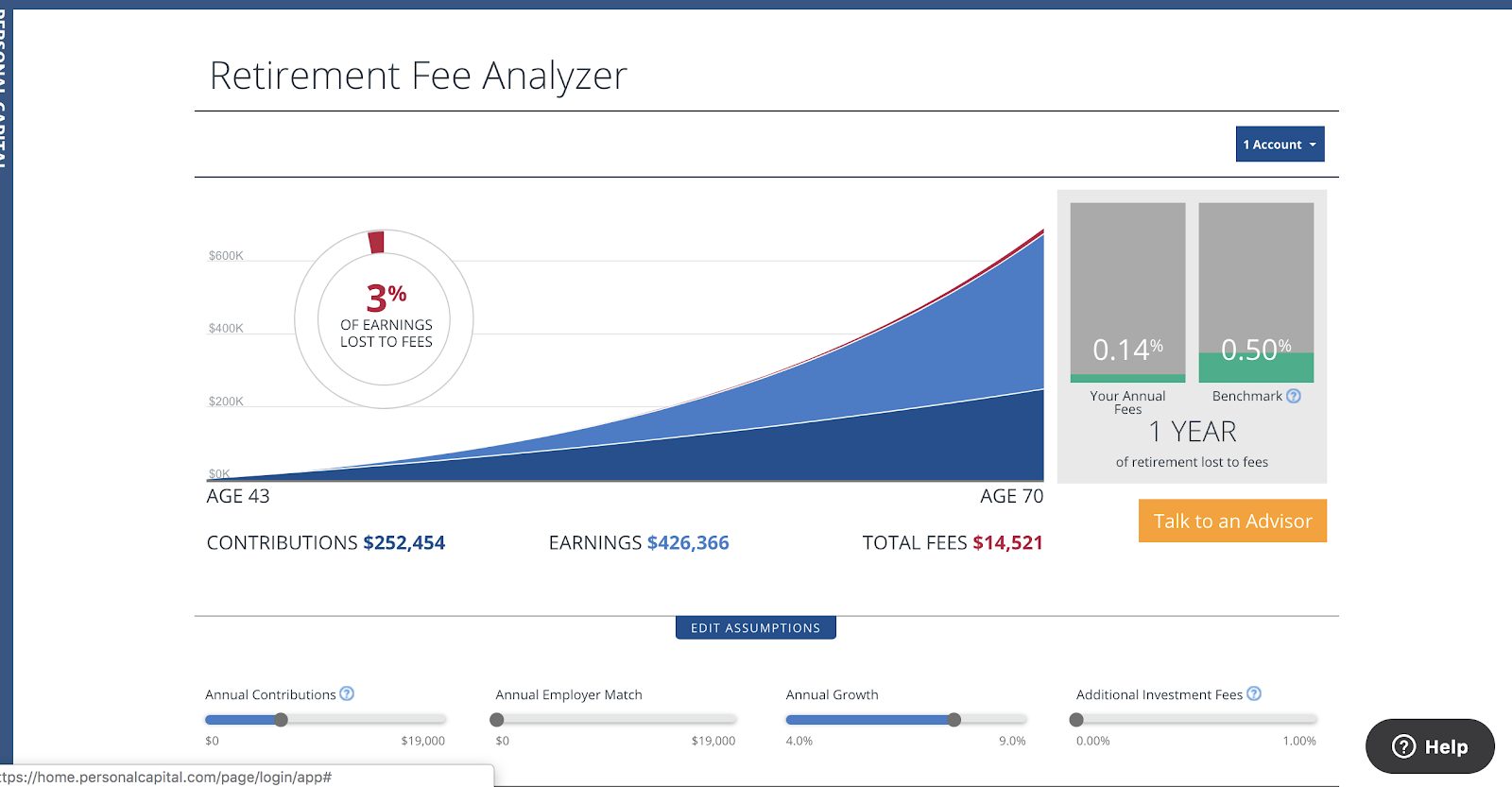 It's especially excellent at determining whether your employer's 401(k) is a worthwhile investment. Discover hidden fees you didn't even know you were paying – and how they're impacting your portfolio's long-term performance.
Many factors can have a drag on your portfolio's growth. Personal Capital breaks them down into expense ratios, load fees, trading costs, market impact, and advisory costs.
The Fee Analyzer exposes costly mutual fund expense ratios. It will tell you exactly how much you're paying – even taxes you didn't know you were paying.
Here are some eye-opening stats off their website:
$155,000 is the average amount lost in 401(k) fees
30% of 401(k) earnings are lost to fees when factoring compound interest
$25B national loss to 401(k) fees per year (that's the Gross Domestic Product of the state of Vermont)
A mutual fund 401(K) is 8% more expensive than a non-mutual fund
Do you know what you're paying? Certain fees aren't always apparent, and it's a real eye-opener to see precisely how much damage they can do.
Cash Flow and Budgeting
Set a monthly budget and let Personal Capital handle the rest. Works in sync with your cash flow for realizing income and expenses. Is your budget on point this month? You'll receive a notification to let you know.
You also get a detailed analysis of your income and expenses. Select a time frame or customize for a specific report. Every linked external account with an upcoming bill will display too. See what forthcoming bills you've got with this feature.
Investment Checkup and Portfolio Balance
Is your portfolio set at the optimal level to maximize returns while reducing risk? Are you taking on too much risk? Investment Checkup will tell you. Its recommendations are based on the answers you gave in your investor profile.
Sweet features like:
How much you need to rebalance
Compare your current situation to a target allocation
Customized financial plan based off of your current holdings and goals
Analyze past portfolio performance and compares with a recommended target allocation
Their Portfolio Balance feature takes the combination of all of your holdings into a single number and gets measured against the S&P 500 and the DOW. They call it the You Index.
It also looks at your holdings and breaks them down by asset class. You'll get a crystal-clear picture of how you're invested. U.S. holdings even show how weighted you are in each sector (e.g., 22% of your portfolio invested in technology versus 5% in utilities).
Personal Capital's Investment Strategy
Personal Capital's investing strategy uses an asset allocation of six classes and takes a traditional indexing approach. Portfolios are constructed with:
U.S. stocks
International stocks
U.S. bonds
International bonds
Alternatives (REITs, commodities like gold and energy)
Cash
Personal Capital looks for ways to lower your tax bill by avoiding tax-inefficient, mutual funds and putting higher-yielding assets into tax-advantaged accounts (retirement accounts) and lower-yielding assets into taxable accounts.
For example, high-yielding stocks and fixed income securities are placed into your retirement account (Roth IRA, Traditional IRA). Investments paying non-qualified dividends like real estate investment trusts (REITs) are also placed in tax-advantaged accounts.
Tax-loss harvesting adds an extra layer of tax efficiency by selling losing stocks to offset any gains.
Rooted in Modern Portfolio Theory (MPT): Diversify! Diversify! Diversify!
Nobel Prize-winning economist and creator of Modern Portfolio Theory, Harry Markowitz, said the best way to reduce risk while increasing returns is through diversification. Why?
Because if you put all your money in one basket and that basket tanks, you've lost all your money. But, if you spread your money across many baskets, you're less likely to experience a financial heart attack.
For example, $100 in one bucket and that bucket goes out of business equals a total loss of $100.
However, $100 spread across ten buckets with $10 in each and one bucket goes out of business… a $10 loss. You're still left with $90. We like those odds better. Assets that aren't correlated with one another in a diversified portfolio increase its performance while reducing risk.
Personal Capital follows this approach when constructing their portfolios.
Tactical Weighting (aka Smart Indexing)
The U.S. equities portion of a Personal Capital portfolio is a well-diversified selection of 70 individual stocks. It employs a strategy referred to as Tactical Weighting. WTF is that?
Tactical weighting limits exposure to any one sector in favor of greater diversification. The idea is to insulate you from potential market downturns. It seeks to improve upon indexing by evenly distributing the weight of each sector.
For example, in the above graph, the yellow bars represent the S&P 500 index while the blue bars represent a tactically weighted S&P 500. In the chart on the left, the regular index has 16% exposure to the technology sector while the tactically weighted index has only 8%.
There's an equal percentage across sectors. No single sector gets too much love.
The Tactical Weighting approach improves upon indexing by maintaining a more evenly weighted exposure to each sector.
It's not market-cap weighted like a traditional index where more prominent companies receive a larger slice.
Smart Weighting simulations were shown to increase returns by almost 1% when compared to the S&P 500.
Buying individual securities also creates a more significant opportunity to use tax-loss harvesting.
Socially Responsible Investing (SRI)
Concerned with how companies are treating their employees and the planet? Socially responsible investing factors in environmental, social, and governance issues.
If a company is profiting while treating its employees or the environment like shit, Personal Capital won't include them in your portfolio.
Wealth Management Services
Smitten with their free tools? Personal Capital does have an advisory service. Personal Capital is a fiduciary which means they're required by law to act in your best interests.
The accounts minimum is $100,000 to qualify for a Personal Capital Financial Advisor. The accounts supported with their wealth management services are, Traditional IRA'S, Roth IRA'S, rollover IRA'S, joint accounts, trusts, taxable investment accounts, and other non-retirement accounts. So what does cost?
Fee structure
First $1M: 0.89% covers all trade costs, custody, and management fees
$1M – $3M: 0.79%
$3M – $5M: 0.69%
$5M – $10M: 0.59%
Over $10M: 0.49%
Personal Capital Tier Structure
Up to $200,000: Investment Service – All of their free tools plus:
A financial advisory team
Tax-efficient ETF portfolio
Smart Weighting
Cash flow and spending insights
24/7 call access including weekends and after-hours
$200,000 – $1M: Wealth Management – Receive all of the Investment Service plan features plus:
Two dedicated financial advisors
Customizable stocks and ETFs
A complete financial retirement plan
College savings and 529 planning
Tax-loss harvesting and tax location
Financial decisions support (including insurance, home financing, stock options, and compensation)
Over $1M: Private Client – Includes everything in the Wealth Management plan along with:
Priority access to a CFP
Advisory team
Investment committee and support
Investment portfolio mix of ETFs, individual stocks and bonds
Family tiered billing
Private banking services
Estate, tax & legacy portfolio construction
Donor-advised funds
Private equity and hedge fund review
Deferred compensation strategy
Estate attorney and CPA collaboration
Access to private equity investments
The Private Client Plan is their premium service offering to high net worth investors.
Is Personal Capital Safe?
Personal Capital is insured through the securities investor protection corporation (SIPC) up to $500k in cases of insolvency.
Your data is encrypted with AES-256 with multi-layer key management and rated A+ by world-renowned Qualys SSL Labs. This level of encryption earned Personal Capital a stronger rating than most banks.
You must authenticate your device, and you'll receive a phone call, text, or email verification to confirm your identity. There's an added security layer with Touch ID on iPhone and mobile-only PINs on iOS / Android.
Your financial data is stored with 3rd party Yodlee – a fintech industry veteran. Personal Capital says your credentials are safer in Yodlee's data center than they are in your browser!
Personal Capital Price: Budget like a business and focus on your cash flow. In addition to their budgeting software, they have an awesome suite of tools to help you optimize your investments. Did we mention it's free? Plan Your Future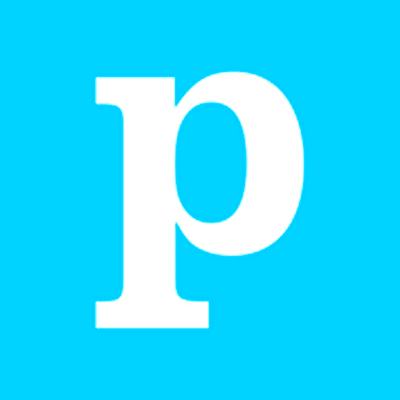 We earn a commission if you click this link and make a purchase at no additional cost to you.
Added Perks and Guidance
Own a home or have rental properties? You can track your real estate holdings and home's value through Zillow's Zestimate.
They don't manage 401(k), HSA, or 529 but they do offer advice as to what your next steps should be when funding those accounts.
The above example is their recommendations for funding a college 529 plan.
Personal Capital clients gain access to home purchase, estate planning, and college savings consultations.
Customer Support
24/7 call access including weekends and after-hours or email.
When I had a consult two years ago, I had a great customer service experience. My advisor took the time to answer all of my questions. He always sent out timely emails with additional information.
Personal Capital even sent my advisor's resume to me with a link to the SEC's website that had additional information on him. That's my idea of transparency.
Resources & Education
Their resource center, Daily Capital, relies on the strength and experience of Personal Capital advisors and financial experts. You'll find many articles on topics related to investing and markets, financial planning, and current news.
Award-Winning Mobile App
Wear Personal Capital around your wrist (both iPhone and Android-friendly watches) to access your financial dashboard. See real-time updates on your investment holdings, spending, portfolio performance, and current balance.
Notable Accolades:
2017 Personal Best – Kiplinger
2014 and 2015 CNBC Disruptor 50 List – CNBC
Best Five Free Apps to Invest Smarter – CNN
Staff Pick 2013, 2014 – Google Play
One of the Top Registered Investment Advisors in America (RIA) – The Financial Times
2016 Webby Awards Honoree in Financial Services and Banking category
"The best free finance tracking app available." – MacWorld
Is Personal Capital Worth It?
Pros
Investment Checkup
iPhone and Android-friendly mobile app
All investment accounts under one roof
Cash Flow and Budget tracking
User-friendly interface
Holistic financial picture
Cons
High management fee (0.89% for account balances up to $1M)
High account minimum ($100,000 minimum to qualify for their advisory service)
Once your account balance hits $100k, you'll receive calls from their advisors about opening an account (however, some consider this a milestone on their FI journey)
Final Thoughts
Personal Capital's powerful, free app is one of the best in the industry. It's worth getting for the Investment Checkup, Retirement Planner, and Retirement Fee Analyzer tools alone.
If you're looking to hit your financial goals, their mobile app will help get you there.
I'm a little put off by their wealth management fee, which is why I decided to look elsewhere for a place to park my cash. 0.89% is lower than what most financial advisors charge, but is on the high side compared to robo-advisors like Betterment or Wealthfront.
Personal Capital does roll out the red carpet for its clients with an enhanced, personal touch. If you're ok with the higher management fee, it's an excellent service for the level of attention you'll receive, especially if you prefer someone else managing your money.
However, it's probably why their app has over two million users compared to just 19,000 investment clients. Is it because the app is free or is their management fee too high?
History shall decide. Until then, check out their app. It's good. It's like finding the last available parking space in a crowded mall parking lot during the madness of holiday Xmas shopping season.