While 82% of small business owners fail to manage their cash flow, FreshBooks boasts its software will help you do it better while saving you 192 hours every year. This review details its invoicing, time tracking, and accounting features that have been helping self-employed professionals since 2003. In short, if you're looking for a solution to potentially help you accomplish more in less time, read this post.
Every small business owner knows it's critical to manage your books. Yet, this one simple task often goes unchecked. But how does FreshBooks help?
What Is FreshBooks?
Freshbooks is cloud accounting software used by freelancers, small businesses, and self-employed professionals. It lets you create and send invoices, track expenses, manage projects, and much more.
It's 100% web-based with no software to install.
Launched in 2003 after its co-founder and CEO Mike McDerment accidentally saved over an existing invoice, FreshBooks has grown to over 24 million users in 160 countries and $60 billion invoices paid.
Aside from QuickBooks Online, no one else has more paying subscribers than FreshBooks in North America.
Freshbooks offers new users a 30-day free trial without needing to supply your credit card information. As I'm not a current Freshbooks account holder, I've been using the free trial and so far, I've had a great experience.
FreshBooks Pricing 
| Plan | Monthly Subscription Fee | Billable Clients Supported |
| --- | --- | --- |
| Lite | $15 | Up to 5 |
| Plus | $25 | Up to 50 |
| Premium | $50 | Up to 500 |
| Select | Custom | Over 500 |
There are four pricing tiers offered by FreshBooks: Lite, Plus, Premium, and Select.
However, it's cheaper to pay for the annual subscription versus monthly as you'll save 10%. As a rule of thumb, buying in bulk is typically the cheaper option.
All plans feature customized invoices, an intuitive dashboard, support ACH bank transfers, and credit card payments, create estimates, offer project budget planning, and business insight reports.
Accounts are for a single user. Additional team members cost $10 per person.
Lite Plan
The most affordable option and ideal if you're self-employed. It costs $15 per month (or $13.50 per month if paid for the year) and supports up to five billable clients.
The Lite Plan features:
Customized and unlimited invoices
Bank import
Accepts ACH bank transfers and credit card payments
Unlimited time tracking
Send estimates
Tax time reports
Plus Plan
For small businesses with up to 50 billable clients, you'll pay $25 a month (or $22.50 monthly when buying for the year).
The Plus Plan includes:
All of the Lite features
Unlimited proposals
Recurring invoices
Double-entry accounting reports
Scheduled late fees
Late payment reminders
Client retainer set-up
Premium Plan
If your business services up to 500 clients, Freshbooks Premium might make more sense. You'll pay $50 a month ($45 a month when paying for the year upfront) and get all of the benefits of the Lite and Plus plans.
FreshBooks Select
For large agencies with complex business situations and over 500 clients, FreshBooks Select incorporates a custom-priced plan for you with high-volume billing.
Select includes:
A dedicated account manager
Customized training for you and your team
Reduced credit card transaction rates
FreshBooks Features 
| | |
| --- | --- |
| Invoicing | Create and send from custom templates |
| Expenses | Snap a picture receipt image capture |
| Estimates & Proposals | Highlight scope of work, timeline, and overview |
| Time Tracking | Track time spent per project, log billable hours, and cross-check with clients |
| Projects | Create projects by flat or hourly rate, collaborate with both clients and team members |
| Payments | Processes both credit cards and ACH bank transfers |
| Reports | Balance sheets, profit & loss, time tracking, income & expenses |
| Mobile App | Android & iOS |
| Accounting Method | Double-entry accounting |
| Add-Ons & Integrations | Integrates with over 100 apps |
Dashboard
The dashboard's ease of use is its most attractive feature. It provides an overview of your business financials in one place.
From your Dashboard, you can view:
Outstanding Revenue: See who owes you money (even who hasn't paid you yet)
Total Profit: It tells you if your business is trending up or down.
Revenue Streams Pie Chart: It displays where your money is coming from and who pays you most.
Spending: Monitor all of your expenses and see where your money goes.
Unbilled Time: Track your billable hours and keep your invoices up-to-date.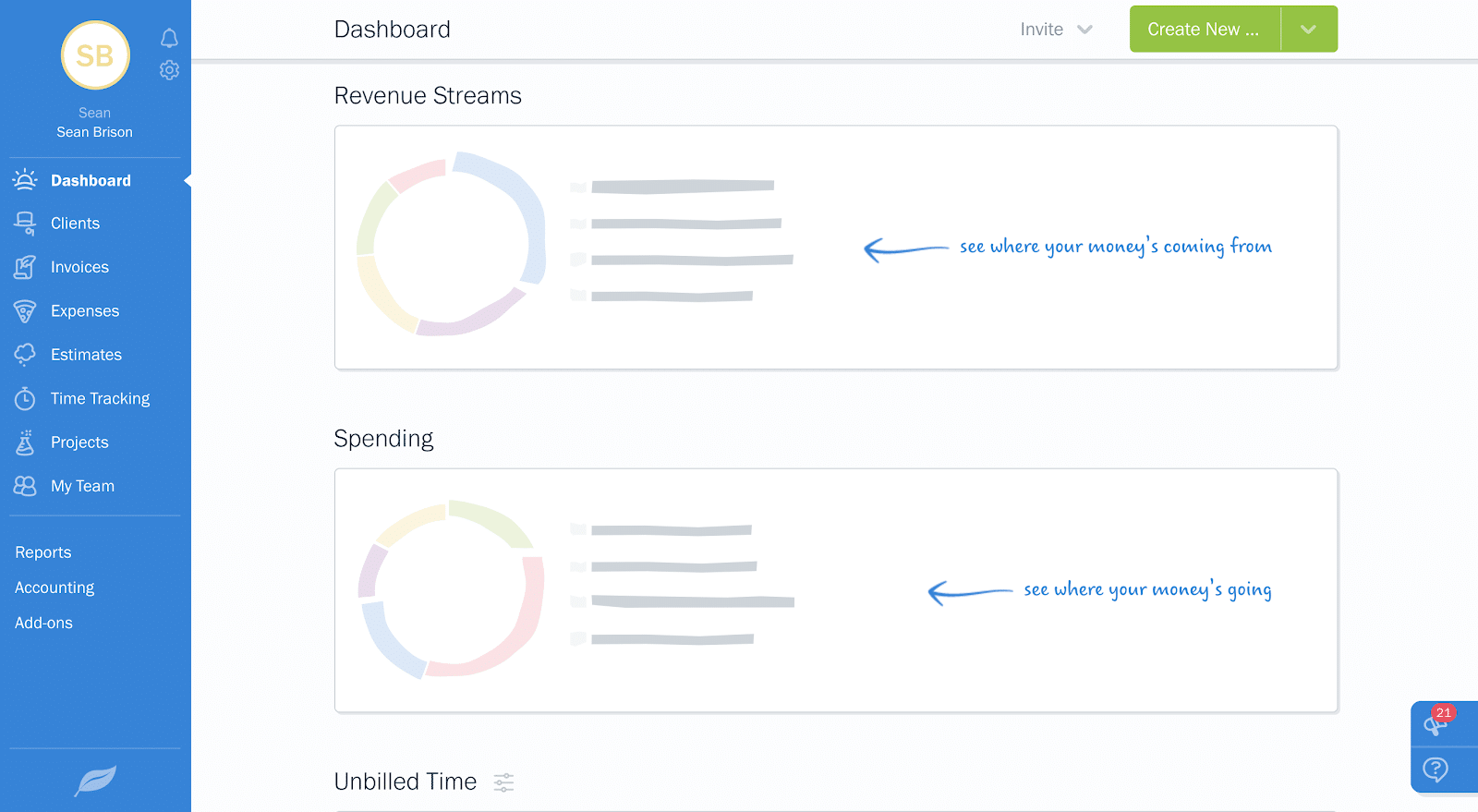 There's a feature in the upper right corner of your dashboard labeled Create New which lets you add new clients, retainers, invoices, other income, expenses, and estimates.
You can also invite team members from the same place. Onboard and assign roles to admins, managers, employees, contractors, and your accountant. You'll see what permissions each role carries within your FreshBooks account.
Managing Clients
It displays the number of active clients on your docket. You can also add secondary contacts to your client's profile and reach multiple contacts in one place.
Add or remove clients from your dashboard and if you have several, import a client .csv file into your Freshbooks account.
Your revenue displays as overdue, total outstanding, and in-draft. This feature makes it easier to anticipate and any owed client income.
Invoicing 
You can create an invoice in seconds and send it to your client on-the-go.
One of Freshbooks' selling points is the amount of time you'll save using its invoicing software.
Customize your invoice by adding your logo and personalize with the currency and native language of your client (when applicable). Freshbooks supports multiple currencies and languages.
Freshbooks also lets you request a deposit on your invoice and gets you paid upfront. If you've ever experienced having to pay out-of-pocket until the work is completed, this feature lets you avoid it completely.
Invoices are fluid. You're able to note additional time and expenses per project while marking them as billable. If you've ever experienced scope creep, this helps curtail it by highlighting any changes and add it directly to your invoice.
You're also able to offer discounts, calculate sales tax, and see when your invoice has been viewed and paid.
Expense Tracking
Track expenses at a glance with an overview of what you're spending and on what. Freshbooks integrates with your bank, supports over 14,000 institutions, and boasts over 35 million transactions.
Snap a picture of receipts and keep them organized in the cloud. You're able to create expense categories and labels for easier tracking.
Mark expenses as billable to your clients and even add them to your invoice. If you have a team, it monitors their expenses too. 
Estimates and Proposals
Create fluid client estimates and proposals highlighting the scope of work, overview, and timeline. Communicate with your client throughout every phase of the project; from estimate to invoice.
Freshbooks streamlines the entire process for you. Your client can accept estimates while you get feedback.
Once you complete a project, convert your estimate into an invoice.
You're able to do it all from your Freshbooks dashboard whether on your desktop or through the mobile app.
Time Tracking 
Set a running clock (includes start time) while you work to track exactly how long you spent on a project, for which client, and which day.
Time logs are easily added to invoices for client examination.
If you manage a team, you can filter by team member, date, project, or unbilled, to see who's working on what and how long it took them. See all of your team's projects and completed work logs in one place.
You can track time by hour duration (e.g., 7 hours) or start/stop time (e.g., 8am-1pm). You can generate an invoice in your time tracking settings based on your time log.
Freshbooks use a chrome extension called FreshBooks Chrome Timer. You're able to track time from a number of apps including Asana, Teamwork, Trello, and Basecamp.
Cross-check your time with your client, add thorough time entry notes, and provide insurance for yourself. It generates both weekly and monthly productivity reviews.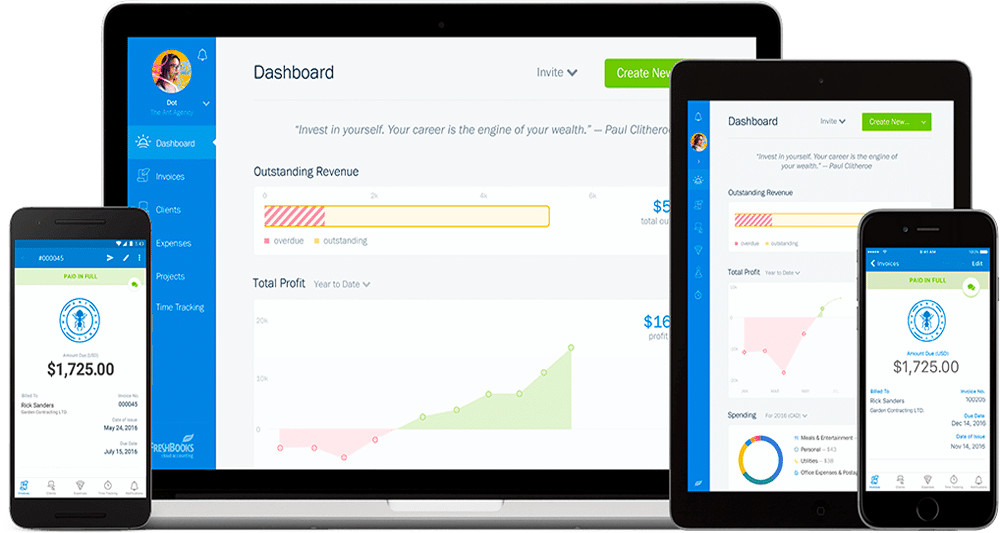 Projects
Easily manage projects, collaborate with your team, and invite contractors or employees into the mix. You can communicate with your clients and other team members at every step.
All updates are stored in the cloud as well as any files, photos, or attachments.
Create your projects by flat rate or hourly rate and sort by date completed, hours logged, project owner, or client. You'll see all time entries for your projects here.
You can set project due dates and generate invoices for all billable hours by selecting the project and clicking "Generate Invoice."
Payments
FreshBooks uses WePay and Stripe (international and multi-currency) for payment processing. Know the fees involved when using this feature.
WePay handles transactions for the U.S. and Canada. It charges 2.9% plus a $0.30 transaction fee on all credit card payments. American Express carries a higher fee at 3.5% + $0.30.
Stripe oversees international transactions for an additional fee of 1%.
For all credit card transactions excluding American Express, you'll pay: 2.9% + 0.30 + 1%. American Express charges 3.5% + $0.30 + 1%.
ACH bank transfers carry a 1% fee. All processing fees are imported as expenses.
Freshbooks makes it easier for you to get paid by providing your clients with their preferred payment method of choice.
You're also able to send payment reminders, set up recurring billing (advanced payment option and charge your client's credit card), apply late fees when invoices are past due, and create subscription-based clients.
Reports
FreshBooks reporting lets you see the big picture of how your business is running including profit, losses, expenses, and income. Freshbooks runs all of the numbers for you automatically.
You can access all kinds of reports and share with independent contractors, employees, and your accountant.
Get all of the information including:
Invoicing details summarizing sent invoices and item sales
Expense reports on what you're spending
Revenue by client shows the big picture regarding how much you earn from each one
Payment reports
Accounts aging provides information regarding how speedily each client pays
Payments collected
Accounting reports featuring balance sheets, assets, liabilities and equity, profit and loss, and trial balance (how balanced are your books?)
Time tracking reports featuring time entry details and retainer summaries
Quick filters for easy navigation let you categorize by start and stop dates, clients, and payment status (e.g., paid, sent, viewed, disputed).
FreshBooks
We use FreshBooks to track our business income and expenses for tax purposes and invoice for things like podcast ads.

If it wasn't for the time it saves us, we'd have to hire someone to manage our business paperwork. It syncs with your bank account like Mint so it's easy and highly automated.

We earn a commission if you click this link and make a purchase at no additional cost to you.

FreshBooks Mobile App
Freshbooks syncs across all devices from laptop to tablet to iPhone and is both Android and iOS-compatible. The app's robust functionality lets you do many things.
Use the Freshbooks mobile app to:
Create invoices
Snap pictures of your receipts
Message clients
Check invoice status
Accounting
Freshbooks features double-entry accounting and checks all revenue against expenses. It generates financial reports from profit and loss to sales tax summaries and provides detailed insights into precisely how much it's costing you to run your business.
Automated bank reconciliation lets you import all transactions while it categorizes them for you. It will also provide matching suggestions for all questionable transactions.
You can get a chart of accounts that shows you a list of all accounts across assets, liabilities, equity, revenue and expenses.
Its Accounting software features:
Balance sheets
General ledgers
Other income
Trial balance
Cost of goods sold
Journal entries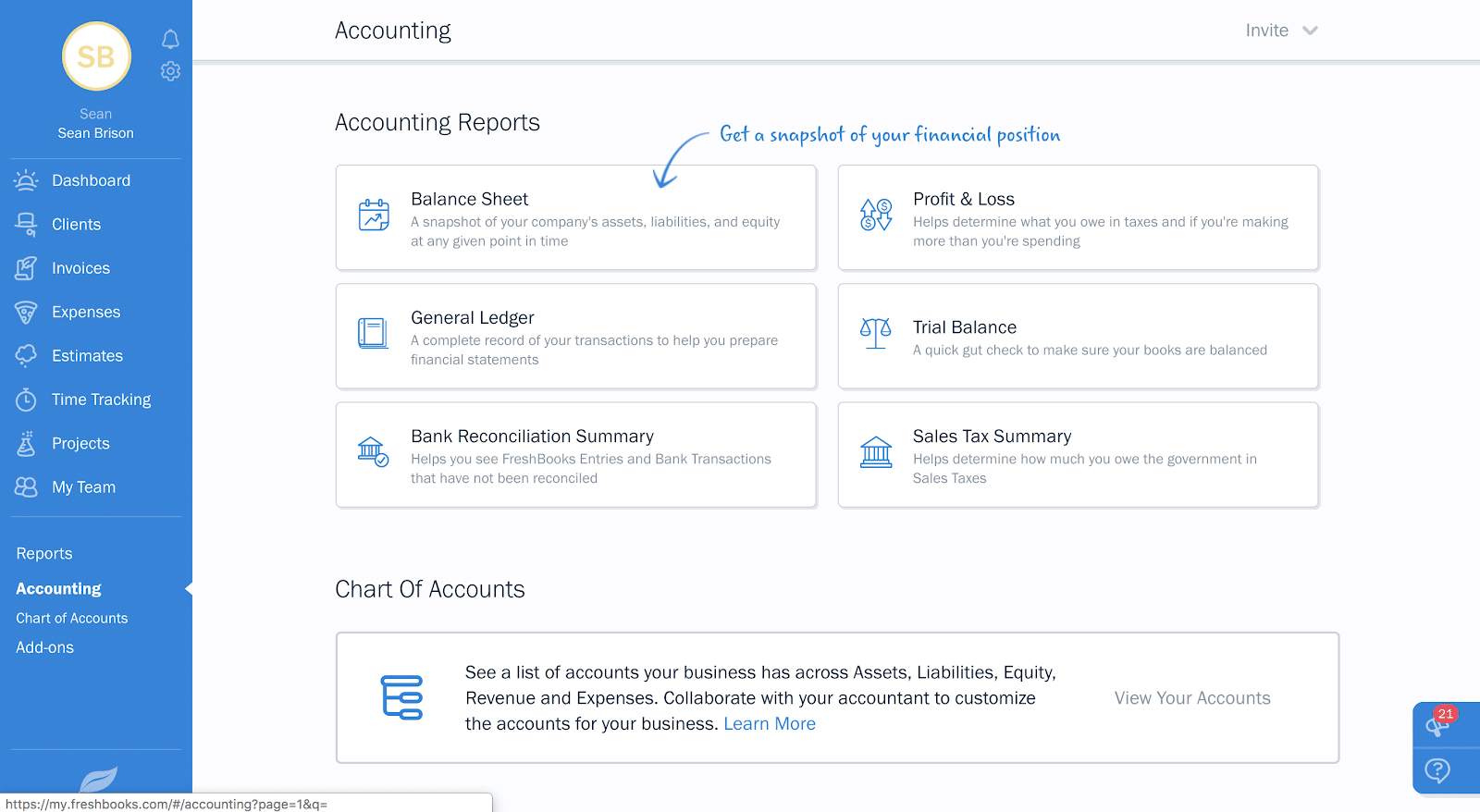 Freshbooks also lets you share your details with your accountant at every step.
Add-Ons and Third-Party Integrations
Freshbooks integrates with over 100 integrations from accounts receivable to inventory management to payroll.
You can link to an existing app directly from your dashboard. For example, connect with Zoom to import meeting minutes or automatically import payroll transactions with Gusto.
To see the complete list of FreshBooks integrations, go here.
Freshbooks Customer Support 
Its customer service comes highly-rated and employs its bespoke 4E Philosophy of Execute Extraordinary Experiences Everyday.
FreshBooks prides itself on its 4E Philosophy. All new hires spend (regardless of job title) their first month with the support team.
With phone support, you can expect a real person to answer immediately and it avoids phone trees (you won't be passed from person to person and 99% of all questions are answered by the person who answers your call according to their website).
FreshBooks prides itself on the 4E Philosophy of Execute Extraordinary Experiences Everyday.
Tweet This
There's a virtual help desk through your FreshBooks account and all of its support team is based in FreshBooks HQ Toronto.
You can also email FreshBooks at support@freshbooks.com. By phone, dial 1.866.303.6061 Mon-Fri 8am-8pm EDT.
Education & Tools
Freshbooks provides a small business resource hub on its site featuring content ranging from accounting to marketing to taxes. It's focused on helping you be a better business owner.
The cloud-based accounting software also features several calculators on the site including a markup calculator (determines product markup and margin), business loan calculator, and business name generator.
There's also the FreshBooks blog.
Is FreshBooks Right for You
If tracking expenses, income, and sending invoices are starting to take more time than you're willing to spend, FreshBooks might make sense. It features bookkeeping and accounting solutions for freelancers and small business owners.
I appreciated the 30-day free trial without having to provide my credit card information. You can create your business profile, clients, and start tracking your time, invoices, and expenses immediately.
There are also both video and blog tutorials to walk you through every step when getting started.
And if you decide to upgrade to a paid plan, there's a 30-day money-back guarantee. Between the 30-day free trial and the 30-day money-back guarantee, FreshBooks gives you 60 days to decide if they're a good fit.
What's to Like
Add-Ons and Integrations: You can use over 100 third-party apps with FreshBooks to maximize your account. If there's a feature FreshBooks lacks, chances are there's an app integration for it. For example, FreshBooks doesn't handle payroll, estimated taxes, or inventory management, but it integrates with apps that support these functions.
Double-Entry Accounting: A standard business practice used by accountants and bookkeepers worldwide. Ensures every transaction falls into two separate and opposite categories, making it easier to troubleshoot your books.
Easily Send Invoices: You can use FreshBooks invoice templates to create and send invoices while adding payment terms, taxes, billable hours, and on-the-job incurred expenses.
Cloud-Based: There is no software needed to install when using FreshBooks and it syncs across your devices.
Expense Tracking: Snap photos of your receipts, categorize, add to specific clients, and attach to your invoice for payment.
What's Not to Like
Unequal Pricing Tiers: If you're a small business owner with only six clients, you're bumped to the Plus Plan at $25 a month. It doesn't allow for much wiggle room. It's a $10 increase from five clients (Lite Plan) to six clients (Premium Plan holds up to 50 billable clients). If you have 51 clients you're bumped to Premium.
Single User Accounts: Accounts only support one user and it costs $10 per additional team member. May prove costly if you work with a large team.
Final Thoughts
FreshBooks is more than software that tracks income and expenses while letting you send invoices. It supports double-entry accounting and has positioned itself as the bookkeeping and accounting solution for self-employed, service-based professionals.
It also connects to your bank account and allows for more ways to receive online payments.
The FreshBooks Dashboard is easy-to-use. It lets you see an overview of your business operations while providing quick and simple search functions.
The reason many businesses fail is poor cash management. FreshBooks appears to be a solution for managing your books. And with a 30-day free trial, its services are worth a look.
Get our best strategies, tools, and support sent straight to your inbox.