I'm sure you'd agree with me when I say it's never been easier to start investing. Gone are the days of meticulous, stock-picking, time-sucking research.
Nowadays, you can create a customized portfolio in five minutes from your laptop. Just answer a few questions about your financial goals, and you're off to the races.
Low costs, no minimums, and reduced management fees are making the barrier to entry even easier for the average investor.
And thanks to the advent of robo-advisors, strategies once reserved for the ultra-wealthy like tax-loss harvesting, are available to anyone willing to set up an investment account.
Fintech companies are disrupting the financial industry. And us ordinary investors love it. We're going to take a look at a specific fintech company in this article – WealthSimple. Are they all they're cracked up to be?
Bird's Eye View:



Minimum Investment:
$0
Management Fees:
0.25%
Promotion:
Invest free for up to 1 year
Tax Loss Harvesting:
Yes
Portfolio Rebalancing:
Yes
Assets Under Management:
$21 billion
Minimum Investment:
$0
Management Fees:
$0
Promotion:
Invest for Free
Tax Loss Harvesting:
No
Portfolio Rebalancing:
Yes
Assets Under Management:
$1 billion
Fees
0.5% management fee on balances <$100,000; 0.4% on balances >$100,000
0.25% management fee for Wealthsimple Save
Management fee waived on first $5,000
No transfer fees, withdrawal fees, closing fees
No low balance fees
Accounts
Personal or Joint Investing and Savings Accounts
Traditional IRA, ROTH IRA, SEP IRA
Trusts
No account minimums
Features
Socially Responsible Investing (SRI), Halal Investing (complies with Islamic Law), and Roundup (invests your spare change)
Fractional shares
Automatic rebalancing, dividend reinvesting, and tax-loss harvesting
Promos & Perks
$10,000 managed free for one year for Listen Money Matters customers
$10,000 managed free for one year for every referral you sign up and funds their account
$10,000 managed free for one year if you sign up through a friend's referral using their code
$1,000 managed free for one year when you turn on auto-deposits of at least $50 a month
$10,000 managed free for one year when you transfer an account of at least $5,000 (and they cover any transfer fees your other bank charges)
$100 managed free for one year when you download their mobile app (iPhone/Android compatible)
$100 managed free for one year when you activate two-step verification (beefs up your account's security)
Free portfolio review (even if you're not a client)
Stats
Over 100,000 customers
$13B in assets under management (AUM)
About Wealthsimple
Wealthsimple is a digital investment management service (aka Robo-advisor) based in Toronto. It started when its CEO and uber-finance nerd, Michael Katchen, was asked by some friends how to invest. He laid it all out for them in a lovely Excel spreadsheet.
It turns out his friends were lazy and couldn't be bothered with the details. They wanted him to do the investing for them – and they were willing to pay. Maybe Michael was onto something…
Armed with a team of financial wizards and savvy software engineers, Michael created Wealthsimple faster than you could say, "buy and hold." It launched in 2014.
Since then, they've done some cool stuff:
Won back-to-back Webby Awards in the Best Financial Services/Banking category for 2016 and 2017 (it's an international award celebrating everything awesome about the internet and headed by a team Internet ninjas)
EY Entrepreneur of the Year, Michael Katchen
Joined the FinTech 100 (Top 100 Global Financial Technology Companies)
Received $165 Million from the Power Financial Group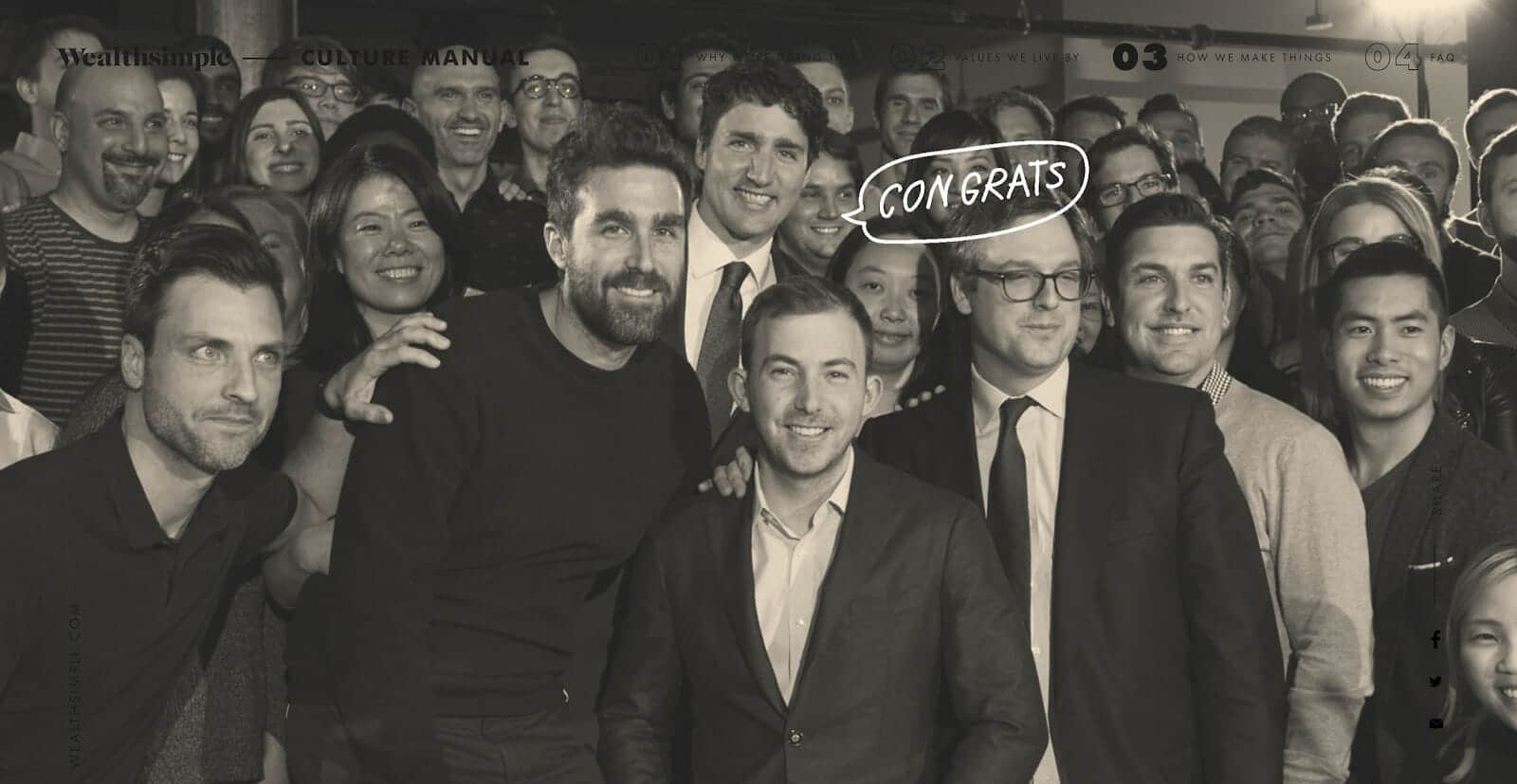 The Prime Minister of Canada even visited their office when Wealthsimple hit $1B in assets under management.
Wealthsimple appeals to millennials as a fully automated fintech company with lower fees than the average human financial advisor charges. They even waive their management fee on your first $5,000.
In their words:
We want to democratize wealth by giving the financial tools of the rich to everyone.
Investing Philosophy
Wealthsimple likens their approach to investing on autopilot. When you invest with them, you get:
Custom portfolios built with Nobel Prize-Winning research (Modern Portfolio Theory)
Global diversification with exchange-traded funds (ETFs)
Automatic rebalancing and tax-loss harvesting
Dividend reinvesting
Savings goals based on your time horizon and your financial needs
Sliding scale adjusting for your risk level tolerance
A team of fiduciaries acting in your best interests
User-friendly mobile app and website
They're big proponents of passive investing, diversification, and buy and hold.
Account Types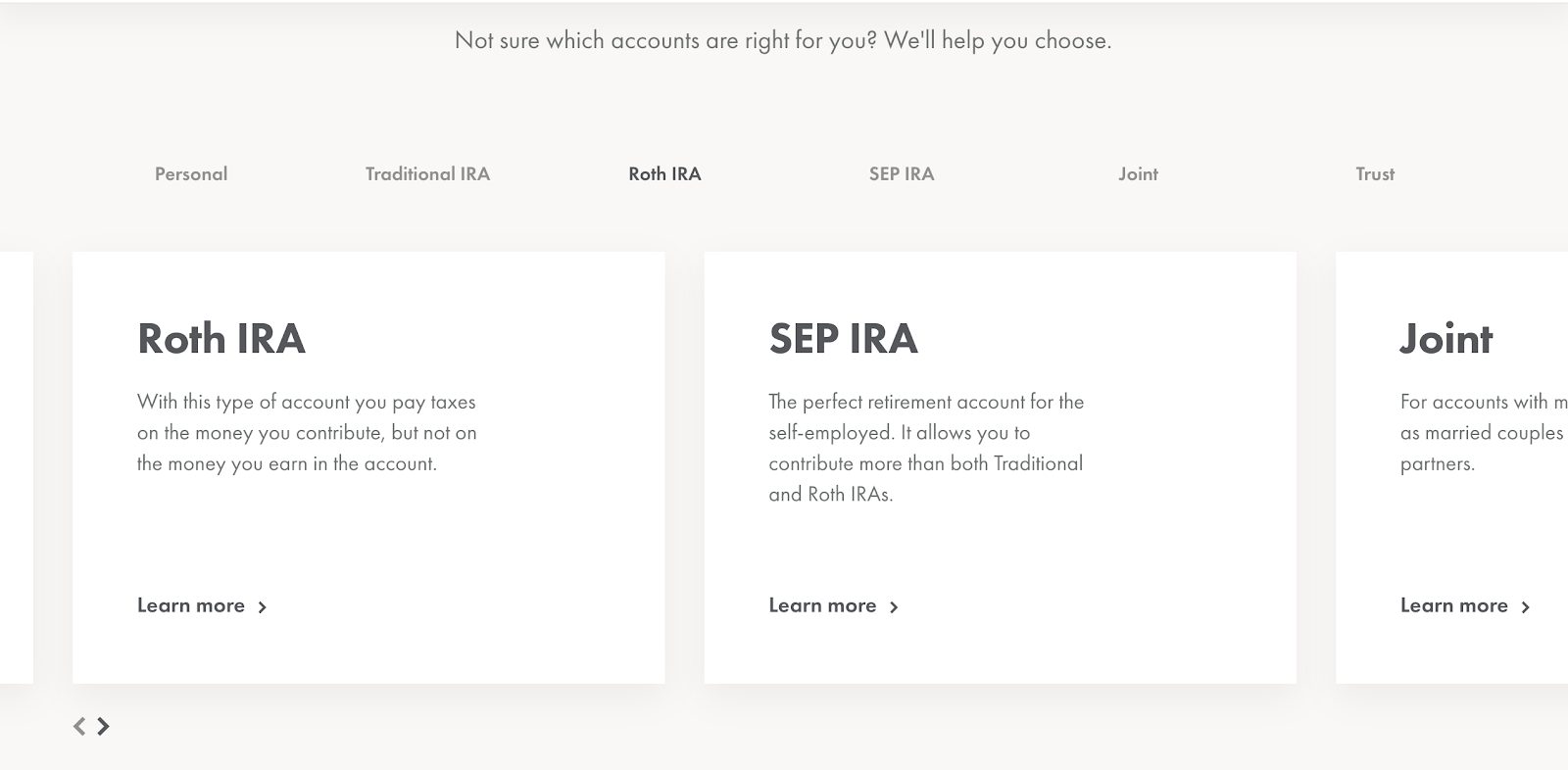 Wealthsimple Invest gives you the option of several accounts:
When transferring an account to Wealthsimple with a balance over $5k, they'll pay any transfer fees your other financial institution charges you.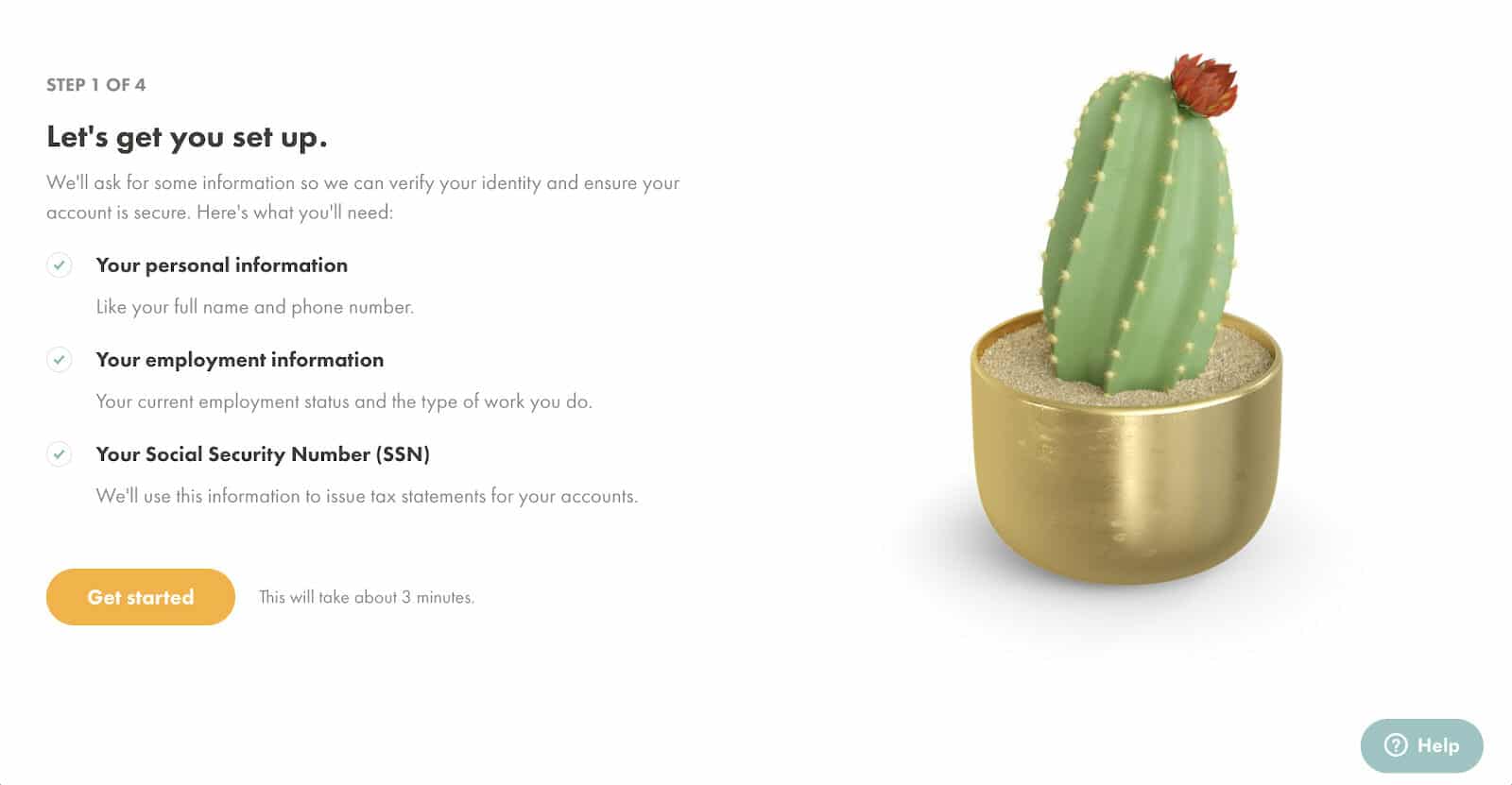 Accounts can be opened in five minutes. All you need to do is answer a few questions about your goals, and they'll suggest a portfolio based on those goals. Wealthsimple also factors in your risk level and how soon you'll need the money.
Based off of your risk tolerance you'll have the option between three weighted portfolios which include:
Conservative ~ 35% stocks / 65% bonds
Balanced ~ 50% stocks / 50% bonds
Growth ~ 80% stocks / 20% bonds
Connect a bank account to fund it, and you're off to the races.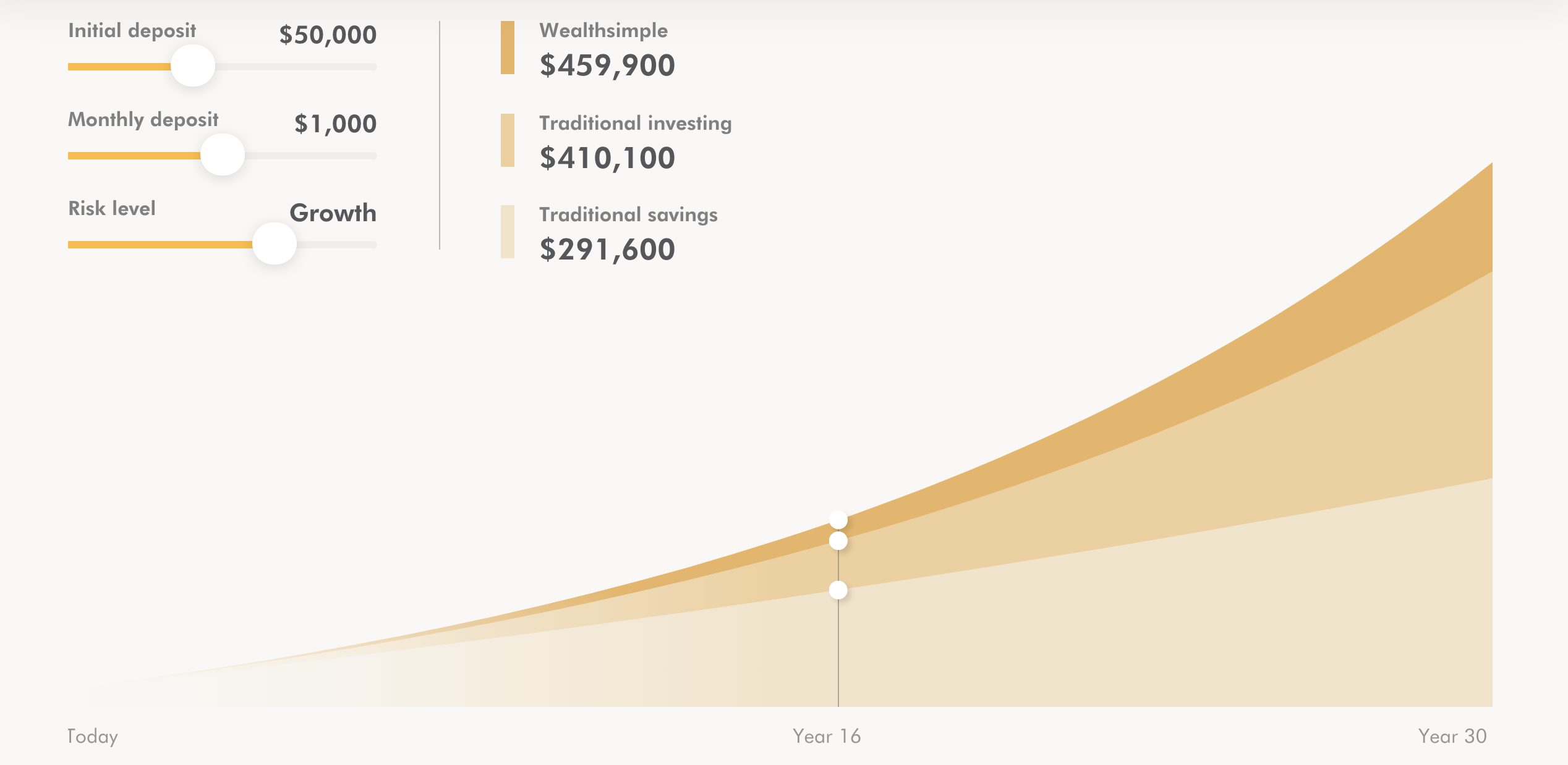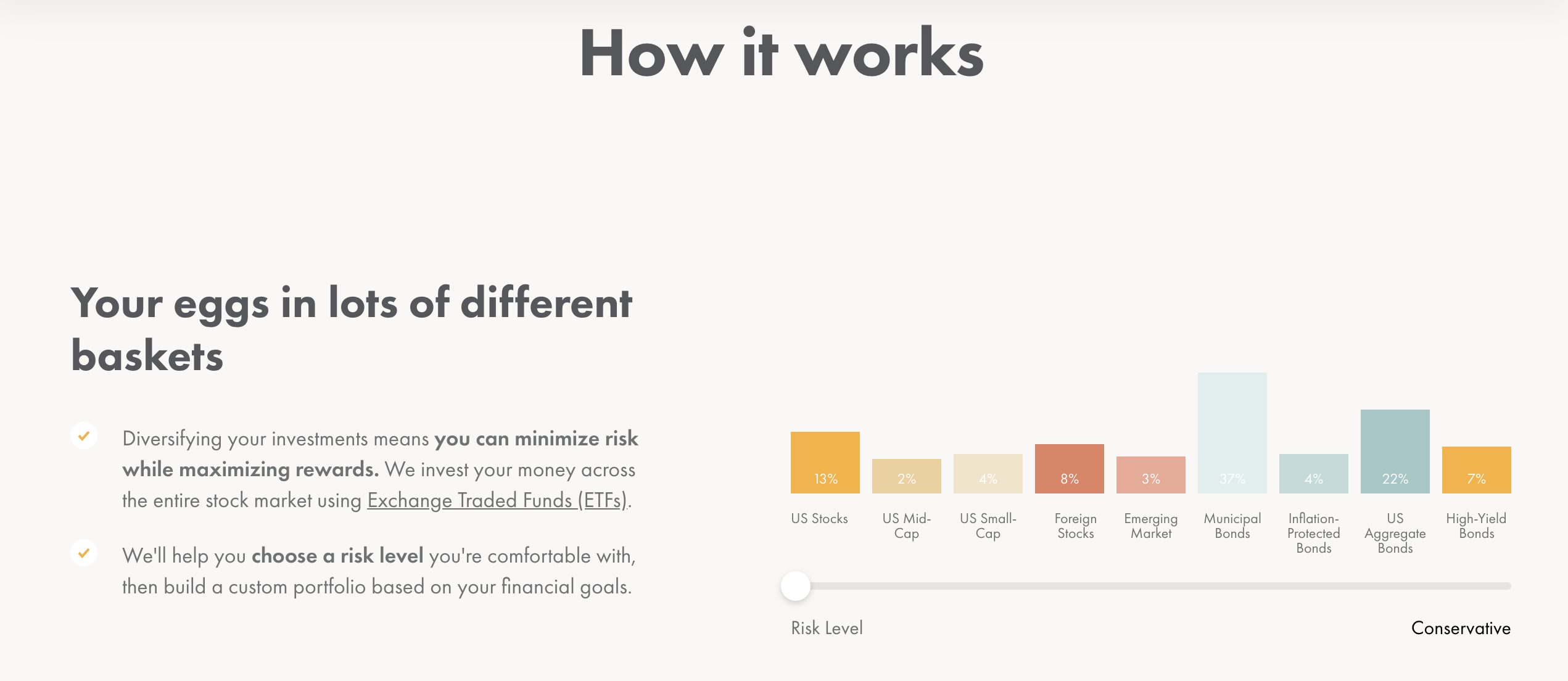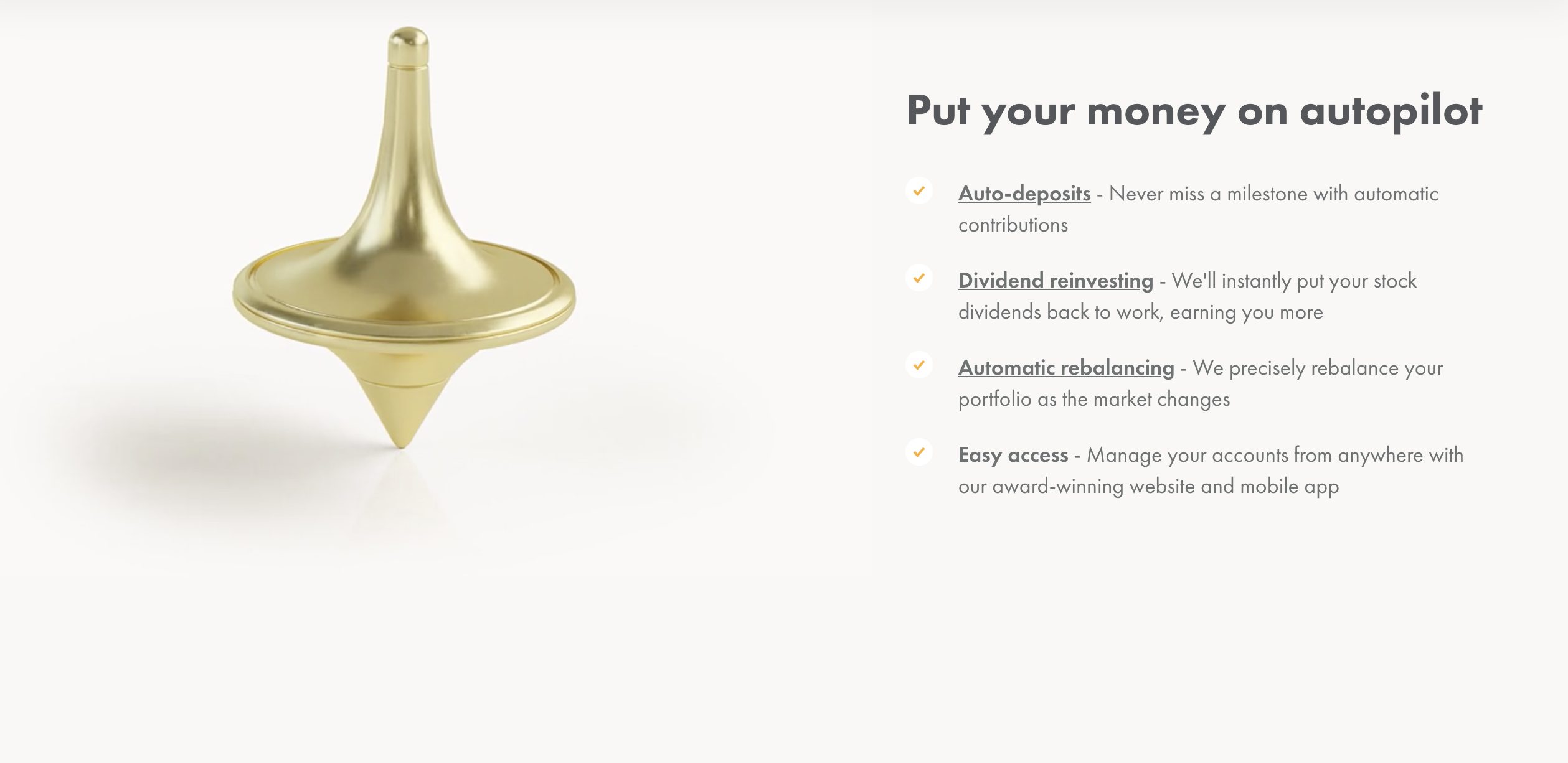 Adjust the sliding scale for risk tolerance and growth predictions.
Wealthsimple Save
All that money-wasting away in your checking account not earning interest might as well be tucked beneath your mattress. That's a serious drag on your cash power. Inflation is like a parasite that eats away the power of your dollars over time.
Wealthsimple Save is their answer to combat this problem.
It's a low-risk investment account with a 1.93% annual yield (at time of this writing). That's 21 times higher than the average brick and mortar savings account rate. Wealthsimple Save offers a place for you to park your cash. Use it to fund a short-term goal like your emergency fund or a family trip.
Wealthsimple Save comes with unlimited free transactions and no fees on transfers or withdrawals. Unlike other savings or money market accounts, this one has no account minimum and no low balance fees.
However, there is a 0.25% management fee for this account which is deducted monthly.
Wealthsimple does let you sync their other accounts to it and even use their Roundup feature to invest spare change.
Roundup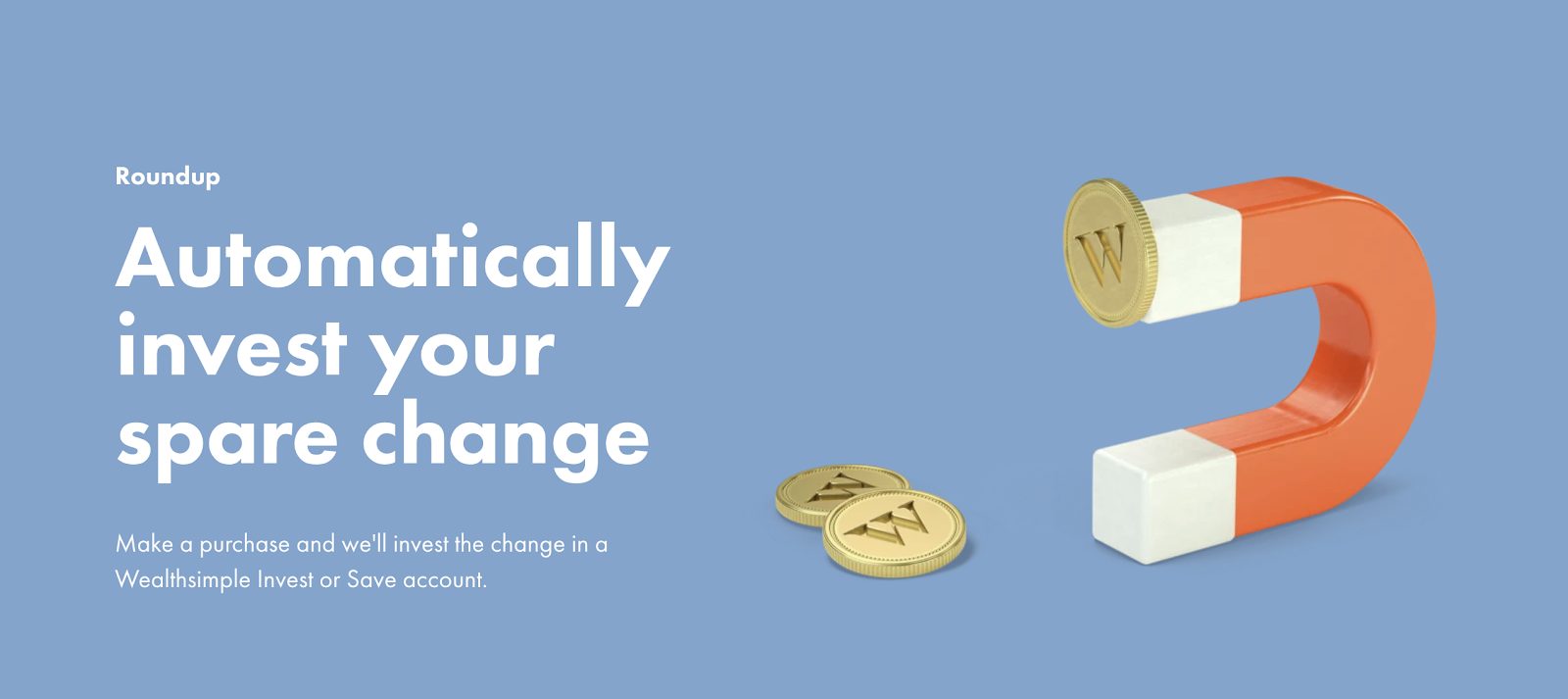 All that spare change that's left over from every purchase gets rounded up to the nearest dollar and invested into any one of your Wealthsimple accounts.
Wanna contribute some extra cash to your investing account? How about padding your savings with a little extra coin? Sync your external bank and boost your savings rate with this feature.
Socially Responsible Investing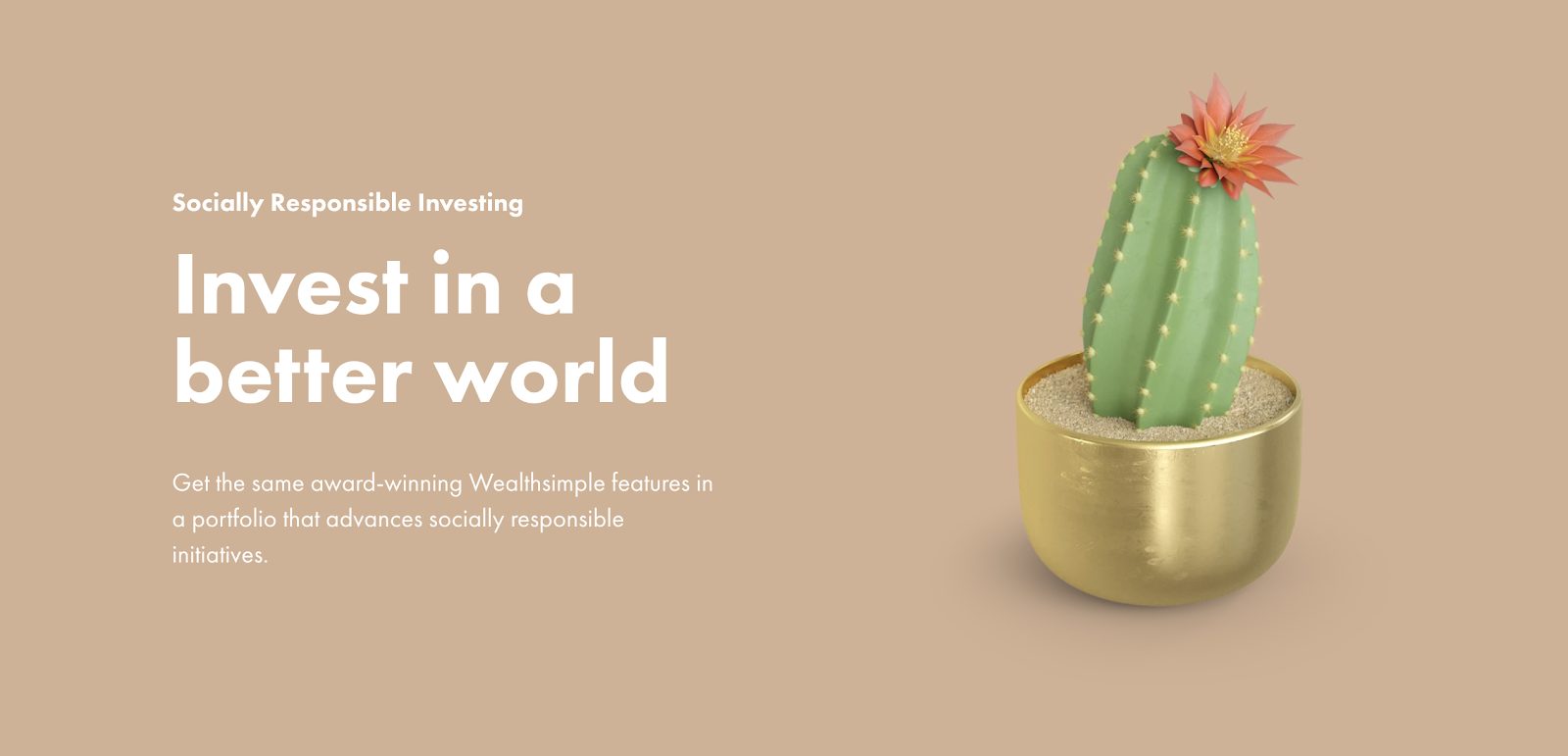 Socially Responsible Investing (SRI) has grown in popularity over the past two decades and now has $22 trillion in assets. Over a quarter of Wealthsimple clients have SRI portfolios.
So, what are they?
Companies concerned with environmental, social, and governance issues. Improving the quality of life while turning a profit is what SRI is all about.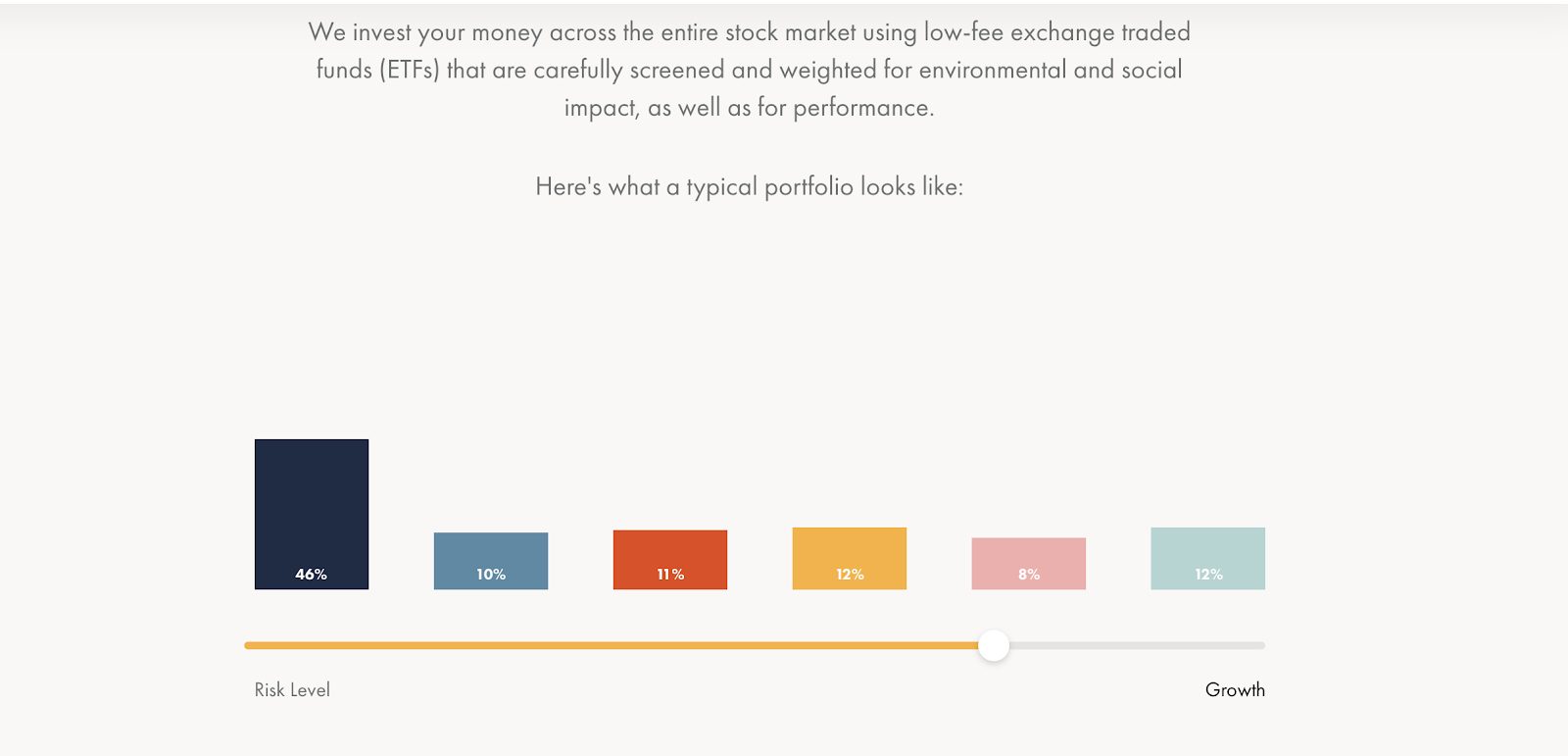 The six ETFs you'll find inside (both stocks and bonds):
CRBN – Low Carbon
SHE – Gender Diversity
PZD – Cleantech
BAB – Local Initiatives
DSI – Socially Responsible
GNMA – Affordable Housing
Adjust the sliding scale to a comfortable risk level and you're done.
The SRI portfolio has the same management fee as regular Wealthsimple portfolios (0.5% or 0.4% depending on your account balance), but its expense ratio (the cost to operate the fund) is higher (0.25% on average compared to 0.1% for a regular portfolio).
Wealthsimple's explanation for the higher fee:
"Someone smart needs to screen for the most socially responsible companies by combing through reams of data and designing cutting-edge analysis tools. And smart people usually don't work for free."
Halal Investing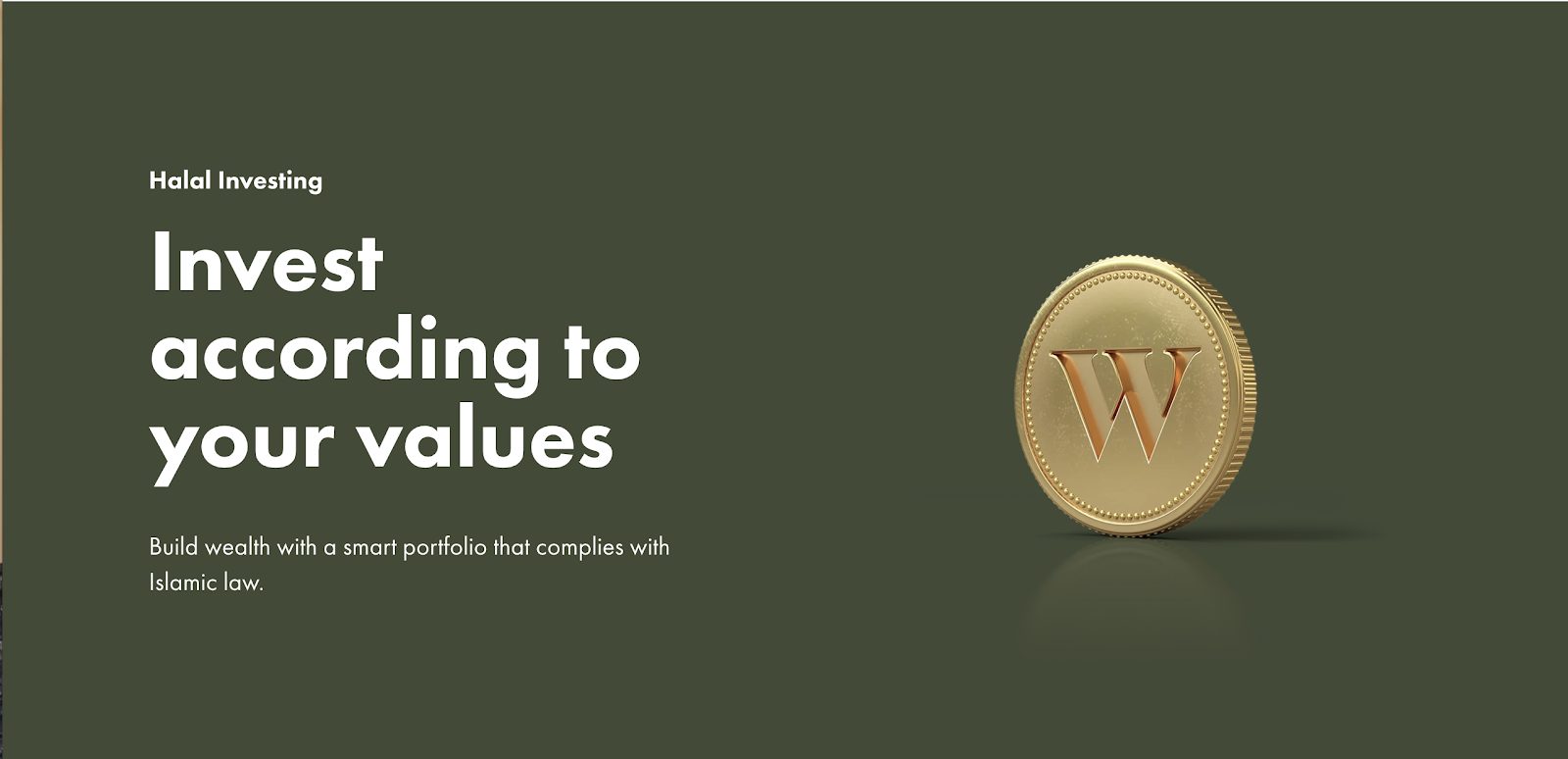 Halal investing is a portfolio built under Islamic Law. What's that mean?
No investment in companies profiting from things like tobacco, alcohol, pork, weapons, and gambling. You won't find bonds or fixed income of any kind as profiting from debt isn't compliant with Islamic values.
It uses the MSCI Islamic Index Series Methodology which excludes "non-Sharia compliant securities" and is approved by MSCI's Sharia advisors' committee of Sharia scholars.
Halal investing uses individual stocks rather than ETFs; 50 globally diversified equities. It's 100% invested in stocks as no fixed incomes (bonds) are allowed. However, the portfolio tracks a market index much like an exchange-traded fund to reduce volatility.
The fee to manage this fund is 0.5% on account balances less than $100,000. When you exceed $100,000, the fee is reduced to 0.4%.
Wealthsimple Trade ***(Canada Only)***
Canadian customers have access to unlimited, commission-free stock trading through Wealthsimple Trade. You can sign up in minutes for as little as $1. Once signed up, you can start trading publicly traded common stocks and exchange-traded funds on both Canadian and U.S. exchanges.
Wealthsimple for Work ***(Canada Only)***
Similar to a U.S. 401(k), Wealthsimple for Work lets employers set up investment plans for their employees. Contributions are made straight from their paycheck with pre-tax dollars. The service is free for employers and matching contributions is optional.
Pricing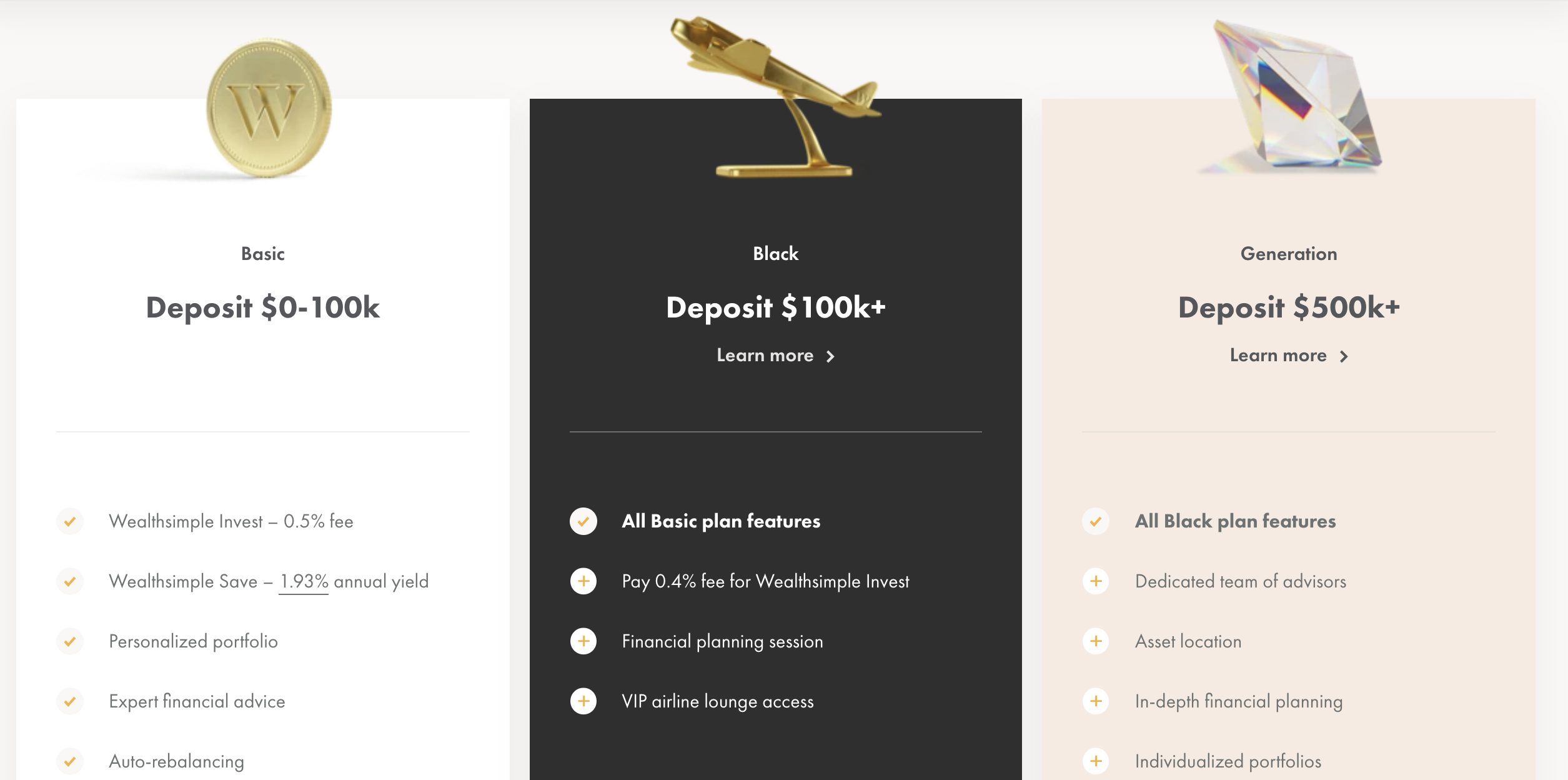 Wealthsimple Invest offers three investment tiers based on your account balance – Basic, Black, and Generation.
Wealthsimple Basic is for deposits between $0-$100,000 and carries a fee of 0.5%.
What you get:
Automatic rebalancing
Automatic deposits
Wealthsimple Save
Dividend reinvesting
Expert financial advice
Custom portfolio
Black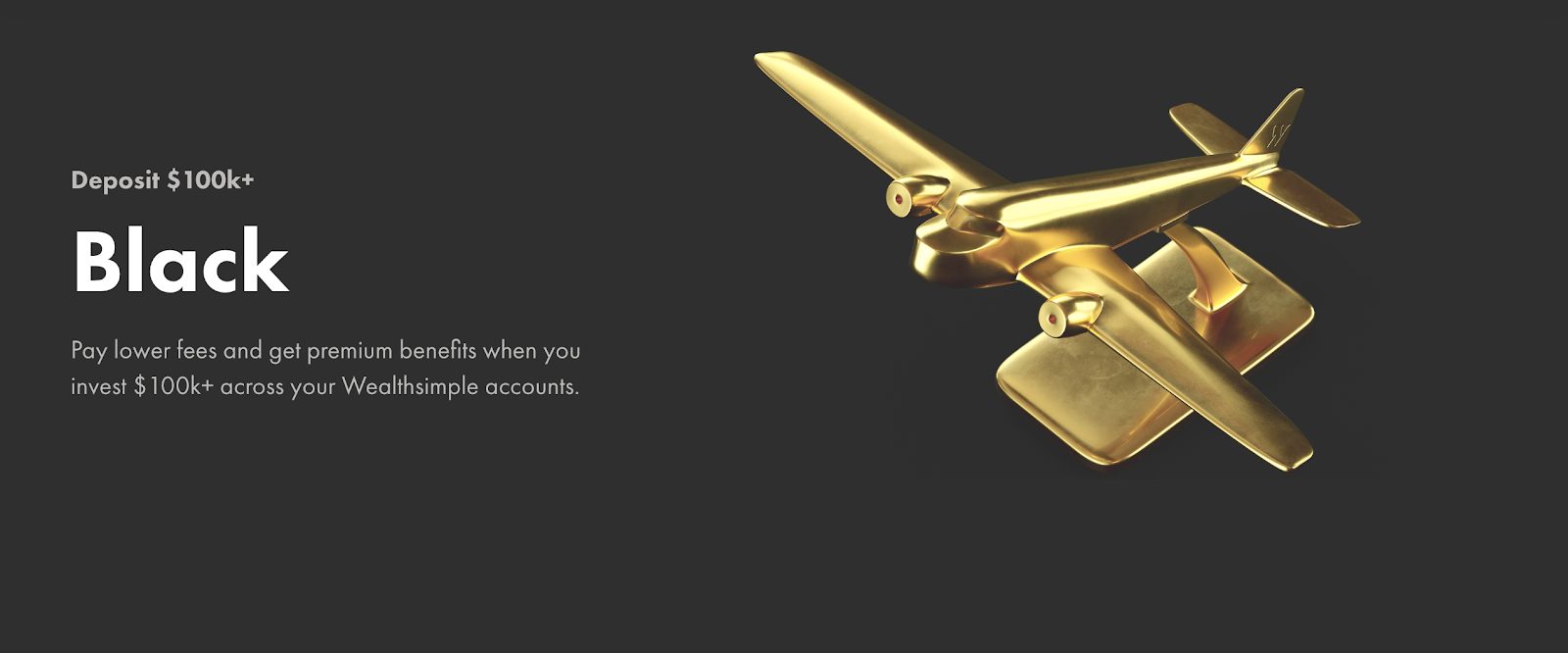 Black is for deposits over $100,000 and earns you a lowered management fee at 0.4% It comes with all the Basic plan features as well as a few added perks:
Financial planning session with an expert advisor
VIP airline lounge access to thousands of lounges in over 400 cities with their Priority Pass Membership
If you and another family member have net deposits of $100k or more across accounts, you'll both have access to Black.
Generation

Wealthsimple's premium plan, Generation, courts higher-net-worth customers with deposits over $500,000. You get all the features of the Black tier with even more benefits.
Generation grants you access to an in-depth financial planning team whenever you need it. You'll receive a comprehensive review of your financials, complete with a tailor-made report focused on your savings goals.
You gain access to individualized portfolios and asset allocation. Generation creates a detailed picture of how you'll spend your money during retirement and preserve it for future generations. It analyzes your net-worth, cash flow, and specific actions you must take.
If your household has over $500,000 spread across accounts, you'll each have access to Generation.
Rewards
Remember all those promos and perks I listed at the start of this article?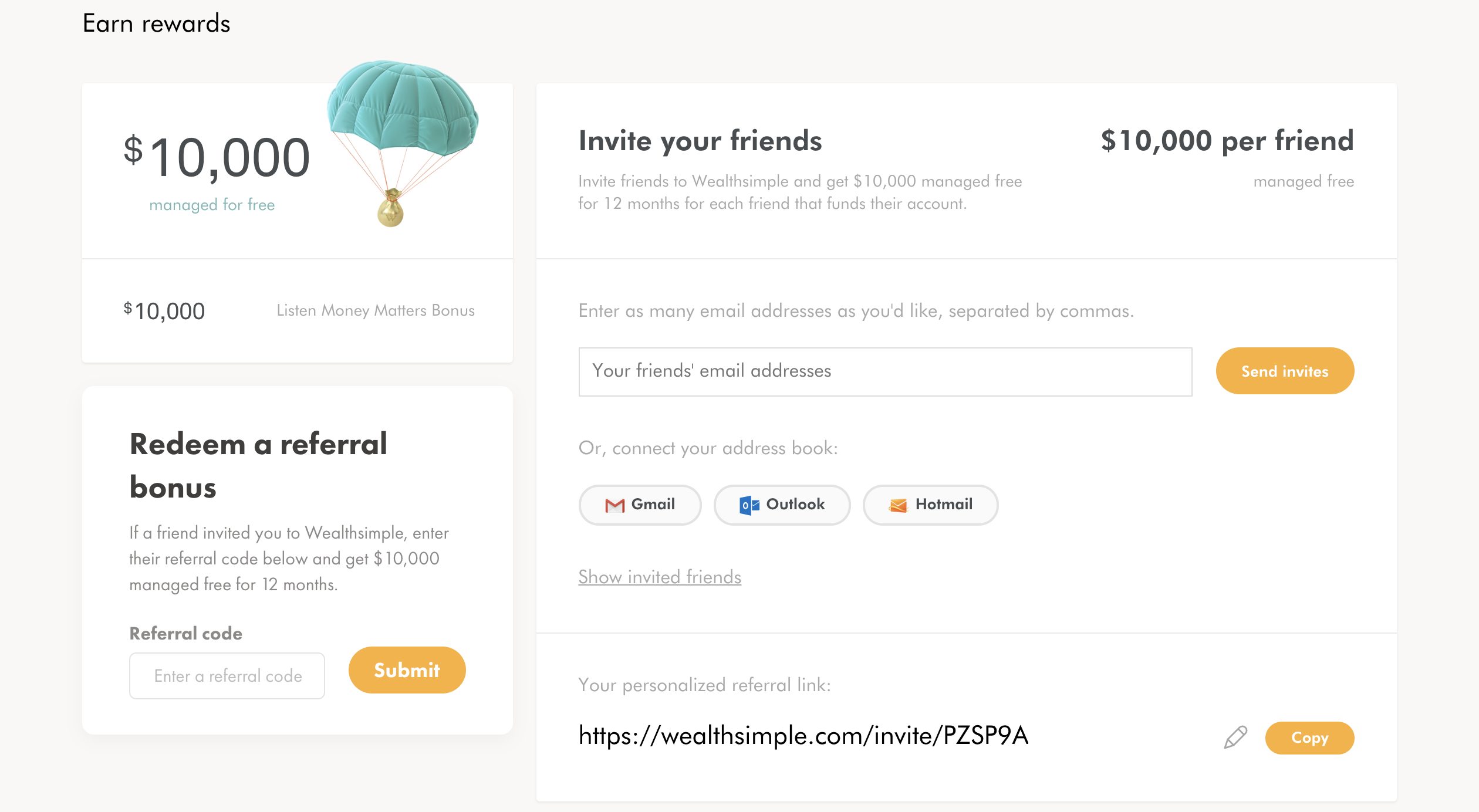 Things like:
$10,000 managed free(1 year) for Listen Money Matters customers
$10,000 managed free(1 year) when you refer a friend who funds their account
$1,000 managed free(1 year) when you turn on auto-deposits of $50 or more
That's a lot more than other robo-advisors offer. Is it a way to make up for the "on the higher side of management fees?" Betterment and Wealthfront both offer a management fee of 0.25%.
It's one way to attract more business. Everyone loves rewards. Those rewards add up to a significant amount. You could potentially hit $31,200 managed free for one year.
Wealthsimple offers a robo-advisor with a human touch.
Tweet This
Resources
They have an ample selection of educational materials for both beginner and experienced investors. Their in-house publication, Wealthsimple Magazine, includes topics about:
How to…
Data
Ask Wealthsimple
There's a great resource called Dear Ms. Etiquette that fields topics on things like Do I Have to Give to My Coworker's GoFundMe? and When A Date Venmo's You A Bill and Other Horror Stories.
Or there are Money Diaries…
It provides financial insights from noteworthy people like Anthony Bourdain of Kitchen Confidential and Parts Unknown fame. He didn't have a savings account until he was 44 and didn't file taxes for ten years.
It's never too late to take control of your financials. I love reading about those stories.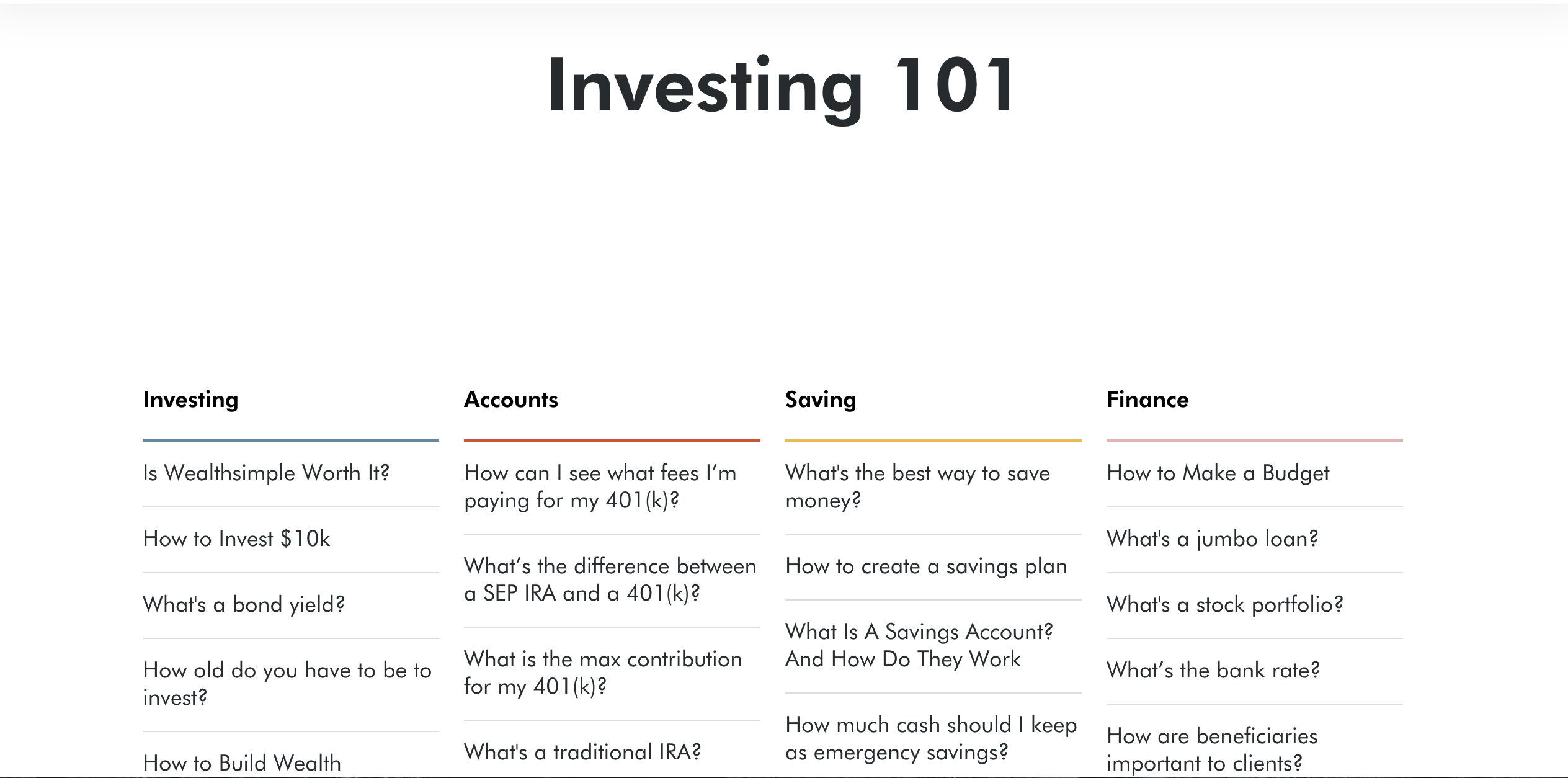 Investing 101 has a huge selection of articles on everything financial. Things like:
How to invest $100, $1,000, $10,000, and $100,000 wisely
Retirement
Saving
Home buying
Accounts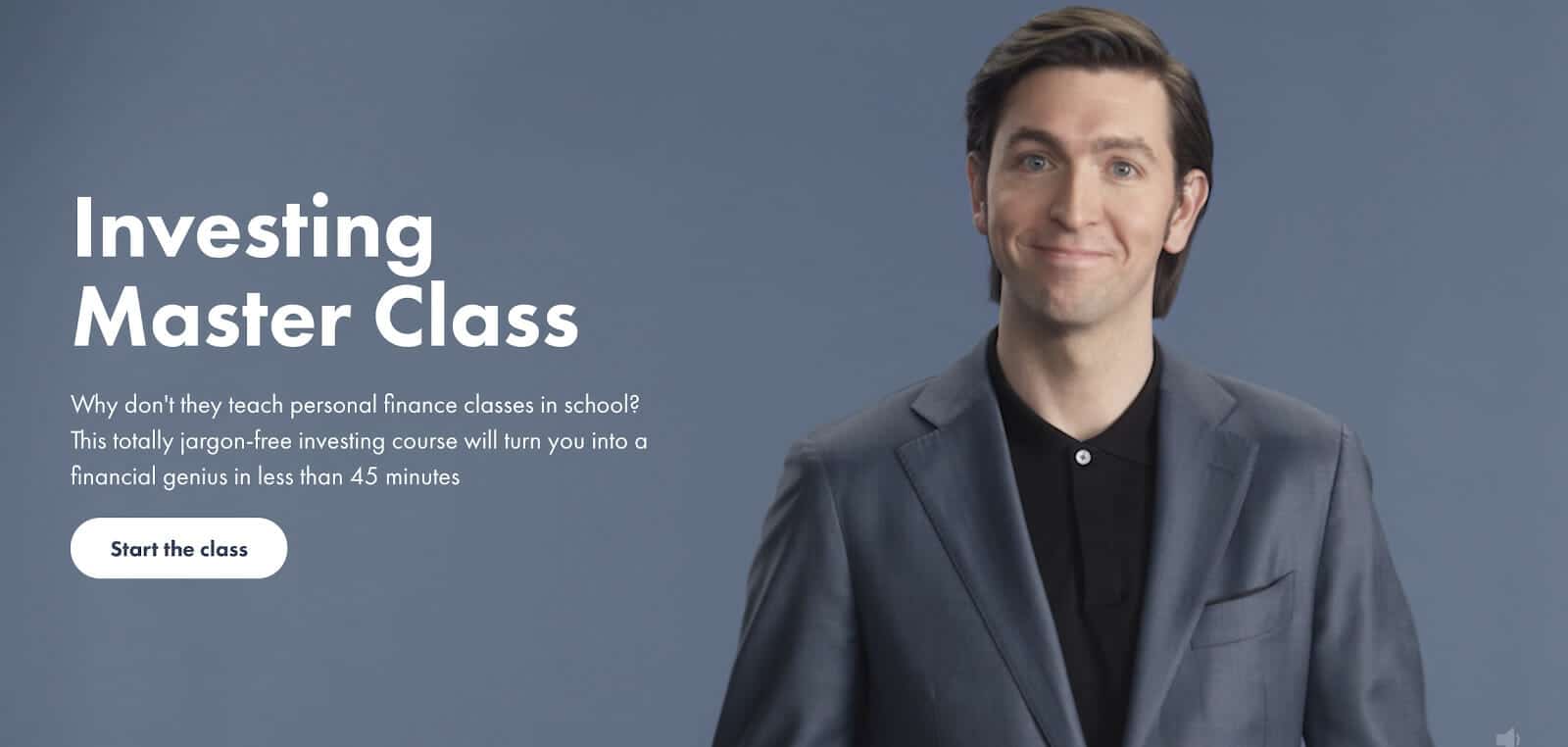 Not much of a reader? Check out their Investing Masterclass. It breaks down investing in a 10-part video series. Each episode runs about three minutes.
The stock market is a reflection of human progress.
Nugget of wisdom gleaned from their video series. That's how I'll describe it to family members moving forward…
Security
Wealthsimple takes your security seriously. They use two-factor authentication (2FA) protection (activate it and receive $100 managed free) paired with data encryption. It adds an extra layer of insurance.
Speaking of insurance, every account is insured by the Securities Investor Protection Corporation (SIPC) up to $500,000 in case Wealthsimple goes out of business. They're also backed by more than $165 million from the Power Financial Group (a conglomerate with adjusted net earnings of $2.3B and $847B AUM).
Customer Service
You can talk to a person by phone 9 am EST – 8 pm EST Monday – Thursday. Their Friday hours run 9 am EST – 5:30 pm EST.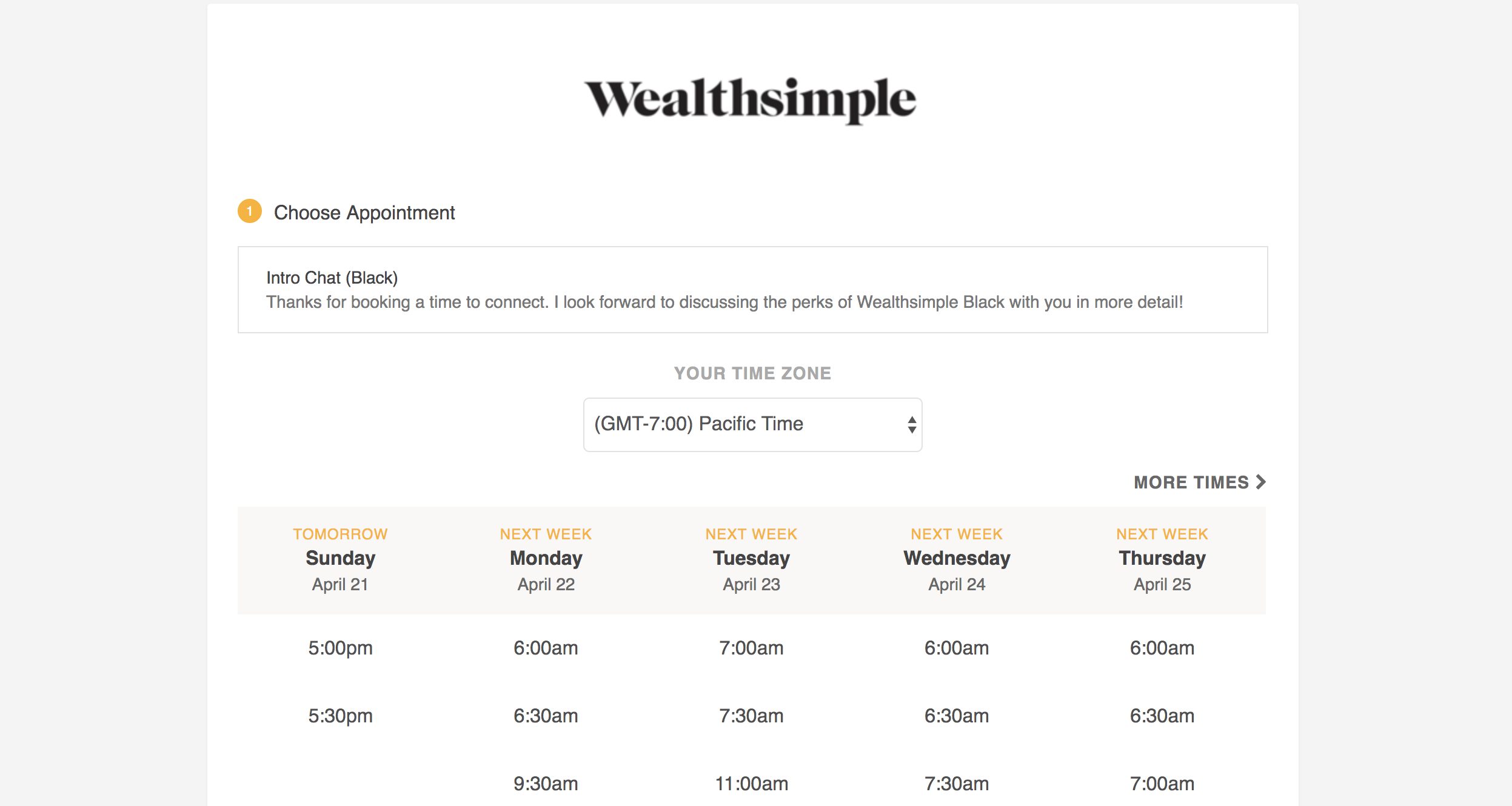 Or…
You can email them.
Why You'll Like Wealthsimple
Pros
No account minimums
First $5,000 managed for free
Substantial rewards and promos like $10,000 managed free(1 year) for Listen Money Matters customers
No transfer, withdrawal, or closing fees
Extensive educational materials like Investing 101, Wealthsimple Magazine, and Investor Masterclass
Remarkable website and mobile app with a user-friendly experience
Tax-efficient portfolios
Wealthsimple provides a fantastic platform for beginner and experienced investors alike. If you're just getting started, their Basic plan has no account minimums and waives its management fee on your first $5,000. Your globally diversified portfolio is created in minutes tailored to your risk tolerance.
If your net worth is higher, you might find their Black or Generation plans a better fit. Inside, you'll find both individualized portfolios and asset allocation, along with a team of financial wizards to assist on your journey.
What May Give You Heartburn
Cons
Higher fees (0.5% on balances <$100,000, 0.4% on balances >$100,000
No day trading for U.S. customers
Their management fee is on the high end. While still low compared to the 1%-2% for a human advisor, 0.5% is double what robo-advisors Betterment and Wealthfront charge (0.25%).
If you're an active trader and living in the U.S., Wealthsimple won't appeal to you. Their platform supports passive, buy and hold investing. Day traders will want to look elsewhere – or move to Canada.
Final Thoughts
I'm a fan of anything that makes it easier for someone to get started investing. Wealthsimple does exactly that. They've got no account minimums, and they waive their management fee on your first $5,000.
Features like Roundup make it even easier to set it and forget it, while SRI and Halal are big winners for the value-conscious investor. Automatic rebalancing and tax-loss harvesting boost your portfolio's long-term performance and tax-efficiency.
The most significant sticking point is their fees. 0.5% is on the high side compared to other robo-advisors offering a 0.25% management fee.
What's to stop investors from going elsewhere? Something to think about as you start your investing journey, or have already begun.
The boys were able to have a chat with Wealthsimple CEO Michael Katchen. Check out the podcast episode here. There's a wealth of knowledge to be had…
Get our best strategies, tools, and support sent straight to your inbox.