Table of Contents
A Master Class on Diversification with Adam Grealish
You've heard the term diversification, but you might not know precisely what it means. Turns out it's more complicated than just owning stocks and bonds. We are going to deep dive and give you a master class on diversification with Adam Grealish.
We love Betterment and today our guest is from Betterment. When you invest with Betterment, your investment is diversified. How does Betterment ensure that diversification?

What is Diversification?
Diversification simply means having a wide variety of assets in your portfolio. Owning stock in a single company means you have zero diversification. This is the riskiest thing you can do with your portfolio. A diversified portfolio would contain stocks across various sectors and economies, bonds, real estate, and cash or cash equivalents.
Sounds Boring. Why Should I Care?
Diversification sounds complicated and confusing, plus you have to catch up on Netflix shows, why should you care? Part of successful investing is reducing risk. If you own stock in a single company and the CEO of that company is caught up in a scandal, your entire portfolio is at risk.
The way to reduce that risk is to diversify.
Multi-Layer Diversification
One layer of diversification is to buy stock in more than one company but in the same sector. You only had stock in Apple, so you decide to buy stock in Microsoft. That is one layer. You have stock in more than one company.
But both those companies are in the same sector, technology and the tech sector is not doing well. You're still not diversified enough.
A second layer of diversification would be to buy stock in another sector, so you buy stock in Pfizer and Novo Nordisk, those are in the healthcare sector. Tech is not doing well, but healthcare is.
Great, you are more diversified. But where are all those companies based? In the US. In fact, 40% of all stock dollars invested are invested in US companies. To further diversify, you need investments outside of the U.S. in international developed and emerging markets.

Into Every Portfolio Some Risk Must Fall
If you aren't willing to accept some risk when it comes to investing, you aren't going to make any money. So how do you determine how much risk to take?
Goal-Based Investing
Basically, the longer your money is going to be invested, the more risk you can afford to take. An investment started to help you save money to buy a home is going to look very different from one meant to fund your retirement.
The house investment will have a shorter timeline and the all the money in it will be used in one fell swoop. The retirement investment will be invested for many years and spent down over a long period of time.
The further away your goal, the more risk you can take.
Weathering Storms
When the stock market and economy take a downturn, people get nervous. Especially when we think back to 2008-2009. 
With home prices tanking, the report estimates a loss of $7 trillion in the real estate industry. The stock market decline has brought another $11 trillion in losses, and retirement accounts have lost $3.4 trillion.
You can weather the inevitable storms by being diversified among asset classes, sectors, and countries. While the last significant recession impacted most sectors and most of the world, not all sectors and economies move in lockstep.
Volatility of a portfolio with N uncorrelated assets, all with 12% assumed volatility – i.e., more assets of equal volatility actually reduce the volatility of the bundle of assets.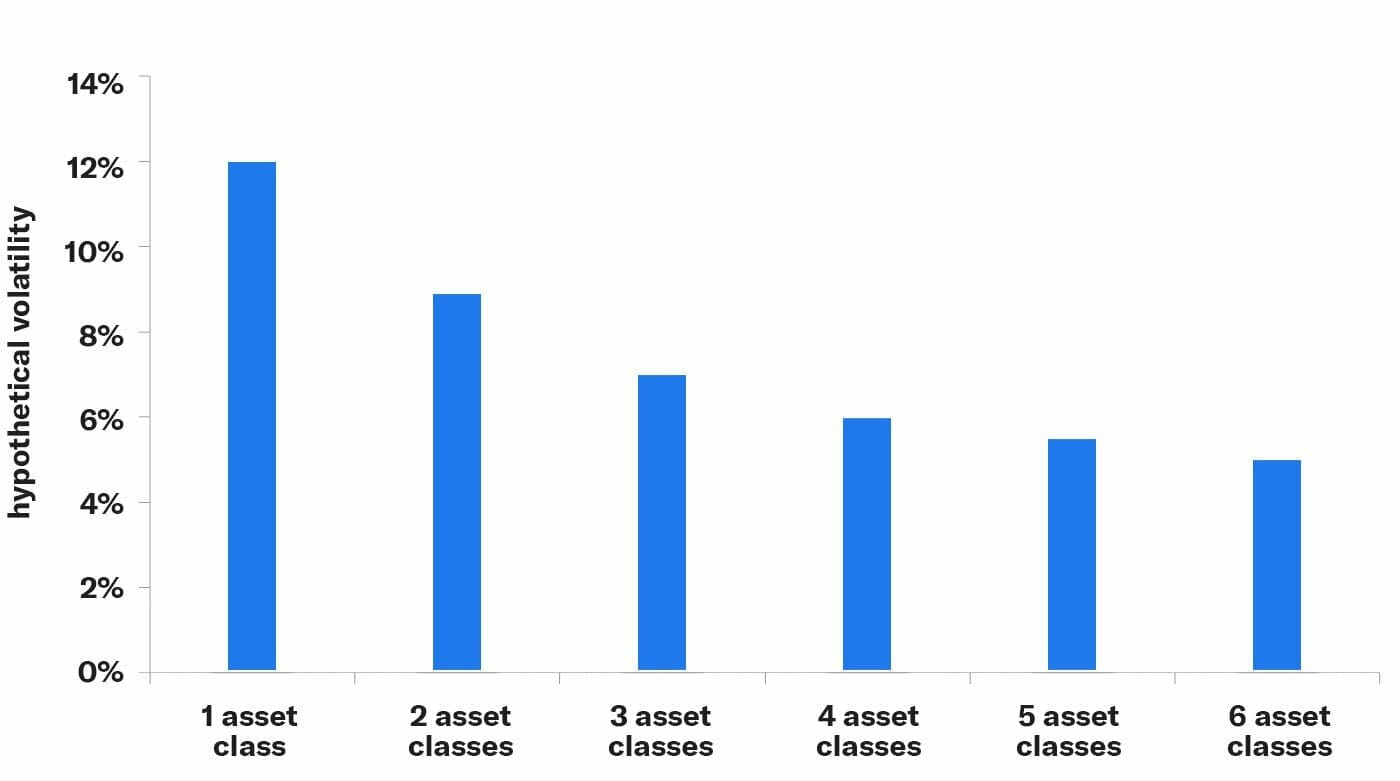 Another way to protect your portfolio is with rebalancing.
Your portfolio has a specific asset allocation. An example would be 50% stocks and 50% bonds. That allocation can change. If bonds are doing well and stocks are doing poorly, your allocation is no longer 50/50.
To rebalance, you need to sell off some of your assets and buy some others to bring your portfolio back into balance.
If you have $500 in stocks and $500 in bonds and you lose $100 in stock value, you take $100 from your bonds and buy stock. Why would you take money from something doing well and put it into something doing poorly?!
Rule #1 of investing is to buy low and sell high.
Stocks are low so now is the time to buy. Bonds are high so now is the time to sell. Allow periodic rebalancing to account for "drift" in your portfolio. Maintain the goal based asset allocation you started with (adjusting based on a diminishing time frame) and don't let losses and gains determine your allocation. 
The Efficient Frontier
The efficient frontier starts with the concept that risk and return are related and that risk is bad, and returns are good. Then as we mix assets that don't entirely move in lockstep, we can reduce risk without adversely impacting returns.
The efficient frontier is the outer boundary of how much return you can get for any level of risk. US stocks and bonds, when mixed, have less risk. How much extra stuff can you add before you reach the limit of a healthy mix of risk and return? Ideally, your portfolio is at or near the efficient frontier.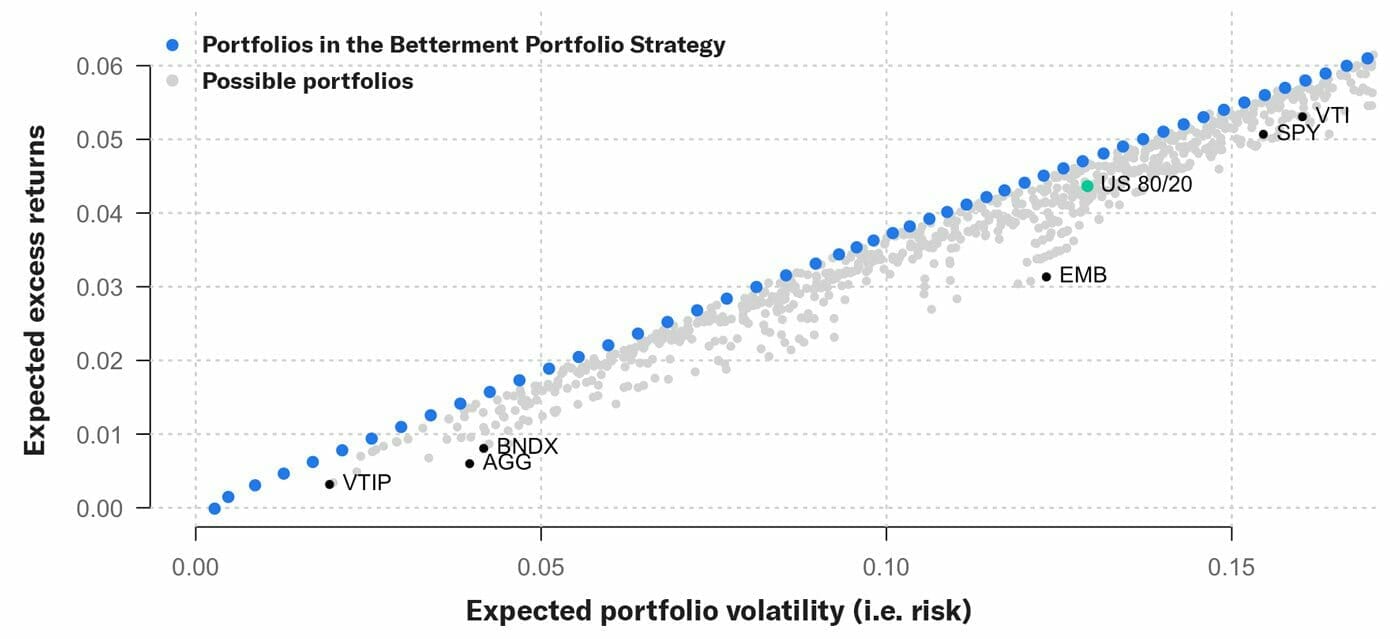 Volatility and returns are closely related. Volatility tends to decrease as the market increases and increases when the market declines. Staying on the efficient frontier allows you both to take advantage of that volatility and to be insulated from it.
Finding the Frontier
How does Betterment calculate this? When investing, future risk and returns are what's important.
"To compute forward-looking returns we use the Capital Asset Pricing Model (CAPM), which assumes all investors aim to maximize their returns and minimize volatility while holding the same information.6
Under CAPM assumptions, the global market portfolio is the optimal portfolio. We know the weights of the global market portfolio and can reasonably estimate the covariance of those assets, we can recover the returns implied by the market.7 This relationship gives rise to the equation for reverse optimization:
μ = λ Σ ωmarket
Where μ is the return vector, λ is the risk aversion parameter, Σ is the covariance matrix, ωmarket is the weights of the assets in the global market portfolio.8 By using CAPM, the expected return is determined to be proportional to the asset's contribution to the overall risk.
It's called a reverse optimization because the weights are taken as a given, and this implies the returns that investors are expecting.  CAPM does rely on a number of limiting assumptions: e.g., a one period model, a frictionless and efficient market, and the assumption that all investors are rational mean-variance optimizers.9
To complete the equation and compute the expected returns using reverse optimization, we need the covariance matrix as an input. Let's walk through how we arrive at an estimated covariance matrix.
The covariance matrix mathematically describes the relationships of every asset with each other and the volatility risk of the assets. Our process for estimating the covariance matrix aims to avoid skewed analysis of the conventional historical sample covariance matrix and instead employs Ledoit and Wolf's shrinkage methodology, which uses a linear combination of a target matrix with the sample covariance to pull the most extreme coefficients toward the center, which helps reduce estimation error."10
Get our best strategies, tools, and support sent straight to your inbox.
The Uncompensated Risk Gap
You need to take enough risk when you invest to grow your wealth without taking so much risk that you put that wealth into an unnecessary amount of jeopardy.
As we wrote earlier, into every portfolio, some risk must fall. But there is a difference between compensated and uncompensated risk. A compensated risk is one that when taken will increase your returns (although nothing is guaranteed when it comes to investing).
An uncompensated risk is one that won't increase and can even decrease your expected returns. No one should knowingly take an uncompensated risk. So how do you avoid them? By diversifying. 
The All Weather Portfolio
The All Weather Portfolio was created by legendary hedge fund manager Ray Dalio and introduced to the wider public by Tony Robbin's personal finance book Money Master the Game. The portfolio is a diversified asset mix meant to weather any kind of economic climate. The asset allocation looks like this:
40% Long Term Bonds
30% Stocks
15% Intermediate-Term Bonds
7.5% Gold
7.5% Commodities
Bridgewater Associates offers an All Weather Fund that is based on risk parity strategy. Because stocks are three times more volatile than bonds, the amount of risk in a portfolio is determined by that 3:1 ration. Each asset class contributes an equal amount in risk terms, not dollar terms.
Efficient Portfolios
An efficient portfolio is one that gives the highest expected return for a given level of risk or a portfolio with the lowest level of risk for a given expected return. A 3% return is efficient but not growing your money enough, the return is too small.
One solution is to introduce leverage. Margin is one way to do that. You can take an efficient portfolio yielding 3% and leverage it two times to get a 6-7% return. To do this, you borrow money from a brokerage, firm at an interest rate of 1-2%. You have $100 and borrow $100. Now you have doubled your buying power.
You buy things you hope will increase in value. You doubled your money and can pay back the loan. The risk is that what you buy decreases in value. You lose money and still have to pay back the loan eating into your initial $100.
Futures contracts and other derivatives are also ways to use leverage when investing.
Inflation Hedges
The value of a dollar is determined by its purchasing power, the number of things or services which that money can buy. When inflation increases, the purchasing power or our dollar decreases.
In the US, our rate of inflation is 3% a year on average. That means the newspaper that costs $1 now will cost $1.03 the following year. Inflation means your dollar doesn't go as far as it once did. Part of the reason we invest our money rather than putting it in a checking where there is "no risk" is that when money is sitting in a checking account, it is at risk due to inflation.
That checking account is giving you less than 1% interest, and inflation is 3%, so your money is losing value sitting in that low yield account.
Treasury Inflation Protected Securities can hedge against inflation. They are indexed against inflation and a low risk investment because they are backed by the U.S. government.
Commodities can be volatile investments but tend to be less volatile when stocks are more volatile. Two asset classes not in lockstep. They are a hedge against inflation because, during periods of inflation, the price of commodities rises and so does an investment in them.
The closer we are to retirement, and during retirement, we are told to reduce the percentage of stocks in our portfolios and increase the percentage of bonds. We no longer have enough timeline left to ride out market ups and downs, so we need the safety of bonds.
But because of inflation (and longer and longer life expectancies), we can't reduce the percentage of stocks too low. Keeping our stock percentage at 20% is another strategy to hedge against inflation.
Phew!
We weren't kidding when we told you that today would be a master class on diversification. While you can indeed painstakingly craft a well-diversified portfolio on your own, if you're lazy like me, you can let Betterment do it for you.
Show Notes
Board Meeting: A coffee flavored brown ale.
Tool Box: All the best stuff to manage your money.