Does creating a budget sound sexy? What about the aggregate of all your financial data in one place? Do words like free credit score, bill reminders, cash flow trends, and multi-factor authentication get you hot under the collar? What about having a clear picture of hitting your financial goals?
If these things read to you like a Danielle Steel romance novel reads to my mom — you're in the right place.
In this Mint.com review, we're going to take a look at its money management features, plus a whole lot more. Is it a budgeting app worthy of your consideration?
If your engine's already humming then get ready, we're about to hit the gas!
What Is Mint?
Mint is a free, personal finance tool that syncs all of your credit cards, bank accounts, and investment accounts under one roof.  It's brought to you by Intuit (owners of QuickBooks and TurboTax).
Intuit was founded in 1983 and employs 9,000 people worldwide. Notable accolades include:
Fortune 100 Best Companies to Work
People Magazine Companies That Care
Forbes America's Best Employers for Diversity.
Intuit has grown to over $6 billion in revenue while the Mint app has over 20 million users.
Mint: A Bird's Eye View
Cost
Free
Apps
iOS/Android
Budgeting Style
Category Tracking
Reporting
Spending, Income, Debts, Assets, Net Worth
Investing Tools
Performance Analyzation, Allocation, Value, and Stock Market Comparisons
Alerts and Reminders:
Email Reminders and Alerts, Goal Reminders within the App
Security:
Encryption, MFA
Cost
Free
Apps
iOS/Android
Budgeting Style
Business Style
Reporting
Income, Expenses, Investment Performance, Holdings, Allocation, Net Worth
Investing Tools
Retirement Planner, Retirement Fee Analyzer, Investment Checkup
Alerts and Reminders:
Email Alerts
Security:
Encryption, MFA
Features:
Customized budgeting tool
Investment tracking
iOS and Android-friendly
Free credit score monitoring
Bill management
Free and easy to use
Savings goal creation
Notification alerts and reminders via email
How Mint Works
It's a one-stop shop for all of your money-tracking needs. Creating a Mint account is simple and straightforward. Sign up with an email address, password, and start adding your bank accounts.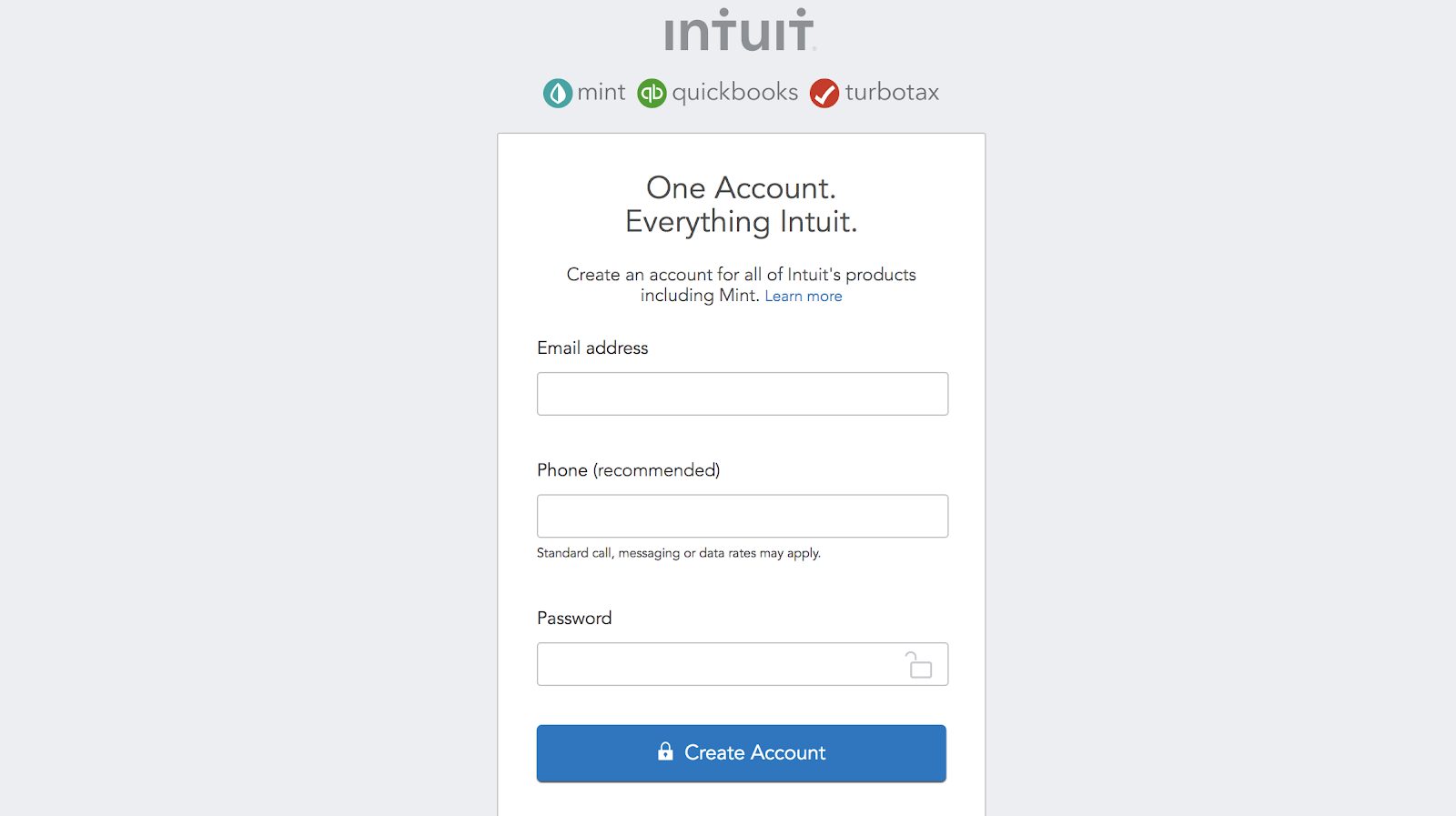 I recommend completing your user profile once you're logged on. Fill in your address, age, income status, rental status, education and the rest. Why?
Because Mint uses that information to look for ways to optimize your financial situation. It also compares your spending habits against the national average.
Are you spending more than the average 29-year-old woman living in Los Angeles? The app will let you know. Perhaps you spend most of your money at Trader Joe's. Mint will recommend a credit card that gives 5% cash back on grocery purchases.
Link every financial account: IRAs, real estate, checking accounts, savings accounts, 401(k), brokerage accounts, loans — everything. Mint connects to virtually every financial institution on the web. It scans thousands of credit card, bank, and brokerage offers to find the best for you.
The more accounts you link, the more recommendations you'll get.  
The best part? It's all in one place and free to use. Mint will factor all of your information and determine your net worth:
Assets minus liabilities.
Now you've got a starting point to track your spending, set goals, and create budgets.
Your information is displayed in real-time.
Track Bills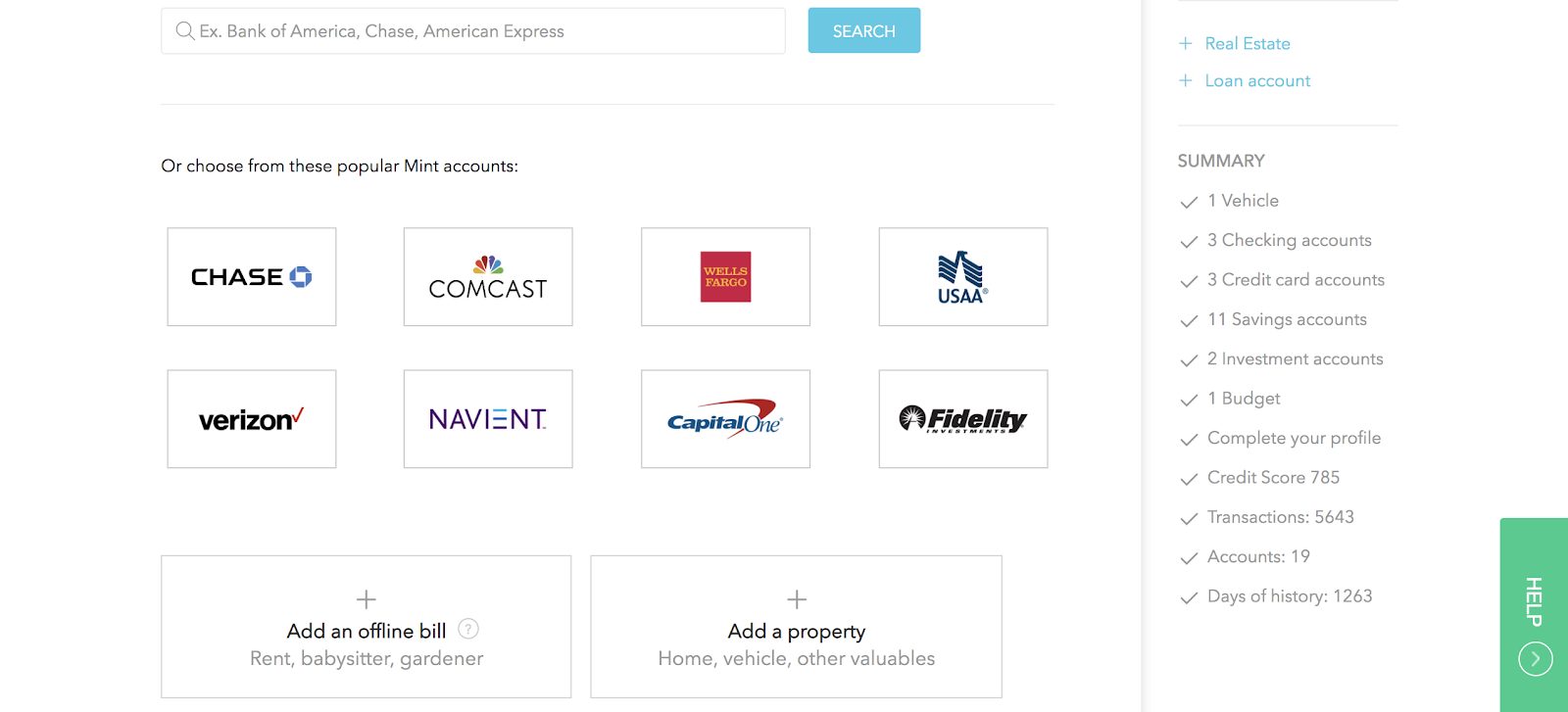 Due dates enrage me! While you can't pay your bills through the app, you can monitor them. Some folks are disappointed Mint no longer offers bill pay, but that's an easy fix – set up automatic deposits through your bank and track them through the app.
Schedule alerts that notify you when you've got future transactions, so your bills are paid on time.
Your bills are stored in one place which makes it easy. Some you'll have to manually enter if they're not found in Mint's database like rent or music lessons, but they're mostly all there.
Set up notifications that alert you when your account balance falls too low. This way you're never hit with an overdraft fee. You can request to be notified of not only upcoming bills and low account balances but unusual spending.
Reminders, Alerts, and Advice
Need to know when you're over budget? That ATM fee you just got slapped with? What about suspicious activity? Mint has a suite of alerts you can activate that will track all of them.
Enable weekly reports and quickly scan your data. Manage your money like a boss at the cost of 15 minutes per week. Think of Mint like insurance with no monthly premium. It's all free.
These are some of the better alerts found in the app. Flip them on them, then continue being awesome.
Low Balance. Set a dollar amount that will trigger this alert. Don't want your balance to dip below $300? Set it up.
Bill Reminders. Combine this with autopay through your bank and you're set up for success.
Unusual Spending. Wary of that $75 purchase at The Gap? This alert will bring it to your attention.
Over Budget. If you've created a budget in the app and exceed your allowance, this will tell you it's time to reel it in.
Bank Fees. Never pay bank fees – – – EVER. Paying bank fees is a fool's errand. They take your money that's parked in their bank and make money off your money – and they've got the nerve to charge you a fee?? Set this at the lowest amount which is $1.
Large Purchases. Mine's set at $200. I don't have too many of these but if I did, I'd sure as hell want to know about it.
Goal Notification. If you're tackling a saving goal, activate this alert. It's fun tracking your progress.
Weekly or Monthly Reports. Choose how often you want to get progress reports. Weekly might be a better idea if you're trying to get your spending on lockdown.
Budgets
Create a budget based on last month's earned income. If you've got a steady paycheck, this should be easy. If you're a freelancer with adjustable income, use last month's earnings as your benchmark.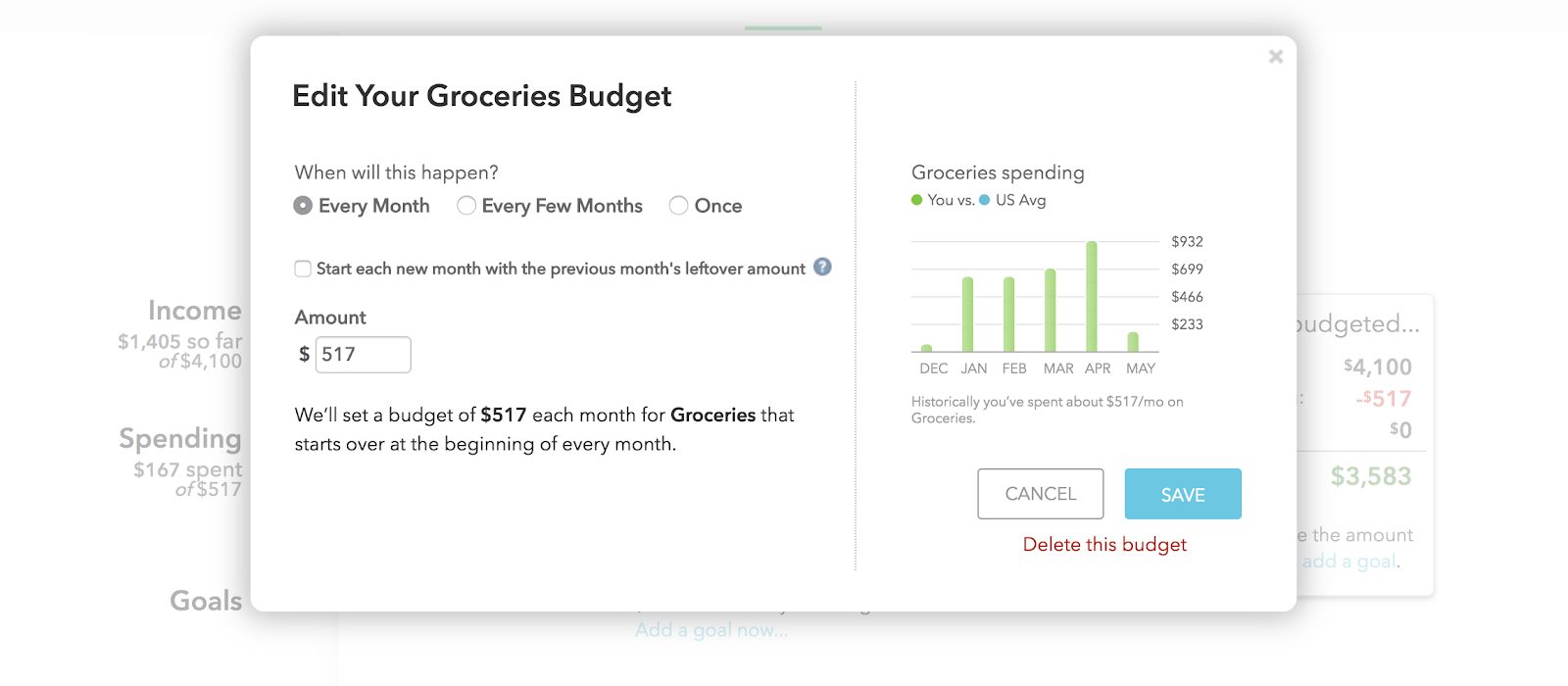 If you don't know what you earned last month, you need to figure that out. You can't grow your wealth and make informed decisions about your money if you have no idea what you're earning or where it's going.
This is a fundamental practice of any business, and you are a business. – Vicki Robin
The budgeting tool compares your spending in specific categories and even lets you see how you're doing monthly or annually. Mint will suggest budgets for you based on your spending, or you can create your own. Categorize income and expenses as bi-weekly, monthly, recurring, or one time.
Budgeting by category makes it easy to see if you're making progress. For example, if you're trying to cut down your grocery bill, you'd pull up your grocery budget to see if you're on track.
Mint will also show you how your spending is affecting your savings. Are you overspending on dining? Can you cut back in that area to free up cash to meet your financial goal?
Credit Score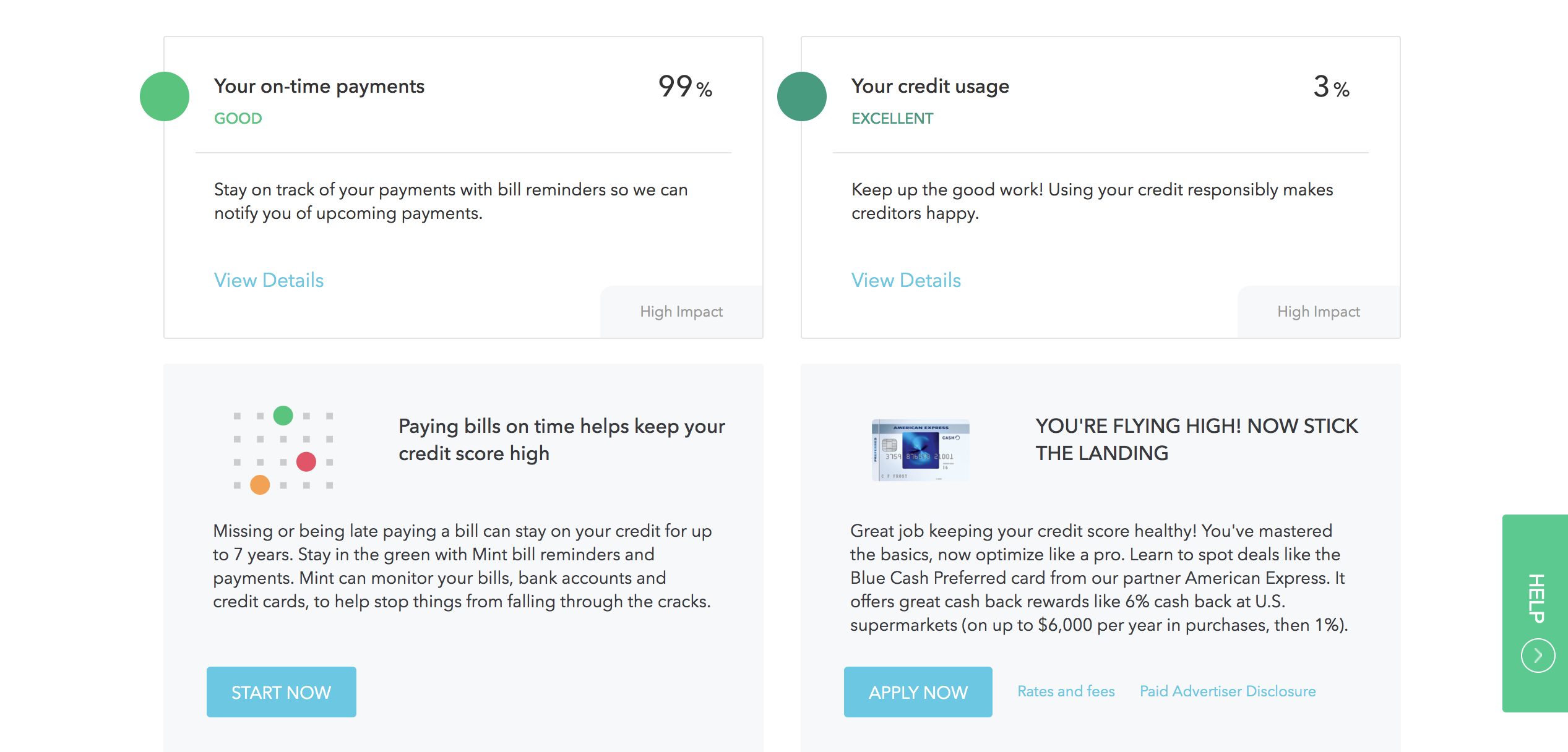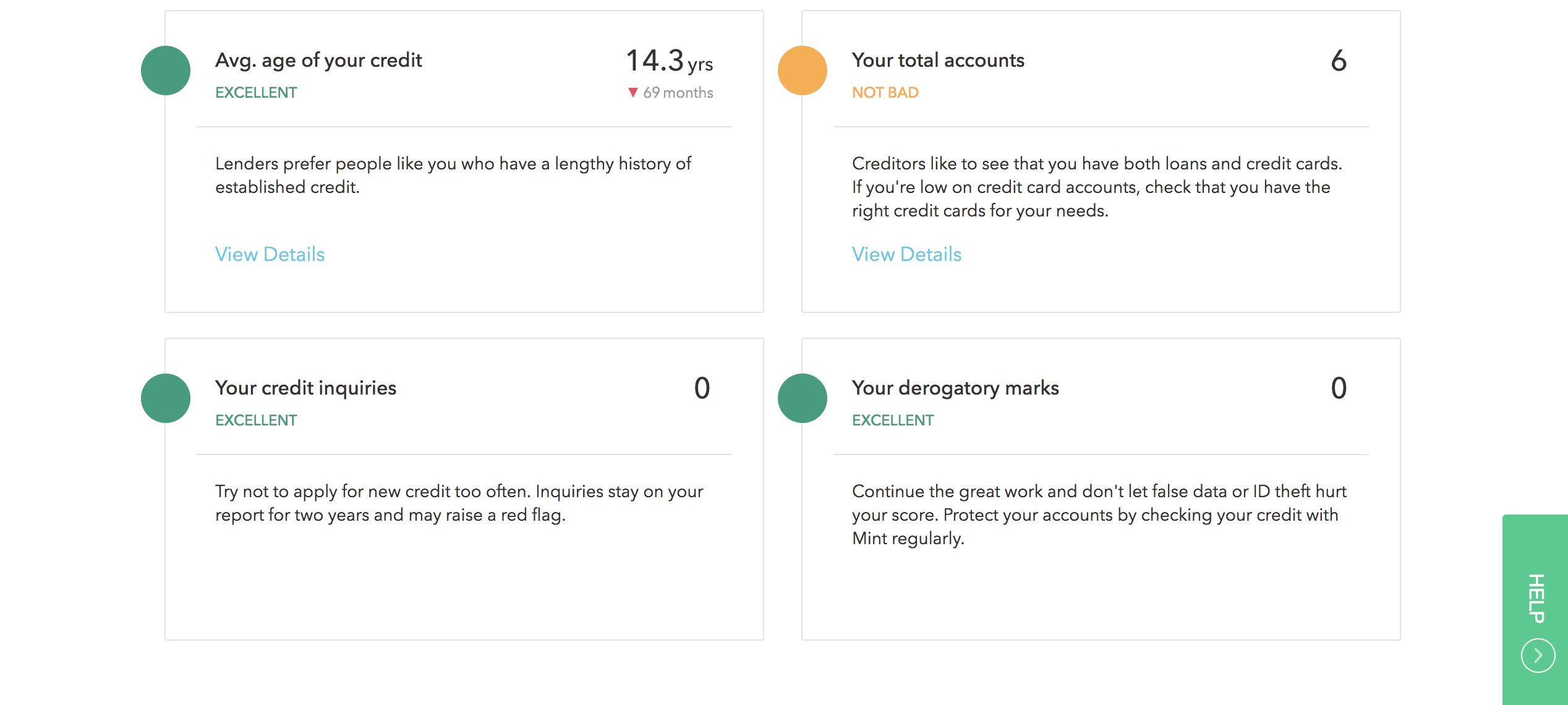 If you're looking to increase your credit score, this feature will help. It's great for folks who are applying for a loan. Your free credit score is powered by TransUnion and shows you:
Your on-time payments. This has a high impact on your score. Even one missed payment can cause your credit to take a 100-point hit.
Your credit usage (aka credit utilization). This one is almost as important as how often you miss a payment. A reasonable usage rate is around 30% or below.
The average age of your credit – the longer the better.
The total number of accounts. Creditors like to see you with many open accounts.
Your credit inquiries. Hard inquiries like opening many accounts at once can temporarily lower your score.
Your derogatory remarks.
If your score isn't the best, Mint provides feedback on why that's so, then steps to make it better. Your credit score affects interest rates you're offered on loans, insurance, and credit cards. Aim for a score of 700 or higher to secure lower rates.
TransUnion notifies you through the app whenever there's an update.
Easily Categorize Your Transactions
Mint has several default categories so you may not have to do much work. However, it's important to scroll through your transactions to determine how accurate they are. Choose from their default selection or create custom or sub-categories.
You can also train Mint to remember purchases under the Rules category. For example, if you always buy coffee through Amazon, the transaction will appear as shopping.
But, if you go into Rules and list that specific transaction as Groceries, it will start showing up as groceries. Over time, every future purchase will be in the right category.
Mint lets you get as detailed as you want but remember to keep it simple. Getting too granular defeats the purpose.
You can create tags as well like Eating Out or Online Rentals. Any kind of purchase you make regularly will be easier to find through tags.
Investment Tracking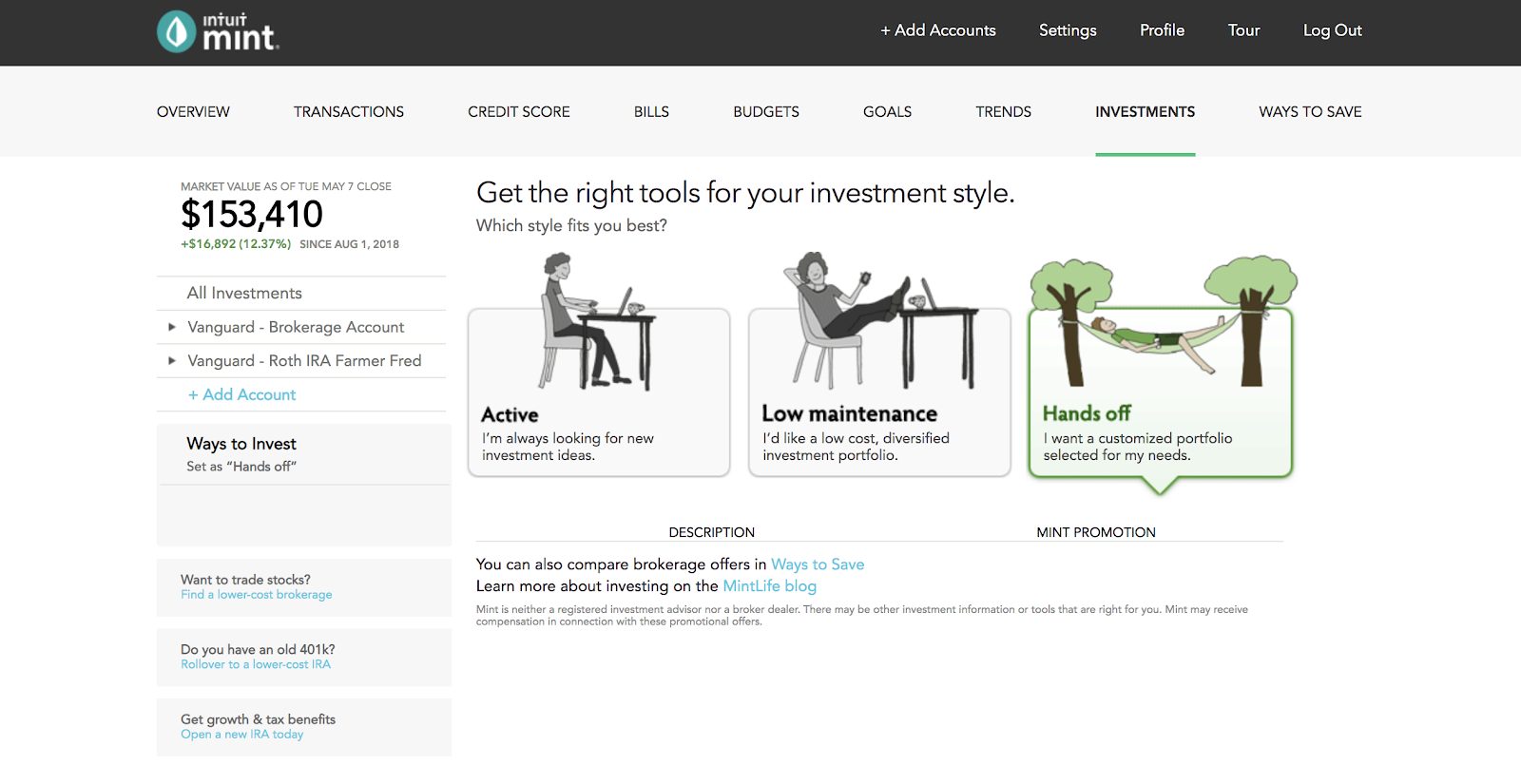 How does your portfolio measure against market benchmarks? See your asset allocations along with your portfolio's overall performance. Park your 401(k), mutual funds, IRAs, and any other brokerage accounts here.
Mint will offer recommendations based on your investing style. What's your money modus operandi?
Setting Financial Goals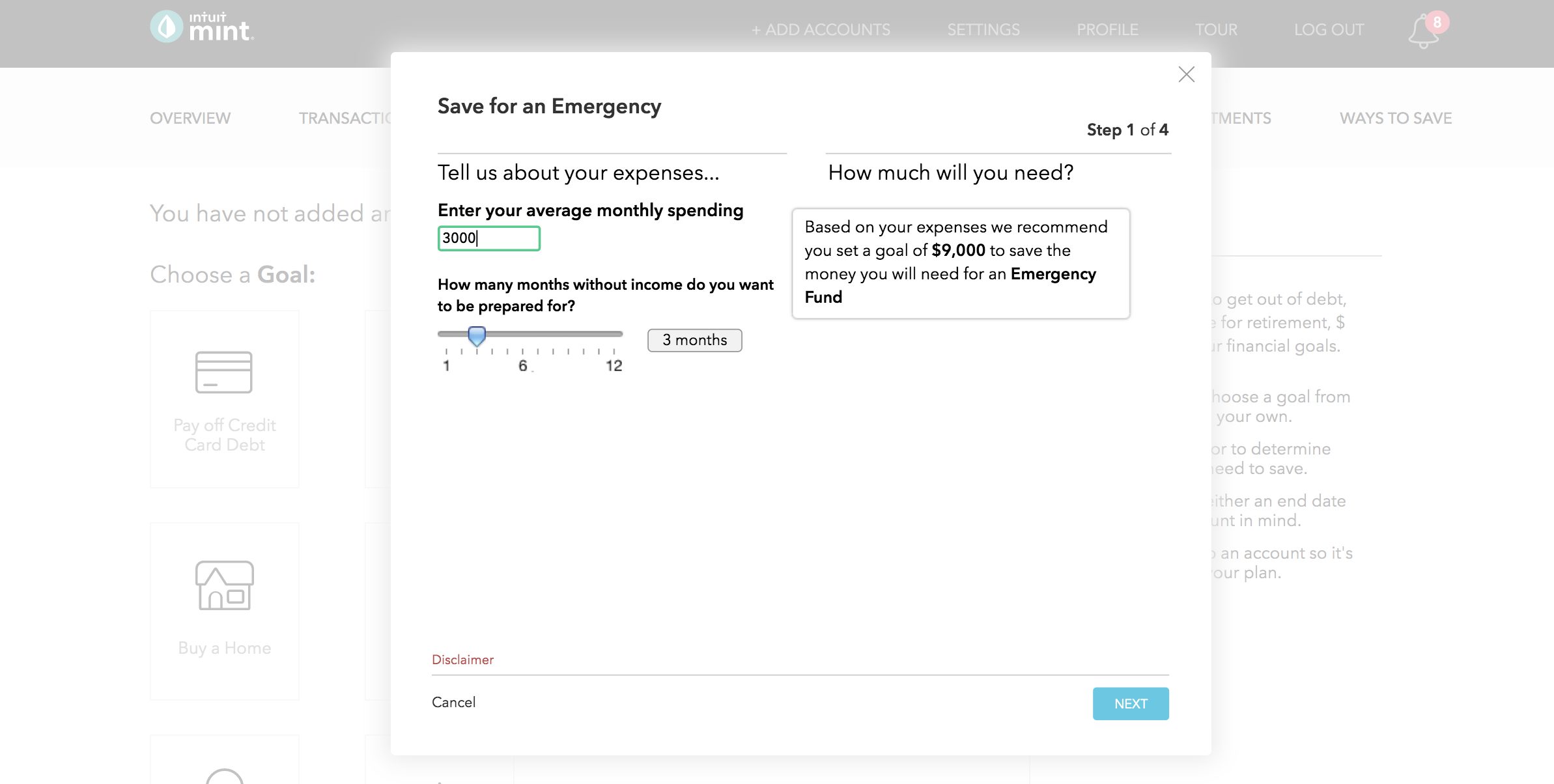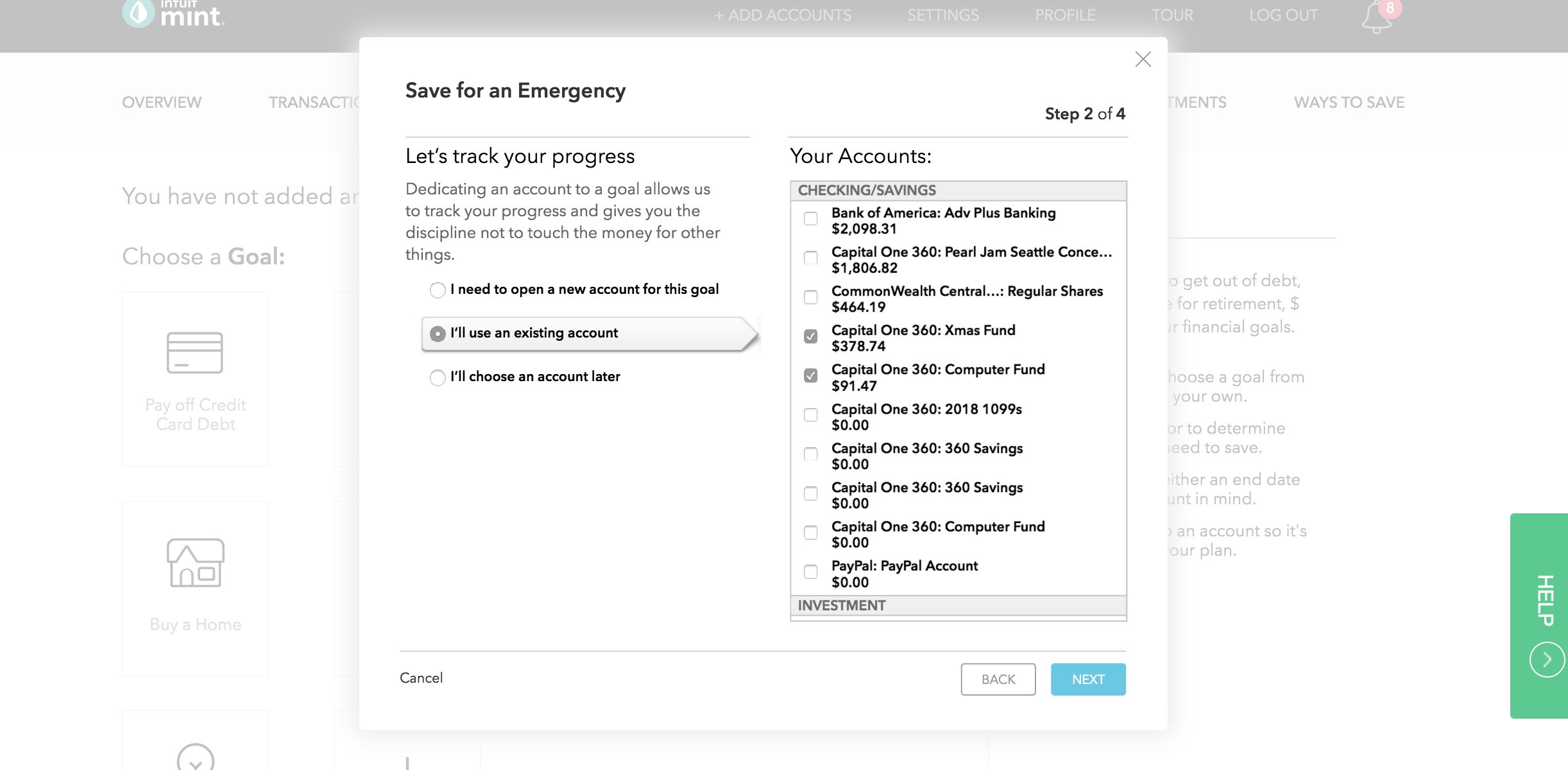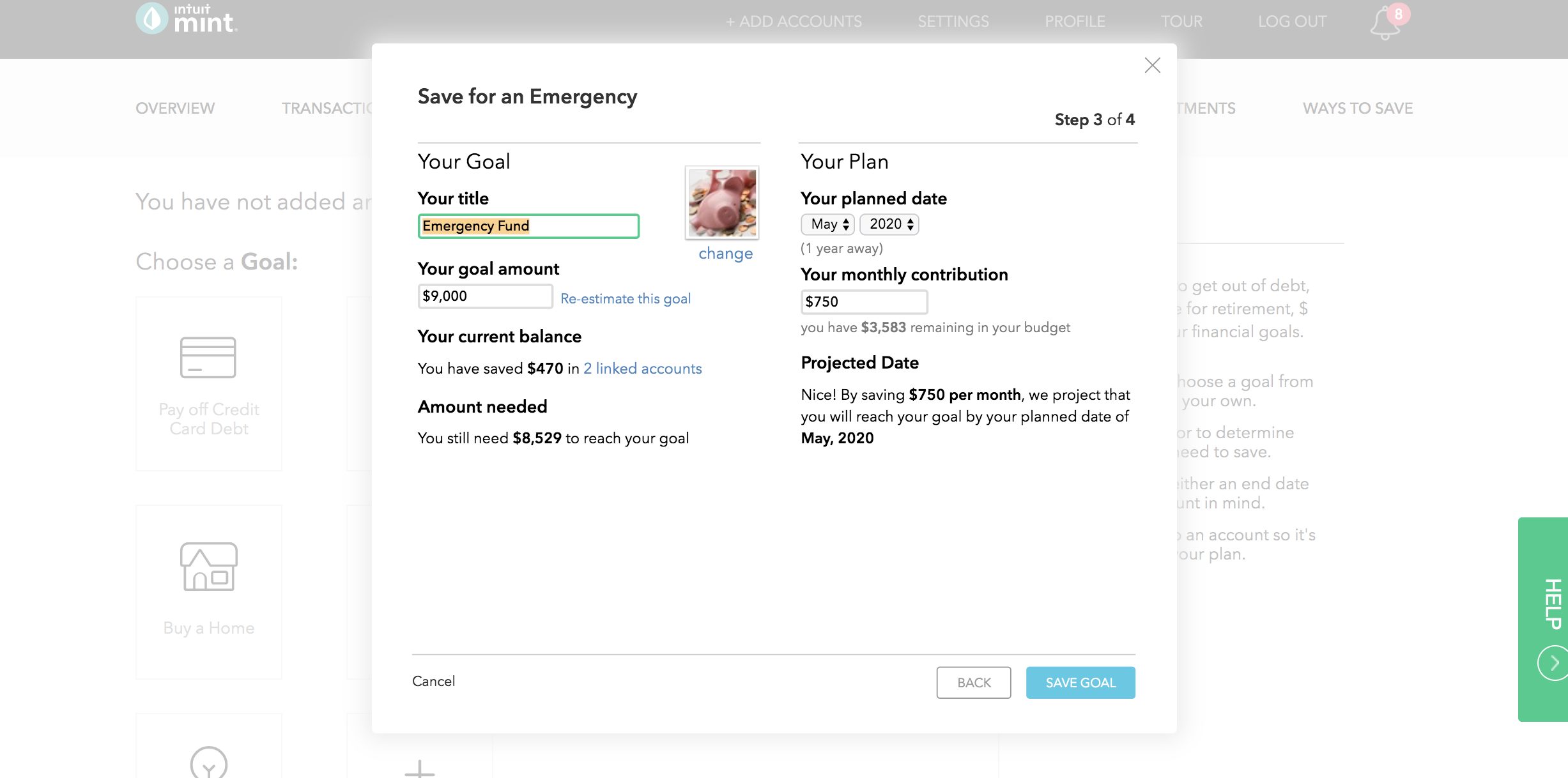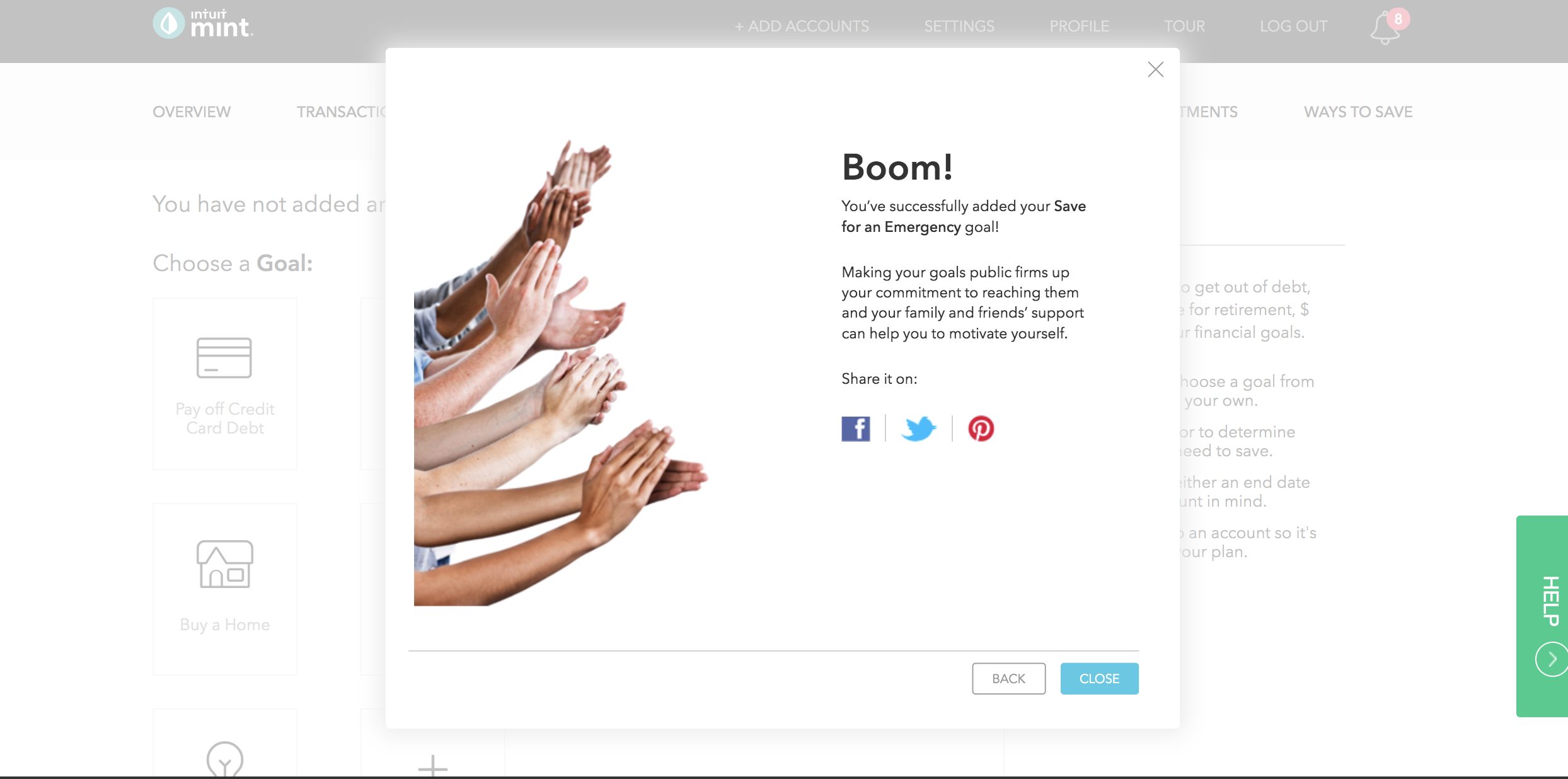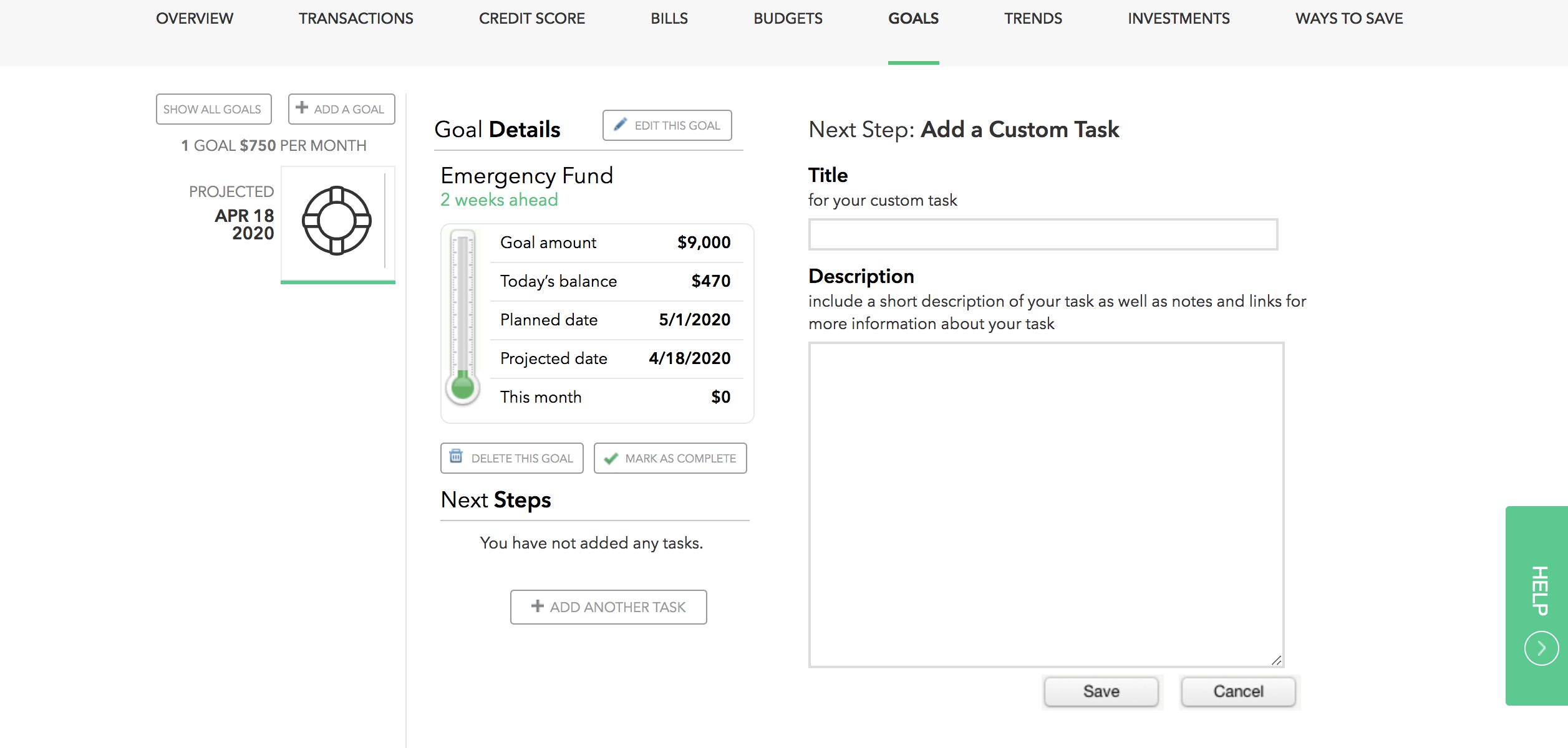 The type of goal depends on how Mint helps you prepare. For example, saving for a car will look different than building an emergency fund. The car scenario will ask how you'll pay for it, desired monthly payment, loan term, and interest rate. The emergency fund only asks for a target amount and time horizon.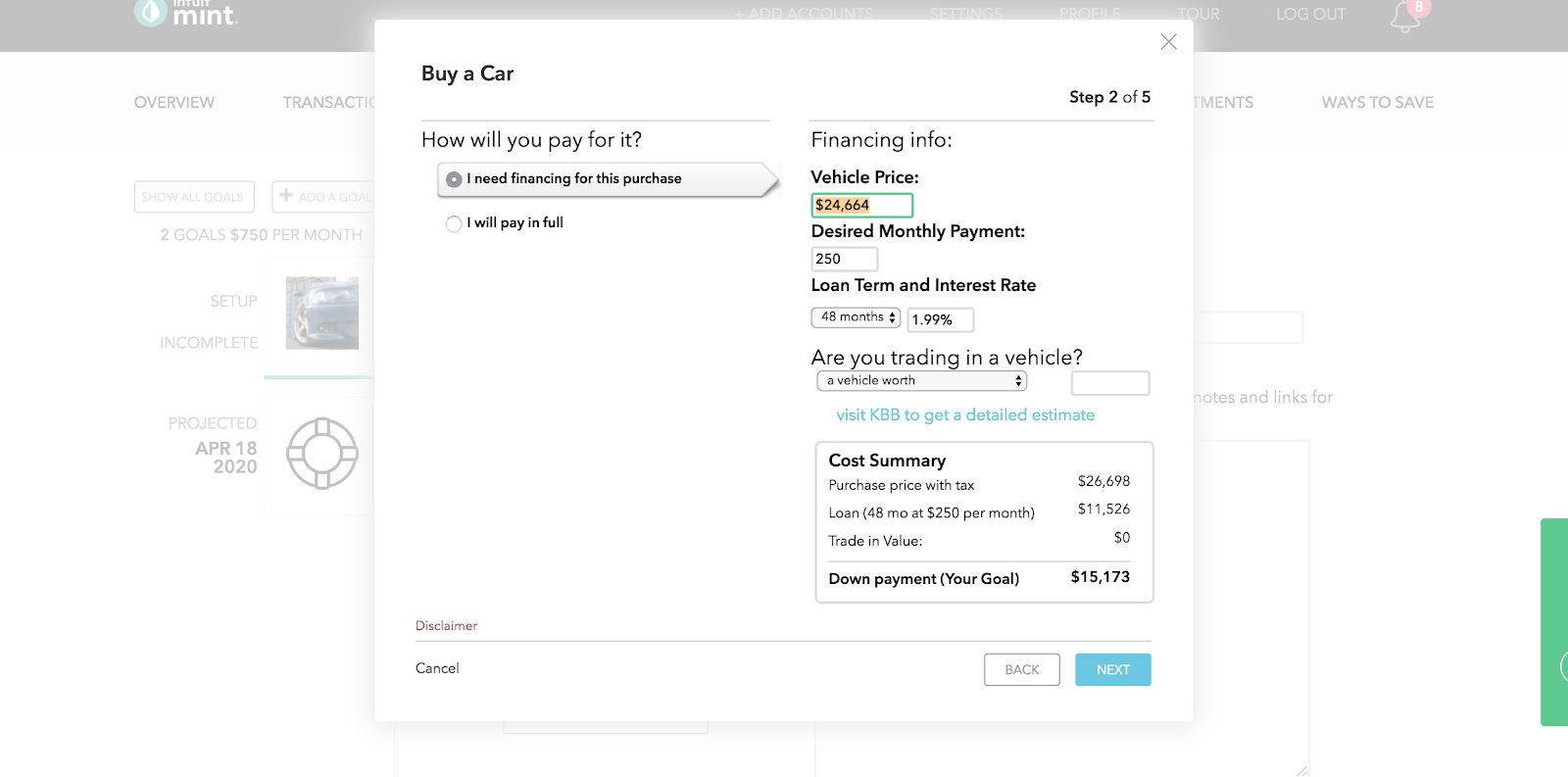 The same holds true when paying off credit card debt. Mint runs multiple scenarios on a sliding scale. See how much interest you're charged by paying only the minimum due versus a larger monthly payment.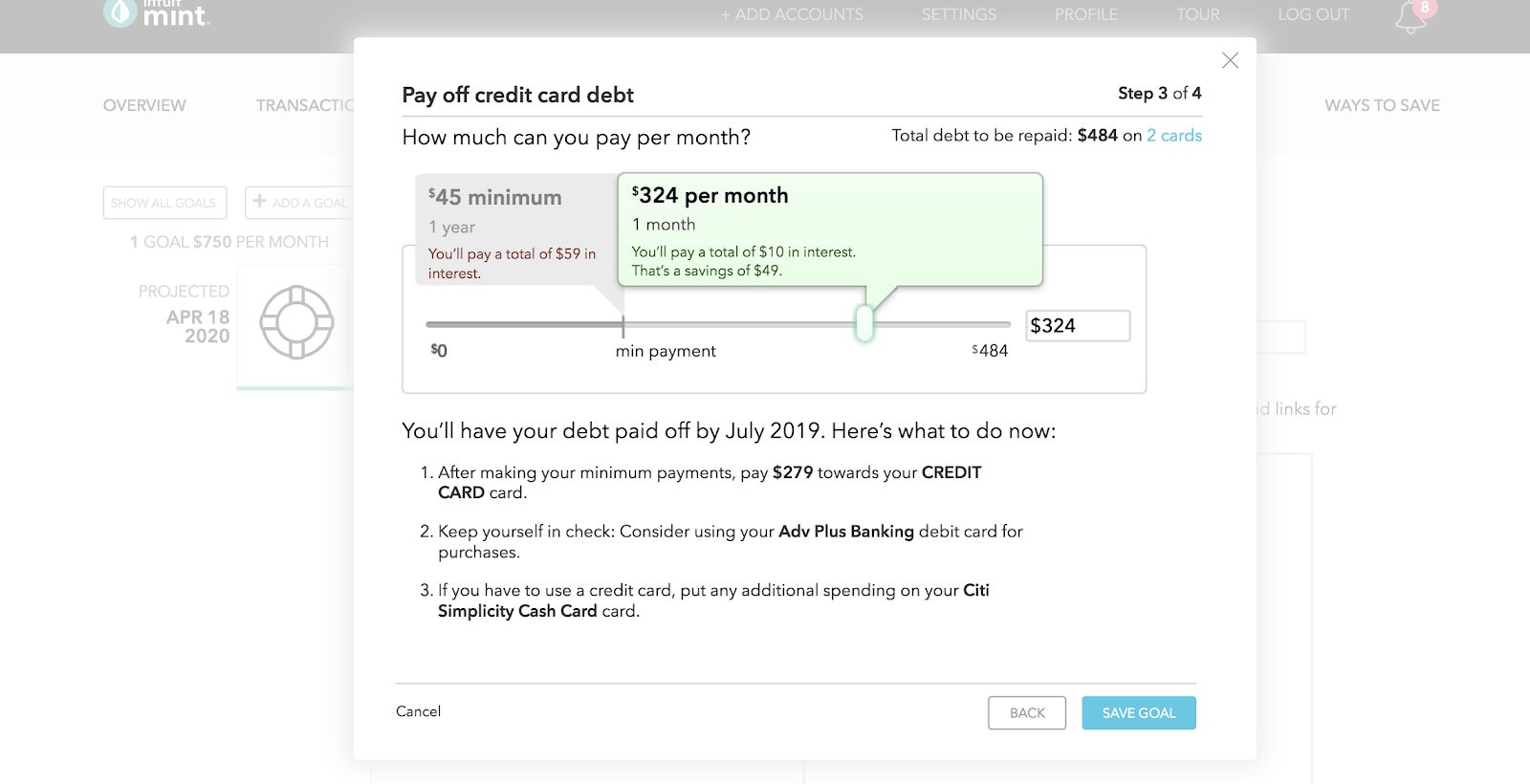 This is where Mint shines – calculating the interest payments. It's eye-opening to see how much extra you're paying. Suddenly, that new pair of leather boots became more expensive.
Mint realizes each goal is different and integrates these features into their app.
The only drawback when creating a savings goal is that you're only able to link one bank account per goal. Multiple goals from one account aren't supported.
Trend Analyzing
Once your transaction data is in the proper categories, you can start digging into where your money goes every month. This is where it starts to get fun. Trends lets you crunch the numbers on your spending habits, income, assets and more.
Mint divides Trends in six ways:
Spending
Income
Net Income
Assets
Net Worth
For example, starting with your spending, you can track your purchases over time, by category, by the merchant, or by tags. You set the time frame too. If you want to see how much you've spent in the past three months dining out, you'll choose that as your time frame and select category (or merchant if you're singling out a specific restaurant).
If you think dining at Fat Sal's for $300 a month is too much, you can curb your spending for the upcoming months. Perhaps you'd feel better only spending $150 a month and socking away that extra $150 towards your emergency fund.
This is another area where Mint shines. You can run the numbers on your spending and make adjustments aligned with your goals.
You can track your income the same way. Is it trending up or down? Were you planning on building your client base over the past six months while increasing your income? Plug in that time frame and check your progress.
Your net income is your income minus your spending. It's similar to gross pay and net pay.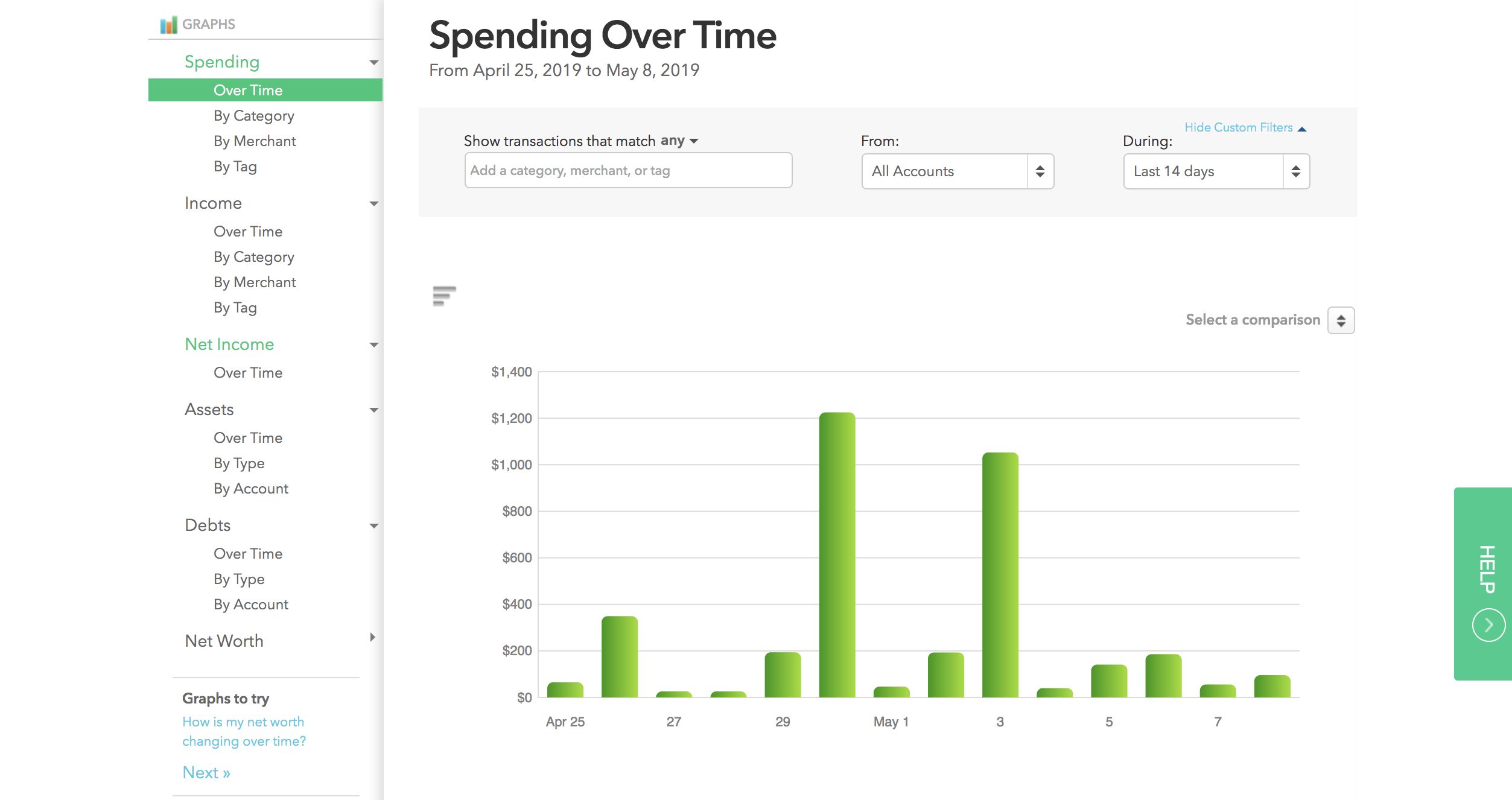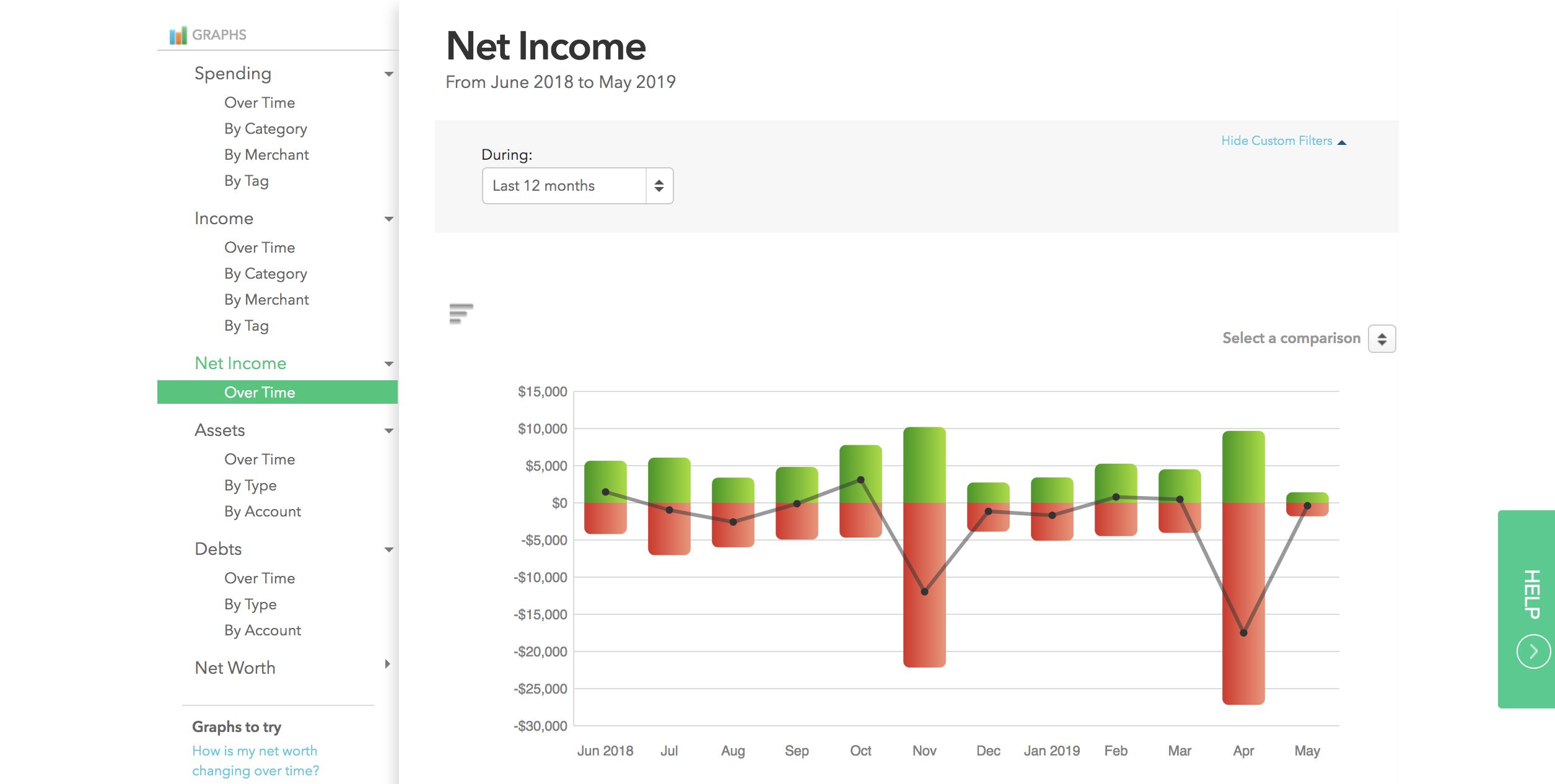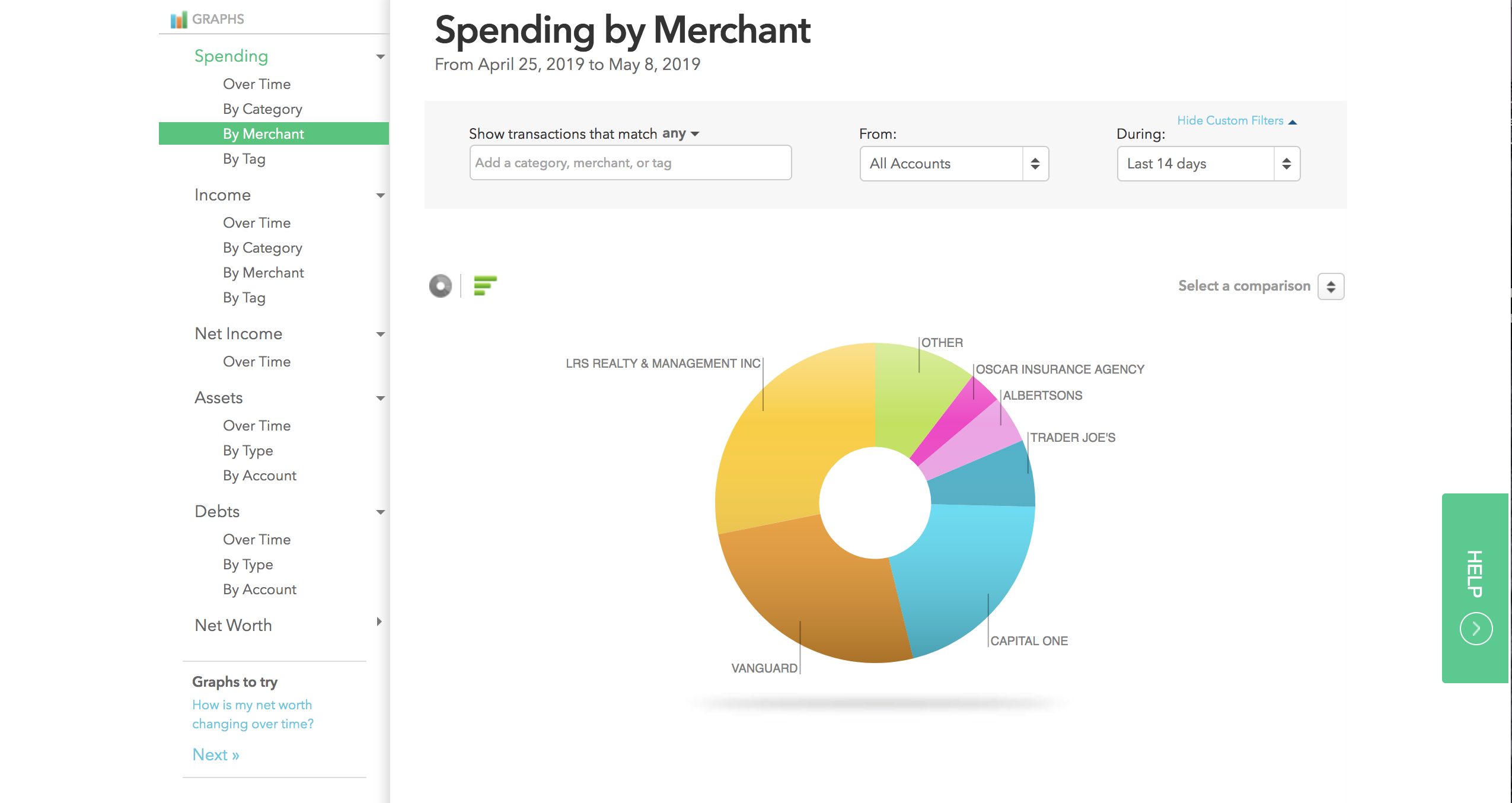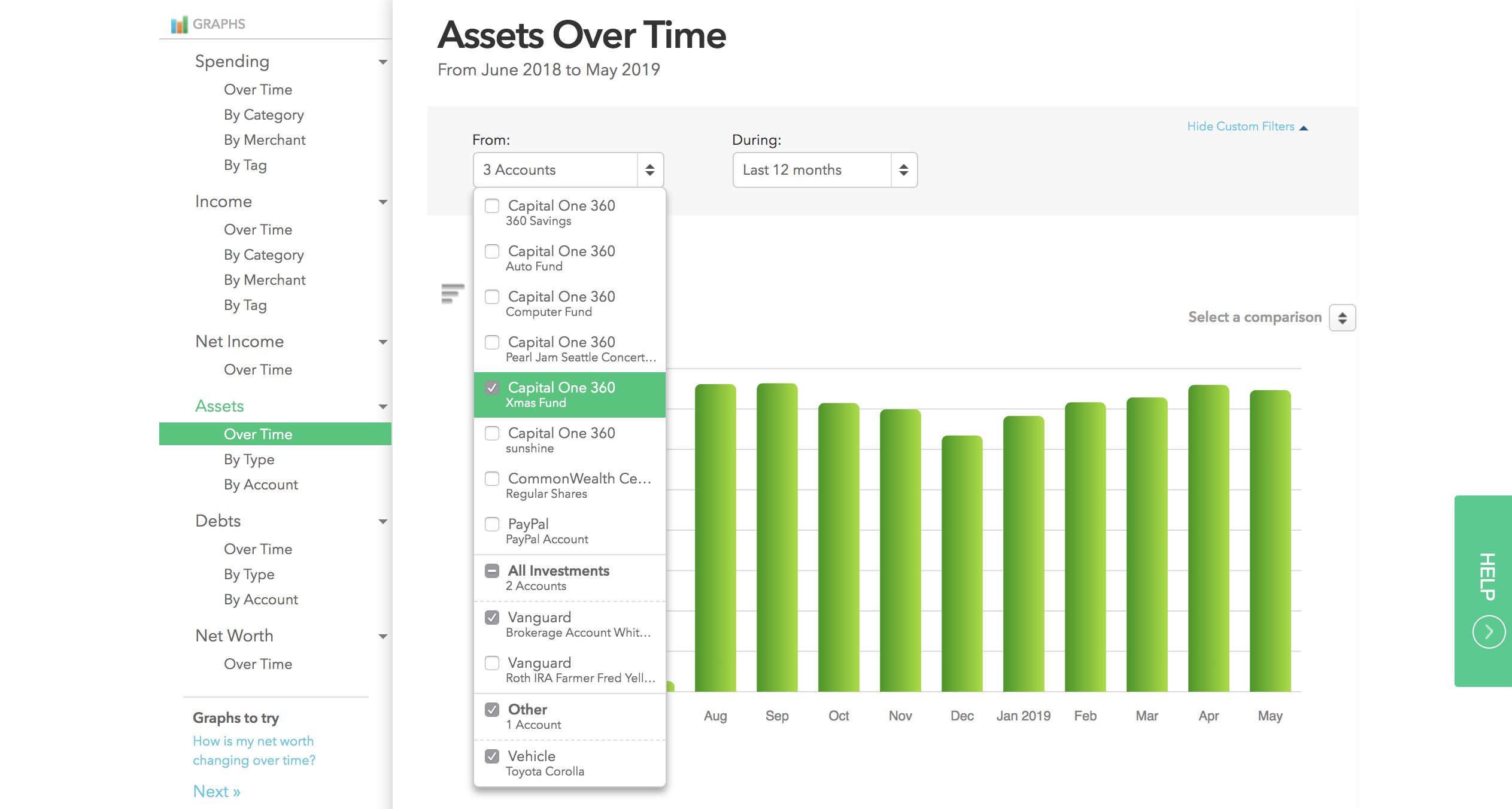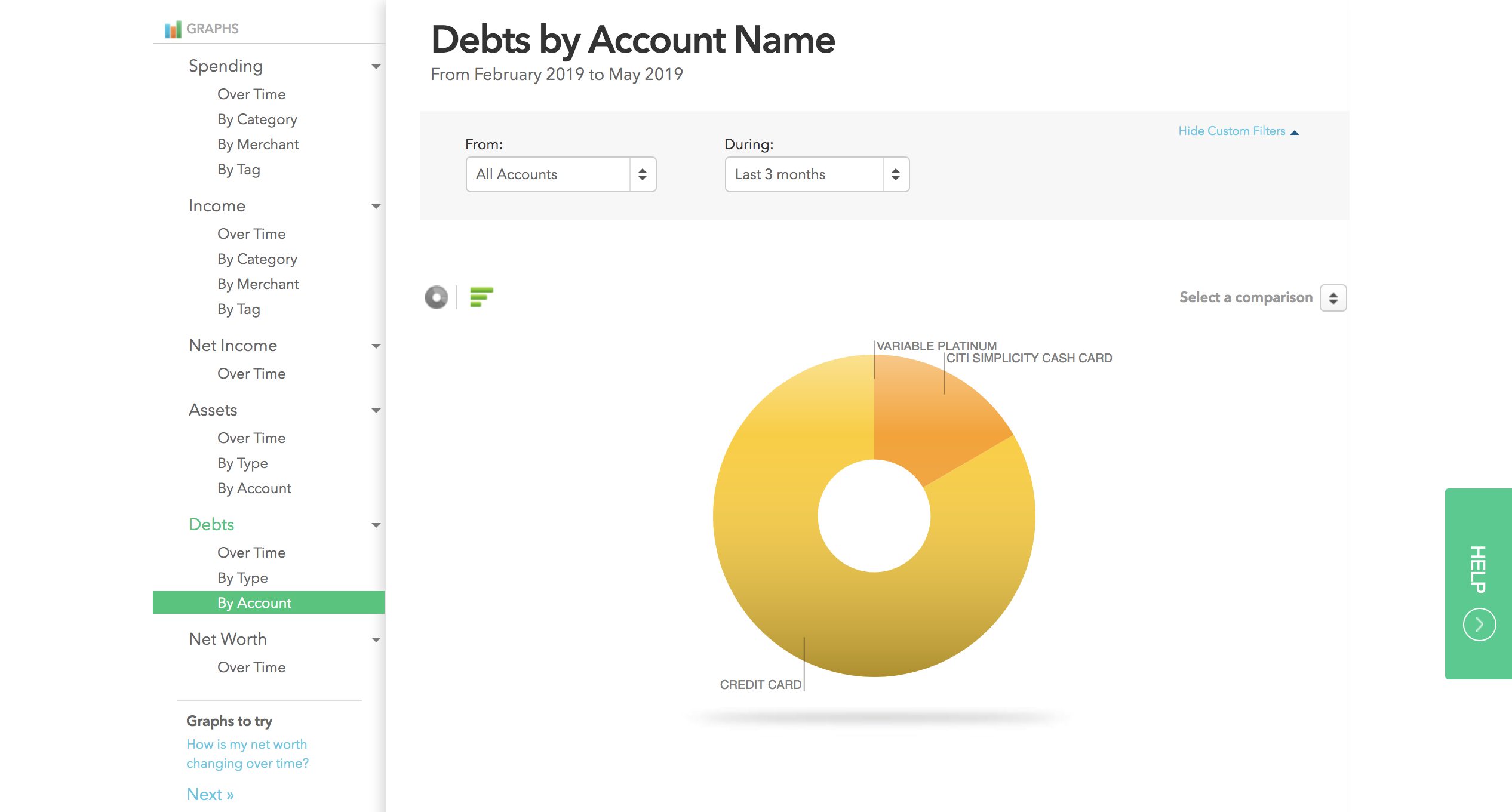 This feature is excellent at spotting areas that need improvement (or areas where you're on track in which case, crack that bottle of Allagash Curieux!)
Assets are everything of value you own. Mint will ask you to list any property including things like homes and cars along with brokerage accounts and other investments. You can select one account or several to track its performance over time. Are your assets trending up or down?
What I like about this feature is the ability to filter it by account. You have the option to see the aggregate of all your data or specific accounts. Time frame filters are lovely to add for your data crunching.
For example, if you only want to see data from the last six months, you'd tick that box and Mint will show you a report from that period.
Debts and Net Worth work the same way.
If you've got a lot of debt (student loans, credit cards, mortgage), you can divide it up by account, type (loan, credit card), or overtime. Net Worth is what you want trending up. If it's not, no worries, Mint will point out areas where you need to improve. It's an indicator of how you're growing your wealth.
Analyzing your Trends is a kick-ass tool that points out all of the kinks in your armor. Do you see areas where you're vulnerable?
Ways to Save
Mint isn't shy about offering ways to save. You'll find them either through your spending habits, or they have an entire selection of ideas at the upper right-hand corner of their page. Click on that and you'll see this…
Will all of their suggestions be appropriate for you? No. However, it serves as a great starting point. Click on any one of the categories at the top. Mint divides it into four areas:
Banking. They break it down further by credit cards, checking, and savings. Credit cards get even more detailed with their offerings:
Top Picks
0% APR
Balance Transfer
Cash Back
Rewards
Secured
Student
Travel
Investments. Check out Brokerage, Rollover 401K, IRAs, or New Ways for ideas.
Insurance. Life and autosuggestions.
Lending. Need a personal loan or student loan?
One drawback here is Mint only offers suggestions through their partners. For example, in the Investments category under Brokerage, there's only one suggestion – Ally Invest.
There's no mention of top robo-advisors like Betterment or low-cost broker Vanguard. It pays to do your homework when exploring their recommendations. They won't always be a perfect fit. Take it with a grain of salt.
Blog
Mint's robust selection of reading materials will keep you busy. I think providing users with personal finance education should be a staple of any money-related site. You'll find stories covering wide-ranging topics from saving to money etiquette to investing advice.
Is Mint Safe?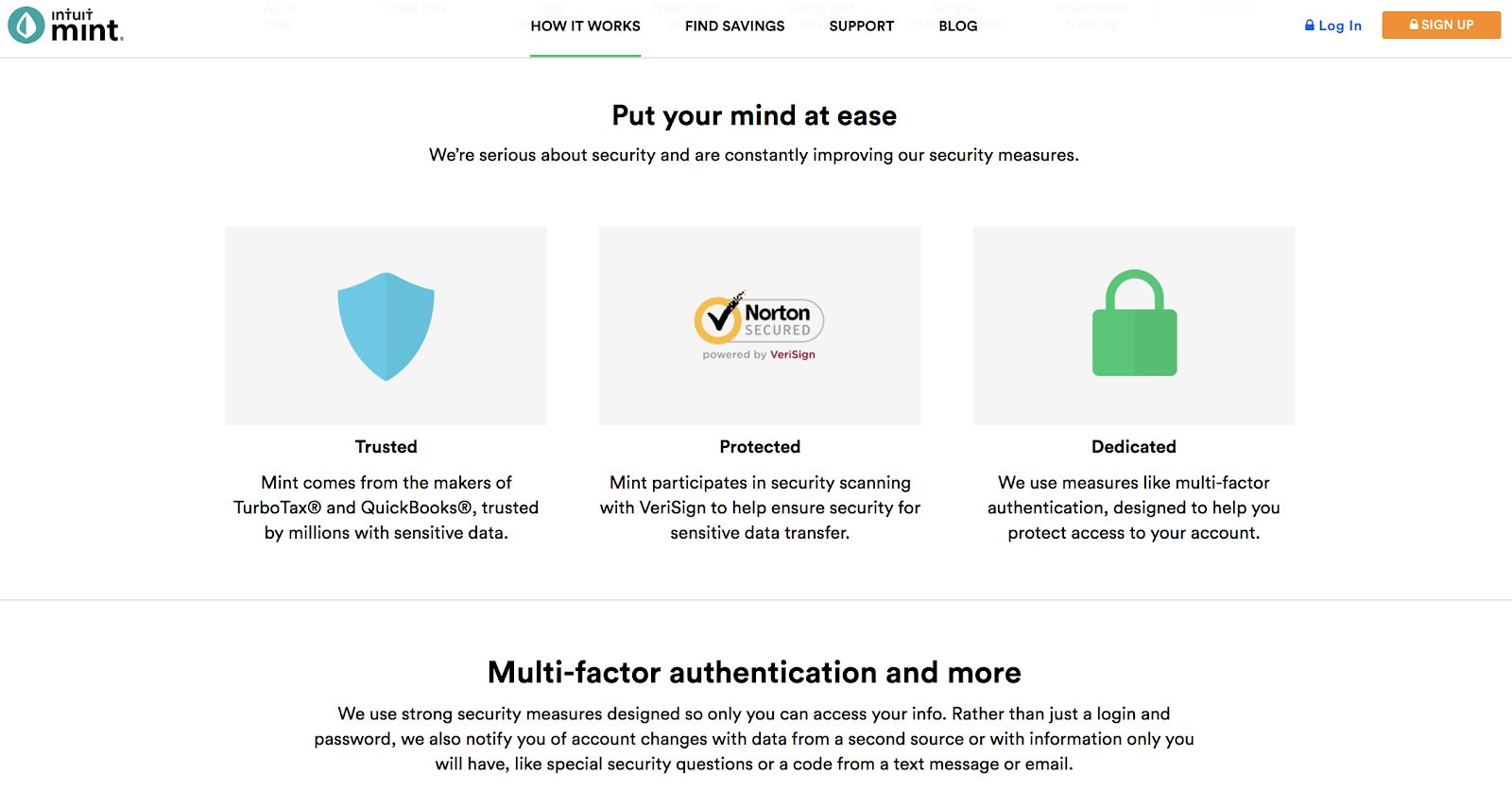 Mint is a product of Intuit (the folks behind TurboTax and Quickbooks) and a trusted financial partner with millions of users. They use security scanning through Verisign which keeps your data safe in transit.
Ample security features including:
Multi-factor authentication
Receive codes via text and email confirming your identity
Create your own security questions
Receive notification of account changes (if it ain't you making those changes, you'll know about it lickety-split)
The mobile app has a four-digit code and is touch-ID capable. You also have the option to either remove mobile access or delete your account in case your smartphone is lost or stolen.
Mint is also "read-only." There's no transferring of money. Because there's no money being exchanged, all Mint can do is download your transactions – which means a hacker would only be able to view your transactions. No money would be mysteriously withdrawn.
Mint Alternatives
Mint isn't the only budgeting app on the market. I'm a fan of anything that helps improve your financial situation. If you find their offerings disagreeable, there are alternatives.
You Need A Budget features award-winning software, an excellent user experience, and a Four Rules budgeting method that works.
Users pay an annual subscription fee, but they offer you a 34-day trial to test drive their software.
Quicken is another application that lets you see your entire financial picture in one place. You can categorize your expenses, manage bills, and track your investments.
Like YNAB, Quicken is subscription only, but they do offer a 30-day money-back guarantee in case you're not 100% satisfied.
Is Mint Worth It?
Pros
Free to use
Credit score with an explanation of how and why you earned your number
Goal setting w/ sexy graphs (calculates interest on car purchases and debt repayment goals – an added layer of awesomeness)
Easy to use
Email alerts and reminders (never miss a bill or let your account balance fall too low)
Bill tracking
Complete financial picture in one place
Trend analyzing (helps cut out frivolous spending)
iOS / Android-friendly
Cons
Syncing issues between accounts (doesn't always stay connected and have to re-sync)
Recommendations limited to only their sponsors (you won't find an exhaustive list of companies covering every category here. Might need to explore outside of Mint to find companies that are a better fit. For example, the Investments/Brokerage category mentioned in the Ways to Save portion of this article)
Only one savings goal per account. You can't link multiple goals to one bank account)
Light on the customer support (clicking "Support" on their site gets you a list of troubleshooting articles to read by topic)
Want A Free Guide to Mastering Mint (And Unleash Your Budgeting Superpowers)?
If you're looking to crush your budgeting goals, Andrew and his team went the extra mile and created a Free Mastering Mint Guide. It walks you through every nook and cranny in great detail with a few added perks. Click here for the added perks.

Final Thoughts
Will Mint help you save money? It's a great budget app to have in your toolbox. It includes many first-rate features like the ability to analyze trends, enhanced goal setting (accounting for differences in saving for a car versus paying off credit card debt), and bill tracking.
When you use Mint in harmony with the financial information provided, your monthly budget stands a better chance. Is it the only app available? No. You Need A Budget and Quicken are two top competitors worth exploring.
Having a holistic financial picture makes managing your money even more effortless. Mint's powers primarily lie in the budgeting arena. Even though you can park your investment accounts with Mint.com, its features are no match for Personal Capital's wealth management tool. Something to think about for investors with more extensive portfolios.
However, if you're looking for an optimal way to track your money, Mint is a solid choice. It's important to remember that it's only as powerful as its user. Merely downloading this personal finance app alone isn't going to solve your money problems. You've got to put in the work. A healthy financial life starts with knowing where you stand.
Now… beer, anyone?