You Need A Budget (YNAB) is one of the most widely-recognized budgeting apps on the market. The platform has a take-charge approach to managing your money.
The zero-based budgeting method is made up of four simple rules that empower YNABers to seize control over their financial lives. YNAB is built with award-winning software, an enthusiastic customer support team, and an ample selection of educational resources.
The method, similar to the Envelope System popularized by Dave Ramsey, has you give every dollar a job. If you're looking for a way to rein in your spending, align your money with your goals, and stay one step ahead of upcoming bills, YNAB could be just what the doctor ordered.
In this YNAB review, I'm going to show you who they are, how their platform works, and whether they're worth it.
We also sat down with YNAB founder Jesse Mecham. Have a listen!
Onward!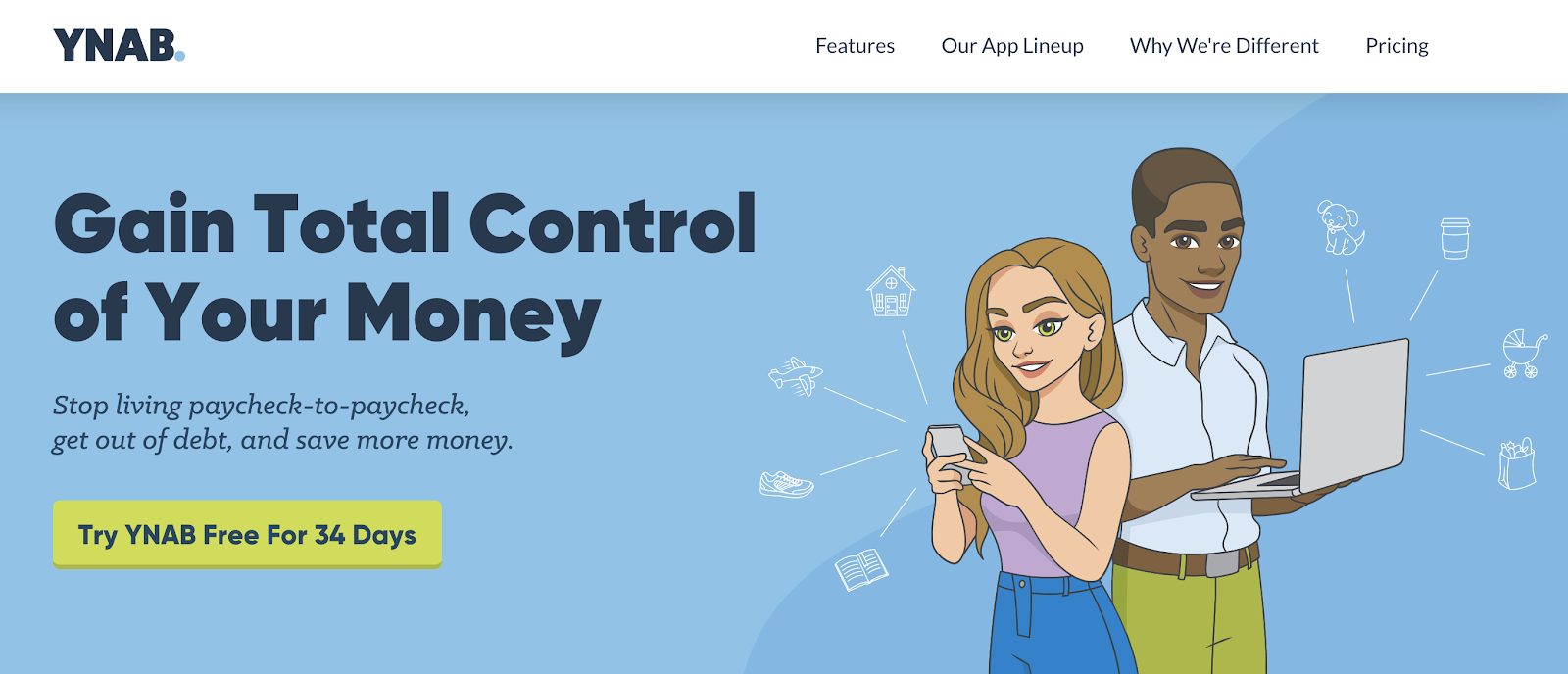 Bird's Eye View



Cost
Free
Apps
iOS/Android
Budgeting Style
Business Style
Reporting
Income, Expenses, Investment Performance, Holdings, Allocation, Net Worth
Investing Tools
Retirement Planner, Retirement Fee Analyzer, Investment Checkup
Alerts and Reminders:
Email Alerts
Security:
Encryption, MFA
Cost
Free
Apps
iOS/Android
Budgeting Style
Category Tracking
Reporting
Spending, Income, Debts, Assets, Net Worth
Investing Tools
Performance Analyzation, Allocation, Value, and Stock Market Comparisons
Alerts and Reminders:
Email Reminders and Alerts, Goal Reminders within the App
Security:
Encryption, MFA
Humble Brags
According to YNAB, new budgeters should save $600 within their first two months and over $6,000 their first year using the software. They suggest you skip eating out one night this week and you've covered the cost of their annual subscription ($83.99).
YNAB has also received praise from these reputable folks:
Vicki Robin, author of the seminal book, Your Money or Your Life
Erin Lowery, personal finance expert and author of Broke Millennial (#GYFLT!)
Josh Kaufman, author of the #1 international bestseller, The Personal MBA
Pete Adeney, the founder of the influential money and lifestyle blog Mr. Money Mustache, had these kind words to say about Jesse's material:
"If you're ready for a disarmingly casual, yet deceptively persuasive ride into a new perspective that has changed hundreds of thousands of lives, read on."
What Is YNAB?
Jesse Mecham created YNAB in 2004 while studying for his master of accountancy at Brigham Young University.
It was born out of his budgeting spreadsheet he created to help him and his wife get a handle on their finances.
They needed to monitor what little money they had. So, they agreed upon a few rules that they felt would be the most efficient way to handle their money management system.
The rules were simple and served as their financial roadmap. They'd decide where their money would go before spending it. Larger, infrequent expenses were treated as monthly bills. Their budget would be flexible like a living document. They also made it a point to focus on spending last month's income.
What started as a handful of rules from a spreadsheet has evolved into a proven system with hundreds of thousands of users.
YNAB has grown slowly since its inception and now has more than 80 remote global employees from Boston to Brazil to Pakistan.

The Four Rules
Rule 1: Give Every Dollar A Job
YNAB's path is simple. Create a plan based on what matters most and give every dollar a job. Money that sits idly in your account leads to trouble. Why?
Because idle dollars are the devil's tools.
Not to get too extreme but that quote has a powerful message. If you don't take steps to put your money to work for you, it's easier to overspend and fall short at the end of the month.
When you follow your plan (aligned with your goals) and put money to work in your assigned categories, your less likely to spend money on unimportant stuff. Having assigned categories also helps curb emotional spending.
We've all been there: You go shopping hungry and buy more than you need, or you're feeling depressed, so you buy a new pair of expensive shoes. Your mood controls you in that instant.
Rule 2: Embrace Your True Expenses
We all have expenses that roll around like clockwork – Xmas, annual insurance premiums, birthdays. The list goes on. Create goals to fund these infrequent expenses.
YNAB says you know these things are coming, so treat them like a monthly bill and start saving for them. When Xmas rolls around, your money is already there waiting for you.
Rule 3: Roll with the Punches
Your life is full of uncertainties. YNAB leaves room for this with their budgeting software. Let it be flexible, and you're more inclined to stay with it. Tackle overspending when it happens (because it will happen) and move on.
You can move money between categories to cover overspending. This is a fluid budget. It rolls with the punches.
Be like water. – Bruce Lee
For example, if you overspend in your "groceries" category, move funds from your "dining out" category to fill the gap. YNAB is big on systems. If you've got a sound framework in place, fixing these problems as they occur will be easier.
Rule 4: Age Your Money
This rule works towards breaking the paycheck to paycheck cycle. Your goal is to spend money that's 30 days old. Use last month's income to pay for this month's expenses. As you start spending less than you earn and have aged your money 30 days, you're no longer living paycheck to paycheck!

Using YNAB
Starting with YNAB means beginning with how much money you've got in your bank account – not the paycheck you'll be getting two weeks from now. Every time you're paid, you need to assign those dollars jobs based on your immediate obligations.
You'll customize your monthly budget based on your spending categories and financial goals.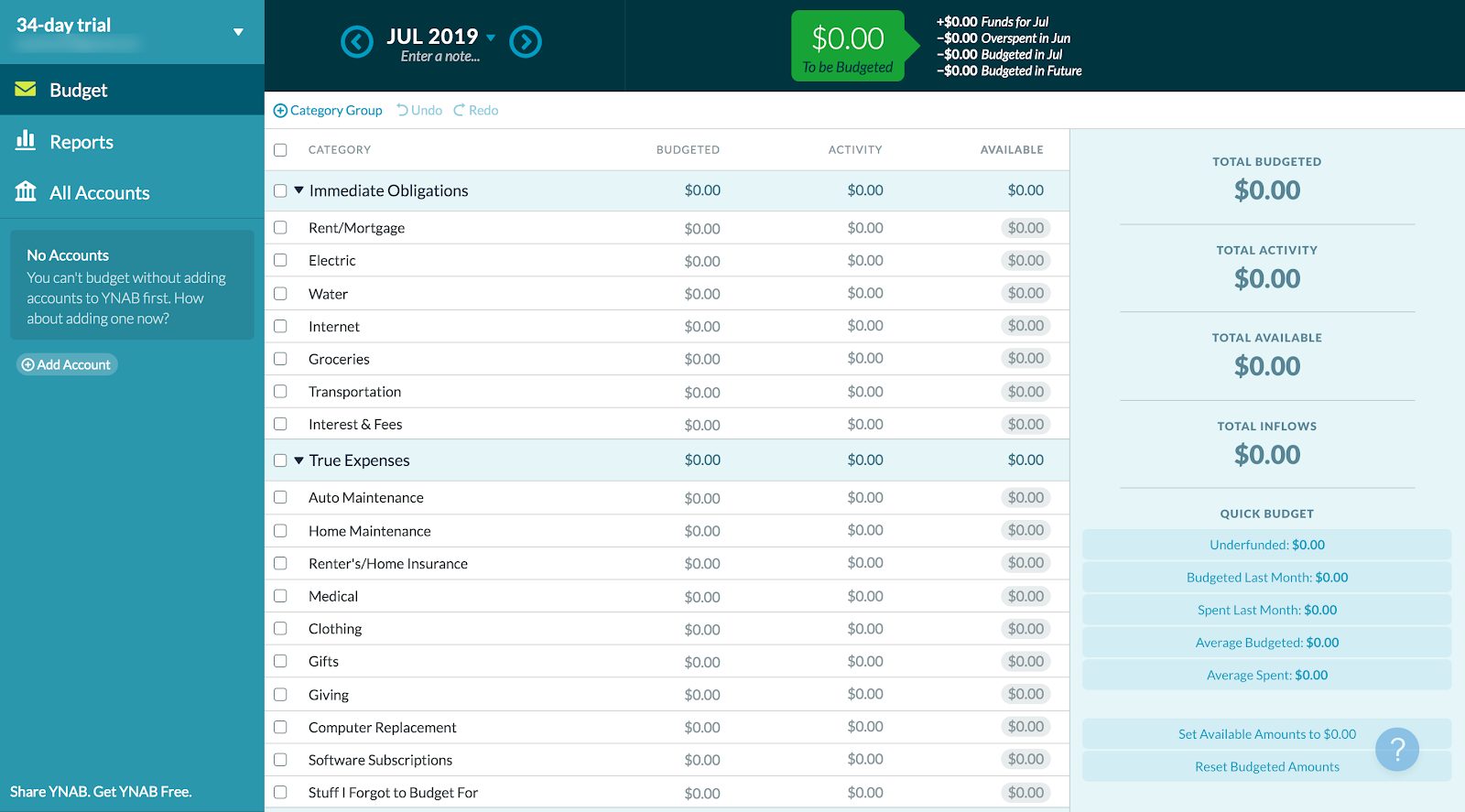 Categories and Bill Management
You start with a blank slate. Categories will appear by default, but these are all easy to customize or remove entirely. This plan will serve as your financial roadmap for crushing debt, creating monthly savings goals, and planning for upcoming bills.
Pro-tip: Include the due dates with any bill category and then label them in descending order from the beginning of the month to the end of the month. You'll get a bird's eye view of upcoming expenses.

You'll create categories for things you already spend money on like rent, groceries, and transportation. Then, you'll create your irregular expenses categories (like Xmas or annual vacations).
Your budget - not your bank account - should guide your spending.
Tweet This
After your plan is created, let it influence your spending habits. Ask yourself:
What are your priorities?
Where do you want to be in the future?
Treat your irregular expenses like monthly bills and pay them each month.
Even if it means putting aside a little bit. It's been scientifically proven that a little bit is always more than zero. – YNAB
Adding Accounts
You can add accounts by either linking them automatically or leave them as "unlinked." You'll have to enter transactions with all unlinked accounts. Some folks prefer this method as it keeps them more accountable.
Linking will import transactions directly from your bank. All you'll need to do is categorize them.
Checking and savings accounts along with credit cards and investment accounts can all be linked (YNAB lacks the sophisticated investment software featured by Personal Capital – you can track your net worth but not much else).
Organizing Cash Flow

The green "To Be Budgeted" box is all the money you currently have in your bank account. You want to assign every dollar a job until that number says zero.
Once your accounts are linked, you can begin customizing your budget by creating your categories and monthly funding goals.
Create Goals and Track 'Em
Monthly Funding Goals
This lets you save money in categories where you want to have a fixed-dollar amount – things like groceries and restaurants. For example, if you only want to spend $400 dining out next month, create a goal to help fund it.
Target Category By Date Goals
Target category balance by date goals let you save for your irregular expenses. You know you'll need the money by a specific date – this allows you to plan for it. Treat it like a monthly bill and set aside a fixed amount each month.
The Inspector tracks your progress and how far along you are. Your goals will be green or yellow: green for when you're on track and yellow for when you're falling behind.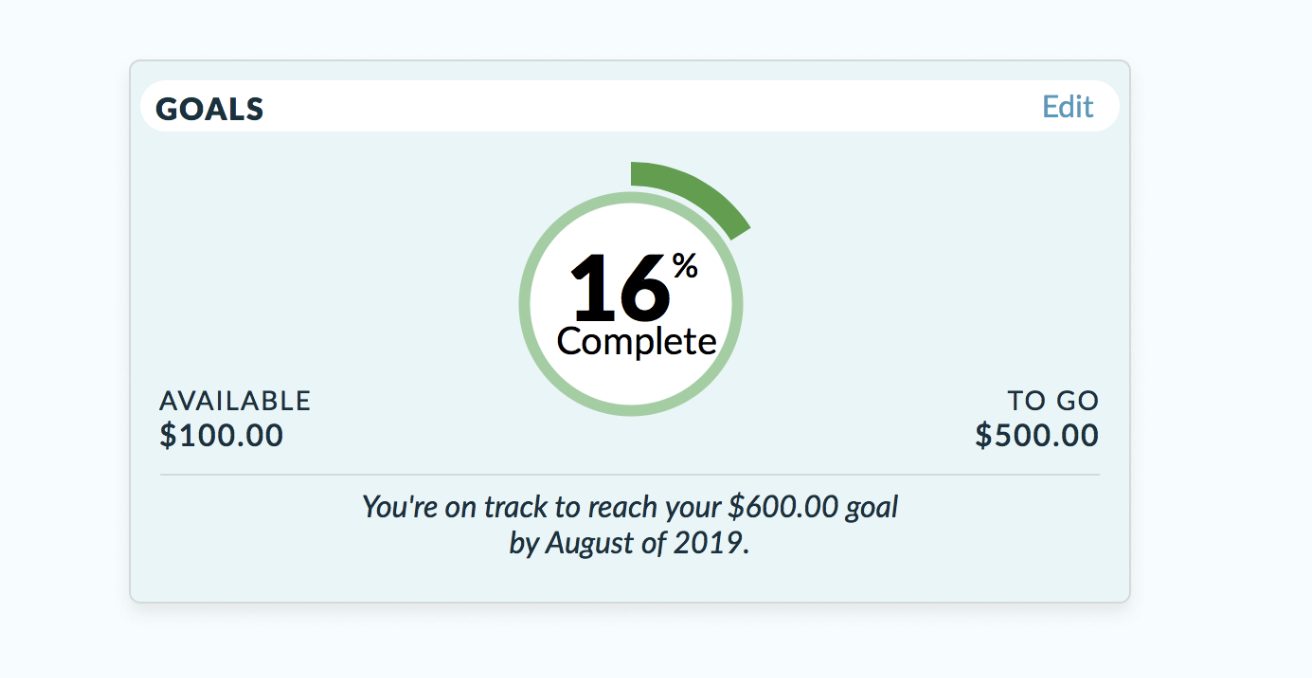 Pro-tip: Target Category By Date goals work well for retirement saving and investing too. Create a goal for maxing out your Roth, buying a rental property, or accumulating wealth. You'll build the habit of saving for long-term directly into your budget.
Reporting
If you love sexy graphs and charts as much as we do, then you'll probably like this feature. You can keep tabs on your net worth, spending, and income versus expenses. This part of YNAB resembles other budgeting apps. I call this rearview tracking. It's good to know how your past spending is affecting your current income and expense levels.
YNAB breaks it down further by letting you analyze spending totals and trends. If you're spending an awful lot at BevMo, YNAB will point it out. All of this information can be accessed in real-time from any device, and you can even share it with your partner.

Credit Card Spending
When you link your credit cards, YNAB records your credit purchases and automatically moves that money to the "Credit Card Payments" category in your budget. As long as you've assigned categories for that spending, you'll see it.

Cash Spending
If you're not keen on the idea of using credit or debit cards, you can create a "Cash" category and enter your transactions manually. This way, you're able to track your spending and income.
Direct Import
You can have your files directly imported as a CSV file. QFX, OFX, and QIF file types are available if you live outside the U.S. or Canada.
Supports Multiple Currencies
YNABers from all around the globe use the software, so it makes sense to support more than just U.S.and Canadian dollars. However, you can't have multiple currencies in a single budget.
Split Transactions by Category
You probably buy stuff at stores like Target or Amazon, where you can find an array of products from beauty to automotive to groceries. Fortunately, YNAB lets you split transactions to account for the variety of categories within a single transaction.

The YNAB Book

Jesse likes to think of your budget as a lifestyle design blueprint, where you pick your goals and build a budget that aligns with them. The book goes into great detail about the processes involved when creating a system that works.
Educational Resources
Free Budgeting Workshops
These workshops are interactive and last 20 minutes with categories including:
Getting Started: Learn the Four Rules, Set Up Your Budget, Roll with Your Overspending, and Your Budget Routine
Debt and Credit Cards: Master Credit Cards with Your Budget, Credit Card Overspending, and Create A Debt Paydown Plan
Building Savings: Reach Your Savings Goals and Break the Paycheck to Paycheck Cycle
When Money's Tight: Cutting Spending
Special Uses: Handling Cash, Budget with Any Pay Cycle, Customize Your Budget Categories, and Using It for Small Business
Blog, Newsletter, and Guides
Here's where you'll get the skinny on all things budget. They've got a blog that posts regularly along with a weekly roundup newsletter. If you're still unsatisfied, head over to their Help Center and read all the guides. Knowledge bombs include:
Deal with Your Debt: It starts by looking under the hood and finding out precisely what you owe.
Prioritize: Get your money in sync with what's important to you.
Simplify: Too many moving parts clog up the works.
Join Forces: Your budget will go farther with accountability
Think Long, Act Now: Small decisions add up over time. Are you making wise ones today?
Age Your Money: Hit 30 days and break the paycheck to paycheck cycle.
Transition Guide: Because YNAB has had so many versions, this guide will help you update to their latest model.
Video Library
All of their workshops are recorded. If their interactive style isn't your cup of tea, head here. Or try one of their other educational resources like:
Whiteboard Wednesdays: 5-minute videos that challenge you how to think about money and hit your goals faster.
Debt Stories: 15-minute episodes focused on inspiring stories of people crushing their debt.
Mobile Quick Tips: 30-second blurbs about how to manage YNAB on your smartphone.
The Investing Series: 5-minute videos hosted by Jesse himself that break down the psychology behind investing as well as the math behind why investing is a great way to build wealth.
Podcast: Also hosted by Jesse, featuring bite-sized, 10-minute nuggets of wisdom.

Customer Support
Their support team can be accessed via live chat or email and are incredibly responsive. They also have an active community forum filled with YNABers ready to answer your questions. At this time, they don't offer phone support.
Promos & Perks
Free for Students
YNAB is wild about education, which must be the reason that students get it for 12 months free of charge. Plus, the 34-day introductory trial (that's 399 days free). After that, students get a one-time 10% discount.
Referral Program
If you get a friend to sign up, both you and your friend get a free month of YNAB. There's no limit to the number of free months you can get either. If you refer 12 friends and they all sign up, that's 12 months free to you. The free month pushes your renewal date back by a month.
For example, if you paid for a year and then sign up 12 people, your renewal date would be two years away.
Wellness Program
The Wellness Program lets businesses partner with YNAB to eliminate employees' stress over money. Each company is different as not all needs are equal. Payment options include subsidizing, reimbursement, or Per Employee Per Month model (PEPM) based on utilization.
Constantly Evolving
YNAB has had many iterations since its 2004 launch with no hint of slowing down. A few things on deck for their latest update include:
A search feature that lets you look for transactions in the mobile app
Two-factor authentication
iOS 13 preparations to complement its new features
Zapier integration (Zapier is like setting your apps on automatic pilot to perform specific functions)
Most recently, they added in-app learning materials and passcode and biometric authentication.
How Is YNAB Different?
YNAB likens their budgeting program to one that's "forward-thinking and proactive." Why? Because lots of budgeting apps will send you reports on what you've already spent, but they fail to ask meaningful questions about what's important to you.
If you don't stop to plan, how will you ever stop living paycheck to paycheck? How will you ever repay your credit card debt? How will you stop spending money on things that aren't even important to you?
By having a budget in place for your short-term and long-term financial goals.
A newfound awareness of where your money is and what it should be doing makes it simple to make better decisions. – YNAB
YNAB vs. Mint vs. Personal Capital
YNAB isn't the only money tracking tool available. Both Mint and Personal Capital offer a great product, and their services are free. However, they each cater to a specific kind of customer.
I think of Mint as "rearview tracking." Yes, it will show what you're spending, but only after it happens. Personal Capital tilts its features towards investors as their investment check-up, and fee analyzer tools are exceptional.
YNAB gives you a holistic view but also lets you see what's coming and where to put it. You're the quarterback, moving your money around and telling it where to go.
Is YNAB Right for You?
If you're tired of doing Excel spreadsheets or keep coming up short at the end of the month, take YNAB for a test drive. They offer a free, 34-day trial period, so the stakes are low.
If you're worried about spending $83.99 for their annual subscription, think of it as an investment in yourself. You'll never know unless you try it.
What's to Like
Hyper-focused budgeting tool
Monthly funding and monthly balance by date savings goals for checking, savings, and credit card repayment
34-day trial (free)
Ample selection of educational resources
Always improving their software
Anticipate upcoming bills
What's Not to Like
Bottom Line
When thinking about growing long-term wealth, a budgeting program is one part of a larger picture. It tells you where to put your money based on what's important to you, but it won't help you save enough for retirement unless you set goals for yourself based on the kind of life you want to live.
If you're struggling to save money, pay down debt, or pay your bills on time, YNAB could be life-changing. Even though it's not free, $84 for a year is a small price to pay – that's the cost of dining out one night.
Goal-based planning for both short and long-term savings is a crucial element for building wealth. YNAB works by letting you take care of tomorrow's money with today's dollars.
Get our best strategies, tools, and support sent straight to your inbox.