I'm sure you'd agree with me when I say credit cards are an excellent way to get rewarded for spending money – when used responsibly. Rewards can come in the shape of points, miles, and cash-back.
On top of that, many cards offer additional perks, including travel protection, extended warranty and purchase coverage, auto rental insurance, and emergency roadside assistance.
And the Chase Sapphire Preferred credit card is no exception.
If you're looking to cash in on an excellent rewards program, this one is worth a look. In this Chase Sapphire Preferred review, we're going to take a look at who this card is for, their reward offerings, and whether it makes sense for you.
Sapphire Series Side by Side


Chase Sapphire Preferred
Travel Rewards
Sign-Up Bonus
60,000 points
spend $4k in 3 months
Annual Fee
$95
Bonus Point Rate
2x points on travel and dining
1x points on everything else
Point Redemption
$0.0125 single point value per dollar spent when redeemed through Chase
APR
Variable 17.49%-24.49%
Extra Features

Chase Sapphire Reserve
Travel Rewards
Sign-Up Bonus
50,000 points
spend $4k in 3 months
Annual Fee
$550
Bonus Point Rate
3x points on travel after earning the travel credit and dining
1x points on all other purchases
Point Redemption
$0.015 single point value per dollar spent when redeemed through Chase
APR
Variable APR 18.49%-25.49%
Extra Features

$300 annual travel credit, up to $100 Global Entry/TSA Precheck credit with Sapphire Reserve
Priority Pass Select Membership to over 1,300 lounges worldwide
Chase Sapphire Preferred: Three Remarkable Benefits

This card comes as one of the most highly-recommended travel credit cards available. Many folks tout this card as worth the $95 annual fee because of its flexibility, generous sign-up bonus, and no foreign transaction fees.
If you're a frequent traveler (especially an international traveler), I'm sure you're already aware of the perks that come with this card. No foreign transaction fees are a big deal when you're spending money abroad.
However, if you're reading this review, you might not be aware of all of the Chase Sapphire Preferred benefits.
The Sign-Up Bonus
Currently, Chase has a 60,000 point sign-up bonus for new cardholders. This is up from 50,000 when I signed up over a year ago. Damn!
To get your hands on this bonus offer, all you have to do is spend $4,000 within three months of your account opening. Once you hit your spending mark, your points automatically show up on your next billing statement.
25% More Value When Redeemed for Travel
The 60,000 points carry a $750 value when used for travel through the Chase Ultimate Rewards portal. Book airfare, hotels, cruises, and car rentals to maximize your points.
2x Points On Travel and Dining
If you already spend a lot on travel or you enjoy eating out, this credit card offers two points for every dollar spent. If you don't spend a lot in those two categories, you'll still earn one point per dollar you spend.
It's my experience that you earn points long before you book your accommodations which is why it's a good idea to secure a travel rewards card if you plan on doing lots of traveling in the future.
Multiple Transfer Partners Means Greater Flexibility
1:1 Point Transfer
If you're a member of a frequent travel or loyalty program, Chase lets you transfer your points to any partner at a 1:1 value. Translation: your points don't lose value (and in some cases go further than what you'd get through Chase's Ultimate Rewards portal).
Chase travel partners include:
Airline Travel Partners
Aer Lingus, AerClub
British Airways Executive Club
Emirates Skywards
Flying Blue Air France KLM
Iberia Plus
JetBlue TrueBlue
Singapore Airlines KrisFlyer
Southwest Airlines Rapid Rewards
United MileagePlus
Virgin Atlantic Flying Club
Hotel Travel Partners
IHG Rewards Club
Marriott Bonvoy
World of Hyatt
You can transfer points in 1,000 point increments to the loyalty program of your choosing (as long as it's on the list). A point transfer fee may apply in certain instances, but Chase will tell you beforehand.
Your points usually transfer the next business day but may take up to seven days depending on the program.
Caveat: Once points are transferred, they can't be refunded, and your transaction can't be canceled.
Another benefit of the Ultimate Rewards program is that if you have a loyalty program with another airline, you're usually able to fly not only that specific airline but any of its partners that fall under its alliance.
For example, United is a transfer partner and part of the 27-member Star Alliance. It's possible to transfer and fly any airline that's part of that alliance.
A Word On Airline Alliances
The three major airline alliances are Star Alliance, One World, and Sky Team. Alliances pool their resources to compete against other airlines and /or alliances. Savvy travel hackers know this and look for ways to leverage this to their advantage.
There's a greater opportunity to harness the collective power of an airline alliance because there are more options available to you.
As this post from JohnnyJet put it:
You can fly one airline and have the option to earn and redeem miles on another.
This flexibility affords you some wiggle room when transferring points to your frequent flyer program. Be sure to check with your airline before making a transfer – don't leave points on the table.
What's A Point Worth?: A Breakdown
You earn one point for each dollar spent. But, you earn two points (2x) for each dollar spent in the travel and dining at restaurants categories.
What's included in those categories? A lot. Here's the list from their website.
The Travel category includes:
Airlines
Hotels and motels (including Airbnb)
Timeshares
Car rental agencies
Cruise lines
Campgrounds
Passenger trains
Buses,
Ferries
Limousines
Highways and toll bridges
Garages and parking lots
The Restaurant Category must be sit-down or eat-in dining (includes fast food). Merchants that don't fall under the restaurant category are:
Hotels and casinos
Sports stadiums
Theme parks
Grocery and department stores
Some places have made arrangements to qualify so if you frequent a questionable establishment, reach out to Chase to be sure. Don't make the mistake of thinking you're earning 2x points, but you're only earning 1x.
Redeeming Points: Travel Purchases vs. Cash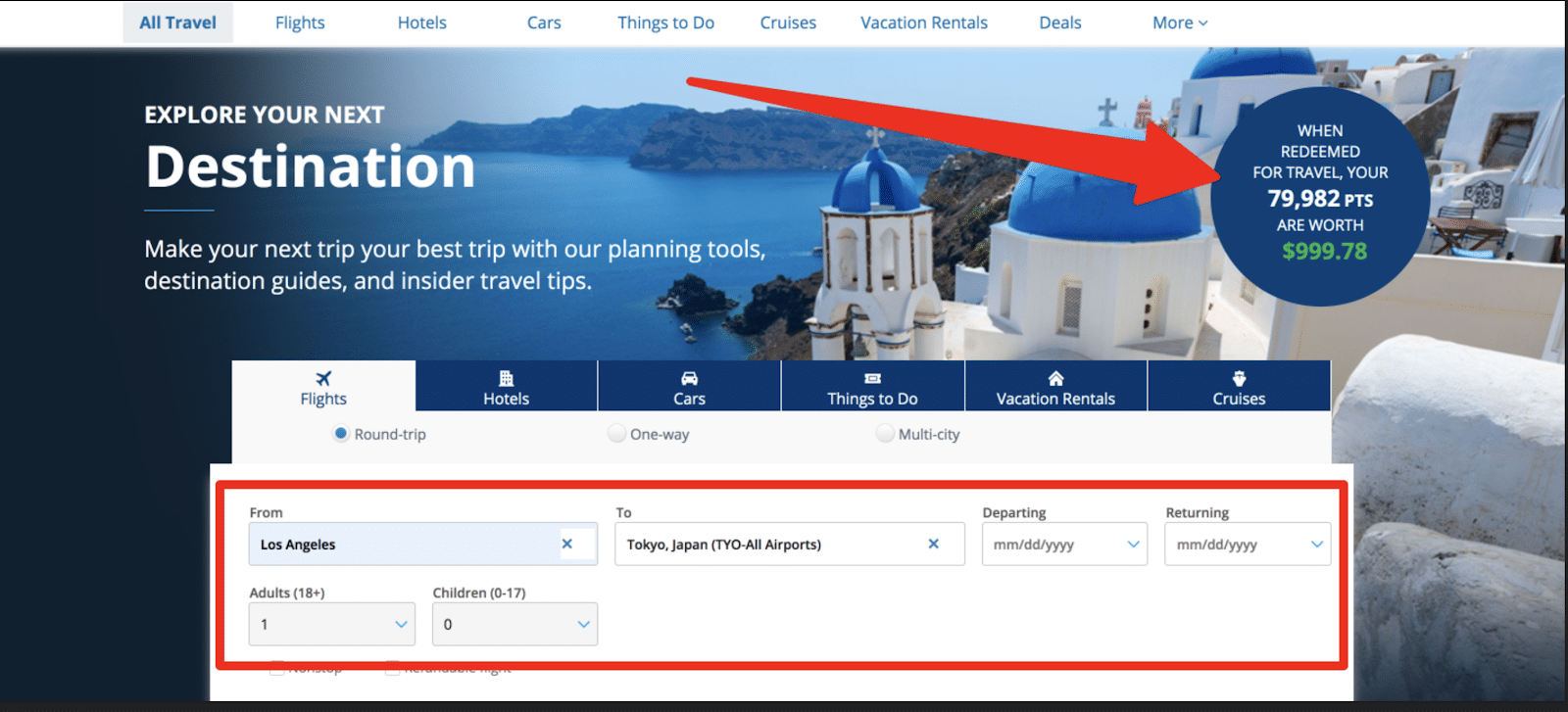 When only using points to redeem for cash, each point is worth $0.01(one cent). For example, 100 points equal one dollar. However, when redeeming for travel, your point's value increases.
Points redeemed through the Ultimate Rewards Program are worth $0.0125. Those same 100 points now carry a value of $1.25 – a 25% increase when used for travel purchases.
Using your sign-up bonus as an example, those 60,000 points are only worth $600 in cash or credit but $750 for travel.
Tweet This
There are also no blackout dates or restrictions when you book travel through the Ultimate Rewards portal.
How You Can Use Your Points: Ultimate Rewards
You can redeem your points for any available rewards options including cash, gift cards, travel, and other products available through the program or from third parties.
You have the option to pay with points for a statement credit to cover Chase Pay purchases, transfer points to a travel loyalty program, or combine points with other eligible Chase cards.
Ultimate Rewards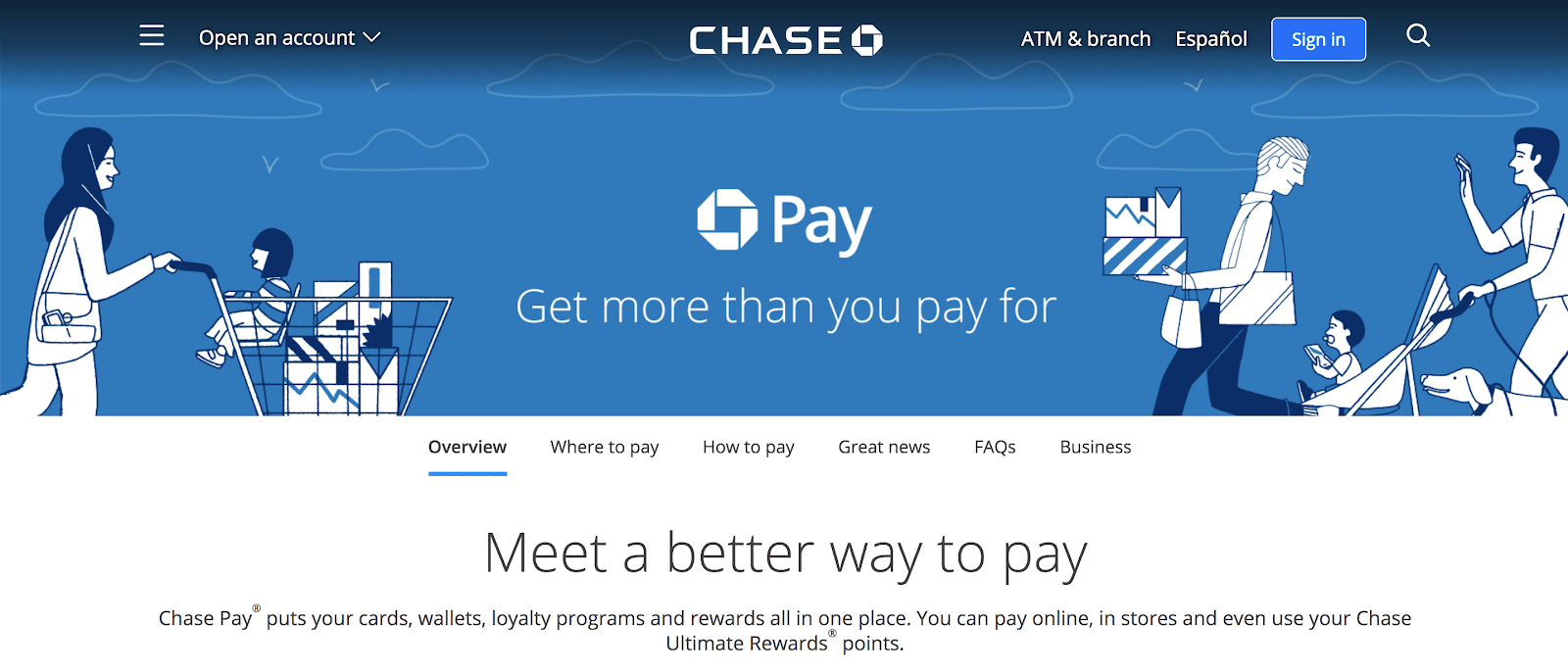 Chase gives you multiple ways to redeem points through their Ultimate Rewards Center.
Amazon Shop with Points lets you use points to pay for all or a portion of your Amazon orders. However, each point is only worth $0.008, meaning 100 points equals $0.80 when you checkout.
Be on the lookout for how much value your points carry whenever you redeem them for anything.
Apple Ultimate Rewards Store lets you use points to pay for all or a portion of your Apple purchases.
Gifts Cards. Chase has over 150 gift card brands to choose from. One point is typically worth one cent.
Travel. When you redeem for travel, each point is worth $0.0125 for every dollar you spend –  a 25% value increase.
Shop Through Chase. When you shop through Chase's shopping portal, you're connected to retail sites offering a certain amount of points per every dollar spent. You can earn 3x-12x bonus points at over 350 stores through their portal. You can access it by going to Chase Ultimate Rewards or by logging on to their mobile app.
Statement Credit or Direct Deposits. You can turn your rewards into a statement credit to help pay for future purchases, or you can transform them into direct deposits into your linked bank account.
Pay with Points through Chase Pay
Similar to using points towards a statement credit, Chase Pay lets you use points towards purchases as "Pay With Points" as long as the store is a Chase Pay merchant.
Experiences. Access exclusive events tailored to your unique taste level. Chase Sapphire Preferred offers many to choose from including:
A private dinner series featuring VIP dining treatment in the company of world-class chefs and world-class service
Sundance Film festival lets you gain access to VIP packages including premier screenings, parties, and luxury hotel accommodations
The PGA Championship includes daily grounds tickets, access to cardholder-only Hospitality Chalet and a unique culinary event
Madison Square Garden Company Exclusives gets you early access to tickets; Chase Preferred seating and in-venue discounts.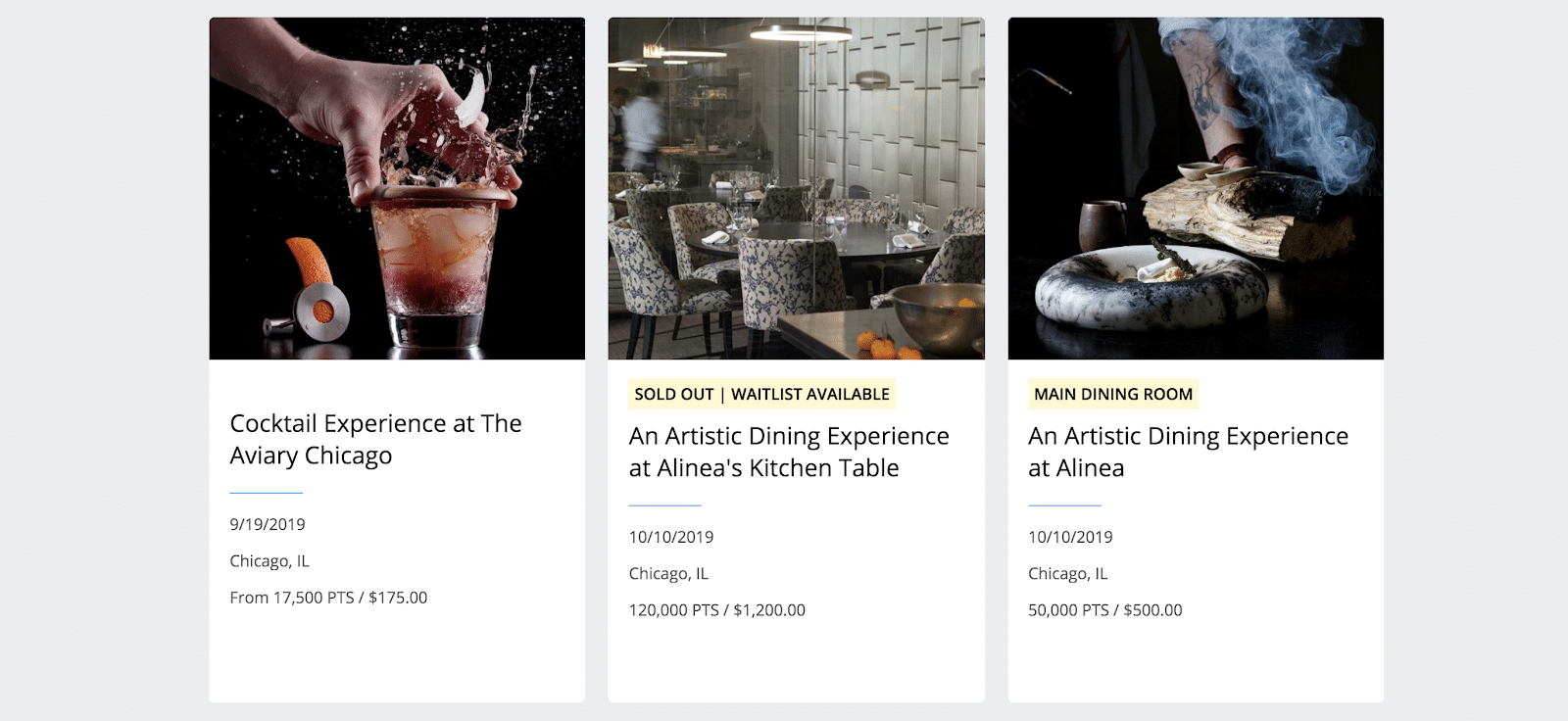 Visa Signature Concierge
Because Chase is a Visa card, you get access to a complimentary concierge service 24 hours a day. They'll also help you find tickets to sporting and entertainment events, make dinner reservations, and even help you send the perfect gift.
24/7 Access to a Customer Service Specialist
Access help when you need it from anywhere in the world. Call the number on the back of your card and instantly connect to a dedicated specialist.
Flexibility: Combining Points with Other Chase Cards
Let's say you have a Chase Sapphire Preferred card and a Chase Freedom Unlimited card. You enjoy the 2x points you get from dining out and travel, but only getting 1x points on all other purchases is a bit of a drag.
So, you use your Freedom Unlimited card on all other purchases because it has a 1.5x point value. Your game plan would be to use your Sapphire Preferred card on travel or when dining out with friends (to get 2x the points) and use your Freedom Unlimited card on everything else at 1.5x the points (because Sapphire Preferred only gives you 1x the points on all other purchases).
Now when you want to redeem your points for some serious travel time, you could transfer all of your Freedom Unlimited points to your Sapphire Preferred card to get the most bang for your buck. You genius!
Or, try pairing your Sapphire Preferred with the Chase Freedom or Chase Ink Business Cash Credit Card. Both of these cards offer 5x points in select categories. Be sure to read the terms of each card's point system to maximize your reward earnings.
How You Earn Points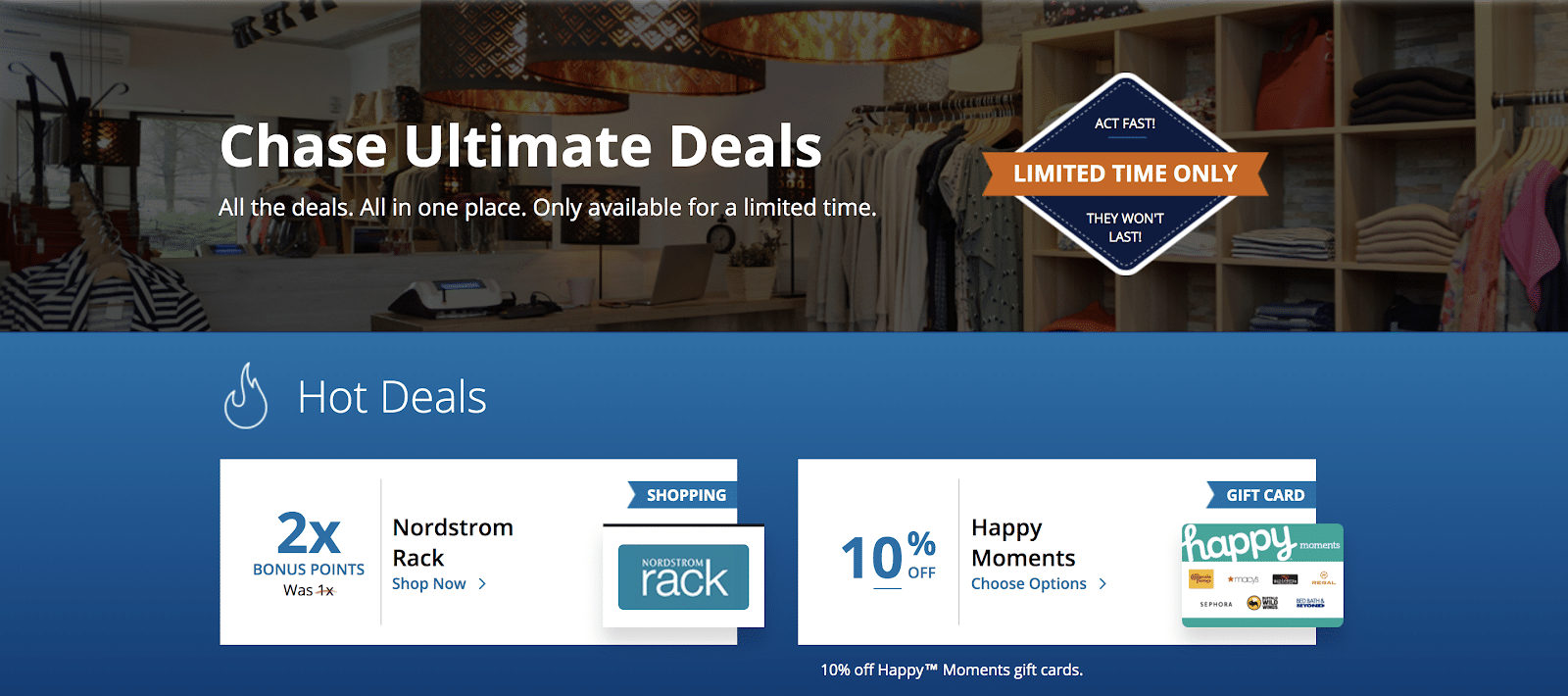 You're able to earn points when either you or an authorized user buys things with your Chase Sapphire Preferred credit card (returns and refunds don't count). The following are excluded from earning you points:
Balance transfers
Cash advances
Casino gaming chips
Race track wagers or other betting transactions
Any checks that access your account, interest, unauthorized charges or fraudulent charges and fees of any kind including the Sapphire Preferred $95 annual fee.
Earn An Extra 75,000 Points with Referrals
If you already have a Sapphire Preferred card but you're still looking for more ways to earn points, ask your friends to sign-up. Chase gives you 15,000 bonus points for each friend who gets a Sapphire Preferred card. You can potentially earn up to 75,000 bonus points per year for referrals.
Tip: Add an authorized user to your card to accelerate your point earnings
Rewards Categories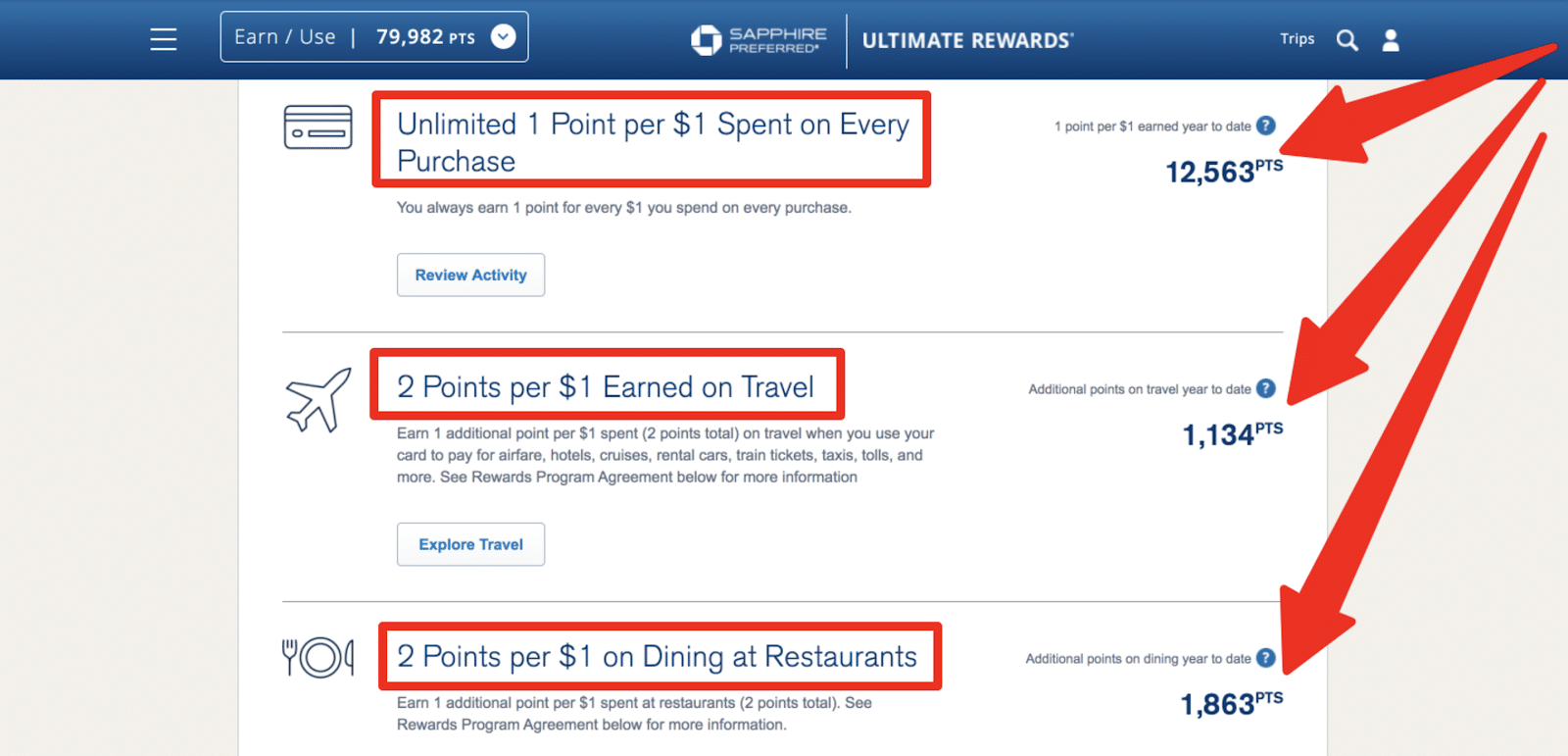 There are 20 rewards categories offered by Chase, which makes earning points easy. They've got a category for everything: from grocery stores to insurance to movie theaters. Merchants who accept Visa are assigned a merchant code based on the kinds of products or services sold.
They're then grouped into categories so the merchant must have a code for you to earn rewards. If you think your purchase should fall into a category, but you don't get any points, it's because the store doesn't have a merchant code for that category.
An Example of How Not to Earn Points
Let's say you want to earn 2x points, so you decide to use your card at your favorite supermarket that also features a cafe where you eat lunch every day. It's a sit-down establishment, so you're thinking, "Yeah, I'm gonna earn 2x points in the restaurant category. Life's awesome!"
But, because it's a grocery store you're having a sit-down meal at, the merchant doesn't have a code for that category (restaurant). It falls under the "grocery store" category. Damn. No 2x points.
Be sure to check with Chase and make sure the place you think is a 2x point earner qualifies.
Do Points Expire?
No. As long as your account stays open and stays in good standing, you're ok. The only way you'll ever lose points is if your account is closed for program misuse, fraudulent activities, failure to pay, or bankruptcy.
2x Points Are Itemized on Your Statement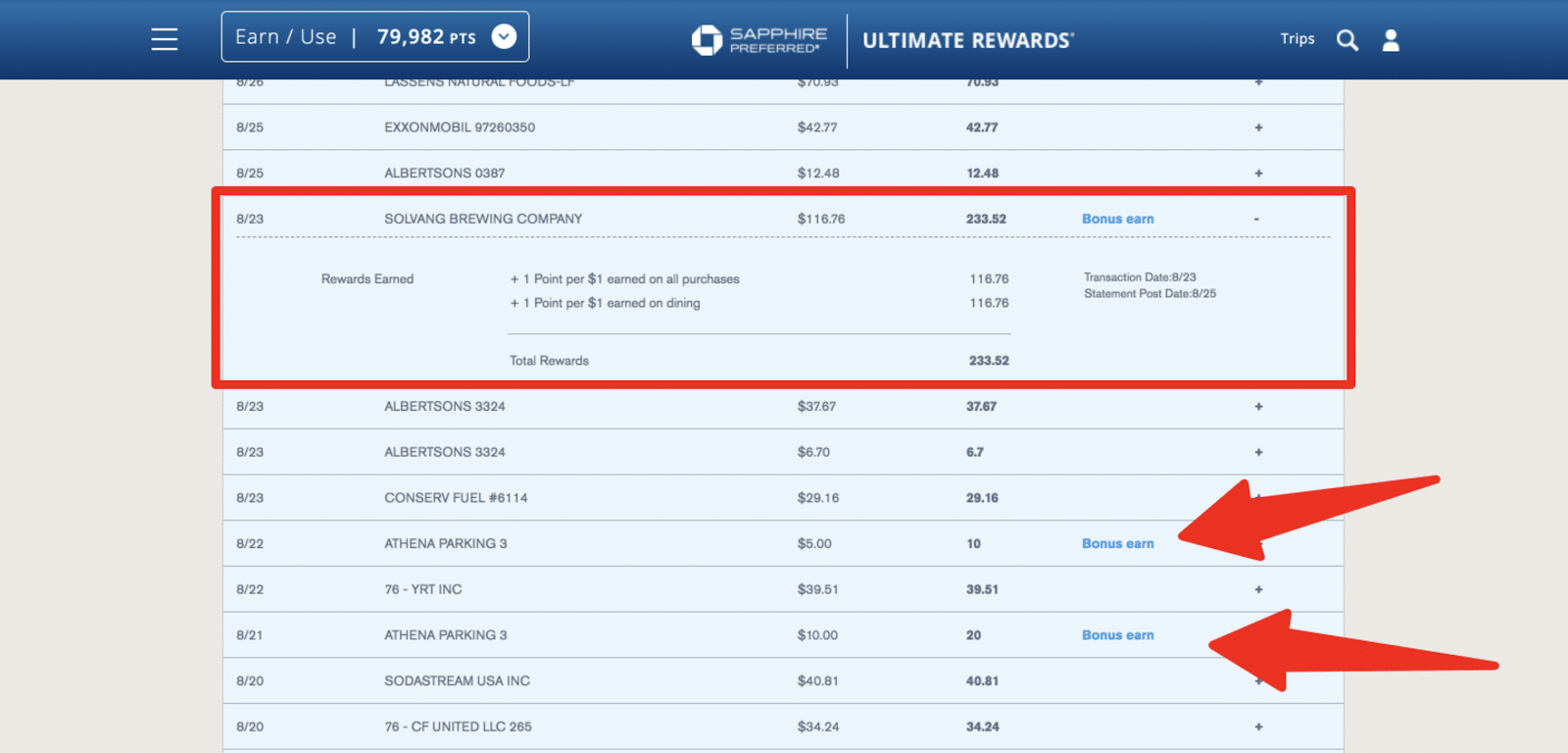 If you want to see how your points stack up, check your billing statement. You'll see the 2x points earned in the travel and dining at restaurants categories separately from other purchases.
The points earned during your billing cycle are usually available and ready to use on the next one.
Additional Benefits
Travel and Purchase Coverage
It wouldn't be a genuine travel rewards card if it didn't protect you while on the road. On top of their Ultimate Rewards Program, Chase Sapphire Preferred covers you with some heavy-duty benefits.
Trip Cancellation and Interruption Insurance. If your trip is canceled or shortened because you came down with the flu or a hurricane decimated your destination city, you can be reimbursed up to $10,000 per person and $20,000 per trip for your pre-paid travel expenses. This includes your passenger fares, tours, and hotel accommodations.
Auto Rental Collision Damage Waiver. When you're about to sign on the dotted line where it asks you to accept or decline auto insurance – decline! Sidestep the rental company collision insurance and charge the entire cost to your card. Why? Because coverage is primary and provides reimbursement up to the actual cash value of your vehicle for theft and collision damage.
Baggage Delay Insurance. It's no fun when you're there, but your bags aren't. If you find yourself short on essentials, Sapphire Preferred reimburses you for purchases like toiletries and clothing for baggage delays over six hours by passenger carrier up to $100 a day for five days.
Trip Delay Reimbursement. If your passenger carrier is delayed more than 12 hours or requires an overnight stay, you and your family are covered for unreimbursed expenses like meals and lodging up to $500 per ticket.
Travel and Emergency Assistance Services. If you encounter trouble on the road, call the Benefit Administrator for legal, medical, and emergency assistance.
Shopping Perks and Protection
Purchase Protection offers 120-day coverage on new purchases against damage or theft. The limit caps at $500 per claim or $50,000 per account.
Extended Warranty Protection extends the period of any U.S. manufacturer's warranty by an additional year on warranties of three years or less.
Fees
Annual Fee
The Chase Sapphire Preferred credit card carries a $95 annual fee. The amount of value this card provides makes up for the annual fee assuming you're using it primarily for travel and dining – or you would like to start traveling more frequently.
Foreign Transaction Fee
You won't pay any fees on card purchases outside of the US. None. For example, if you spend $5,000 abroad, you avoid the $150 in foreign transaction fees.
Foreign transaction fees on credit cards will typically cost you 3% on all purchases.
How's Your Credit Score?: My Experience
The Chase Sapphire Preferred credit card is tougher to get than your average card. Typically, recipients of this card have an average score of at least 680. That's on the low end. Many cardholders carry a score of 740 or higher.
Don't be intimidated. If this card is something that fits into your money playbook, then don't take no for an answer. My score was in the upper 700s when I applied and was rejected. Why?
According to Chase, if my memory serves, I hadn't opened a new card in such a long time that it looked odd on my report. It didn't make sense to me as I've always used credit cards and gotten my payments in on time.
I pressed the matter with them, pointing out my outstanding credit score and that I'm a reliable borrower – I just hadn't needed to open a new card in a long time. Until I discovered how using a credit card the right way could earn you mad travel points.
My girlfriend is Australian (with all of her family still in Oz), and I'm American – clearly, some traveling will be taking place.
I wanted to maximize travel points, and the Sapphire Preferred card instantly landed on my radar.
If you're denied the first time, be firm, press your side and let them know that:
You'd like to form a business relationship and make their card your primary card
You're a responsible borrower
You love their services.
Having a good credit score helps too.
Who's the Sapphire Preferred For?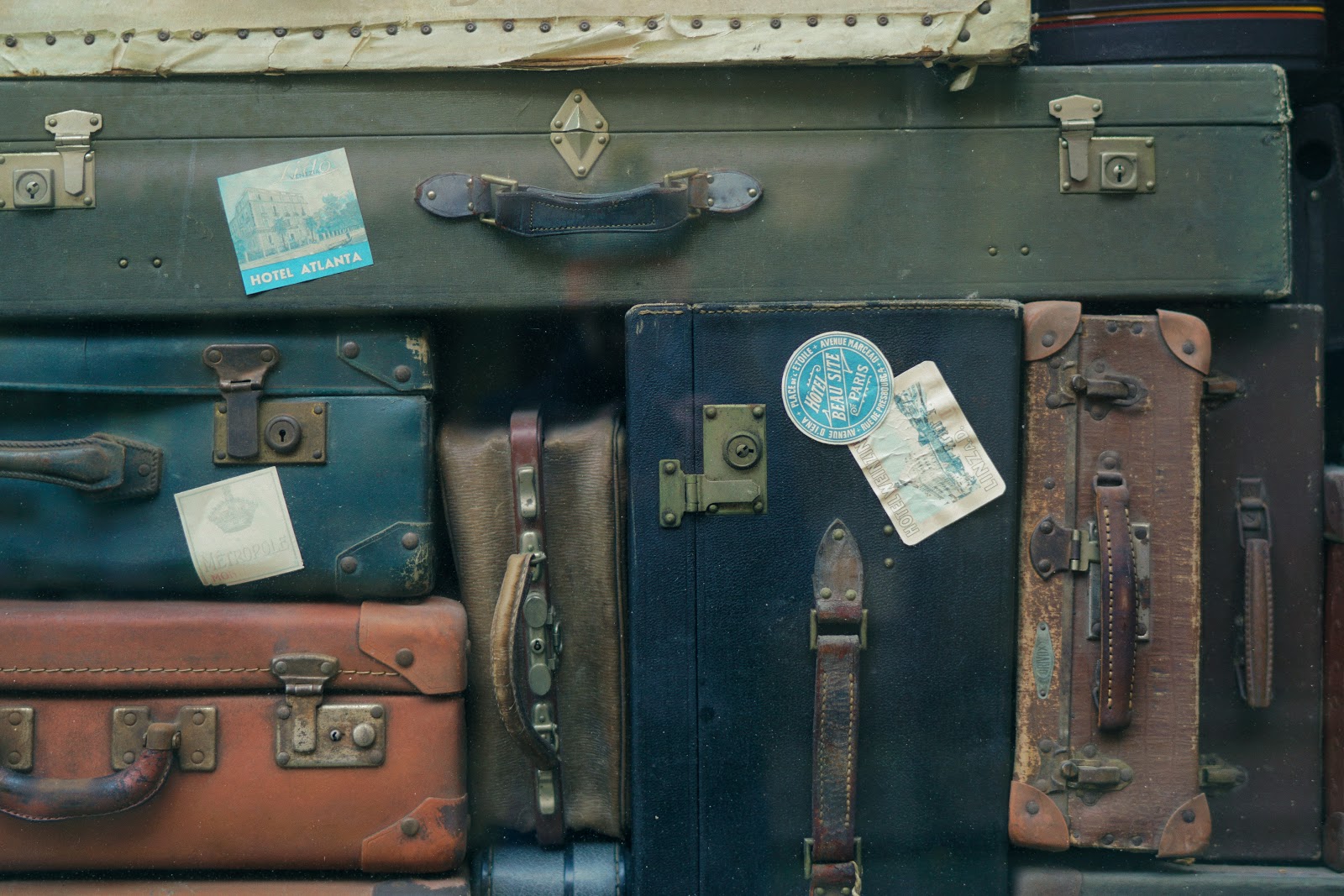 If you're a beginner or frequent traveler (or you'd like to be one), you enjoy dining out, Chase's Sapphire Preferred might be one of the best cards you could get. The annual fee is low enough that you'll earn that back after the first trip or experience you book.
Consider if you commute to work, use rideshares, or park in a paid garage often. Your Sapphire Preferred gets you 2x points in those categories too. It's not only for world travelers.
The flexibility also leaves no shortage of ways to redeem points. Chase has numerous 1:1 point transfer travel partners if you'd rather employ another airline's loyalty program, and a $1.25 point value when used for travel in their Ultimate Rewards center.
For the seasoned traveler, the Chase Sapphire Reserve might be a better fit. You get 3x points on worldwide travel after using the full travel credit and dining purchases, a $300 travel credit, and a complimentary priority pass select membership to over 1,000 airport lounges.
However, you'll pay a higher annual fee at $550.
Or take a look at the Capital One Venture Rewards card. You'll earn 2x miles per dollar spent. You'll need excellent credit, but it does have its perks.
Pros
60,000 points sign-up bonus
2x points on travel and dining purchases
1:1 point transfer
Numerous travel partners
Cons
$95 annual fee
No exclusive airport lounge access
Bottom Line
The Sapphire card is one of the best rewards credit cards for frequent travelers and diners. The 60,000 point sign-up bonus when you spend $4,000 in the first three months makes it particularly appealing to folks looking to amass a lot of points in a hurry. The $1.25 point value, when redeemed for travel, makes it even sexier.
It carries a 1:1 point transfer with numerous travel partners (versus being limited to one travel partner with some programs) and your points never expire (unless you abuse your account). The flexibility and ease-of-use with the Sapphire card is one reason why it's so popular.
And card benefits like trip cancellation insurance, auto rental collision damage waiver, and trip delay reimbursement, offer travelers some peace of mind. If you're looking to fly the friendly skies, eat out a lot, or travel for work, the Sapphire Preferred is worth a look.
***Editorial Disclosure: Opinions expressed here are the author's alone, not those of any bank, credit card issuer, hotel, airline, or other entity. This content has not been reviewed, approved, or otherwise endorsed by any of the entities included within the post.
Get our best strategies, tools, and support sent straight to your inbox.