Table of Contents
Here Are The Best First Credit Cards To Start Building Credit
Getting your first credit card is a milestone in American life, right up there with getting your driver's license. But it's not easy to qualify for a credit card if you have a limited credit history. It can almost be as bad as having bad credit as far as a credit card issuer is concerned.
And each time you apply for a credit card, your credit score is negatively impacted so you don't just want to apply willy nilly.
Add to that the fact that there are dozens and dozens of credit cards to choose from; cash back cards, travel rewards cards, airline cards, hotel cards. Which one should you choose? Can you even get a rewards credit card as a first credit card?
The world of credit cards has a language of its own; APR, balance transfers, annual fee, foreign transaction fees, rotating categories. If you're shopping for your first credit card, it can all sound completely foreign.
And of course, there are all the dangers of credit cards that people warn you about and it might put you off from even bothering to get a first credit card. But like it or not, having a credit card is almost a requirement to navigate life in the 21st Century.
If you're shopping for your first credit card and feeling overwhelmed by all this, don't worry, we gotchu. These are the best first credit cards.
The Rules Have Changed
When I was in college, credit card companies handed out credit cards like they were Halloween candy. Anyone could get one (or more than one) without showing any proof of income or employment.
The rules have since been tightened up.
Congress decided to crack down on credit card companies and passed a law ushering in sweeping changes for the industry.
 Some of the biggest changes will hit those under 21, who will find it tougher to get a credit card without jumping through new hoops. No longer will students be able to step up to a table on campus and walk away with a teddy bear, T-shirt, and credit card, at least not without a parent's signature or proof of solid income or other assets.
There is no question that these changes are a good thing. College students were graduating with not just student loan debt but credit card debt too.
But responsible use of a credit card brings a lot of benefits. It helps build credit, you can score a sweet sign up bonus which can net you things like cash, free flights, and hotel stays, and it can bail you out in an emergency.
If you're new to the world of credit cards, there are some things to understand before applying and using them.
Know the Score
There are some things to consider before shopping credit card offers. Card issuers will pull your credit report and credit score and based on how good or bad they are, issue you a card or not. You can use Credit Karma to take a look at both before applying.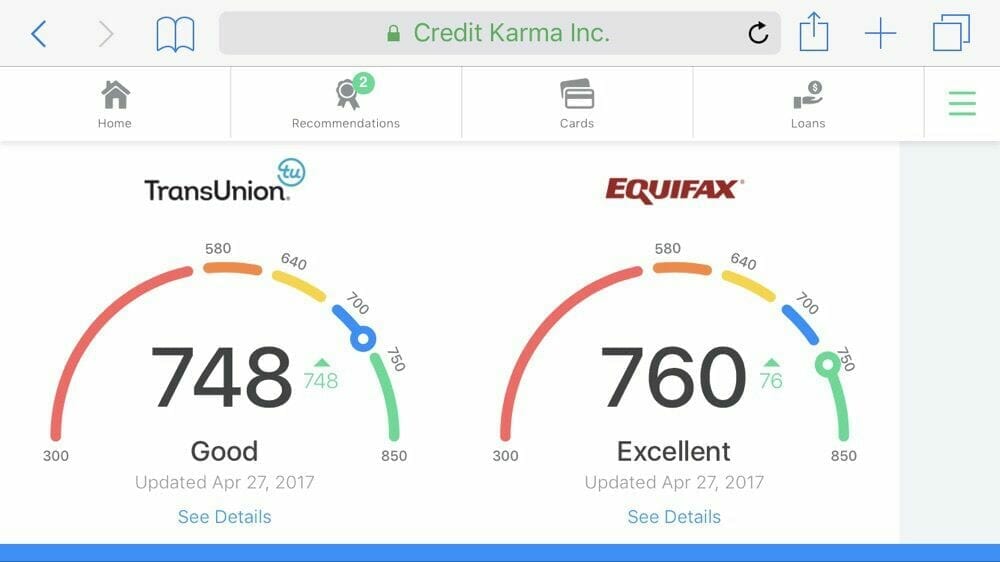 Credit Karma gives you free credit reports and credit scores from two of the major credit bureaus, Equifax and TransUnion. You want to know what your credit score is before you apply because each time you apply for credit, your credit score takes a hit.
The hit is small and temporary but you don't want to apply for a credit card that you're likely to be declined for. Luckily, most credit cards will show the minimum credit score needed for approval.
Know your credit score before you apply for any credit card and only apply for those whose minimum credit score you meet.
FICO Scores are used by many credit card issuers to determine creditworthiness.
These are the ranges:
300-579 Very Poor
580-669 Fair
670-739 Good
740-799 Very Good
800-850 Exceptional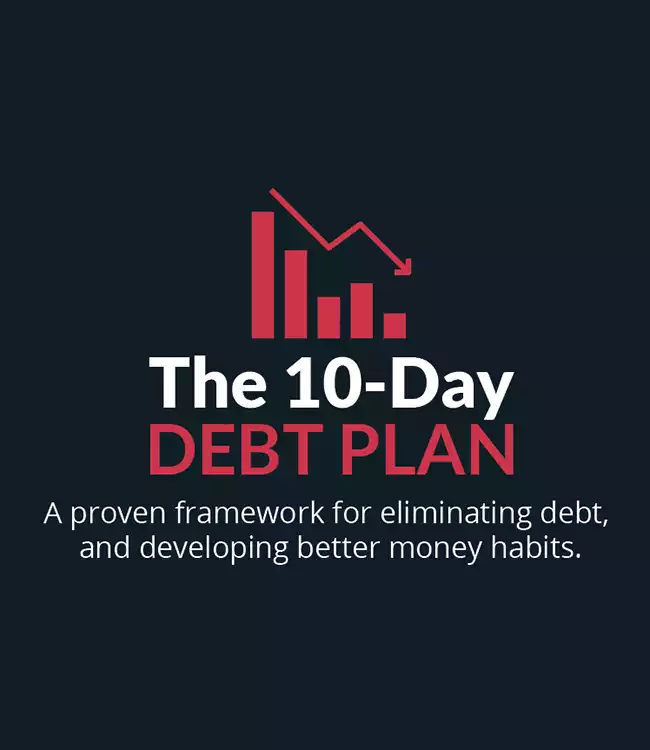 Your debt is an emergency.
This free course outlines a proven framework that thousands of people have used to eliminate their debt, develop better money habits, and start building a secure financial future.
Get the Free Course

Interest Rates
The interest rate or APR (Annual Percentage Rate) is the price of borrowing money whether it's for a mortgage or for a line of credit via a credit card. The interest rates on credit cards are high and why people struggle with credit card debt.
If you pay off your entire balance each month, you won't pay any interest. But if you carry a balance, the interest grows and grows and can eventually cost more than whatever you bought on the card.
Unlike borrowing actual money for something like a mortgage or a car, your credit score has no impact on credit card interest rates. When you're shopping for a credit card, the interest rate will be disclosed.
The rate can change though. Some cards offer an intro APR, often 0%. After a set time, the rate increases to the regular APR. This is useful for those who are making a big purchase as it acts like a 0% interest loan for the length of the intro APR.
It's also helpful to those already in credit card debt. They can transfer the balance from the credit card with a high interest rate to the 0% APR card. During the intro period, they can pay down the balance of the debt without accruing any additional interest.
If you pay late, the interest rate can rise, a penalty APR. And often if you use a credit card for a cash advance, the rate for that will be higher than the rate for making purchases.
There is also no grace period for cash advances as there is for purchases. The second you pull out cash, interest starts accruing.
Building Credit
Life can be tough when you have no credit. We need a credit score to do everyday things like renting an apartment and opening an account with utility companies.
If we don't have a credit history, we may have to pay an additional security deposit for an apartment or to have utilities turned on.
Having a credit card is an excellent way to build credit. The credit card issuer will report to one or more of the major credit bureaus, Equifax, TransUnion, and Experian, your credit habits.
Do you pay late, do you pay on time, do you pay off your entire balance, the date of the account opening.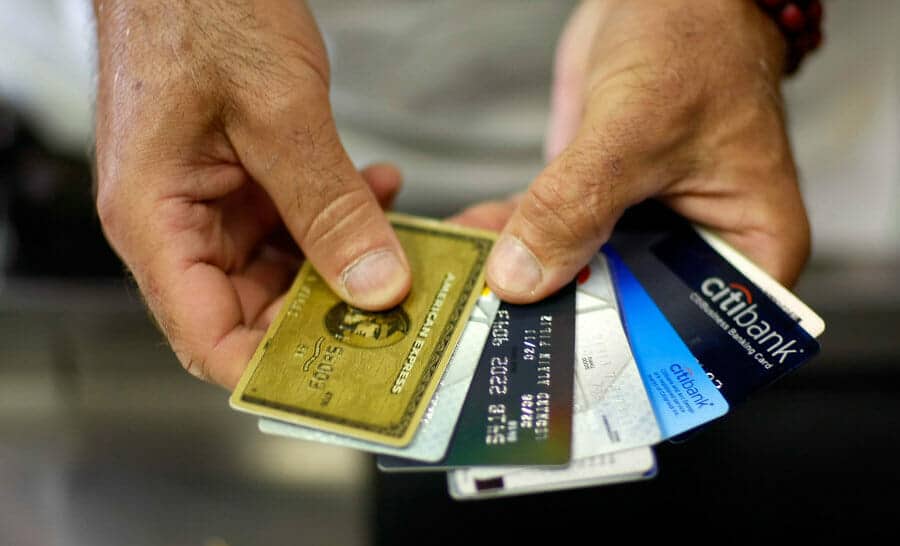 These are the kinds of things like make up your credit report and your credit report generate your credit score. Having a credit card isn't the only way to build credit.
Taking out loans (student, auto, home, etc) and in some cases paying rent and utilities can help build credit too but young people and college students who still live at home or in a dorm won't have those opportunities so a credit card will be their best option.
With all that in mind, let's get to it. If you need a credit card, these are the best first credit cards.
Discover has been good to those with a limited credit history. They offer a few cards that those new to the world of credit are eligible for but what sets Discover apart from other credit card companies also offering cards to the uninitiated is that they offer rewards cards.
Rewards cards are often reserved for those with Good to Exceptional credit scores but not this cash back card.
The card offers 5% cash back for rotating categories that change quarterly and 1% cash back on all other purchases. Categories include gas stations, grocery stores, Amazon, and restaurants. In addition, new cardholders will get double the cash back they receive at the end of the first year of membership.
For each school year, your GPA is 3.0 or above for up to 5 years, you'll receive a Good Grades Rewards of a $20 statement credit. The Discover it Student Cash Back card has no annual fee and doesn't charge a late fee on the first late payment. There is no APR change for paying late.
There is a 0% APR on purchases for the first 6 months. After that, the standard variable purchase APR of 15.24-24.24% goes into effect. You need a credit score of Fair or above for approval.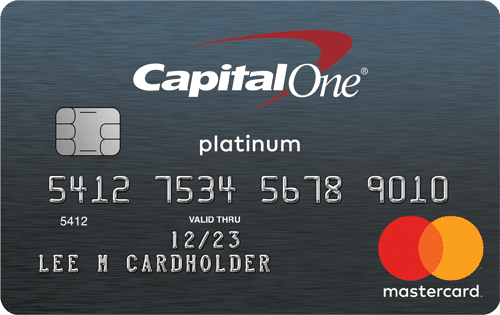 Platinum might be a bit misleading as the Capital One Platinum Credit Card doesn't have the prestige or perks of something like the American  Express Platinum Card but it does have a great perk for those who need a first credit card.
So-called "starter" credit cards often come with low limits but the Capital One Platinum Credit Card grants members a higher credit limit after making the first five monthly payments on time.
The APR is high at 26.96% so it's really important to pay off the entire balance each month (this is true of any credit card).
However, if you make a late payment, there is no "penalty" APR meaning you don't get penalized with an even higher interest rate for late payment as is the policy for some cards. You need a credit score of Fair or above for approval.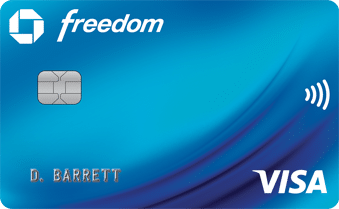 One of the great things about shopping for a credit card is finding a good sign-up bonus. A good sign-up bonus can mean free flights, free hotel stays, and sometimes straight up cash. A lot of first-time credit cards don't offer any sign-up bonus but that's why we like Chase Freedom.
Not only is it a cash rewards credit card but there is a $150 sign-up bonus after a $500 spend within the first three months of opening the account. Y
You'll also get 5% cash back on up to $1,500 in quarterly rotating spending categories including grocery stores, gas stations, and drug stores. You'll get 1% cash back on all other purchases.
There is a 0% introductory APR on purchases and balance transfers for the first fifteen months. After that, the APR is a variable 17.24-25.99%. You need a credit score of Fair or above for approval.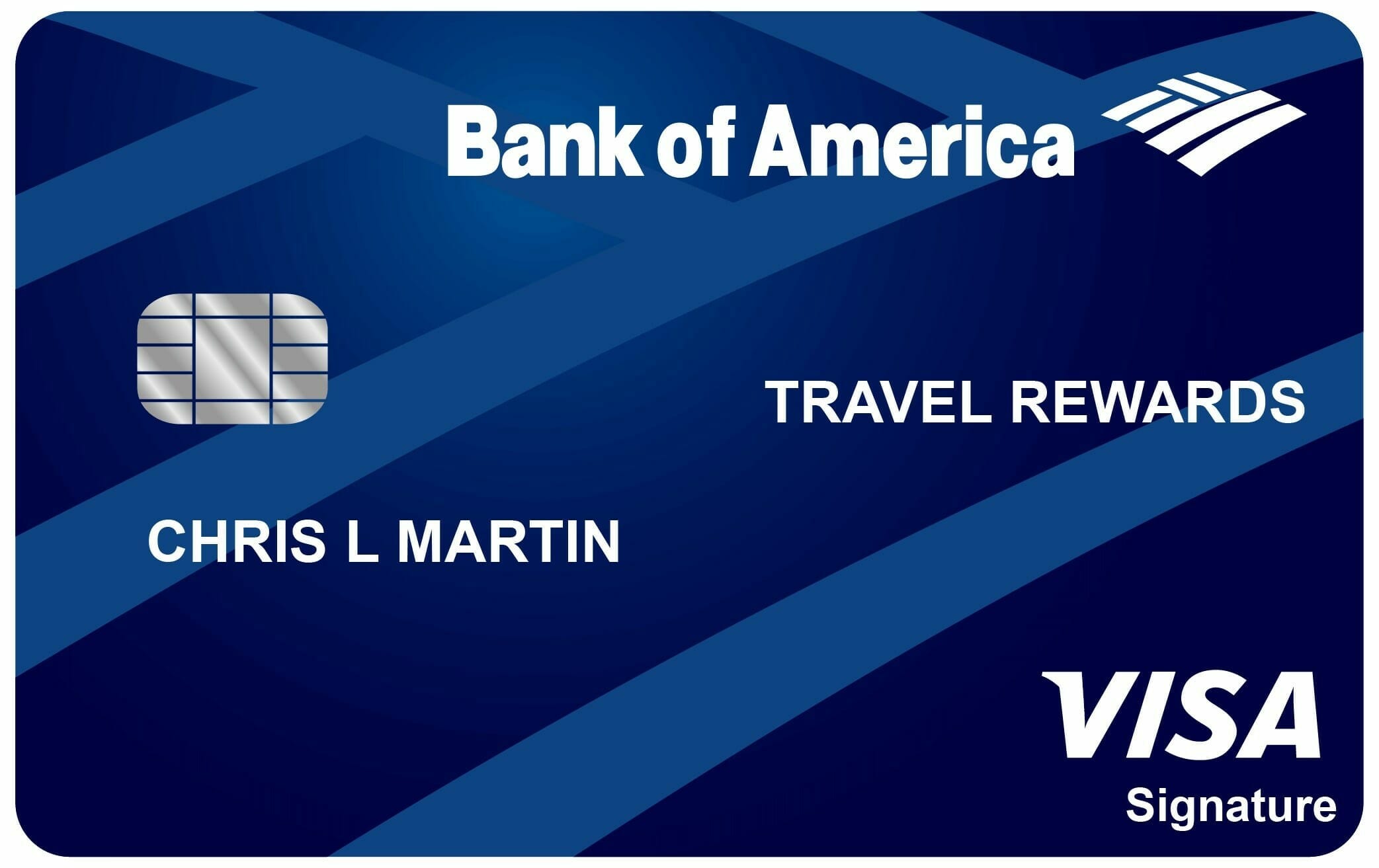 Travel rewards cards are so seductive. Free flights, first-class upgrades, free nights at Five Star resorts. Or even less glamorous perks like free checked bags (which are like $25 a piece now, such a racket!).
But travel rewards cards aren't usually available as a first credit card because cards with glamorous perks typically require a credit score of Very Good or above.
But this Bank of America card gives those looking for a first credit card a chance to earn travel rewards. There is a sign-up bonus of 25,000 points after making $1,000 in purchases in the first 90 days of opening the account.
The points can be redeemed for $250 in statement credits toward travel expenses. Additionally, you'll earn 1.5 points per $1 spent on anything, not just travel-related purchases.
The APR is a variable 16.99-24.99%. You need a credit score of Fair or above for approval.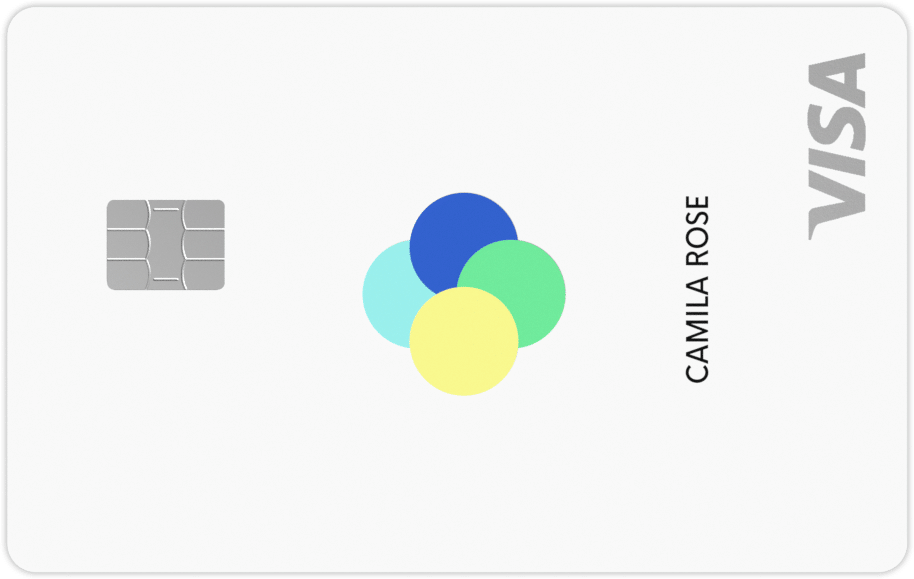 Petal takes more into account than an applicant's credit score so if you've tried and failed to be approved for a first credit card due to a lack of a score or a poor score, Petal might be what you're looking for.
You give Petal permission to see your bank account transactions so the company can see your cash flow. They base their decision on this information rather than your credit score meaning there is no minimum credit score to be approved.
Petal offers credit limits between $500 and $10,000 with the average customer granted a limit between $2,000 and $3,000, higher than many beginner credit cards allow. If Petal sees an increase in the income in your bank account, they will increase your limit based on that jump in income.
The APR is a variable 15.24-26.24% and the credit score needed for approval is none!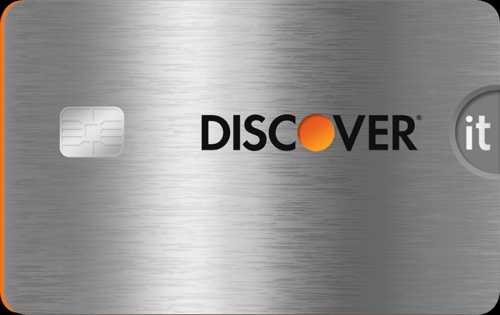 Most people will be able to qualify for one of the above first credit cards but if not, there is another type of first credit cards to try. A secured credit card is a card that requires you to put down a deposit. Generally, the amount of your deposit functions as your credit limit.
There are a lot of these secured cards on the market and most of them aren't great. Some of them don't even report to the credit bureaus which means they're doing nothing to help build or repair your credit score. Many of them come with a lot of fees too.
This is why we chose the Discover it Secured card for our list of best first credit cards. It has a lot of benefits that most secured credit cards don't offer.
There is no annual fee, your payment history will be reported to all three major credit bureaus, your account is automatically reviewed starting in the eighth month to see if you qualify to transition to a traditional, non-secured card.
This card even offers cash back rewards! You'll get 2% back at gas stations and restaurants on up to $1,000 of combined purchases each quarter and an unlimited 1% cash back on all other purchases. At the end of the first year, Discover will match all the cash back you earned in that first year.
You fund your credit limit with a refundable security deposit from $200 to $2,500 and this is refundable when you transition to a non-secured card.
There is an introductory APR of 10.99% for balance transfers for the first six months and a 25.24% APR thereafter both for purchases and any remaining balance from the transfer. Those with a Poor credit score can qualify for this card.
Before You Activate That First Credit Card
Credit cards are not free money. It can take years to dig yourself out of credit card debt. If you're already in debt, Credible can help.
Enter in some information and Credible will show you the best match among the lenders they work with. It takes about two minutes to get your rates, doesn't impact your credit score, and you'll be able to choose the best terms for you.

A loan through Credible will not only save you money because the interest rate is likely to be less than the rate on your credit cards but paying off those cards will boost your credit score too.
Pay your cards off in full every month. If you do that, it won't matter how high the APR is. If you start to fall behind, cut your credit card up. You aren't allowed to use it again until the balance is paid in full.
That said, don't cancel the card or any card for that matter. Canceling a card hurts your credit score because it increases utilization and reduces credit age.
Don't just let a card sit idle though either. After a certain amount of time of total inactivity, the credit card company may cancel the card. If you have a card you don't use, put a recurring payment on it like your Netflix or gym membership.
There are legitimate reasons to have more than one credit card. Some businesses don't take American Express so it's handy to have a Visa or MasterCard.
Some people like to grab up lots of sign up bonuses so will apply for several cards to qualify for things like free flights and statement credits. We don't recommend this but there's nothing wrong with having a good travel rewards card and a good cash back card.
Welcome to the world of credit cards. It can be a thicket or it can be a glade so choose your path carefully.
Get our best strategies, tools, and support sent straight to your inbox.