Review Rating:

Wealthfront is a robo-advisor that makes it easier for young investors to get started with the first $15,000 managed for free. They provide investors advanced features like Tax-Loss Harvesting and Automatic Rebalancing. Wealthfront is also the only service that provides Direct Indexing, a method of investing in the underlying assets of an index allowing the investor to save on index management fees while maintaining proper allocations.
Visit Wealthfront to Learn More
What features do novice and experienced investors get from Wealthfront? How does Wealthfront stack up against the other Robo-Advisors and what sets them apart? We'll be answering these questions and more in our Wealthfront Review.
Luckily (or skillfully) we got an interview with the Wealthfront CEO Adam Nash. After doing our research, chatting with him for nearly two hours and then doing a metric ton more research we've got a pretty good idea of where they stand in the Robo-Advisor space. Wealthfront has more than earned their spot at the table.
Remember the epic rap battles with the East Side vs the West Side? Sharks vs Jets? In the Robo-Advisor space that's Wealthfront vs Betterment. Wealthfront is a San Francisco startup with a boatload of funding and Betterment is an NYC startup with an equally large boat filled will funding.
If you're on the east cost you probably know more about Betterment, if you're on the west cost, the same is probably true for Wealthfront. We're based out of NYC (ok, fine, Hoboken) so you've heard us talk more about Betterment. Now it's time for you to learn about what's been happening on the other side of the country.
Robo-Advisor's are competing for my money?
If you're as excited as I am that there is another serious competitor on the scene, this review is for you. In this review we're going to break down the good and the bad sides of Wealthfront as well as suggest where it might be able to fit into your portfolio. Hint: It might have something to do with the free part.
A Quick Look
Wealthfront's pricing and feature set is very straight forward.
Everything below $15,000 (for LMM fans) is managed for free. Ideal for the beginning investor.
Minimum balance is $500. Instead of charging a rather high percentage fee for beginning investors, they set the low bar at $500 and once you're in it's free as per point #1.
Tax Loss Harvesting for everyone. Not only will they capture your losses to offset taxes on your gains, everyone has the potential to benefit here. Even the $500 investor.
Advanced features for accounts above $100,000. With features like Direct Indexing you stand to make quite a lot more through economies of scale than you would below that price threshold.
Portfolio Review is the optimization tool you've been dreaming of. Want to avoid some capital gains on your existing investments while slickly transferring that money over to Wealthfront for better management/diversification? That's what Portfolio Review is – more on that later.
Path – Financial Planning Experience. Path connects to all of your outside bank and brokerage accounts to give you an accurate and real-time view of your finances. Their PhDs handled complex calculations on the backend to show you how saving and spending impacts what you will have in retirement.
Wealthfront's Portfolio Line of Credit. Portfolio Line of Credit is available for any Wealthfront client with an Individual or Joint Wealthfront account valued at $100,000 or more. You can request cash up to 30% of the current value of your Wealthfront account and they you'll receive it as quickly as 1 business day.
How Does Wealthfront Work?
Traditionally when you wanted to invest successfully you would do two things. First would be a ton of research picking funds (or stocks if you're hardcore) that diversify you enough so you won't lose your life savings on a bad day.
You'll also try to make sure it's actually aggressive enough so you grow your savings over time. Nobody wants to miss out on the boom cycle or get destroyed by the bust cycle.
At its core, this is the problem Wealthfront attempts to solve.
The investments are chosen and allocated according to Modern Portfolio Theory. Modern Portfolio Theory is "a mathematical framework for assembling a portfolio of assets such that the expected return is maximized for a given level of risk" (Wikipedia).
When you setup your account they will ask you a set of questions to help determine your level of risk as well as the type of account they'll open for you. The questions help align your needs with your portfolio allocation – it's important you take the time to answer them.
The above image can be found in their Investing Methodology white-paper and it outlines where your money will go depending on the risk level of your account. This risk level can be changed at any time although depending on your choice there may be tax implications.
Get our best money lessons:
The Original Tax Loss Harvesting – Free Money
Turns out, Wealthfront wrote the book on Tax Loss Harvesting. Well, actually their Chief Investing Officer wrote the book on the time-tested strategy for successful investing. With Tax Loss Harvesting however, they were the first to market.
They also harvest quite a lot more losses than the competition. I'd write you a whole book on how it works but luckily they created this awesome video to do all the work for me:
Basically, through the power of automation Wealthfront is able to harness the natural dips in the stock market to save on your taxes. Traditionally this was something only available to the wealthy and done as a monthly process due to the sheer amount of effort required. Because Wealthfront isn't just an advisor but a broker-dealer they can do this on a massive scale for all their clients, daily. That's no small feat.
If you listen to the interview with Adam he quotes the return added to their portfolios in each of the past few years. It's gone as high as 3% tax-alpha. I'm sorry, but that's insanely awesome, not sure who can't get excited about that.
It's good to know that everyone gets it with their account from day one because back when I created my Robo-Advisor accounts, it wasn't available to people who had less than $100,000 managed. Competition is great!
Portfolio Review – A Critique of Your Previous Investments.
I happen to have a bunch of investments that aren't in a Robo-Advisor like Wealthfront or Betterment. Most of these investments were made before services like these existed. In many cases I'd rather move my money over to something like Wealthfront but due to tax implications it just doesn't make sense. Until last week when I learned that's no longer the case.
We get a lot of emails asking about moving existing invested money, I have no doubt Wealthfront does as well. Awesomely they've chosen to do something about it and that's how Portfolio Review was born.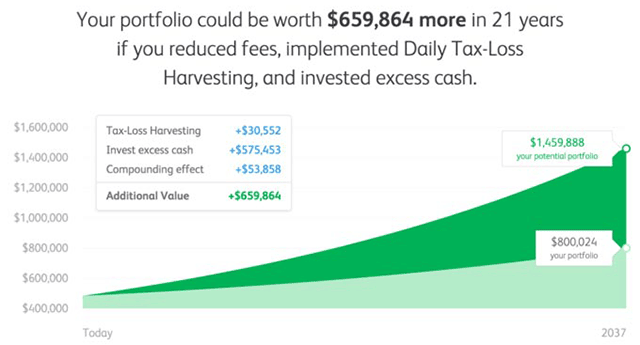 On its face the tool looks very similar to Personal Capital in how they analyze your portfolio, tell you where you're over weighted, taking on too much risk or just doing something plain dumb. It's a solid tool and certainly nice to have within your core investment platform but it doesn't really blow your mind. Like I said, you can get the equivalent or better elsewhere.
However, it does have a killer feature. Through Portfolio Review they let you transfer in external investments in the market (Wealthfront is a broker-dealer after all). Then, once your investments are within your Wealthfront account they use the results of their review to determine what to do.
It's possible that your investment fits in well with the risk level (and strategy) you've set and in that case they'll hold on to your investment and change where your new contributions go to evenly distribute your portfolio. If your previous investments don't fit in, that's really where the service shines.
Wealthfront leverages their Tax Loss Harvesting program to harvest losses that allow it to offset any gains you may have on the investment you transferred over. It's often a slow process but it will allow you to improve the overall health of your portfolio while paying little to no taxes in the progress.
I would like to add that a big glaring strike against Wealthfront in regards to both Portfolio Review and their main portfolio view is design.
While it doesn't actually change what happens on the backend, there is something to be said about a sleek sexy interface. Perhaps this is why Wealthfront often gets overlooked – their design looks 8 years old even while what's going on under the hood is bleeding edge.
Direct Indexing on the High End
This feature really caught me. It's both obvious and brilliant yet no one except for Wealthfront has done this.
If you invest with a Robo-Advisor, they will put your money in a set of funds dependent on the amount of risk you select. Regardless of how much money you invest, they'll keep your money in these funds.
As you have more money invested with Wealthfront they take advantage of economies of scale. At $100,000 and higher they will start directly investing in the stocks that make up the funds instead of just the funds themselves.
This provides two key benefits. First, you save on the fees from owning the funds themselves. So, if you were invested in VEA for example (part of most Wealthfront distributions) you'd have a yearly fee of 0.09%. With Direct Indexing you'll start to save on fund fees because Wealthfront removes the middle man.
The second key benefit is further leveraging their Tax Loss Harvesting platform. Where normally Tax Loss Harvesting is run on a fund level, with Direct Investing it's done on individual stock level.
The fund VEA alone has 3,696 individual holdings which means that investing in the individual underlying stocks allows for many more opportunities to harvest losses. With Robo-Advisors, the biggest cost of investing is taxes so shaving costs here is no small benefit.
TL;DR Wealthfront Review Summary
Wealthfront is a simple tool to invest with and a full featured platform. While it's easy to write off as too easy or simple, it's actually quite sophisticated. Wealthfront's impressive Tax Loss Harvesting feature is more than enough to earn them a seat at the table.
They've done a tremendous job at woo'ing investors from both the beginning stages (free investing) as well as high end due to more advanced features like Direct Indexing. They are very close to Betterment in the total assets they have under management – $2.7 billion. As they say it's not the size of the boat that counts, it's the motion of the ocean. Wealthfront is certainly rocking the boat.
Before speaking with Adam I never really considered investing in Wealthfront. I was content with Betterment and being an east coast guy I figured I should support my local startup. This interview changed everything.
Here's a high-level pro-con breakdown of Wealthfront:
Wealthfront Pros:
No Trade or Withdrawal Fees: No need to fear the transaction cost of touching your money. Add and withdraw money for free just like you would a savings account.
Invest Your First $15,000 Free: If you're on the fence about Robo-Advisors, Wealthfront is a great place to test the waters with a little amount of money because it's free. This is also really great for beginner investors and students who simply don't have a lot to invest yet

as it will be free

.
Easy Hands Off Investing: You don't need to do research, monitor your investments daily or worry about the tax implications of your actions. They take care of all of it. If you haven't invested yet or are nervous to get started on your own, this service is for you.
Cheap Portfolio Management: Most portfolio management services will charge you 1% for an equivalent service and a LifeCycle fund like what Fidelity offers will come it at 0.75% or higher. These are 3x-4x more expensive than Wealthfront without half the features.
Transfer and Optimize Existing Investments: Portfolio Review takes your prior investments and advises on how you should handle them going forward. If you want you can even roll them into Wealthfront and have them do the work for you – in the most tax efficient way possible.
Wealthfront Cons:
DIY Investing is Cheaper: As you'd expect, if you did everything Wealthfront did on your own you'd save 0.25% a year in fees. There is nothing stopping you from mirroring their allocation and monitoring it on your own. Savvy investors might find this more appealing than a set-it-and-forget-it approach.
More Expensive than Betterment over $100,000: While Wealthfront does offer Direct Indexing for accounts over $100,000, they also charge more to manage that money. Wealthfront costs 0.25% and Betterment costs 0.15%. It's hard to quantify if additional features make that price worth while.
Not Exactly High-Design, More like Medium-Design. The tool itself is solid, intuitive and has great bones. That said, it's hard not to judge a book by its cover. I also secretly want my super advanced investments to look the part. Wealthfront has some work to do to make their service really stick out. Acorns for example is whipping them on this front.
An Interview with the CEO Adam Nash
Adam was an incredibly insightful guest. Before he became the CEO of Wealthfront he was a personal finance nerd who volunteered his time to help people learn the basics of how to manage their money. This is something that we really resonate with. There's something to say about leading with giving.
Not being satisfied with only teaching, he decided to join Wealthfront as one of the first 20 employees to help bring "sophisticated financial advice to the average investor". He also agrees with our mindset that the "average investor" is perhaps anything but average in the gains they receive.
Listen to Adam's story and the features that Wealthfront rocks as well as what sets them apart from the pack. Adam was so focused on educating us and so down to earth we almost forgot that he's the CEO of a sexy startup that manages nearly $3 billion.
Interview Show Notes
Personal Finance for Engineers – Adam's presentation on Personal Finance. Not only for engineers but certainly focuses on their blind spots.
Signup for Wealthfront – Get your first $15,000 invested for free! Special for LMM fans, the ultimate try before you buy.