Investing gets easier with each passing generation. Mobile apps, index funds, and reduced minimums have lowered the barrier to entry. Despite these facts, only an average of 38% of the youngest Americans owned stocks from 2008-2018, down 52% from the pre-financial crisis days.
It's no wonder people are skeptical, especially young Americans. According to this USA Today article, investing in the stock market hasn't returned to normal levels. The emergence of fintech firms wants to change this. Where's a new investor to turn – especially one with little savings or financial know-how?
Enter the investment app, Stash Invest.
Similar to other apps, they offer a fully-automated suite of investing tools catered to the younger, inexperienced investor. Stash lets you invest in themed-portfolios and individual stocks for $5.
If you're looking for a gateway into the world of investing, Stash might be right up your alley.
In this Stash review, we're going to take a look at their investment options, fees, and whether you should take their service for a test-drive.
A Stash Invest Robo-Advisor Comparison


Minimum Investment:
$5
Management Fees:
$1-$9 a month
Promotion:
Sign up and get $5
Tax Loss Harvesting:
No
Portfolio Rebalancing:
No
Assets Under Management:
$1.57B
Minimum Investment:
$0
Management Fees:
0.25%
Promotion:
Invest free for up to 1 year
Tax Loss Harvesting:
Yes
Portfolio Rebalancing:
Yes
Assets Under Management:
$21 billion
Minimum Investment:
$0
Management Fees:
$1, $2 or $3 a month.
Promotion:
Signup and get $5
Tax Loss Harvesting:
No
Portfolio Rebalancing:
Yes
Assets Under Management:
$1 billion
What Is Stash Invest?
They're an online banking and investing platform democratizing the financial services industry.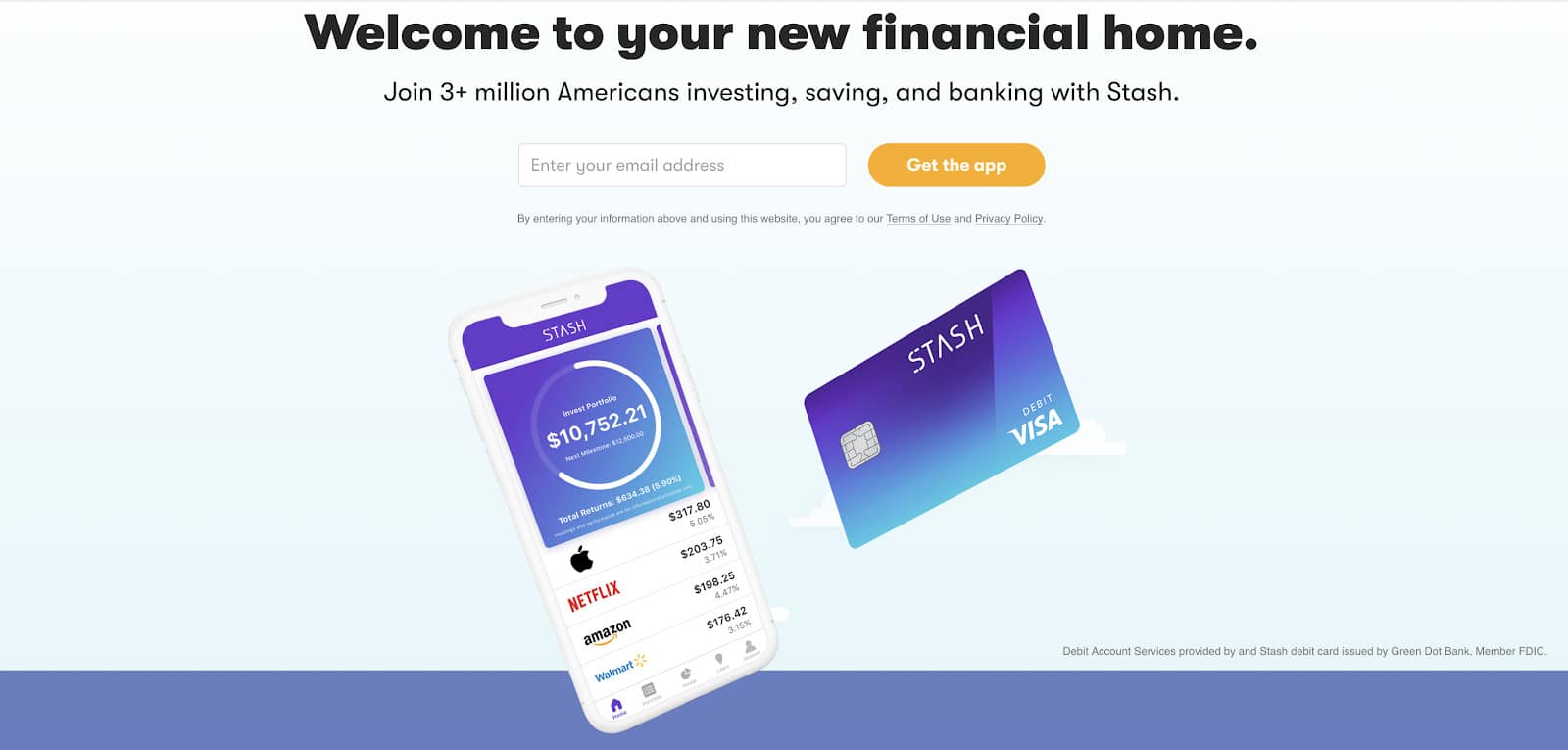 Co-founded in February 2015 by Brandon Krieg (CEO) and Ed Robinson (President), the duo hopes to attract a new generation of investors while still appealing to seasoned pros.
My co-founder Ed and I left our jobs to start Stash because we believe everyone should have access to financial opportunity. After a combined 30+ years in the business, we saw that Wall Street can be fundamentally unfair to smaller investors as they work to accomplish their goals. Stash will change that. – Brandon Krieg
Based in New York, Stash has grown to over 3 million customers, with $530 million in assets under management (AUM).
Unlike traditional robo-advisors with robust features like tax-loss harvesting and automatic rebalancing, Stash's approach is rooted in educating investors while helping them construct their portfolios based on what matters most.
Humble Brags
2017 W3 Awards for Best User Experience
2017 & 2018 Webby Awards in Financial Services and Banking category
2018 Benzinga Awards for Investing in Millennials
2018 The Wall Street Journal Tech Companies to Watch
Stash helps the 99% build smarter financial habits so they can confidently save more and enjoy life. – Stash
Save with Stash Invest
Monthly Subscription Plans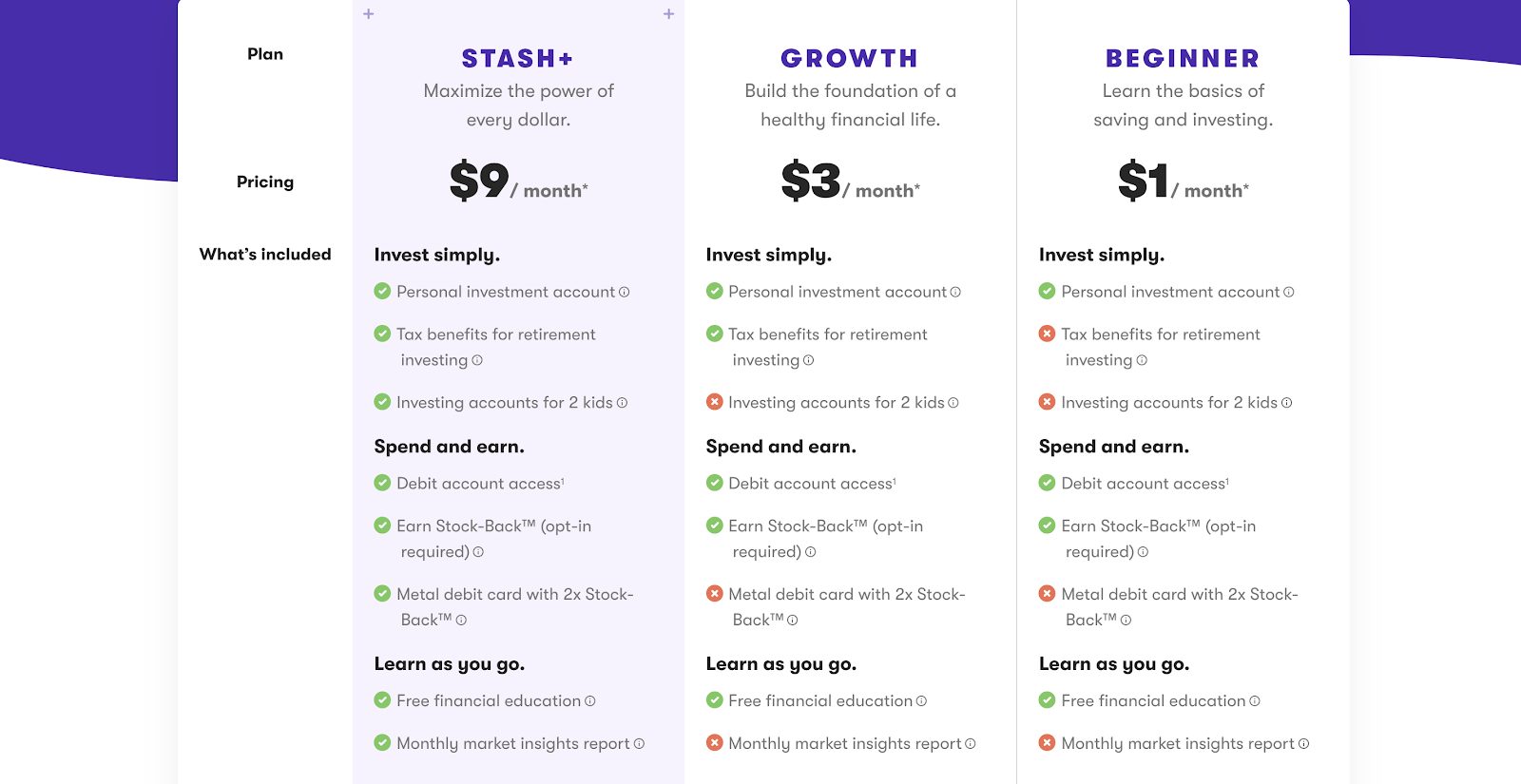 ***Stash no longer uses an asset-based pricing model***
I did reach out to a Stash rep inquiring about their monthly subscription fee. My question was whether the fee included fund expense ratios because that would be an added cost if you're paying the monthly subscription fee AND the operating cost of the fund. Someone got back to me in under 24 hours with a reply:

"Yes, all other fees are included within our monthly subscription plans."
All plans include unlimited trading and no add-on commissions as well. According to Stash, your monthly subscription covers all investing costs.
You've got three options when opening an account with Stash:
Beginner ($1 monthly)
Growth ($3 monthly)
Stash+ ($9 monthly)
Beginner
Beginner earns you an individual investment account, equipped with debit access and Stock-Back on purchases (works similar to cashback but with stocks). This is their cheapest plan at $1 a month. Stash has gotten rid of all asset-based pricing and opted for a simple, transparent flat monthly fee structure.
Growth
This gains you access to everything in the Beginner plan with the added feature of a retirement account and all of its tax benefits. This one costs $3 a month. Think of it as your individual taxable account with an IRA add-on. Investors have the choice of either a Traditional or Roth IRA.
Investors do have the option of subscribing to the retire-only account, Stash Retire, for $2 a month. However, Rollovers aren't available at this time.
 Stash+
This is their full-service offering. For $9 a month, Stash+ gets you everything in the Growth and Beginner plans plus:
Custodial investment accounts for two kids (UGMA/UTMA)
Metal tungsten debit card with 2X Stock-Back
Monthly market insight reports
A Word on Monthly Subscription Fees
According to Stash, your monthly subscription covers virtually everything (I'm not worried about a $0.50 out-of-network ATM balance inquiry fee). But costs matter. While their $1 monthly fee sounds low, keep in mind that if you have a low balance, that fee just got pricey.
For example, if you're only using your Stash to invest your spare change because you're just getting started and have little money (I still applaud you for getting started. You're a badass. Most people don't even do that. Well done), you're likely to have little money invested at the end of the year.
Let's say after your first year, you've rounded up spare change in the amount of $350. Your $12 subscription fee ($1 x 12 months) turns into nearly a 3.5% annual fee. That's high in comparison to what other robo-advisors charge for managing your money (spoiler alert – it ain't 3.5%). You can read more about Stash alternatives at the bottom of this post.
Investment Accounts
Depending on your plan, Stash offers you:
Individual personal brokerage account
Retirement account in the shape of a Traditional or Roth IRA
Custodial account (either a Uniform Gift to Minors Act/UGMA or Uniform Transfer to Minors Act/UTMA)
You can open any account with a minimum balance of $5 and get started investing. They're an SEC Registered Investment Advisor and a fiduciary which makes them legally required to act in your best interests.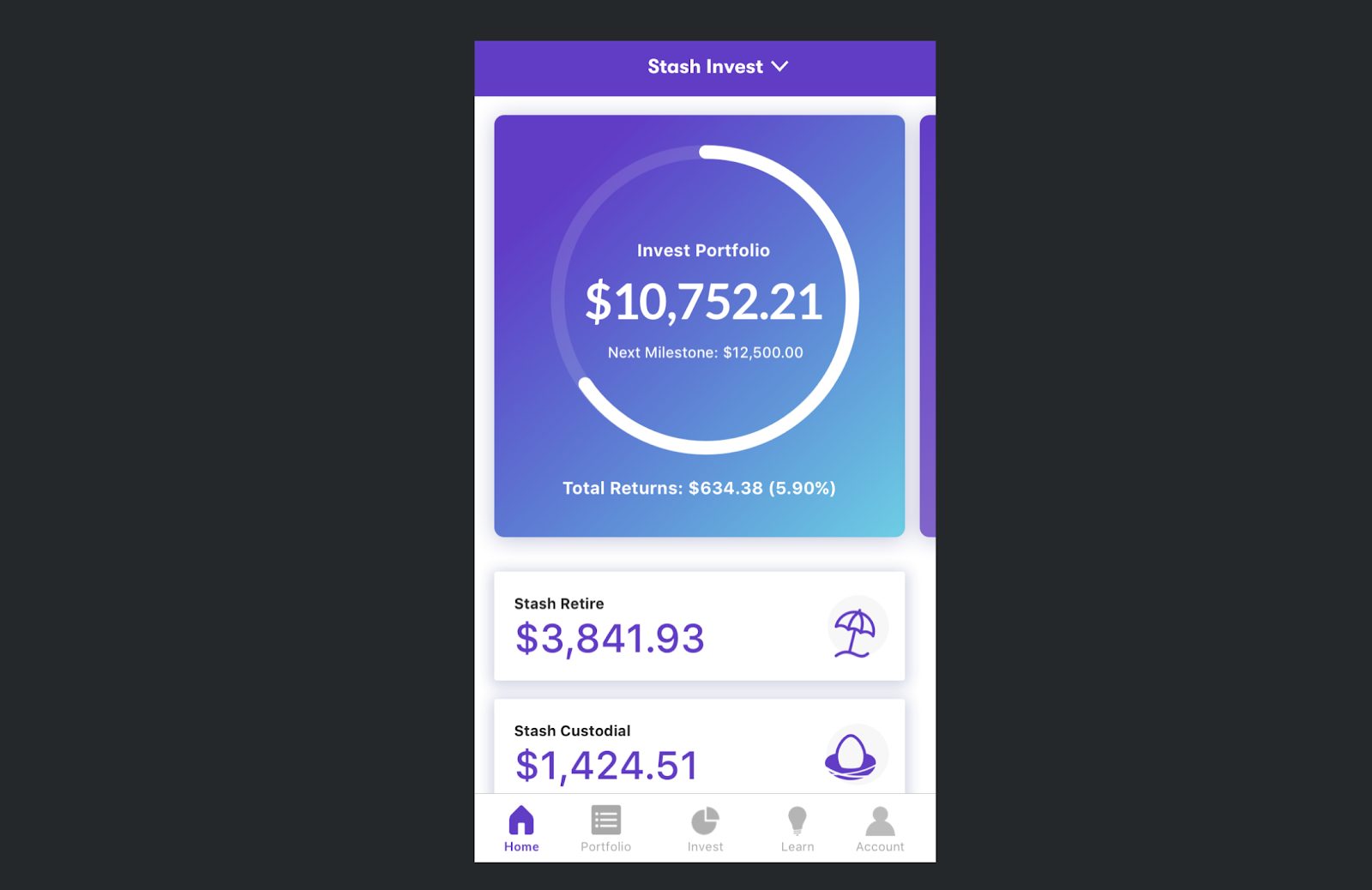 Banking
Stash Debit
Stash Debit is an FDIC-insured bank account with over 19,000 fee-free in-network ATMs (when using out-of-network ATMs and bank tellers, you're charged $2.50 plus any additional fees charged by the ATM owner or bank). Your account also comes with $0 overdraft, monthly, and set-up fees.
Debit account access grants you Stock-Back rewards which invest in you while you're spending. You can earn fractional shares of stock or funds with every purchase you make.
For example, if you buy a meal at your local diner or make a purchase at your local hardware store, you'll earn Stock-Back in a diversified exchange-traded fund (ETF). If you buy something at Amazon or Walmart, you'll get a piece of that company's publicly-traded stock.
One fractional share amounts to 0.125% of a single share of stock. Stash+ subscribers have the opportunity to earn up to 5% Stock-Back at revolving select retailers. Nearly 2.5 million stock-back rewards have been collected as of 7/31/2019.
Because Stash Invest isn't a bank, your debit card is issued by their partner, Green Dot Bank (don't worry, they're an FDIC member). You must have a debit card to be eligible for the Stock-Back rewards program.
***All tax-advantaged accounts (Traditional and Roth IRAs) and custodial accounts are ineligible for the Stock-Back rewards program. All other non-qualifying purchases include ATM withdrawals, gift or prepaid cards, and money orders.
Early Direct Deposit
This works when your employer or benefits provider notifies Stash of your incoming deposit in advance of your actual payday. When it does, Stash credits your account sooner. Get paid before your peers!
Money in your debit account doesn't earn interest, and the maximum amount for any single outbound transfer is $3,000.
Debit accounts can only connect to one external bank account at a time.
Stash Features
Auto Stash
If the thought of manually entering your deposits every month (or week) sounds as appealing as the image of Warren Buffett in a speedo (no offense Warren), you'll appreciate Auto Stash.
This feature lets you put your account on autopilot. Deposit into your personal investment, retirement, or custodial account using their suite of automation tools.
Set Schedule lets you choose the amount you want to save regularly – on your schedule. You can put aside money into your cash balance, select ETF funds, and stocks.
Round-Ups rounds up your spare change to the nearest dollar amount every time you buy something. Link your external bank account and you're ready to save. For example, if you purchased Burton Malkiel's timeless investing classic, A Random Walk Down Wall Street for $23.51, Roundups will round up your purchase to $24 and invest the $0.49 into the Stash account of your choosing.
Smart Stash analyzes your spending habits, patterns, and earnings while looking for ways to save money – but only on days when you can spare it. You can set a maximum transfer amount, and if your balance falls below $100, Smart Stash will skip that day's transfer.
Smart Stash intelligently saves small amounts of money for you.
Tweet This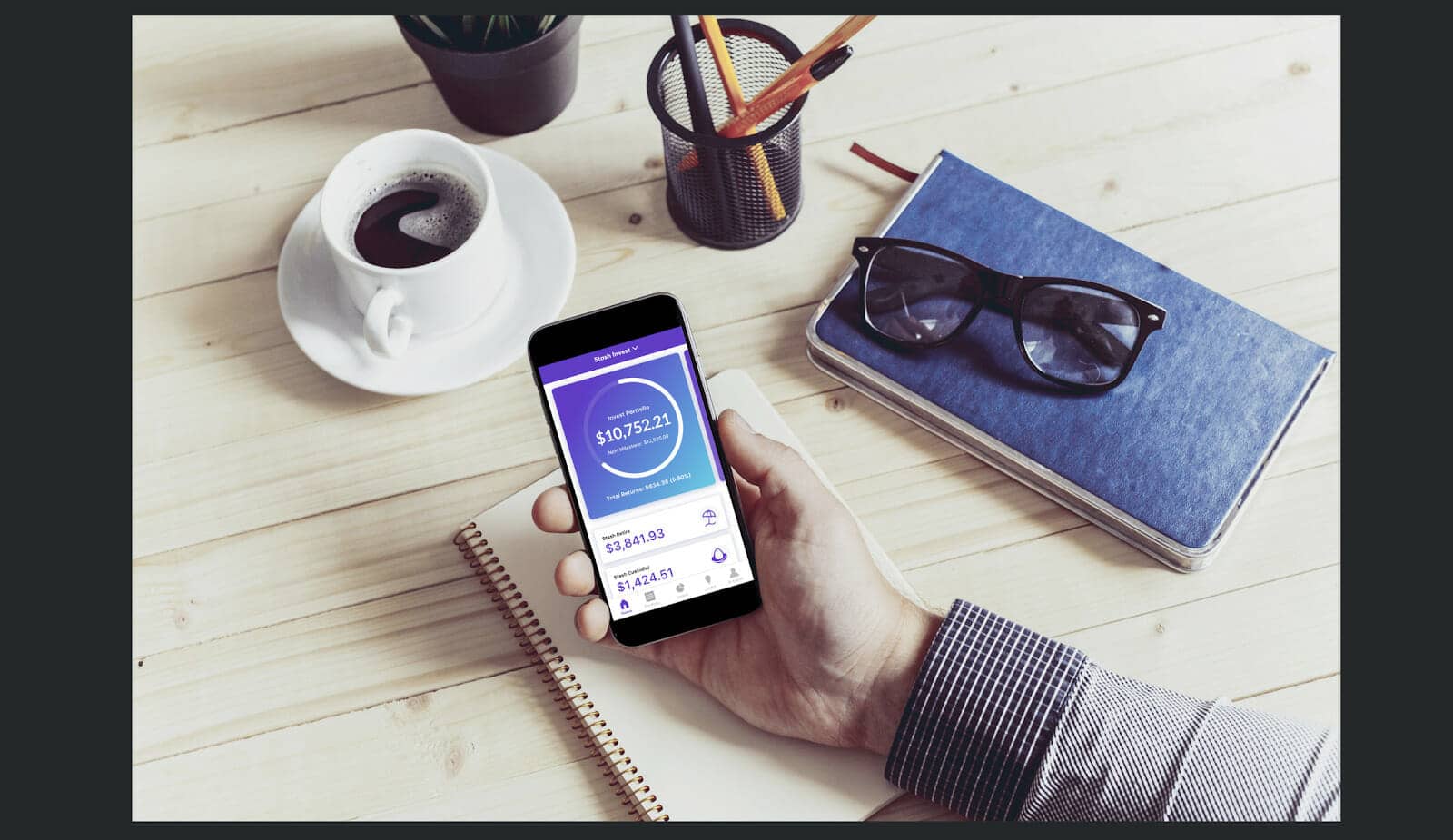 What Are Your Investment Options?
Stash has a curated selection of over 250 ETFs and stocks. You can browse stocks by sectors or view their entire catalog.
Individual Stocks
By sectors:
Consumer Discretionary
Consumer Staples
Financials
Industrials
Information Technology
Materials
Utilities
When browsing their individual stock catalog, Stash provides you with a company breakdown and links out to Yahoo Finance, Market Watch, and the company's website.
For example, when I clicked on the individual stock in the industrials sector, 3M, I got this: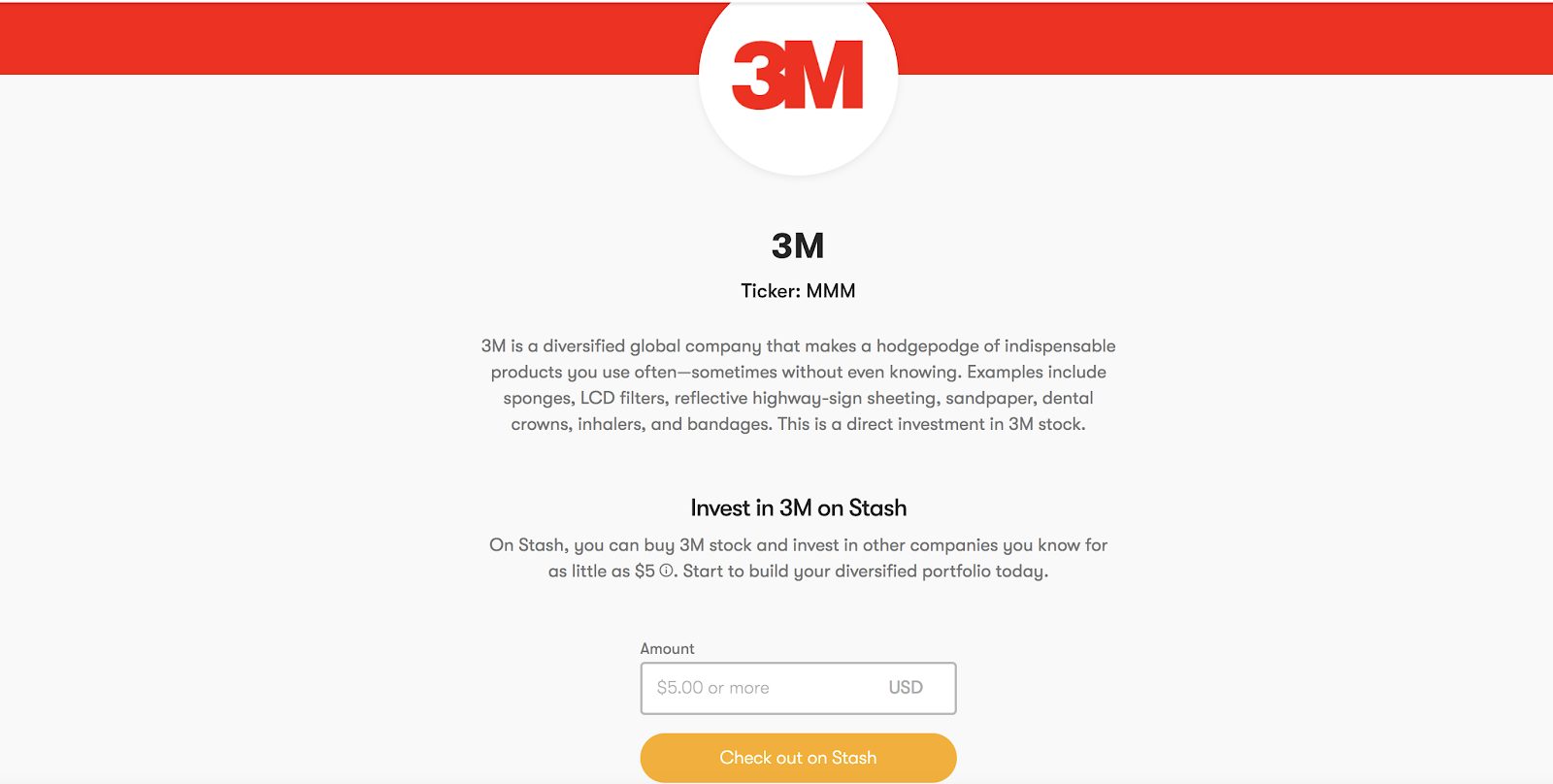 Scrolling down the page, Stash takes you through the steps on how to buy stock with them, along with 3M's performance, risk level, and company website.

Exchange-Traded Funds
If individual stocks aren't your style, you can choose from a wide variety of themed and diversified ETFs.
For example, their Aggressive Mix ETF is constructed of iShares Core Growth Allocation (AOR) and has a stock-to-bond allocation of 56.88% equities to 37.95% bonds. As Yahoo Finance described it:
"It's a fund of funds and seeks its investment objective by investing primarily in other iShares Underlying Funds."
A peek at its holdings:
iShares Core Total Bond ETF 34.48%
iShares Core S&P 500 ETF 29.28%
Core MSCI Dev Markets 21.09%
International Aggregate Bond 6.14%
Core MSCI Emerging Markets 6.01%
Stash gives you an assortment of themed funds to choose from. Not looking for something this aggressive?
Take a look at their Conservative Mix ETF with a heavier tilt towards bonds. This one has nearly 70% invested in fixed-income securities.
How about their ultra low-risk Park My Cash ETF? This one holds only short term bonds. Or, if you're looking to mirror the S&P 500 try their Match the Market ETF. This one is, well, you guessed it, the S&P 500 equivalent.
If you're looking for more international exposure, their Stocks Worldwide ETF  holds the Vanguard Total World Stock Index ETF. Folks leaning more towards Socially Responsible Investing can take their pick of eco-friendly funds like their Clean and Green ETF. 
For even more themed funds, investors have options like:
Gamers FTW
Doctor Doctor
Corporate Cannabis
High Voltage
That's right y'all; you can invest in weed! And you have many more options. This brief list only scratches the surface of what's available to you through Stash Invest. According to their website, they offer 251,479 portfolio combinations.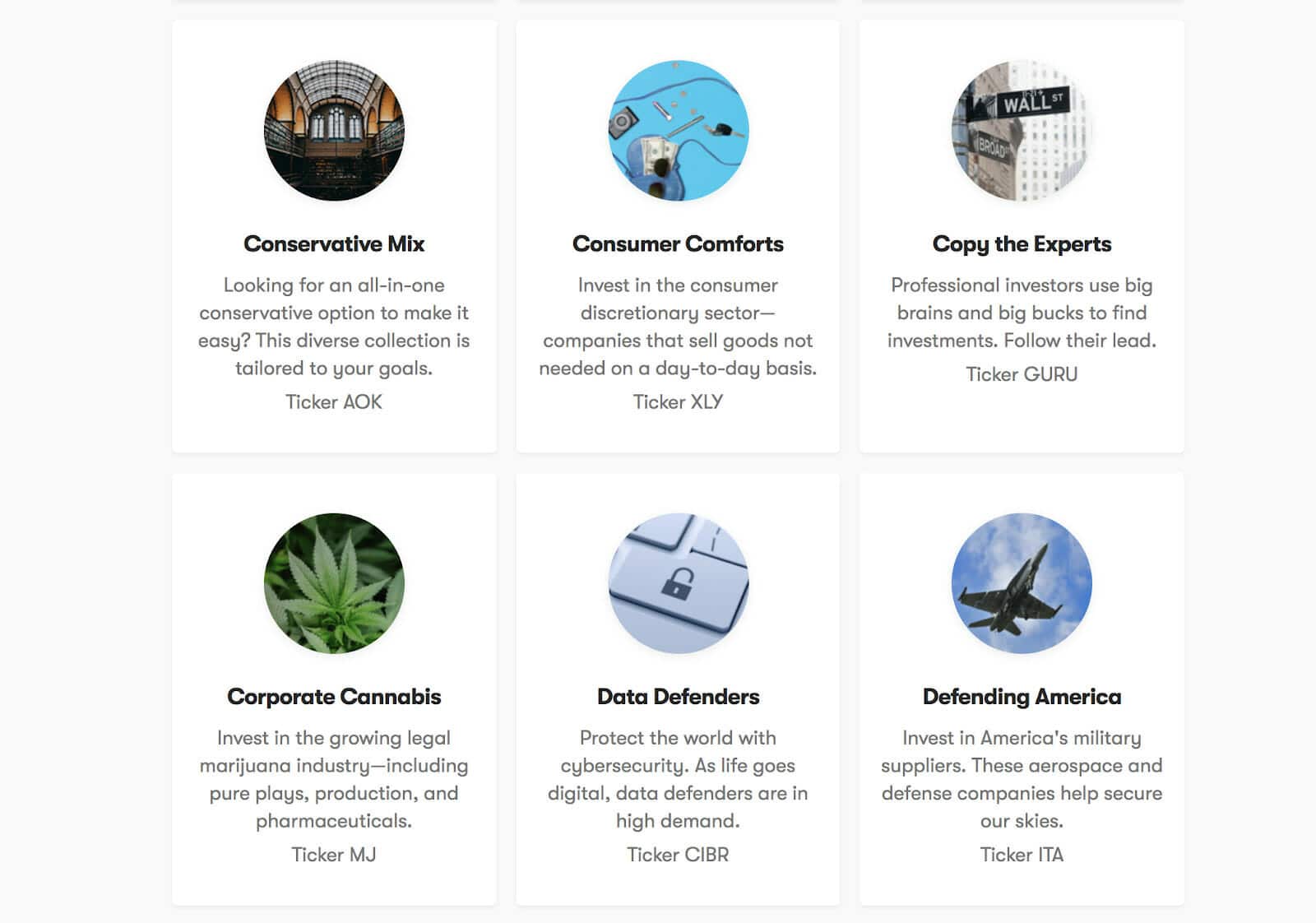 Creating Your Stash Account
You must:
Be 18 years old
Have a Social Security Number and a U.S. bank account
Have US citizenship, Green Card, or applicable visa
Stash will ask for your name, income, marital status, and employment. It also factors in your investor experience and the type of investor you'd like to be (i.e., are you saving for short or long-term).

After a short series of micro-deposit tests, it will take 2-3 days to transfer money into your Stash account.
Getting started with Stash takes about two minutes and can be done in nine quick steps. The entire process goes like this:
Create an account in the app (iOS or Android), or through the Stash website
Enter your basic info (name, email, birthday, and address)
Set up your investor profile
Verify your identity
Choose your monthly plan
Sign your client agreement
Link your bank account
Set an amount to Auto Stash
Head to the home screen to check your investments or add another account
The Stash app will guide you through your portfolio construction based on your risk tolerance and profile.
They don't offer investment portfolio rebalancing. Everything is user-based at Stash. What you buy and sell is up to you. However, Stash will send you a pop-up in the app to let you know your portfolio looks out-of-whack and needs some love. Stash leaves it to you to build a long-term, balanced portfolio.
Security: Is Stash Safe?
Stash is a Registered Investment Advisor with the SEC and a fiduciary. They're required by law to act in your best interests. Your money is held by their third-party custodian Apex Clearing, a registered broker-dealer regulated by FINRA. Apex is also a member of SIPC, meaning your securities are protected up to $500,000.
Your account will have a unique user ID, password, and PIN. You'll also have the option to use biometric recognition for access (e.g., fingerprints or facial recognition). Your information is protected by 256-bit encryption as well as a Secure Sockets Layer (SSL).

Educational Tools
This is one area where Stash shines. They have a suite of features on their platform for the beginner and seasoned investor alike.
Stash Coach is your personalized, financial, digital advice engine. This gamified tool delivers all you need to know based on your investor profile and risk tolerance. Increase your money expertise by successfully navigating its series of challenges. It breaks down complex topics and tests your knowledge with interactive quizzes.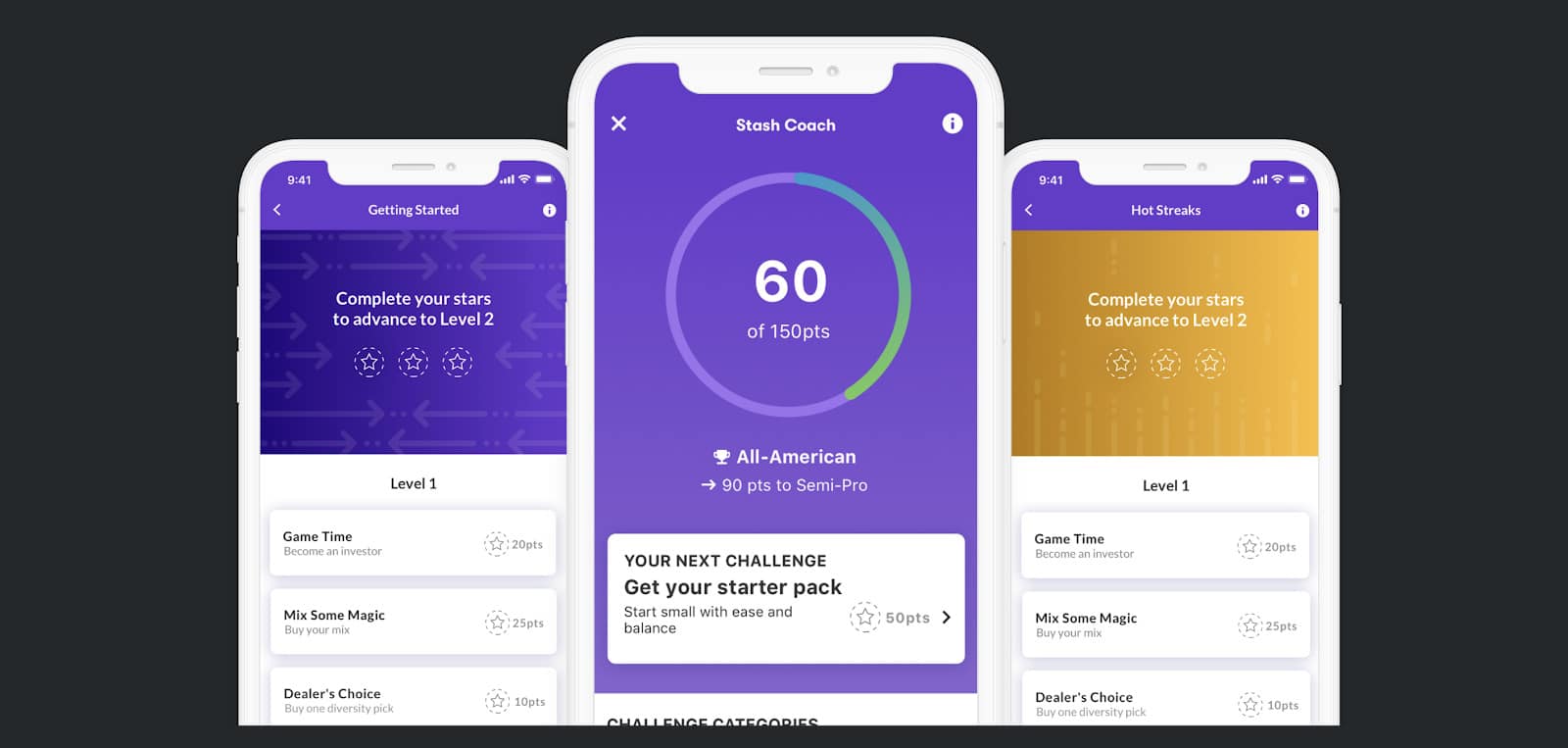 Stash Learn is their financial education-focused blog.
Main topics are:
Teach Me. It's full of guides, a podcast, the Stash Academy for Kids, quizzes and more.
Money News
Life. Handles marriage, parenting, education, financial decisions, and your career.
Stash. All things Stash-related
The content on their platform is user-friendly without the stuffy finance jargon. It's widely-accessible and easy-to-digest. You'll get the latest market insights and investment news along with applicable knowledge you can start applying immediately.
Stash's Retirement Calculator asks you questions about the future life you want to live and tells you how much you need to save to get there.
Customer Support
You can reach Stash through their email address at support@stashinvest.com or by phone: 800.205.5164. I reached out to them via email and received a reply in under 24 hours.
Stash Alternatives
If you're not sold on Stash, no worries, you have options. We've written detailed reviews about Acorns, Robinhood, and M1 Finance. Give any one of those a read. They're great alternatives with unique offerings to boot.
Or, if you'd like to go down the DIY road, but are unsure about the next steps, we've got you covered. Andrew wrote a detailed investment guide telling you all you need to know.
He also wrote this one on investment types using characters from the brilliant TV show Arrested Development to make his points.
With a little research, you could combat the fees charged by robo-advisors, lowering your costs, and keeping a larger portion of your investment returns.
Is Stash For You?
If you're looking for a one-stop-shop to keep all of your banking and investing needs under one roof, Stash might make sense. You can set up a debit account along with your investing, retirement, and custodial accounts.
The monthly subscription that Stash charges (as opposed to an annual fee) is what gives me pause. The lower your account balance, the higher the percentage you'll pay in fees. Compare that to what Betterment or Wealthfront charge for its services.
If you're only using Stash to round up your spare change, it will take longer to lower your fee.
That percentage comes down the higher your balance grows. But if you're starting with little money, be sure to keep contributing to your investment account.
However, I'm a fan of anything that makes it easy for you to start building wealth. If Stash's platform appeals to you, go for it. As you become better informed, you might consider other options unless you're ok with the monthly subscription fee.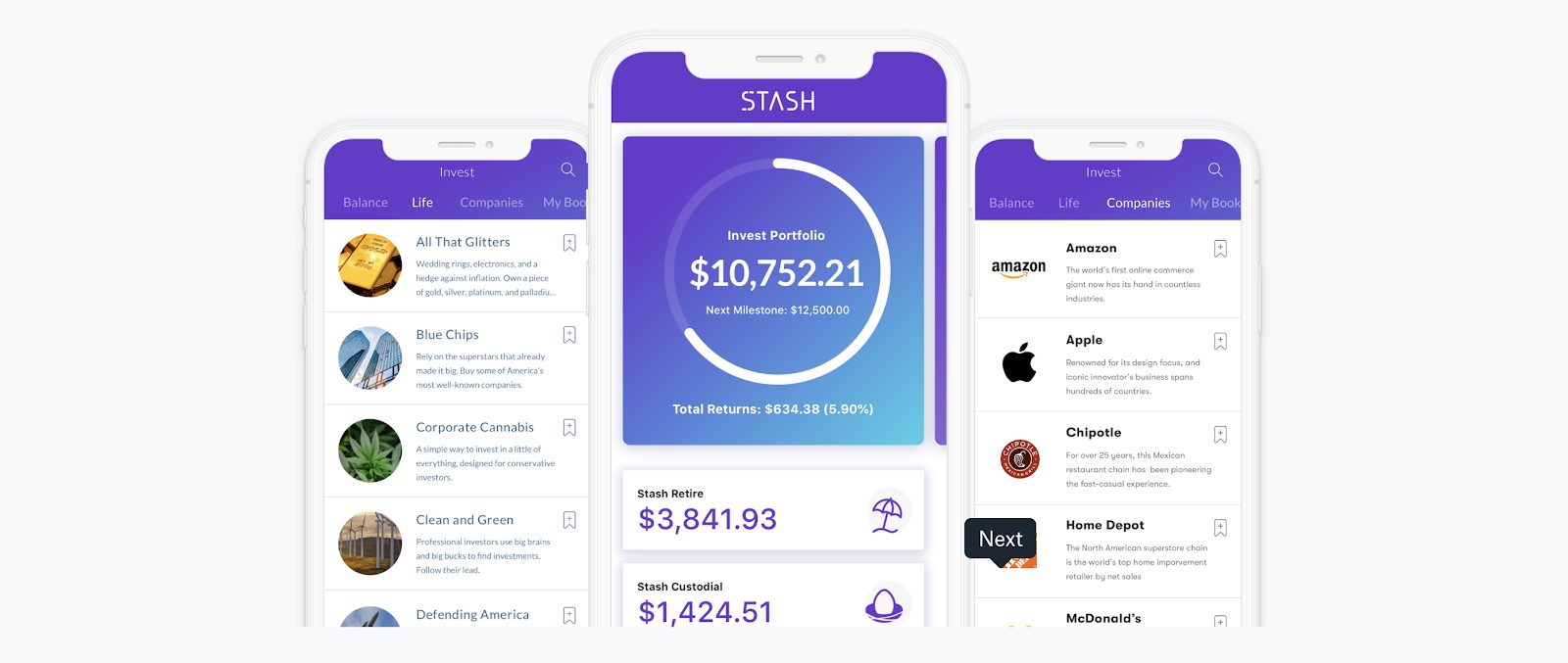 Pros
Low $5 minimum balance requirement
Large selection of stocks and ETFs
iOS and Android mobile app
Excellent user experience
Cons
Monthly subscription fee works against those with low account balances
Debit accounts only connect to one bank at a time
Doesn't accept Rollover IRAs at this time
Bottom Line
Stash Invest has many perks. The $5 minimum investment requirement is low and very appealing. Features like Roundups, Smart Stash, and Set Schedule make it easy to put your account on auto-pilot. Their educational content is easy to digest. They've even got an award-winning app.
Their account offerings aren't as substantial as Vanguard's and lack the sophistication of Betterment, but they also don't leave you scratching your head and asking yourself, "Is this all they offer?"
I'd like to see their pricing more competitive to give low net-worth investors a better deal. If the monthly subscription fee doesn't bother you, I'd say take Stash for a test-drive. The worse option is you don't start investing at all.
Get our best strategies, tools, and support sent straight to your inbox.