Table of Contents
Acorns vs Stash: Two Micro-Investing Apps Go Head-to-Head
Investing apps make the world easier for building wealth. Create your profile, link your bank account, and start funding it. The only problem now is choosing who has the best place to park your cash.
With so many products available, the decision can feel overwhelming. Whose fees are lower? What are your investment options? What's the minimum deposit requirement?
In this Acorns vs Stash article, we're going to look at which company is the better choice for you (spoiler alert: they're very similar).
How They Measure Up

Minimum Investment:
$0
Management Fees:
$1, $2 or $3 a month.
Promotion:
Signup and get $5
Tax Loss Harvesting:
No
Portfolio Rebalancing:
Yes
Assets Under Management:
$1 billion
Minimum Investment:
$5
Management Fees:
$1-$9 a month
Promotion:
Sign up and get $5
Tax Loss Harvesting:
No
Portfolio Rebalancing:
No
Assets Under Management:
$1.57B
Micro-Investing Apps: A Quick Refresher
Micro-investing is when you make tiny investments into your brokerage account. It typically occurs on the back-end of a transaction with your spare change.
For example, let's say you spend $14.55 at In 'n Out Burger (what? I'm based in L.A.). When using a micro-investing app, that extra $0.45 gets rounded up to the nearest dollar and deposited into your investment account.
Small amounts of money over time add up.
Both Acorns and Stash offer this feature on their platform. Many novice investors find it attractive, as it automatically invests your money. I'm a fan of anything that makes investing easy, and both of these companies have an easy-to-use platform.
Get our best strategies, tools, and support sent straight to your inbox.
What Is Stash Invest?
Stash Invest is an investment app co-founded in February 2015 by Brandon Krieg (CEO) and Ed Robinson (President). Observing a disparity between Main Street and Wall Street, the duo sought to level the playing field for smaller investors.
Based in New York, Stash has grown to 3.5 million users and handles $1.57 billion in funds. Its clients have earned $3 million in stock-back rewards, while 86% are first-time investors.
Stash likens its approach to that of an educator, helping you construct the optimal portfolio based on your investor profile.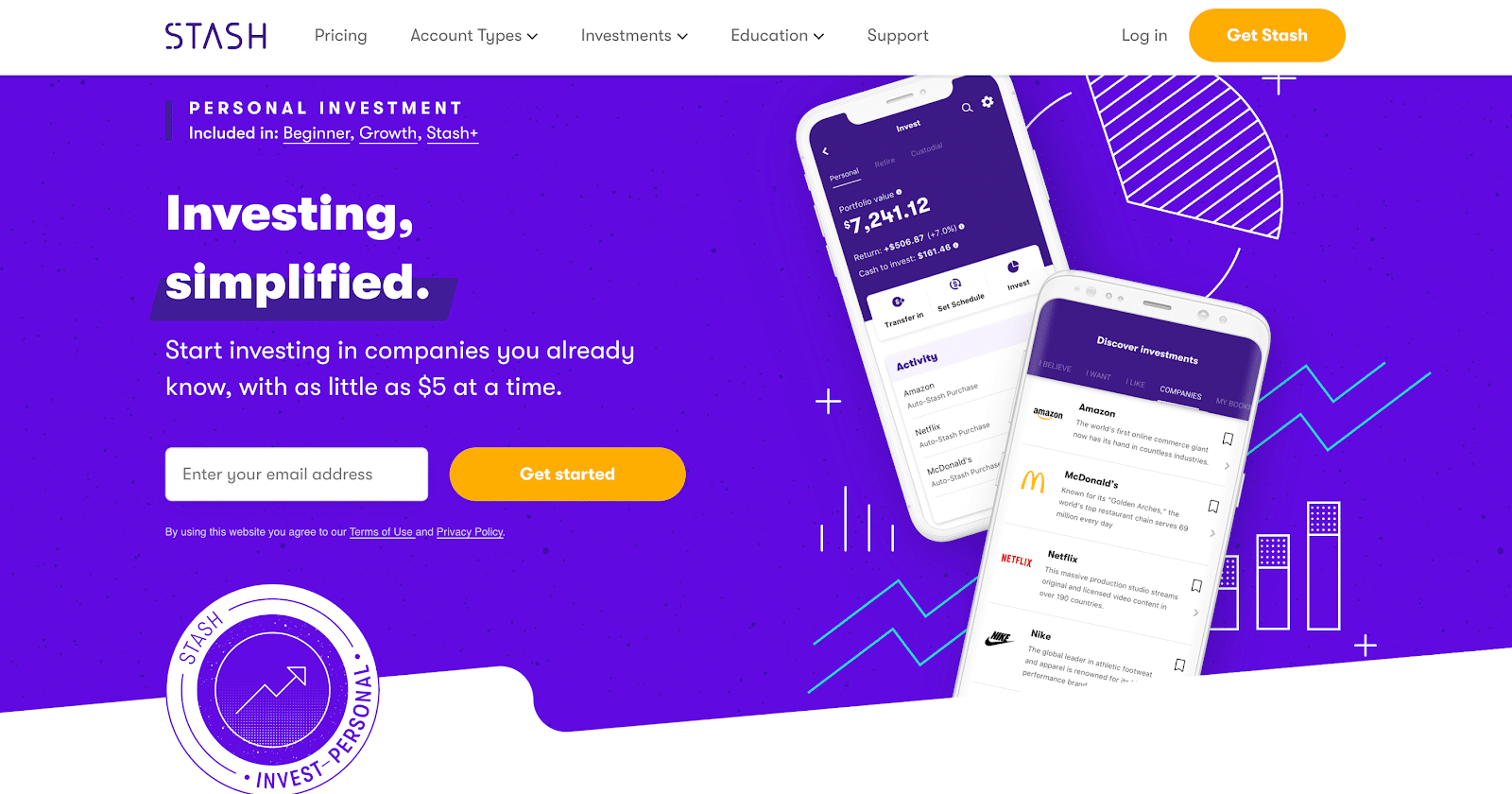 Humble Brags
2017 W3 Awards for Best User Experience
2017 & 2018 Webby Awards in Financial Services and Banking category
2018 Benzinga Awards for Investing in Millennials
2018 The Wall Street Journal Tech Companies to Watch
Stash Invest
Stash offers a fully automated suite of investing and banking tools. You can invest in themed-ETF portfolios or individual stocks starting at $5. They also have stock-back rewards on purchases. Subscriptions run between $1-$9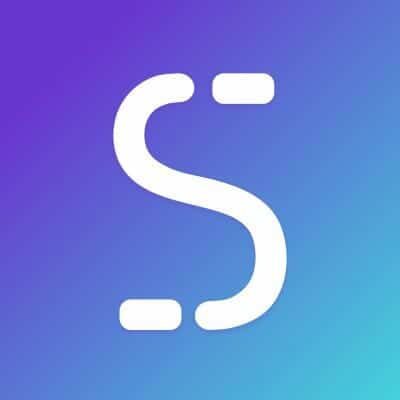 What's Acorns
Like Stash, Acorns is a downloadable micro-investing app that lets you invest your spare change. Your money is then transferred to a diversified portfolio of exchange-traded funds (ETFs).
Acorns was founded in 2014 by father and son team Walter and Jeff Cruttenden. Since then, Acorns has grown to four million users and manages over $1 billion in assets.
Humble Brags
Fast Company named Acorns one of the 50 Most Innovative Companies of 2019
Featured by Apple as their "App of the Day," 2019
They also feature two Nobel Prize-winning economists on their advisory board:
Harry Markowitz, recipient of the Nobel Prize in Economic Sciences and founder of Modern Portfolio Theory.
Richard H. Thaler, Nobel Memorial Prize recipient in Economic Sciences for his contributions to behavioral economics.
Investing apps like Stash and Acorns make Wall Street seem less intimidating, particularly if you're a novice investor.
But which one makes sense for you?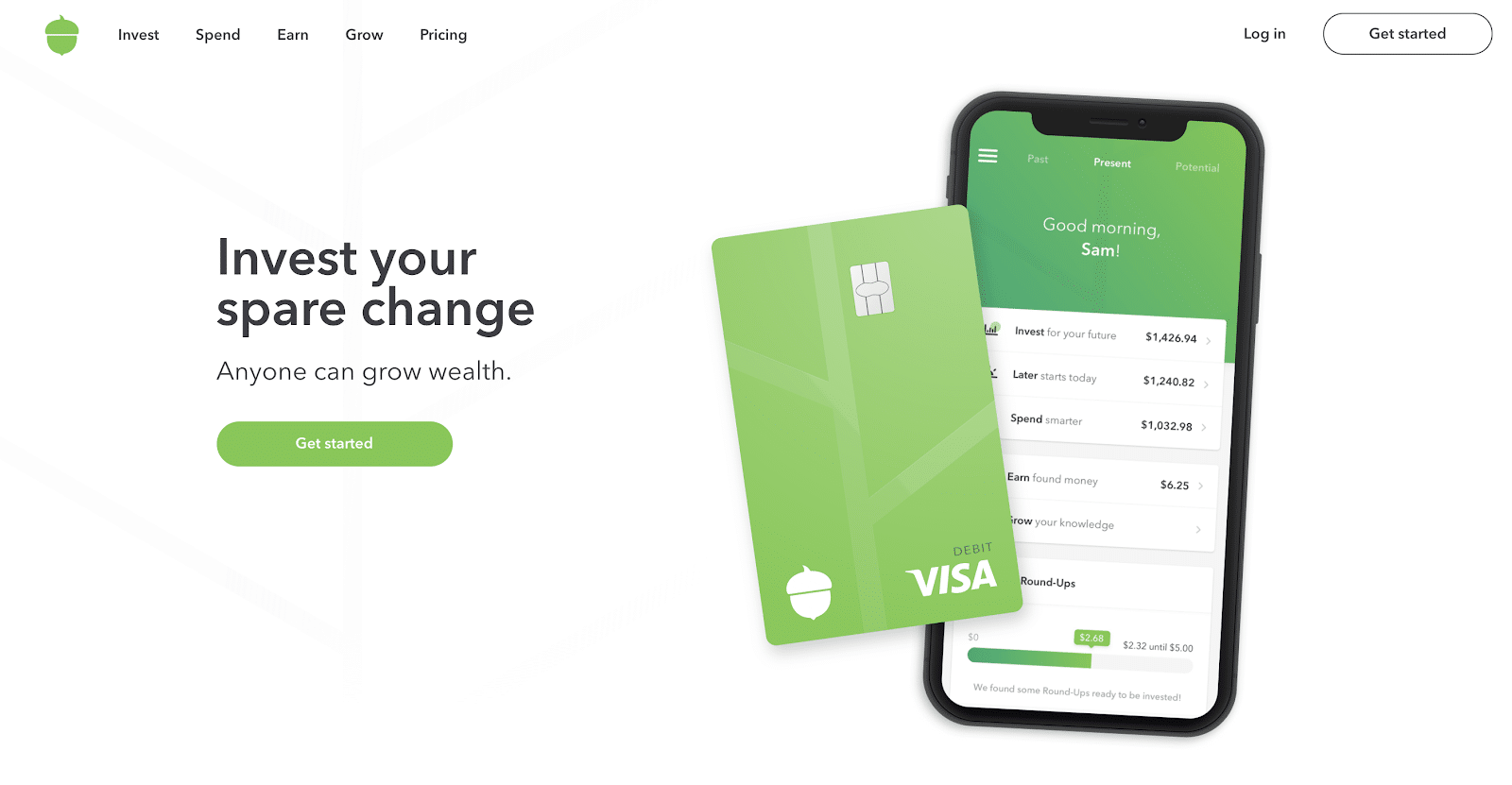 Subscription Plans: The Annual Fee Pricing Alternative
Stash
Stash features a three-tiered, monthly subscription plan depending on what level of service you're looking for. Prices range between $1 – $9 and are as follows:
Beginner ($1 monthly)
Growth ($3 monthly)
Stash+ ($9 monthly)
Beginner
The Beginner is your personal investment account equipped with debit access and stock-back on purchases (like a cash rewards credit card but with stocks), This is their base plan at $1 a month.
Growth
Includes all of the features found in Beginner, along with a retirement account for $3 a month. You can choose between a traditional or Roth IRA.
Investors do have the option of subscribing to the retire-only account, Stash Retire, for $2 a month. 
Stash+
At $9 a month, Stash+ includes all of the features from both Beginner and Growth plans plus:
Custodial investment accounts for two kids (UGMA/UTMA)
Metal tungsten debit card with 2x stock-back
Monthly market insight reports
Stash says they're no longer an asset-based pricing model, and their monthly fee structure is all-inclusive. Why does this matter?
Because if you're paying a monthly fee plus the fund expense ratios plus trading fees and commissions, those costs add up and can cause a drag on your earnings.
Stash also features ASAP Direct Deposit which lets you get your paycheck two days earlier than everyone else. This feature is found on all plans.
With Stash, you get a flat, transparent fee structure along with no add-on commissions and unlimited trading.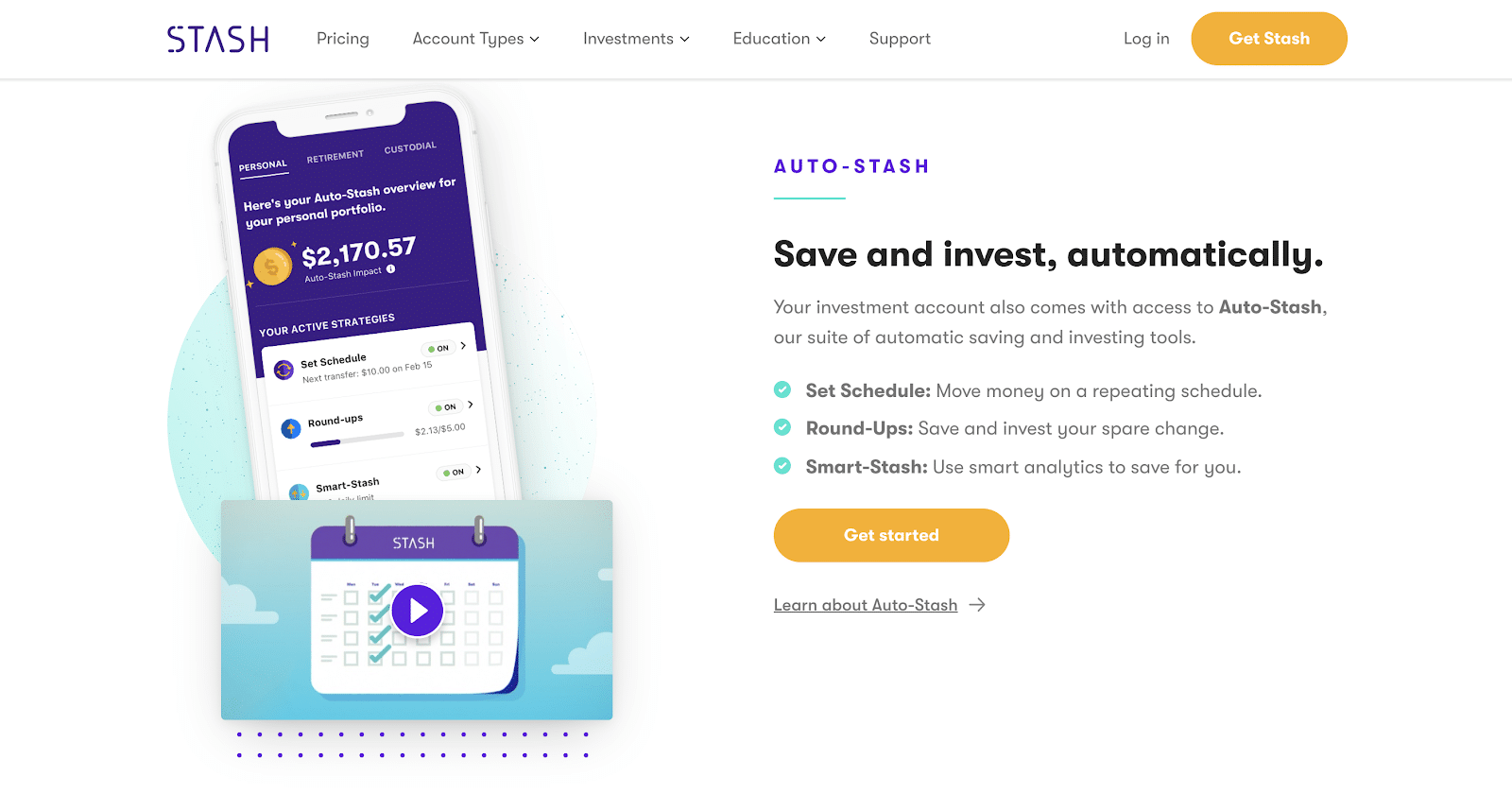 Stash Account Types Recap
Banking (checking with debit card)
Personal (taxable investment account)
Retirement (traditional or Roth IRA)
Custodial (UGMA/UTMA)
Acorns 
Acorns also offer you three subscription plans with costs varying between $1 – $3.
Acorns Invest ($1 a month)
Acorns Later ($2 a month)
Acorns Spend ($3 a month)
Acorns Invest is their base plan. You'll gain access to a taxable investment account, and you can put your spare change to work instantly using their Round-Ups feature (more on that in a minute).
You'll also gain access to their Found Money partners network. What's this?
When you buy something at one of their partners (e.g., Barnes & Noble), that partner will contribute either a dollar amount or a percentage into your investment account.
Acorns Later gets you a taxable investment account plus a retirement account. You can set up recurring contributions or make lump-sum deposits. You can choose between three different IRAs, including:
Acorns provides a quick tutorial that breaks down exactly what the different IRA accounts are and which one is the right play for you. You also have the option to roll over a 401(k) or another IRA.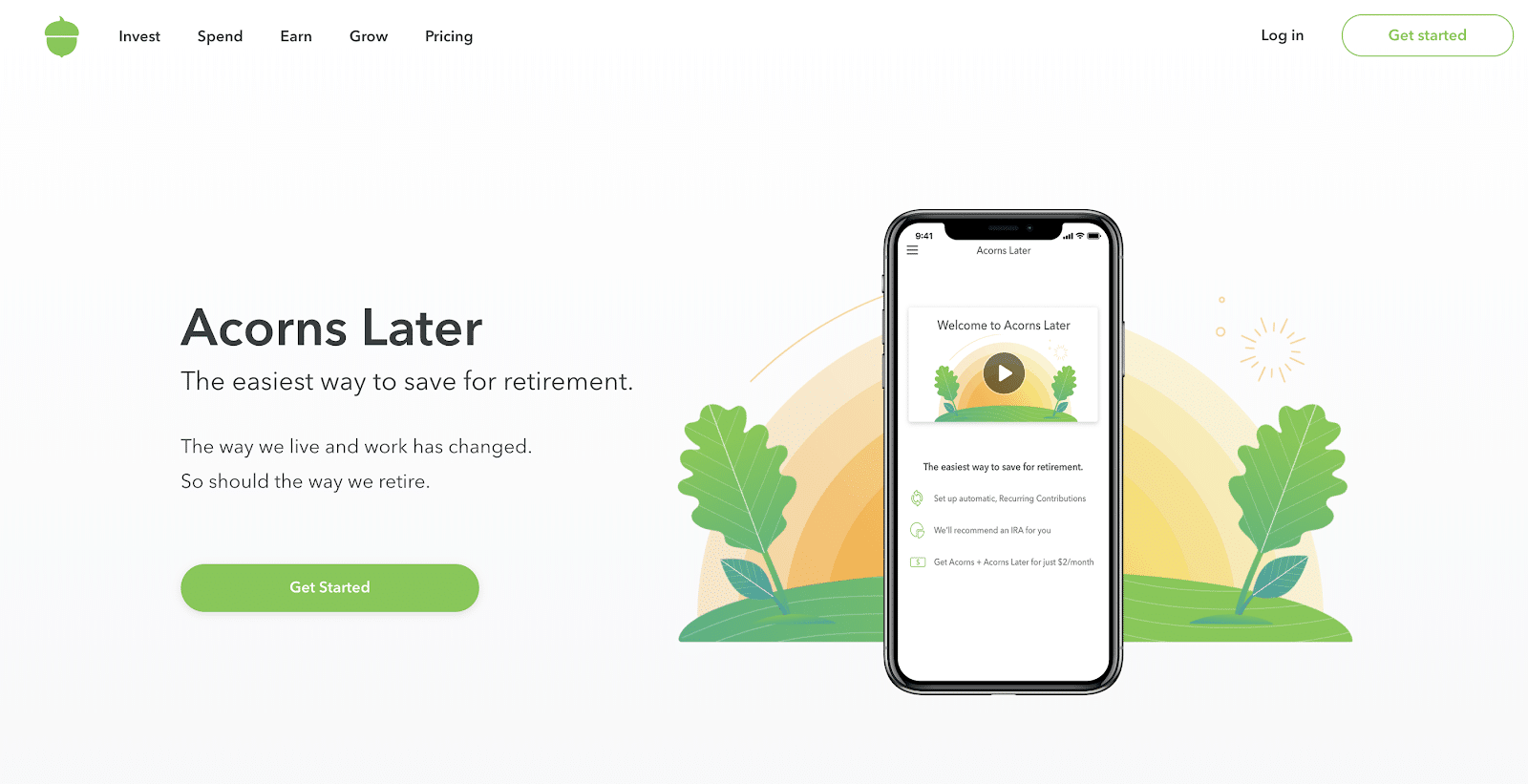 Acorns Spend is their digital checking account combining all three plans:
Acorns Spend includes an investment account, a retirement account, and a tungsten debit card.
Your digital checking account includes:
No minimum balance fees
Unlimited free or fee-reimbursed ATMs nationwide
No overdraft fees
Acorns Spend is FDIC insured up to $250,000 and includes fraud protection and digital card lock.
Acorns Account Types Recap
Banking (checking with debit card)
Personal (taxable investment account)
Retirement (traditional, SEP, or Roth IRA)
Winner: Too close to call. Both companies offer three plans featuring an investment account, a retirement account, and a checking account. Stash does provide one more account type in the form of a custodial account. If that's important to you, Stash might make more sense.
Acorns
Invest spare change automatically from everyday purchases into a diversified portfolio. Choose from three options and Acorns will handle the rest. Fund your personal investment account or retirement account in a few easy steps.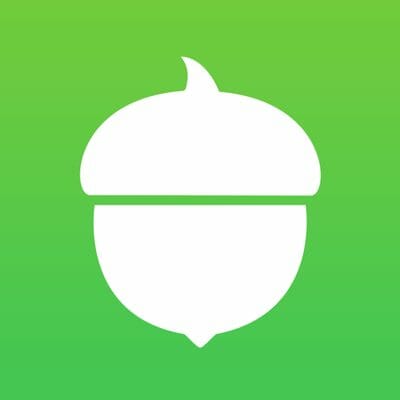 However, Stash carries a higher monthly fee if you want more than what their base plan offers.
Portfolio Options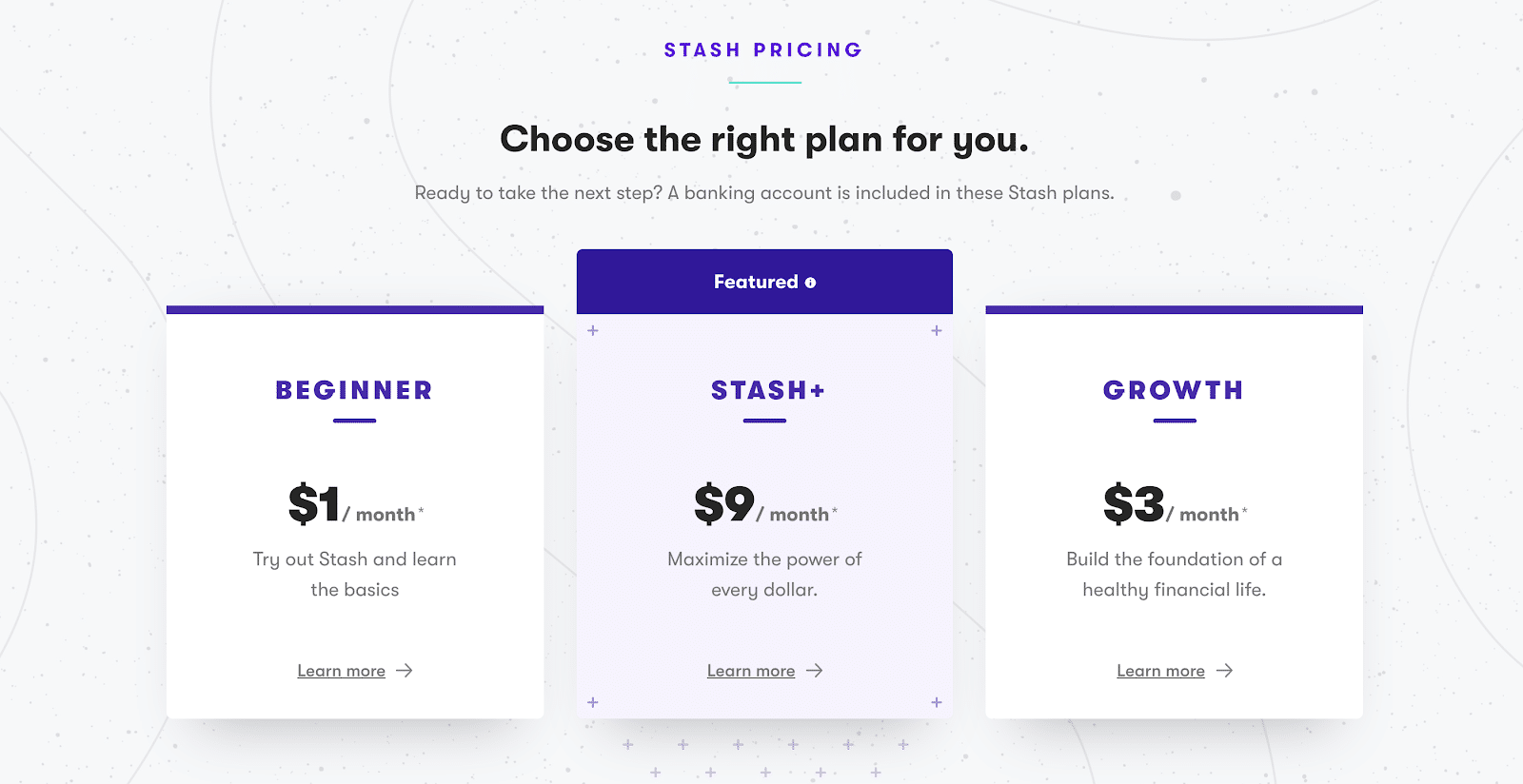 Stash
Stash holds 60 exchange-traded funds (ETFs) and nearly 200 individual stocks. With Stash, you have a degree of freedom and flexibility around what investments you can add to your portfolio.
Your choices include stocks and bonds, as well as themed funds focused on a specific sector or category.
For example, if you believe in the power of female diversity in the workplace, you can invest in the Women Who Lead fund (ticker: SHE). Or, if you think having clean water supplied by reputable companies is a smart business move, invest in the Water The World ETF.
They have coaching tools that will guide you when setting up your portfolio – a plus if you're new to investing.
Acorns
Acorns doesn't give you as many choices when building your portfolio. They have seven ETFs allocated according to your risk profile. If you're conservative, your portfolio will be heavily weighted in bonds, while aggressive investors will tilt towards stocks.
The seven ETFs Acorns offer are:
iShares iBoxx Investment Grade Corporate Bond
iShares 1-3 Year Treasury Bond
Vanguard Small-Cap Index Fund ETF Shares
Vanguard REIT(real estate) Index Fund ETF Shares
Vanguard 500 Index Fund ETF Shares
Vanguard Emerging Markets Stock Index Fund ETF Shares
Vanguard FTSE Developed Markets Index Fund ETF Shares

Depending on your goals and profile determines how Acorns constructs your investment portfolio.

Winner: Stash gives you more freedom when building your portfolio with an ample selection of single stocks and ETFs. They also have tools to help you decide which is the smarter play.
However, if you prefer having fewer investment options and having someone build your portfolio for you, Acorns will probably be the better choice. Your portfolio will still be adequately diversified.
Expense Ratios
Stash 
The cost of operating Stash ETFs varies depending on the type of fund you choose. For example, their Clean and Green fund carries a 0.46% expense ratio while the Match The Market fund costs 0.04%. On average, the funds you'll find in Stash cost more, but since Stash's monthly fee covers all costs, this isn't an issue. Or is it? More on that in a minute.
Acorns
All of Acorns' funds are inexpensive, consisting of either Vanguard or iShares – both low-cost leaders for retail investors. The average cost for these funds is ~0.09%.
Acorns' plan also covers all costs in their monthly fee, so this won't be a concern if you decide to go with them.
Winner: Acorns. The costs of their funds are much lower than Stash.
A Word On Expense Ratios and Monthly Fees
Just because both plans cover the cost of expense ratios in their portfolios doesn't mean you should turn a blind eye. It's still a concern. Why?
Because costs matter.
For example, if you were investing with Stash's plan at $3 a month (and expense ratios weren't included in the monthly fee), had a $2,000 account balance with a basket of funds carrying an average expense ratio of 0.44%, your total cost would be:
$3 a month multiplied by 12 months = $36
$36 divided by $2,000 end-of-year account balance = 1.8% fee
1.8% plus 0.44% = 2.24%
2.24% is an extremely high price to pay someone for managing your money. Even when you remove the 0.44% fund costs, 1.8% is still exceptionally high, especially when you consider robo-advisors like Betterment carry a 0.25% annual management fee.
You'll benefit from this service the higher your account balance is.
Think in terms of percentages and tread with caution – you'll keep more of your investment returns in the long run.
Thinking in terms of percentages saves you money.
Tweet This
The operating cost of a fund can dictate the overall subscription fee. That could be a reason why Acorns is less expensive.
Special Features
The beauty of both Stash and Acorns is in its simplicity of use through their mobile app. Both products were designed to make investing effortless and easy to automate – and to save us from ourselves to get started already.
Stash
Auto Stash
Their fully-automated suite of tools lets you put your account on autopilot and includes:
Round-Ups enables you to invest your spare change on every purchase(same feature with Acorns)
Smart Stash. This feature analyzes your spending habits and earnings while looking for ways to save money. It doesn't focus on the money you'll need for bills and rent but on your discretionary income. If Stash sees you can spare a little to invest, it'll move that money for you.
Set Schedule lets you choose the date for when you make deposits – and then does it for you. If you're looking to save regularly but have always had trouble setting aside money, you'll appreciate this feature. 
Stock-Back
When using your Stash debit card on purchases at over 11 million businesses nationwide, you'll get a fractional share of stock. For example, when you shop at Amazon, you'll get a fractional share of Amazon stock.
And if you're subscribed to the Stash + plan, you'll get 2x stock-back.
If stock-back isn't available, you'll earn it in the form of a Stash-approved ETF.
Cash Back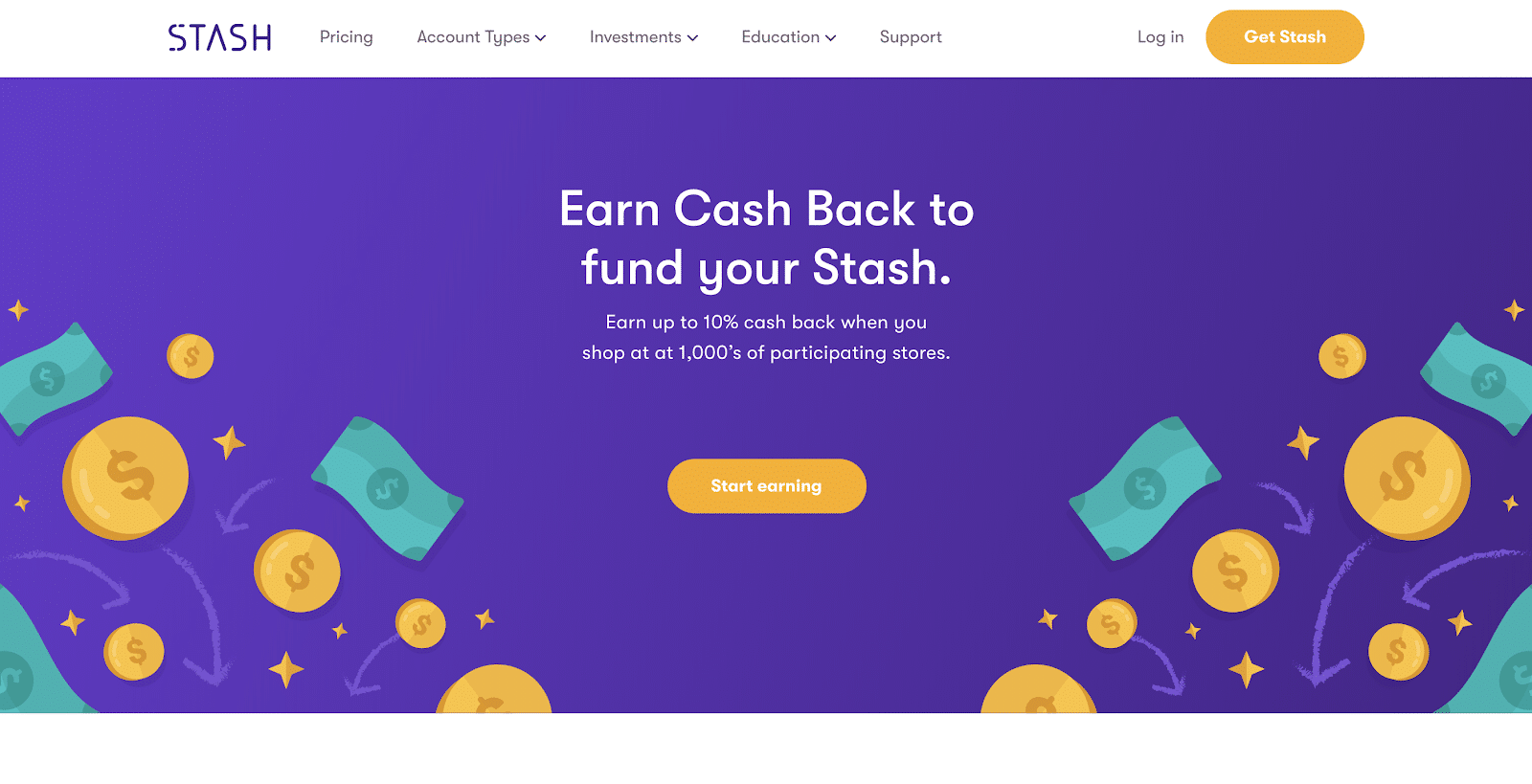 You also can link a card to your Stash account, spend money at 1,000s of participating merchants, and earn up to 10%. Once your balance hits $5, Stash will transfer the balance back to your card to use as you see fit (ahem, invest it, cough).
Portfolio Builder
If you need constraints and are overwhelmed by the investment options, Stash features a portfolio-builder tool that will build your portfolio for you based on your risk tolerance and time horizon. There are three categories:
Conservative
Moderate
Aggressive
Once you've created your account, Stash will construct your portfolio using six globally-diversified exchange-traded funds.
This is very similar to how Acorns builds your portfolio.
Acorns
Found Money
With Found Money, every purchase you make with one of Acorn's 300+ partners, they'll contribute a dollar amount or a percentage of your purchase into your investment account.
If you link a rewards credit card to your Acorns account, you can amplify your earning power. A complete break down of their partners can be found on their site.
This feature is similar to Stash in that you're rewarded for spending money.
Round-Ups
Just like Stash, Round-Ups works the same way – when you make a purchase, Acorns rounds-up to the nearest dollar and invests your spare change.
Acorns features a multiplier tool that will round up your spare change in 2x, 3x or 10x increments. They also lets you set up recurring investments so you can automate everything.
Winner: Too close to call. Both reward you for spending, and both let you set up recurring deposits. The small difference is with the Smart Stash feature, which analyzes your spending and looks for ways to invest your money while Acorns features a multiplier tool that lets you boost how much you can round up your spare change.
Planning Tools
Stash's Retirement Calculator and Acorns Potential Tool both let you see the differences between invested dollar amounts. If you want to know the difference between a $100 monthly deposit and a $500 monthly deposit over the long-term, these tools will show you.
Minimum Deposit
Stash
Stash requires an account minimum of $5 when creating your account.
Acorns
Creating an account is free, but Acorns won't start investing for you until there's $5 in your account.
Winner: A tie. While it's great that creating an account with Acorns is free, you still have to fund it. Since they won't start investing for you until there's $5 in your account, it's the same as Stash.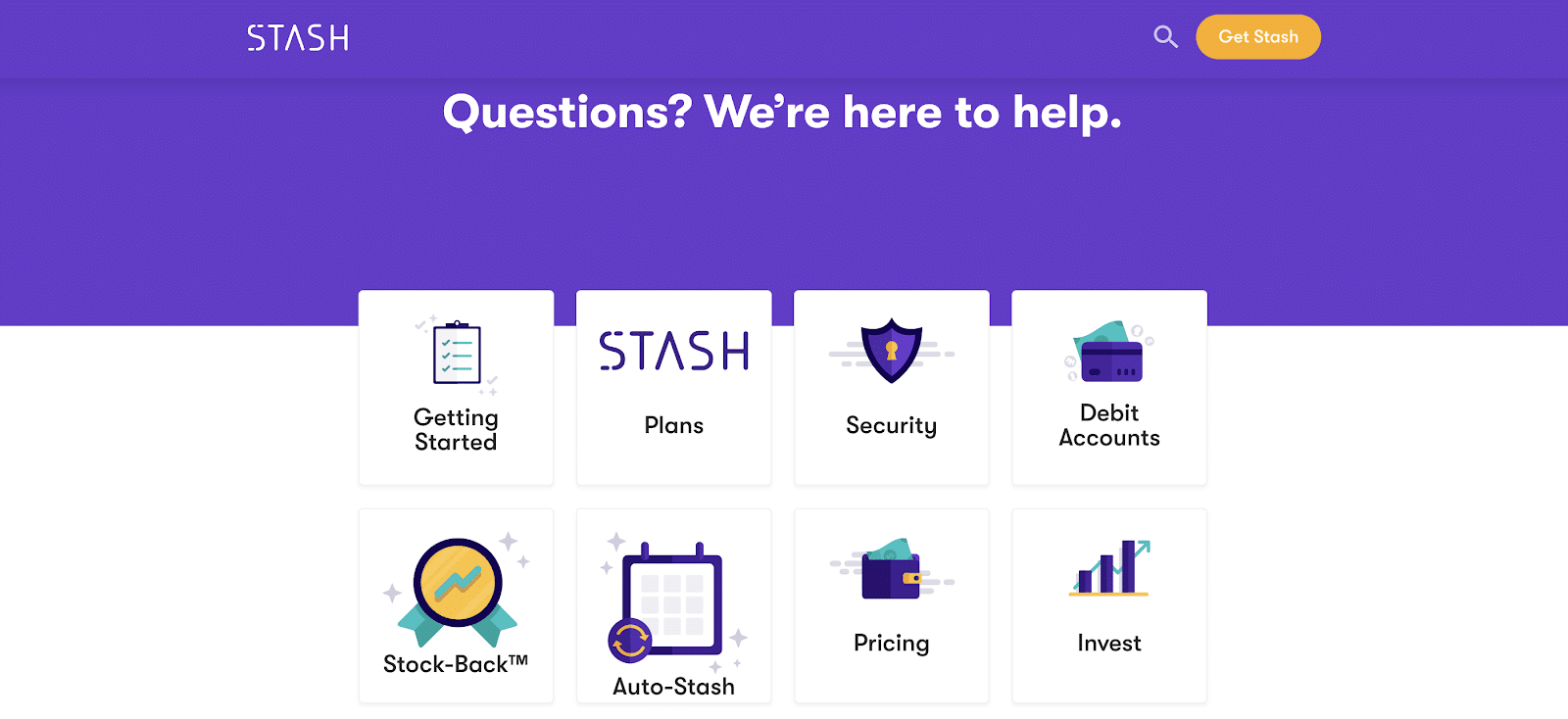 Financial Advice
While both platforms have ample educational resources, there's little in terms of human support – and there's no advisor who will shepherd your portfolio. Communication is done by email and through the app only (although Stash does provide a phone number in fine print at the bottom of the page).
Final Thoughts
Both Stash and Acorns offer similar features – so similar that it comes down to personal preference. I'd say Acorns wins with regards to cost while the nod goes to Stash in terms of investment options.
You will find a greater variety of funds and stocks to invest in with Stash while Acorns offers you seven ETFs and allocates them according to your risk tolerance and investment goals.
The ease-of-use found with both platforms is why it's so appealing. When you're starting, it helps to have guidance and even better when pairing that guidance with automation.
However, if you've got the basics of investing down and want to go the DIY route, you can find most of the same investment options at a brokerage firm like Vanguard. The monthly subscription fees these companies offer will benefit you if you keep a high account balance – otherwise, you're overpaying in management fees.
Get our best strategies, tools, and support sent straight to your inbox.