Online broker-dealer Robinhood offers investors commission-free trades while boasting ten million account holders. This post peeks under the hood and examines its investment options, features, and more. If you're considering which trading platform best suits your needs, this post is for you.
Zero commissions on stock trades sound pretty good. If you've been searching for a company offering commission-free trading and are unsatisfied with Fidelity or TD Ameritrade (or looking for something different), let this Robinhood review decide if they're the right choice.



Minimum Investment:
$0
Management Fees:
$0, $5 Gold monthly subscription
Promotion:
Get a free stock
Tax Loss Harvesting:
No
Portfolio Rebalancing:
No
Assets Under Management:
10 million users, company valued at $7.6 billion
Minimum Investment:
$0
Management Fees:
$0
Promotion:
Invest for Free
Tax Loss Harvesting:
No
Portfolio Rebalancing:
Yes
Assets Under Management:
$1 billion
Minimum Investment:
$0
Management Fees:
0.25%
Promotion:
Invest free for up to 1 year
Tax Loss Harvesting:
Yes
Portfolio Rebalancing:
Yes
Assets Under Management:
$21 billion
What Is Robinhood?
Robinhood is a FINRA-approved broker-dealer, founded in 2013 by Vladimir Tenev and Baiju Bhatt. These guys used to build trading software for financial institutions before they took a swing at a new business model – catering to low net-worth, ordinary investors with commission-free trades.
They took an alternative approach, making sure everyone has access to the same services as the wealthy. Their business model disrupted the system by leveraging technology to lower costs and encouraged heavier participation in the investing world.
Robinhood is an investing platform that lets you buy and sell U.S. stocks, ETFs, options, and cryptocurrencies. Their company was created to be approachable to both new and seasoned investors.
Robinhood's currently valued at $7.6 billion and is based in Menlo Park, CA and Lake Mary, Florida.
Robinhood Features
| | |
| --- | --- |
| Investment accounts | Individual taxable |
| Account minimum | $0 Instant, $2,000 Gold |
| Trading costs | $0 |
| Trades available | U.S. stocks and ETFs, options, crypto |
| Mobile app | iOS, Android |
| Referral program | Get one share of free stock for every person you refer who funds an account (up to $500) |
| Fractional shares | Yes |
Getting Started
To fund your account, applicants must:
Be 18 years old
Have a valid social security number
Have a legal U.S. residential address
Be a U.S. citizen, permanent resident, or have a valid U.S. visa.
All required documents requested by Robinhood can be uploaded directly through their trading app. Take a screenshot and send it.
You'll have to link your bank account before you're able to make any trades. Once you've answered a few simple questions (like your name, social security, and place of residence), you're on your way.
Robinhood
The mobile investing app, Robinhood Instant, offers users commission-free trades on stocks, ETFs, options, and cryptocurrency with no minimum account balance required. Robinhood is a FINRA-approved broker-dealer with ten million users.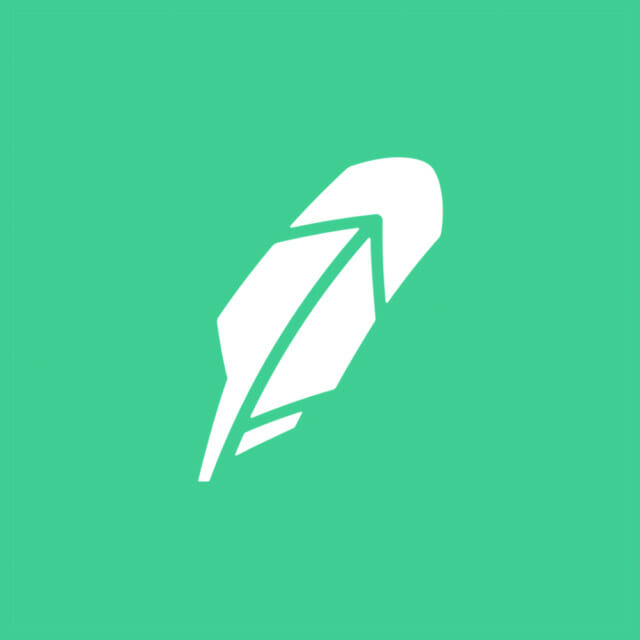 Robinhood Accounts
Robinhood Instant
Users automatically gain access to Robinhood Instant.
Instant users can invest in over 5,000 stocks and ETFs listed on U.S. equities exchanges, options contracts for exchange-listed stocks and ETFs, and a variety of cryptocurrencies including Bitcoin and Ethereum.
Only select U.S. states are supported by Robinhood Crypto. See their website for the full list. Robinhood Crypto isn't a member of FINRA nor is trading cryptocurrencies insured by SIPC.  
Assets currently supported through Robinhood Financial:
U.S. exchange-listed stocks and ETFs
Options contracts for U.S. exchange-listed stocks and ETFs
Cryptocurrencies
ADRs for over 250 globally-listed companies   
Editor's Note
Note: ADRs or American Depository Receipts are certificates issued by a U.S. bank representing shares invested in foreign stock. It's Robinhood's way of giving you equity exposure in international markets.
Assets unsupported through Robinhood:
Foreign-domiciled stocks
Select OTC equities
Preferred stocks
Tracking stocks
Mutual funds
Bonds and fixed-income trading
Foreign exchanges
You can reinvest your cash dividends using DRIP. You can access it in your account under Investing > Dividend Reinvestment.
Setting up DRIP gains you access to fractional shares so you're fully-invested at all times.
Robinhood Gold
For a $5 monthly fee, customers can level-up their investing experience and gain access to features not included with Robinhood Instant.
With a Gold account, customers have access to extended trading hours plus several premium features including Instant Deposits, market insights, and margin trading.
Bigger Instant Deposits to amplify your buying power. This is based on your portfolio value. The benefit here is you're able to use more money immediately instead of waiting five business days for your funds to clear. It's a tiered system. For example:
Portfolio value is over $50,000; your instant deposit limit is 50,000
Portfolio value is over $25,000; your instant deposit limit is $25,000
Portfolio value is over $10,000; your instant deposit limit is $10,000
$5,000 instant deposit limit for all other Gold users
Market Insights
Professional Research from Morningstar. Morningstar is a credible independent investment research company. Gold members get unlimited access to their high-quality stock research reports.
Report analysis includes a company's business strategy, fair market value, risk, and more.
Level II Market Data from NASDAQ. The data gleaned from NASDAQ shows you multiple bids and asks for any stock in real-time.
Level II data is unique because it shows more than just the best bid and the best ask on the market. It also shows the full depth of orders on the market, including quantities at the individual bids and asks.
Margin Trades
Investing on Margin. Traders willing to carry additional risk may find a margin account appealing. Buying on margin means you're borrowing money from Robinhood to buy more stocks.
This practice lets you amplify your gains (and losses) by assuming a higher risk premium, and lets you buy immediately into the market without waiting for funds to clear.
Robinhood spells out investing on margin like this.
Imagine you have $2,000 in your account and own $4,000 of Apple stock. $2,000 of that stock is invested with your money while $2,000 you borrowed from Robinhood. If Apple stock decreases by 25%, your portfolio of that stock will drop to $3,000 in value.
But, because you borrowed $2,000 from Robinhood, you have to pay that money back. Your current portfolio value is now $3,000, but you owe $2,000. Your account value is now worth $1,000 upon repaying Robinhood.
Editor's Note
Tip: Investing on margin is an advanced trading practice. Know the nuts and bolts of it before getting started.
Robinhood Gold has a free 30-day trial. If you're unsatisfied, downgrade to Instant, and you won't incur the $5 monthly fee. When upgrading to Gold, your first $1,000 of margin are included.
If you use more than $1,000 on margin, you'll pay 5% annual interest on the amount (above $1,000) which gets charged to your account at the end of your billing cycle.
You're also able to turn off the "invest on margin" feature if that type of trading isn't for you and set borrowing limits to control the amount you invest on margin.
Robinhood Cash
Robinhood Cash lets you place trades during regular and extended trading hours. However, you can't access the instant deposits or instant settlements features that you'll find in Gold and Instant accounts.
Cash Management
Robinhood looks to unleash a savings and checking account (also said to be zero-fee based) in the future once they've ironed out the kinks with regulators.
Whether it's FDIC insured remains to be seen. It's possible it'll be SIPC-insured which changes the rules and will be more like opening another brokerage account.
Options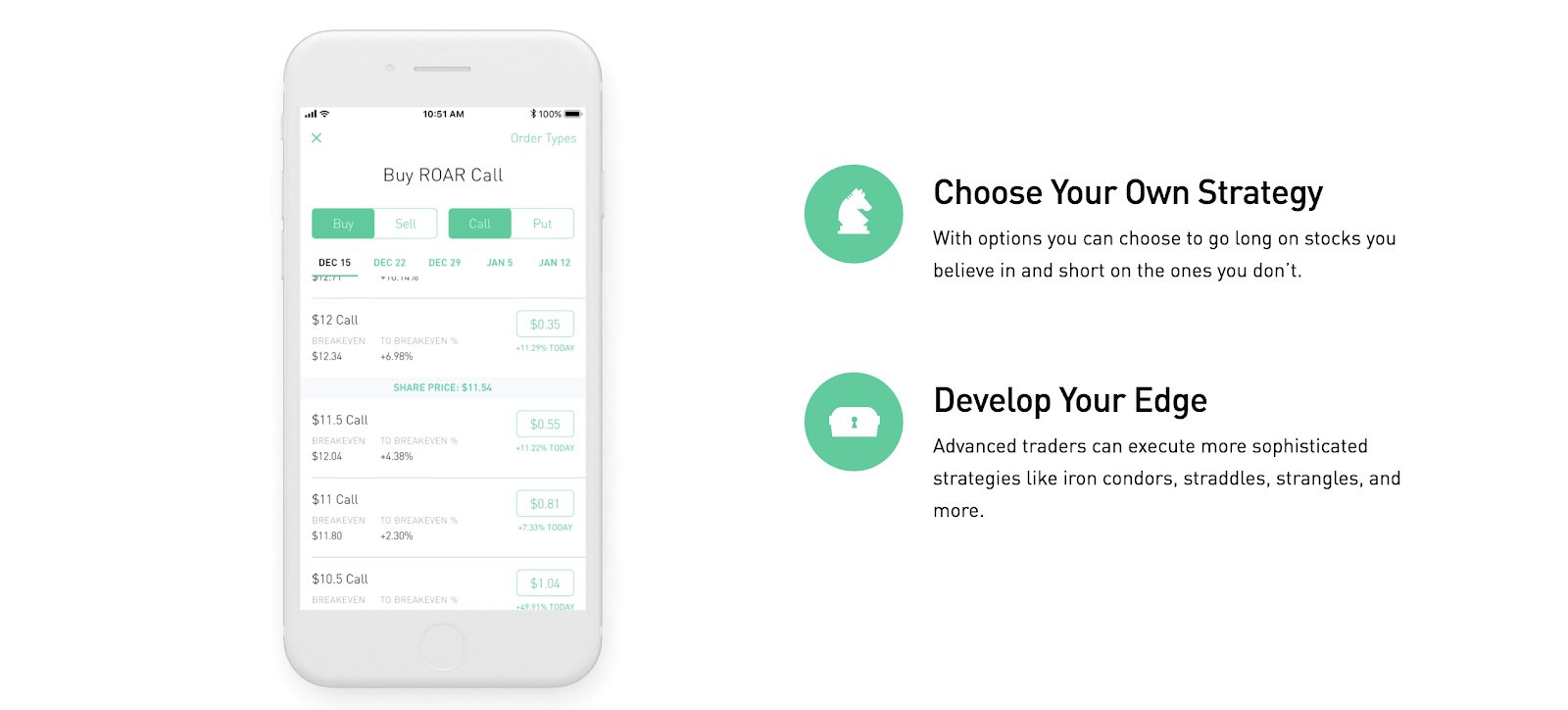 Options differ from stocks. Trading options let you control shares of a stock without owning them. They're contracts between buyers and sellers.
Robinhood offers fee-free options trading.
Tweet This
You can bet on whether the stock will increase or decrease in value. Examples of advanced strategies you're able to execute on Robinhood's platform are:
Straddles
Strangles
Credit, debit, and box spreads
Iron condors
Placing option trades through their app can be done in a few simple steps. Select the "search" function and enter the stock name; tap the name of the stock upon locating it; select trade in the bottom right corner of the stock's "Details" page, and tap "Trade Options."
Navigating trades through their app are handled this way. Search the stock, tap the Details page, and click trade, buy, or sell.
Options trading carries no base fees, no exercise and assignment fees, and no per-contract commission.
Cryptocurrency
Cryptocurrency trading is available on a state-by-state basis at Robinhood. Refer to their website for the full list.
Currently, Robinhood supports these cryptocurrencies:
Bitcoin
Bitcoin SV
Dogecoin
Bitcoin Cash
Ethereum
Ethereum Classic
Litecoin
Recall that Robinhood Crypto isn't a member of FINRA nor is trading cryptocurrencies through Robinhood insured by SIPC.
Additional Features
Robinhood's Referral Program
When you refer a friend who funds an account, Robinhood rewards you (and your friend) with one free share of stock. Stocks are chosen at random from their catalog, and values vary from $2.50 to $200 per share.
Referrals are handled directly through your app by tapping "invite friends." Robinhood caps the amount of free stock you can get at $500.
Low-Latency Trading Systems
Robinhood constructed what they call Low-Latency Trading Systems into their software. What's this?
Latency is the delay that happens just after you execute a transfer of data. It's like when you're manually shifting gears in a car.
There's a delay from when you push down the clutch, to the shifting of gears, to taking your foot off the clutch and back on the gas, accelerating.
Then new dual-clutch technology came along and sped up the shifting process by reducing the delay.
Low-latency systems work similarly – by reducing delay.
According to Robinhood, some brokerage firms delay quotes upwards of 20 minutes and charge you for it. Robinhood boasts theirs gets you there quicker.
You can also set up "Smart Notifications" to get important updates of everything going on within your portfolio. For example, you'll get scheduled events like earnings, dividends, and splits.
Is Robinhood Safe?
Yes. Robinhood is a member of SIPC, and all account holders are insured up to $500,000 (including $250,000 for cash claims). Accounts are fully encrypted and securely stored using state of the art security measures.
Customer Support
Along with their inventory of articles about the inner-workings of Robinhood, if you want to get in touch with them, you'll have to either email them or message them via social media.
Education and Tools
Robinhood's research tools are limited to The Snacks: their email newsletter with highlights of the day sent straight to your inbox.
They offer both daily and weekly free subscriptions. Weekly newsletters recap the events of the past week while the daily gives its readers 3-4 top newsworthy stories every morning.
They also have a Snacks podcast which can be accessed through the link in your newsletter. This is Robinhood's way of letting their customers keep up with market news.

They also feature a blog for the latest company news and offerings.
How Robinhood Makes Money
If you look on their website, Robinhood says they make money with:
Robinhood Gold, their margin trading service with a $5 monthly fee
Rebates from market makers and trading venues
Income generated from cash
Stock loan income from counterparties
Interchange fees from purchases made with the cash management debit card and fees from program banks
They've received criticism for selling order flows. It's reported that they generate substantial revenue by selling order flows to high-frequency traders.
This practice happens all the time in Wall Street with critics saying it tilts the advantage in the institutional investor's favor, helping them to anticipate the market.
Similar to what Burton Malkiel said of The Odd-Lot Theory, where high-frequency traders try to anticipate the market by watching amateurs buy and sell:
Except for the investor who is always right, no one can contribute more to a successful investment strategy than an investor who is invariably wrong. Buy when the odd-lotter sells, and sell when the odd-lotter buys. 
Instead of sending customers' orders to a stock exchange, brokers sell them to high-frequency trading firms.
It's said since establishing its own in-house clearing agency in 2019, Robinhood's revenue generated from selling to high-frequency trading firms has significantly decreased.
Is Robinhood Right For You?
What's to Like
No commissions: Trade U.S. listed stocks, ETFs, options, and crypto
UX/UI experience: Stylish, smart design
No minimum account balance: Robinhood Instant only
iOS and Android compatible: Mobile app supported on both devices
Crypto and options trading: Sophisticated options strategies supported
What's Not to Like
Lack of account types: Only individual taxable brokerage accounts at this time – no IRAs, joints, trusts, or 529s
Lack of investment types: No mutual funds, bonds, or fixed-income securities
Difficulty integrating other software: TurboTax is the only software Robinhood supports. I did see a Chrome Extension to connect Robinhood with Mint. Personal Capital requires you to create a Manual Investment Holding
Bottom Line
Their trading platform lets users get started investing right away. The Robinhood app appeals to anyone conducting heavy-handed banking transactions on their smartphone.
It's a seamless integration of people and technology. Costly overhead from big banks has forced ordinary investors to pay more in fees.
Fintech companies like Robinhood are wielding technology to the advantage of the ordinary investor. Or as Robinhood likens themselves: a technology-driven brokerage firm.
The critical consideration for anyone using the platform is what are your savings goals? If it's for retirement or college (e.g., 529s), you might want to look elsewhere as Robinhood doesn't support those features.
Frequent stock trading is a quick way to curb your wealth accumulation over the years because of the taxes incurred on your portfolio. It's more costly unless you're consistently beating the market.
But history shows trying to do this is a fool's errand.
Diversification is key. While options, crypto, buying on margin, and day trading stocks can all have their place within your portfolio, it shouldn't be the bulk of it.
It's hard to imagine building long-term wealth through this platform alone. Commission-free trading is excellent, but I wouldn't use it as a be-all-end-all wealth-building strategy.
Get our best strategies, tools, and support sent straight to your inbox.