The first purchase with a Discover card was in 1985 at a Sears store in Atlanta. It officially launched in 1986 as a payment services company and has become one of the largest card issuers and banking providers with 15,000 employees and $57 billion in consumer deposits.
This Discover Bank review examines its financial products and what you need to know before opening an account. In short, if you're looking for an all-in-one digital banking service, read this post.
Let's dive in!
What Is Discover Bank?
It's the digital banking arm of Discover Financial Services. It offers a vast selection of ways to spend and save, including cash back checking, online savings accounts, money market accounts, CDs, and IRAs.
While also providing private student loans, personal loans, and home equity loans; this review focuses on its checking and savings features.
It carries no monthly fees, no insufficient funds or overdraft fees, no minimum balance requirements, and a no-fee ATM network of over 60,000.
Discover Bank was formally the Greenwood Trust Company, based in Delaware, and is its only physical branch. It's FDIC-insured up to $250,000.
Getting Started with Discover
To open your online bank account, provide your info, including your social security number, physical address, and your account is in motion.
You'll have the choice to fund it while creating your account or finish it later. After that, Discover sends you an email confirmation with your account info – that's it.
Discover Bank Features
| | |
| --- | --- |
| Maintenance Fee | $0 |
| Minimum Deposit | $0 for savings & checking; $2,500 for CDs & MMA |
| Opening, Closing, or Inactivity Fee | $0 |
| Overdraft or Insufficient Funds Fee | $0 |
| Paper Checks | Free |
| APY | 0.25% - 1.15% |
| Mobile Check Deposit | Yes |
| Accessibility | Desktop, iOS & Android mobile apps |
| Accounts Supported | Checking, savings, CDs, money market, traditional & Roth IRAs |
Online Banking Services
Discover supports a variety of products. They're worth a look if you'd like to open more than a simple checking or savings account.
Its high-yield options include a range of CD term lengths between three months to ten years, a money market account, and its checking features a cashback debit card.
Fees
The only fee you're on the hook for is a $30 outgoing wire transfer charge. If this is how you typically send money, you may want to look elsewhere.
Because so many people now transfer money electronically, this shouldn't be a problem.
Discover Bank
Discover provides members with a digital banking experience in the form of cashback debit, high yield CDs, savings, and money market accounts. Its variety of options, no fees, and 60,000+ ATM network make it an ideal one-stop-shop.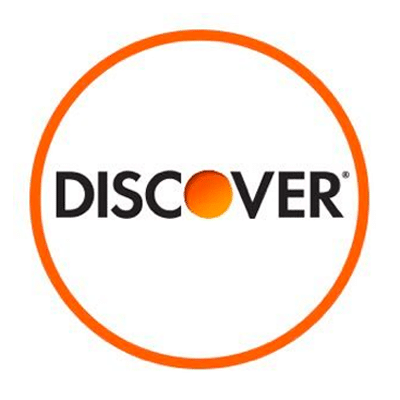 Checking Account 
Discover's Cashback debit card is an online checking account (supports both individual or joint) featuring EMV chip technology.
An EMV chip provides an added security layer making it harder for hackers to copy your debit card info.
It earns 1% up to $3,000 on monthly debit card purchases.
ATM transactions, Peer-to-Peer (P2P) payments, e.g., Apple Pay Cash, and third-party payment accounts like PayPal and Venmo, loan payments, money orders, and account funding are ineligible for this reward.
You can order checks online through its Account Center or by phone at no cost.
Funding your Discover can be done with an external account via electronic transfer, direct deposit using your account and routing number, mobile check deposit, or mail its office a paper check made out to you.
Combine Points
If you have both a cashback debit card and credit card with Discover, you can transfer your debit card bonus rewards to your credit card.
Debit card cashback bonuses never expire as long as your account is active and in good standing.
Your checking account carries no fees. These include:
Monthly Maintenance
In-network ATM withdrawals at over 60,000 Allpoint & MoneyPass locations
Replacement Debit Card
Standard Checks
Official Bank Check
Online Bill Pay
Expedited delivery for replacement debit card
Deposited Item Returned
Stop Payment Order
Insufficient Funds
Account Closure
Freeze Debit Card
You can temporarily freeze your card if it's ever misplaced. This function prevents transactions from charging to your account, and you can place a freeze on your card for as long as you like.
You can access its ATM finder for the nearest location to get cash in a hurry. Discover partnered with Allpoint and Money Pass to provide a fee-free ATM network with over 60,000 locations.
Mobile Check Deposit & QuickView
Snap a picture of your check using your smartphone or tablet and instantly deposit it using the mobile check deposit feature.
Check your account at a glance using Quick View. This function lets you see your activity and balances without logging in.
Bill Pay
To pay your bills, select 'Make A Bill Payment,' enroll, and add payees. It's free to use, and payments are sent either electronically or as paper checks.
Discover doesn't charge any overdraft fees and features overdraft protection between accounts.
You can use your debit card in the U.S., Canada, Mexico, and the Caribbean wherever you see the Discover, PULSE, or Diners Club International symbols.
Discover Online Banking lets you execute many tasks from bill pay to payment set-up to redeeming cashback bonuses and more, all performed within its mobile app or web application.
Online Savings Account & Transfers
There's no minimum deposit or balance requirements to open an online savings account, and transferring between Discover accounts is instant.
It features a competitive APY earning 1.05%. ACH withdrawals are limited to six per month.
Tip
To sidestep the six withdrawal monthly limit, and have unlimited transactions, open a Discover checking account and transfer money from your savings to checking.
You can also use the 'Auto Redemption to Online Savings' feature, which automatically saves money by depositing your debit card cashback bonus into your savings account each month.
CDs
| Length | APY | Interest Earned |
| --- | --- | --- |
| 3 Months | 0.25% | $6 |
| 12 Months | 0.90% | $90 |
| 24 Months | 1.01% | $202 |
| 5 Years | 1.15% | $586 |
| 7 years | 1.15% | $830 |
| 10 Years | 1.15% | $1,207 |
Discover has a substantial selection of CDs with term lengths varying from three months to ten years. For a complete list head here.
Three-month terms carry the lowest rate at 0.25%, while the 10-year length is at 1.15% APY.
CDs do have a $2,500 minimum deposit requirement as well as an early withdrawal penalty. The amount varies by CD type.
Best for CD laddering with 12 term lengths available.
Money Market Account 
Money market accounts are a flexible option if you want a high interest-bearing account while using it as a debit card to access cash via ATM or send paper checks.
The ATM withdrawal limit is $510 daily.
You'll need to maintain a minimum balance of $100,000 to lock in the higher interest rate (0.95% APY). For balances below $100,000, you'll earn a lower 0.90% APY.
You're not penalized with a fee if your balance falls below $100,000, but you will lose the higher rate.
Opening a money market account requires a $2,500 minimum deposit.
You'll gain access to the same debit card treatment and perks as checking account holders with a fee-free ATM network of over 60,000 and zero account fees.
Take Note
You're on the hook for any fees charged to you by out-of-network ATMs.
A money market account is best for people who want the higher APY of online savings that functions like checking.
Traditional and Roth IRA CDs and Savings Accounts
These accounts work like a Traditional IRA or Roth IRA bucket; only instead of investing in mutual funds or ETFs, you're putting money into CDs and savings accounts.
IRA CDs carry the same $2,500 minimum deposit requirement mentioned above. It's a low-risk investment with a lesser return but does add a layer of diversification to your portfolio.
IRA Savings accounts have no minimums to set up. If you'd like to learn more about saving for retirement, we wrote about the best IRA accounts for your retirement plan.
Resources
If you're looking for a bank doing more for its customers than taking your money, Discover has a few features worth exploring.
Mobile App
You can access through any device with an internet connection (e.g., your desktop or tablet), and both iPhone and Android mobile apps.
Customer Support
Available by phone 24/7 or by mail, and their support window through the mobile app.
Security
Discover Bank has many security features, including $0 Liability Protection, which prevents you from paying unauthorized transactions.
Bill Pay Protection protects you if your payment is late (due to Discover), they'll cover the fee.
It also features bank-grade 256-bit encryption using SSL technology, which keeps all of your data safe. A specialist handles your account if fraudulent activity occurs, and 24/7 monitoring alerts you of suspicious activity.
EMV chip technology is another added security layer. It also has touch and facial ID recognition to bypass login with your passcode details.
And all accounts are FDIC-insured up to $250,000.
Education
Its robust Modern Money Blog tackles topics ranging from saving to budgeting to family finance. It even goes into details on navigating your career and educational paths, lifestyle choices, and what you should know about retirement.
Helpful Tools
Discover features an interactive savings calculator. You'll see the interest earned based on how much you deposit and the length of time your money lives in the account.
It also has a tool letting you see how much cash back you'll earn as it relates to your debit card spending.
Alternatives to Discover
If you're unsure whether Discover online banking is for you, consider the below options.
Discover vs. Chime
Chime is mobile banking known for its exceptional customer service, no fees, and an extensive ATM network.
The difference with Chime is it doesn't offer a standalone savings account. You must open a checking account to access its savings features.
And its APY is lower than other competitors. But it does feature the option to get paid up to two days early when using direct deposit with your employer.
Visit the site here, or read our Chime review.
Discover vs. CIT
CIT, also an online bank, has ample accounts, on par with Discover. You'll gain access to eChecking, high-yield savings, money market accounts, and CDs.
A difference here is CIT's no-penalty CD offering. However, Discover has more CD term length options.
CIT's lengths vary from six months to five years, while Discover's range from three months to ten years.
If you're interested in building a CD ladder, Discover may be the better option. Check out CIT's site, or read our review.
Discover vs. Simple
Simple online banking has a built-in budgeting tool and positions itself to educate its members on all things money.
It has competitive high-yield accounts, but like Chime, it has no standalone savings account.
The beauty is in its budgeting tool, which integrates with your debit card. The app holds both, and you'll see transactions in real-time.
Many third-party apps have a lag time between transactions when posting to your account, and when syncing to your budgeting tool; not with Simple.
Visit Simple here, or read our review.
Discover FAQs
The most common questions people have before opening an account.
How Do I Deposit Money into Discover Bank?
You can deposit money via online transfer with an external bank, direct deposit, mobile check deposit, or mail the check made payable to you to Discover's mailing address.
Is There a Minimum Deposit to Open My Account?
Discover Bank has no minimums to open your cashback debit checking account or its online savings accounts.
CDs and Money market accounts have a $2,500 minimum deposit requirement.
Is Discover FDIC-Insured?
Yes, your deposits are covered up to $250,000.
Is There a Minimum Balance Requirement?
There are no minimum balance requirements with any Discover checking or savings accounts. However, there is a minimum $100,000 balance you must maintain to access the higher APY.
Is Discover Bank Right for You?
Discover has a variety of banking options, from checking and savings to CDs and money market accounts. Whatever your situation, consider these things before opening an account.
What's to Like
Multiple Accounts: As mentioned above, Discover has a robust suite of banking products. Checking, savings, CDs, money market, and even IRAs, each offering competitive rates.
No Fees: The only fee associated with your Discover account is a $30 outgoing wire transfer fee. Because most people don't send money this way, the charge shouldn't be an issue.
Large ATM Network: Customers gain access to a 60,000+ fee-free network and an ATM locator on both the mobile app and web application.
High-Yield Savings and Cashback Debit Card: Discover's competitive interest-bearing accounts and cashback debit card are attractive features to help you save and keep more money.
What's Not to Like?
Only One Physical Branch: While Discover does have a sprinkle of offices across the U.S., its only full-service brick and mortar branch resides in Delaware. Consider this before opening an account.
High Balance Needed with Money Market: You'll need to maintain a minimum account balance of $100,000 to earn its highest APY rate.
Discovering Its Digital Banking Arm
Discover supports a variety of account options, so they're worth a look if you'd like to open more than a simple checking or savings.
Its interest-bearing accounts include a range of CDs between three months to ten years, a money market account, and its checking account has a cashback debit card.
The only hiccup is only one physical branch. If you're comfortable with online banking, Discover might be a good fit.
Get our best strategies, tools, and support sent straight to your inbox.