Let's face it: Finance is one of the least fun parts of owning a business. It's time-consuming, complicated, and can even get expensive. With Brex, it doesn't have to be this way.
In this Brex review, we'll take a look at what Brex can offer your business. We'll consider any qualifications to apply and how to use Brex to your advantage.
But first, it's essential to understand what Brex is and how it works.
What Is Brex?
Brex is a financial services company founded by Henrique Dubugras and Pedro Franceschi in 2017. After seeing previous success with Pagar.me, a Brazilian payment processor, they founded Brex to change the way businesses handle their cash management and credit cards.
They initially focused on credit cards for tech startups, but now they're branching into eCommerce and life sciences. Cash management is their newest service that promises unlimited, speedy transfers for any business.
With the Brex credit card, your business will have a credit limit that's 10-20x higher than the national average. You'll also get industry-specific, rewards multipliers.
Brex is redefining how businesses handle their money. It's no wonder why they're backed by the co-founders of companies like PayPal and Y Combinator.
Getting Started
Applying for both Brex Cash and Card services is quick and easy. The only drawback is you have to meet specific requirements before applying.
To apply, you'll need to be in tech, eCommerce, or life sciences.
You also have to be a C-Corporation, S-Corporation, Limited Liability Company, or Limited Liability Partnership registered in the United States.
You can't be a sole proprietor or individual consumer and use the Brex card. It's because Brex offers credit based on the business's credit score, not the score of the owner.
The positive to this is that applying won't have any effect on your personal credit score.
If you're applying for the Brex Card, your business will need to maintain a bank balance of at least $100,000.
Your minimum balance can be $50,000 as long as you also have professional investors backing your business.
If you meet the above requirements, applying is simple and takes five minutes.
Brex Features
A snapshot of what you can expect when applying for a Brex card, followed by a detailed explanation below.
| | |
| --- | --- |
| APR | 0% |
| Payment Cycle | 30 days |
| Fees | $0 |
| Wire Transfers | Unlimited |
| Minimum Balance Requirement | $0 |
| Qualifying Point Purchases | Unlimited |
| App Integrations | NetSuite, Quickbooks, Xero, Expensify Integration w/ Receipt Matching |
| Personal Guarantee Needed | No |
| Accounts Supported | Corporate credit card, cash management |
| Mobile App | iOS, Android |
Interest
When it comes to APR, you won't find a better business card. Why?
Because it's hard to beat 0%. You can use your Brex Mastercard for all of your purchases, and Brex will automatically charge your bank account for the principal balance every 30 days.
You can also invest any cash you have with Brex Cash. If you choose this method, you'll currently earn a 0.01% 7-day yield in a money market account.
Transfers
Regardless of whether you've allocated your cash to banks or money market accounts, Brex provides ACH transfers, unlimited wire transfers, and checks to move your money instantly.
You won't pay any fees to Brex for these services.
Helpful Tip
While Brex doesn't charge fees, investment companies and recipient banks may charge fees on their end.
Qualifying Purchases
Everything you buy, even substantial purchases like servers or advertisements, earns you 1x points for every dollar spent.
Brex Exclusive members have access to perks multipliers. These multipliers are currently as high as 7x the points and tailored to your industry.
Points never expire, and there's no maximum on the amount you can earn. It means you can spend them when and how you see fit for your business.
Expense Management
Brex aims to make your financial life simpler by saving you money and making it easier to track.
Cut back on accounting by linking your Brex accounts with NetSuite, QuickBooks, Xero, and Expensify.
By automating this task, you don't have to spend your valuable time or money on bookkeeping.
Brex also offers multiple ways to match receipts to your transactions. You can use the Brex dashboard, Brex mobile app, email forwarding, or SMS notifications.
Then you won't need to hoard receipts or waste time trying to remember what all of your purchases were.
Accounts Supported
Brex has two primary services: credit cards and cash management. The two can be used separately or together on the Brex.com dashboard.
Brex Card

The philosophy behind the Brex Card is the idea that traditional banks don't focus on helping businesses. They just happen to offer cards for them.
Brex, on the other hand, only works with businesses.
They're not distracted by individual people's needs and focus on helping your business grow quickly and efficiently.
With Brex, your business could have 99 problems, but credit ain't one.
Tweet This
The biggest benefit of the Brex Card is no interest and no fees. Yes, no interest and no fees.
You'll also earn points on every purchase and have access to a credit limit that's 10-20x higher than the typical business card.
Brex will then determine your credit limit based on your company's credit history, spending patterns, and available cash. If you're approved, you'll receive a virtual card immediately.
To make matters more straightforward, Brex automates your credit card payments. They'll combine the previous 30 days of spending into a single monthly payment, which comes directly from the bank account you applied with.
All with no interest payments, hidden fees, or foreign transaction fees.
Brex Cash
Say goodbye to traditional banking and hello to the world of cash management. Brex isn't a bank, so they don't physically handle your money.
Instead, they act as a SIPC-insured broker under the name of Brex Treasury LLC.
Brex allocates your funds between cash deposits and investments in a money market account.
Your invested funds go into the Dreyfus Government Cash Management Fund (DAGXX), which currently earns a 0.01% 7-day yield. Any uninvested cash goes into partnered banks with FDIC insurance up to $250,000.
In the spirit of keeping things simple, you can autofill your recipient's information when you're transferring money. This way you can initiate a transfer in under a minute, saving time for the more critical tasks associated with running a business.
You have two choices for allocating your cash. The first is to set a percentage limit for the accounts. The second is to set a dollar limit.
If you want to keep a minimum of 20% in the bank, Brex automatically pulls from the money market funds to reach that amount.
You could also choose to invest everything above $20,000. As soon as your balance hits $20,001 then the additional dollar automatically moves to the money market account.
There are no minimum balance requirements, so you can pick whichever strategy works for you and change it as often as you'd like.
Signing up is free and only takes a few minutes.
Brex Corporate Card
Unlock 10-20x higher limits with no personal guarantee needed and gain access to industry-specific rewards with every charge. You'll earn unlimited points with no annual fee and signing up takes minutes.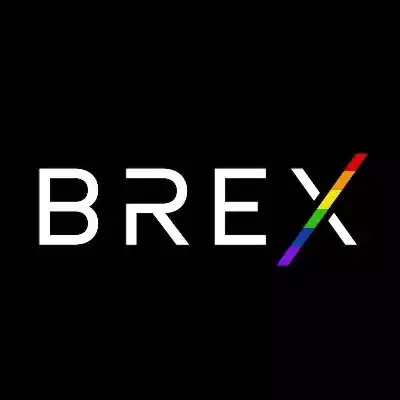 Brex Industries
Brex serves three primary industries: tech, eCommerce, and life sciences.
If your business falls into one of these three categories, you can apply to use their standard cash management system.
There are no major differences in how you can stash your cash or spend your money through their cash accounts.
The differences happen with the credit cards, specifically when it comes to payment terms, credit limits, availability, and rewards.
Companies in tech and life sciences won't see too many differences. They'll have the standard 30-day payment period.
If you're in life sciences, Brex determines your credit limit based on grants, equity, cash raised, and your spending patterns.
The credit limits for tech are based on credit history, spending patterns, and available cash on hand.
As for eCommerce, your credit limit can be as high as 75% of your monthly sales. You'll also get extended payment terms for paying the balance due.
Unfortunately, this is still in the beginning stages, and there is a waiting list to use the Brex Card for eCommerce.
Overall, the biggest difference is how you earn rewards.
Earn Brex Rewards
With Brex, you earn points on every purchase, and there's no limit to how many points you can earn. Your points will never expire, and you can spend as many or as few as you'd like on travel and statement credits.
Each industry has (or will have, in the case of eCommerce) the same card functionality. Your industry determines which points multipliers you can take advantage of and which perks you'll receive for signing up.
The rewards and perks are designed to be the most beneficial to your industry, so you'll earn points for what matters most and what you use the most often.
Worth Mentioning
If you apply and are accepted to use Brex as your exclusive corporate card, you'll have access to points multipliers. All other cardholders earn a flat rate of one point per dollar spent.
To join Brex Exclusive and maximize your rewards, you must apply and commit to using the Brex Card as your only business credit card.
Brex reviews applications monthly. An accepted application grants you access to the tiered points multipliers applicable to your industry.
Tech
For tech businesses, the rewards multipliers are as follows:
7x on Remote Collaboration: GoToMeeting, Zoom, Slack, Monday, and Gong
3x on Food Delivery: DoorDash, Uber Eats, Seamless, Caviar, and Grubhub
2x on Recurring Software: GitHub, Salesforce, and others
1x on Everything Else: Everything, even the big purchases
This rewards strategy is in response to the coronavirus and the need for more remote work. Some other benefits include discounts on Slack, Zoom, Monday.com, Dropbox, and DoorDash.
You'll also have access to a $5,000 Amazon Web Services credit.
These discounts aim to help startups face the numerous challenges of COVID-19. They're scheduled to go back to normal on September 30, 2020.
These "normal" perks will have approximately the same multipliers but will be for purchases like travel, rideshare, and restaurant dining.

Ecommerce
Brex originally started as a corporate card for tech startups, so the eCommerce rewards aren't at the same level. There are no points multipliers for the eCommerce card.
You can, however, earn points for referrals. Brex also provides perks that are worth up to $150,000.
Similar to the tech card, you can get a $5,000 Amazon Web Services credit. Brex also partnered with Google Ads, Pixel Union, Shippo, and Klaviyo to provide discounts to their eCommerce users.
Because the eCommerce Card is still in the waitlist stage, it's possible the points multipliers and benefits could improve with time.
Life Sciences
The life sciences points multipliers include:
7x on Conference Tickets: BIO CEO, Biotech Showcase, BIO Convention, and others
4x on Brex Travel: Any hotels and flights you book through Brex
2x on Lab Supplies: Thermo Fisher, VWR, Invitrogen, and other
1x on Everything Else: Yes, everything
Brex cardholders in the life sciences also have access to discounts with companies like Clora and Quartzy.
Redeem Rewards
Brex boasts you'll earn 30% more with their rewards program than you would with any of their competitors. But what can you use those rewards for?
No matter which card you use, you'll have offers worth over $50,000 that you can use whenever you see fit.
These included discounted services for places like Indeed, Slack, TriNet, Zoom, and Segment.
The easiest way to redeem your points is for statement credits.
It reduces the amount you owe on your Brex Card, so you'll never have useless points that are impossible to redeem.
Plus, nobody can complain about the boost in cash flow when you apply the credits.
The alternative is to use your points for travel. Flights and hotels both qualify, and you can use them for personal or business reasons.
If you're a Brex Exclusive member, the travel rewards are even better:
Transfer points to a travel partner, like JetBlue, for a 1:1 redemption ratio
Receive 24/7 support from travel agents
Access better travel deals with an average of 30% and even up to 60%
Customer Support
Brex doesn't only say they'll make running your business easier and more efficient; they back it up with a US-based customer support team.
You have your choice to call, chat, or email a Brex representative. As long as you reach out between 5 a.m. and midnight Pacific Time, you should hear back from them within two minutes.
If you're traveling and are a Brex Exclusive cardholder, you'll also have access to a 24/7 support team.
They'll assist you with canceled flights, directions, and any other business travel concerns.
Is Brex Right for You?
Depending on the type of business you run will determine whether this card is right for you. You should consider your needs, particularly cash flow, access to high amounts of credit, and what kind of business entity you operate, before applying.
What's to Like?
No Fees or Interest: Brex earns money by charging merchants a small fee when using their cards. This means both their Brex Cash and Brex Card offerings are fee-free. They cannot, however, ensure that recipient banks or investment companies won't charge you fees.
No Minimum Balance: If you're using Brex Cash, you can transfer as much or as little into your Brex accounts as you'd like. There's no requirement as to how much needs to be invested or kept in the bank.
Brex Exclusive: Being a Brex Exclusive member grants you tons of perks. You'll unlock multipliers up to 7x points per dollar spent. If you travel, you'll even have 24/7 access to experienced business travel agents.
Rewards: Spend your points on travel or statement credits. Points never expire, and there's no limit to how many points you can earn. Brex also offers discounts with partnership services valued at over $50,000 that can be redeemed any time.
What's Not to Like?
Application Requirements: Brex Card isn't available to just anyone. Your business will need to be a separate legal entity (C-Corp, S-Corp, LLC, or LLP) with a minimum of $100,000 in the bank, or $50,000 if you have professional investors behind you.
Ecommerce Card: The eCommerce card has potential with its extended payment terms and high credit limit (up to 75% of your monthly sales). Unfortunately, you can't get points multipliers, and there's currently a waitlist to apply for the card.
Only for Certain Industries: To qualify for Brex, you need to be in tech, eCommerce, or life sciences. Their efficient expense tracking and new vision for banking make it easier to do business, but unfortunately, that's only for certain businesses.
The Last Word
Brex is a breakthrough financial services company. They started offering credit cards for technology companies and have already added cash management services and two new industries: eCommerce and life sciences.
The Brex Card is limited in the sense that only businesses with capital in certain sectors can apply. This can make it difficult for new, small businesses to join.
But if you do qualify, their services will be customized to your needs.
Brex claims their mission is to save businesses time and money. Whether it's reducing the time spent on accounting or keeping fees and interest to zero, every action supports this claim.
Get our best strategies, tools, and support sent straight to your inbox.