The number of U.S. digital banking users topped 160 million last year. With so many frustrating banking experiences, it's no wonder people are moving away from traditional banks. Customers want total transparency without being nickel and dimed or slapped with another hidden fee.
This Simple Bank review details its services, including account options, interest rates, minimum balance requirements, fees, and more.
If you're searching for an online banking experience to park your cash, keep reading.
What Is Simple Bank?
Simple is an online bank offering high-yield accounts, certificates of deposit, and savings and budgeting tools built-in to the app.
You're able to hold your checking and savings accounts in one place.
Simple is best for budgeters and savers who want to automate their finances.
Through its platform, tools like Safe-to-Spend, Goals, and Bill and Expense Tracking help create opportunities for Simple customers to spend wisely, which are also integrated into the app.
You can access Simple on both desktop or its mobile app. However, you'll get the most from the platform through your smartphone.
Simple was founded in 2009 by Josh Reich and Shamir Karkal. It's headquartered in Portland, Oregon.
Getting Started with Simple
Creating a Simple account is free and can be done in minutes. You can open an account online from your phone or desktop.
You're prompted to answer a few questions confirming your identity, your account information, and you're done.
You can fund an account with either a direct deposit, wire transfer, or an external bank account. Once your money comes in, Simple begins divvying things up by categorizing transactions and learning your expenses and goals.
Simple Bank Features 
| | |
| --- | --- |
| Maintenance Fee | $0 |
| Minimum Deposit | $0 for checking, $250 for CDs |
| Opening, Closing, and Inactivity Fees | $0 |
| Overdraft or Insufficient Funds Fee | $0 |
| Physical Checks | $5 for 25 |
| Foreign Transaction Fee | 1% |
| APY | 0.01%-1.20% |
| Mobile Check Deposit | Yes |
| Accessibility | Desktop, iOS and Android mobile apps |
| Accounts Supported | Online checking, savings, shared, CDs, and personal loans |
Fees
Simple Bank is virtually fee-free. Its platform carries no monthly maintenance, opening, or closing fees, and you won't be hit with charges for insufficient funds (Simple will decline the purchase if your account lacks adequate funds).
When using their 40,000+ ATM network, you won't incur any charges, nor will they penalize you for an inactive account (dormant fee).
Wire transfers are free.
The only three fees I saw on their site were:
When using an out-of-network ATM, Simple won't reimburse you if the ATM owner charges you. That amount typically could range from $2.50-$5
Checks cost $5 and come in books of 25. You can order them through the app or online. The charge debits from your account.
If using your debit card abroad, you'll incur a 1% foreign transaction fee (charged by the card issuer Visa)
APY
Simple Checking account balances (debit card access only) earn 0.01%APY. This is your opening account and the account through which all transactions occur.
Once you've created it, you're able to access its high-yield options. No-penalty CDs carry a 1% APY while Protected Goal accounts are currently 1.20% APY.
Protected Goals are its high-yield savings equivalents. To open a Protected Goals account, you must have a Simple Checking account.
A Protected Goals account earns daily interest.
Accounts Supported
Simple provides customers with enough options to offer a complete banking experience. You'll be able to open these accounts:
Online Checking
Protected Goals
Shared account
No-penalty CD
Personal loans: (get a 1% interest rate discount when setting up automatic payments from your Simple checking account. Terms carry fixed, monthly interest rates and payment plans. You'll also know how much time you have to pay down your loan)
Simple
Simple is an online banking, budgeting, and savings app. Its platform offers high-yield accounts, CDs, and personal loans. Use its Safe-to-Spend, Goals, and Bill Tracking features to automate your finances and make smarter money moves.
We earn a commission if you click this link and make a purchase at no additional cost to you.

Banking
This is the account you'll start with when creating an account. Simple's Online Checking account is FDIC-insured up to $250,000. Online checking gives you direct access to:
Simple Visa Debit card (if your funds are insufficient, it'll decline the charge. Simple doesn't issue overdraft fees or interest on those declined transactions)
Mobile check deposit (has limits on the amount of deposit depending on how long you've been a customer or how many checks you've deposited recently. You can find your allowable amount inside the app once you create your account)
Direct deposit (get your paycheck by 8 am the day your employer pays you)
External account linking
Instantly transfer funds to other Simple users
Integrates with Square, PayPal, Venmo, and Mint
Debit card blocking if lost or stolen
Once you create your Simple account, you'll also have access to all of its budgeting tools found directly in the mobile app.
Funds in your Simple checking account are the only ones used with your debit card.
Money in your Protected and Savings Goals or Emergency fund (more on that below) won't get accessed by your debit card.
Your Simple account balance is separate from your Goals and won't be used unless you transfer it (Savings goals and your emergency fund are both part of protected goals). These accounts earn a daily APY of 1.20%.
You must open a Simple checking account to gain access to its high-yield options by starting a Savings Goal. Simple has no physical branches but features human support.
They even boast you'll talk to a real person every time you call.
ATM Access
Simple partnered with Allpoint ATM network to give its customers access to over 40,000 fee-free ATMs. You can use their ATM finder tool (either in the app or desktop) to locate the closest ATM in your area. 
Simple doesn't charge ATM fees when using an out-of-network ATM. However, the ATM owner might. If that happens, Simple won't refund this fee because of the substantial amount of ATMs already in-network.
Physical Checks
While Simple is 100% digital, they do offer paper checks. They cost $5 and come in books of 25.
Simple Shared Account
Simple offers shared accounts that let you create joint expenses or savings goals. You'll both need to create an individual account first, before accessing the Shared feature.
Shared offers a high-yield APY of 1.20%
No-Penalty CD
Simple offers a no-penalty CD that earns a fixed 1% APY and carries a minimum balance requirement of $250.
CDs last for 12-month terms and carry no penalty for early withdrawal. Simple lets you have up to five CDs with a combined balance of $250,000.
If you need to withdraw before your term expires, you'll need to withdraw the full amount as no partial withdrawals are allowed.
One caveat: you can't withdraw for seven days after opening your account.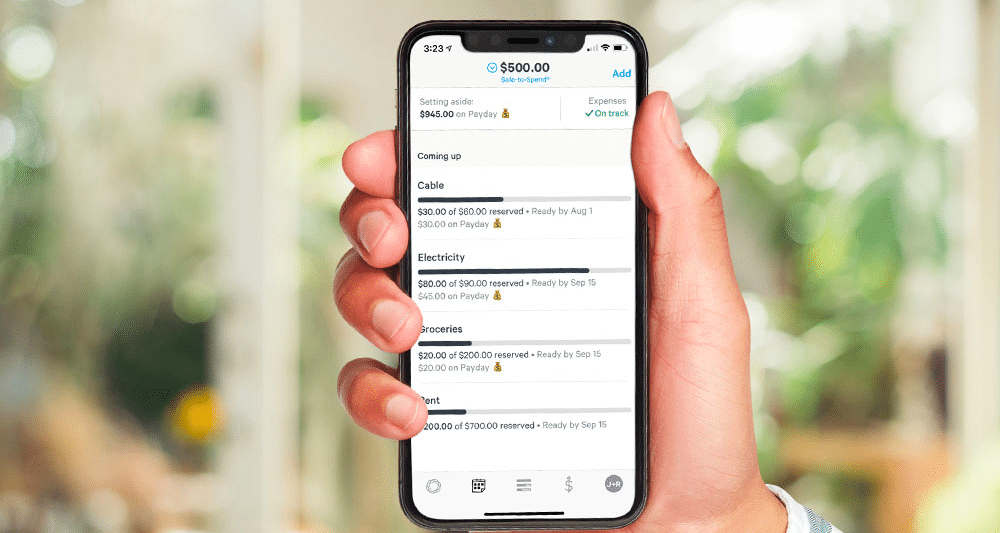 Safe-to-Spend
Safe-to-Spend uses zero-based budgeting and is your available cash flow displayed in real-time.
You'll see all upcoming bills and goals at-a-glance. It monitors your budget from the banking app.
Safe-to-Spend calculates your total available balance minus your goals and any future bills you'll have in the next 30 days. It tracks everything from recurring expenses to your financial goals.
What's left over is the money you can spend safely.
Sometimes there's a lag time when using a budgeting tool that's separate from your checking account; not all transactions display in-the-moment.
However, because Simple's tool is built into the app, you see everything in real-time.
Monitor your cash flow in real-time with a built-in budgeting tool.
Tweet This
This reduces any instance of needing to manually enter transactions to serve as placeholders until they post to your account.
Expenses and Bill Tracking
Once you enter your monthly expenses and bills, Simple starts setting your money aside automatically. The app does the math for you.
It will also categorize purchases and update your budget. When you're off track, Simple sends you an alert.
You can tell them how often you get paid, and when payday arrives, your money goes directly towards your set expenses and goals.
They don't offer bill pay, but you can use your card number to set up automatic payments with those companies by using your checking and routing number, or by physical check.
Simple lets you add photos or notes to your transactions for easier categorization. You can also search transactions by merchant name, keyword, or hashtags.
Data can be exported as a CSV or JSON, or isolate the data you'd like to export using the search function.
Its Account Activity reports feature uses data analytics to help you discover spending habits and trends.
Goals
Goals are like digital envelopes to place your money, and you choose how often to send it.
How Goals Work
You can enable this feature by choosing the 'Create a Goal' or 'Add' button. Then, pick a name for your goal, the amount you want to be saved, how often to contribute, and an end-date.
Simple starts pulling money from your bank balance each day and sets it aside for saving. If you spend more than your Safe-to-Spend balance, goals can cover the difference.
Simple lets you use goals for budgeting too.
Emergency Fund
This feature works similar to a savings goal. It analyzes your income, expenses, and how much you want to save. It also considers how quickly you want to save for it.
Based on your current monthly cash flow, it designs a plan for you to hit this goal. Once your plan is in place, it will save a daily amount.
The Emergency Goal is set up as a Protected Goals account to prevent accidental spending.
RoundUps
When you turn on RoundUp Rules, whenever you buy something, Simple rounds up the purchase to the next whole dollar amount.
Once it hits $5, Simple transfers that money into your Protected Goals account.
Simple Instant
You can send and receive funds instantly with other Simple customers. There won't be any holds or fees for this service.
You can add other Simple customers to your Instant contacts using their email address and phone number.
Simple Bank Resources 
Simple's aim is to empower its customers with a solid personal finance foundation geared towards making better money decisions.
There is an ample amount of educational material on its blog devoted to banking, budgeting, tackling debt, goals, and relationships and money.
All of Simple's in-app features are complemented by, and go into greater detail on the blog.
Simple Bank Customer Service
You can contact Simple by phone (888-248-0632) between 6 am and 4 pm PST on business days Monday-Friday, and from 7 am-2 pm Saturdays. If you're traveling abroad, use their international number +1(424)652-5294.
You can send them a message through the mobile app or desktop when logging into your account.
Simple can also be reached on Facebook and Twitter.
Mobile App 
You can access Simple Bank accounts through its web application on your desktop and on both iOS and Android devices.
Security
Simple features two-factor authentication, fingerprint unlock for iPhone and Android, and debit card chip technology.
You can enable the app to send real-time, instant push notifications for every transaction.
If you lose your card, you can block it with a tap in the app.
Simple is FDIC-insured up to $250,000.
Simple Alternatives
If you're not sold on Simple, you have options. Many banks now offer an online experience.
Simple Bank vs Chime
Chime is another online banking service similar to Simple. It features no monthly maintenance fees or minimum deposit requirements.
It's partnered with Money Pass and Visa Plus Alliance ATMs offering over 38,000 fee-free in-network ATMs.
A couple of differences with Chime are, with direct deposit, you're able to get your paycheck up two days early. If you're traveling abroad, Chime doesn't charge any foreign transaction fees.
However, it's APY is lower than most other online banks at 0.06%
Read our detailed Chime review here. Or visit the site.
Simple Bank vs Aspiration Bank
With Aspiration, you can earn up to 1% APY on deposits and features fee-free ATMs at over 55,000 locations through the Allpoint network.
Spending on your debit card earns cashback and you're able to pay bills in the app either with Apple Pay or Android Pay.
Aspiration Bank offers banking services and shows you how your shopping impacts people and the planet.
It even creates an AIM Score (Aspiration Impact Measurement rating) about how environmentally friendly the businesses are where you spend money.
Read the complete Aspiration review here. Visit the site.
Is Simple Right for You?
Simple has many features that its customers find attractive. No fees, high-yield accounts, and a completely digital experience are some of its perks.
However, before opening an account, ask yourself what matters to you? Does Simple's service align with your goals?
What's to Like
Excellent Design: Simple demonstrates its expertise in tech through a beautifully designed app. It's easy-to-use and information is easy to find.
Access to Humans: Despite it being a digital bank, you can call their customer service support number (which is easily found on its website) to speak with a Simple representative.
Competitive APY: While interest rates fluctuate, Simple carries high-yield accounts offering up to 1.20% APY and certificates of deposit at 1%.
Educational Resources: Simple wants to inform its customers about banking, budgeting, and saving by providing ample material on its blog and through the app. It seeks to build better financial habits for its customers.
Physical Checks: Even though Simple is 100% digital, you're able to order physical checks through the app or on its website. They come in books of 25 and cost $5.
No Monthly Fees: Simple doesn't carry any monthly maintenance fees, insufficient funds, or overdraft fees. You won't see any opening, closing, or account inactivity fees either. There's no minimum to create an online checking account (you will need $250 to open a CD). Simple doesn't charge for using an out-of-network ATM (though, the ATM owner might. Simple doesn't reimburse in that case). The only charges you'll pay are $5 for checks and a 1% foreign transaction fee (by Visa, not Simple) if using your Visa debit card abroad.
Real-Time Budgeting: Because the budgeting tool integrates with your debit card and is both part of the app, you see all transactions in real time.
What's Not to Like?
No physical branches: Simple is 100% online. You must be comfortable with an all-digital banking service.
Limited account types: Individual and shared checking accounts, Protected Goals savings accounts (also come with a 'shared' option), and a single no-penalty CD offering.
No bill pay: You can set up automatic payments with your service providers using your accounts routing and checking account numbers or pay by check only.
No Stand-Alone Savings Account: You must open a Simple checking account to gain access to its high-yield offerings by starting a Savings Goal. Not ideal if you're only looking for a savings account.
Simple FAQs
Is Simple Bank a Real Bank?
Simple's banking services are provided through its partner, BBVA USA, Member, FDIC. Simple leveraged its expertise in tech and operates as an independent business with BBVA's U.S. banking operations, BBVA Compass Bancshares, Inc.
Is Simple Bank FDIC-Insured?
Yes, Simple accounts are FDIC-insured up to $250,000.
How Can I Get a Simple Bank Account?
You can open an account online from your desktop or through the mobile app (Simple supports both Android and iOS devices). You'll answer a few questions confirming your identity and personal information and you're done.
One caveat: Simple is only available to US customers with a Social Security number.
Is Simple Bank a Prepaid Card?
No, Simple is not a prepaid card. You'll gain access to a Visa debit card once your account is created and funded while also accessing its budgeting, banking, and savings tools.
How Does Simple Make Money?
Simple makes money by splitting the interest margin with their partner bank BBVA USA. (the interest made on loans and interest paid for customer account balances).
The other way is on merchant fees. Each time you swipe your card, the merchant pays a service fee to the issuing bank. Simple splits this fee with their partner bank, BBVA USA.
Final Thoughts
There are many banking services available today and competition is fierce (which is a consumer benefit). Simple will work best if you're looking for an online bank complete with budgeting and savings tools.
Simple's lack of fees and total transparency are both enticing features.
Simple designed the platform to empower its customers' financial lives based on the substantial amount of information on its blog. If you're looking for an automated, all-in-one banking service, Simple is worth a look.
Get our best strategies, tools, and support sent straight to your inbox.