The 2008 financial crisis weakened the trust people had for big banks. Consumers felt overwhelmed, underappreciated, and confused. Online banking filled the gap offering high-yield account options and friendlier customer service as a low-cost alternative.
This Chime review details who they are, its banking services, and whether they're worth your time. Simply put, if you're looking for an online, fee-free alternative to a traditional bank, keep reading.
What Is Chime?
Chime is a mobile bank account and debit card. It carries no hidden fees, lets you get paid two days early with direct deposit, and features fee-free overdraft protection.
There are no minimum balance requirements, opening an account is free, and it won't affect your credit score.
When using its mobile app, you're able to track account balances, transactions, and savings at any time.
You can also instantly transfer money to other members, send paper checks, and automatically grow your savings with debit card round-ups.
Chime has over six million members and is based in San Francisco. It was founded in 2013 by Chris Britt and Ryan King.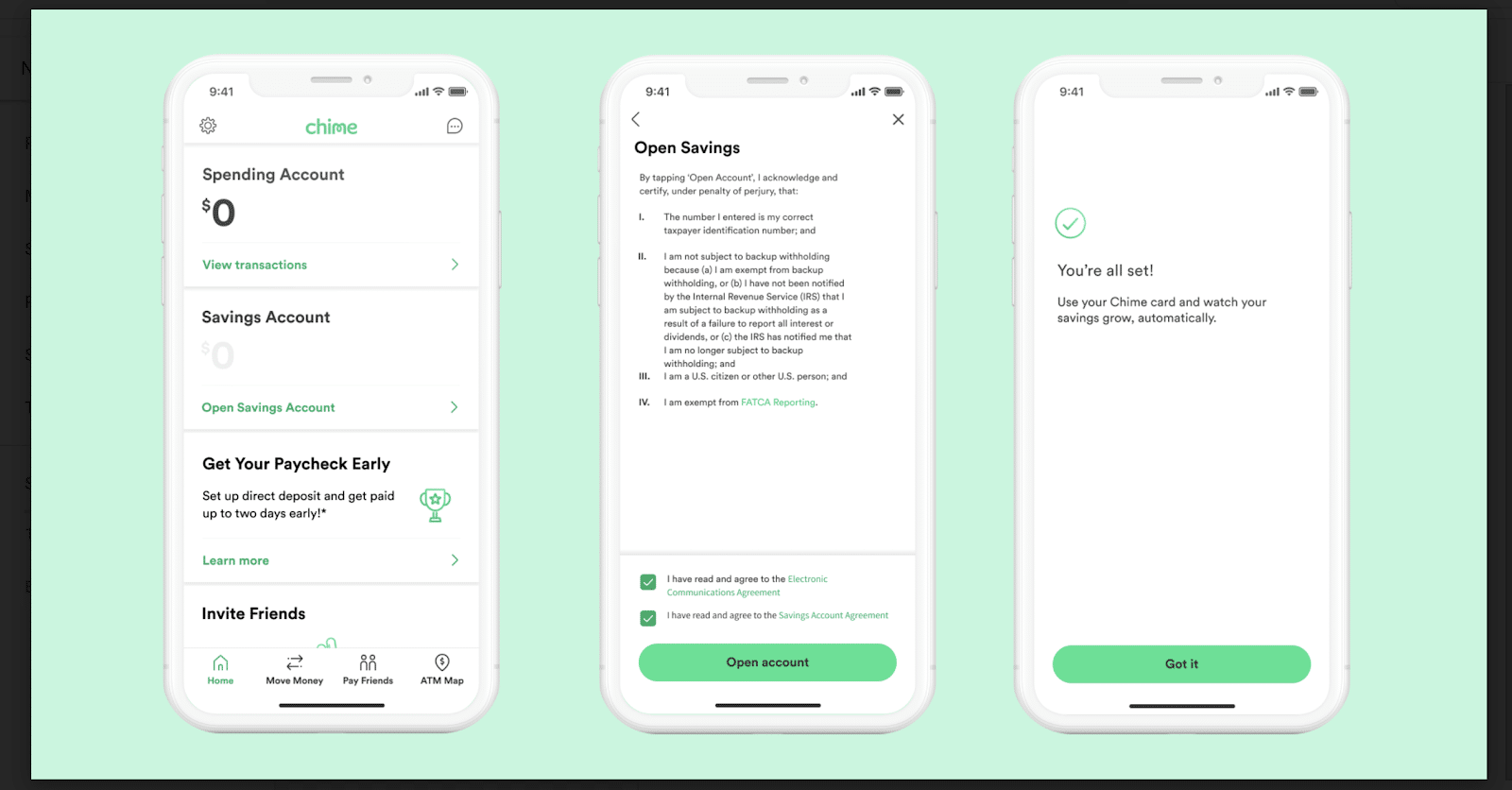 How Does Chime Work?
Applying for an account is free and takes two minutes. Provide your personal information including name, social security number, home address, and email.
You'll create a password to get started. Chime does require you to be 18 years of age and a U.S. citizen or resident.
Once you complete your application, they'll send you a Visa Debit Card, which typically arrives within seven to ten business days.
You can link an external bank account, set up direct deposit, or make a cash deposit to fund your account.
Opening a Spending Account (checking account equivalent) is free and requires no minimum balance.
The spending account affords members the opportunity to rebuild their credit because it doesn't use credit reporting agencies (e.g., ChexSystems) like a traditional bank.
Chime is best if you want an easy, fee-free online checking and savings account solution in one place. They've also referred to themselves as second-chance banking, as those members with a checkered banking history have the added benefit of rebuilding credit.
Chime Features 
| | |
| --- | --- |
| Maintenance Fee | $0 |
| Minimum Deposit | $0 |
| Opening, Closing, or Inactivity Fee | $0 |
| Overdraft or Insufficient Funds Fee | $0 |
| Physical Checks | Mails for you |
| Foreign Transaction Fee | $0 |
| APY | 0.06% |
| Mobile Check Deposit | Yes |
| Accessibility | Desktop, iOS & Android mobile app |
| Accounts Supported | Online checking and savings |
Banking Services
Spending and Savings Accounts
Members get an individual Spending Account, Savings Account, and a Chime Visa Debit Card with chip technology.
Opening a savings account can be done following your checking account.
Send 10% of your direct deposit of $500 or more to Save When I Get Paid.
Tweet This
Your Spending account is your point-of-entry; all money entering and exiting your Chime account goes through here. You can deposit as much as you'd like per day.
Every transaction with your Visa Debit card will debit from your Spending account. The current APY on a Chime Savings account is 0.06%
Mobile Payments & Paper Checks
Chime supports mobile payments from Google Pay, Apple Pay, and Samsung Pay. They don't offer members physical checkbooks but will send paper checks on your behalf.
You can access this feature through the app, and they'll mail them for you at no cost. You can also pay your bills by setting up direct debit payments with your account and routing number.
Chime
Chime is an award-winning mobile banking service and debit card with no minimum balance requirements, monthly maintenance fees, or overdraft fees. Automatically grow your savings, get paid early, and instantly transfer funds between members. Creating an account is free.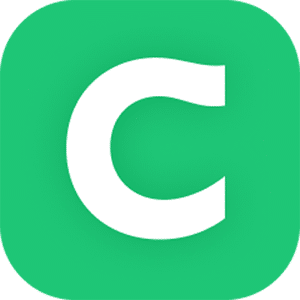 Funding Your Chime Bank Account
You can deposit money into your account via direct deposit, mobile deposit, or external bank transfers.
When linking an external bank, you can transfer up to $200 a day or $1,000 per month, and funds are available in five business days.
You can make cash deposits through Green Dot at over 60,000 locations. You're allowed a $1,000 daily maximum or $10,000 per month. However, many retailers cap cash deposits at $500.
Be mindful of using third-party money transfer services as they may carry fees.
I asked a Chime representative about cash deposits; you will incur a fee from Green Dot each time you add cash to your debit card.
No Hidden Fees
Chime members won't get charged monthly maintenance fees, foreign transaction fees,  overdraft fees, or minimum balance fees.
You gain access to over 38,000 fee-free MoneyPass and Visa Plus Alliance ATMs.
You can withdraw up to $500 per day at any in-network ATM. If you decide to withdraw from a bank or credit union, you'll be charged a $2.50 fee known as an Over-the-Counter Withdrawal.
ATM Finder
You can access the ATM Finder inside the app. Chime won't charge you a fee for using an out-of-network ATM.
However, the ATM owner (third-party) might. Its out-of-network fee is $2.50.
Get Paid Early
When using direct deposit with your Spending Account, you can get your paycheck up to two days early.
Upon opening your Chime bank account, they'll email you a pre-filled direct deposit form to give to your employer.
Once you set up direct deposit through the mobile app, your funds are available as soon as your employer deposits them.
Automatic Savings Program & Round-Ups
When you set up direct deposit, you're able to take a percentage of every paycheck and automatically deposit it into your savings account.
And with each debit card transaction, RoundUps rounds it up to the nearest whole dollar and transfers the remainder to your savings account.
SpotMe Fee-Free Overdraft Protection
SpotMe is a fee-free overdraft feature on debit card purchases. Chime will spot you up to $100 when your account balance is low.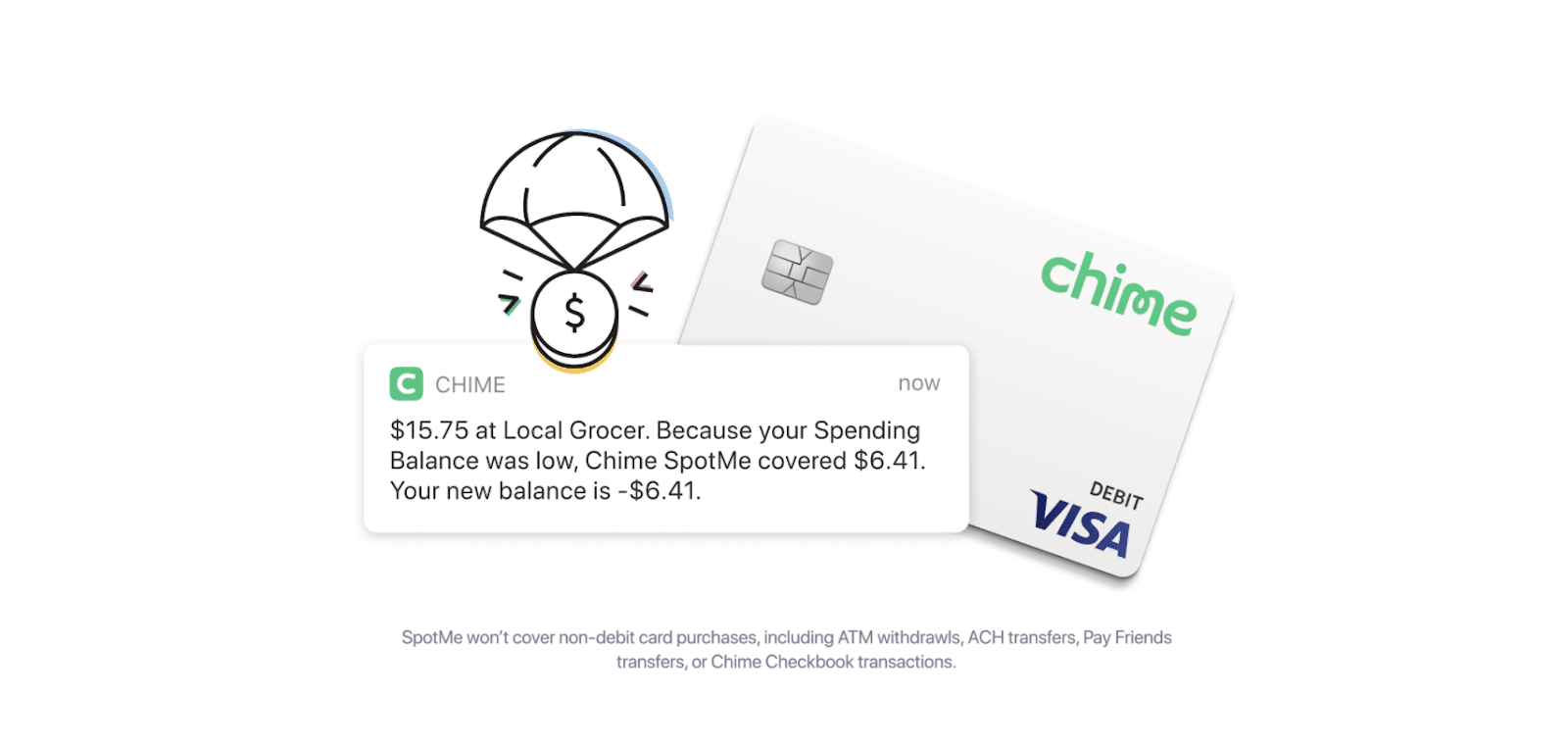 How SpotMe Works
If your monthly direct deposits total $500 or more, you're eligible for this service. When you make a debit card purchase exceeding your balance, they'll spot you up to $100. When you make your next deposit, Chime applies it to your negative balance.
SpotMe limits start at $20 but can increase to $100 or more based on your account history and activity. The mobile app displays your SpotMe limit.
Your debit card will decline all other transactions if your account balance has insufficient funds.
Notifications 
You'll see transaction alerts every time you make a purchase and a daily balance notification each morning.
Block Card
Instantly enable or disable your Chime debit card in Settings whenever, wherever. You can also shut off international transactions or use one-touch transaction-blocking.
Pay Friends
Pay Friends is a fee-free way to send and receive money. Money is deposited into your account instantly on transfers between Chime Members.
Note: The monthly limit for sending money is $2,000.
Inside the app, tap 'Pay Friends' and enter your friend's email, phone number, or pull from your contact list. Choose the amount of money to transfer and tap 'Send.'
Because Pay Friends links to your Chime bank account, you send and receive money instantly versus connecting to a third-party money transfer app.
For example, when using PayPal, instantly transferring money carries a 1% fee (or you'll wait a couple of business days to get your money fee-free).
You can also link credit cards and investment accounts to manage all balances in a single place.
View My Card
You'll see your debit card information right from the app using View My Card.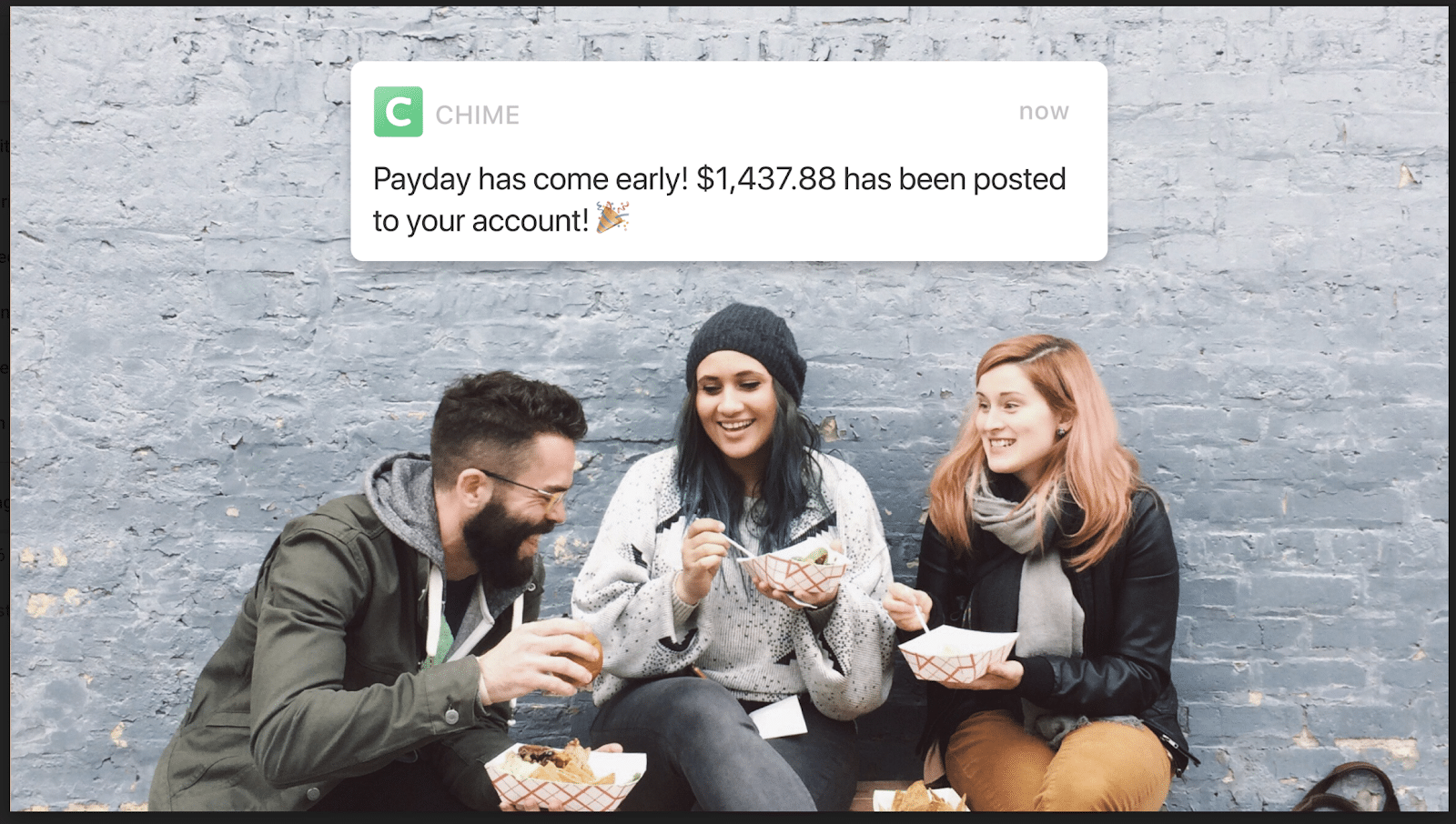 Mobile Check Deposit
Mobile Check Deposit lets you take a picture and deposit checks into your account from anywhere. This service is available to Chime members receiving direct deposits over $200 a month.
Chime Resources
Education
Its blog features several topics detailing how to make better financial decisions. Topics range from Smart Money to Wealthy Habits to Make Money.
Chime positions itself as an online banking service that also educates its members.
Customer Support
The Member Services Team is available 24/7 through its customer support tab in the app, email at [email protected], or via telephone.
Phone support is available Monday through Saturday from 7 am to 7 pm, and Sunday from 9 am to 5 pm CST. You can reach them at (844) 244-6363.
Mobile App
Chime works on both iPhone and Android devices. You can also access it through the web application on your desktop.
Security
Your funds are FDIC-insured up to $250,000 through its partners The Bancorp Bank and Stride Bank, Member FDIC.
If you suspect fraudulent activity, you can instantly block your card. This feature prevents others from accessing your bank account while sidestepping the typical phone call you'd have to make with a traditional bank.
Your Visa Debit Card is protected by Visa's Zero Liability Policy; you're off the hook for unauthorized transactions.
Chime supports both two-factor and fingerprint authentication. You also get real-time alerts with every transaction.
Chime FAQs
Is Chime a Real Bank?
Chime is an online, full-service FDIC–insured bank account offering both a Spending Account and a Savings Account.
What Bank Does Chime Partner With?
The Bancorp Bank or Stride Bank, N.A., Members FDIC, provides banking services for Chime members. Its partners also issue your Visa Debit Card.
How Does Chime Make Money?
They make money every time you use your debit card. It's called interchange. When using your card, Visa processes the transaction and charges a fee to the merchant.
Chime collects a percentage of every interchange fee.
How Do I Contact Chime?
You can contact them 24/7 through its customer support tab in the app, email at [email protected], or via telephone at (844) 244-6363.
How Do I Put Money On My Chime Card?
You can put money on your card by depositing cash to your Spending account using Green Dot, via mobile and direct deposit, or transfer from an external bank account.
Is Chime Right for You?
Are you looking for an online banking service with no fees, automated savings features, and mobile payment options? If these things align with your goals, Chime might be worth a look.
What's to Like?
Overdraft protection: Chime's fee-free overdraft protection service, SpotMe, 'spots' you money when your account balance is low. When you make a debit card purchase exceeding your balance, they spot you up to $100 and debits the money from your next deposit.
Instantly transfer money: Pay Friends provides another fee-free way to send and receive funds. Money deposited to your account instantly transfers between Chime Members using your contacts list, phone number, or email address.
No hidden fees: There are no monthly fees and you won't be nickel and dimed, unlike many traditional brick and mortar banks. There's no maintenance fee, overdraft fees, foreign transaction fees, or minimum balance fees. Creating an account is free.
Large ATM network: Its ATM network has over 38,000 MoneyPass and Visa Plus Alliance locations. They have an ATM finder in the app, which makes finding one easy.
What's Not to Like?
No physical branches: Chime is a mobile banking service and has no physical branches. You can access customer support and speak with a human being, but you won't have access to in-person meetings. If this feature is important to you, they won't be a good fit.
No stand-alone savings account: You must open a Spending account (their checking account) to gain access to its automatic savings features.
Limited account options: Chime only offers individual checking and savings accounts. There are no joint accounts, CDs, home loans, or personal loan options.
Difficult depositing cash: You'll need to visit a Green Dot location to put cash on your debit card. While they don't charge a fee to deposit cash, its service, Green Dot, does. If you earn a portion of your income in cash (e.g., you work in the service industry), that fee could add up.
Final Thoughts
Chime is a full-service FDIC–insured bank account that offers both a spending account and savings account. It's equipped to handle essential banking needs, including paying bills, mailing paper checks, and automating your savings.
Its current APY isn't substantial, and people seeking a high-yield account may be disappointed. And while Chime won't charge you fees, a third-party service (e.g., Green Dot or an out-of-network ATM) will.
However, they shine in its complete transparency, fee-free banking, and mission to increase the financial well-being of its members. If you only require a simple online checking and savings account, Chime is worth a look.
Get our best strategies, tools, and support sent straight to your inbox.