American Express is known mostly for their credit cards, but they also offer Personal Savings options. Their online banking service lets them provide competitive interest rates well above the national average.
We were curious to determine if a credit card company could compete in the world of online savings accounts. In this American Express bank review, we'll examine account offerings, interest rates, fees, and more to determine if their accounts are worth your time and money.
What Is American Express?
American Express, commonly referred to as Amex, has been in business since 1850. They started as a freight forwarding (i.e. shipping and logistics) company, so it's safe to say they've evolved with the times.
They're a publicly-traded company with the symbol AXP. They became part of the New York Stock Exchange in 1977 and one of the 30 companies that make up the Dow Jones Industrial Average in 1982.
If personal savings wasn't the first thing to come to mind when thinking of them, it's understandable.
They're perhaps best known for their credit card offerings. Other services include prepaid cards and gift cards.
As if that wasn't enough, you can do some conservative saving with American Express too. Read on to learn more about their high yield savings account and certificates of deposit (CD).
How Does American Express Work?
They keep banking simple; its only options are for savings. There's no need to watch for a minimum balance or make a minimum deposit each month.
The only caveat is your account will automatically close if it has a $0 balance for longer than 180 days.
Your accounts will be run through American Express National Bank, which is FDIC-insured up to $250,000. They don't have any physical locations, but their headquarters is in Salt Lake City, Utah.
When you're ready to open an account, you only have to follow four steps. These are the same regardless of whether you're opening a high yield savings account or a CD.
American Express Bank
American Express has a banking arm in addition to its credit card products. Members have access to high-yield savings and CD options with competitive rates. Opening an account is free and carries no minimums.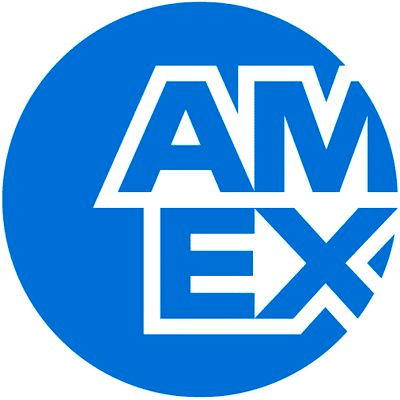 Step One: Make sure you have the required information ready to go before starting your application:
Email address
Home address
Phone number
Social Security number
Date of birth
Routing and account numbers for your primary bank account
Step Two: Choose between either a high yield savings account or a certificate of deposit. Fill in the appropriate application online, or do it over the phone with the help of a representative.
Step Three: Wait for an approval confirmation online or through your email. American Express will also send you a welcome kit in the mail.
Step Four: Fund your account. They accept transfers from existing bank accounts or checks sent in the mail. Once they receive your money, it will immediately start earning interest.
American Express Features
| | |
| --- | --- |
| Account Options | High-yield savings, CDs |
| Minimum Deposit | $0 |
| Minimum Balance | Closes after 180 consecutive days with $0 balance |
| Maintenance Fee | $0 |
| Account Opening Fee | $0 |
| APY | 1.15% savings, 0.30% - 1.10% CDs |
| Customer Service | 24/7 phone support |
| Mobile App | No |
| Paper Checks | No |
Minimum Requirements
You can't beat zero requirements. They don't have a minimum deposit requirement or a minimum balance requirement.
You must fund your account within 60 days to keep your approval status. It doesn't matter how much your opening deposit is. It doesn't even matter if that's the only deposit you ever make.
Once your account is open and funded, it will stay that way as long as you keep money in it. It will automatically close if it has a $0 balance for longer than 180 days, so keep something in it.
Some banks require set monthly deposits or a minimum balance. If you fail to do this, your account will earn a lower interest rate; not the case with American Express. Just deposit your money and let it earn.
Fees
Nothing's better than free, and that's what American Express will cost you. Opening an account? Free. Maintaining it every month? Free.
They have no hidden fees. For example, other banks charge for ATM use, excessive transactions, or check orders.
Some of these, like ATM use and check orders, don't have fees because American Express does not offer them.
AmEx banking is best for standalone savings options.
Tweet This
Others, like excessive transactions, are fee-free because they will deny your transaction.
Don't worry about money locked in your account. If you've met the transaction limit and still need your money, you can request a mailed check.
It doesn't count as a transaction, so you'll still have access to your money.
Customer Service
American Express doesn't shy away from helping their customers. Their phone number is easy-to-find and proudly displayed at the top of their Personal Savings page.
You can call their representatives any time, day or night. The only downfall is phone contact is your only option. They don't offer chat support.
Banking Services
Its Personal Savings offers two deposit account options: High Yield Savings and Certificates of Deposit.
High Yield Savings
If you're looking for a complimentary account to your standard checking account, the high yield savings account is your option.
Its current annual percentage yield (APY) is 1.15%.
The goal of the account isn't to pay your bills or transfer money to other people. It's there to earn you a higher interest rate than you'd earn at a traditional brick-and-mortar bank.
You can easily link this savings account up to three other bank accounts. All you need are the routing and account numbers.
Employer paycheck direct deposits and recurring transfers from your other accounts are both supported.
When you're ready to withdraw money, you are limited to six transactions per month.
Tip
An alternative to withdrawing money without affecting your transaction limit is to have American Express send you a personal check from your account – it won't count as a transaction.
You can transfer money both online and by phone 24/7, but you cannot deposit checks remotely. To deposit a check, you can either deposit it into another account, transfer it, or mail it to American Express.
Perks of its high yield savings account include no minimum balance, no fees, and daily compounding interest.
The downside is it does not offer a checking account to pair with your savings account. You won't receive an Amex ATM card or any checks to write against your account.
American Express bank accounts are only for household use. You cannot start an account for a small business or a trust.
Certificates of Deposit
They have a variety of terms for their certificates of deposit (CDs).
| Length | Minimum Deposit | APY |
| --- | --- | --- |
| 6 Months | $0 | 0.30% |
| 12 Months | $0 | 0.40% |
| 18 Months | $0 | 0.50% |
| 2 Years | $0 | 0.70% |
| 3 Years | $0 | 0.80% |
| 4 Years | $0 | 0.90% |
| 5 Years | $0 | 1.10% |
Your application date determines the APY for that term. If you fund your CD within 30 days, you'll get the APY as of the date American Express receives your application.
You have up to 60 days to fund your account, but the rate is subject to change.
Interest compounds daily and posts monthly. The payment settings default to depositing interest automatically into your CD.
To change the interest settings, you need to call customer service. You can receive the monthly interest in its High Yield Savings account or a linked account from another bank.
They can also send you a check in the mail with interest earned for the month, quarter, or year.
Once your CD reaches maturity, it'll renew automatically unless American Express no longer offers that term limit.
You can call anytime to indicate you don't want it to renew, even if it's right after you open it. If renewing, you have up to 10 days to add any money to it.
You cannot take a partial withdrawal from your CD. If you make a withdrawal before maturity, you'll have to withdraw the full amount and close the account.
You'll also pay a penalty that ranges from 90-days' interest for 12-month CDs to 540-days' interest for 60-month CDs.
Resources
Earlier, we said American Express offers no-frills savings options. It doesn't mean there aren't any noteworthy features.
Helpful Tool
Their website offers a savings calculator to show how much your Personal Savings account could earn.
All you must do is enter your initial deposit, recurring monthly deposits (if any), and the timeframe. Then, they'll calculate both the expected value of your account and the earned interest up to that point.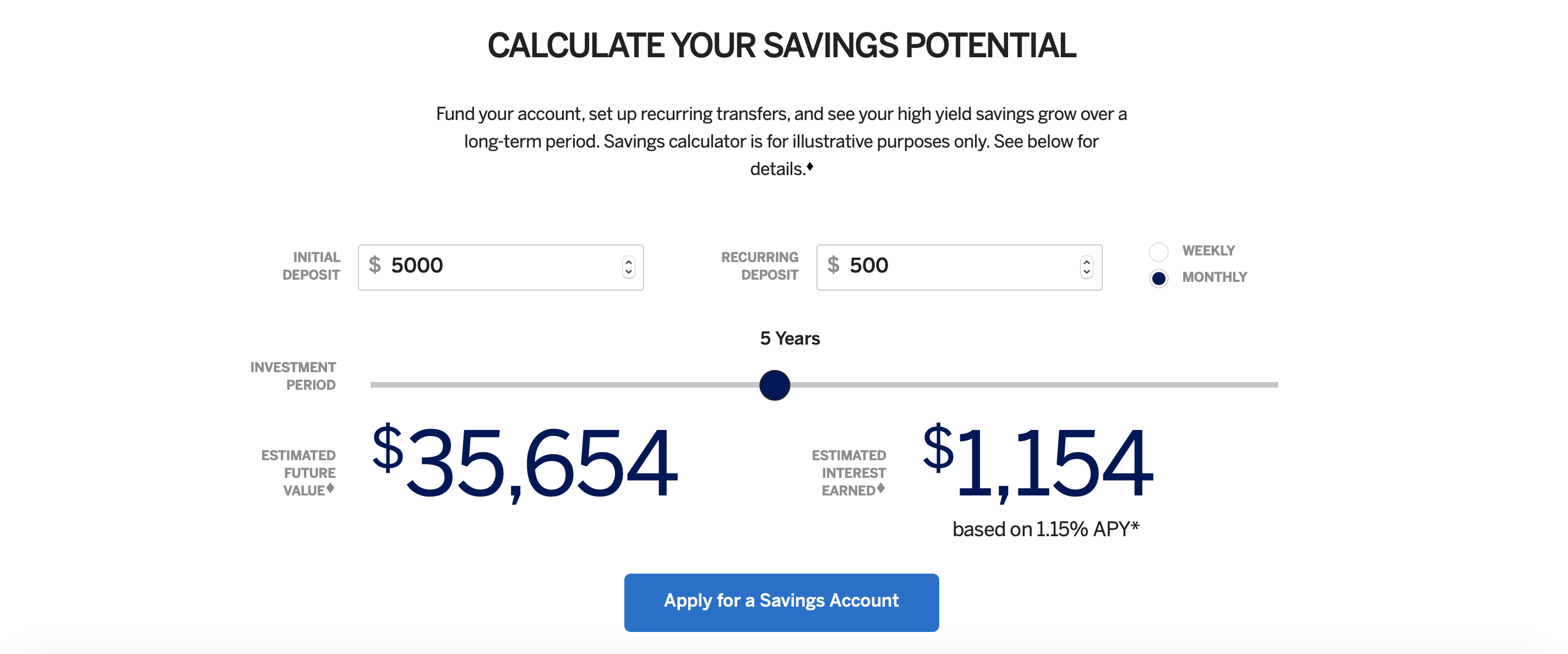 There's also a "Money Management 101" resource center. You'll find articles about money, budgeting, and debt to help broaden your financial knowledge.
This is available to everyone, even non-account holders.
And if money management is your forte, you can download your American Express Personal Savings account statements to use with Quicken.
Credit Card Compatibility
American Express offers several card accounts separate from its savings and CDs. While they don't have a checking or money market account, they do have business cards, prepaid cards, gift cards, and credit cards.
Is there any perk to being both an Amex savings and credit card customer? The short answer: not really.
There are different logins for both the credit card and Amex Personal Savings, so they aren't integrated.
You can, however, connect your American Express savings account to your credit card. They'll still have different logins, but you'll easily be able to switch between the two.
When it comes to making a payment on your credit card, you can use your savings account. You'll set that up through the credit card website.
Is American Express Right for You?
A savings-only option isn't ideal for everyone. Below are a few things to consider before opening your account.
What's to Like?
No Minimum Deposit: They offer a low entry barrier because you can open it with any amount of money. Their only requirement is the initial deposit occurs within 60 days of your application's approval.
No Fees: None. You don't have to pay opening or monthly fees. Because it offers a simplified banking experience, you won't fall into the fee traps you'd encounter with other banks.
Link to Existing Bank Accounts: The High Yield Savings Account is meant to complement your existing bank accounts. Easily link your American Express account up to three other bank accounts.
24/7 Customer Service: Its Personal Savings branch is available whenever you need them. If you need to transfer money via phone call or have general account questions, they're always there.
Simple Options: Some banks offer multiple savings options, like money market, tiered savings, and high yield savings. This can be a good thing, but it can also be confusing when all you want to do is save money. With American Express, you only need to decide if you want to lock in an interest rate with a CD or have account flexibility with High Yield Savings.
What's Not to Like?
No Checking Account: The perk of having a checking and savings account with the same bank is the ability to instantly transfer and use funds. American Express can push funds to another bank in as little as one business day. That's not a long wait, but it's far longer than instantaneous.
No Mobile App: They currently have an app for their credit cards, but they don't have one for their Personal Savings. This means your account access options are either through their website or by telephone.
No Remote Deposit: If you want to deposit a check straight into your account, you have to mail it. You can't scan it from your phone.
Low CD Rates: You can get close to double the CD rate at other online banks, depending on the term. Some of those even offer no-penalty withdrawals.
No Chat Support: American Express excels at offering 24/7 customer service, but this doesn't include chat support for their Personal Savings accounts.
American Express Bank FAQs
Is American Express FDIC-insured?
Yes, up to $250,000 per depositor through American Express National Bank.
Is there an American Express Personal Savings app?
Not yet. There's an app for the Amex credit cards, so hopefully, they'll develop a savings app too.
Can I get an American Express debit card, ATM card, or checks?
Unfortunately, no. This is because their Personal Savings isn't intended to be your primary spending account. Its purpose is to link to and complement your other bank accounts. The goal is to earn a competitive rate while using the functionality of those accounts.
How can I deposit money or withdraw money from American Express?
You can transfer money in and out of your account either online or by phone. There's also the option of depositing a check through the mail or having them mail you a check to withdraw from your account.
Wrapping It Up
American Express is a simple, online-only option for your personal savings needs. Their High Yield Savings account earns a competitive 1.15% APY.
You can't pay bills or write checks out of your account, but this isn't the purpose.
Their certificates of deposit aren't the most competitive when compared to other financial institutions. You can lock in an APY from anywhere between 0.30 and 1.10%.
The advantage with CDs is you'll earn this rate for the rest of the CD's term, and you can have the interest paid monthly, quarterly, or annually.
American Express excels at its priorities, namely customer service and simple savings. Their phone line is open 24/7, so you can call with questions, transfer money, or request a check.
You can link your savings account up to three bank accounts. That's where you can perform all of the other banking services you need on a daily basis.
Because it's savings-only, you won't incur any fees whatsoever for owning and using your account.
Whether you're already an American Express card user, opening and using a Personal Savings account is the same.
The Amex savings and credit card logins are different, so there aren't any major advantages to having both accounts.
Are you content with your current checking account? Are you looking for an online bank that offers competitive interest on their savings account?
If you said yes to both questions, American Express could be the right choice for you.
Get our best strategies, tools, and support sent straight to your inbox.