Would you sleep better at night if you knew your investments were not only earning you money but also making the world a better place? Have you ever thought about the environmental impact your bank has on a global scale?
What about the places you shop? Do they engage in ethical business practices, promote racial and gender diversity, and work towards leaving a smaller carbon footprint?
These are the types of questions being asked at Aspiration Bank – a 100% digital banking and investment company for the socially-conscious investor.
We're going to take a look at who Aspiration Bank is, the services they offer, and whether they're worth it.
Now pour yourself a generous glass of Basil Hayden bourbon and make yourself comfortable. We're gonna be here a minute.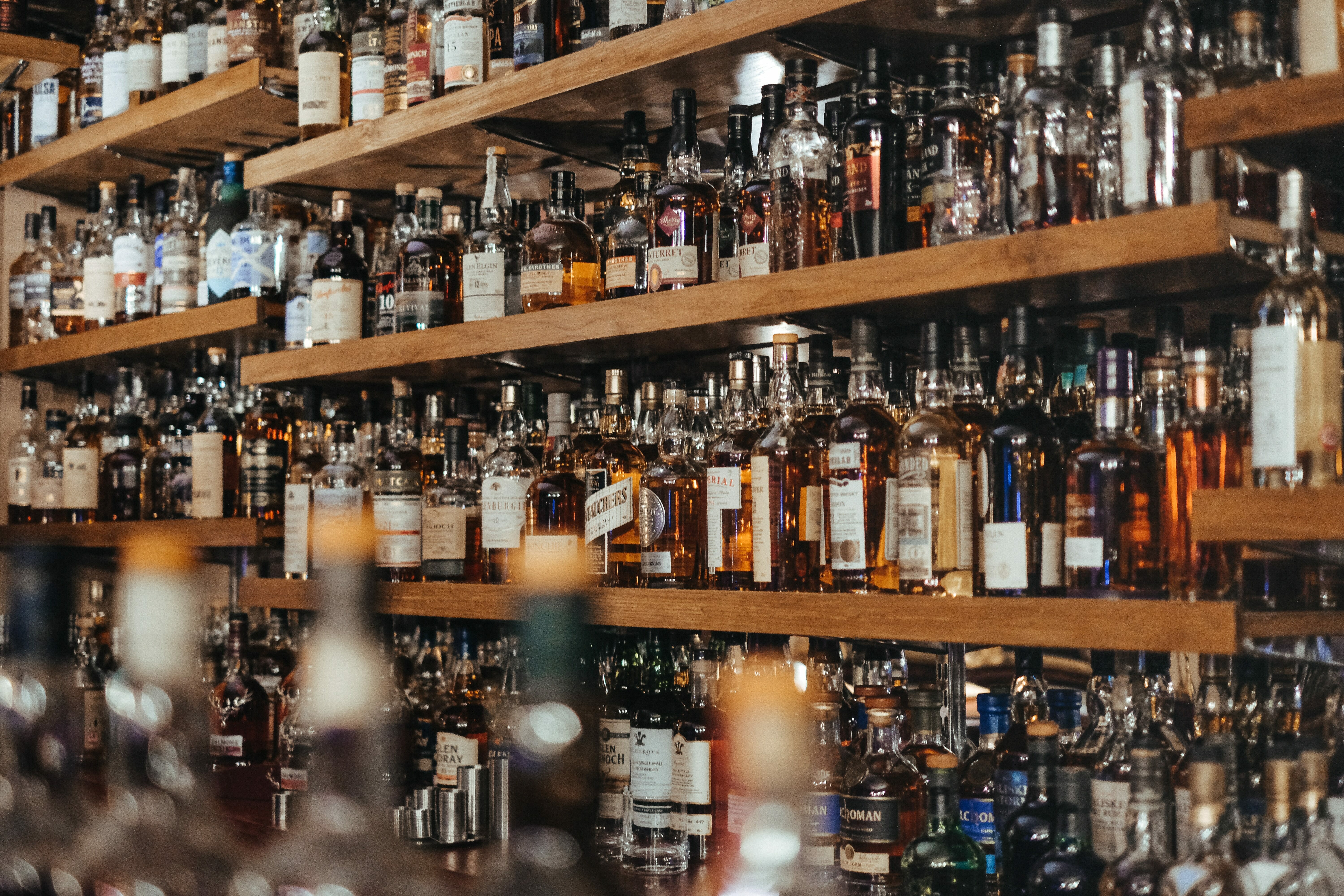 Aspiration Bank: A Review
First things first.
WTF is socially-conscious banking?
Socially-conscious banking is what you'd get if Greenpeace and JP Morgan Chase had a love-child… and named her Aspiration.
It's deciding to do business with institutions that have a positive impact on the community and environment.
When you deposit your money into a bank or brokerage firm, your money is distributed back out into the world through loans and other investment vehicles. It doesn't just sit there lounging on the couch, binge-watching Netflix.
Socially-conscious banks avoid doing business with companies engaged in unethical practices like harming the planet or treating their workers like shit. It's putting your money in a place that's having a positive global impact on its inhabitants.
Or in co-founder and CEO of Aspiration Bank, Andrei Cherny's words:
Every day Americans spend $36 billion as consumers. That is an enormously powerful lever to change the way companies act toward the environment and people.
But, this is a personal finance site and money matters. Any bank can champion a cause for the greater good. However, if it doesn't incentivize me to park my cash there, it's a waste of my time.
So, is Aspiration worth it?
Aspiration Bank: Getting Started
Aspiration opened its digital doors in February 2015. They're based in Marina Del Rey, CA and offer a socially-conscious alternative to traditional banking. Aspiration's products and services place greater emphasis on environmental, social, and governance issues and conduct business with other like-minded companies.
Opening An Account
Getting started with Aspiration is painless. You'll need to provide basic info like your name and social security number when opening an account. Should take around five minutes when signing up online or through their app.
***Pro*** Their app is compatible with both iPhone and Android users.
Accounts are only available to U.S. citizens with a valid mailing address and social security number. You must be 18 years old and will need an external account from a U.S. Bank or credit union to fund your Aspiration account.
At Aspiration, you have three different options when deciding which kind of account you'd like to open:
Spend and Save (their checking and savings account)
Individual taxable investment account
Retirement account (traditional IRA only)
Banking Services: Spend and Save
*** The Aspiration Summit account with Radius Bank is being phased out and transitioning into their Spend & Save cash management account.
Aspiration Spend and Save is both a savings account and checking account wrapped in one. You can't have one without the other. It's their high-yield, cash management offering.
Translation: customers seeking only a checking account or seeking only a savings account should look elsewhere.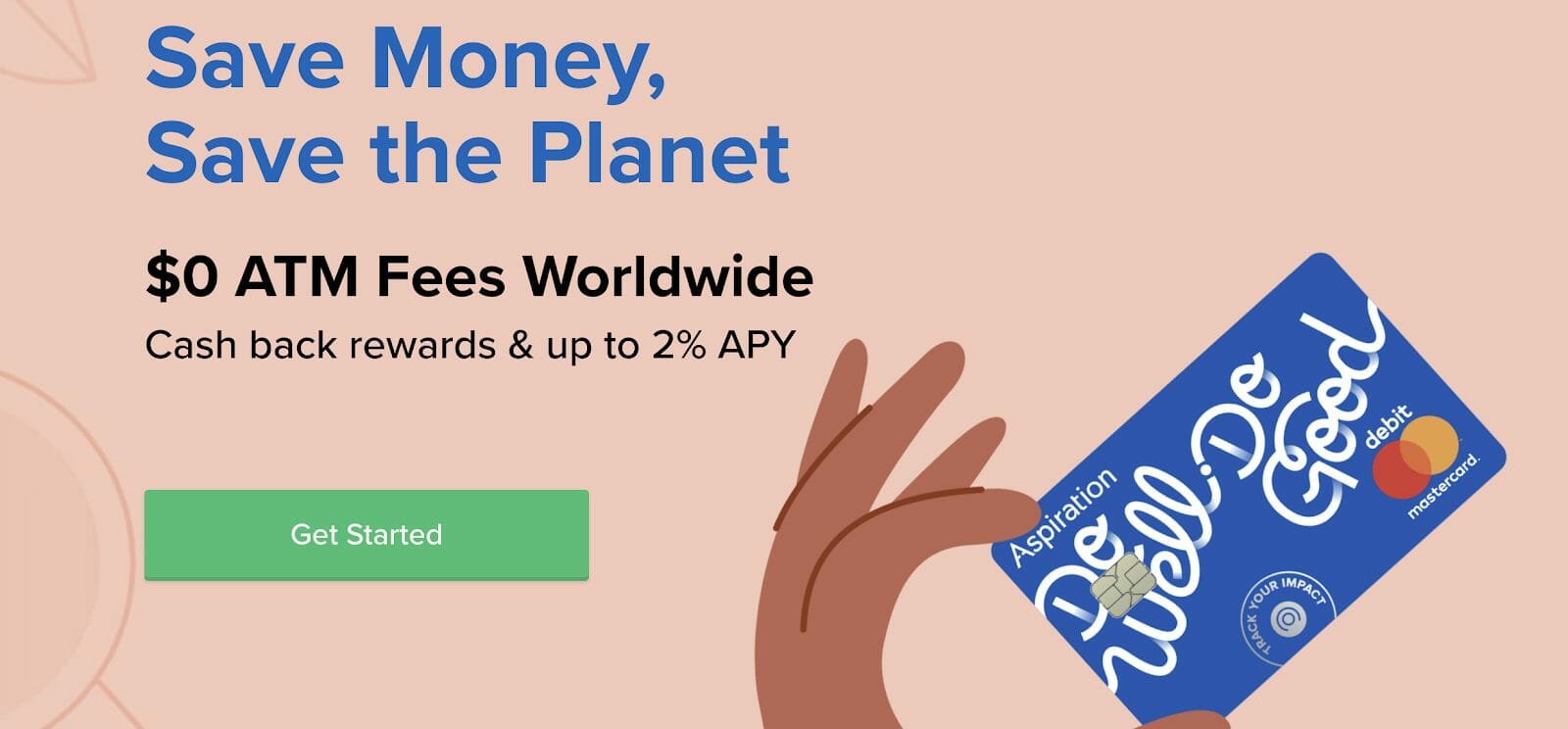 How Does Spend and Save Work?
Aspiration Spend is the checking account portion. You're given a debit card and receive cash back rewards with every purchase. Rewards are unlimited, and you're even able to earn extra cashback for shopping at businesses with a conscience.
Earn 1% when you shop at businesses with a high AIM score (more on that in a minute) and 0.5% everywhere else.
Your rewards post the first of the month.
***Pro*** Some financial service providers can take anywhere from 60 to 120 days for their rewards to post.
Aspiration App Payment Feature
In the app under the Payment Tool is where you can pay your bills or send money to someone by scheduling the delivery of a paper check. This is a free service with unlimited usage.
However, at this time, Aspiration doesn't allow you to send money electronically (like when you transfer money to someone on your smartphone). If you need to move money in a pinch, you'll have to schedule a wire transfer.
Domestic wire transfers initiated by 1 pm PST and international wire transfers started before 11 am PST will post the same day. If you schedule a transfer after those cut-off times, it will display the following day.
Fees for wire transfers are:
$0.82 for domestic
$15 for outgoing international
$2.50 for incoming international
You must also call customer support to initiate an outgoing wire transfer.
***Con*** Paying bills via paper check or scheduling a wire transfer may not be the most optimal way to send money. Might be better off using PayPal or another external account through your smartphone.
***Aspiration Spend has no overdraft fees. Why?
Because it just returns the check. It offers no overdraft protection on checks sent, so you better be sure you've got a handle on your account balance.
All Service Charges At Cost
These are fees associated with transactional services (like a returned check due to insufficient funds). Aspiration only charges you what it costs them to carry it out.
Translation: they're not profiting from it.
Transactional Service Fee Examples:
Returned checks $4,999 or less – $1.15
Returned checks $5,000 or more – $5.33
Incoming/outgoing domestic wire transfers – $0.82
No ATM Fees Worldwide
Customers are reimbursed for all ATMs that slap you with a service charge. Typically, it takes 2-3 days for your account to be credited. So, whether you're down South America way or chasing the Northern Lights in Canada, Aspiration has you covered.
In-App Deposits Only
Check deposits are made through their mobile app via image capture. ATM deposits aren't available nor are cash deposits.
***Checks larger than $5,000 must also be mailed to Aspiration's partner bank, Coastal Community Bank located in Everett, Washington.
Think of Aspiration like a Xmas gift. Aspiration is the wrapping paper and what's inside is the gift (in this case, their partner bank who handles deposits and is FDIC insured up to $250,000. Technically, Aspiration is not a bank. Which is becoming more common as startups partner with banks to handle deposits and withdrawals).
Aspiration does offer $600 in cell phone protection and $1,000 worth of identity theft. All you do is pay your bill with your Spend debit card and your covered.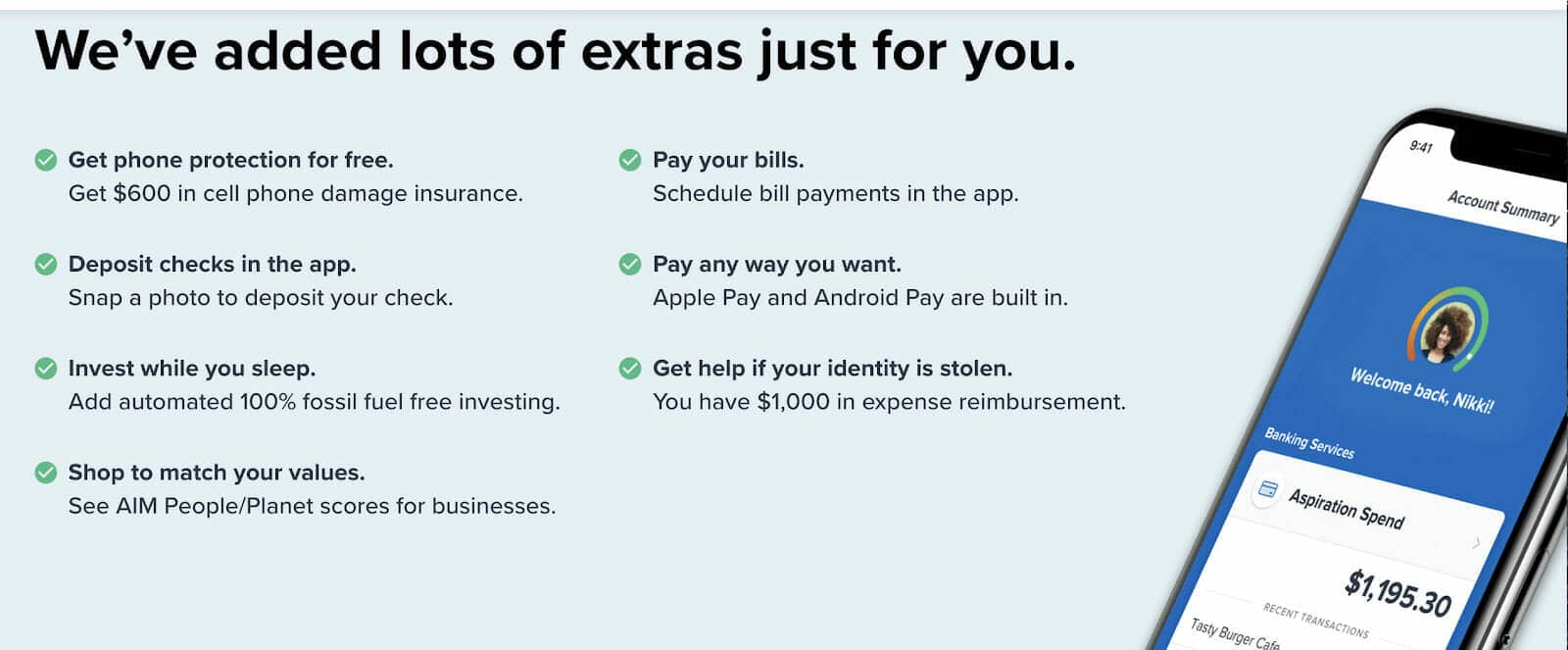 Aspiration Save is, you guessed it… their savings account portion.
Here's where that 2% annual percentage yield (APY) comes into play. You're able to cash in on this perk by doing one of two things:
Depositing at least $1 into either your Save, Spend or investment account.
Have a minimum $10,000 end-of-day saving balance for at least one day of the month.
That's it.
However, if you don't meet either of these requirements, you earn 0% APY for that month. I think depositing $1 is achievable, don't you?
Speaking of deposits, you cannot make a deposit directly into your Save account. It must be transferred from your Spend checking account.
Here's the skinny on that…
Because your Save and Spend accounts are linked, you can easily make transfers between the two. But, since your debit card is only connected to your Spend account, all deposits have to go through your Spend account first, before transferring into your Save account.
Don't worry; transfers are unlimited. But, you're only allowed one per day to and from your external bank account.
Aspiration does have a few limits to keep in mind:
Outgoing daily transfer limit of $5,000
Incoming daily transfer limit of $5,000
Incoming monthly limit of $15,000
Folks with larger cash transactions might want to look elsewhere.
***Con*** I like being able to deposit money into my checking account in one step, not two. When depositing your money, you must place it into an external account and transfer it to your Aspiration Spend and Save account.
Aspiration Investing
Aspiration has three options for investors:
Redwood Fund
Flagship Fund
Traditional IRA w/ either the Redwood Fund or Flagship Fund
The Redwood Fund
The Redwood Fund is a fossil fuel-free, private mutual fund only available to Aspiration clients. The fund is invested in companies emphasizing sustainable environmental, social and governance practices.
Aspiration embraces the "sustainable thinking" philosophy, believing businesses who implement this strategy outperform their peers.
According to Aspiration:
Companies actively managing and planning for climate change secure a 67% higher return on investment than companies who refuse to disclose their emissions.
And…
Companies in the top quartile for racial and ethnic diversity are 35% more likely to perform above the industry average while companies in the top quartile for gender diversity are 15% more likely.
Aspiration has partnered with one of the largest asset managers in the world, UBS Asset Management, to head up daily operations of the fund. UBS is also known for having a stellar sustainability research unit.
The Redwood Fund doesn't invest solely in "do-good" companies either. They're concerned with making a buck same as you. They look at whether the company will turn a profit while simultaneously engaging in sustainable environmental and social practices.
There's a $10 minimum to buy the fund, but all additional investments can be purchased for as little as $1 with no max cap on the fund.
Aspiration is entirely transparent with what's inside their portfolio. Here's a peek at Redwood's.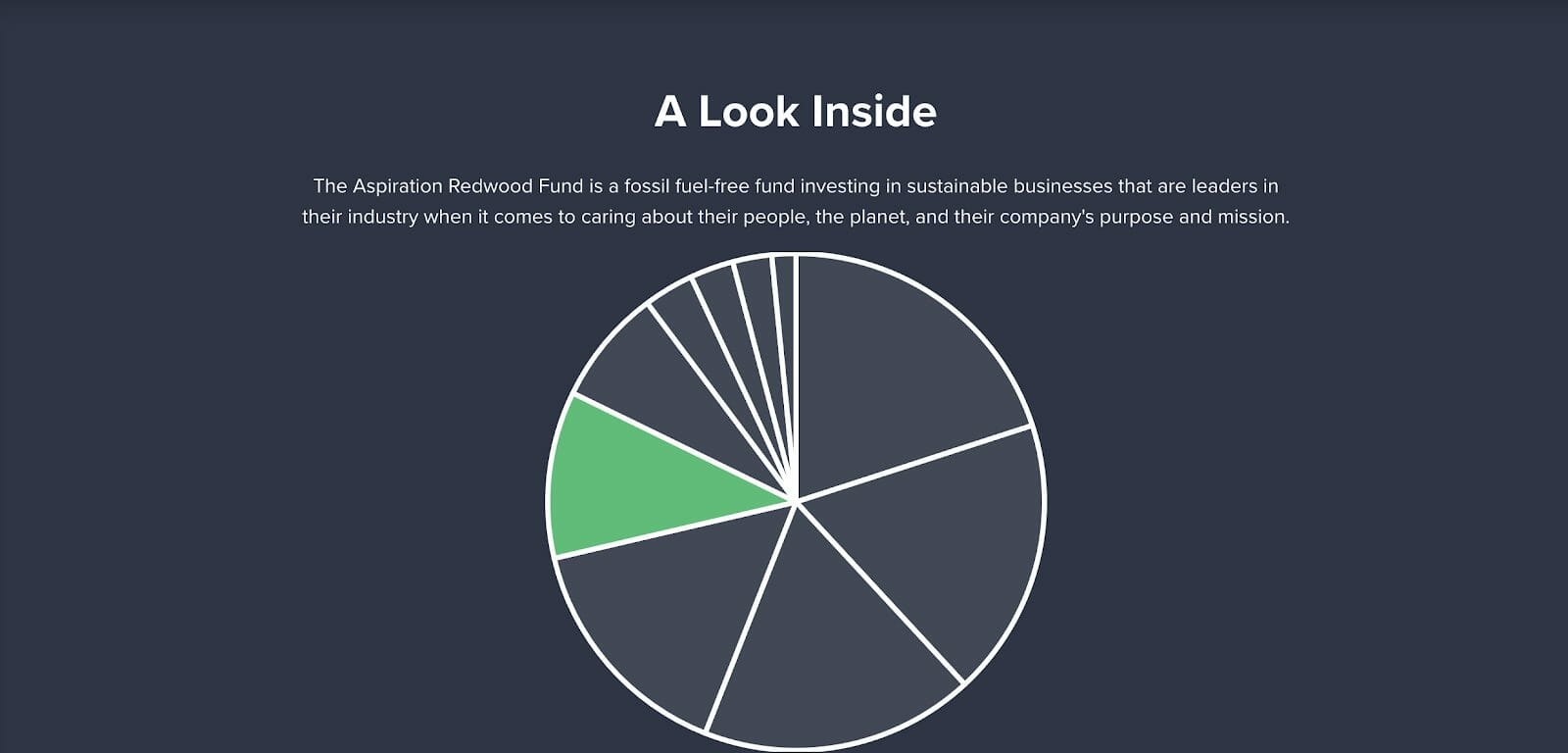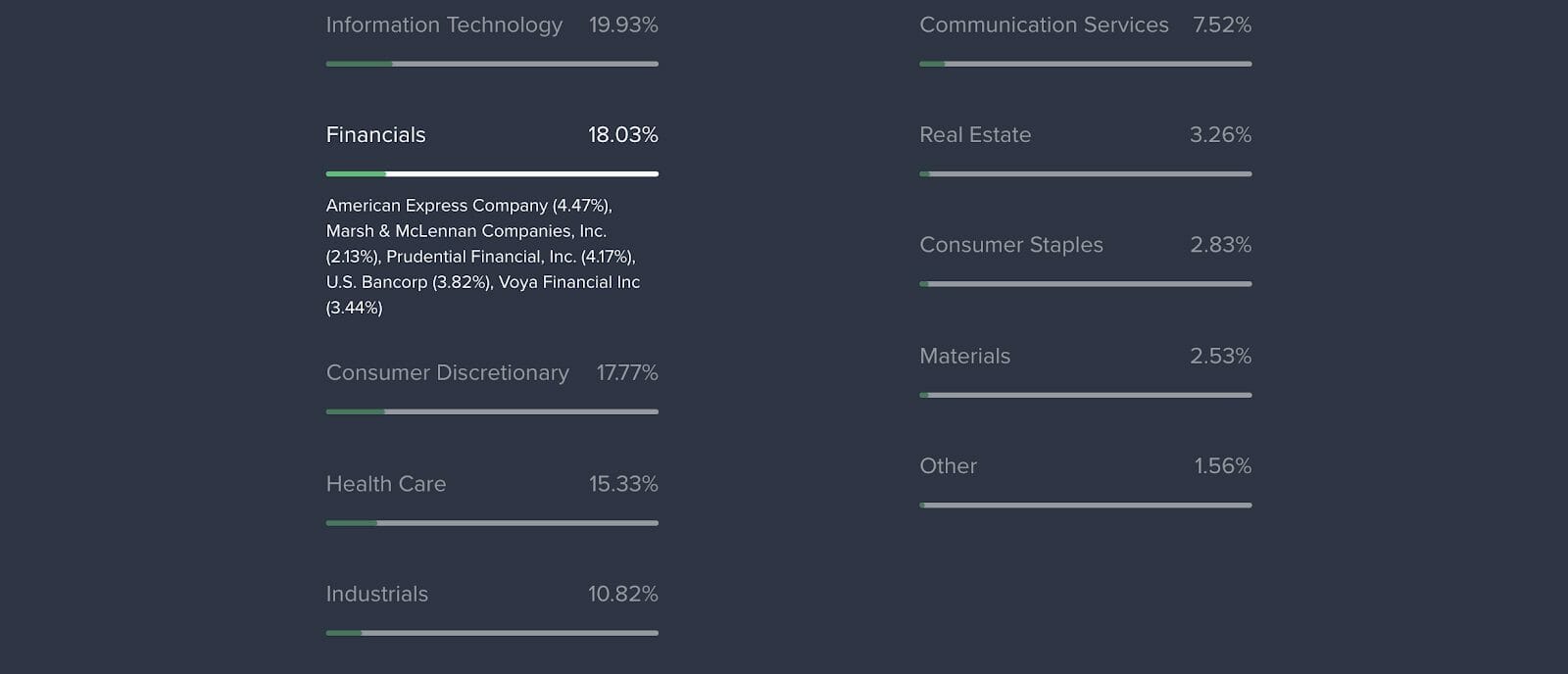 Here you're given a breakdown of the different asset classes within the fund. The Redwood has:
19.93% Information Technology
18.03% Financials
17.77% Consumer Discretionary
15.33% Health Care
10.82% Industrials
7.52% Communications Services
3.26% Real Estate
2.83% Consumer Staples
2.53% Materials
1.56% Other (Fidelity Institutional)
If this type of portfolio doesn't look like your brand of bourbon, you may want to look elsewhere. Why?
Because this is a managed fund, DIY investors need not apply. The emphasis is on companies poised for growth.
Redwood's approach is more granular and isn't like simple index fund investing. They're invested in specific companies within industry sectors. This means they're tracking these businesses daily.
Aspiration sees sustainable investing as a… well… sustainable alternative to the "business as usual" style where a majority of the 'everyday' investors get left behind.
The Redwood Fund seeks to get more people involved by keeping costs low with a $10 investment minimum.
Speaking of costs…
Fees
How much does Aspiration charge for a managed fund like this? They've left it up to you.
"Pay What Is Fair" Model
Aspiration believes in their idea so much they've put their money where their mouth is. The "Pay What Is Fair" model works on a sliding scale from 0% – 2%. Have a look…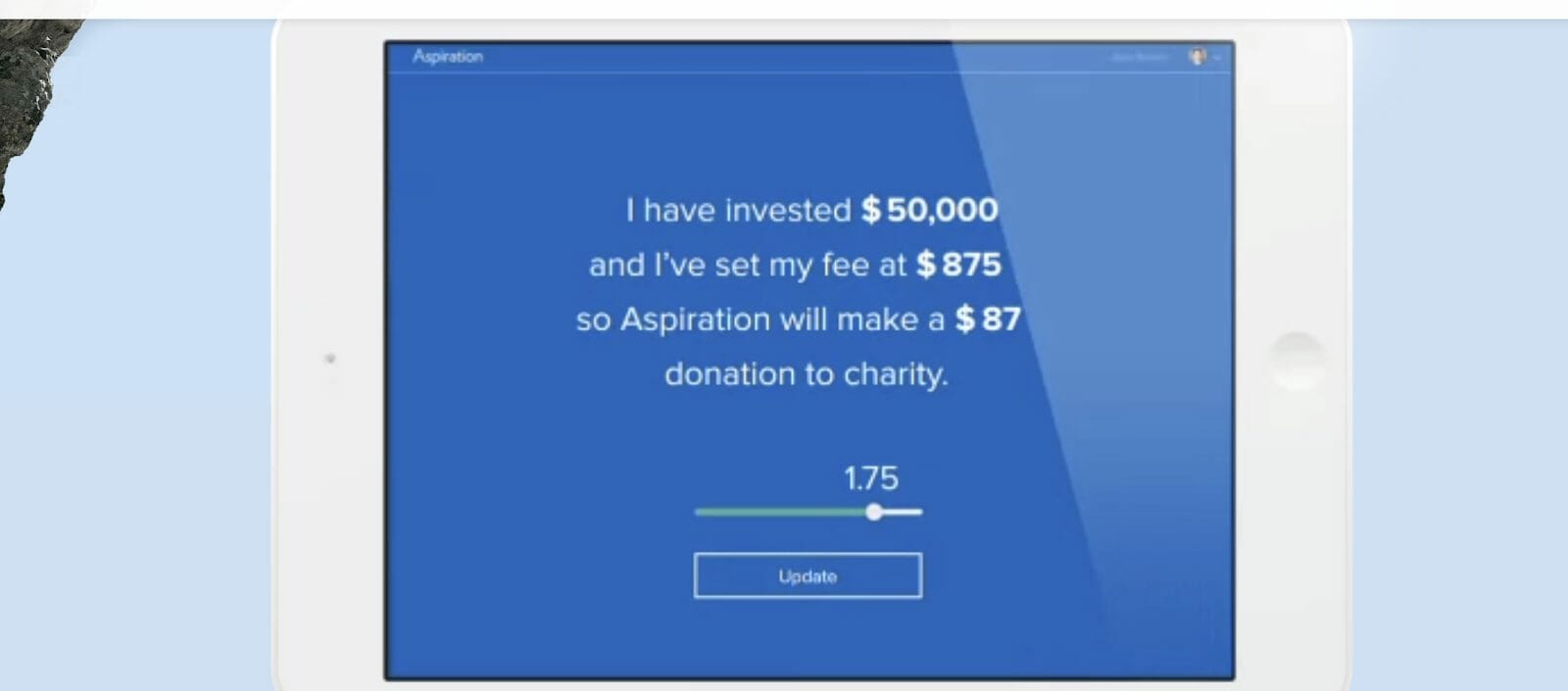 You decide how much you want to pay them – even if that amount is 0%.

Then, they take 10% of what you pay them and donate it to charity (more on that in a bit). The managers only earn what you decide is a fair amount to pay.
0.5% Expense Ratio
Aspiration has what's called an Expense Limitation Agreement which limits the fund's annual operating expenses to 0.5%. And there are no other fees associated with the fund:
No Front or Back-Load Fees
No Per-Transaction Fees
No Performance or Redemption Fees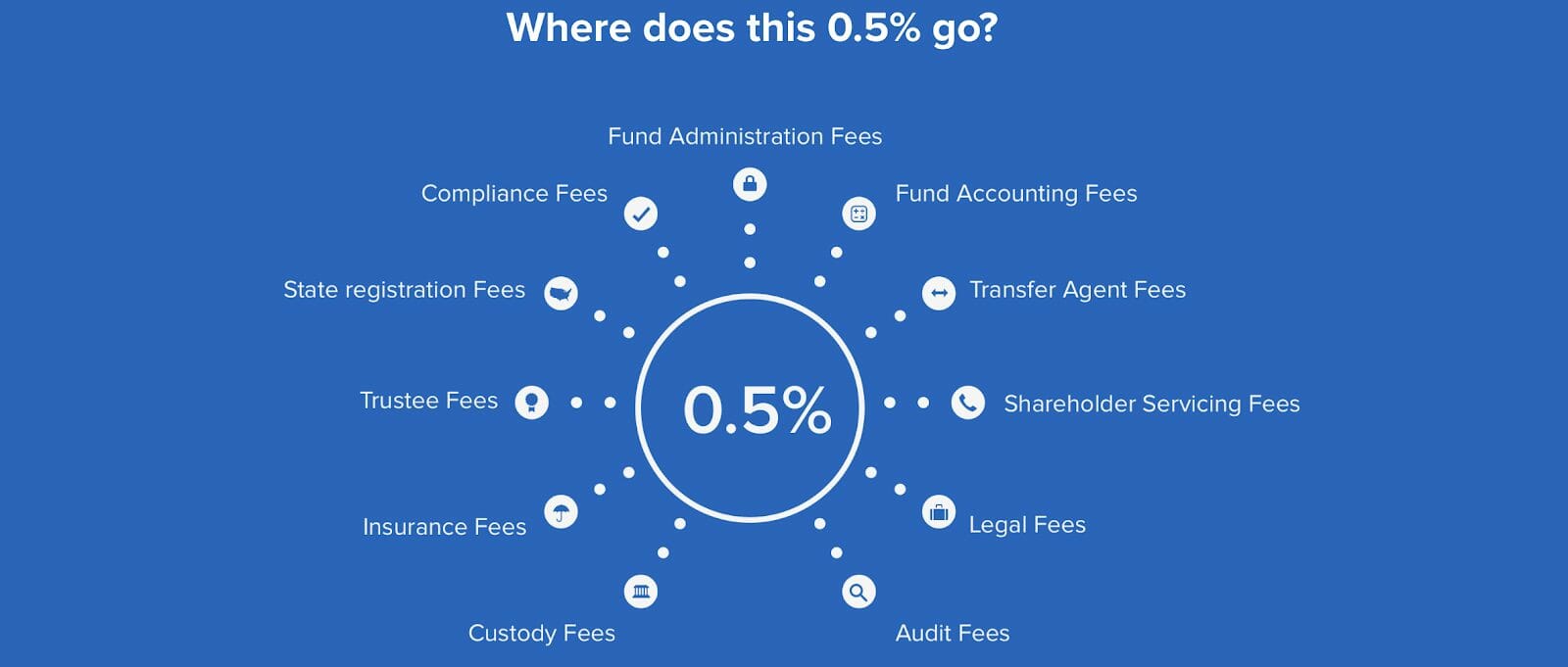 Aspiration covers any additional fees accrued within the portfolio above 0.5%. There are also:
No Withdrawal or Closing Fees.
No Fee for Buying or Selling Shares
One caveat ~ you're required to keep a minimum account balance of $10 unless you plan to liquidate it completely. You can continue investing for as little as $1.
The Flagship Fund
Another exclusive fund for Aspiration clients, the Flagship Fund, is made up of a variety of asset classes and aims for steady growth while keeping volatility in check. It employs the use of non-traditional strategies and was created to give the ordinary investor the same investment opportunities as the wealthy.
The Flagship Fund uses liquid alternatives because they're less correlated to the ups and downs of the stock market. They also shop for investor share classes which are typically reserved for the uber-rich.
Take a peek…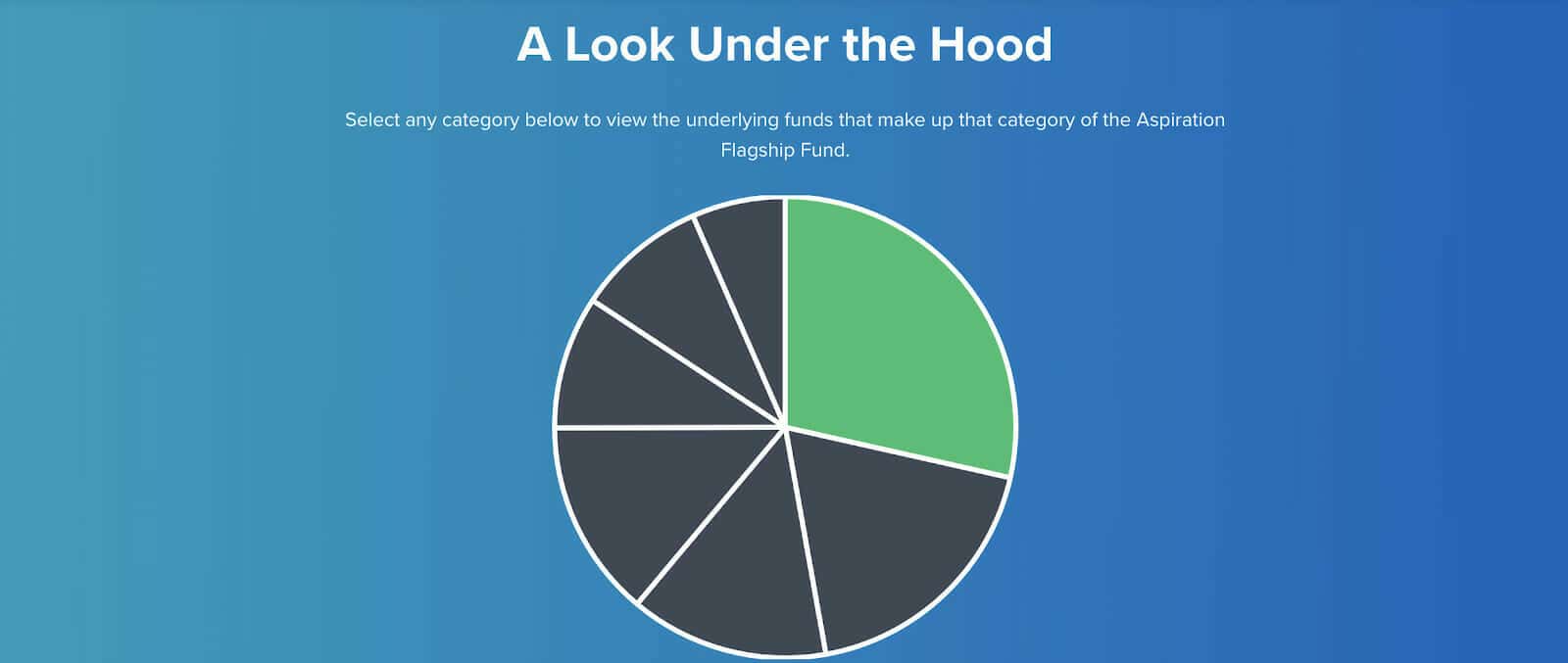 Clicking on pieces of the pie shows you what's inside. This fund is a mix of seven asset classes:
Managed Futures
Unconstrained Bonds
Long/Short Equities
Option Strategies
Global Macro Funds
Event Driven
Other (Fidelity Institutional, iShares Trust, Goldman Sachs Trust and more)
Funds like these resemble hedge funds and take some serious financial know-how to run. Buy-ins for funds like these usually number in the thousands of dollars – minimum.
In Aspiration's words:
A portfolio with liquid alternatives has done better than one with only stocks.
Liquid alternatives are not as highly correlated to the highs and lows of the stock market. There are pros and cons associated with this investment approach. 
What's the Flagship Fund minimum?
$10.
Same rules apply as the Redwood Fund:
$10 Minimum
No Front or Back-Load Fees
No Per-Transaction Fees
No Performance or Redemption Fees
0.5% Expense Ratio
However, because it's a managed fund, DIYers may want to look elsewhere.
Retirement: Traditional IRA
Aspiration does offer a traditional IRA account as an option. You have a choice of funding it through either the Redwood or Flagship Fund.
The minimum deposit required to fund the IRA is $10. You can also transfer funds from a previous IRA account.
Rollovers usually take between 6-8 weeks. Another option is to liquidate your current account, move it to your bank, and then transfer the money into your new Aspiration IRA account.
AIM Score
Remember waaaaaaaay back at the beginning of this article when I mentioned you'd earn 1% cash-back for shopping at socially-conscious businesses with a high AIM score?
AIM stands for Aspiration Impact Measurement. It's your sustainability score and tracks your carbon footprint with every purchase you make. Your daily spending habits determine it along with the habits of the businesses you shop at.
Americans spend $36B every day. Which businesses are positively affecting the planet?
Tweet This
Americans spend $36B every day. Which businesses are positively affecting the planet? The AIM score will tell you.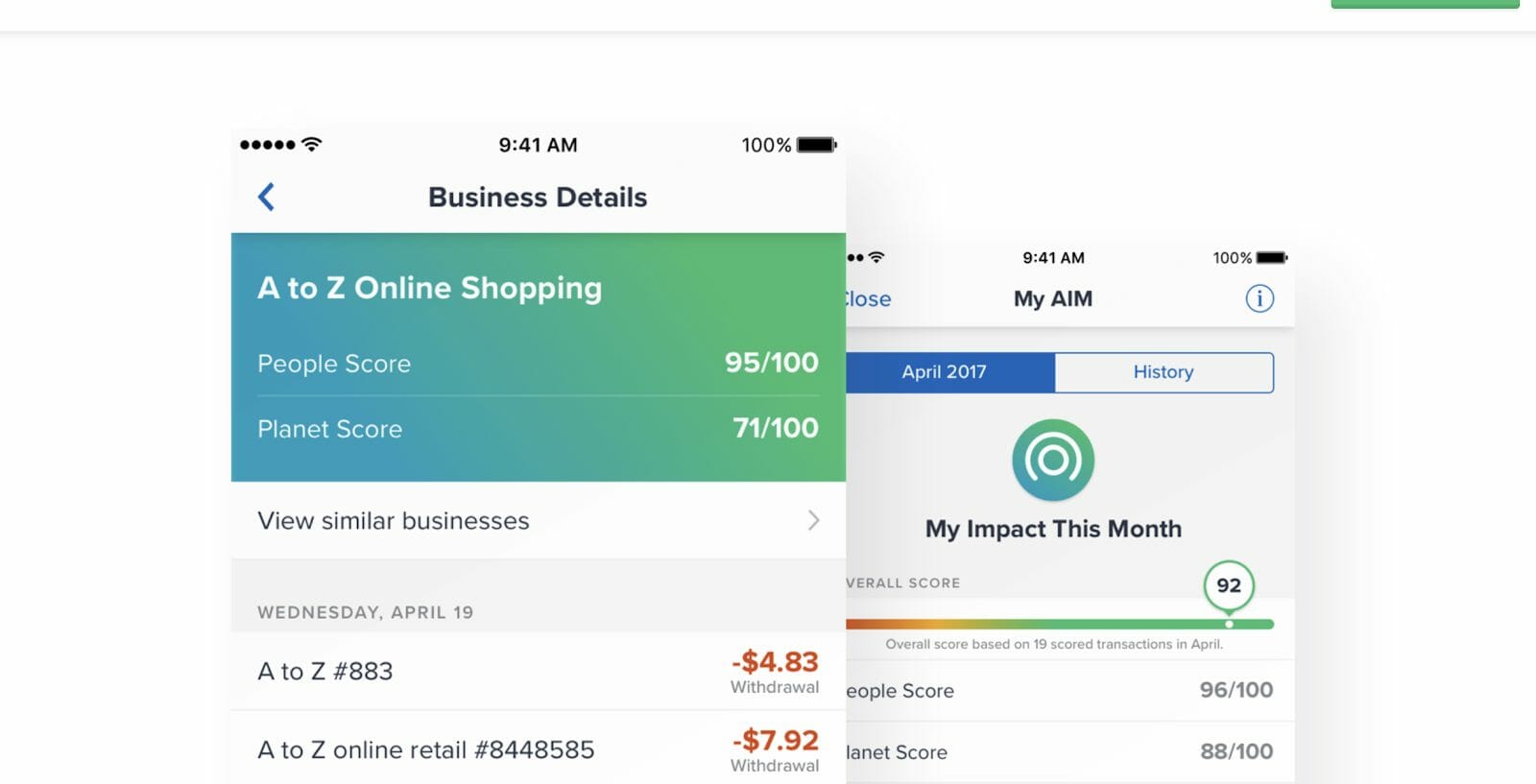 Your score is found in the app but not every business listed has a score. In that case, Aspiration has made it easy for you to contact those businesses directly by tweeting at them via the app. You can ask them to put their score up for 100% transparency.
AIM scores calculate over 75,000 data points around environmental, social and governance issues.
The People Score is found by looking at how a business treats its employees, customers, and community. Metrics include:
Pay
Health Care
Equity of Benefits
Job Safety
The Planet Score is concerned with:
Greenhouse Gas Emissions
Energy Efficiency
Renewable Energy
Impact of Business on the Planet
Data is gathered from reputable agencies like HIP Investor and Insight360.
Aspiration refers to companies focused on long-term growth while being environmentally friendly as High Road Businesses.
You can support charitable giving through their nonprofit program, Dimes Worth of Difference. Aspiration clients have the selection of seven different charities to choose from.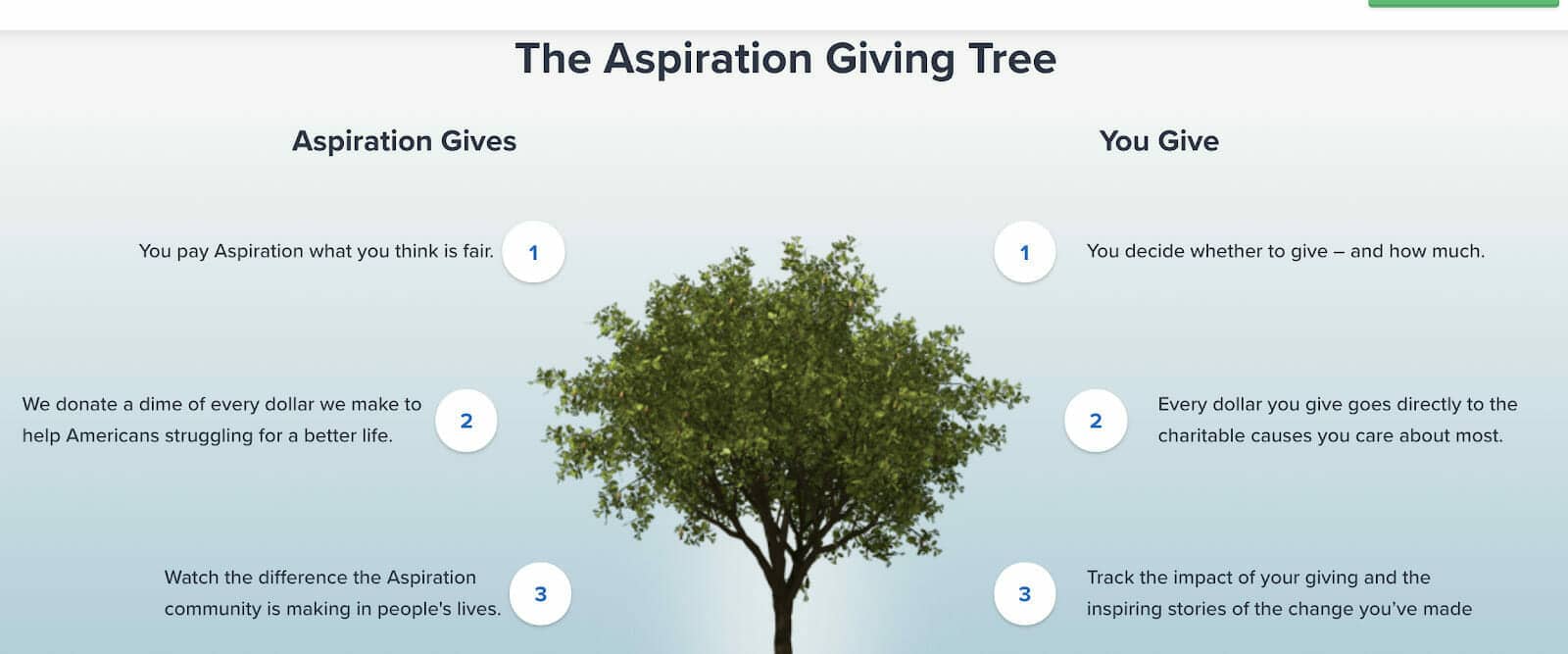 This program invests in the economic opportunities of the less fortunate through micro-loans up to $5,000. It's intended to help the deserving launch their own small business.
Customer Support
There's no physical branch office. Like most online banks, Aspiration is 100% digital. You can speak with a person Monday thru Friday by phone, or connect any other time via email or live chat.
Recap
So, is Aspiration your cup of tea? Let's take a look at some of the pros and cons.
Pros
No fees on ATMs worldwide
Pay What Is Fair model – even if it's $0
Low minimum balance ($10)
$600 cell phone insurance/ $1,000 identity fraud reimbursement
No withdrawal or closing fees
App both iPhone and Android compatible
Cash-back rewards post quick (1st of the month)
Cons
Limited number of funds
Not for DIY investors
Only sends money via paper checks or wire transfers
No cash deposits or ATM deposits
Final Thoughts
Aspiration is courting the environmentally-conscious, lean budget crowd. Fossil fuel-free investing. Cell phone protection. A high-yield savings account. Fee-free worldwide ATMs. Low minimum deposits. The Pay What Is Fair model.
All good reasons to put your money in a bank.
Aspiration is also opening the doors to low-cost, actively-managed, liquid alternative investments usually reserved for the ultra-wealthy. I'm not as impressed with this feature.
I'm more of a 'meat 'n potatoes' guy when it comes to investing. Give me an index fund, and I'm good. I like to keep it simple.
However, your style might be different than mine. Some find alternative investments more attractive. So, in the words of John Oliver, "Cool."
I need a reason to put my money someplace. Whether that be a round of drinks with friends at a pub or a financial institution like Aspiration, I wanna go where there's value (or where everybody knows my name). We all do.
I think there's value underneath Aspiration's hood.
Get our best strategies, tools, and support sent straight to your inbox.