Table of Contents
The Best Investing Apps to Guide You to Financial Independence
As you become secure in your career and start to build your wealth and retirement plan, you might start thinking about investing. Although many people make wise investments that yield sizeable returns, not everyone experiences these outcomes—and some can lose their principal entirely.
Be smart, don't throw your hard earned money down the toilet.
Risk is what makes investments profitable, but it can be discouraging for first-time investors. Even if you have some experience with investing, you may struggle to find the time to locate good investments, track your portfolio, and make adjustments.
Let's take a closer look at the best investment apps out there, for both first-time and seasoned investors alike.
Easy investment apps for first timers
When you first start investing, you need an app that will help you set goals and meet them by taking small, manageable steps. It's also important for you to understand your investments and track how they are doing on a day to day basis.
Acorns and Betterment are probably the best tools out there for first-time investors, and both can help you work toward your investment goals seamlessly.
Betterment
Betterment is a robo-investing platform that automatically helps you create an investment portfolio that reflects your goals and risk profile. One of the best things about Betterment for investors who are just starting out is that you only need $1 to get started.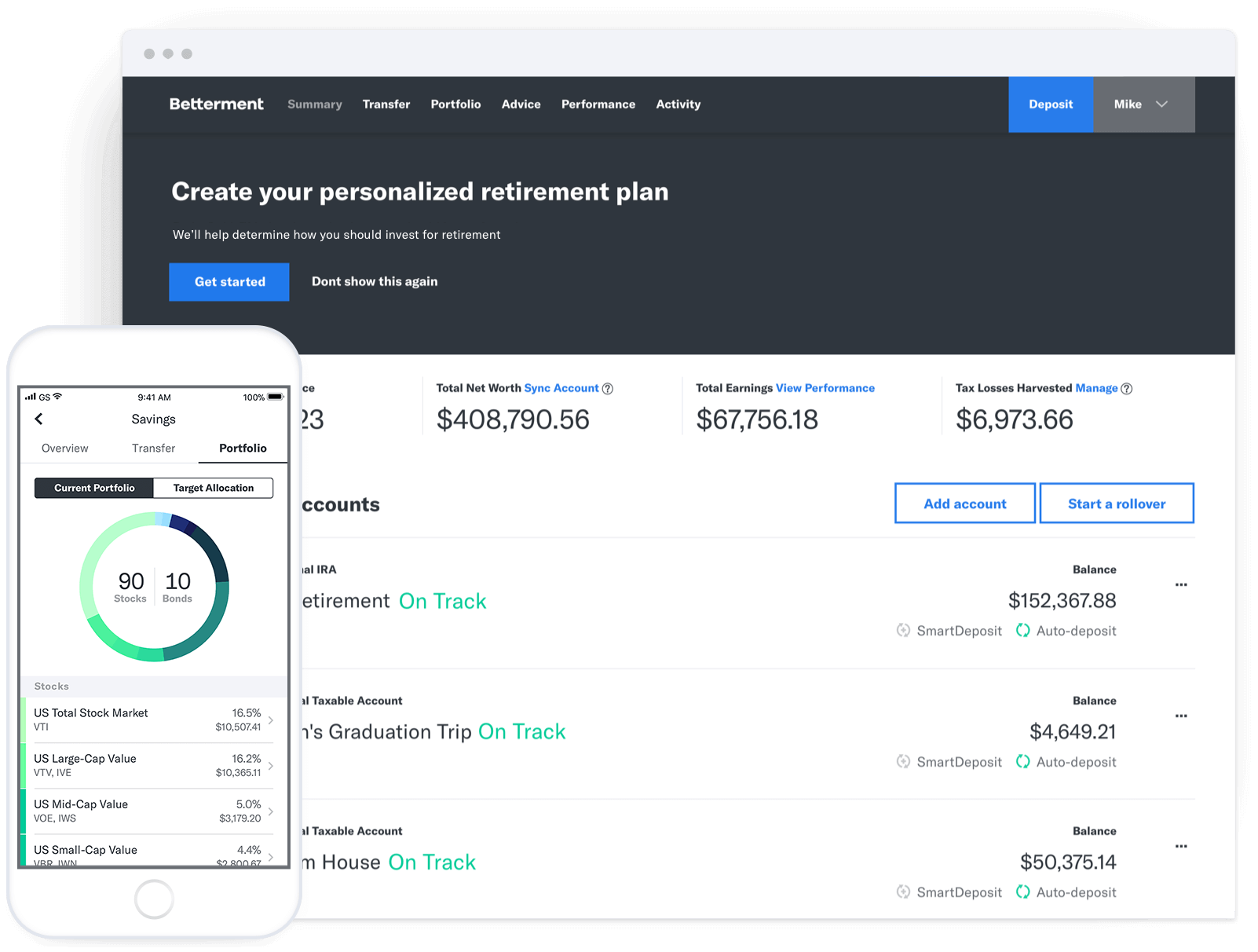 Unlike other retirement platforms, you don't have to put a large sum of money on the table to start out. Instead, you can build your portfolio over time.
This platform will automatically rebalance your portfolio as needed. And, it also has tax-loss harvesting capabilities to help you maintain lower capital gains for the purpose of tax reporting.
The fee is 0.25 percent of the value of your portfolio. This is a pretty reasonable rate considering that the average investment adviser charges around 1 percent.
What's more, you can invest for an entire year without paying any fees if you transfer over from an existing investment account.
Acorns
Acorns is among the best investment apps, and it's also geared toward first-time investors. This app allows you to link credit or debit cards and set rules for your spending that will automatically help you save and invest.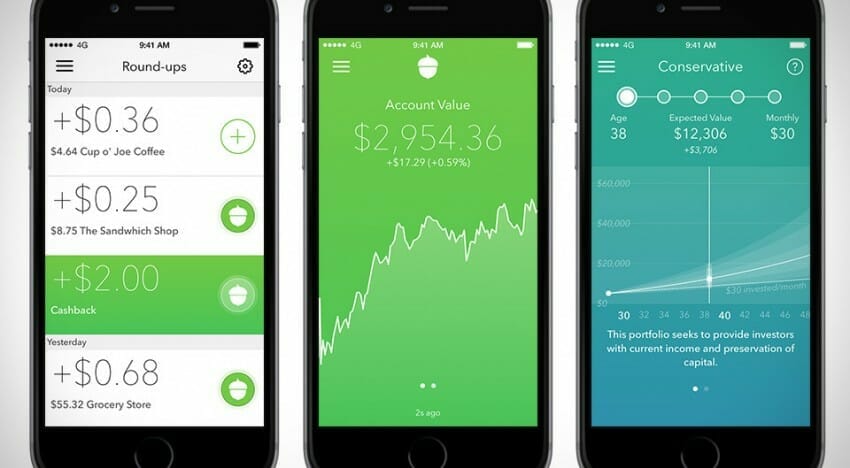 Let's say you buy a $4 coffee. You can set up Acorns to automatically transfer $1 from your spending account into your investment portfolio.
Like Betterment, Acorns enables you to get started with a very small upfront investment. And, Acorns only costs $1 per month to use.
Acorns is especially useful for students or people who are still settling into a career. You can save money every time you make a purchase, without even really noticing it.
Unfortunately, this model of micro-investing isn't right for everybody. If you really want to build up considerable savings and maximize your investments, you might be better off with a more intentional approach and larger initial investments.
Ally Invest
If you are interested in an affordable investment option, consider Ally Invest. This online brokerage firm is regarded as one of the best discount platforms for investing. Perhaps the most appealing thing about Ally Invest is that it offers a one-stop shop for banking and investments.
You only pay $4.95 per trade to use the platform, and you don't have to worry about surprise fees or hidden charges. If you're making frequent trades like the wolf of wall street, you may want to consider a discount brokerage instead.
Ally Invest offers various tools and informational resources to help you make the best decisions possible regarding your investments. Although the Ally investment and banking package can be incredibly convenient, it's also important to consider that this platform can take longer than usual to facilitate fund transfers.
If you want the convenience of an all-in-one platform and don't mind waiting a few days for funds to transfer to your account, this platform may be a good option for you.
The best apps to diversify your investments
If you've paid attention to financial advice from professionals, you've probably heard about portfolio diversification. The idea behind diversifying a portfolio is that the more varying types of investments you have, the more your risk is distributed.
Simple enough no?
Let's say you go all-in on a new company that makes Cheetos lip balm.

Yup, a real thing! You're welcome.
Shockingly, however, Cheeto-balm goes BANKRUPT!
You've now suffered a major loss and you have no backup plan. On the other hand, if you invest in Cheeto-balm, as well as several other companies of different sizes and in different industries, you won't experience as much of a financial loss when Cheeto-balm goes under.
With that in mind, it's a good idea to choose an investment app that will give you the opportunity to diversify your portfolio and insulate yourself from too much risk.
Fundrise
Fundrise is an investment platform that makes it possible for just about anyone to get started in real estate investment.
With an initial investment of $500 or more, you can invest in commercial real estate and enjoy great returns without an exorbitant principal investment. You will pay a fee of 1 percent of the total value of your portfolio annually.
In general, real estate investment is an excellent choice if your goal is diversification.
If something goes awry in the stock market, you'll want to have some other investments to spread out the risk. Real estate typically outperforms the stock market. This means you are likely to earn higher returns when you use a platform like Fundrise to diversify your portfolio.
Swell Investing
Increasingly, we're seeing that many investors are concerned about the ethical implications of where they put their money. This a perfectly reasonable concern, and it's important that you feel comfortable about the impact your investments are making.
For socially conscious investing that doesn't require hours of research and consideration, Swell Investing is an excellent choice. The platform is specifically designed to help investors create socially responsible portfolios that instill in them a sense of pride.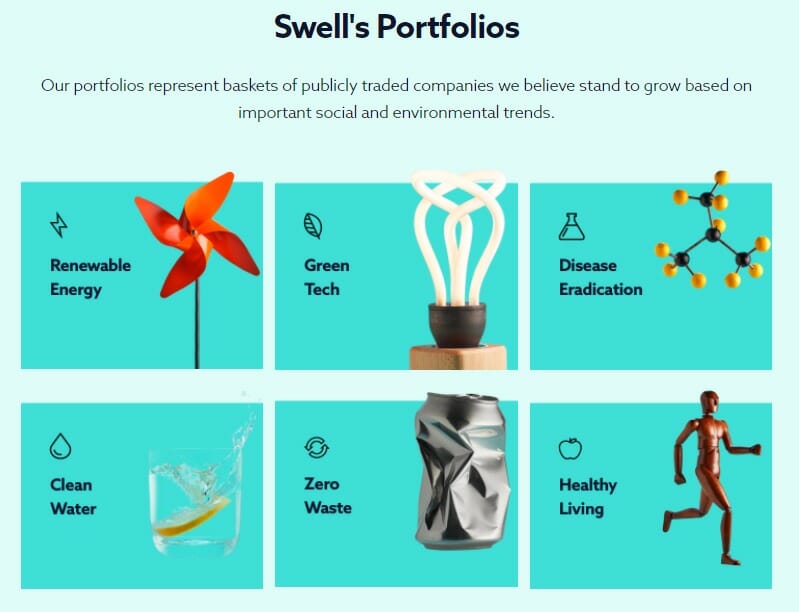 There are many different investment options available, from renewable energy to clean water, and investors can get started for as little as $50.
The platform is a fantastic choice for investors who want to diversify their portfolio with stock options that are socially responsible. That said, the management fee is a bit high at .75 percent annually.
Ellevest
You might be familiar with some of the discussions around financial equity for women. But, did you know that there is an investment platform that's specifically designed with women in mind?
Ellevest is a female-focused investment platform intended to meet the needs of women investors. Most investment platforms take average earning predictions into account and provide general investment and savings advice, but Ellevest works to provide women with advice based on their unique circumstances.
Women live longer, on average than men, which means that their savings will have to grow to sustain a longer retirement.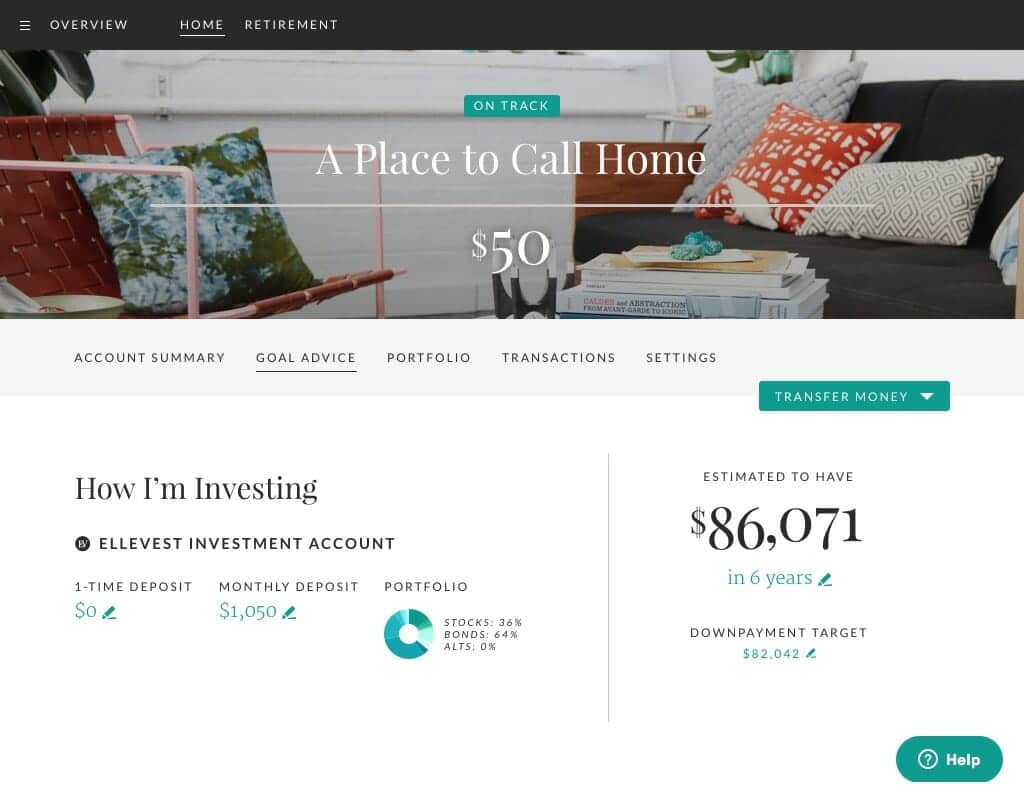 In addition, the gender pay gap means that women investors have lower average lifetime earnings. With these factors in mind, Ellevest recommends more aggressive savings and loftier investment goals for female clients.
Ellevest is an incredibly accessible investment platform with no minimum to start an account and no charges to open, close or transfer an account.
This platform also encourages its users to save for an emergency fund by facilitating cash investment in an FDIC-insured bank completely without fees. This feature allows investors to have emergency funds that are not at risk of losing principal.
Most investors are focused on retirement savings. Ellevest also encourages its users to set and pursue various other financial goals. Investors may set various savings goals and work to reach them with help from a customized investment plan generated by Ellevest.
Get our best strategies, tools, and support sent straight to your inbox.
The best apps for experienced investors
E*Trade
If you're no stranger to the investment world, you might be up for the challenge of more sophisticated investment apps.
With a minimum investment of $500, you can start investing with E*Trade, an online brokerage firm with a reputation for customer satisfaction.
You can access the comprehensive E*Trade user dashboard online or with a mobile app, allowing you to check up on your investments any time and anywhere.
This platform can be challenging to use for people who are not totally familiar with investing. That said, it offers a vast amount of resources for its customers to familiarize beginners with investment concepts and offer sound financial advice.
If you experience problems or have questions about E*Trade, you can get in-person assistance from financial consultants. You may also chat with a support person 24/7 online. This makes it one of the best investment apps available today.
Another advantage offered to users E*Trade is its no transaction fee mutual fund options. It offers over 4,400 of these funds, which enables investors to purchase mutual funds without any of the associated sales charges for the trade.
This vast offering gives E*Trade a major advantage over many comparable investment platforms.
All that said, the commissions charged by E*Trade are relatively high. E*Trade's commissions start at $6.95 per trade but decrease for higher volume investors to $4.95 per trade.
Despite these somewhat high costs, many E*Trade users are able to experience benefits that outweigh the downsides. After becoming accustomed to the platform, you can start trading like a pro and watching your investments grow quickly.
Fidelity
Like Ally Invest, Fidelity offers all-in-one investment and banking services. However, this platform is designed to offer a wide variety of investment options for more experienced investors who want to reach specific goals.
Fidelity has a broad selection of services and investments. These include mutual funds, discount brokerage services, retirement savings plans, banking, life insurance coverage and wealth management tools.
The investment service even offers its users a credit card that comes with cash-back rewards.
You can sync your bank accounts with Fidelity to see the big financial picture from a single platform.
The Fidelity app is easy to use and provides useful metrics to identify your progress toward your goals.
Fidelity charges $4.95 for stock trades and does not charge any annual fees or fees for inactivity. You can get in touch with a Fidelity representative 24/7 over the phone. Or, get support in person from one of the 180 Fidelity branches.
The biggest downside to Fidelity is that it can be restrictive to those without sums of money to invest.
There are numerous investment options that are exclusively available to high-volume traders. Still, Fidelity is a useful platform for low-volume and high-volume traders alike and offers many great benefits to its users.
Getting started with one of the best investment apps
When it comes to investments, one size certainly does not fit all. Each person has different goals, and it's important to understand your individual needs when you are looking for the right platform for you.
By understanding the core aspects of the best investment apps available, you can make a truly informed decision.
Regardless of which platform you use, the important thing is that you start investing sooner rather than later.
You'll thank yourself when your money is working for you in the future.
And, above all else, you now know there was once Cheeto lip balm.
Get our best strategies, tools, and support sent straight to your inbox.