Table of Contents
What You Should Do If You Need Money Right Now
Sooner or later it happens to the best of us; you're in a position where you need money right now. If you are in a jam and need to come up with extra funds in the short-term, don't stress out just yet. We're here to help you make money today.
Thanks to the internet there are tons of ways to make money online. And many of them don't require adhering to someone else's schedule like you have to do if you take a part-time job. Many of the ways you can earn money fast these days can be done in your free time or during your downtime at work. So if you need money right now, you no longer have to resort to things like selling your plasma or pawning your precious family heirlooms.
It's scary to be in this position. You might be tempted to do things like take a cash advance on your credit card or take out a payday loan with a three-figure interest rate. While those "solutions" can solve your problem in the short-term, in the long-term, they are likely to only make things worse. We want to provide you with ways to solve the immediate problem without digging yourself into an even bigger hole.
Take a deep breath and read on. We are going to help you find the money you need when you need cash fast.
You're Not the Only One
Did you know that almost half of Americans would not be able to come up with $400 to cover an emergency? And if ever there's a genuine 'need money now' situation, it's an emergency.
According to a recently released report by the Federal Reserve, 47% of Americans could not access $400 in a case of an emergency.
If that isn't shocking enough, 25% of those earning more than $100,000 are among that 47%. If you are searching Google for "I need money now," let's figure out how you can accumulate it and get out of the 47% club.
When you turn to the internet because you need money now, you have to wade through a lot of spam and a lot of scams.
We are going to provide you with real help; help to get money now and help to make sure you don't find yourself in this position again.
Sell Your Spare Time
Getting a part-time job is an excellent way to make extra money, but it involves all of the unpleasant aspects of any job search, the looking, the resumes, the interviews. And you'll have to adhere to someone else's schedule.
But there are ways you can earn the extra money that you would from a part-time job without going the formal route.
Work in your Pajamas
Don't want to leave your house? Sign up for survey sites like Swagbucks and Survey Junkie to make money fast online doing things like watching videos and answering survey questions.
If you are looking for some other ways to make some quick fast cash, here are 127 more ideas to make money today.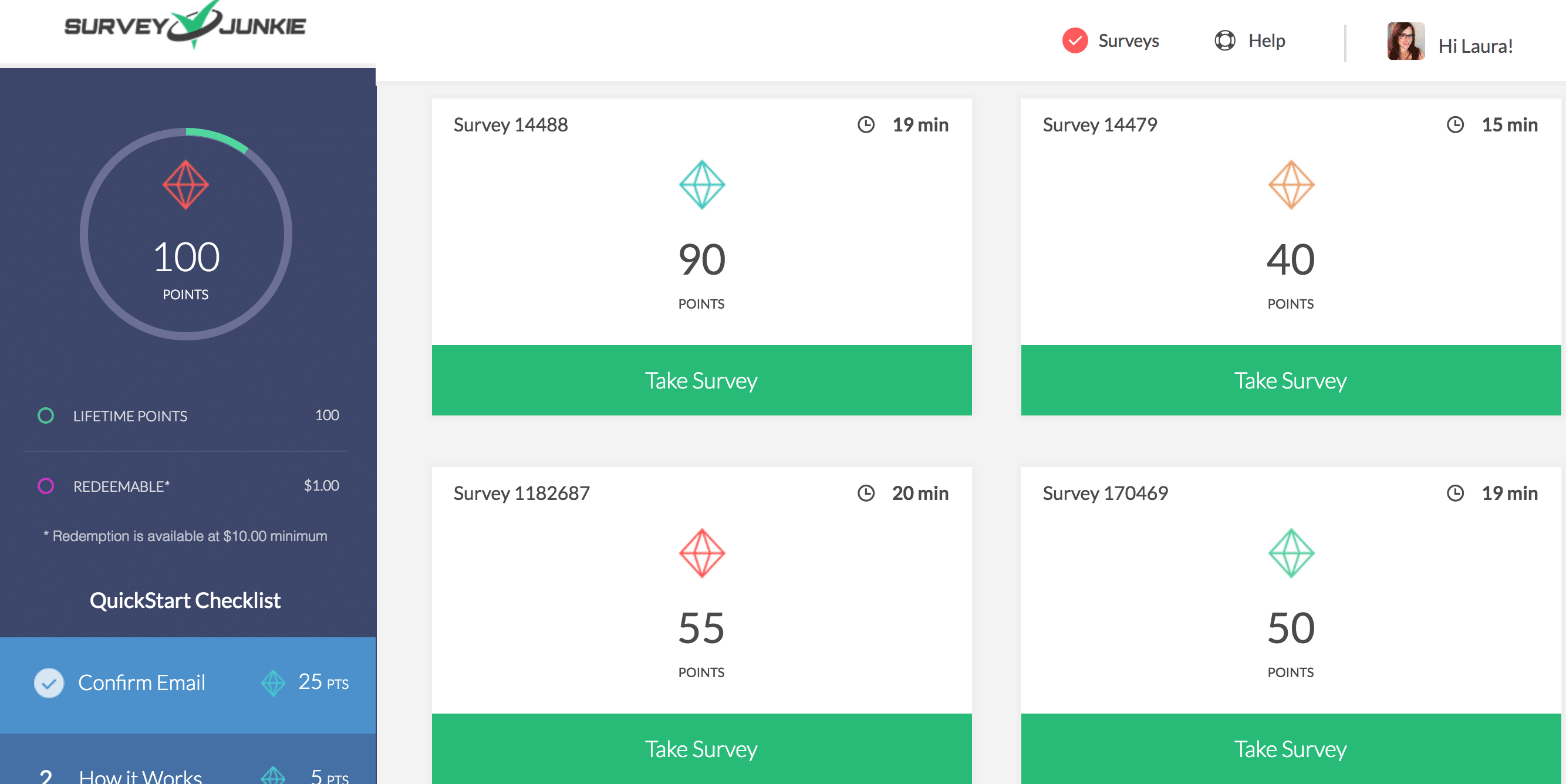 You Got a Fast Car
Uber is a great option to make some extra money fast and in your free time.  The hourly pay after expenses varies from city to city, but you can expect to earn around $10 an hour.
In larger cities, it will often be much more and in smaller cities, sometimes a little less.
Be a Taskmaster
TaskRabbit connects people who need services like moving help, handyman tasks, odd jobs and cleaners with those who can perform them. The company now guarantees taskers a minimum of $11.20 an hour, well above the national minimum wage of $7.25.
Be a Sitter
Care.com is for those who want to babysit, provide adult or elder care, even house and pet sitting. So if you don't like child care or senior citizens, you can watch puppies! It's much different than it was when I babysat in high school. I charged $1 per hour per kid.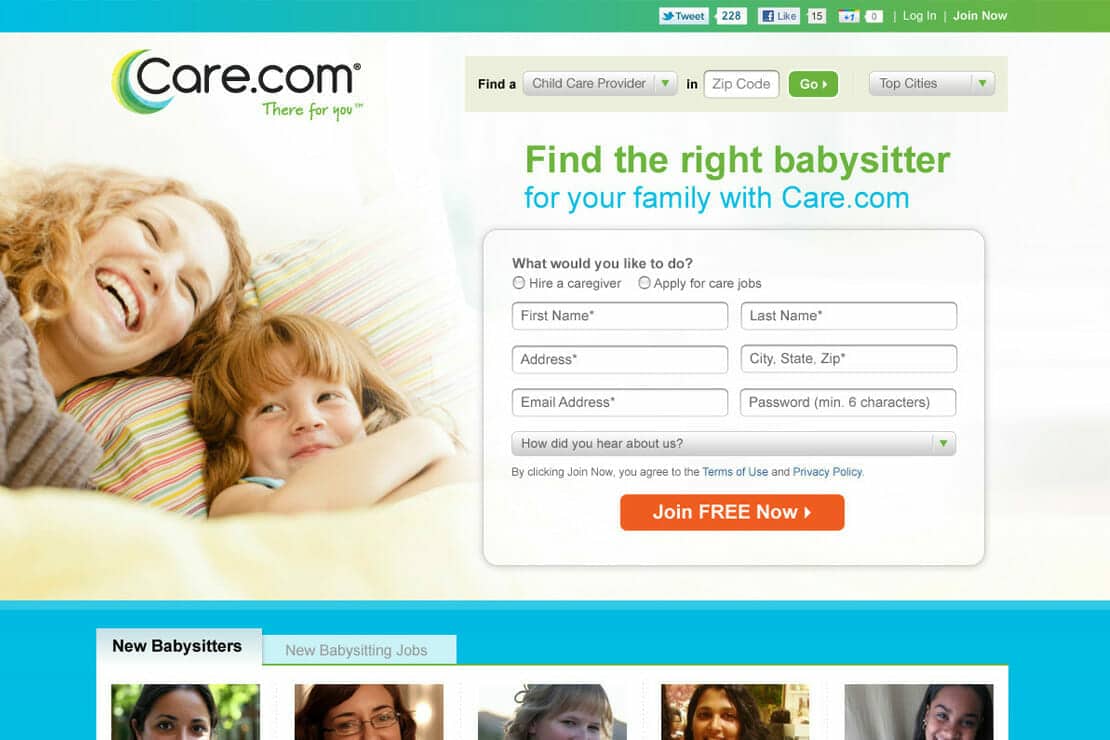 Now sitters are commanding up to as much as $16 an hour! Even if you don't have an emergency, you need cash for, babysitting looks to be a pretty lucrative side gig these days.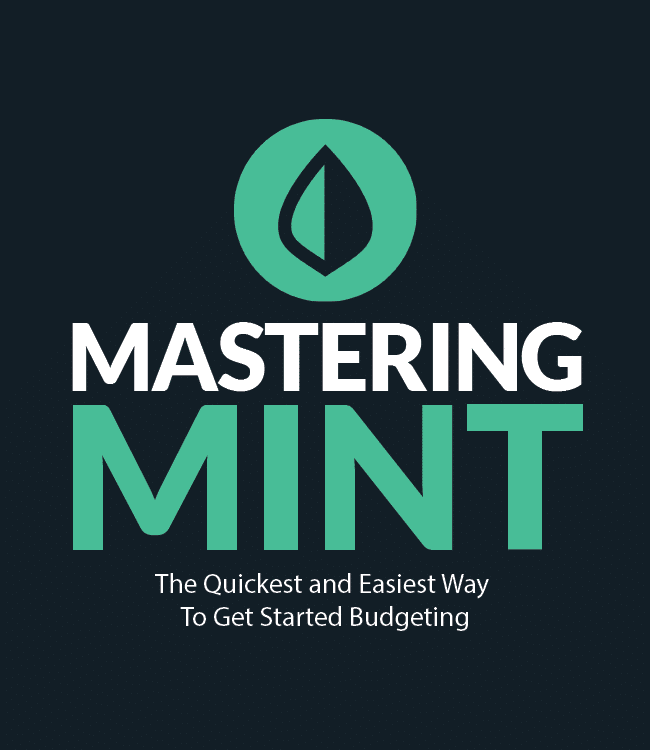 Sell Your Stuff
Look around you right now. I bet you can find half a dozen things you could sell. I bet you have more stuff that other people will pay you money for than you realize!
You can sell almost anything on eBay, Craigslist, or Amazon and earn yourself a few hundred bucks. You can also try online arbitrage where you can buy low on eBay and sell high on Amazon.
There are some great online marketplaces to sell your stuff. Offer Up created a platform where you can buy and sell things locally. Take a photo of an item through the app, and it will circulate it to people nearby.
If you have a little more time, you can declutter your home and organize a garage sale. Let other people know about your plans. A lot of people would be happy just to get rid of some stuff and let you have it for your sale. If not, offer to sell it and keep a percentage for yourself.
"Don't own so much stuff that you will be relieved to see your house catch fire."

Wendell Berry
If there is a reputable pawn shop near you, that can be a source of quick cash. You may be back on your feet in time to bail out your items before they are sold but perhaps not. Don't pawn family heirlooms or the laptop you need to do your job.
You can also offer up most of the things we talked about on your local Facebook Sales Page and get some money the same day.
Clean Out Your Closet
I know you have a closet full of clothes you don't wear anymore, we all do. Sell your old clothes. Laura has had a ton of luck making money with Poshmark, so much so that she's made it her side hustle.
Just in the first month, she made over $100 on clothing that was just taking up space in her closet. It is super easy to get started listing items. All you have to do is slap a shipping label on it and hand it to the mailman. When the buyer received your item you get paid by direct deposit or check.
If you don't have any clothes worth selling, go to a thrift shop or Goodwill in a posh neighborhood and find a few designer pieces. You'll be amazed at what rich people give away, unworn, tags still attached.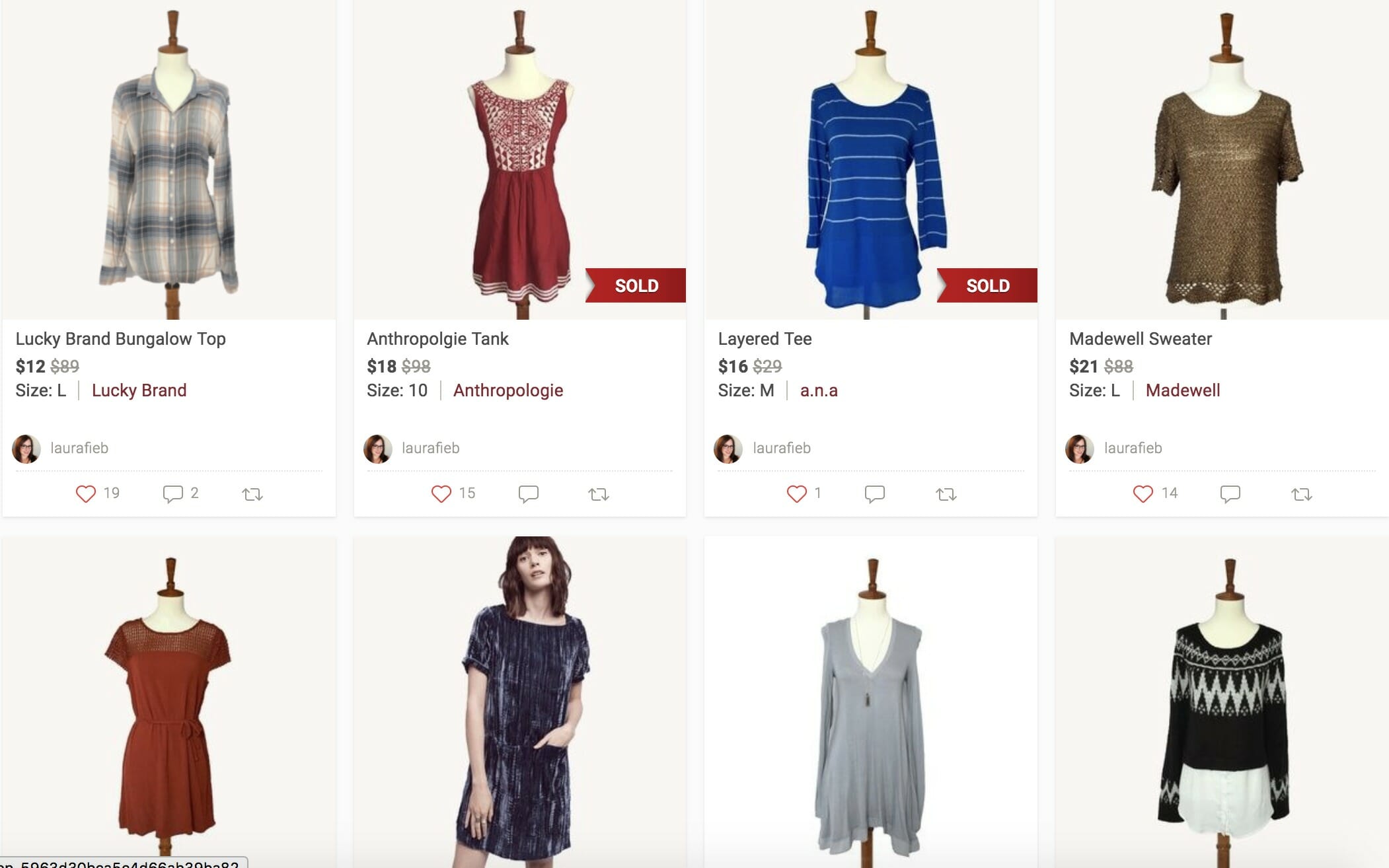 It will mean a small outlay, but you can turn the right item around fast and for a nice profit. If you're not sure what kind of things sell well, spend an hour or two perusing clothes being sold on eBay and Poshmark to see what people are buying.
If you need money today, take your closet rejects over to a store like Plato's Closet or Buffalo Exchange.
Your Old iPods
If you have a drawer full of old electronics you kept after each upgrade, you can turn those into quick cash, even if they no longer work.
Gazelle has paid out more than $200 million for stuff people were no longer using. Gazelle pays you via PayPal, check or Amazon gift cards. Once your item is received, it takes about a week to get your payment.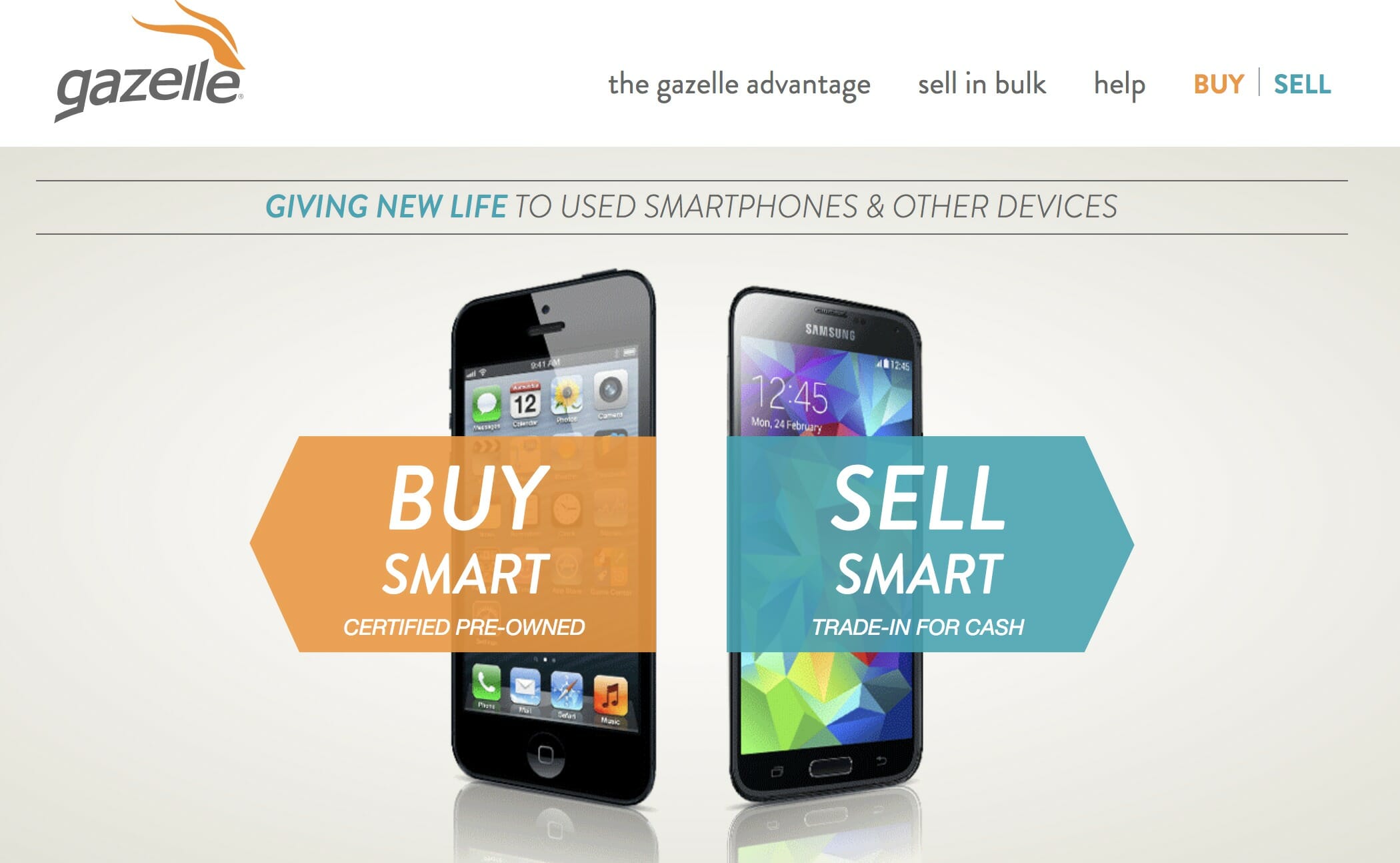 It would be worthwhile to ask family, friends, and co-workers if they have any old electronics or cell phones laying around they don't need. If your embarrassed to admit you are going to sell them because you need quick money, you can say you're collecting the items to recycle them responsibly.
Electronics aren't supposed to be tossed out with the regular trash which is why a lot of people have old broken devices stashed away. You can also sell your old electronics and games on Decluttr.
Your Library
If you're really in an, I need money now sort of pinch and don't want to wait for an online auction or sale, grab up all your used books and sell them to a local used bookstore or Half Price Books for instant cash.
Once you've exhausted your supply of books, you can find free or nearly free books at thrift stores and yard sales. Scoop them up and sell them for a profit.
Rent Your Stuff
The explosion of the sharing economy means there are more opportunities than ever to make money by renting things to other people. It's a great way to make some money with minimal effort.
Your Home Sweet Home
If you live in a place, people like to visit, renting out your home through Airbnb can net you that $400 in just a few nights.
Stay with a friend, sleep in your car, or rent a cheap hotel room while guests luxuriate in your place. The average cost per night is $160.47, and Airbnb only takes 3% of what the owner charges.
Co-Host
Even if you can't rent out your house on Airbnb, you can still make money. Many people who rent on Airbnb are absentee owners; they don't live in the same city as their rental.
Those people need co-hosts, someone who takes care of the house and the guests. Co-hosts do things like clean or arrange cleaners, buy groceries and toiletries for guests, and meet guests with the house keys.
It's hard to find a good co-host, I know because I have a friend who is always hiring and firing co-hosts that didn't work out. Co-hosting isn't available in all cities, but if it's available near you, you can make a profile on Airbnb's site and get hired that way.
Your Sweet Ride
If you're not into driving people around then you can let them rent your car. Through a company like Turo, you can rent your car when you aren't using it. The company provides liability insurance and screens renters.
You decide how much to charge when to rent, and who can borrow it.
Sell Your Spare Time on the Clock
Being able to work when you want is nice but don't discount more traditional part-time work options. They can sometimes offer more stable pay than you will find in the gig economy and some conventional part-time jobs even provide benefits.
Make that Sale!
Retail jobs are always an excellent part-time job because while you'll work set hours, they are often somewhat flexible. Most retailers have full-time staff with set schedules, so they need part-time help to fill in gaps. The holidays are an especially good time to get a retail job on the side.
Sling Some Drinks, Deliver Some Happiness
Bars and restaurants are going to give full-time staff the more lucrative weekend shifts, but if you have a few extra hours during the week, you might be able to get a service industry job to make some extra money.
Everyone loves the pizza person! Delivering pizza is a great way to earn money. And the best part of these positions is that you start bringing in cash tips immediately.
It's Easy to Get a Loan…
It's easy to get a loan unless you need one as the saying goes. And that's true if you're trying to get a loan from a bank. But a bank isn't your only option these days.
Turn to Your Peers
You can borrow money as installment loans from a peer-to-peer lending service like Lending Club. To see what kind of terms you're eligible for, choose an offer, complete the online loan application process, and if you're approved, Lending Club will deposit the money directly into your bank account within four business days. The whole process can take as little as a week.
PayPal Loans Money?!
They do! Do you have a PayPal account that customers pay you through? You can get a loan from their Working Capital program. There is no credit check; there is no interest rate. Instead, there is a flat fee, and you get the money into your account almost instantly.
PayPal deducts a percentage of each of your sales automatically until the loan is paid off. I recently did this to pay for some dental work, and I couldn't be happier with the process.
Ask and You May Receive
Asking for money can be hard, but when you need it now, it's the fastest way to get it. Ask anyone you think might say yes and is in a position to do so, to loan you some money temporarily; family, friends, and your employer.
Some employers may be willing to give you a payday loan without the exorbitant interest rate that payday lenders charge. If you have a 401k, you can borrow money from that. We devoted an episode to this practice.
Be ready to explain why you got into this position and how you will make sure never to find yourself here again. (That's the second part of this article).
When the crisis has passed, paying these people back is your priority. You don't want to lose the trust of the people who helped you out of a jam or destroy the relationship between you.
Negotiate Your Debt Bill
Yes, you can get your debt lowered. Your debt is costing you money every day – the faster you pay it off the better. National Debt Relief will negotiate with your creditors to reduce what you owe significantly and help you be debt free faster.
Payday Loans
We devoted an entire section to payday loans because we know that when you find yourself in a position where you need money now, you turn to Google. Who wouldn't? The results you'll get will include a lot of payday lenders.
It may not be evident at first, but these places charge outrageously high rates of interest. The average rate for a two-week loan is between 391-521%! Scared?
You should be, they're ripping you off because they know you need cash now. We wrote an entire article on payday loans. Please read it.
Most of these loans are terrible ideas, but some of them are downright predatory. There are certainly better options out there.
While a payday loan is far from an ideal solution, if it is a one-time thing and you pay it back when you get paid, it is a solution.
The real problem with payday loans comes when they become a vicious cycle.
You need money, so you take out a loan. When the payment is due, you can't pay it, so you take out another. And another. And another.
The average borrower takes out eight loans in a year. If your situation is indeed a one-off, taking out a payday loan can solve your problem.
"When you come out of the storm you won't be the same person that walked in. That's what the storm is all about."

Haruki Murakami
Refinance Your Debt
When you refinance, you still owe money to someone, but now at a lower rate of interest. You're losing less money and paying off the debt faster when you refinance for a better rate. Look carefully at the refinancing terms of the new lender.
You should refinance a loan if it will save you money. Nothing more complicated than that. In most cases, refinancing won't make you money, but it will save you money.
If you have a high-interest rate debt, credit card debt, for instance, you can take out a loan with a lower interest rate, from a company like Credible, to pay it off.
There are many lenders who will refinance debt for you from traditional banks to crowdsourced lenders like Lending Club. Do your research before you decide to refinance. (And get to know this handy refinancing calculator.)
Federal student loans, for example, come with certain protections that you will lose when you refinance with a private lender.
Some lenders who specialize in student loan refinancing like Earnest offer some protections but understand what they are and what you're giving up.
After the Storm
We gave you several ways to get money fast, and they worked. The worst of the crisis is over. What can we do not only to keep our heads above water but to start working towards financial independence?
Step 1: Assess
You can breathe again so now it's time to assess things. What can you continue doing what you did to get through the crisis and what is not sustainable? You might find that you got along just fine without cable but working every weekend is taking a toll.
That extra cash coming in helped though so you need to find a more sustainable way to bring in additional income. That can be driving for Uber (or Uber eats) every other instead of every weekend. It can be asking for a raise (and documenting why you deserve one) or looking for a new job.
Most companies don't reward loyalty.  Those who change jobs every two years make 50% more over their career than those who change jobs less frequently.
Step 2: Budget
Many people don't know how much money they have coming in or going out. Finding out is the first step in taking control of your money, so it no longer controls you.
A budget is telling your money where to go instead of wondering where it went.
Tweet This
We often talk about Mint for budgeting and with good reason; it's easy to use and free. You already made an account so you could see where to cut spending. That's the first thing Mint is good at doing. The second is budgeting your money.
There are lots of budgeting formulas, but we like 50/30/20 because it's straightforward. 50% represents essential expenses like housing, utilities, and food. 30% represents discretionary spending like entertainment, clothes, and vacations. The remaining 20% is for financial goals, saving for a home or retirement or paying off debt.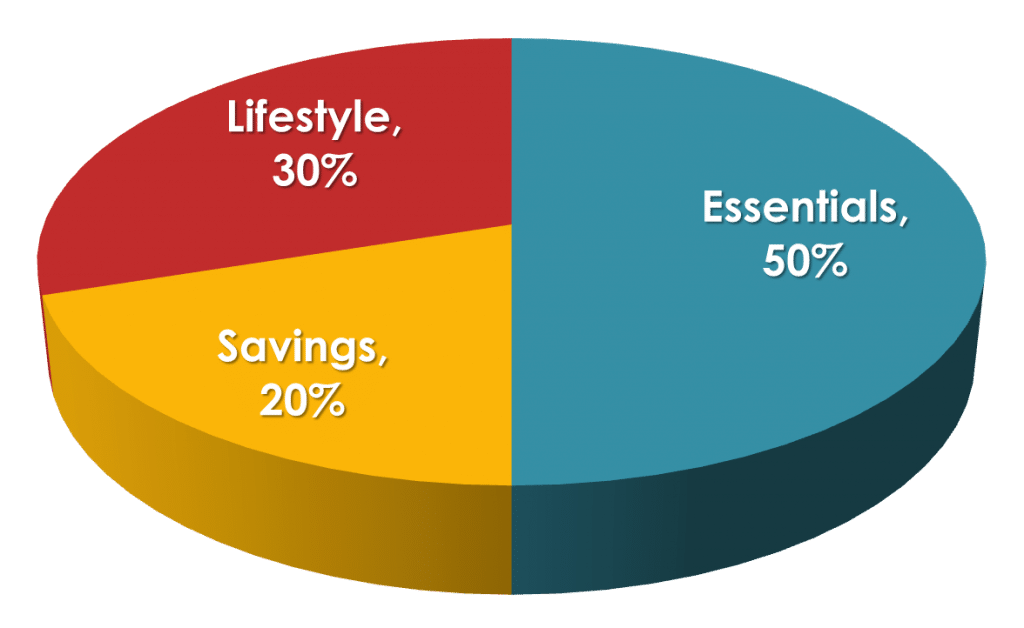 We feel that if you aren't on track to save for retirement or have high-interest debt like credit card debt, you should swap the 30% and 20% categories until you right the ship.
You can make your budget categories as simple or as detailed as you want. You can use "Car" as a category to include your payment, insurance, gas, and repairs. Or you can budget each of those as separate categories.
We think it's best to keep things simple at the beginning with just basic categories. If you have spending leaks and can't figure out where exactly they're coming from, you can further break down categories until you find it.
Step 3: Save Money
There is money to be found if you know where to look. You often don't notice a few dollars here and a few dollars there while you're spending it but it all contributes to that negative number in your budget at the end of the month.
If you are shocked to see more going out than coming in, you have you covered. LMM has a whole course on the subject with fifteen podcasts and articles that will help you save money around the house.
You may be paying for subscriptions to things like a gym, magazines, or services you tried out for 30 days for free but then forgot to cancel after the trial period was over.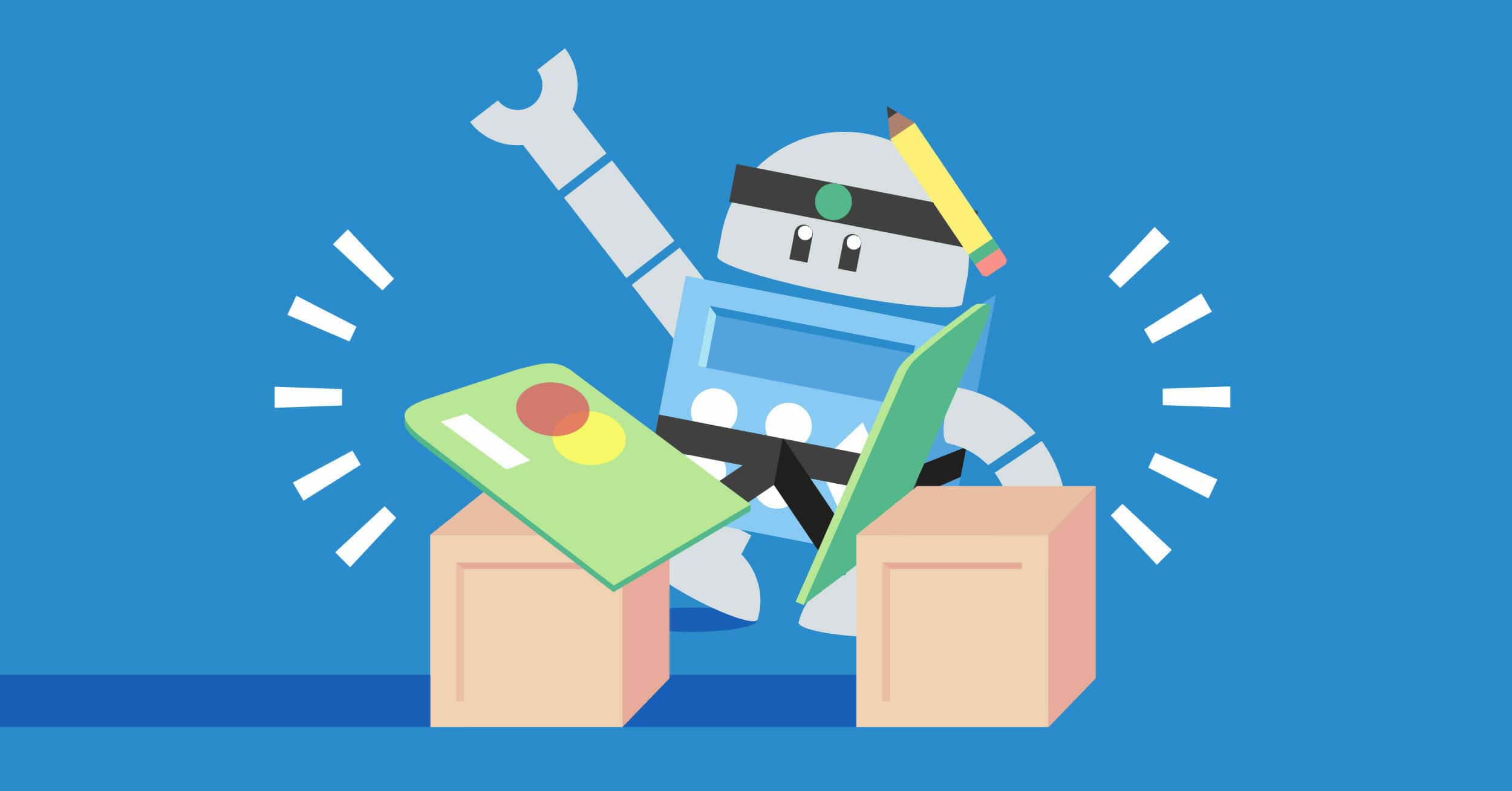 You can sign up for Trim, and they will find those kinds of recurring expenses and cancel them for you. I saved $65.42 a month doing this; it's worth it.
While you're letting Trim cancel your Netflix subscription, you need to cancel cable too. The average cable bill in the US is $99 a month. You can't afford that right now. Put this "found money" into your savings account.
Step 4: Get Rid of That Debt
If you have credit card debt, you need to make attacking it your priority. To efficiently pay it off, you need a plan. You can use the snowball or the stacking method.
 Both will help you pay off debt more quickly, the stacking method will save you the most money on interest, but both have merits. We did a break down of each.
Try to get a balance transfer credit card. You transfer the balances from an old card to a balance transfer card which has a set period with an interest rate of 0%. During that time, all of your payments go to the principle and not the continuously accruing interest.
Buckle down and get the balance paid off before the introductory period ends. When it does, any balance left will be subject to the regular interest rate which may be higher than the one you had previously.

If you have student loan debt, you may be able to refinance it for a lower interest rate. Even a 1% difference can save you hundreds or thousands of dollars over the life of the loan. Refinancing may lower your monthly payment too. You can see your offers at Earnest.
Interest is one of the most expensive things in life so anytime you can avoid it entirely or even just lower it, you will save a lot of money.
Step 5: Make More Money
We found a lot of ways to make money quickly when you needed it fast and some of those things you can continue to do. The average American watches five hours of television a day. That's nearly another work week of time wasted.
There is zero reason not to use some of those hours to bring in extra money. You will likely find benefits beyond extra money. You might make friends, lose some weight because you aren't sitting around the house eating out of boredom, or get a little fitter walking dogs.
Maybe your side job will even become so lucrative that you could earn more than you are at your 9-5 gig if you did it full time. I pay the woman who cleans my apartment $60, but it only takes her about an hour and a half to do the whole job. $40 an hour is a pretty good rate.
Getting into a desperate situation may spur you to change jobs or even fields. You may decide to get more education so you can move to a more lucrative career. Nothing wrong with that but go about it smartly. You may not even have to go back to school. We did an article on the best paying jobs that don't require a degree.
If you do want to go back to school, we did an article on the best paying majors. You don't want to take the time and spend the money to get a degree in a field that doesn't pay well.
If you do decide to go back to school, you don't have to go into a lot of debt to do so. We've covered that too.
Step 6: Find  The Root of the Problem
Why is your need is so desperate? What is going wrong in your life that you are reading this article? There is no judgment here.
Almost none of us are taught good money habits in school, and many of us don't learn them at home either. A few mistakes and then a few more, and here we are.
If that's the case, we are here to help. We have podcasts and articles devoted to every aspect of financial well being. We can teach you.
Your money problems could be due to a spending addiction. If that's the case, you may need professional help to deal with it. Check out Debtors Anonymous. Having peer support can help you deal with your spending habit just like it helps those with drug or alcohol addictions.
Maybe you're an emotional spender; you spend when you're bored, angry, frustrated, or sad.
Learn to identify what sets you off; you're bored at home, a bad day at work, a fight with your spouse. Now choose a behavior that replaces spending; going for a walk, calling a friend, baking something.
Put barriers between you and spending. Use the envelope system we will discuss below and don't take your credit or debit cards when you leave the house.
Call your credit card companies and ask them to lower your credit limit (this will hurt your score but so will bankruptcy and much, much worse), set a low limit on how much you can spend or withdraw per day on your debit card.
Step 7: Have Some Hard Conversations
If a family member got you into this situation, you must address this together. None of this will work if you're the only one doing it. Did you hand over responsibility for the household finances because you think it's annoying or hard or you just thought the other person was better at it?
Well, money is too much responsibility for one person. It has to be a joint effort. All money issues have to be on the table. Schedule a meeting about this. You can't just spring a big talk like this on someone.
Each person needs time to collect their thoughts and come up with a way to approach this discussion. You both need to be brutally honest but not brutal. Now is not the time to place blame even if it is 100% the other person's fault.
You need to make a budget together and go over it every month. If one of you is not bringing in any income for whatever reason, that has to change, at least until the crisis has passed. A stay at home parent to infants or toddlers, can babysit some kids during the day or work a second or third shift job.
If one of you has a physical disability, there are plenty of ways to make money from home. Everyone has to be contributing to the family.
You may need professional help to deal with these problems, marriage or debt counseling. Whatever it is that has to be done so this doesn't happen again, start doing it. Even if that means leaving the relationship and severing financial ties. Choose a better partner next time.
Step 8: Downsize
What can you do to make your life and therefore your bills smaller? Housing is the most significant expense for most of us so lowering that cost goes a long way to building an emergency fund and staying out of the deep end.
You sold a lot of stuff, maybe enough to move to a smaller place. Consider getting a roommate or continuing to rent your home out on Airbnb. Perhaps you can live with a family member for a few months to save up some money. Ideally, your rent or mortgage payment should be no more than one-third of your income.
Can you get rid of your car or at least become a one car family? If you live in a place that is walkable, bikeable, has public transit, Uber, Lyft or Zipcar, owning a car is not as necessary as you think.
If it's not an option, the next time you are looking to move, choose a home that is in an area that has a lot of amenities, groceries and pharmacies, banks, restaurants, and bars within walking and biking distance.
You can type an address into Walk Score and see how good it is from that perspective. I've lived in New Orleans for a year and a half without a car, and I've had no problems.
Step 9: Spend Mindfully
At some point through this, you may have been counting change to buy food. It's awful and stressful, but it does make you mindful of your spending. You want to keep that mindset going forward.
When we swipe a debit or credit card, it doesn't feel like spending money. It feels like our spending power is infinite. If that sounds familiar, the envelope system can help.
Every week you take out the amount of cash you need for specific budget categories. Of course, you can't pay your rent or utilities in cash, but those aren't the categories we overspend in. We overspend in areas like food, entertainment, and clothing. Write the name of each category on the outside on an envelope and put the allotted amount of cash inside.
If you budget $60 a week for food, the "Food" envelope gets $60. Once it's empty, you can't spend anything else in that category. It's a bit of a pain dealing with cash, but it works. When you see the cash in those envelopes dwindling, you will be a lot more careful about what you buy.
Step 10: Rebuild Your Credit Score
If you have a bad credit score then you need to fix it. Your credit may have taken a hit through this. A good credit score matters but it's only essential when planning something like buying a home or car or renting an apartment.
There are six factors making up your credit score; payment history, utilization, derogatory marks, length of credit history, total accounts, and credit inquiries. The first three have the most impact so we'll work on those.
The more on-time payments you make, the better. We don't want you to take out more credit cards but if you already have a few, charge one recurring payment on each or use a different card exclusively for various necessities, like gas or groceries. Pay off each card in full every month.
If you've had trouble remembering to pay your bills, set up reminders. Program an alert on your phone, write the due dates on a calendar, tape notes to the mirror.  Some people would suggest setting up auto pay, but you need to do it manually as a way to practice money mindfulness.
Utilization is how much of your available credit you're using. If you have a credit limit of $1,000 and a $500 balance, your utilization is 50%. Ideally, utilization is below 30%. If you've not paid off all of your credit card debt yet, keep at it.
Get a free copy of your credit report from each of the bureaus. Check the derogatory remarks. There isn't much you can do if those remarks are legitimate but wait for them to fall off in seven years.
If there are mistakes, you can dispute them with the bureau. If the bureau finds that they are errors, they will correct them. Doing those things will help your score rebound faster, but as we said, it's not essential except in a handful of circumstances.
Step 11: Build Your Emergency Fund
The chances are that if you had an emergency fund, a lot of this would not have happened. An emergency fund is money set aside for things like a job loss, a car repair, or a medical bill.
When those things happen, and we don't have an emergency fund, we have to charge up our credit cards or take out short-term loans or high-interest personal loans putting us in a deep hole.
It's not fast or easy to build an emergency fund, but it is your priority after the crisis. The ideal emergency fund has enough money to pay six months of bare-bones expenses, those things you have to buy or pay such as groceries or rent. You don't include things like gym memberships or new clothes.
I think six months is a big stretch for a lot of people so if you have three months worth; you're doing great. If even three months seems impossible, do whatever you have to do to get $1,000 saved in your emergency fund.
As long as you don't have high-interest debt still to pay, put all of your extra money into your emergency fund. You build it the same way you got out of the hole you just came out of; you find ways to make more and spend less.
It is shocking and frightening that so many people can't come up with a few hundred dollars. Having an emergency fund is probably the most important thing you can do financially. The peace of mind it gives you is significant.
Step 12: Start Investing
The best way to grow your money is to start investing. We have a ton of detailed information on all kinds of investments, and we want you to read it. Eventually. There is a lot to learn, but you need a breather.
But, you also need to start investing as soon as you can, and that's why we love Betterment and have been recommending it since the beginning.
Think of Betterment as a gateway drug to investing.
You don't need to understand anything about investing to start using Betterment, but when you start to see your money magically grow, you will want to learn more and more.
There is no minimum to get started, the fees are low, and all you have to do is answer a few simple questions to determine your risk tolerance.
The more risk you can take (you can afford more the younger you are because your money has time to ride out the ups and downs of the stock market), the more heavily weighted your portfolio will be towards stocks which are riskier (but earn more) than bonds.
Let Us Help
LMM was started to help educate people about their finances. There is hardly a topic related to money we haven't covered. You found us because you desperately needed money in a short-term. We're sorry you had to find us that way, but we're glad you're here. It's the first step towards a positive financial future.
We have dozens of podcasts and articles related to debt, making more money, investing, early retirement, financial independence, college, buying a home, rental property, saving money and getting a good job. 
We have all the tools to make sure you never have to Google "need money now" again.
Get our best strategies, tools, and support sent straight to your inbox.