One missed credit card payment will lower your credit score by 100 points. It happened to me. If you're wondering whether Chase offers credit monitoring, the answer is yes. This post outlines how Chase's free credit monitoring service, Credit Journey, helps keep an eye on yours. Simply put, if you're looking for a free tool that might help you avoid a 100-point loss, you'll appreciate this post. Let's dive in.
What Is Chase Credit Journey
Chase Credit Journey is a free tool you can use to check your credit score. Both Chase account and non-account holders have access to it (you don't have to have an open account with Chase Bank to access their free tool).
Along with your free credit score, Credit Journey also notifies you about changes to your credit, updates your score weekly, and features an interactive score simulator tool.
Editor's Note
Chase's Score Simulator lets you see how the choices you make affect your credit. Adjust your payment history, credit usage, total balance and more to see how these changes impact your score.
Checking your score won't hurt your credit.
Credit Journey may also display offers in your dashboard based on your credit information. For example, offering cash back rewards cards and pre-approved loans.
Its Resource page links to articles about credit basics, how to build credit, how a hard inquiry works, and more. If you'd like to expand your knowledge pool, this is where you'd go.


Chase Sapphire Preferred
Travel Rewards
Sign-Up Bonus
60,000 points
spend $4k in 3 months
Annual Fee
$95
Bonus Point Rate
2x points on travel and dining
1x points on everything else
Point Redemption
$0.0125 single point value per dollar spent when redeemed through Chase
APR
Variable 17.49%-24.49%
Extra Features

Chase Sapphire Reserve
Travel Rewards
Sign-Up Bonus
50,000 points
spend $4k in 3 months
Annual Fee
$550
Bonus Point Rate
3x points on travel after earning the travel credit and dining
1x points on all other purchases
Point Redemption
$0.015 single point value per dollar spent when redeemed through Chase
APR
Variable APR 18.49%-25.49%
Extra Features

$300 annual travel credit, up to $100 Global Entry/TSA Precheck credit with Sapphire Reserve
Priority Pass Select Membership to over 1,300 lounges worldwide
What Info Can You See with Chase Credit Journey
Your credit score (both current and over time) is displayed along with the factors impacting it. If you're trying to improve your score or build credit, it helps to see all relevant information in one place.
You'll see six factors affecting your credit score (more on that in a minute), along with access to their Score Simulator tool and educational resource page.
The Chase Credit Journey Free Credit Score 
What Credit Score Does Chase Credit Journey Provide?
Credit Journey users will see their VantageScore 3.0 as reported by TransUnion (one of the three major credit bureaus along with Experian and Equifax).
Editor's Note
VantageScore 3.0 is a consumer credit scoring model (similar to your FICO score) calculated based on your TransUnion report. VantageScore's members include the three national credit reporting companies TransUnion, Experian, and Equifax.
Because your score only uses information provided by TransUnion, it may vary from the other two credit reporting agencies. Different lenders access different scores and different scoring models (for example, VantageScore 3.0 uses a different scoring model than FICO).
Typically, if your score is good with one agency, it will show as good with the other two as well. Only your number may vary slightly.
For example, your score from TransUnion might be 792 while your score from Experian might be 779. Both are still very good.
Factors Affecting Your Credit Score
There are six factors TransUnion uses to calculate your score listed from highest impact to lowest:
Late payments show your repayments over time. This metric uses your payment history and behavior since your first open credit card account (or loan of any kind). Things negatively affecting your score are derogatory marks or too few loan accounts opened.
Oldest account displays the length of your oldest credit card. Your time spent establishing a credit history plays a role in determining your score.
Credit usage (aka utilization rate) shows the percentage of the available credit you're using.
Total balances are what you owe across all of your accounts.
Hard inquiries are when a creditor or lender requests to see your credit history. Typically, this happens when you request a new line of credit.
Available credit is all of your unused credit. The less you use, the better.
You can click on any of the six factors for greater detail.
For example, clicking on "Payment History" shows your late payments, how it's calculated, and its impact on your score.
Chase Credit Journey Alerts
The Credit Alert feature informs you of changes to your account including new accounts opened under your name and hard inquiries.
There's also a link to file a dispute if you think a change was made in error along with the credit reporting agency's email and phone number.
The Alerts feature monitors open and closed accounts, derogatory marks, inquiries, collections, public records, and personal information.
If any of the above encounters a change, Alerts displays the information to you.
For example, I recently opened a line of credit with Chase and it shows a new account opened and one hard inquiry.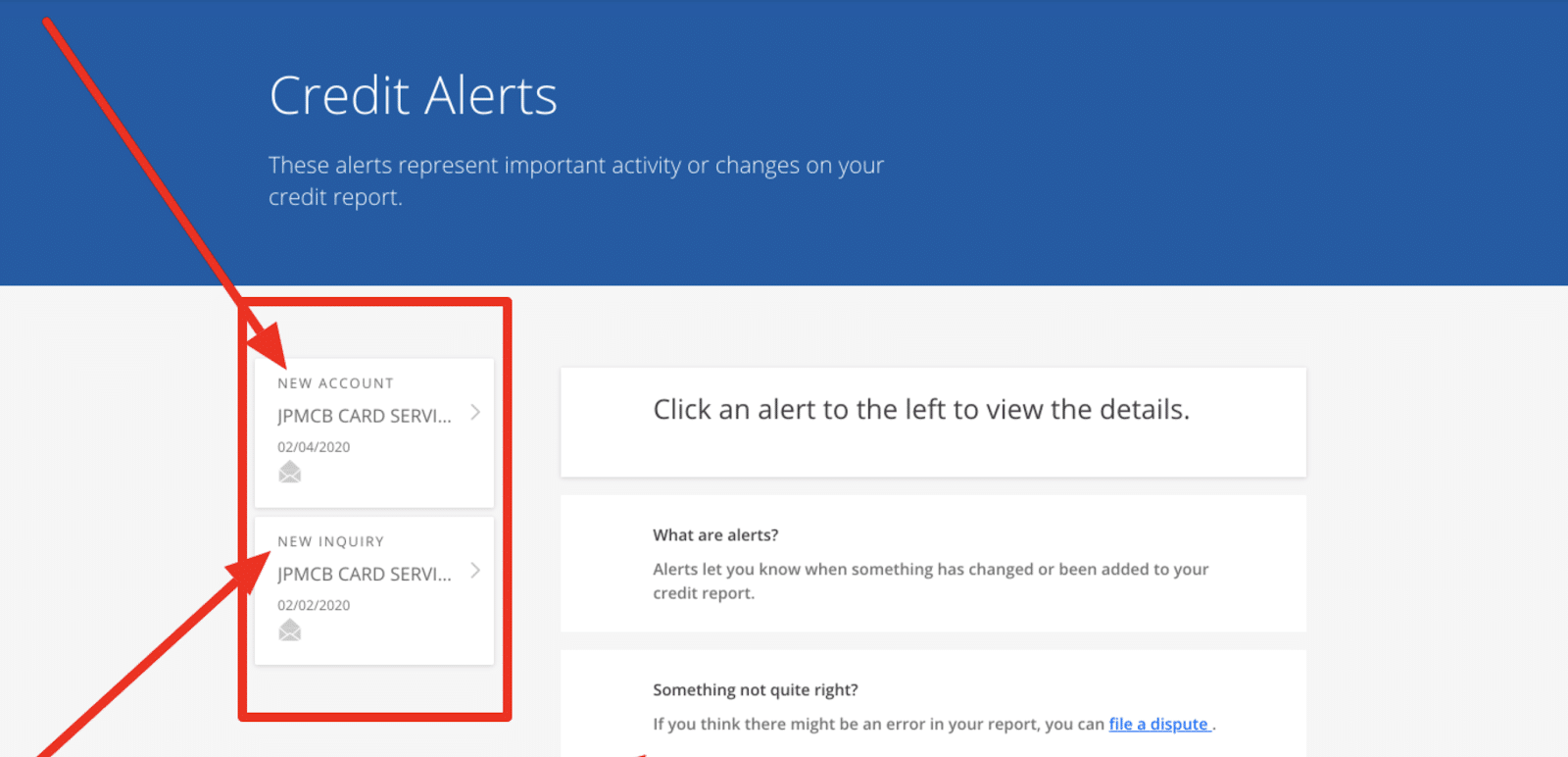 Chase Credit Journey Offers
Potential products carried by Chase that you might be interested in based on your credit report and financials.
They pre-select offers for you. For example, Chase presented me with credit card offers for their most popular cards and offered a card finder tool to determine the best one.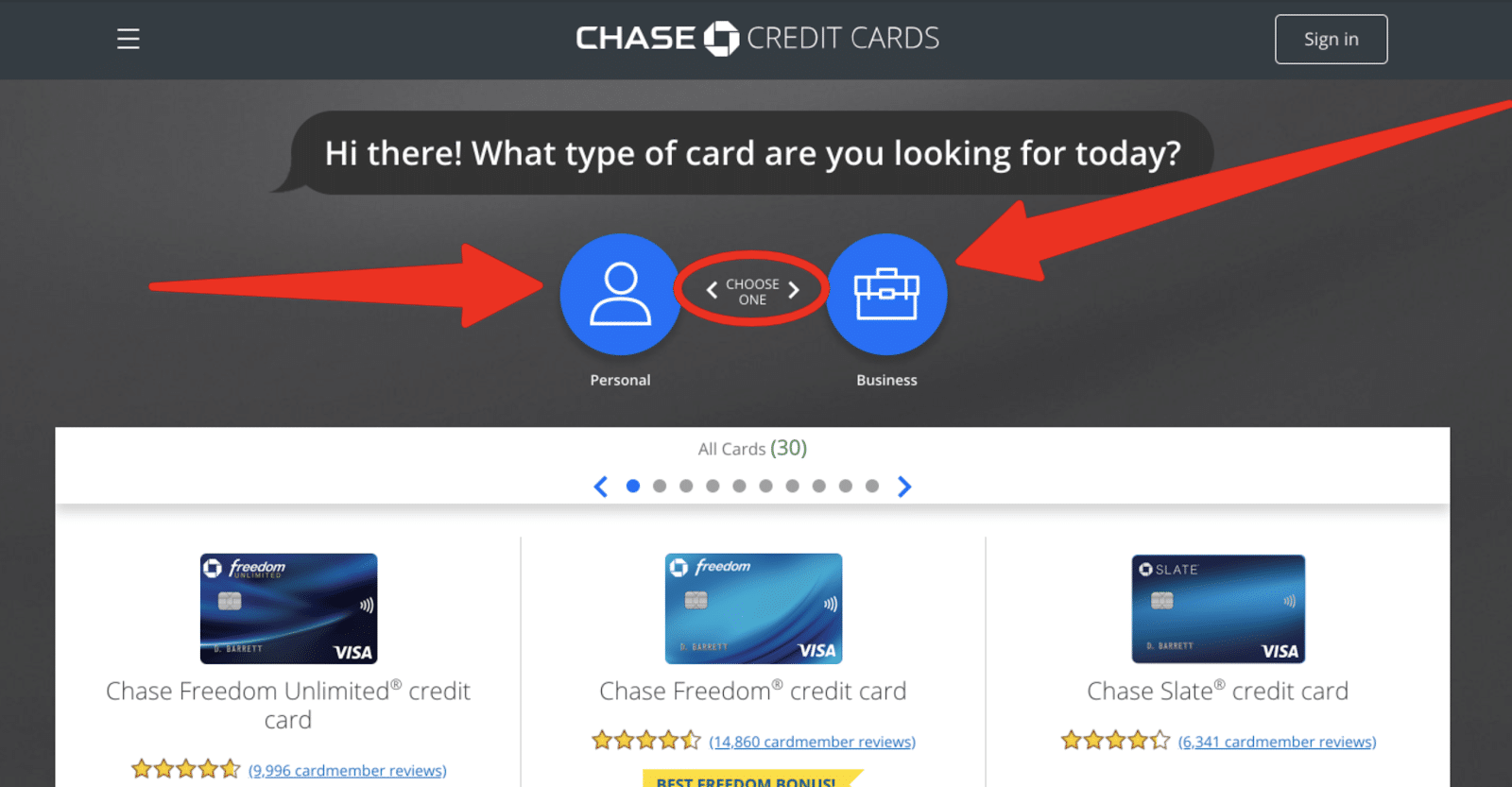 Choose what kind of rewards you want based on your spending habits.
Chase Credit Journey Report
Credit Journey displays your TransUnion report with a 7-factor, comprehensive overview including:
Open accounts gives you every open account showing up in TransUnion's report. You'll see your total balance across all accounts and your total available credit.
Closed accounts: Either recently closed accounts or ones that closed several years ago.
Inquiries are whenever a lender requests to see your credit history.
Derogatory marks. When lenders report missed payments or delinquencies. May also include bankruptcies, tax liens, and collections.
Collections are considerably past due accounts.
Public records include things like missed child support payments, bankruptcies, and wage garnishments.
Personal information contains basic info including your name, address, employment, and birthdate.
Changes in any category show up on your Credit Journey Alerts page mentioned earlier. If you see something that doesn't belong, it's easy to report. Clicking on the category in question provides you more details.
Credit Journey Resources
Chase's educational page devoted to credit basics, myths, calculations and more. When visiting this page, expect to find:
Credit report basics
Tips for raising your score
How long records last
Common credit myths
How to build credit
How scores are calculated
Credit inquiries
You'll also find their FAQ page, Dispute Guide, and TransUnion's contact info (phone or email).
Editor's Note
Tip: Turning on your email notifications keeps you updated when there's a change to your credit report (only if you want to avoid checking your data manually).
Credit Journey Score Simulator Tool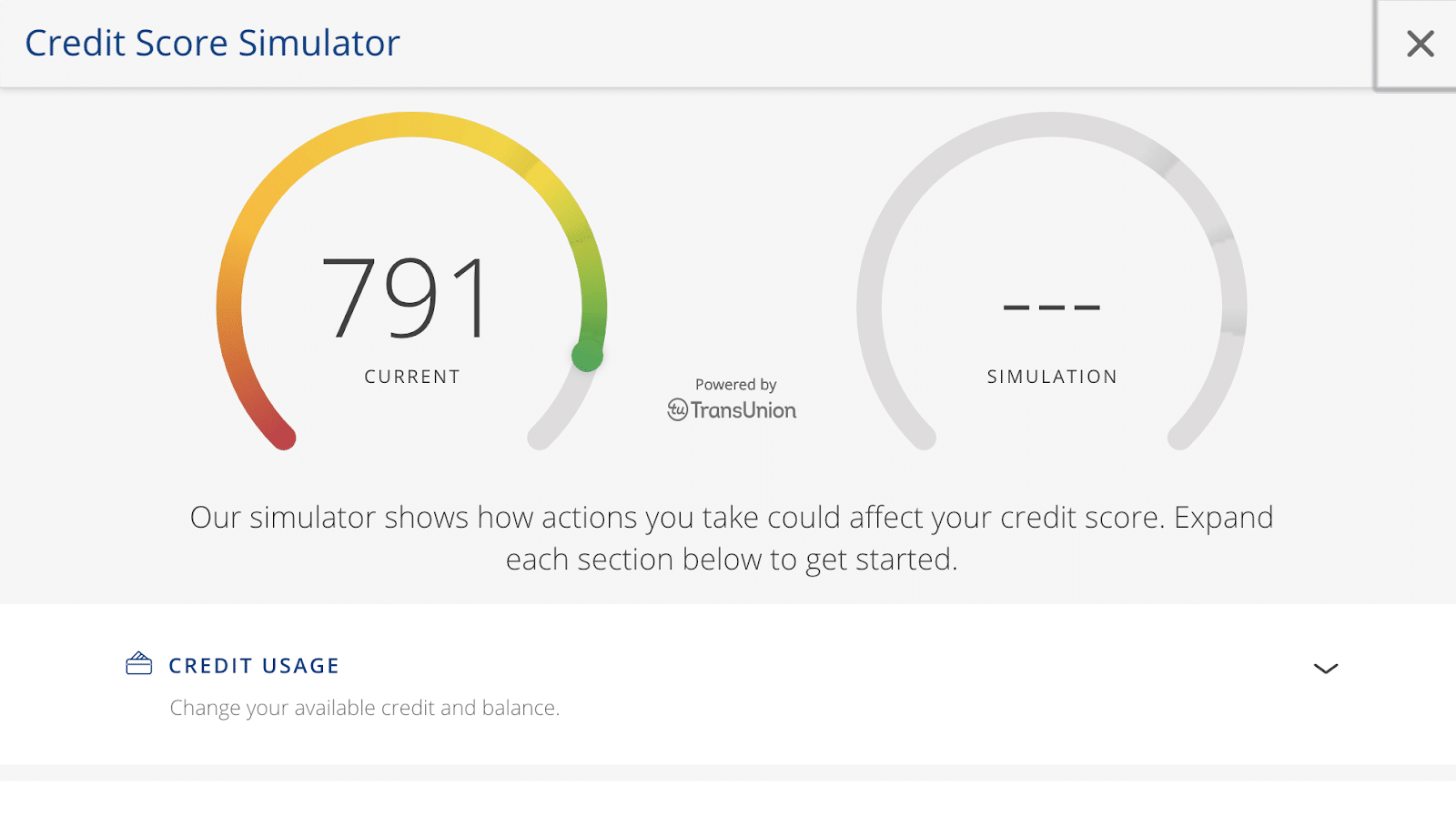 Chase Credit Journey's interactive Score Simulator tool demonstrates how certain situations impact your credit. The Score Simulator starts with your current credit score based on your TransUnion report.
From there, you can test out different scenarios by adjusting the following metrics against your current score:
Credit Usage lets you change your available credit and balance
Current Balances lets you transfer or adjust your total balance
Credit History: Shorten or increase the length of your credit history
Payment History: Change the number of on-time payments
Credit Inquiries: Adjust the number of times a lender has requested to see your credit history
My Experience Using the Score Simulator
The Score Simulator works based on the same factors used to calculate your credit score mentioned above. It has a user-friendly interface and entering your information isn't hard.
However, I tried using it multiple times while writing this review and it either wouldn't change my score when I knew it should've, or wouldn't work at all.
I've been a Chase customer for nearly two years and have never had issues logging into Chase or using their app (which was why I was surprised by this experience).
On my laptop, I tried using the worst simulation available and entered a missed payment of 99 days on all of my accounts – my score remained the same at 791.
Next, I tried entering two credit inquiries based on my recent extended credit lines and my score remained the same. When I tried again, it didn't work at all.
I had a better experience using the app. When heading to "payment history" and entering "missing all account payments by 79 days", the simulator informed me a score decrease from 791 to 609.
But then I reset and tried another scenario, this time only using two credit inquiries, and it still had my score dropping to 609.
When I logged out, closed the app, reopened it and logged back in, I tried the same scenario selecting "two credit inquiries." This time it revealed a smaller drop in score – from 791 to 785. Much more accurate.
Something Is Better Than Nothing
The idea behind the score simulator is great. If you want to plan ahead and see what scenarios have the most impact on your score, a tool like this can potentially save you in both headaches and fees.
I would've liked to see the simulator operate consistently. Take your findings with a grain of salt – it's not perfect.
As a disclaimer, Chase mentions on their site these scores provided by the simulator are only estimates and not predictions.
How Does VantageScore Differ from Other Scoring Models
VantageScore is based on the collaboration between TransUnion, Equifax, and Experian in a concerted effort to establish better consistency between bureaus.
VantageScore says its model can score millions more people than other models because it incorporates 24 months of credit history.
Your FICO score is used by more lenders but your VantageScore is still important.
Tweet This
The differences are slight: FICO uses five factors to calculate your credit score while VantageScore 3.0 uses six.
However, VantageScore recently updated to VantageScore 4.0 and now uses five factors (and reduced the importance of your payment history).
Your FICO credit score is still used by the majority of lenders, but your VantageScore still matters.
How Do You Access Your Chase Credit Journey Account
Desktop 
If you don't already bank with Chase, it's a three-step process of creating an account, entering personal details, and confirming your identity. If you're already a Chase customer, use your login credentials to access Chase Credit Journey.
Mobile App
Login to your app and scroll down to "Credit Score by Credit Journey." You'll gain access to your dashboard. To use the Score Simulator, scroll down to the "Try Our Score Simulator" display box.
FAQs
Does Chase Credit Journey Hurt Your Credit Score?
Using Credit Journey doesn't affect your credit score. Checking your own credit info is known as a soft inquiry and will not impact it.
Hard inquiries are what affect your credit score but those are done when a lender or creditor requests a record of your credit history.
Why Don't I See My Credit Score In the Dashboard?
If you recently opened your first credit account, it can take 6-9 months before your score appears.
Free Credit Monitoring Service Alternatives
Chase Credit Journey isn't the only way to get a free credit score. This list could be longer as there are many. Here are a few worth a look.
Both FreeCreditScore.com and Discover Scorecard pull your FICO score as reported by Experian. You don't need to be a Discover cardholder to use their service either.
Credit Karma pulls your VantageScore from both TransUnion and Equifax. It also features an enhanced Credit Score Simulator.
CreditWise from Capital One pulls your VantageScore from TransUnion and provides its customers with a score simulator.
Credit Sesame provides your VantageScore reported by TransUnion.
MyCreditGuide by American Express provides a free detailed VantageScore from TransUnion. You're not required to be an American Express cardholder to use it.
Experian offers free credit monitoring and your FICO score. However, you'll have to sign up for their paid plan to access their score simulator tool.
Experian's paid plan costs $24.99 a month, includes a 3-bureau FICO score report, and daily credit monitoring from Experian, Equifax, and TransUnion.
AnnualCreditReport.com Gives You All 3 for Free
However, the best way to get all three credit bureau reports (Equifax, Experian, and TransUnion) in one place for free is at annualcreditreport.com. You have access to a 3-bureau, free report once a year.
VantageScore vs FICO Credit Score
Your score will vary based on the credit consumer scoring model (FICO and Vantage Score are two of the biggest) and the credit reporting bureau (TransUnion, Equifax, and Experian) you use.
For example, logging into my Experian account shows a 737 credit score while Chase Credit Journey (TransUnion VantageScore 3.0) reports a score of 791.
And my Equifax score was 798 when checking through Credit Karma.
Good is still good across all reports. If you have a good score with TransUnion, you'll most likely have a good score with the others.
Ways to Get All Three for Free (or $1?)
If only seeing your three credit reports once a year from annualcreditreport.com isn't enough, you could create multiple accounts with a few different companies mentioned earlier and check regularly.
Get one report from TransUnion, one from Experian, and one from Equifax.
For example, create a free account with Discover Scorecard and get your FICO score through Experian. Then create an account with Credit Karma and get your TransUnion and Equifax reports from VantageScore.
There are even sites like CreditCheckTotal boasting you can get all three scores for one dollar with a 7-day trial, then $29.99 monthly after.
Most likely, you'll only need to get it once a year from annualcreditreport.com unless your circumstances are extreme (or you enjoy checking multiple times per year).
Should You Use Chase Credit Journey?
If you'd like weekly monitoring of your credit score, want tips for building credit, or get notified of changes to your report, Chase Credit Journey might make sense.
Credit Journey can also alert you to potential fraud and identity theft with its monitoring service.
Pros
Cons
Only provides your VantageScore TransUnion credit report
Score Simulator tool doesn't always work
Final Thoughts
Chase Credit Journey is a free credit monitoring service and you don't need to be a cardmember to use it. It renders your score based on six factors provided by VantageScore 3.0.
It also alerts you to changes affecting your credit, updates your score weekly, and features a score simulator tool.
But it's only one score and you might not think it's worth using when you can get all three for free once a year from AnnualCreditReport.com.
However, what gets measured, gets managed. Your credit score matters. The higher it is, the lower the interest rate you'll get when applying for a loan.
If you're serious about building credit, a free resource like Chase Credit Journey is a good start.
Get our best strategies, tools, and support sent straight to your inbox.