For many, financial independence simply means being able to do whatever you want in life without having to worry about money. It won't happen on it's own, becoming wealthy is a journey.
Finding financial freedom is achievable with the right planning. It won't be quick but if you start now and stick with it, you will eventually reach your goals.
Here are 6 steps towards financial independence that you can follow to reach the freedom you've always wanted.
Step 1 – Get Control of Your Money
You need to know what you're spending and where before you can begin to address your money problem. Some of us bury our head in the sand when it comes to looking at how much is being spent each month. This step can be scary but its time to face your demons.
If you have been living on credit cards and paying the minimums, this is doubly scary because you really have no idea how much you're spending each month.
Getting control of your money is simple. It's about spending less than you earn. You'll need to calculate how much is coming in and how much is going out in order to get a clear picture of your financial health. If you are not sure where to begin, check out How to Budget Money For Dummies. It will show you step by step how to get your budget in order.
Or you could sign up for a free Personal Captial and they will do the work for you. They can give you a complete picture of your finances by connecting your bank and credit card accounts.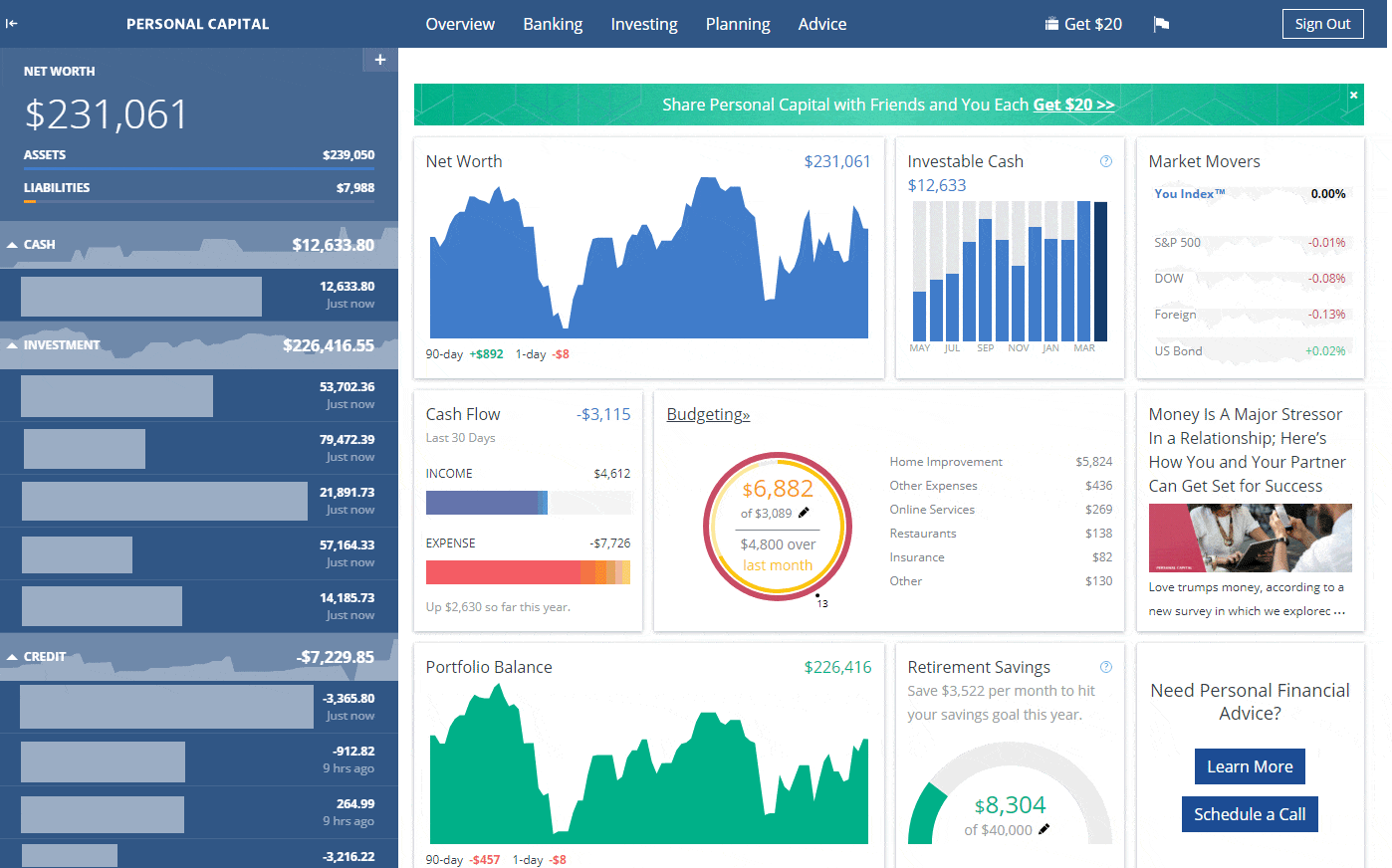 Their software will help you to develop your long-term financial strategy, calculate your net worth, set a budget, manage investment accounts, and plan for retirement. You can thank us later.
It might take a few weeks or months of tracking to see your patterns but it will be well worth it. It will ensure you create a realistic budget you will be able to stick to.
Step 2 – Trim The Fat
Having completed Step 1, we now understand where our money is going. Knowing is half the battle when your working towards financial independence. The other half is slicing out the fat. No one becomes wealthy by spending all their money.
It's not always easy and in some cases, you'll need to make some tough decisions, but in just a few weeks time, you'll be much happier and much wealthier.
If it seems overwhelming, choose one category a week and focus on pairing that down. Food is always a good place to start because so many of us overspend on it. Bringing lunch to work is what I used to start. It doesn't have to be fancy at first, just make a PB & J.
Seeing how much you're saving each week will be an incentive to keep going and get a bit more creative. Remember, the easiest way to save more money is to spend less. To do that, we must optimize our expenses and plug our spending leaks.
Get our best money lessons:
Step 3 – Increase Your Income And Productivity
One of the fastest ways to get more money is to make more of it. If you want a raise at work, you don't need to put in 80 hours a week or wait until your manager dies so you can take his job. You can start by just asking for a raise. Yeah, it's a little nerve racking but it won't kill you to ask. You may be pleasantly surprised.
My first job out of college paid 25% more than the Average US Household Income at the time despite the fact that my GPA was a 2.3.
Once I started understanding how things work, I was able to bump my salary by more than 165% over five years. I did it so you can do it too!
If you don't want to ask for a raise, there are plenty of ways you can make some extra money in your free time.
Step 4- Multiply Your Savings
We've budgeted, optimized, and gotten a raise at work. Now that we have a savings account, and it's starting to fill up with cash (from spending less), it's time to make this money work for us.
You don't need thousands of dollars to start investing, it is still possible to grow your money with a small income.
We all should be increasing our wealth while we sleep. That's where investing comes in. I know, investing can be scary for the first timer but it's the best way to grow your money. Since we already have many great posts on investing I'm not going to go in depth here.
Instead, I will leave you with links to our best beginner investment posts.
Everything in here is low risk and low effort. I want you to have the peace of mind knowing that your money is safe and growing while you focus on other important things like your family, Xbox, etc…
Step 5- Use The Right Tools
Achieving financial security comes from learning and implementing best practices and being able to control yourself and your spending.
There are a ton of tools out there designed to make things really easy for you.
They can budget for you, help regulate your investments automatically, find you savings when you do spend or even challenge you to improve saving by giving you cash prizes!
Below are a few resources that I've found that will be extremely helpful in your quest for financial independence.
For the full list of resources we use to manage our finances, click here.
Step 6 – Advanced Investing Techniques
For people that are ready for a more hands-on approach (and a bit more growth potential), this section is for you! There will be risks here and I will be sure to outline them and caution you.
It will take a bit more work than a "set it and forget it" strategy, but you don't need to be a rocket scientist to make gains here. Just remember, take the risks seriously.
When you are ready to further diversify your investments and take on a little risk, take a look at our list of the best Vanguard funds. After you become well diversified, track all of your investments in one place using Personal Capital.
Now that you have established a realistic budget, a savings plan and began to dabble in investing, the next step is to stick with it! It'll take some dedication but the reward of financial independence is well worth the effort.