Table of Contents
FeeX: Destroy Hidden Fees with Uri Levine
We are anti-fee at LMM whether they be bank fees, credit card fees, or investing fees. Uri Levine from FeeX joins us to discuss avoiding investing fees.
You probably go out of your way to avoid having to pay a $3 ATM fee but you might be losing much, much more than a few dollars through investing fees. Americans pay $600 billion in investing fees every year. That is 4% of the Gross Domestic Product! On an individual basis, you lose about one third of your retirement money to these fees over time.
Types Of Fees
Expense Ratio: This fee is charged for mutual funds, ETF's and no-load funds.  Expense ratio is what it costs an investment company to operate a mutual fund. Expense ratio is determined by a yearly calculation. The fund's operating expenses are divided by the average dollar value of its assets under management. Operating expenses are taken out of a fund's assets and lower the return to a fund's investors.
Plan Fee: If you have a 401(k), the provider may be charging you a plan fee for the privilege of holding your money. Your bank is already doing that!
Advisory Fee: If you use a financial advisor, you'll be charged a percentage fee. This is often negotiable.
Real Dollars
You might know what percentage you are paying but how much is that in real dollars? The average actively managed fund charges 1.25%. That doesn't sound like much but over time, it adds up.
It adds up to a lot. If you invest $100,000 in a fund with a 1% annual fee, which is less than average, it will cost you nearly $28,000 over twenty years, according to Securities and Exchange Commission calculations. If you had that $28,000 to invest, you would have earned another $12,000.
Get our best strategies, tools, and support sent straight to your inbox.
How To Pay Fewer Fees
Tailored investing advice is expensive. It might seem like paying a "highly trained expert" would guarantee higher returns than all those slobs who can't afford an advisor are getting but a big chunk of those returns will be eaten up by fees and commissions.
Under 1% is a good percentage to look for and you'll find fees that low and lower with Index Funds and ETF's. The average traditional index fund has a fee of 0.74% and the average ETF fee is 0.44%. Vanguard's lowest fee fund is the Vanguard 500. The fee is 0.17%. Betterment charges a fee of 0.35% on the first $10,000 invested.
If you're choosing funds through your employer, it's likely that no one in your HR department is an expert investment advisor so don't count on them to explain the fees to you or even know what you're talking about.
Read the prospectus of each choice. That's where you'll find information about the fees charged. If you don't like what you see, do some research on your own to find a fund with better fees and suggest it be included in the choices.
FeeX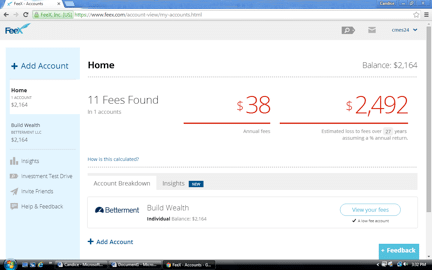 As the saying goes, if you want something done right, or in the case, fairly, you'll have to do it yourself. Uri was once charged thousands of dollars in fees on a retirement account. After lots of phone calls and time wasted on hold, he got the fees waived. But it made him wonder how many other people were being charged fees and if they were even aware of it.
So he did the only logical thing; started a company to help root out those hidden fees and find alternatives. That's when FeeX was born.
FeeX will analyze your investments to uncover where you are paying fees and how much you're paying. They will then find you cheaper alternatives with the same asset allocation. You connect your accounts in FeeX and they do the work for you. Like Mint, the data is read only, no changes can be made to your accounts so there is no security risk.
FeeX is free to use. You do not need to provide a credit card number when signing up for an account. If you sign up for an account with one of the recommendations FeeX makes after analyzing your accounts, they are compensated by that company.
I never gave fees much thought until listening to this episode but now I was curious, so I decided to give FeeX a try. It couldn't be easier to use. The whole process took less than five minutes.
You enter your age and state. Next is what kind of account or accounts you have, an IRA, 401(k) or brokerage or other. I experimented with the Betterment account that I keep my vacation fund in. You can opt to connect automatically in which case you will be prompted for the user name and password for the account or you can enter the details manually.
FeeX scans your accounts and gives you the report. If the fees are "High" that means that they can be significantly reduced. If the fees are "Average" they are not very high but can still be reduced. "Low" fees are those that can't be significantly reduced with similar alternatives.
Similar alternatives are suggested based on analyzing more than fifteen investment characteristics like investment category, allocation, and strategy. Each is given its own weight and the similarity between two investments is ranked on a scale of 0-100%. If two funds have a similarity ranking of 85% or higher, they're considered similar.
FeeX showed me that my account is in "Great Shape!" Because my fees with Betterment are so low, it didn't show me any alternatives since I really can't be doing better elsewhere. Which is good because I like Betterment, it's for lazy people like myself.
It showed my estimated balance in 27 years, the estimated number of years before retirement. The following report shows the how many fees you're paying, the total yearly fee and your estimated fees over the time period, 27 years for me.
It's Your Money
No one is saying that investing should be 100% free but the fees that some investments charge are outrageous, particularly when any benefit you think you're getting with personalized advice is quickly eaten up by fees.  It costs you nothing in terms of money and almost nothing in terms of time to sign up for an account with FeeX and TAKE BACK YOUR MONEY!
Show Notes
FeeX: Find and reduce investment fees.
Fidelity Card: This card will waive all ATM fees.
LMM Community: Join the money revolution!