Student loan debt is $1.4 TRILLION and is now a burden on the U.S. economy. An online lender might make sense if you're struggling to repay yours or shopping for the best loan terms. This Earnest review examines their services, the application process, and which type of loan to consider. If you're looking for a customized plan, see if Earnest is right for you. Let's get started.
I'm sure you'd agree that the entire loan application process isn't always user-friendly. Borrowers are in the dark regarding how much they're paying over the life of the loan.
It's sad enough that students have to finish college saddled with debt. Education costs are higher than ever, and it's the regular working class who suffer. Many have difficulty covering tuition costs without a little financial assistance.
Enter Earnest: a fintech lender that's streamlined the entire process for borrowers.
What Is Earnest?
Earnest is a fintech lender offering student loan refinancing, private student loans, and personal loans with customized repayment options. They streamlined the entire process for borrowers.
"We created a company that combines data science, streamlined design, and exceptional service to bring people a fast, low-cost, and hyper-personalized financial experience. Our mission is to make credit more accessible by reducing the costs and barriers faced by millions of financially responsible people."
Founded in 2013 and headquartered in San Francisco, Earnest has gone on to help refinance over $4 billion in student loans. After leading educational loan management firm Navient acquired them in 2017, Earnest is now the second-largest student loan refinancing company in the United States.
Is Earnest Right for You?
Before making any decision, it pays to do your research. It may save you from making a costly mistake down the road. Earnest is a reputable company offering its customers a quick, streamlined, and easy-to-use service.
But they're not the only ones. Other brands like SoFi, LendKey, and Commonbond also offer competitive rates worth a look. You may find a better rate with more agreeable terms.
What's to Like
Quick application process (completion time as low as seven minutes)
Speedy approval results (typically less than a week)
Greater customized repayment options and flexibility with Precision Pricing Model
Skip a Payment, hardship forbearance, and military deferment available
Low, competitive interest rates with no fees
9-month grace period
What's Not to Like
No cosigner option available for student loan refinancing
Refinancing unavailable in certain states (excludes Delaware, Kentucky, and Nevada)
Student loan refinancing variable rates unavailable in Alaska, Illinois, Minnesota, New Hampshire, Ohio, Tennessee, and Texas
What are Earnest Rates?
Student Loan Refinancing (includes 0.25% autopay discount)
Interest rates
Variable rates starting at 1.99% – 6.48%
Fixed rates starting at 3.13% – 6.48%
Loan terms
5-20 years with 1-3 month intervals and 180 different options
Loan amounts
Private Student Loans (includes 0.25% autopay discount)
Interest rates
Starting at 2.74% variable rate
Starting at 4.39% fixed rate
Loan terms
Cosigned loans at 5, 7, 10, 12, and 15 years
Solo borrowers at 10, 12, and 15 years
Loan amounts
$1,000 up to the full cost of attendance each academic year
Earnest Private Student Loans
Their private student loan option lets you check your eligibility in two minutes with users reporting completing the entire application in seven minutes.
Fees
You won't find fees of any kind. This includes:
Origination fees
Disbursement fees
Prepayment or late payment fees
Because the process is 100 percent online, Earnest can cut costs and pass the savings onto borrowers.
Earnest has the highest grace period in the industry at nine months. This exceeds the industry standard by three (a 6-month grace period is the norm).
Checklist When Applying

Before starting the application, Earnest wants to make sure you've considered other options, including:
529 plans or additional funds reserved for your education
Grants, scholarships, work-study opportunities or other sources of money that don't require  repayment
Completion of the FAFSA
Skip a Payment & Hardship Forbearance
If you find yourself in financial hardship, Earnest affords its customers with private student loans or student loan refinancing the option to skip one monthly payment every 12 months.
As long as:
You've made six months of consecutive on-time, in-full payments
Your full principal, interest payments, and loan are in good standing
Requests must be received at least five days before the month you want to skip. However, skipping a payment counts towards the forbearance limits outlined in your loan agreement.
For example, if your forbearance is 12 months and you skip one month's payment, your forbearance is reduced from 12 down to 11 months.
Refinancing resets your payment clock, so being strategic with your Skip A Payment option is essential. For example, when you refinance, you must make six consecutive monthly payments and keep your account in good standing to be eligible to skip another payment.
Customers refinancing a loan are allowed up to 12 months of forbearance. Eligibility for hardship forbearance requires you've made three, consecutive on-time payments.
Editor's Note
Tip: Avoid skipping payments as it extends your final payoff date by the number of months you skipped. Your interest will increase, and you'll have a higher minimum monthly payment. The result: you pay more money.
Earnest Private Student Loan Interest Rates
Earnest offers private student loans to cover college costs that exceed the amount of federal loans, and financial aid students receive. The length of your loan, credit history (and co-signers credit history), are all factors in getting a lower interest rate. Cosigners with a robust and lengthy credit history will help get your rate reduced.
Variable APRs start at 2.74% APR (with autopay) while fixed APRs start at 4.39% (with autopay). These rates start at $1,000 loan amounts (minimum required) and cover up to 100% of the school's cost of attendance.
***Earnest doesn't service every state. Check to see if the rate is available before applying.
The 0.25% autopay discount is awarded to customers who sign up for automatic monthly payments via direct deposit.
How to Apply for A Private Student Loan

Checking your eligibility takes two minutes.
Next step:
Fill out the application
Once approved you choose your preferred repayment plan (results take about a week)
Your Four Repayment Options
Earnest lets you pick the in-school option that aligns with your budget.
Deferred payment: waiting until the end of your grace period to make payments means you pay the highest total amount (not available in AL, AZ, CA, FL, MA, MD, MI, ND, NJ, NY, OH, PA, WA)
Fixed $25 payment: making small monthly payments while in school lowers your interest paid out over the long-term.
Interest-only payments: paying the accrued interest each month.
Principal & interest payments: starting full payments immediately reduces your total cost; however, there's no grace period with this option.
Cosigner Requirements
You don't need a cosigner, but sometimes it helps. Having a cosigner will help you secure a lower interest rate. Cosigned loan requirements are (for the finer details, visit Earnest's website here):
The cosigner is U.S. citizen or permanent resident (student isn't required to be a US citizen or permanent resident but is necessary to have a social security number)
The student is in school full-time
School is a Title IV Qualified, not-for-profit, four-year institution
Minimum loan amount of $1,000 unless specified by the state of residence
The cosigner has a minimum FICO score of 650, at least three years of credit history, and a minimum annual income of $35,000
Cosigner and student don't have a bankruptcy on their credit reports or accounts in collection
Independent student loan borrowers must fulfill the same requirements as a cosigner mentioned above.
Getting Approved
Landing a loan is grounds for celebration assuming you handle it responsibly. Advancing your education is a huge leap forward, awarding you with greater possibilities, skills, and higher earning potential. Ace these factors to improve your odds:
Have enough savings to include two months of ordinary expenses
Spend less than you earn while augmenting your bank account balances
Don't carry large amounts of non-student, non-mortgage debt (credit cards, personal loans)
Have a history of on-time payments
Don't have regularly charged late, overdraft, or insufficient funds fees
What is the Cost of Attendance?
Your cost of attendance includes the total amount you spend to attend school each year. In-state or out-of-state tuition has the most significant impact on your total cost of attendance. Your loan can cover the full cost of:
Tuition and fees
Housing and utilities
Transportation
Books and supplies
Dependent care
Meals
Student Loan Refinancing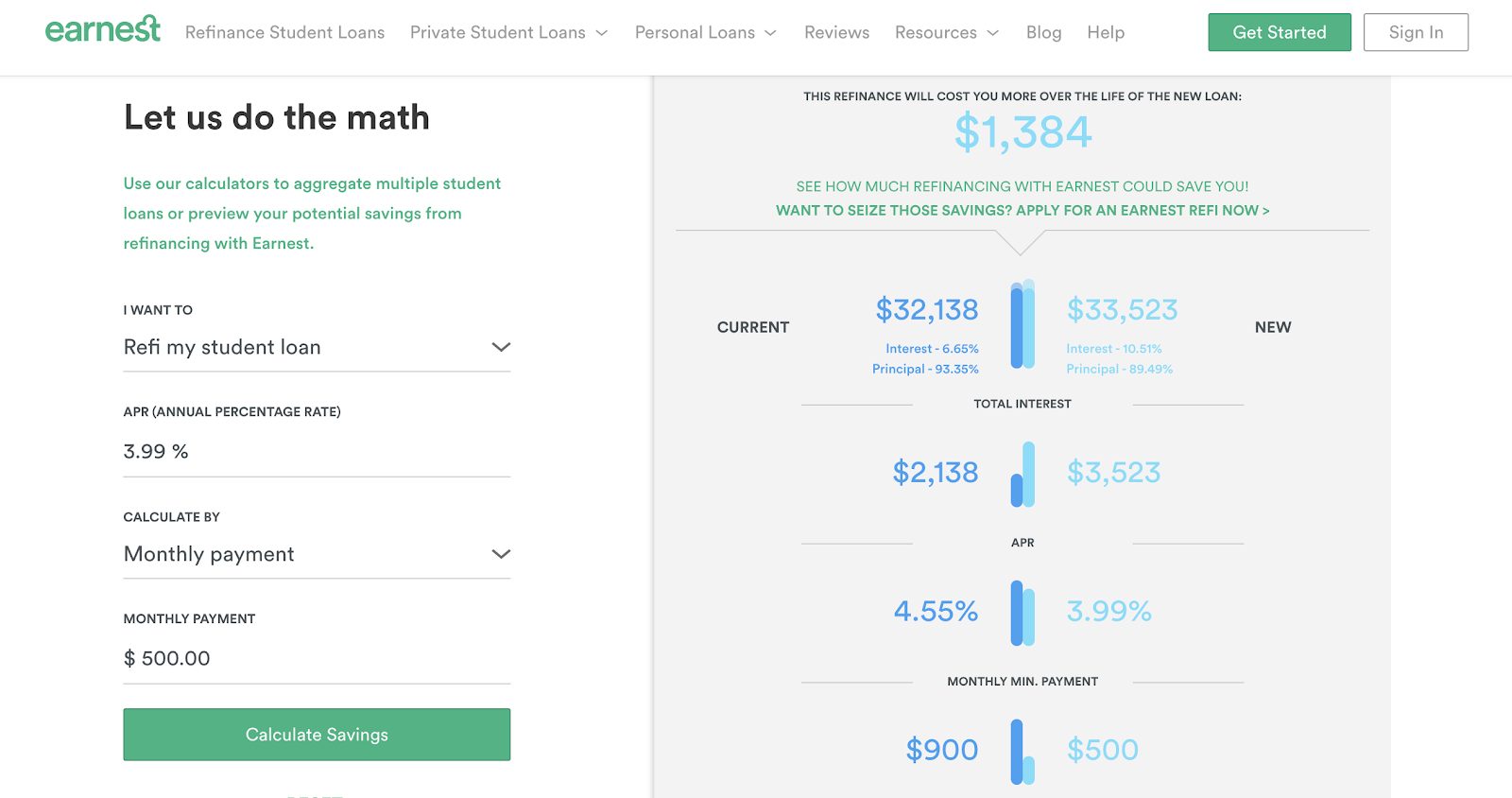 Refinancing means consolidating multiple loans (both federal and private) into a single loan, typically with a lower interest rate. It's easier to make a single payment versus multiple payments to different lenders.
The loan doesn't have an origination fee and usually has a lower interest rate. You're given the option between a fixed or a variable rate.
Note: Earnest doesn't let you refinance with a cosigner at this time.
Reasons to Refinance
If you're battling high-interest rates across multiple lenders, a refi might make sense for you. When you sign up for student loan refinancing with Earnest, it can:
Lower your interest rate
Customize your loan payment
Combine multiple loans to simplify your payments
Let you choose your loan term
Improve your customer service experience
Remove your cosigner
Fixed vs. Variable Rates
Fixed interest rates are ideal if you want to secure a static, monthly payment throughout your loan's lifetime. It doesn't change. They're typically higher, but the rate is locked in for life. Variable-rate loans start at a lower rate, but the rate can swing, affecting your monthly payment.
There's no wrong answer. It depends entirely on your budget, your term, and your risk tolerance around rate swings.
Fixed rates are best when:
Your loan term is long
You cringe at the thought of increasing minimum monthly payments
You believe interest rates will rise and want to lock in a lesser rate
Even if interest rates rise your APR doesn't.
Variable rates are best when:
Your loan term is shorter (less chance of a rate change)
You can handle an increased monthly payment
You think interest rates will lower or remain flat in the immediate future (because Punxsutawney Phil spoke to you in a dream and told you it would be so)
Earnest determines your variable interest rate based on the 1-month LIBOR index. Changes to your monthly payments are based on this rate.
Borrowers are making bets that rates won't rise soon, which is why variable rates are usually the better short-term option.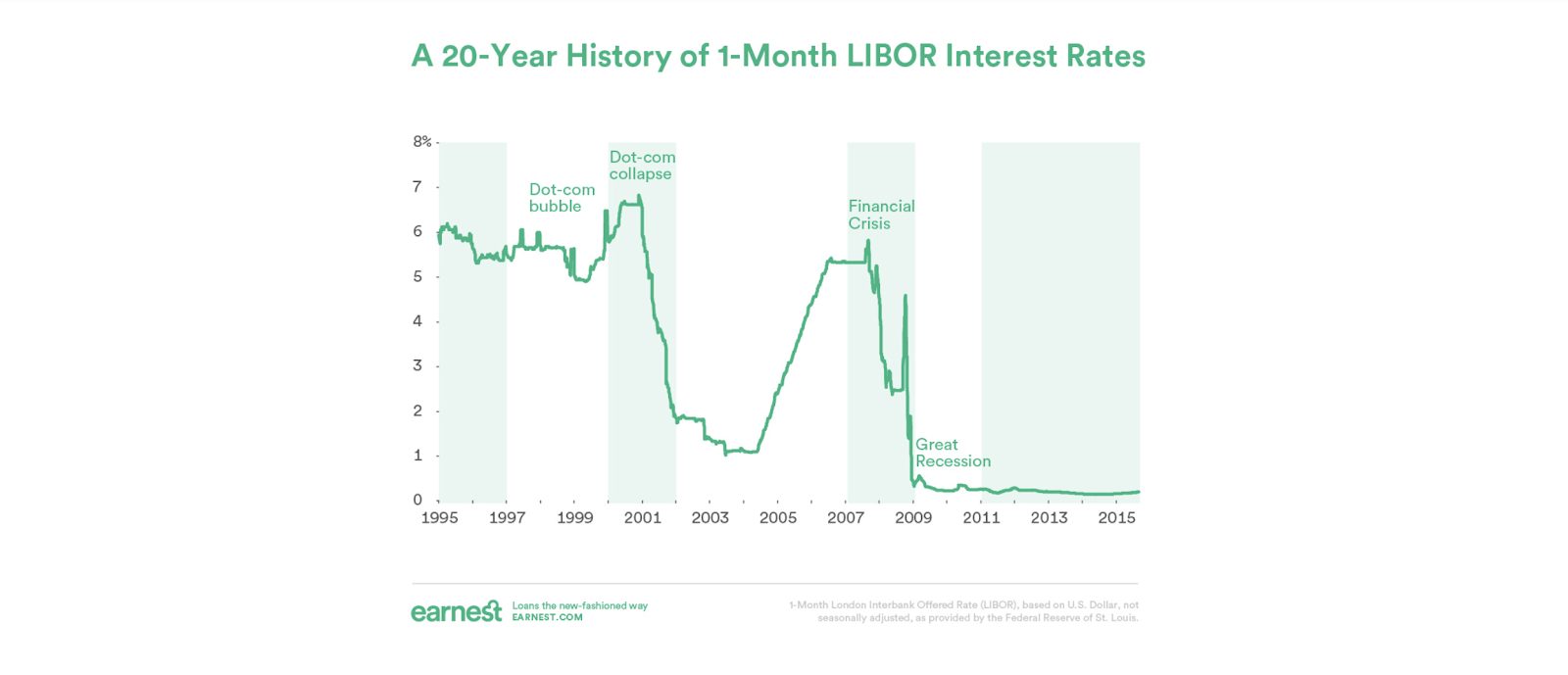 Caps on variable interest rates at Earnest are:
10-year terms or less have a lifetime cap at 8.95%
Between 10-year and 15-year terms have a lifetime cap of 9.95%
15-years and beyond capped at 11.95%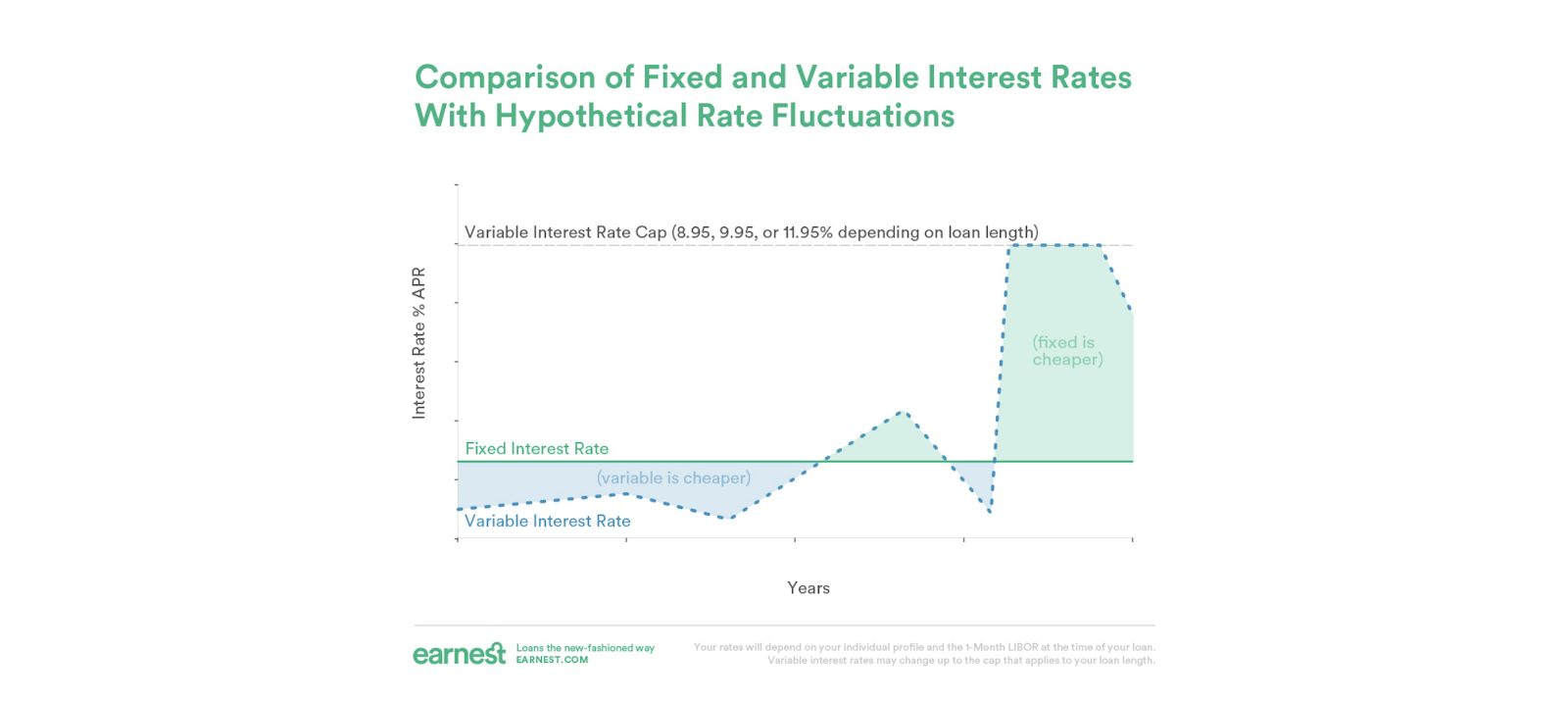 Student Loan Refinance Eligibility
Getting started with your student loan refi is relatively easy and can be done in four steps:
Get your rate estimate: their tool analyzes your info instantly. Receive your final rate when your loan is approved.
Application: Requires more info to complete your profile, including your financial responsibility.
Evaluation: Looks at additional info (that most lenders don't) like your savings, education, and earning potential.
Customization: If approved, you set up your preferred monthly payment based on your budget.
Eligibility Criteria
Getting approved does carry requirements. Here are the nuts and bolts of what you'll need (for a detailed list, head to their website here):
Must be a U.S. citizen or have a 10-year Permanent Resident Card and currently reside in one of the 47 states they lend in (not available for Delaware, Kentucky, and Nevada residents)
Your enrollment status is less than half-time, and your student loans are in repayment, or you will graduate at the end of the semester
Must be at least 18 years old
The loan you're refinancing is from a Title IV-accredited school
Your refinance request must be for at least $5,000 in loans
Minimum credit score 650, employed, or have a written job offer starting within six months
No bankruptcy or accounts in collection
Editor's Note
Tip: Be mindful when refinancing your federal student loans. Federal loans come with certain protections and repayment options you'll be giving up.
For example, Earnest doesn't offer income-based repayment plans or public service loan forgiveness. Consolidating your federal loans with a Direct Consolidation Loan from the Department of Education is possible, but securing a lower interest rate won't be possible. Private student loans are ineligible.
Earnest vs. Traditional Banks: The Precision Pricing Model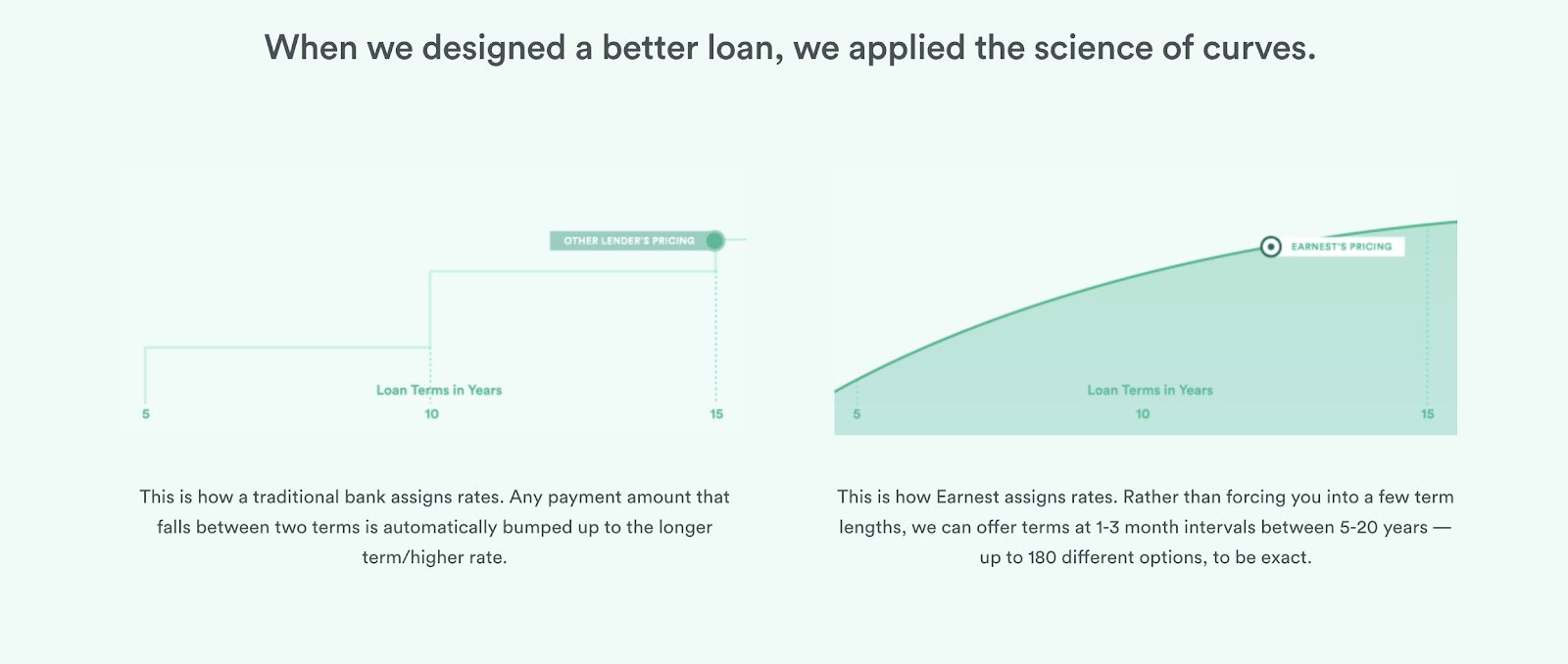 Earnest works in a way that's unlike traditional banks. A bank doles out rates using a tiered system. Any amount that falls between two tiers gets pushed to the longer term with a higher rate.
Earnest's term lengths work differently. You can customize your repayment plan down to the month. Using an example from their website, let's say you have a $100,000 loan and can only afford to pay $1,000 a month. You want to arrange a 10-year term.
At a big bank, the monthly payment for a 10-year loan is slightly more than $1,000 a month. What happens?
You're bumped to the next tier: a 15-year loan. Longer terms carry higher rates.
With Earnest's Precision Pricing Model, that same $1,000 monthly payment slides into a 10.5-year term. You're saving money over the life of your loan.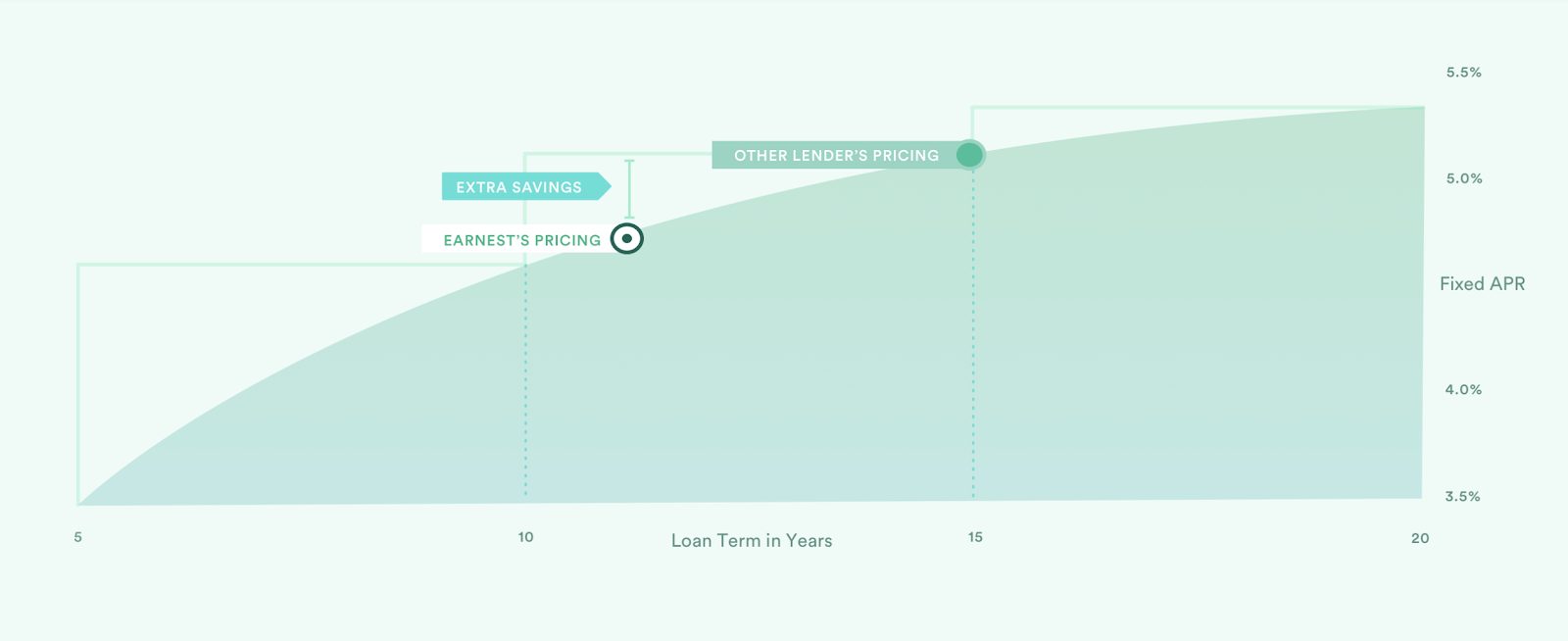 Final Thoughts
Securing a student loan can be a burdensome task. You might be wondering if your credit score is good enough, wishing your student loan had a lower monthly payment, or hoping the application process doesn't take too long.
Earnest pairs technology with a streamlined service and repayment terms befitting each applicant.
Features like their cosigner invite (makes asking for a cosigner simple), mobile app, and transparent checkout (borrowers know the total amount due each month before signing their loan) all add to Earnest's appeal.
As a general rule, always consider your situation before signing any loan agreement and employ all other possibilities before getting private student assistance. Federal aid almost always carries better benefits.
Get our best strategies, tools, and support sent straight to your inbox.