The internet has made comparison shopping easier than ever. I don't hesitate to pull my phone out to double-check prices on anything over five dollars. (I'm frugal, not cheap, to be clear). Why should finding a loan be any different? Credible has entered the fintech market to bring a convenient loan comparison platform to your fingertips.
It's easy to become quickly overwhelmed, confused or angry (probably all three) when trying to get multiple loan offers. Lenders don't exactly have a storied history of providing a user-friendly experience. Between the information, paperwork, and repetition, lots of people just call it quits.
But that's the worst thing you can do! Whether you're looking to refinance or take out a new loan, lenders should be competing for your business. And finding the most competitive loan can save you major money over the lifetime of your term.
Credible makes comparing loan offers easier than ever with loan marketplaces designed around the borrower's experience. In this Credible review, we'll walk you through how Credible works, what types of loans you can access, and whether Credible is right for you.
Credible Personal Loan
Get your rate from every platform, for free, and it doesn't affect your credit. Rates as low as 3.99% APR with autopay.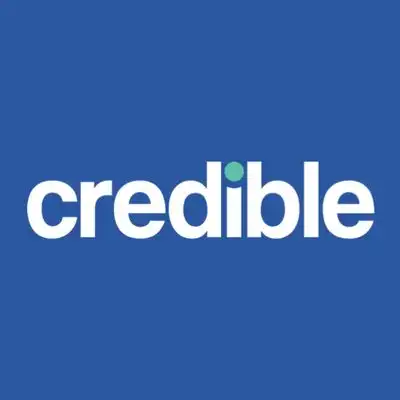 What is Credible?
Credible is an online lending marketplace that allows you to compare loan offers from multiple lenders all in one place. You know how you hop on Kayak or Expedia to search for the best travel deals?
Credible provides a similar platform for loan products. Instead of searching and applying to multiple lenders, Credible allows you to fill out a single form and sift through competitive loan offers all in one place.
Their goal is to make it easy for you to find the best rate on the loan you need. Their software uses a soft credit search that reviews your credit history without showing up as a negative mark on your credit report.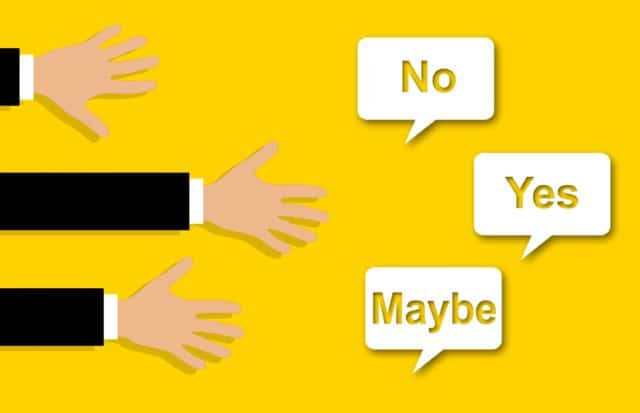 Variety of Loan Products
Credible allows you to search and compare a variety of loan products to get a new loan or refinance an existing loan(s). Their platform features marketplaces for the following options:
They also recently launched a feature that lets you filter and apply for several credit cards.
Prequalified Offers Tailored to You
Credible gathers prequalified offers from lenders to compare in their marketplace. A prequalified offer isn't a guarantee of credit. Typically, it's an offer based on what information you provide on your income, debt and other factors lenders consider when crafting a loan package.
Credible adds reliability to these offers by including a soft credit search that factors in your personal credit history. These rates aren't guaranteed and may change, but are generally a reliable indicator of what you can expect to get from lenders.
Different Than Other Loan Comparison Sites
Some other websites allow you to compare financial products but they are likely to be showing you general information about the listed lenders.
Credible stands out by providing a place to get personalized offers and rates tailored to you and your credit history.
Other sites provide a gateway to access individual lenders, but you will still have to obtain prequalified rates one by one. Credible is great for accessing multiple prequalified rates all at once.
How does Credible Work?
Credible hosts different marketplaces tailored to their financial products (mortgage; student loan refi, etc). There is not a universal application for each loan product, as lenders need to consider different factors when evaluating your profile.
Private student loan lenders need information about your school that isn't relevant to a mortgage refinance. However, Credible has created a simplified process for each application that generally follows three steps.
Three-Step Process
Fill out one form to get prequalified offers. Credible takes your personal info, some financial questions (annual income, amount of debt, types of loans, etc) and runs a soft credit check to get official prequalified offers from their participating lenders. It only takes a few minutes to fill out the form and your prequalified offers will appear in as little as two minutes.
Compare offers from multiple lenders. Review and compare the interest rates, terms and cost breakdown of each loan. It pays to shop around! Credible offers great tools to filter results relevant to your preferred budget and repayment terms. Don't rush through; take the time to review and research your preferred lenders.
Choose your preferred lender and apply. Credible makes it easy to apply to any of your prequalified offers by facilitating the process in house. Their website streamlines the application process and provides an easy venue to upload any additional information or documentation your lender requires. For most loans, you will deal with Credible's interface through closing, making a more secure and easy application process.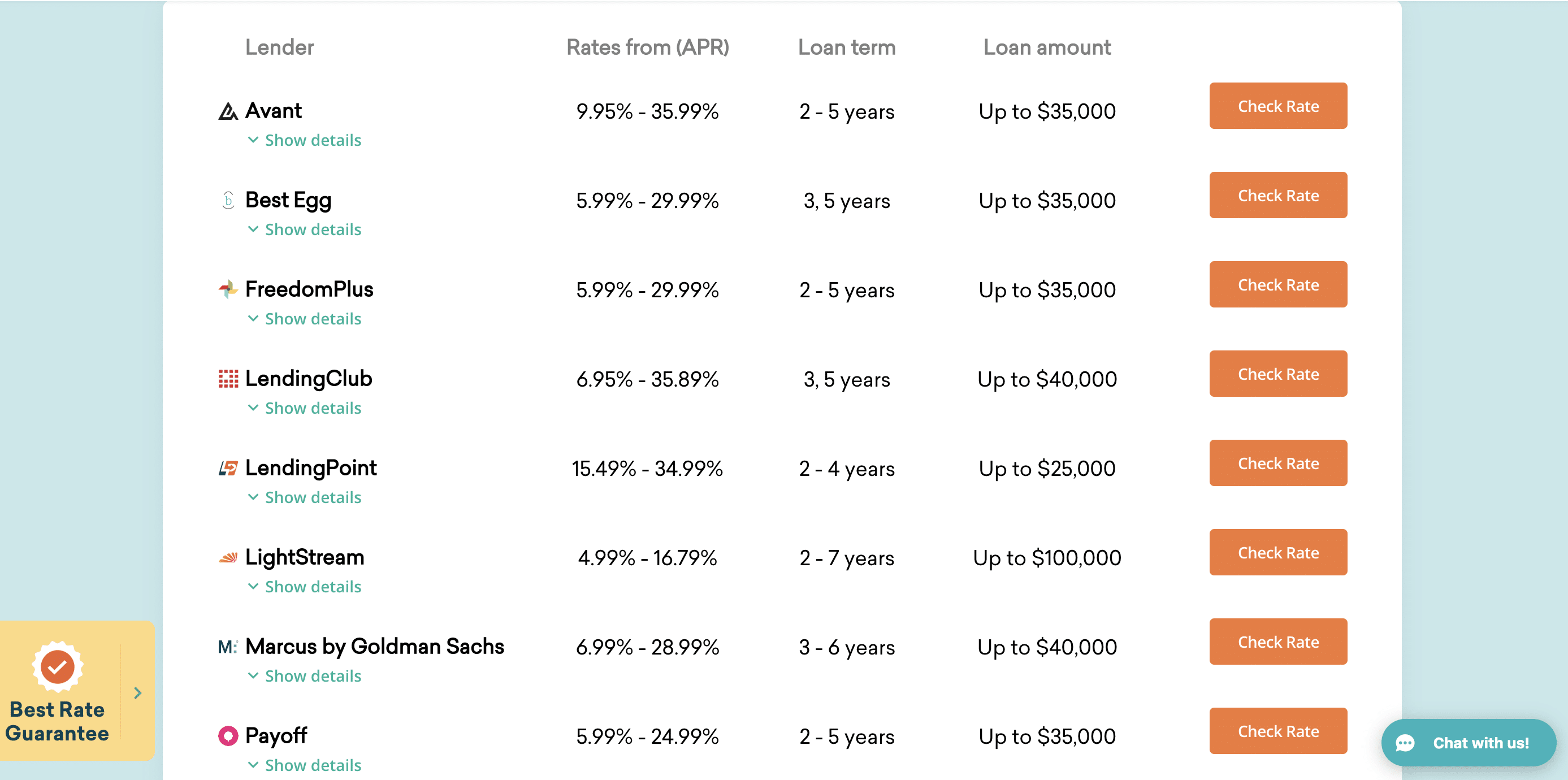 Locking in an Offer
Just doing a Credible search doesn't lock you into any loan offers. Credible's platform prequalifies you for offers and rates. If you find a prequalified rate you like, the selected lender will ask for more information and conduct a hard credit inquiry to confirm your eligibility.
Credible is simply the marketplace to host lenders and each lender is different. If you opt to choose an offer from the marketplace, be sure to read the lender's terms of service, disclosures and other information provided carefully so you understand the in's and out's of your loan.
Timing is another important consideration when searching and locking in an offer. While Credible is great for comparison shopping, it doesn't mean your prequalified rates are set in stone. Each participating lender has the criteria they use to make an offer based on your Credible application.
The criteria and/or interest rate index your offers were based on may change over time, as will your credit score and history. There's no reason to suspect a bait-and-switch effort if you opt to select a loan from the marketplace. But don't rely on those same rates being available if you decide to wait and apply a few months later. Times change!
Who Are Their Lenders?
Credible partners with different lenders specific to each type of loan product. Their marketplace for student loans and student loan refinancing features top lenders in the field, including College Ave, Citizens Bank, Sallie Mae, and Sofi.
Personal loan products include Lending Club, Avant, and Prosper. A customer service rep at Credible noted their mortgage lenders network includes six lenders, and the website lists national lenders Quicken Loans and LoanDepot.
Their lenders offer a wide variety of interest rates (variable and fixed) and terms that can allow you to craft repayment plans suited to your needs. Credible is great for comparing rates across lenders, but we still encourage you to research any lender with an offer that's catching your eye.
Marriages last 50% of the time, but loans are always due. Read the fine print!
Tweet This
While Credible doesn't charge any fees for their service, lenders may still apply specific fees like loan origination fees after you apply. It's essential that you know who you're getting involved with and you're comfortable with the terms of your loan.
Credible lists reviews of their most popular lenders on their website, and we have some great ones here at LMM you can check out as well to help vet your decision.
Can I Use Credible if I Have Bad Credit?
Credible is ideally suited for people with good to excellent credit scores, and a higher credit score is probably the most reliable indicator that you'll qualify for the most competitive prequalified offers in the marketplace. However, if you have a limited or poor credit history, Credible still makes loans accessible via cosigner.
A cosigner agrees to pay your debt if you default, so it's not to be taken lightly. Also, since they're essentially vouching for you, they typically need to have a good credit score and established credit history themselves.
Credible has a helpful tool that allows you to see what loans and interest rates you could qualify for with a designated cosigner.
You can also try the tool with different cosigners to see how their respective credit profiles will affect your offers (if you're lucky to have more than one willing to help you!).
When you have a reliable cosigner to come on board with you, they fill out their own short and simple prequalification form that's connected to your own form's information.
Just like for an individual borrower, cosigners don't have to worry about any hard credit checks impacting their score until you decide to move forward with a loan. In the meantime, take some easy steps to build your credit!
How Does Credible Make Money?
Credible doesn't charge you any fees to use their service. What's in it for them? Lenders pay Credible a fee when someone applies for a loan in the Credible marketplace. Credible notes on their website that this fee does not impact the terms of your loan or the amount you pay the lender.
In other words, it's not a commission based on the size of your loan and interest rate you pay. They won't steer you to the most profitable loan to get a better cut of the action. Similarly, if you apply to a credit card offered on their site, the credit card company pays them a fee if you're approved.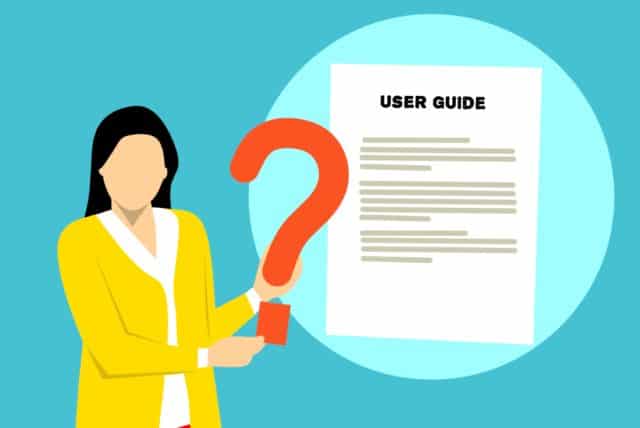 Is My Information Safe with Credible?
I typically fluctuate between annoyance and concession whenever I have to give over sensitive personal information to a site. I worry about what's happening with my data and resign myself to the fact that nothing seems totally secure anymore.
Still, it's important to protect your identity, and Credible has strong security measures that should make you feel secure. We read the fine print to help you understand what's happening with all your data.
Security
Credible touts their 256-bit security system as the foundation of their security. While we can't vouch for the ins-and-outs of digital cryptography algorithms, 256-bit encryption is widely accepted as one of the strongest security measures to protect sensitive data.
As Credible simply puts it, "there are 39 trillion different combinations of code that could be protecting your information." Even the sharpest hackers will have to think twice about that.
Credible also protects information going between servers using HTTPS and Secure Sockets Layer (SSL), adding layers of encryption security as they share your information between lenders.
You will be automatically logged out of your account if you're inactive for a certain amount of time, a standard feature on most websites dealing with personal data we're sure you're familiar with.
Credible's software is designed to auto-save your progress on any forms you've started that have timed-out, providing a nice user-friendly touch to the experience.
Data Sharing
Using Credible's platform and accepting their terms of use does allow them to share some of your personal data for advertising and marketing. While this is annoying, it is standard for many websites and not out of the norm.
The good news is that Credible won't sell any of your information to third-party lenders, so you won't have to worry about them pestering you with additional offers in the future.
Why Use Credible?
Refinance Student Loans
Student loan debt can be a drag on your finances each month, and generally speaking, a downer. There are plenty of hacks for paying off your loans worth checking out.
Refinancing can be a great way to lower your interest rate and reduce your monthly payments. It can also be a handy loan consolidation tool to ease the hassle of multiple payments into a single expense.
Credible provides access to lenders that will refinance federal, private and ParentPLUS student loans. It may be helpful to do a quick analysis of all your loans.
Federal loans typically have low-interest rates that may not benefit from a refinance. Credible has helpful tools that will let you pick and choose which individual loans you'd like to refinance. Don't hesitate to throw those high-interest private ones in there though!
Credible started out focused on student loans and student loan refinancing, and it shows in their network of lenders.
Their student loan refinancing marketplace features eleven vetted, experienced lenders and a variety of options. Credible's student loan and student loan refinancing lenders charge no origination, prepayment, or service fees.
Credible's student loan refinance marketplace has offering rates starting at 2.39% variable APR (with autopay) and 2.55% fixed APR (with autopay) with terms between five and twenty years.
Private Student Loans
Completing your Free Application for Federal Student Aid (FAFSA) should be your first step when considering any private student loans. Federal student loans will give you lower interest rates and more favorable repayment terms compared to the private market.
And you can also qualify for additional grants if you're income qualifies (or your family's if you're still a dependent).
Given the skyrocketing price for a college education, federal loans aren't enough for most people. Credible connects you with private loans to fill the gaps for tuition and living expenses not covered by FAFSA.
Their platform is also available to international students provided they have a United States citizen or permanent resident as a cosigner. Credible's lenders are connected with over 2,200 eligible colleges and universities that typically receive the funds directly.
Credible's private student loan marketplace has seven lenders offering rates starting at 1.04% variable APR (with autopay) and 3.34% fixed APR (with autopay) with terms between five and twenty years.
Personal Loans & Debt Consolidation
Personal loans are loans that can be flexible to your needs. These can be an effective tool for debt consolidation and lowering interest rates. The interest rates for personal loans are relatively higher than what you'll find for student loans or mortgages, so it's not a sure-fire solution for any pet project.
We encourage you to use some more sensible financial strategies if you're looking to finance home improvements or pay for a wedding. A personal loan can be a viable stop-gap if you're facing a situation where your Emergency Fund has fallen short. While these funds are generally flexible, most lenders will consider the purpose of the loan in determining their offer.
Credible's personal loan marketplace currently has 17 participating lenders. They offer a personal debt calculator that can help you understand what your eligibility is.
The upper limits for loan amounts are typically between $35,000 to $50,000 depending on the lender. Credible notes on their website some qualified borrowers may qualify for up to $100,000, but we hope you'll do some extensive research on debt management before taking out anything that large.
Typical terms are between two and five years. Interest rates range between 2.49% APR (with autopay) and go as high as 35.99% APR – much higher than most credit cards – so be sure to have a clear understanding of your terms and conditions before executing a personal loan.
Some personal loan lenders charge origination fees, but they will be displayed on your Credible dashboard if you receive rates.
If you're going to read any fine print, it should be for these loan rates. However, if you have a high credit score and strong credit history, Credible offers lenders that can provide competitive personal loans.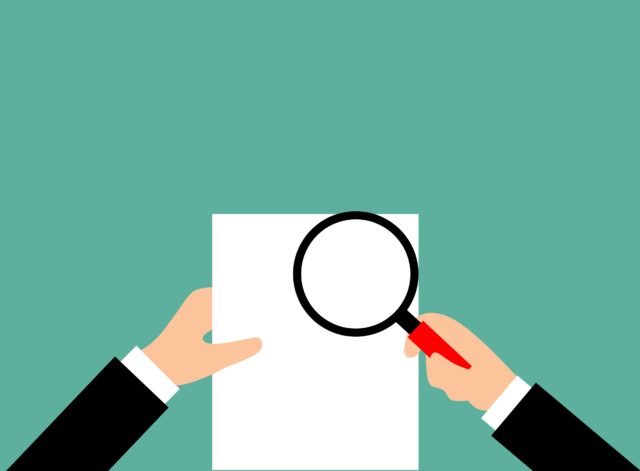 New or Refinanced Mortgages
Credible entered the mortgage market in 2018 and is still growing its services. Buying a home is one of the most important – and expensive – purchases of your life. Getting a mortgage can be daunting (to say the least).
Refinancing your mortgage can be an effective tool to save money each month and thousands over the lifetime of the loan. In each case, you'll want to research and compare loan options.
Credible is making strides in creating a more user-friendly mortgage experience that makes crunching the numbers and gathering all the required documents and paperwork easier. They're a certified mortgage broker and provide licensed loan officers that can assist you all the way through closing.
Lending terms are dependent on several factors including your income, assets and local market.
Mortgages are more complicated than student or personal loans since they are tied to local property values and economies.
San Francisco and New York don't have the same mortgage market as Omaha and Indianapolis. Your needs as a borrower will be different as well.
Credible's lender network is limited to a few national providers that may not be responsive to every local market. Their home loan and refinancing marketplaces can be a good place to start and assess what you qualify for, but your search shouldn't end there.
It may be helpful to talk with locally-based realtors, lenders and mortgage brokers to get a sense of what financing is effective in your local market.
Credit Cards
The credit card search feature left a lot to be desired. Most of their search results only featured two credit cards or didn't return search results for specific categories (e.g. travel cards, student cards).
I tried clearing cache/cookies and using different browsers to no avail. Either way, this isn't the same service as the marketplace comparison. I wouldn't hold this feature against the strength of their loan marketplaces, as their likely still working out the kinks. Plus, credit card reviews are easy to find on the internet.
The Bottom Line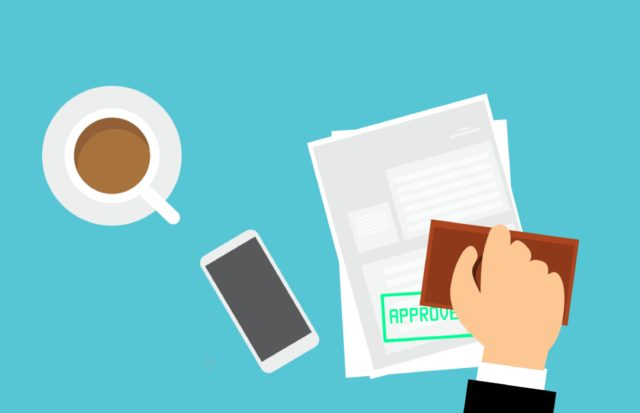 Loans – be it student loans, mortgages or debt consolidation – are always a serious decision that will impact both your monthly budget and long term financial health.
Comparing interest rates and terms for any loan or refinance is a crucial step to ensure you get the most cost-effective loan available.
Credible is a helpful, simple tool that streamlines this process. Their service provides reliable, prequalified offers that won't hurt your credit score.
This makes their platform a great starting place to pencil out options for a loan or refinance. Credible is most helpful to refinance or supplement student loans and is a great addition to your personal finance toolbox.
Get our best strategies, tools, and support sent straight to your inbox.