Table of Contents
Save Money In Your First Apartment: 9 Easy Tips
Moving into your first place is exciting and daunting at the same time. There is so much you need. For most of us, that need has to be balanced with a limited budget, both in furnishing our place and living there. Here are some first apartment tips that will help you save money.
Know Your Limit
Be realistic when you start looking for a place. Maybe you can juggle things around so you can afford a super-expensive place, but you might come to regret that pretty quickly.
An extra $100 a month above what you can afford might not seem like a lot, but it's an additional $1,200 a year, $1,200 you will have to take from something else, like a vacation.
There are lots of formulas that tell you how much rent you can afford. 30% of gross income. 30% of net income, and that includes utilities. That doesn't include utilities.
Ugh, we want a straight answer! All situations are a little different, so there isn't one answer. Some rent includes all utilities; some rents include no utilities.
Some people have credit card and student loan debt, and some people don't.
"I never realized how short a month is until I started paying rent."
Around 25-35% of gross income is a pretty good ballpark to shoot for. It's always better to err on the side of caution when deciding how much you can afford for rent though, so take into account those other things like utilities and debt.
If you have additional debt, try to keep your rent at the lower end of that ballpark, 25%. If utilities are not included, add a few more points for those and try to stay below 30%.
If you are an increasingly rare unicorn with no debt, you can go up to 35% without breaking the bank.
Rent is not the only thing you should consider when looking for a place, and I think it's better to take a slightly less nice place in a slightly better area.
You want to live in a safe and "walkable" neighborhood, especially if you don't have a car.
Most places will have a crime map that shows what crimes were committed in what neighborhoods. Google the name of your city followed by the words "crime map," and you can find out this information.
Walkscore is a neat site that will give you a "walkability score" for some cities. It has information about how close things like grocery stores, restaurants, and coffee shops are to an address you're considering.
The Rest Of Your Budget
You can tinker around for ages with budget categories, and that's what some people do in Mint on Friday nights. You don't want to spend your Friday nights like that, so we'll make it simple.
You can get your budget started with the 50/30/20 rule. The 50% is for fixed expenses like rent, insurance, car, and student loan payments.
Those expenses that don't vary a lot from month to month. We already have our rent somewhere between 25-35%, so use the additional room to budget for these fixed items.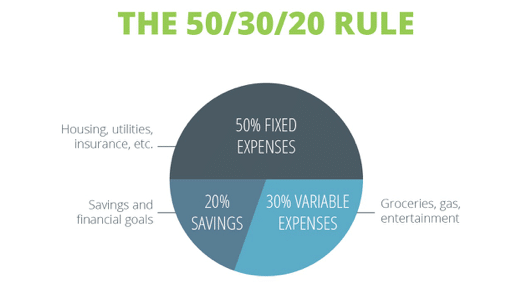 The 30% is for saving. This money goes to your emergency fund, your 401(k), IRA, or HSA, wherever you are stashing cash for the future.
This percentage might seem high, but if you get used to putting away this much now, you will be so far ahead of the game.
You aren't used to having a lot of luxuries, so you don't know what you're missing. Keep it that way for a few more years.
The final 20% is for fun, socializing, eating out, vacations, and clothes. Things that aren't always a necessity but whose absence would make life grim fast.
This is why we make a budget to have room for these things. As long as you've budgeted for them, there is no need to feel guilty about spending on them.
Lower Your Bills
We are all probably paying more than we need for utilities and other service providers. Depending on your providers, you might be able to negotiate your bills over the phone – you'll be surprised what you can get if you ask.
If you're not into being on hold for 20 minutes at a time or don't want to talk to people (I get it), you can have Billshark do it for you.
Yes, Billshark lets you upload bills for services such as cable, internet, phone, etc., and negotiates with these companies on your behalf to save you money on these bills.
They take a percentage of the savings, but you have a lower bill. And if there are no savings, there are no fees.
You Need Some Stuff
Even if you have all you need, getting some new stuff for your new digs is always nice. If you like shopping online from your couch in sweats, you need to try services like Earny.
Online prices change all the time, sometimes from one minute to the next. Earny monitors your purchases and watches for price drops for you and negotiates a price-matching refund on your behalf.
The money will be credited to whatever card you charged the purchase to. Yes, it's pretty amazing.
You have a whole apartment to furnish, but don't go nuts at Ikea. There are cheaper ways to get what you need.
You must have some things before spending your first night, like a shower curtain. But you don't have to move in with everything you will ever need, so don't buy everything at once.
Spend some time in your new place and get the feel of it. Do you like to sit in front of the TV to eat dinner and don't really plan on grand dinner parties?
Then you can make do without a big dining room table and chair set. Are you going to have lots of out-of-town guests? Then you probably want a sofa bed.
Consider your space a work in progress that you want to be well-curated.
You don't want to buy a generic coffee table from Target only to find a cool old cedar chest at a flea market for half the price that would make a beautiful, interesting coffee table. With secret bonus storage!
Let everyone know that you're moving into a new place. It's incredible what people will offer up.
Most people have too much stuff, and many of them can't be bothered selling it and don't want to throw it away since some of it is still usable.
People love to give a good home to old stuff.
Check out sites like Freecycle or the free section of Craigslist.
People are giving away things for various reasons: furniture that's too big for a new apartment, they're moving and don't want to take it along, they just don't want it anymore and don't want to pay to have it hauled away.
As long as you can arrange to pick it up, it's yours.
Everything in your place doesn't have to be brand new. You probably don't want a mattress you found on the side of the road but check out thrift stores before springing for new stuff.
People donate things like small appliances, lamps, and dishes, sometimes complete, matching sets.
You've Gotta Eat!
You might be a great cook, or you might think beer, wings, and pizza is a three-course meal. It doesn't matter which camp you fall into. Food can be a significant money drain if you aren't careful. But you can eat well for not a lot of money if you know a few tricks.
Get a Slow Cooker: Even if you can't cook, you can cook something delicious in a slow cooker.
Put a few chicken thighs (cheaper than breasts and moister), a jar of salsa, and a package of taco seasoning into the cooker, set it to low for a few hours, shred it with two forks, and boom, dinner!
You don't have to babysit it; when you get home, it's ready. A slow cooker also allows you to buy cheaper, tougher cuts of meat. Because it's cooked low and slow, meat comes out tender in a slow cooker.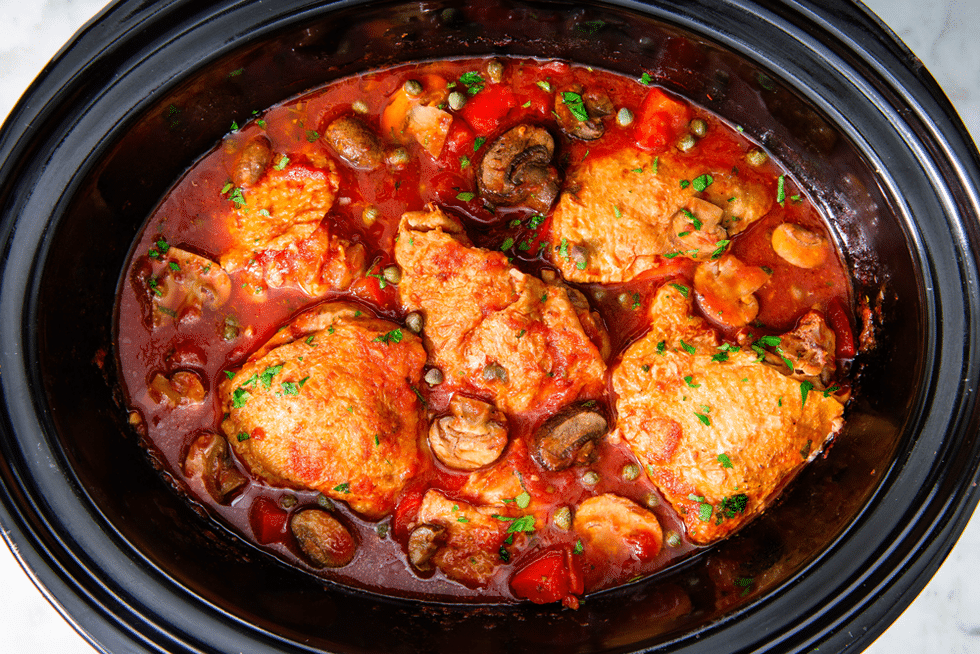 Batch Cook: Eating at home and bringing lunch are two big money savers. Most of us don't have time to cook every day, but if you batch cook, you don't have to.
The slow cooker is excellent for this, but any method will do. Take a few hours on a Sunday and make a lot of something, chili, lasagna, a big pan of stir fry, whatever you like.
Doing this while having a glass of wine and listening to music makes it more enjoyable if you have no great love for cooking. Portion what you've made into individual containers, and there are your leftovers for dinner and your lunches.
Some people don't like eating the same thing two days in a row. In that case, freeze some of the containers. After a few rounds of batch cooking, you'll have a selection of frozen meals and can choose whatever you feel in the mood for.
Ignore Expiration Dates: It might not even be an expiration date. It might be the sell-by date or best-by date. The eggs that were fine yesterday won't give you food poisoning the following day, even if the next day is the one stamped on the carton.
Use your senses. If it looks or smells funny, it might not be safe to eat. If it doesn't, and you're only debating tossing it because of that date, go ahead and consume it.
Laundry
Yes, laundry is a chore, but it's not that big a deal! There are ways to save not only on the cost of doing laundry but ways to make your clothes last longer.
And if you have to use coin-operated machines, in 2023! These tips can help cut down on the number of quarters you have to scrounge around your couch cushions for.
First, decide how dirty is it,? Not all clothes need to be laundered after every wearing. If you spent the day lying around watching Netflix, how dirty is what you wore to do that?
Probably not very. Some things obviously need to be washed after each use but not everything. Some people advocate never, ever washing jeans.
Don't use a whole capful of detergent. A quarter of a cap will do it. That stuff isn't cheap.
Buy a clothes drying rack. Machine drying clothes costs money and shortens the life of them. The lint in the dryer trap is proof of your clothes being worn away.
Using a rack saves money and wear and tear on your clothes. If you have outdoor space, you can use a line and clothespins. My grandmother lived her entire 83 years with no dryer.
Screw The Cable Company
How much do you watch TV, and what are you watching? Until cable goes ala carte, you must pay for all the channels you don't care about.
With sites like Hulu, Amazon, and Netflix, a lot of the content provided by cable companies is now available online –  we managed to ditch cable entirely and not have a problem.
The downside of cutting the cord is that it dramatically reduces access to sports. Consider how important that is to you before making a decision. You can still cut down your bill if you need cable to watch the game.
Be More Eco-Friendly
Check your windows and doors for drafts. If lots of air is coming in, you can use bubble wrap to cover your windows.
It's cheaper than those kits you buy in the store and works better too. You can make or buy a door snake if air is coming in under your door.
You can also be bootleg and use a rolled-up towel. If you have a window unit air conditioner, take it out if you have a place to store it. If you don't have room, buy a cover for it.
Use an electric blanket at night and turn down the thermostat. It's so cozy, and you can turn it on a few minutes before you go to sleep, so you don't have to get into a cold bed.
The cost to run the blanket is less than the cost of turning the heat up a few degrees.
Run a humidifier in winter. It makes the apartment feel a bit warmer, and it's good for your hair, skin, wood floors, and furniture and can help prevent colds by keeping your airways moist.
You can also get the same benefits by placing a big bowl of water in your radiator.
Make sure you don't have furniture blocking heat ducts. If your apartment has wood or tile floors, buy some area rugs or at least a few scatter rugs.
They will help insulate your place, and it's nice to get out of bed in the morning and put your warm feet on a rug rather than a cold floor.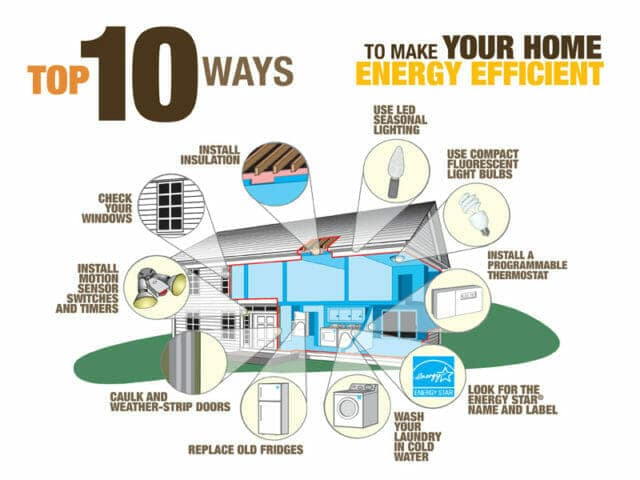 It's expensive to run air conditioning. Budget your AC dollars for nighttime when you're sleeping. It's hard to sleep when it's hot; use a fan during the day.
Switch the old incandescent bulbs in your new place to LED or CFL bulbs, at least in the lights you use the most.
The newer bulbs are more expensive but last a long time and are more energy efficient, saving you as much as $65 per year. If you can get a south-facing apartment, even better.
I didn't have to turn any lights on in the summer until 7:00 pm.
Many utility companies have off-peak hours, typically after 8:00 pm. Wait to run the dishwasher and do the laundry during these hours because the electricity rate will be cheaper.
Open the door and let your dishes air dry rather than using the drying setting during the cycle.
Throw Yourself A Party
Throw a housewarming party. But not until you've been in your place for several weeks and have a better sense of what you still need.
You have to make it clear that this is a housewarming party; you have to call it that. Otherwise, people won't know they should buy you a gift for your new place.
If the people getting married and the ones having babies can do it, why not you? You can't ask for great big stuff, like a new mattress. You have to ask for little things like dish towels and placemats.
Enjoy It!
Moving into your first place is great; it's so exciting! Just be sure you know what you're getting into.
The last thing you want is to be independent for a few years and then have to move back home to mom and dad.
Living on your own for the first time is full of challenges so take the proper steps to make sure being able to pay the rent is not one of them.
Get our best strategies, tools, and support sent straight to your inbox.