Typically, hedge funds attract high net-worth, sophisticated investors and can carry minimum investment requirements exceeding one million dollars. That's a high barrier to entry for most people. Titan has made it easier for ordinary investors to get started for free.
I'm going to show you the investment strategies practiced at Titan, how a hedge fund works, the best way to park your cash with them, and a whole lot more.
Titan Overview
Titan is a mobile investing app that allows anyone to invest like a world-class hedge fund. You can get started today for free. They're backed by Y Combinator and are now helping over 5,000 individuals manage over $25M in assets.
Costs:
No performance fees, trading fees, electronic statement fees, and all deposits and withdrawals are free.
Mobile app:
Portfolio:
Account Types:
Individual taxable accounts
Traditional IRAs
Roth IRAs
Rollovers (existing IRAs, 401(k)s, and 403(b)s)
Availability:
What's A Hedge Fund?
Hedge funds work when you get a group of ultra-wealthy investors to pool their money together. The required minimum investment is usually in the high six or low seven-figures. Mucho dinero.
Hedge funds average ~10 employees:
One Portfolio Manager/Hedge Fund Manager
A Single Chief Operating Officer
One Head Trader
Three Senior Investment Analysts
Three Junior Investment Analysts
A hedge fund team has two parts:
The front office pros who analyze potential investment ideas and manage the portfolio
  The back office operational crew responsible for keeping the lights on

Hedge funds place high-quality bets both for and against the market. The ones for the market are known as "long," the ones against are "short." The difference between the two is your "net exposure."
In Titan's words, "Most funds are what we call 'net long.' That means the dollars they've invested in their long holdings is greater than the amount they're shorting. When a fund is 'net long' stocks, it usually suggests a bullish view on the markets over the long term. Most funds are net long."
A hedge fund typically invests in baskets of "winning businesses (aka stocks)." Once the research is complete, a valuation process takes place where the team decides how much that business is worth.
The goal is to determine whether a stock is underpriced vs. its true intrinsic value. Quality company + attractive valuation = quality investment. – Titan Invest
Investors in a hedge fund assume greater risk for potentially higher returns. Titan operates like a hedge fund – betting on the top picks while also betting against the market (Titan bets against the S&P 500).
***These advanced trading practices are best left to accredited investors like Titan, who can handle the stock market's volatility.
Titan's Performance
According to Titan's website, their imaginary client assuming an aggressive risk profile who joined January 1, 2019, would have a 17% return versus a 10.7% return from the S&P 500 as of May 31, 2019.
Those same returns also had a Sharpe Ratio that was higher than the S&P 500.
***See full performance disclosures at end of this post and on Titan's website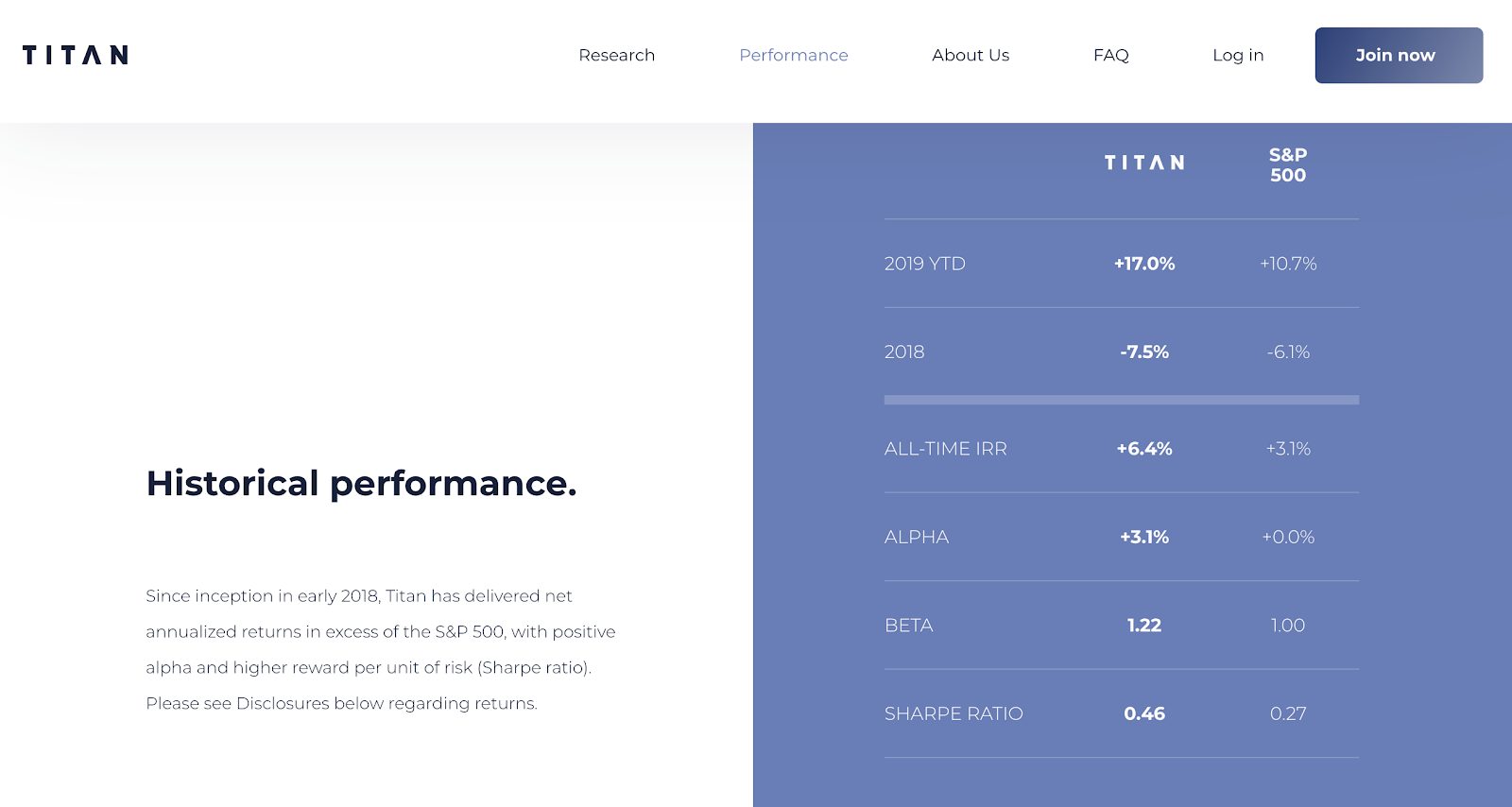 The Sharpe Ratio is a statistic combining an element's return and risk (return divided by risk or Return/Risk). The ideal investment carries a high return with low risk (volatility).
For example, strategy A produces a 10 percent return with 30 percent volatility, and strategy B produces the same return with 50 percent volatility, strategy A wins because it's the same return with lower risk.
.10/.30 = .33 Sharpe Ratio versus  .10/.50 = .20 Sharpe Ratio
The higher .33 Sharpe Ratio wins and is the superior investment.
Titan was able to offer its hypothetical client better returns than the S&P 500 for each unit of risk taken.
For those wanting to take a deep dive on Sharpe Ratios, Smart Beta, and Risk Parity read chapter 11 from A Random Walk Down Wall Street by Burton Malkiel
How Titan Invest Works: The Investment Process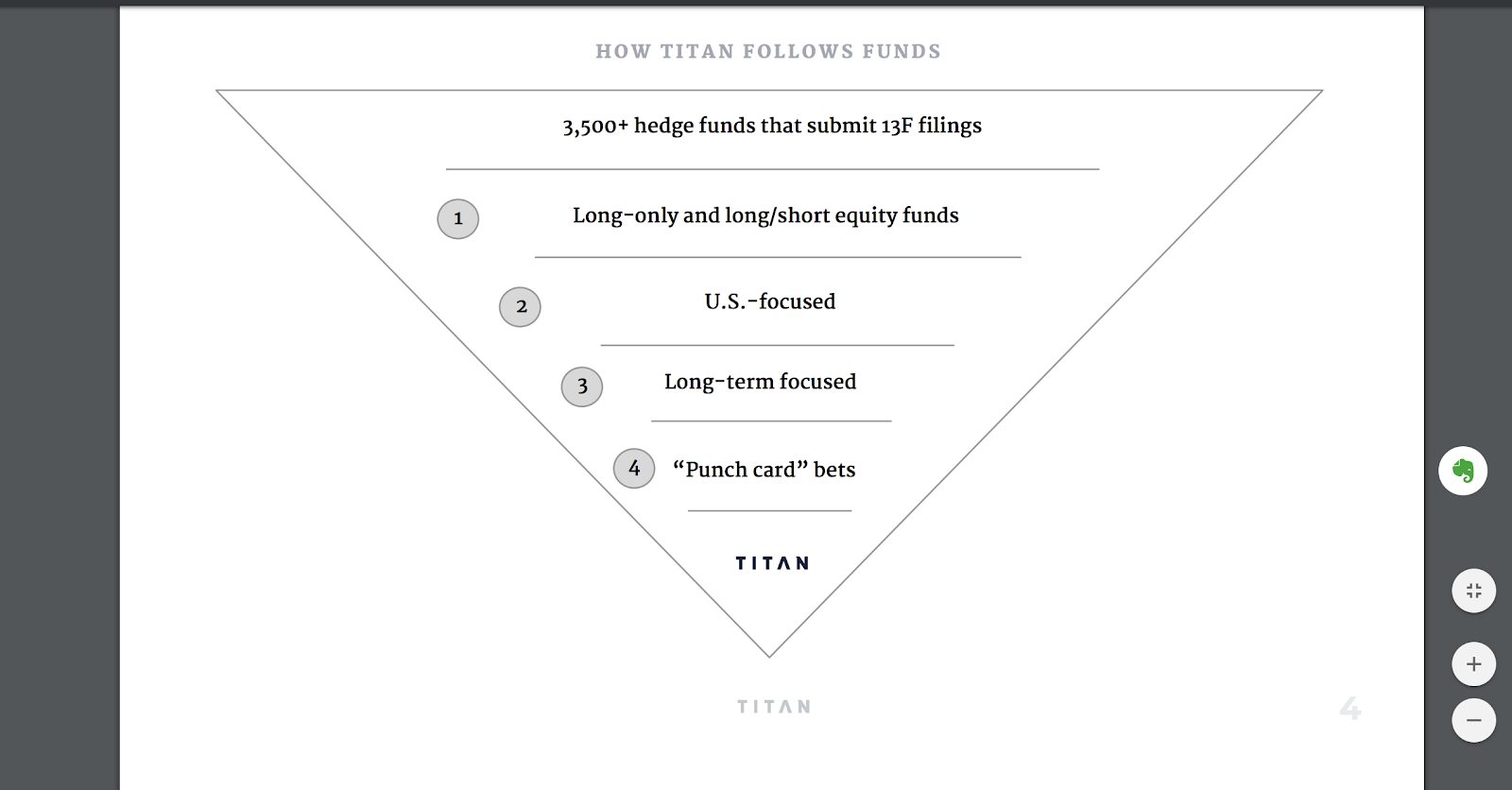 Every quarter, institutional investment managers with $100 million or more in assets under management (AUM), must submit their 13F filings to the U.S. Securities and Exchange Commission (SEC).
This is a public report disclosing their U.S. equity holdings, insights, and precisely what they're doing with their money.
Titan uses enhanced algorithmic software to determine which stocks are worth buying. In their words, "It's difficult for most humans to synthesize all the data into a sensible portfolio strategy."
When distilling this information, there are certain businesses (aka stocks) that tend to have overlapping characteristics. Titan looks for these patterns and picks the cream of the crop (~5% of the 3,500) which make up your portfolio.
Specific criteria considered for a Titan portfolio:
Excellent management with a track record of integrity
Long-term investors with low turnover
A concentration of funds making "punch card" bets
This expression comes from Warren Buffett when he said, "If you were given a punch card with 20 ticks on it, and those were the only investment decisions you could make throughout your entire career, how would you use them? You would likely be very selective and probably very rich. This type of mentality will force you to be patient."
Long-focused, domestic equity holdings with growth potential.
Titan puts domestic, high-quality businesses under the microscope. Once they've analyzed the data, they pick the top 20 and put them in your portfolio. Every investor has the same 20 stocks.
Why Only 20 Stocks?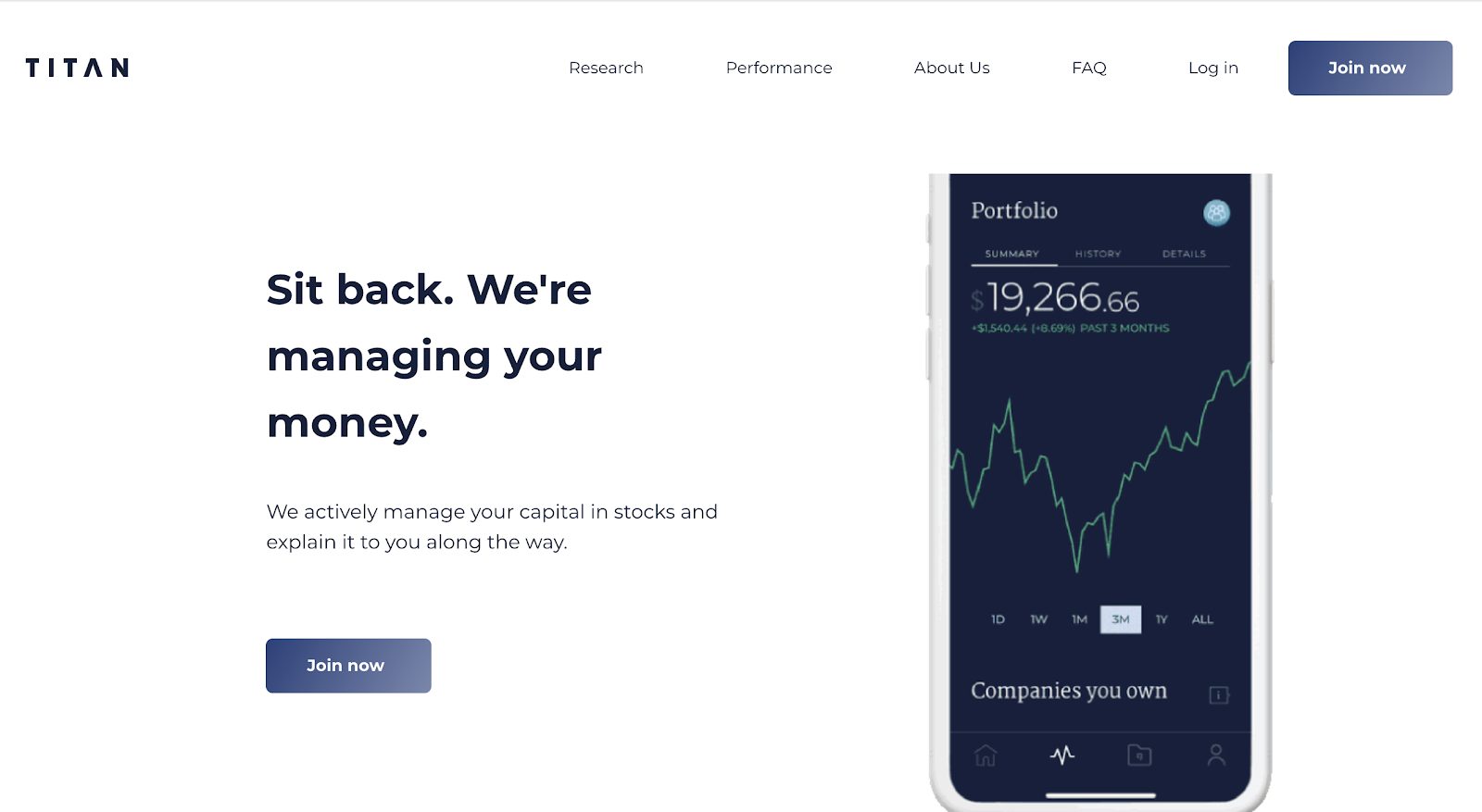 They use 20 stocks because you're neither increasing returns nor reducing risk at this point. Titan offered a quote from legendary investor Burton Malkiel (the guy I referenced earlier who wrote the classic investment book A Random Walk Down Wall Street) to this question:
"By the time the portfolio contains close to 20 equal-sized and well-diversified issues, the total risk (standard deviation of returns) of the portfolio is reduced by 70 percent. Further increase in the number of holdings does not produce any significant further risk reduction."
Fractional Shares
Titan isn't a fund; they're an SEC-registered investment advisor that buys and manages investments on your behalf. Your portfolio is equally weighted across 20 U.S. stocks through the use of fractional shares.
If you've only got $1,000 to invest, Titan splits that $1,000 20 ways. That's the beauty of fractional shares. Your portfolio is divided equally.
Everything lives inside your brokerage account that you're able to access anytime.
Rebalancing
Portfolios are rebalanced automatically every quarter. Once Titan has reviewed the latest 13F filings, they make their adjustments. Some stocks stay while others go. Only ones with the "highest conviction positions at the prior quarter's end" remain.
Titan says the short-term capital gains tax implications for selling stocks is negligible in comparison to the benefits of its re-weightings.
Hedge Your Bets: What's Your Risk Tolerance?
Hedging protects you against market declines. Remember, you've got two bets running simultaneously:
One with a bullish outlook on the market (or "long" – you want stocks to go up)
One where you "short" or bet against the stock market (bearish outlook that stocks will go down)
In a Titan portfolio, you're allowed to short between 0-20% of the market based on your risk tolerance. You can choose to have an aggressive, moderate, or conservative risk profile.
How It Works
When your investment portfolio is not in a downturn:
Aggressive – 0% of your portfolio value is hedged
Moderate – 5% of your portfolio value is hedged
Conservative – 10% of your portfolio value is hedged
When your portfolio is in a downturn:
Aggressive – 5% of its value is hedged
Moderate – 10% of its value is hedged
Conservative – 20% of its value is hedged
All equities will be sold in equal value across all 20 stocks with proceeds of your sales reallocated to the hedge position.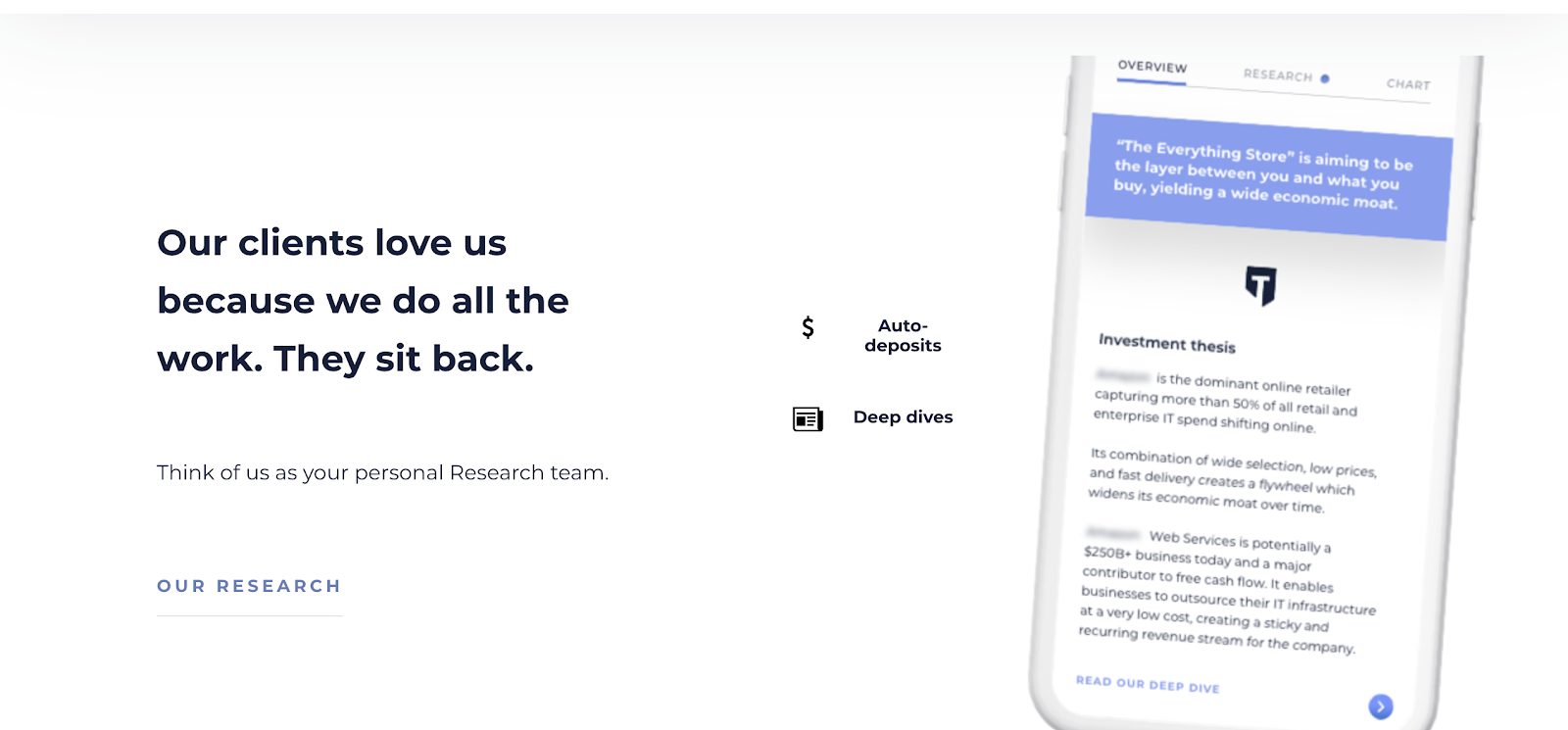 The hedge is applied when your portfolio hits a market decline. The degree of the hedge increases when your portfolio hits a snag and decreases when it improves. The more conservative your risk tolerance, the greater the hedge.
Titan uses an Inverse S&P 500 ETF (exchange-traded fund) to combat dips in the market. The inverse ETF will increase in value when the S&P 500 takes a hit.
Risk profiles can be adjusted once a quarter when Titan rebalances your portfolio. Titan defines a downturn as "when the Titan portfolio's trailing 12-month return falls below the average cumulative return of the S&P 500 over the trailing 12 month period. It's effectively a momentum hedge."
Is Titan A Hedge Fund?
No. Hedge funds pool their investors' dollars together and everyone gets the same treatment. Titan differs by keeping your money in an individual account based on your risk tolerance and financial goals.
In their words:
"Titan invests you like an active manager, with the personalization of an advisor in your pocket."
They're an SEC-registered investment advisor – not a hedge fund.
Titan's Mission
Titan appeals to investors looking for something more than a passively-managed, broad-based index fund or set-it-and-forget-it robo advisors like Wealthfront. The reason behind their low costs is similar to the way online savings banks offer higher APYs – they trim the fat.
We believe that everyone should have access to transparent, high-performance investing vehicles. We are on a mission to modernize active investment management for a new generation.
Costs are kept low by removing excess bonuses, pricey offices, manual compliance and account management; handing off the savings to investors.
They are:
"Democratizing the hedge fund experience for everyday investors."
Titan's Origin Story
Titan was founded in February 2018 by co-founders Clayton Gardner, Joe Percoco, and Max Bernardy. Clay and Joe worked for hedge funds at Goldman Sachs and Cerberus Capital while Max was a software engineer with a patent in hedge fund software.
This experience equipped them with high-level hedge fund investing strategies that achieved exceptional returns for their clients.
Their focus then was the same as it is now:
Long-term investments and time horizon with an emphasis on high-quality businesses.
They didn't like how ordinary investors were excluded from these strategies, so they set out to fix an imperfect system by:
Integrating technology
Providing customers with a user-friendly experience
Automating the entire process with algorithmic software and cutting costs
Strategies once reserved for the ultra-wealthy are now available to anyone (U.S. investors) for free. Ordinary investors can now invest for potentially higher returns.
Creating an Account
Getting started is easy. You'll have to answer a few questions regarding your investment goals, time horizon, and risk tolerance.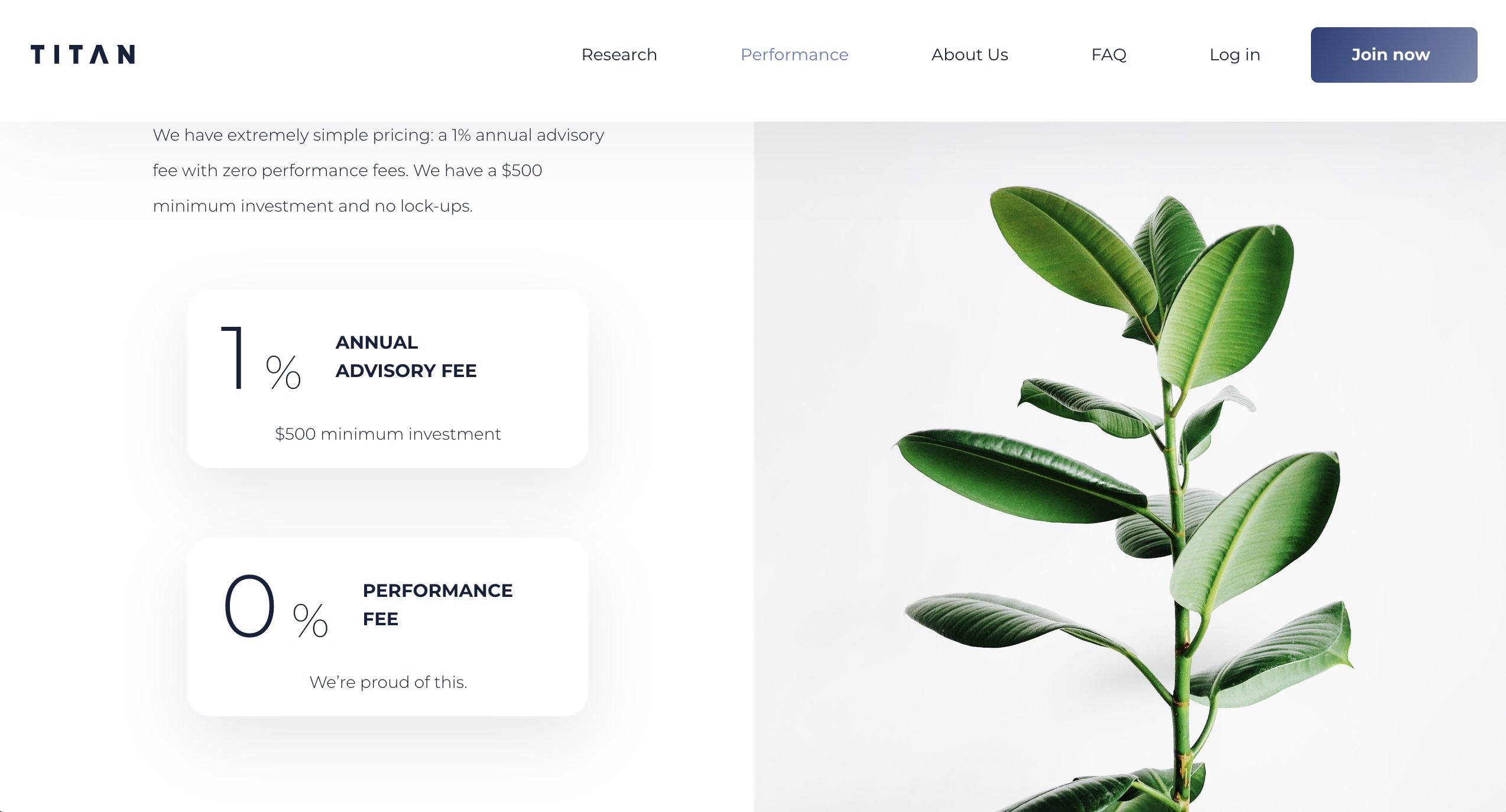 After providing your name, date of birth, and social security, you're set to fund your account.
Deposits, Withdrawals, and Transfers: No Lockups
Your money is available whenever you need it. Unlike hedge funds that freeze your funds for up to a year or more, Titan doesn't have any lockups.
There is no required minimum investment and you can access your funds whenever you like (takes 2-4 business days). Adding funds is easy when linking an external bank account. There is a required minimum deposit amount of $100 (every deposit you make must be at least $100).
ACH transfers take 1-2 business days and once settled in your account, take an additional 1-2 business days before Titan invests your money. Wire transfers are also supported, but you'll have to contact their support team to set one up.
Withdrawals take 2-4 business days. A minimum withdrawal amount of $100 is required. If you want to liquidate your full amount, Titan will take 1-2 business days to initiate the process and then 2-4 business days to withdraw your funds.
There's a withdrawal holding period that says your funds must remain in your account for at least five trading days to deter money laundering and improve Titan's risk management.
Software Integration with Other Apps
Currently, you can integrate your account with Mint and Personal Capital. Titan also supports Intuit's TurboTax through their partner Apex Clearing. You can use TurboTax Premiere to import your trade history.
Consolidated 1099 forms will be uploaded directly into your Turbo Tax account come tax time. Titan Invest also integrates with H&R Block's tax software.
If needed, CSV files of your trading activity can be downloaded directly through Apex. At this time, users aren't able to integrate or download data to their Quicken account.
Is Titan Invest Safe?
Yes, your investment funds are safe. All data is encrypted using Secure Sockets Layer (SSL) and 256-bit encryption. Your money is SIPC insured up to $500,000, and your assets are held at Apex Clearing (a leading, third-party custodian in the fintech industry).
Promos and Perks
When you open an account and refer a friend who funds an account, Titan gives you a .25% advisory management discount. If you refer four friends, Titan waives your management fee. You'll pay 0% advisory fees for as long as your account remains open.
They're not spending money on marketing to grow; they're spending it on their customers' investing experience
Tweet This
They're not spending money on marketing to grow; they're spending it on their customers' investing experience. It's their way of paying it forward.
Free Tier of Titan
New users can now install Titan and get access to a free tier of Titan without having to make an initial investment. This gives prospective users a chance to explore the app before making any decisions.
Instant Deposits
Instant deposits let you get invested within hours (possibly minutes) of transferring money to Titan. This feature is available to all Titan users for free.
This is a seemingly small but significant feature that most of the larger robo-advisors either don't offer or charge for. It's Titan's belief it will give their clients as much control over their money as possible.
Customer Support
You can contact Titan through their phone support team (848.222.3664), by email or through their app.
They also have a strong social media presence. Their news outlet, The Feed, is an Instagram-inspired feature connecting millennials with the markets.
Users also gain access to a personalized stream of videos, articles, and in-depth reports tailored to the stocks in their portfolio.

This one comes from a Q1 "Thought of the Quarter" report. Titan takes an active role in teaching their community about how the investing process works and why they're choosing the stocks in their portfolio.
Is Titan Invest Right For You?
If you're looking for something more than a passively-managed index fund and want something a little more hands-on, Titan might make sense.
Pros
Cream of the crop stock selection of high-quality businesses
No minimum investment requirement
Hedging using an Inverse S&P 500 ETF (a simpler and more cost-efficient alternative to creating a margin account)
Excellent research center with real-time updates, deep-dive reports, and videos
Investors are direct owners of their portfolios (as opposed to being shareholders of Titan Invest)
Low, flat 1% advisory fee (the services offered through Titan are normally reserved for the ultra-wealthy and come with a higher price tag. Investors gain access to their portfolio management at a fraction of the cost. Because this service has removed a lot of overhead they can reduce advisory fees and performance fees down from 2% and 20% respectively, to 1% and 0% performance fees)
Highly-liquid fund assets. Most hedge funds come with lockups, meaning your money is inaccessible for a year or more. Titan lets you access your cash anytime)
Referral program offers a 0.25% advisory fee discount for every friend who signs up and funds an account, potentially eliminating the 1% fee forever with only four referrals
Cons
Limited account selection
Limited exposure (Domestic equities)
Only available to hedge fund investors with primary residence in the United States
Limited access through mobile app although they've said they're working on a desktop version
Unproven track record. Titan launched in February 2018 and while off to a good start, still has to prove whether it will be an industry leader in this space
Final Thoughts
Titan Invest was created to fill the gap felt by individual investors wanting something more than passively managed mutual funds and ETFs.
Thanks to Titan, those investors now have access to hedge funds with no lockups or performance fees, while engineering more advanced investment strategies.
The hedge fund industry is notorious for having a high barrier to entry with high fees and high minimum investment requirements.
However, much like robo-advisors have removed the middleman and digitalized the user experience to keep costs low for their customers, Titan has followed suit. They're eliminating the middleman to pass along the savings to investors.
If your brand of bourbon is a more hands-on, actively-managed style, Titan Invest might be the perfect fit.
***Disclosure*** This article is a paid partnership with Titan Invest ("Titan"). All opinions are our own. This is for informational purposes only and does not constitute a comprehensive description of Titan's investment advisory services. Titan uses a proprietary algorithmic strategy in selecting recommendations to advisory clients. Please see Titan's website (https://www.titanvest.com) and the Program Brochure (available on the website) for more information. Certain investments are not suitable for all investors. Before investing, consider your investment objectives and Titan's fees. The rate of return on investments can vary widely over time, especially for long-term investments. Investment losses are possible, including the potential loss of all amounts invested. Nothing here should be considered as an offer, solicitation of an offer, or advice to buy or sell securities. Past performance is no guarantee of future results. The above content is for illustrative purposes only to demonstrate products, services, and information from Titan. Performance results are net of fees and include dividends and other adjustments. 2019 YTD results are from 1/1/19 through 5/31/19. 2018 results are from Titan's launch date of 2/20/18 through 12/31/18. All-Time IRR, alpha, beta, and Sharpe ratios are from Titan's launch date of 2/20/18 through 5/31/19. All-Time IRR is the actual internal rate of return. Alpha is calculated using the Capital Asset Pricing Model (CAPM) and uses a risk-free rate of 2.09%, which was the average 3-month Treasury Bill rate during the period. All performance figures represent performance of a hypothetical account created on Titan's inception date of 2/20/18 using Titan's investment process for an aggressive portfolio, not an actual account. All Titan performance results include the use of a personalized hedge for a hypothetical client with an "Aggressive" risk profile; clients with "Moderate" or "Conservative" risk profiles would have experienced lower returns. Please visit https://support.titanvest.com/investment-process/hedging for full disclosures on our hedging process. Please see Titan's website for full disclosures.
Get our best strategies, tools, and support sent straight to your inbox.