Table of Contents
Father's Day Money Special
In this special Father's Day episode Matt and Andrew interview their dads to find out what mistakes and victories they had with money and what lessons they have for their sons and us listeners.
The apples don't fall far from the trees.  Andrew's dad has been good with money for a long time.  Andrew's father didn't grow up with money and learned important lessons watching his own parent's struggle.  He wanted to be a musician but soon realized that life was not a secure one.  He got a full time job and went to school at night and his job covered 80% of his tuition expenses.  He eventually received an MBA.
When Andrew's dad was coming up, it was unusual to job hop.  A lot of people of that age would work for the same company for thirty years and retire with a pension.  But his father was never afraid to chase more money and even when not actively seeking a new job, he would still go on interviews to see what might be out there.  He was able to increase his salary much quicker this way than by waiting for a small yearly raise.
Andrew's dad faced a few job losses in his career when the companies he worked for went under.  Faced with unemployment, he treated getting a job as a job, spending 8-10 hours a day on it.  He would contact a few recruiters, look at a few job boards and company websites and mine his contacts.  Even at the height of the crash, following these guidelines, he had a new job in less than four months while a lot of people around him went a year or more before finding employment.
There is a difference between being rich and being wealthy.
Tweet This
Dad's parting advice is to never give up and live within your means while still enjoying a good quality of life.
Continuing the theme of the apple and the tree, Matt's dad is a musician as well.  And like Matt, he has only become educated about personal finance recently.  Also like Matt, Matt's dad worked from a very young age.  He worked in a laundry for the same family from the age of ten through high school.  He did attend college and wisely decided to go locally and live at home to cut expenses.  He did graduate with student loans but paid them off within twelve years.  Sadly, twelve years sounds really quick to those graduating today.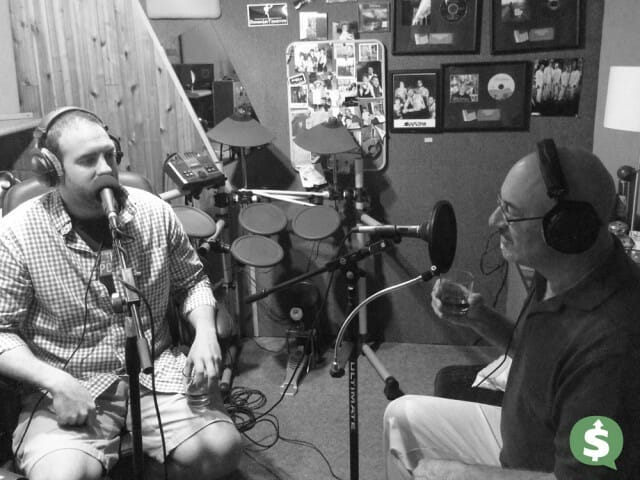 Matt's father was a professional musician for six years.  As his family grew, he knew he needed to make more money and music became a hobby rather than a vocation.  Matt's father lived paycheck to paycheck for many years, juggling payments for everything but the mortgage.
Two things convinced Matt's dad to take charge of his finances.  He saw Matt following the same paycheck to paycheck path and knew he had to lead by example.  And a friend recommended a book, The Richest Man in Babylon, which changed his views on money and finances.  The main lesson of the book being, "pay yourself first."
Today Matt and his dad are on the same path toward financial stability and teaching each other.
Thanks to all the dads out there, whether you are good with money or not, you'll always be our dads.
Show Notes
Ommegang Abbey Ale:  Andrew's Father's Day drink.
Macallan 12-Year Single Malt Scotch: The drink Matt and dad shared.
Career Alley:  Andrew's dad's blog.  This runs in the family too!
The Richest Man in Babylon:  The book that helped Matt's dad with his finances.
Custom Rooms By Design: Even though Matt's dad didn't mention it, here is his website.