Table of Contents
Getting a Mortgage is a Terrific Idea
There has never been a better time for you to buy a home. Getting a mortgage may be the best money decision you've ever make!
It use to be that getting a mortgage to buy a home was a scary prospect.  Now, getting a mortgage is a terrific idea! When our parents were applying for a mortgage they were lucky to get a rate of 7%. Right now we can get a rate as low as 3.5% interest.  The amount of interest you pay between the two is an incredible difference!
Low interest rates are one of many reasons you really need to act now.  Don't have enough for a 20% down payment so you figure it's not worth reading on?  Don't forget that FHA loans only require 3% down on the purchase price.  You can sure count on that not lasting forever!
Mortgage Rates Are A Joke Right Now!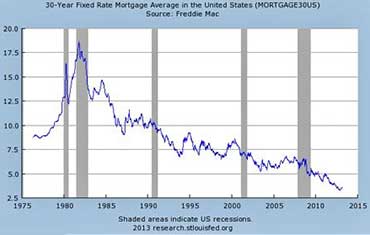 Just take a look at that graph on the right and let it sink in.  Right now, mortgage rates are the lowest they've been pretty much ever.  The 40 year average is above 8%!
When our parents bought their homes it was very likely that they paid more than 8% interest.  That means a $300,000 would actually cost them $792,466 or $492,466 in interest payments over 30 years!
If you were to buy that same house today it would only cost $484,968 or $184,968 in interest.  The difference is enough to buy a whole other house!  If you were to compare payments with your parents on that same house, they would have paid roughly $400 more a month than you.
Sure you could wait to buy a home but you you should really consider the first graph in the post, the one focused on the past two years.  I found it on Zillow.com and based on past interest rates and volume of homes purchased in the past few months, the rate is only going to go up from here.  Especially now that everyone can see we've already passed rock bottom.
Home Prices Are Scraping The Bottom
Again, when you look at Zillow.com, check out their real estate research reports.  After viewing a few of their extremely detailed reports, I think you'll come to the same conclusion as me. Home prices across the country are not dropping any further and in many cases, they are already on the rise.
There is one thing that many of the wealthiest people in the country have in common.  They've either grown their wealth entirely though the real estate market or they have many large investments there.  If Donald Trump could do it, so can you ;)
While land in the middle of Wisconsin may be highly available and show little growth, much of the land near the country's major economic centers show lots of growth over long stretches of time.
Imagine land in NYC being devalued.  Sure for three years during the recession it was dirt cheap, however if you have a 30 year mortgage and dutifully make your payments, in three more years it will be likely be worth more than the peak. (accordingly to Zillow's research).
Get our best strategies, tools, and support sent straight to your inbox.
You Will Reduce Your "Rent" By A Third
Yes, it is true. The first few years, the majority of your mortgage payment goes toward interest. However, we need to put things in perspective. Let's say you're renting now and you pay $1,500 a month for a nice place that can comfortably fit your entire family. You also need to save money for your future or emergencies. If you saved $400 a month that would already put you at $1,900 in monthly commitments.
Now lets imagine you bought a $300,000 place, put 10% down and got an interest rate of 3.5%.  Your monthly payment would be $1,510.  What people don't calculate in is the principle they are gaining on their house every month.
For your first monthly payment of $1,510, 28% of that is going back to you, into the value of your home.  That means you effectively are spending $787.50 towards "rent" and $424.92 is going towards your savings which you are storing in the value of your home.  The crazy part is this rent will go down every month for the 30 years you have your mortgage and your savings will go up every month.
Since you're paying yourself every month AND you get to deduct your mortgage interest from your taxes, getting a mortgage is one of the smartest wealth building decisions you can make. Just remember though, with rates so low don't overpay your mortgage!
Think about Getting a Mortgage
Purchasing a home is no small decision, it's probably the biggest commitment you can make besides marriage! If you are considering it than now is the time.  Home prices aren't getting any cheaper and mortgage rates aren't getting any lower.
Plus, who says you need to commit to 30 years in one place?  Live there for 5 years and then move on to the next city that interests you or buy a second house and rent your first one.  Renting could provide you a second stream of income all while paying off your mortgage!
Do you have a mortgage?  Did you just get one or are thinking about getting one?  Tell me in the comments