Looking for an affiliate marketing plugin that does more than just cloak links (while letting you make long blog posts more interesting without filling them with stock images)? The Lasso WordPress plugin can fix that. This review explores what Lasso is, how bloggers like you can use it to generate more revenue, and more.
(Full Disclosure: We built Lasso to help manage our own affiliate websites)
What Is the Lasso WordPress Plugin?
Lasso is an all-in-one WordPress affiliate marketing plugin that lets you create custom affiliate product displays (like the one below) while tracking and managing your entire link inventory in a single place.
Its functionality extends beyond a simple cloaking or link management plugin (although it does that too).
Lasso
We built this to monetize Listen Money Matters and now we're sharing it with you. If you want to make money online, you need this tool. It's the best plugin you'll ever use, if we do say so ourselves.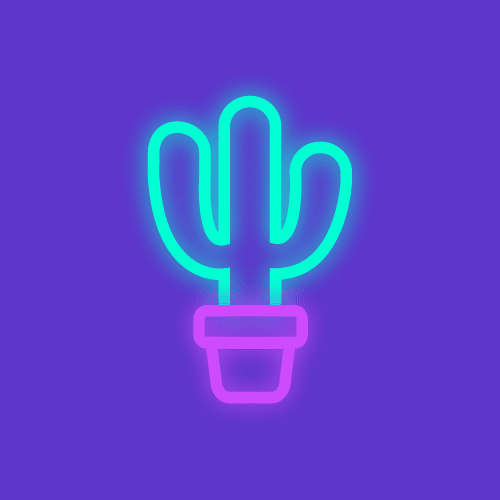 With Lasso, you can also:
Find new income opportunities and affiliate programs to join from existing links
Connect to Google Analytics to track every click's performance
Get link alerts when they break or when products are out-of-stock
We'll get into all of the above in a minute. But first, I'll mention how you can use quickly add it to your WordPress site.
Getting Started with Lasso
To get started, you'll need to create an account. Once you've signed up, you'll download the plugin from your Account Details page on Lasso's site.
Next, head to your WordPress site and click Plugins > Add New > Upload Plugin.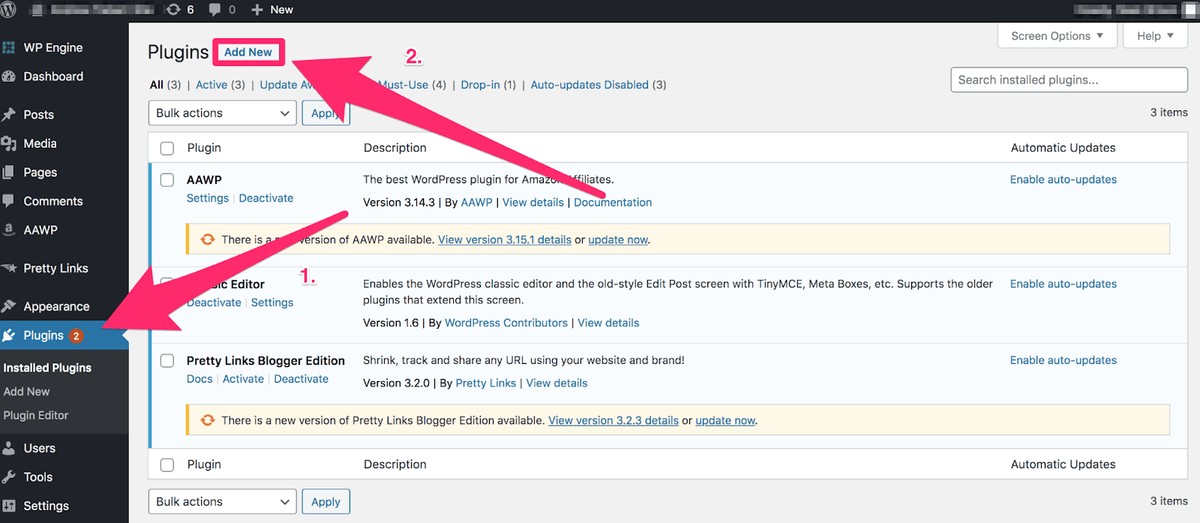 Choose the file you downloaded from your account page, then click "Install Now."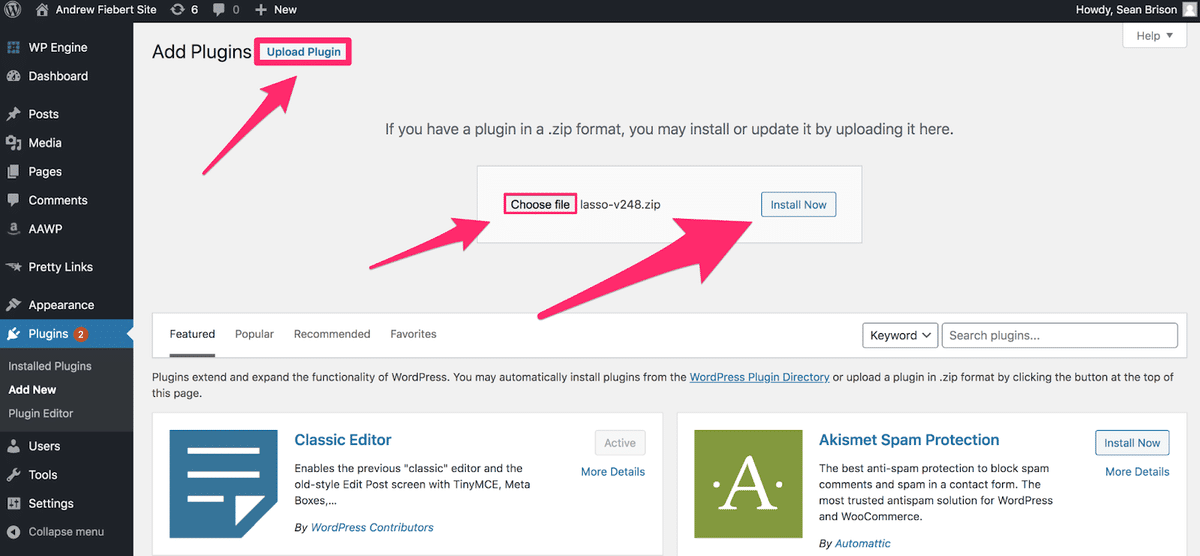 Now, select "Activate."

Then, paste your Lasso License Key (from your Account Details page) in the field.

You're now ready to start using Lasso on your website.
Lasso WordPress Plugin Features 
Lasso has a wide range of things it can do, from dynamic display boxes to finding new linking opportunities to tracking clicks.
Let's explore some ways you can use Lasso's features to optimize your affiliate site's performance.
Multiple Custom Themes
Lasso lets you choose from eight different themes to match your website (see and demo the themes here).
You can explore various functions from inside your display settings, including badge and call-to-action text, buttons, and background color styling options.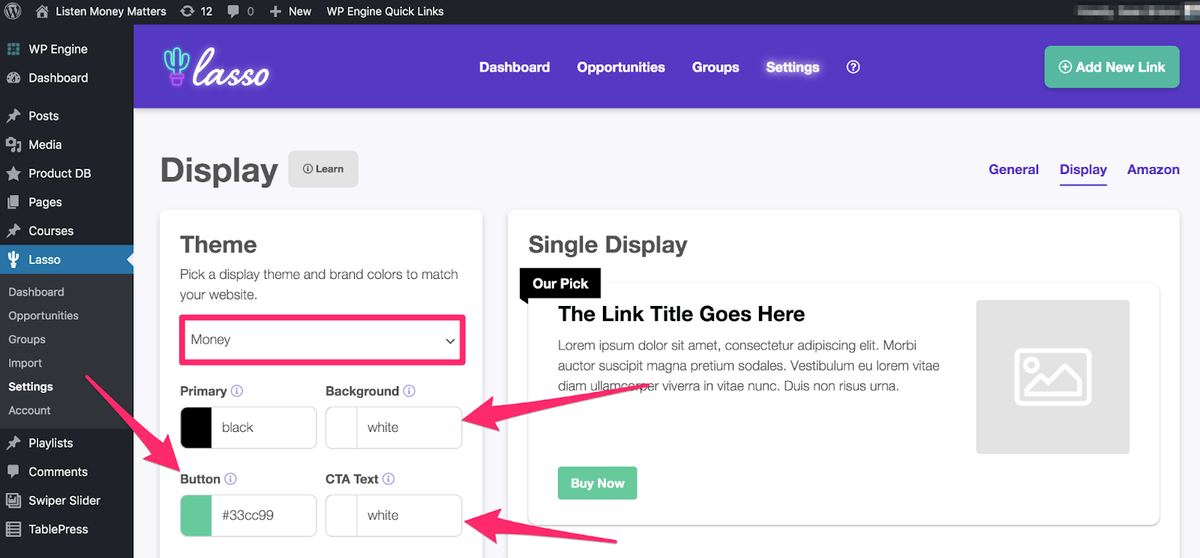 You'll see how your display looks once you explore the color fields. You can pick any color to match your website.
You'll also be able to preview and set your primary and secondary CTA button text, affiliate disclosures, and show or hide elements for your displays (including Grid displays).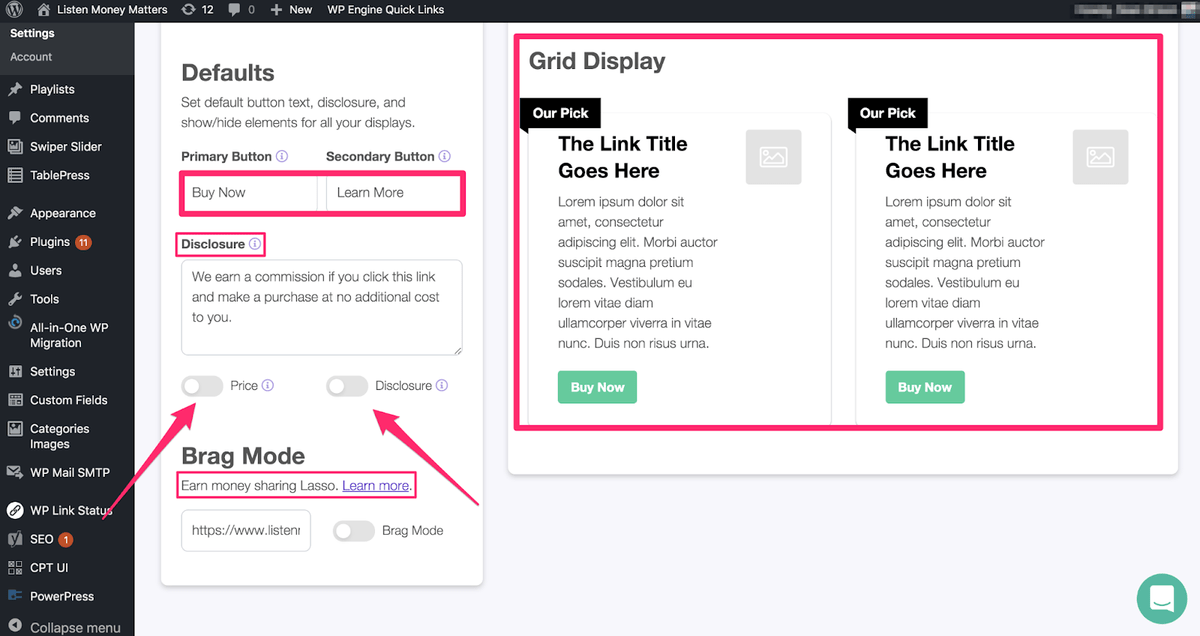 If you want to link to two different affiliates, you can do that, giving your readers more options and more chances for you to make money.
We use the buttons not only with affiliates but with courses and product reviews.
For example, our Roofstock display features two CTA buttons – one pointing to our affiliate link and the other sends readers to our Roofstock review:

Find Every Link Across Your Site from the Lasso Dashboard
This is mission control for your Lasso WordPress plugin. It lists the total number of links in the search bar, along with notifications you can filter and access.

If you want to troubleshoot a broken link on your blog or explore new income opportunities, you can do it all from there.
Below are three advanced filters you can use when looking for specific links (and also appear front-and-center across your dashboard):
Broken links
Out-of-stock products
Opportunities

Lasso takes you to those locations on your website (without having to dive into individual pages).
For example, when clicking the Broken Link icon, Lasso displays every place on your website with a broken affiliate link.
Here, you see the link name in the left-hand column and the location where you can find it on the right (see the below example):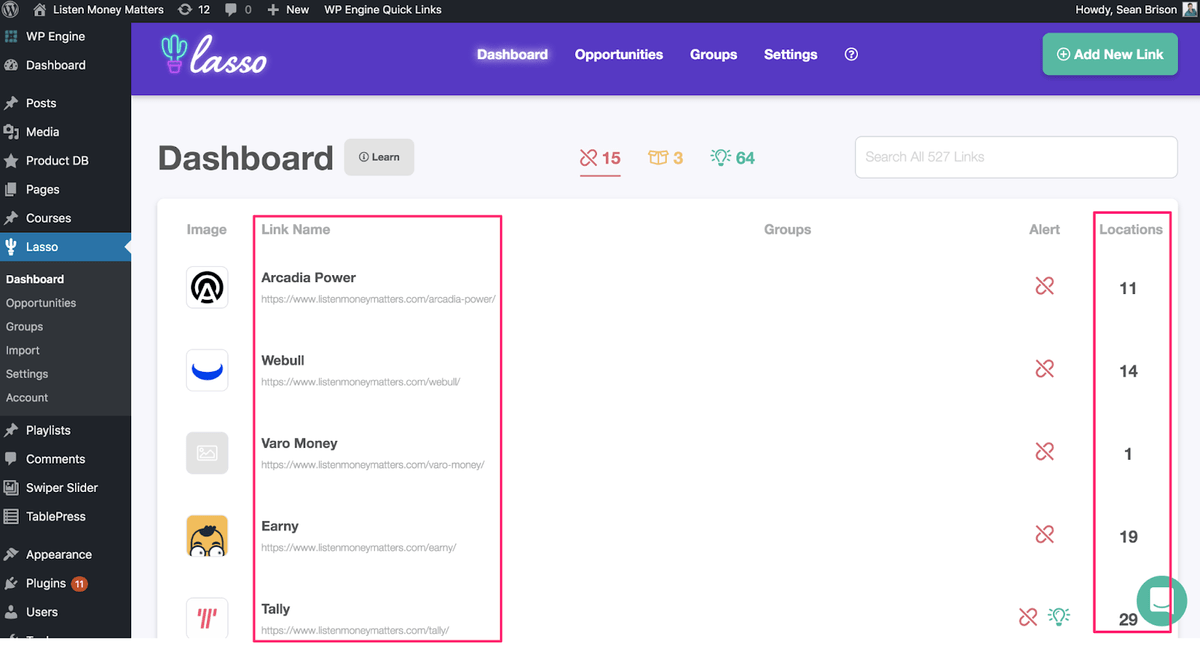 If you click on the first link at the top for Arcadia Power, you see:
Content (e.g., a blog post)
Link with context (how it displays)
Link-type (e.g., a text link)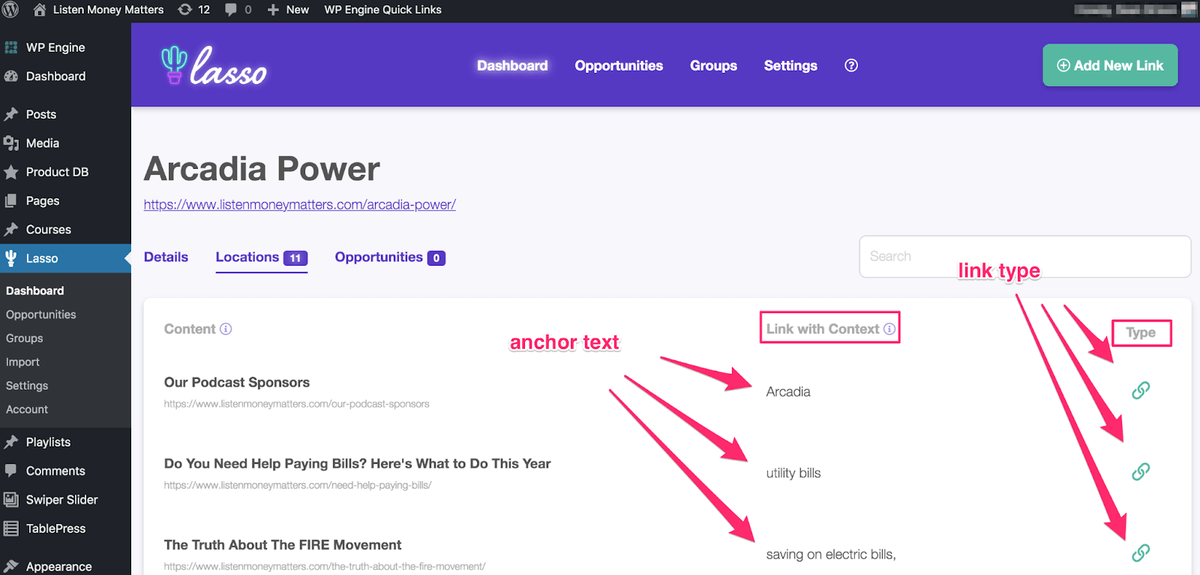 For example, when you click on the anchor text "utility bills," and you can see how it displays in the blog post: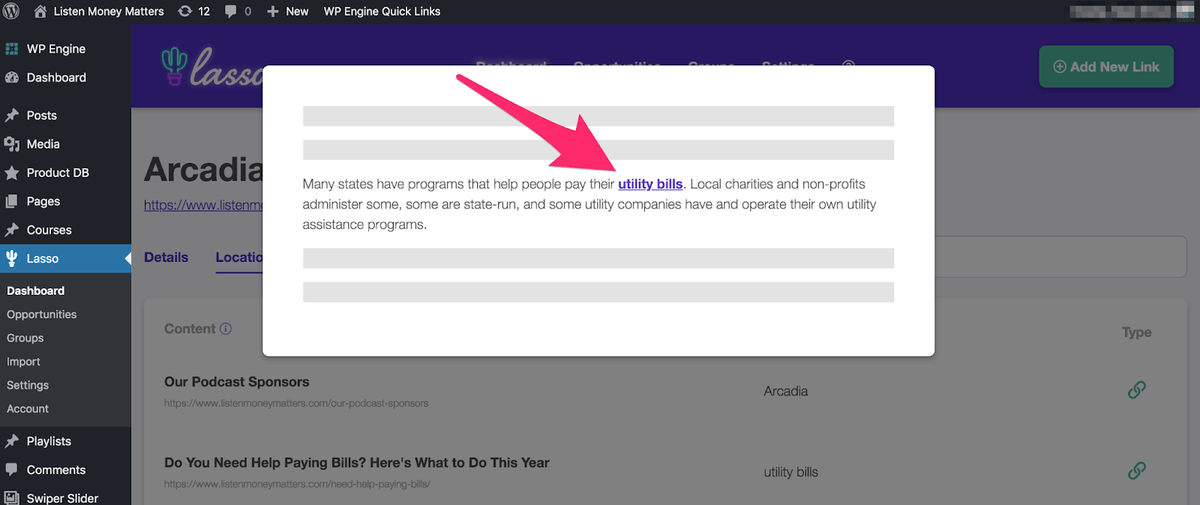 From here, you decide to replace or remove the broken link.
You can rinse and repeat this process for finding new affiliate linking opportunities, out-of-stock products, and affiliate programs to join (more on that below).
You can use the dashboard to make quick fixes across your site at scale.
Further Reading:
Choose How You'll Showcase Your Products with Multiple Display Options
Lasso gives you the power of choice to display your affiliate URLs and product links. And even though it's a tool built for affiliate marketing, you can use it to enhance, promote, and track any link (e.g., a link to your online course)
You can choose from six different display options:
Single product box
Button
Image
Grid
List
Gallery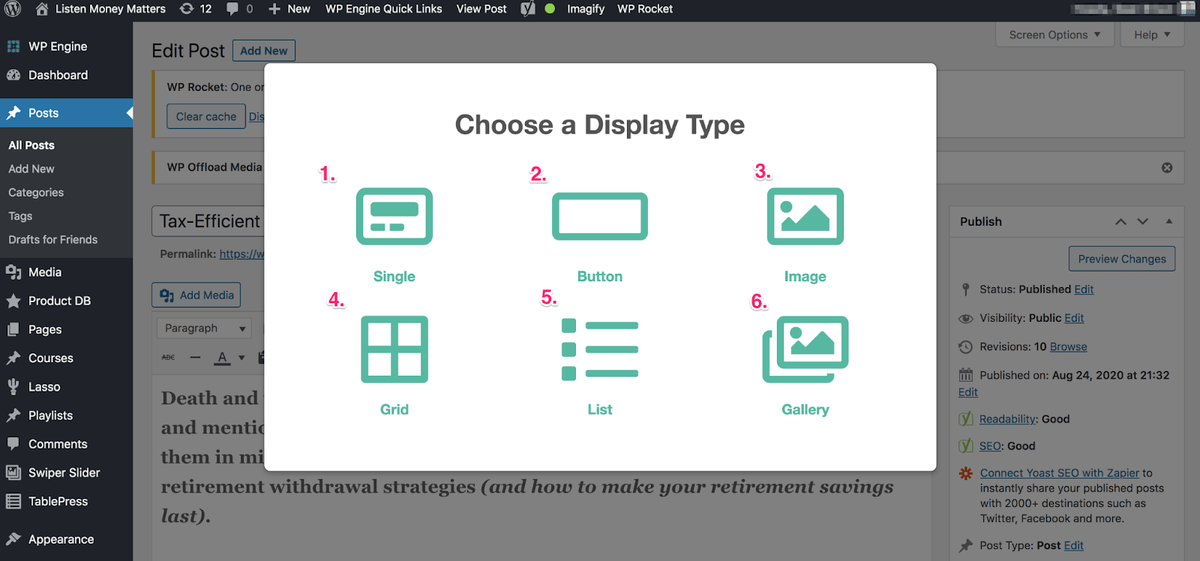 Create Your Displays In Minutes
Inside the Lasso dashboard, hit "Add New Link."

Then, paste the affiliate URL into the field:

An easy example is when using Amazon; if you were going to add a product URL from Amazon, you only need to copy and paste the link from their website directly into Lasso. It'll convert the Amazon URL into your unique affiliate link.
Unlike other affiliate programs where you have to wait for approval, Amazon is virtually instant. Which makes it an excellent, beginner-friendly affiliate program to join.
So, if you wanted to grab a link from Amazon, you'd:
Copy the Amazon product URL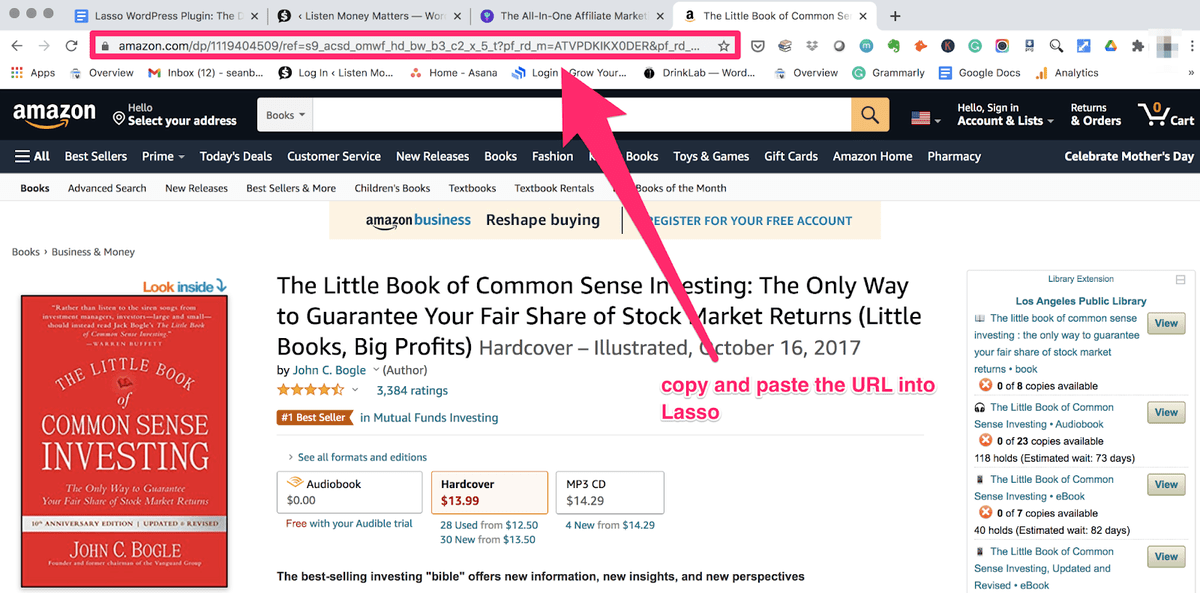 Then head to your dashboard, click "Add New Link," and paste it into the field. Your new affiliate URL now has a home inside Lasso: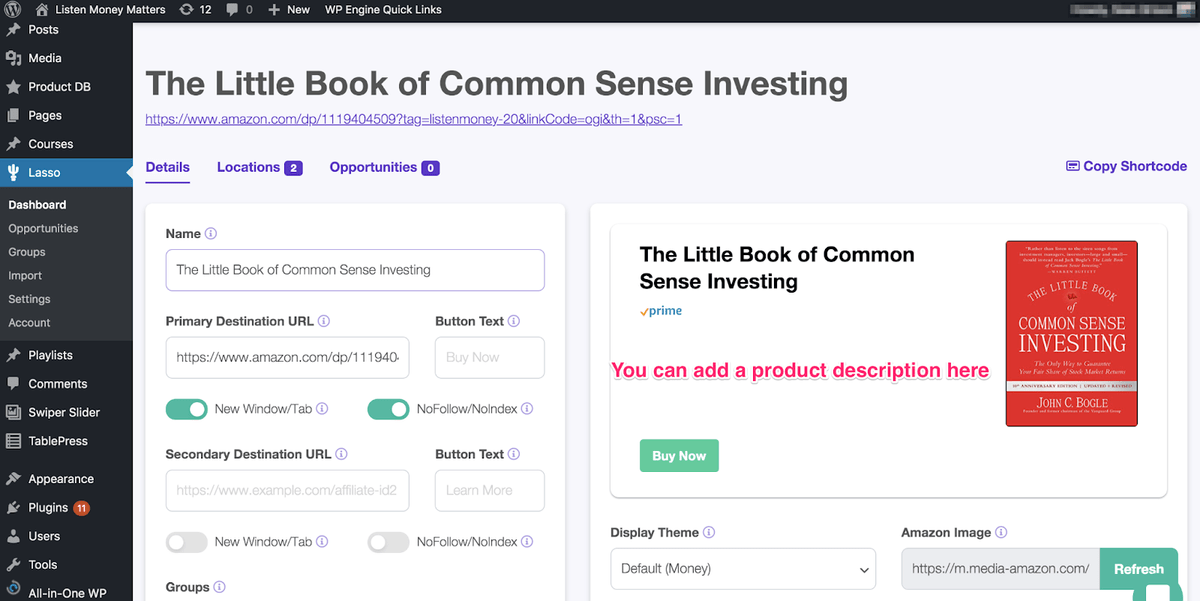 We'll get into the anatomy of your product URL in a minute.
Sidenote: Because this example used an Amazon link, Lasso automatically generated the image, Prime badge, and price. Some affiliate programs will require you to add an image and price manually. For example, most of LMM's affiliates come from companies like Betterment and M1 Finance. These require you to apply. In those cases, once approved, they'll provide you with marketing creatives (e.g., images and logos) to use with your website.
You can also find images in a hurry on the company's Twitter page.
Here's a breakdown of an individual affiliate product URL using Lasso with the above Amazon example: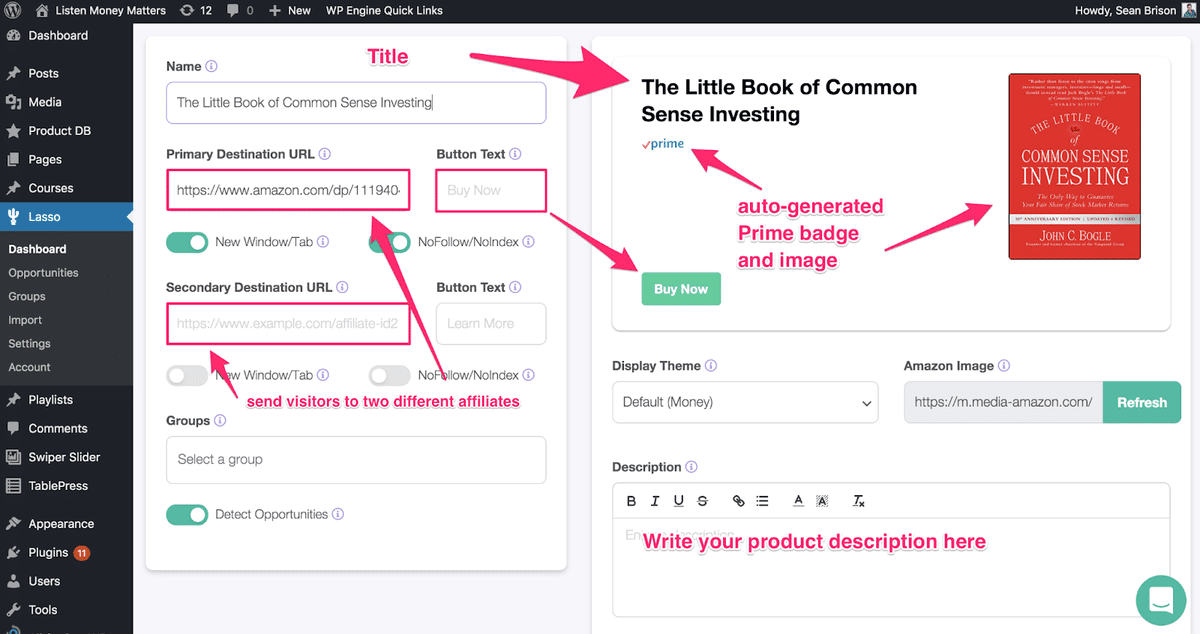 You can also choose whether to show the price and affiliate disclosure: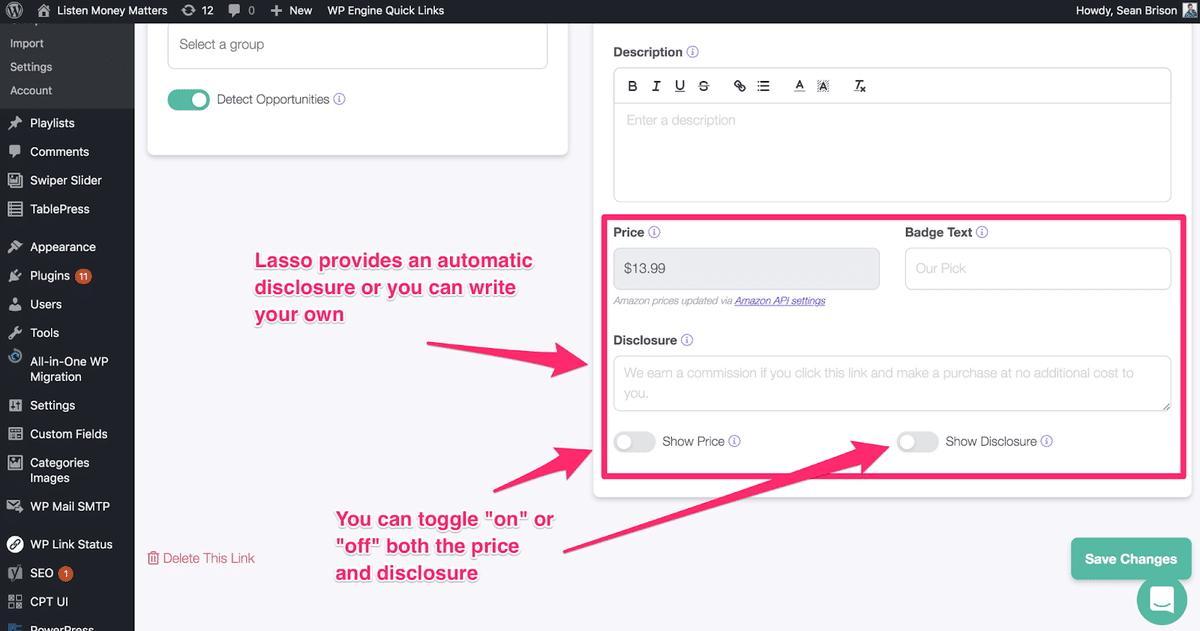 Once you've created your affiliate URL, hit "Save Changes."
Then, adding it to your post inside WordPress is easy.
You'll click the Cactus icon in the editor of where you want to add your product display:

Lasso will add a piece of shortcode in your post where you want the display to appear:
Further Reading:
Enhance Your Affiliate Links by Creating Numbered Lists and Galleries Using Grid Displays
If you're creating a resource page for your site (highly recommended), the Lasso WordPress plugin lets you do that when you organize your affiliate links into groups.
Using our site as an example, we wanted to organize some of our affiliate links by category. For us, that looked like this:
Your website will no doubt be different using different categories. If you want to create Groups in Lasso, here's how:
From the dashboard, go to Groups > Add New Group.

Then give it a name and click "Save":
Let's say you want to add that book "The Little Book of Common Sense Investing" to your "Books" Group.
You can head to the product URL, click on the lower left side under "groups," and click Books. Lasso automatically adds that URL to the Books category: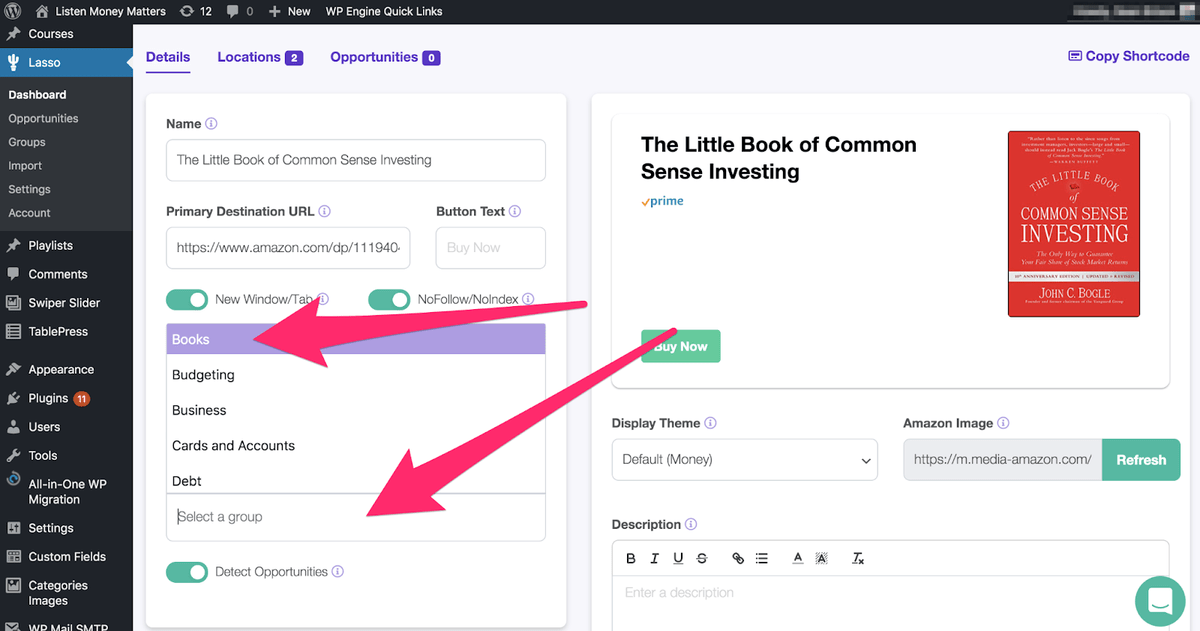 You can have a product in as many groups as you want.
Creating groups comes in handy for organizing and displaying your links as a Gallery or Lists.
If I want to display groups as a numbered list, click the Cactus icon inside the WordPress Editor and choose "List":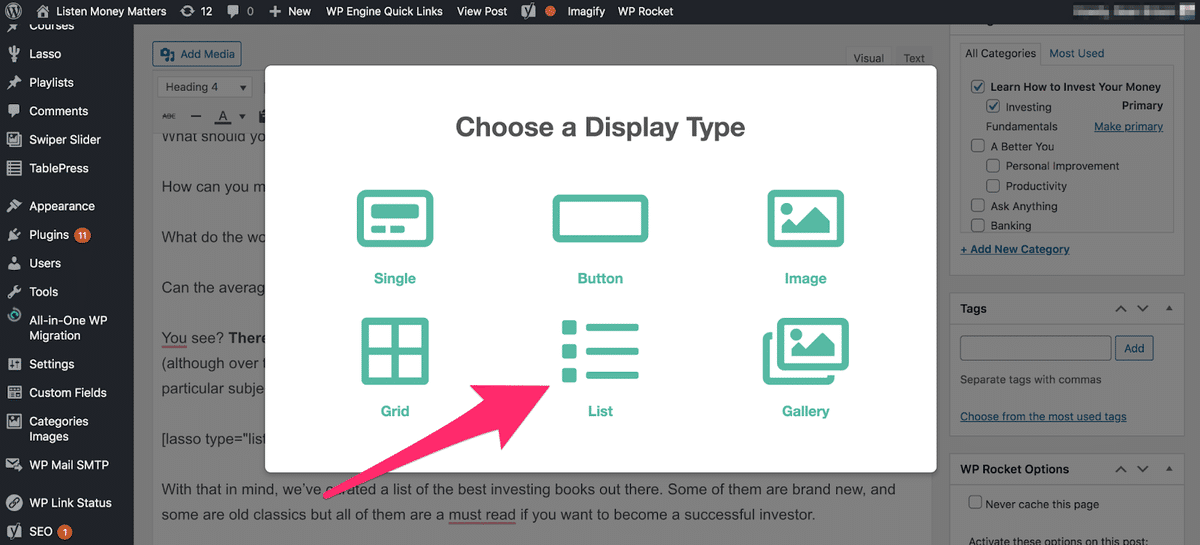 After selecting List, hit save, and here's what it'll look like: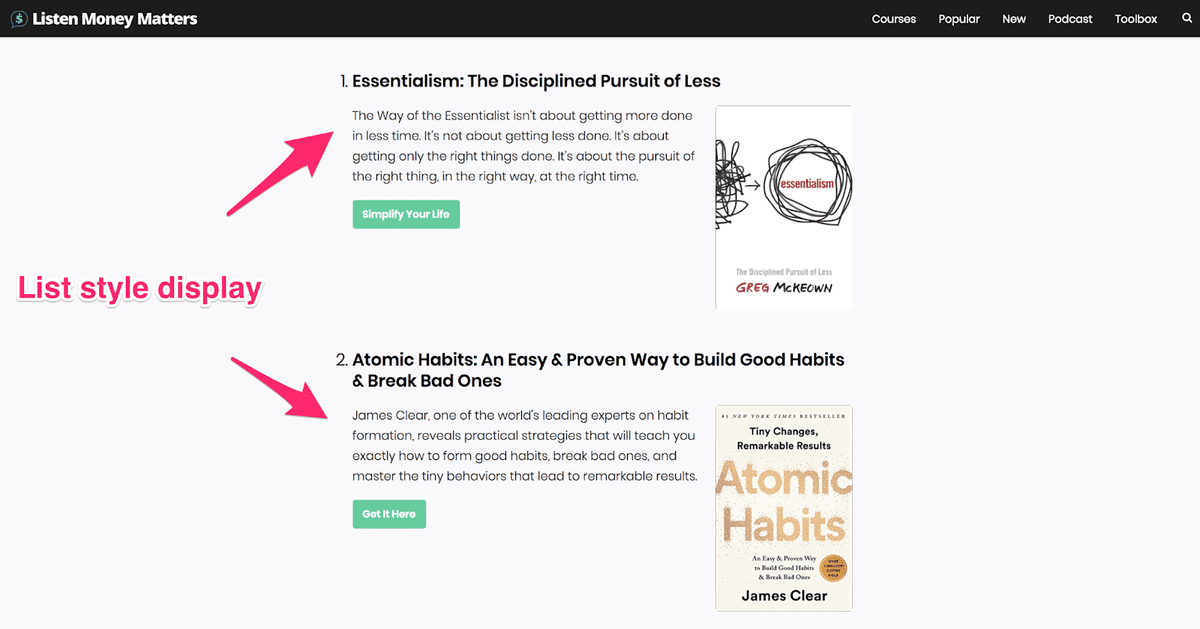 You can create an entire List post if you wanted, or include your top 3-5 products in a blog post. It's whatever makes sense for your site.
This approach works in any niche on any WordPress site.
Here's what a Gallery display would look like from the same category:
Another reason to create Groups is for building a Resource page for your site. These types of pages are excellent for increasing affiliate revenue.
Our Toolbox page provides 10% of our affiliate income — from one page alone (more on that below).
Further Reading:
Amazon Integration
Lasso integrates with Amazon. It's one of the largest affiliate programs on the planet and is noob-friendly, so many new bloggers start pulling products from there.
Amazon Associates (Amazon's affiliate program) is very easy to use with Lasso. And you don't need API keys either.
As already mentioned, converting Amazon links into affiliate URLs is as simple copy and pasting. Once you paste the link into Lasso, it'll become a new affiliate link automatically.
And Lasso automatically pulls all of the product information into your new Lasso link, including:
Product title
Product image
Price
Prime badge (where applicable)
URL
And because you don't need API keys, you'll still get all of the product information generated into your Lasso product display box automatically.
You only need API keys if you want to keep your listing price current. Lasso updates it every 24 hours.
Unless you're concerned about listing a product's price, your Amazon tracking ID works fine for getting all of the product details into your displays.
Sidenote: Lasso is always on the newest version of the Amazon Product Advertising API. Whenever Amazon updates a price or image, Lasso will update your displays across your site.
Lasso alerts you every time a product is out-of-stock, so you can replace it with one that is.
You won't lose commissions from international traffic either. As long as you're signed up with Amazon's affiliate programs in those countries (e.g., Italy, Japan, or Spain), you'll continue to earn money.
To find out where you get the bulk of your traffic, head to Google Analytics > Audience > Geo > Location.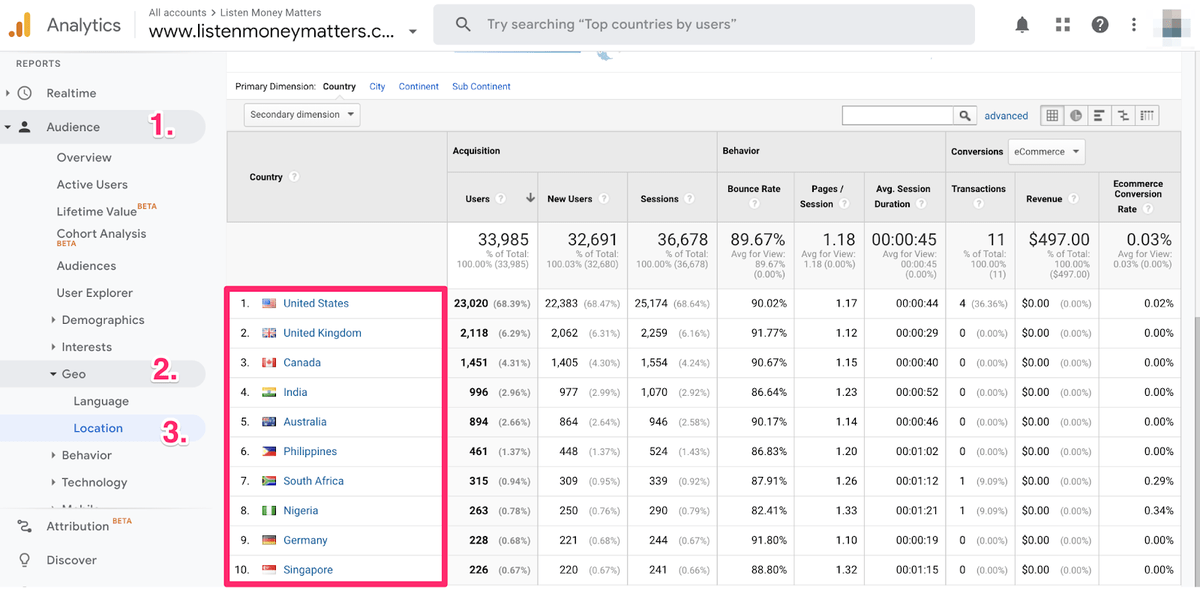 Then sign up for the appropriate Associates programs in those corresponding countries.
For the complete list of International Amazon affiliate programs, head here.
Further Reading:
Click Tracking with Google Analytics
One of the easiest ways to track your link's performance is to monitor it. Luckily, Lasso lets you connect to Google Analytics (GA).
We've used GA in conjunction with our Lasso links in numerous ways.
One example is our courses.
We have Lasso displays throughout our site in various categories (e.g., all of our blog posts about budgeting use a Lasso display featuring our Mastering Mint course (displayed below).
Mastering Mint
This is our guide to budgeting simply and effectively. We walk you through exactly how to use Mint, what your budget should be, and how to monitor your spending automatically.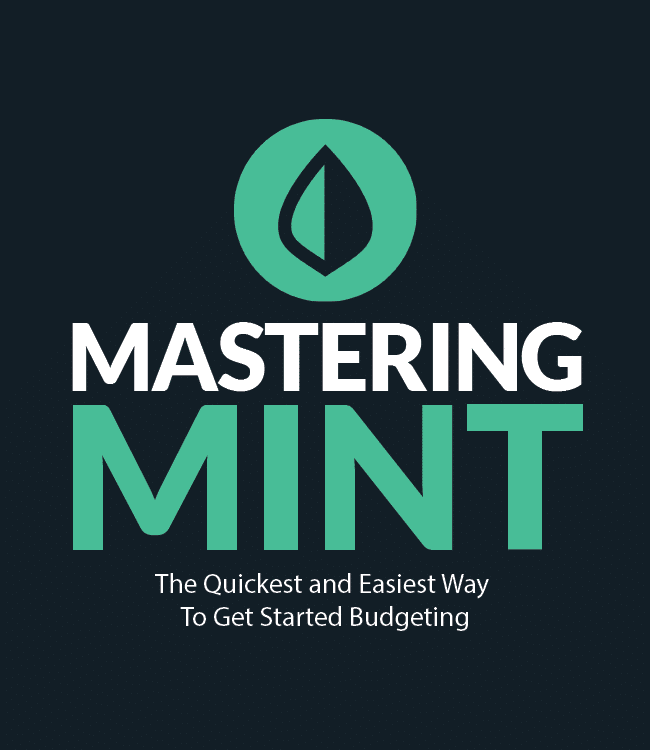 Placing it sitewide in one niche within our personal finance site lets us track how well each display performs and on which page.
You can monitor this inside your Analytics dashboard. Once there, go to Behavior > Events > Top Events / Pages to see how well specific links perform or see which blog post has the best-performing events.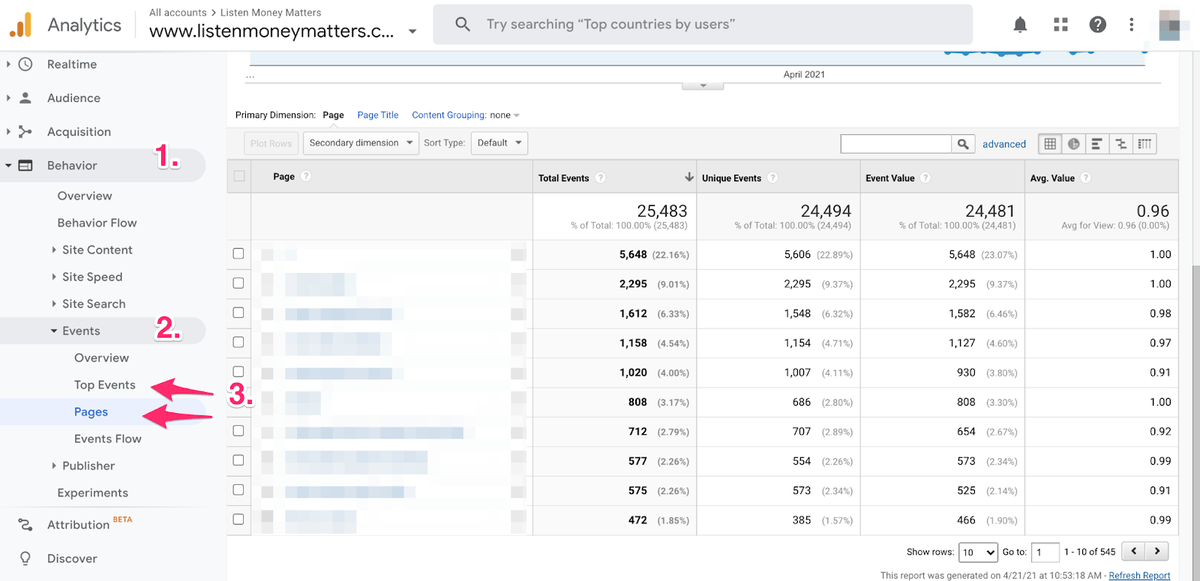 From there, you can try all matters of testing. For example, you could try:
Replacing text links with Lasso product displays
Organize into groups and use a Numbered List or Gallery with multiple links on a single page
If your link is low on the page, move it higher up
Replace text-only links with buttons or product image links
Further Reading:
Converting Affiliate Links to Your Own Products with the Keywording Tool (or Other Affiliate Links)
We've used Lasso to help us find specific affiliate links to replace with our own products. Once we started building courses, we used Lasso to monitor affiliate links and our digital products.
We did that in the real estate investing and budgeting niches when creating courses in those categories.
We have great relationships with these affiliates, but there were particular places on our site where including our own course links made more sense.
To do this, you'd head to the dashboard and type in the keyword you'd like to replace. For this example, let's say we're replacing Streitwise with our real estate investing course.
You'd:
Enter Streitwise into the search bar
Head to the locations column (Lasso pulls up every instance you've used a Streitwise affiliate link)
Find the specific pages where you'd want to replace a link (Lasso will link you to that specific page so you can edit it on the fly)

Link to Unmonetized URLs Using the Opportunities Filter (and Then Monetize Those Links)
You can type any keyword into Lasso's search bar, and it'll scan your site for every mention of it.
For example, once we discovered YNAB had an affiliate program, we signed up. Then we entered it into Lasso's search bar and found every instance we used the phrase "YNAB."

Then hit the Locations filter to find the exact places on our website where we mentioned it.
Next, we clicked "Opportunities" to find unmonetized links.

Finally, we monetized those YNAB mentions with the flick of a toggle.
Further Reading:
Plugin Import If You're Already Managing Your Links with Another Tool
If you're already using another plugin (e.g., Thirsty Affiliates or Pretty Links), you can still test Lasso on your site using the Plugin Import feature.
Lasso will scan your site for every link that you could potentially import. You can head to Lasso > Import in your WordPress site.
Lasso displays every link.

You can either import links one-at-a-time or use the Bulk Import option if you're already convinced Lasso's the plugin for you ; )
If you decide you don't want Lasso, you can revert your links.
FAQs
Here are some of the most frequently asked questions we get about Lasso.
Will Lasso slow down my site or affect SEO?
No, Lasso won't slow down your site. The entire plugin is 9.7MB (the size of two MP3 songs). There are no external scripts loaded onto your site, and Lasso runs on its own servers (so it won't affect your web hosting when it runs broken link checks, for example).
Can I use Lasso with any WordPress theme?
Yes, Lasso works with every WordPress theme, and you can customize the displays to match your site's colors.
Which affiliate programs does Lasso work with?
Lasso works with every affiliate program on the planet.
Can I migrate existing links into Lasso?
Yes, you can use the Plugin Import feature to test Lasso without damaging your entire link inventory.
Is Lasso Amazon-compliant?
Yes, Lasso is Amazon-compliant. You can read about that in further detail here.
Does Lasso create tables?
No, Lasso doesn't create tables, but you can display multiple affiliate links as Grids, Lists, or Galleries.
Alternatives
The Lasso WordPress plugin isn't the only one affiliate marketers can use with their website, so I think it's fair to list a couple of other products and decide for yourself, which will help achieve your business goals.
While some plugins excel at doing one thing really well, Lasso does many.
Thirsty Affiliates
Thirsty Affiliates is an alternative that can help you manage and cloak your affiliate links. TA could be a good fit if all you need is link management, tracking, and cloaking tool. You can manage your links in one place.
However, it lacks the unique interface design as Lasso, and you'll be unable to promote your links in attractive clickable displays. While it allows for link redirection, you won't find link display options the way you'll find with Lasso.
And it won't alert you when products (e.g., Amazon products) are out of stock or provide live chat support.
AAWP
AAWP is designed for Amazon affiliate links. You can monetize your site using AAWP and receive live chat support. It can be used with any theme through flexible shortcodes and templates.
You can also earn additional commissions for referring Amazon Prime customers.
But it won't alert you when products are out-of-stock nor provide ways to find new income opportunities.
Another drawback is that AAWP only works for amazon affiliate marketing.
Pricing starts at 49 Euros or about 58 U.S. dollars per year. 
Further Reading:
5 Tips for Getting the Most from Lasso
While there are several ways to use the Lasso WordPress plugin, here are five lessons for getting the most from it.
1. Add Trust Badges to Product Displays
An excellent way to gain your website visitor's trust is by adding badges to your product displays. These can be anything from personal recommendations to deals of the month to expert picks.
The sky's the limit regarding how you can use Lasso badges.
For example, one way our site uses badges is to display our top budgeting picks. The below is a Personal Capital display box using a customized badge (*also note the use of primary and secondary call-to-action buttons).
Our Pick
Personal Capital
Budget like a business and focus on your cash flow. In addition to their budgeting software, they have an awesome suite of tools to help you optimize your investments. Did we mention it's free?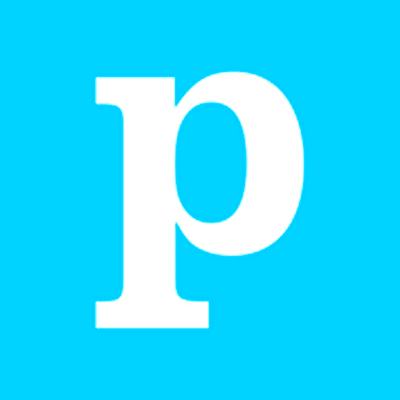 Personal recommendations instill a vote of confidence for your readers, making them more likely to buy via your affiliate link.
You can customize your badge's display in the product page's URL (like in the below example):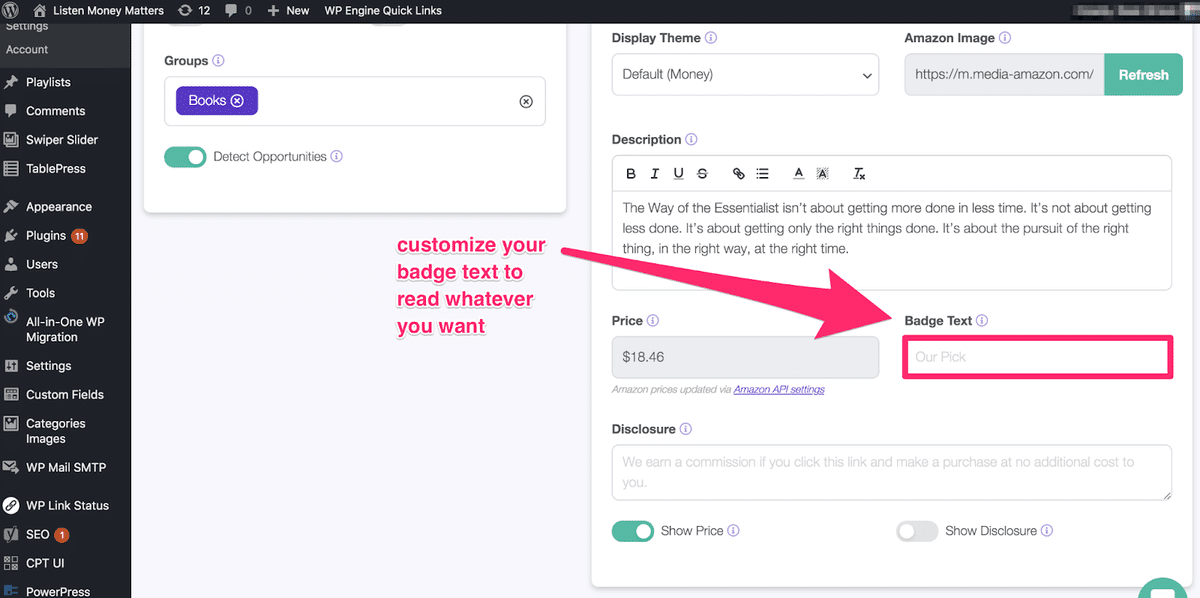 Further Reading:
2. Track Clicks Using Google Analytics
An easy way to monitor your affiliate link's performance is to track your links. Lasso connects to Google Analytics, letting you measure your link's click-confidence factor.
Lasso treats every click as an Event.
We've used it countless times to test product display placement and which style of link performs best (e.g., image-only, list-style, or single box displays).
Connecting your site is simple. Head to Settings > General and paste your tracking ID into the field: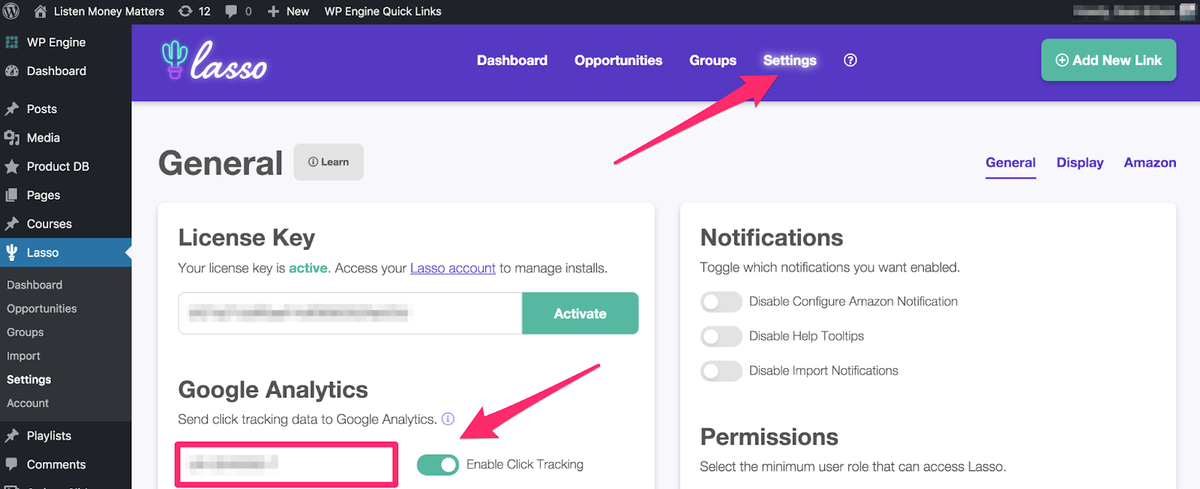 Further Reading:
3. Use a Domains Report to Find More Affiliate Programs to Join
If you ever wonder, "what other affiliate programs can I join?" then running a Domains report is exactly what you need.
The report scans your website for every domain you already link to. Here you can see where you've only linked to a company's homepage (and not its affiliate program).
If there's a website you mention frequently but have no affiliate relationship with, here's your chance to build one.
Further Reading:
4. Access the Keywording Tool for More Income Opportunities
Similar to the Domains report is the Keywording tool. You've probably mentioned various products or brands across your site without ever thinking about the possibility of turning those mentions into monetized links.
With the Keywording tool, all you have to do is type a word into the search bar and add it as a keyword, and Lasso will scan your site to find every mention of it.

Every mention of that word will display, and all you need to do is flick the "Monetize" toggle to green.
Further Reading:
5. Create a Resource Page
Have you ever encountered a toolbox or resource page on one of your favorite blogs? Perhaps it's tools they use to run their business or their favorite retailers for finding specific items.
Our website has a list of financial resources we use to help track our finances and net worth.
You can see how we use Lasso displays with our Resource page here.
Takeaway: Our Toolbox page generates 10% of LMM's revenue – and that's only one page.
You can amplify your site's earning power when you display your best affiliate and product links in one place.
Further Reading:
Is Lasso Right for You? 
Before signing up for a free trial, think and ask yourself what you want from your WordPress plugin.
What's to Like
Customizable Displays: Unlike some plugins, Lasso's enhanced customization lets you display your product and affiliate links virtually any way you want. You can choose from six types, and the shortcode reference guide mentioned earlier gives advanced tips on how you can integrate Lasso displays with your site.
Connects to Google Analytics: It's tough to know how well affiliate links perform unless you're tracking them. With Google Analytics reporting, you can know how many times people click your displays and on what pages.
14-Day Trial: While it doesn't have a free version, Lasso offers a 14-day free trial. If you're unsure about the Lasso WordPress plugin, you can test it before committing to a monthly or annual subscription.
Amazon Integration: Most bloggers and affiliate marketers use Amazon Associates to earn money. It's one of the most widely used. So, building Lasso to play nice with it helps make it easier to earn more revenue.
Affiliate Dashboard: You can do almost anything from the dashboard, update links, or find new linking opportunities quickly and easily. You can also filter for "only" broken links, out-of-stock products, or opportunities there.
What's Not to Like?
Higher Pricing: Lasso does cost more than competitors, but then there's not a plugin out there doing everything that Lasso can do for $19 a month.
No Multi-Site Option: Some have expressed a desire to see Lasso offer a multisite pricing tier. Some plugins do offer this, making it attractive for website owners who want to install their plugin across multiple sites. With Lasso, you'll need to pay per site.
Last Words
If you're looking for a WordPress plugin to help manage your affiliate site, Lasso is a powerful toolset designed by affiliate marketers for affiliate marketers. Any online business owner looking to increase their site's monetization opportunities could benefit from it. And because they offer a free trial with real-time customer support, you have nothing to lose.
If you want to learn more about our Lasso WordPress plugin or sign up for a free trial, head here.
Get our best strategies, tools, and support sent straight to your inbox.