Are you looking for a way to earn some extra cash or gift cards without leaving the comfort of your home? Look no further than Swagbucks. This popular rewards program has been helping people earn money and rewards since 2008.
With a variety of ways to earn, including taking surveys, watching videos, and shopping online, Swagbucks makes it easy to turn your free time into extra cash or gift cards for your favorite retailers. In this post, we'll dive into how Swagbucks works, how to get started, and some tips and tricks for maximizing your earnings.
How does Swagbucks work?
Swagbucks is a rewards website. You can earn points for doing things you already to like searching the web, shopping, playing games, and watching videos. Each time you complete an activity, you earn points.
Each point is worth about one penny, so 100 Swagbucks is equal to $1. There is a counter in the top corner of your Swagbucks homepage showing your points total. The points you earn don't expire.
This might sound too good to be true; money for doing things you already do?  The process of signing up is easy. You can fill out a few profile details or join through your Facebook account. Use our Swagbucks link, and you'll get points to get you started. Swagbucks is free to join, and there is a mobile app so you can earn points when you're on the go.
Does Swagbucks pay real money?
Yes, Swagbucks does pay real money, but it's important to understand that the rewards are not always in the form of cash. Swagbucks rewards its users with a digital currency called SB, which can be redeemed for a variety of prizes, including gift cards, merchandise, and cash via PayPal.
When it comes to cash rewards, Swagbucks offers a few different options. For example, you can redeem your SB for PayPal cash, which can then be transferred to your bank account. You can also choose to receive a prepaid Visa card or an Amazon gift card, both of which can be used to purchase items online or in-store.
While the amount of money you can earn on Swagbucks varies depending on the tasks you complete and the offers available, many users have reported earning a significant amount of money over time. With a little bit of effort and some strategic planning, Swagbucks can be a great way to earn some extra cash or rewards without leaving your home.
Ways to Earn
There are several ways to earn points, and some will be more appealing to you than others. The point value and often the length of time it takes to complete a task are displayed, so you know what you're getting when choosing tasks.
You can check your inbox for a list of assorted ways to earn points. Two recent ones for me where offers to sign up for my credit score through Credit Sesame for 60 points. I did this one even though I already use Credit Karma. Another was a printable coupon for diapers for 25 points. I skipped this one because diaper play isn't one of my kinks.
Swagbucks
Get cash back when you buy online from more than 1,500 retailers including Amazon, Target, and Starbucks. You earn points for each dollar you spend and also get special coupons and deals exclusive to their shoppers.

Search
You can install the Swagbucks toolbar beside your Google toolbar and do web searches from it or just log into the site and search from there. I searched for "special offers" and earned 20 points.
Shop
This is where Swagbucks will be most valuable for many users. You can shop through the portal at hundreds of online retailers including Amazon, Sam's Club, Nordstrom Rack, and even travel sites like Expedia and Travelocity. You can buy Groupons through the Swagbucks portal too.
As a new member, you can get a free $10 gift card from partners like Amazon, PayPal, and eBay when you make your first purchase through the shopping portal. You can earn as much as 20% cash back, but most retailers give 2-10% back. Note that not all items may be eligible for money back.
Referral Program
For every person, you refer, you can earn up to 1,000 points. Even better, you get 10% of each referral's lifetime points earnings. If your referral fills out a survey worth 80 points, you get 8 points.
Special Offers
You will earn points when you sign up for special offers or register as a user with some sites. Each day there is a NOSO, No Obligation Special Offer that is free and earns you additional points.
You can earn some big points with Special Offers. I had one that was worth up to 5,000 points from Revenue Universe. It was a questionnaire for people between the ages of 35-85 who were diabetic. I'm not so not everyone will qualify for all of the offers, but if you do, your points can add up quickly.
Surveys
You can earn points by filling out surveys. You get anywhere from 1-1000 points for each completed survey. The number of points depends on things like the length of the survey and your demographic. Specific demographics are more valuable than others, and not everyone will qualify for surveys.
You can see a list of available surveys, how long they take and how many points they're worth.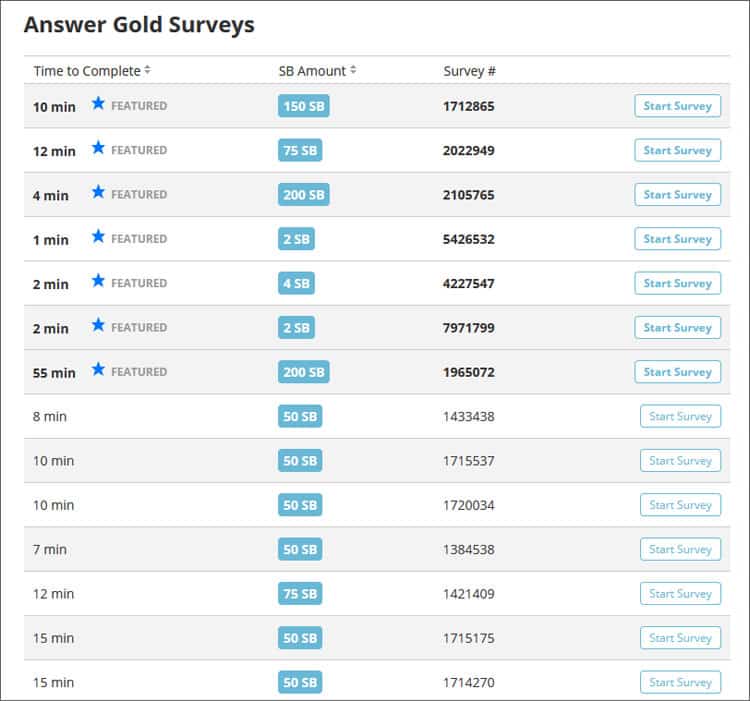 Trial Offers
Swagbucks rewards you big time when you sign up for specific trial offers through their site, sometimes the points will add up to a $25 gift card. Be careful with these trial offers. Most but not all of them are free, but you are often required to enter a credit card number.
You will still get the Swagbucks points if you cancel at the end of the free trial period, but you may forget to do it. A workaround is to use the number from a pre-paid gift card that doesn't have any money left on it. As long as the card hasn't expired, it should work.
Swagbutton
You can download the Swagbutton which lets you take surveys and watch videos from your usual browser, and the button will give you a notification when there is a Cash Back Opportunity. You earn 50 points just for downloading the button.
Daily Polls
There is a daily poll question. An example is, "How much would you be willing to spend to watch your favorite NFL team play?" I answered and earned one point. One point is nothing to write home about but answering the poll took one second so why not?
Swagbucks Watch
This is Swagbucks' version of Youtube. You can watch short videos and earn points. Currently, on my page, I can watch 20 videos which would take 26 minutes, and I would earn 3 points. Not worth it to me but there is nothing stopping you from playing the videos in the background while you do something more productive.
Donate
If you are feeling charitable, you can donate through Swagbucks and earn some pretty good points. A donation to Mercy Corps, which works to alleviate childhood hunger, earns 4250 points when you make a recurring monthly donation of $18 or more.
Games
If you like to kill time playing games, you might as well make it profitable. You only earn points when you make in-game purchases though, many of them between 10-18 points per dollar spent. Don't do this. Don't waste money playing games whether you are earning points or not. Find a free way to pass your time, please.
Reach Your Goal
There is a meter on the home page showing the number of points Swagbucks has set as your daily goal. If you reach it, you get a 10% bonus on that day's points. Recently, I had a goal of 40 points so if I reached that, I would get an additional 4 points. Not a ton but given how easy it is to earn points, worth doing.
Hourly Random Winner
On the blog, a random username and avatar pop up in the Hourly Random Winner section. If that's you, you can click the link to claim it.
Complete Tasks
Tasks are doing research and answering questions. On the Tasks page is a list of available tasks with a quick description of what the task is and how many points it's worth.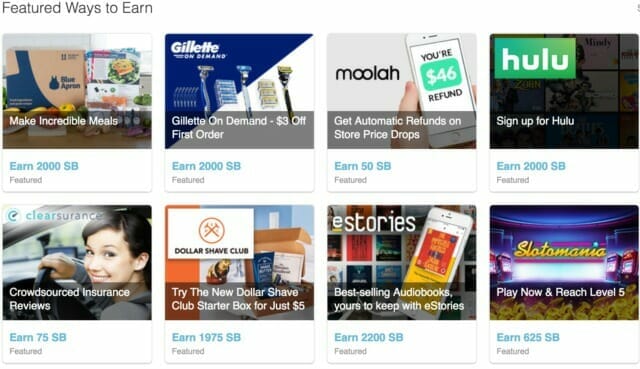 Print and Redeem Coupons
You can print out coupons and use them in store. They are for things like laundry detergent, toilet paper, and cereal. You earn points once you redeem the coupon in the store. You earn 10 points for each coupon you redeem.
nCrave
You can earn points by reading articles or watching videos. A number of points you can earn is low so I would only do these if it were something I was going to read or watch anyway.
Redeem Codes
Swagbucks has a list of promo codes so if you want to shop at a particular store, see if you can find any codes. You'll save money on your purchase and earn points too.
Swagbucks Local
Swagbucks Local in a mobile app separate from the general Swagbucks app. The Local app gives you cash back when you spend money in brick and mortar stores and restaurants.
You just link it to your credit card, and when you use that card, Swagbucks gives you cash back. You can see what stores and restaurants have partnered with Swabucks in your area based on your zip code.
You get 100 points just for linking your credit card. The majority seem to give 7% back, some as much as 10%. I linked my Chase Sapphire Preferred which gives me points for dining out so I can earn points on two fronts.
To Do List
On the sidebar of your homepage, you will see a daily to-do list. There are eight tasks, and if you complete all eight, you earn points for each task and a bonus for completing the list.
Best Ways to Earn
There are so many ways to earn points with Swagbucks, but not all are created equal either in a number of points you can earn or the amount of time it takes to earn them. Remember, you're just trying to score some cash back when you shop or a few gift cards, you're not going to retire off your Swagbucks points so don't spend time doing things that take 20 minutes but only earn you a few points.
Using the search engine is the easiest way to earn points. The results aren't quite as good as Google, but unless you're doing a search for something work or school related, they are more than adequate.
Swagbucks
Get cash back when you buy online from more than 1,500 retailers including Amazon, Target, and Starbucks. You earn points for each dollar you spend and also get special coupons and deals exclusive to their shoppers.

Using the shopping portal is worthwhile too because you can save money on things you were planning to buy anyway.There is nothing stopping you from playing videos as the background to cooking or cleaning or laundry. There isn't a test afterward, so you don't have to pay close attention.
The referral program is also significant because not only can you earn as many as 1000 points per sign up but you get 10% of their lifetime points. These are the things I concentrate my energy on.
How To Redeem
You can turn your points into cash or e-gift cards. If you want cash, you will get it in your PayPal account. Denominations are $25, $ 50, $100, and $250 and it takes 10-14 days to process.
You can get paid in the form of a gift card to major retailers including Amazon, Starbucks, Walmart, and Target. E-cards are rewarded within ten days and come in denominations between $1-100. Swagbucks gives you a 12% discount on the first $25 card you redeem each month, so a $25 card costs just 2,200 points.
If you're feeling altruistic, you can donate your points to charities including the Red Cross, Doctors Without Borders, and Unicef.
Is it worth doing Swagbucks?
Swagbucks is worth it when used responsibly. But if you get obsessed with it, you will become like one of those super coupon people who spend 40 hours a week looking for and organizing coupons and buying apocalyptic quantities of baby formula even though their kids are not babies.
They expend all this time and effort for what probably works out to be .30 an hour, and you want to tell them just to get a job because you can always earn more money than you can save by doing this weird hobby.
If you're using it as a search engine, shopping portal or taking the occasional survey when you're killing time waiting at the doctor's office or while you're relaxing at night, it's excellent. Why not make a little cash on your downtime? Don't try to earn points, just accrue them.
You're not going to pay off your mortgage with Swagbucks points, but they don't claim you can. Sing up for Swabucks and earn a few extra dollars to spend on fun, discretionary cash type of things.
Get our best strategies, tools, and support sent straight to your inbox.