Table of Contents
Choosing Your Path: Single-Family or Multifamily Real Estate Investment
Real estate investing is one of the quickest ways to achieve early retirement. One question that comes up is whether to invest in single-family vs multifamily rental properties. I'm going to share my experiences and what you should look for when adding an investment property to your portfolio.
In the game of Monopoly, a popular winning strategy is to transform four little greenhouses into one large red hotel.
Real estate investing is similar – many new real estate investors start with single-family properties and eventually move into multifamily homes (duplex, triplex, or quadplex) or apartment buildings.
Note for beginner real estate investors: Properties are highly dependent on the chosen real estate market, the availability of single-family or multifamily homes, and the projected tenant pool.
What's the Difference Between Single-Family vs. Multifamily Properties?
The main difference between single-family and multifamily properties is that single-family homes have only one dwelling unit and are unattached to other housing properties. They require less money to start and allow for easier exit strategies should you decide to sell.
Alternatively, multifamily properties require more capital and leave you with fewer options when reselling. Single-family homes also have a larger buyer pool because you can sell to either real estate investors or homebuyers.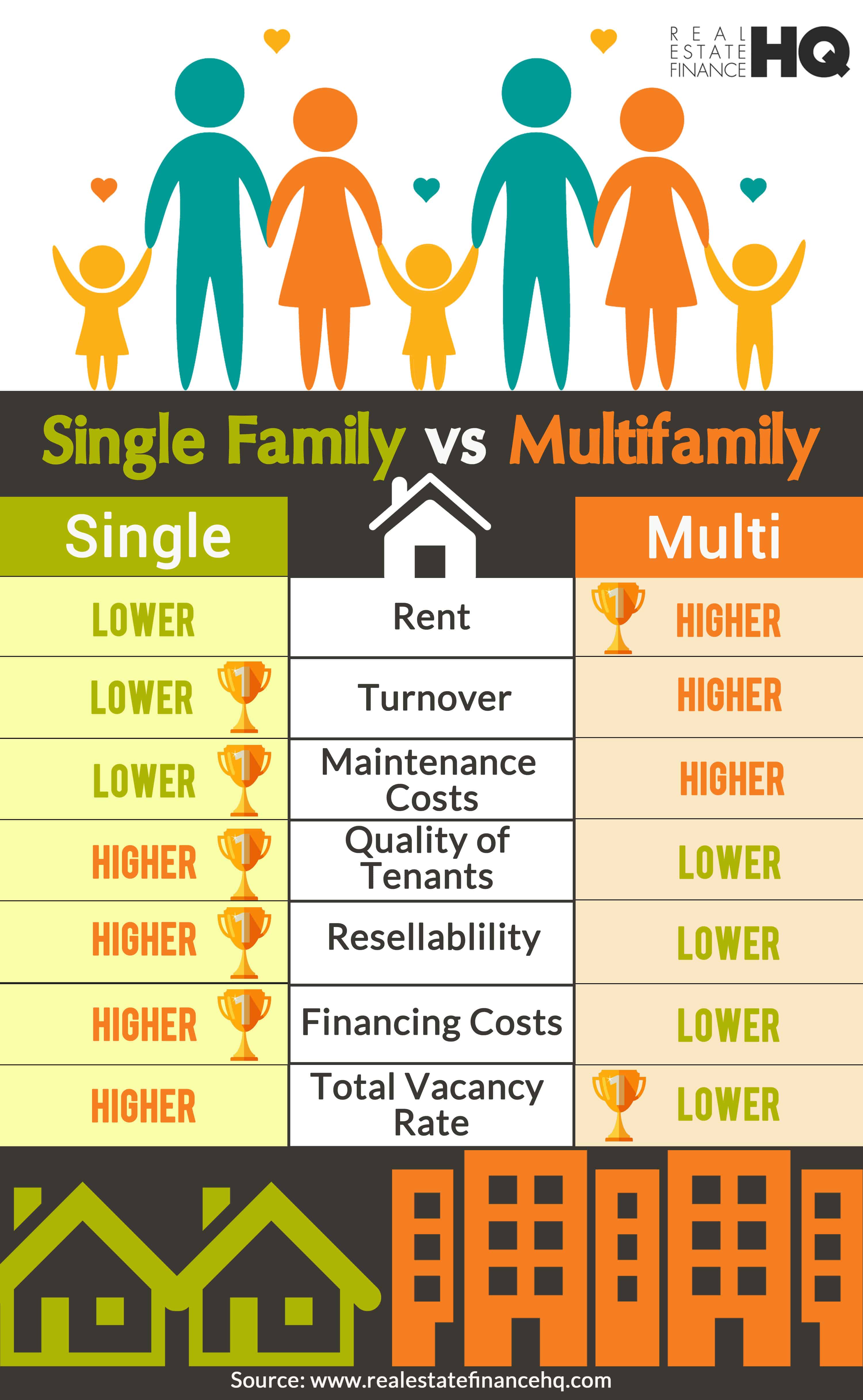 Advantages of Multifamily Property Investing
Leverage Multiple Mortgages Simultaneously
One considerable advantage of investing in multifamily homes is the ability to maximize mortgages. Fannie Mae and Freddie Mac, the two government-backed mortgage lenders, limit the number of mortgages an investor can have at one time to ten.
Because most mortgage companies eventually sell investment mortgages to another company, they need to conform to Fannie and Freddie's guidelines.
A multifamily home with four units or less only counts against one of those ten mortgage allotments.
After ten traditional mortgages, the investor must get creative and look into private money loans or portfolio loans to continue to expand a leveraged portfolio.
Expand Your Real Estate Portfolio Quicker
Buying multifamily homes lets you build your portfolio rapidly. Mortgaging ten triplexes yields thirty units compared to mortgaging ten single-family homes.
Cheaper Cost Per Unit
With multifamily properties, the cost per unit will always be cheaper than a single-family home in the same area. The overall purchase price might be higher, but the price per unit will be less than a single-family house.
Higher Cash Flow
Multifamily investment properties usually have higher cash flow and returns on investment than a single-family home. It also provides a type of safety net – owning more units gives your cash flow a buffer when a unit is between tenants.
If you have four mortgages on four single-family homes and one is vacant, it might be tight to cover all your expenses. But if you have one mortgage on four units and one is empty, your total rental income won't be affected as much.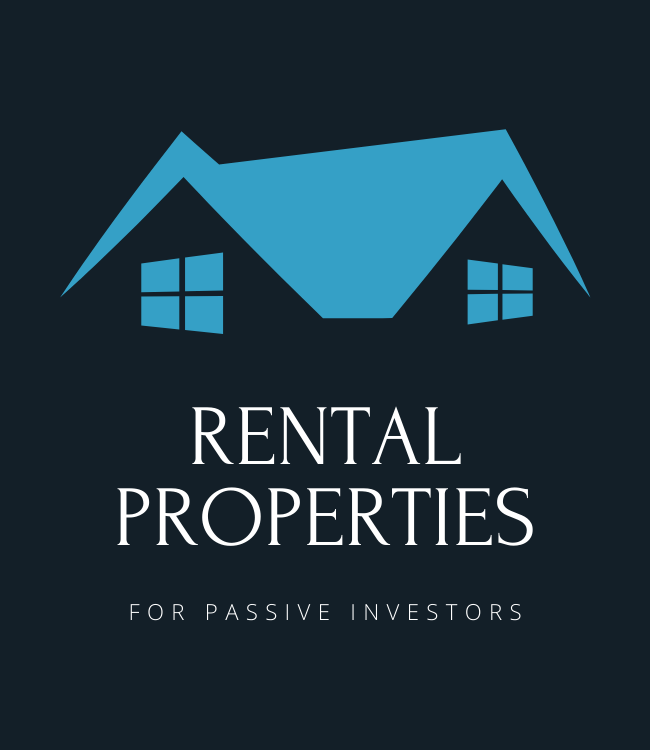 Disadvantages of Multifamily Property Investing
Tenant Quality
As with all investing, it's critical to understand the risks and pitfalls of your investment. A primary concern for multifamily properties is the quality of the tenant. Because the location of a multifamily property might be in a less affluent neighborhood, you may end up with lower-income tenants.
It may lead to more vacancies or problems with multifamily renters compared to single-family renters. Multifamily properties require more property management — instead of finding one tenant, you or your property manager will need to find multiple tenants.
It also means you have more tenants to manage and possibly more headaches.
Avail
Built for the DIY landlord, Avail lets you find tenants, view credit history, sign leases, and collect rent. You can also advertise your property on top rental listing sites including Zillow and Trulia.

Single Utility Meters
Some multi-family homes do not have utilities divided between the units. Now you have to pay water, gas, electric, trash, snow removal, and all other associated utilities. Ideally, you should buy a multifamily home where each unit has a utility meter.
Harder to Sell
When you eventually sell this property, it will most likely be to another investor as multifamily units are not as competitive in the home sales market for families looking to establish a home.
It limits the pool of potential buyers and could make selling the property harder down the road. Also, multifamily properties historically do not appreciate as much as a single-family home.
Economies Of Scale
Multifamily real estate traditionally claims economy of scale as an advantage, but it can go either way, in my opinion. A definition of the economy of scale is an economic advantage due to size, output, or scale with the cost per unit generally decreasing.
Simply put, you reduce costs due to an increase in units under one roof.
An example is roof replacement. If you owned a triplex, you have one roof over three units, so when it's time to replace your roof, it will be cheaper than replacing the roofs on three separate single-family homes.
Another example is you want to rehab all three units. You could send a technician to the property, do all the units simultaneously, and get one massive bill instead of getting several smaller bills if you had sent the same person to three different properties.
Conversely, multifamily properties have more HVACs, toilets, and appliances to maintain compared to a single-family home.
Single-Family Rental Property Advantages
Investing in single-family homes might make more sense if you're buying a rental property for the first time. A few factors to consider before spending a dime.
Fewer Upfront Costs
Single-family homes are cheap compared to multifamily housing. They're easier to finance (between 10% to 20% downpayment), carry lower interest rates, and the cash reserve needed is usually up to six months.
It's easier to get approved for a loan and you'll also pay less in maintenance and insurance costs.
High-Quality Tenant Pool
Single-family renters think of their home as if they owned it. Often, it's a family occupying it and treat the rental with care. They're less likely to damage the property.
The turnover rate is lower too. Usually, families aren't looking to move around and remain in the unit longer. The age bracket of single-family renters typically falls between 35 and 64 years of age (means greater stability on average).
Greater Demand
There's a larger pool of buyers for single-family homes. If you want to sell the property, your chances are significantly higher. Why?
Because both investors and families are looking to buy the property. This improves your exit strategy.
Single-Family Property Disadvantages
Lower Monthly Cash Flow
The inability to scale like you can with multifamily housing makes your monthly income less. It takes longer to build a portfolio of single-family homes than it does with one multifamily property.
Vacancies
When someone moves out, you get zero rental income because nobody is occupying it. Not so with a multifamily property. If you're renting a quadplex and one unit is vacant, you still have three units generating income.
It's why you must set aside a percentage of your rental income in case you have to cope with a vacancy in a single-family home. You're still responsible for the mortgage and property management (if you're not the landlord).
Less Valuation Control
Single-family homes aren't valued based on their net incomes the way multifamily homes are. Multifamily properties are valued based on the income produced.
Landlords can tailor the rent to match the amenities provided. For example, a landlord could provide laundry services which would increase the total income produced by that investment property.
Multifamily homes offer more areas where the owner can enhance the perceived value.
Less so with single-family housing. Its value is based on comparable sales which decrease the degree of control an owner can exercise.
Real Examples
Here are two properties for sale, broken down by:
Asking price
Cost per unit
Monthly rent
Mortgage
Tax liabilities
Management
Overhead
Property 1: Single Family Home/3 Bedroom 1 Bathroom
Asking Price
$76,360
Cost/Unit
$76,360
Total Rent/Month
$900
25% Down Payment & 5% Closing Costs
$22,908
Monthly Expenses
Mortgage Payment (30-year 5% fixed)
$307.44
Property Tax & Insurance
$115
Property Management (10%)
$90
Vacancy (5%)
$45
Repairs (5%)
$45
Misc (Utilities, HOA)
$0
Profit Potential
Monthly Cash Flow
$297.56
Cash on Cash Return (COCR)
15.59%
Cap Rate
9.51%
Property 2: Duplex / 2 Bedroom 1 Bathroom and 1 Bedroom 1 Bathroom
Asking Price
$103,300
Cost/Unit
$51,650
Total Rent/Month
$1,300
25% Down Payment & 5% Closing Costs
$30,990
Monthly Expenses
Mortgage Payment (30-year 5% fixed)
$415.90
Property Tax & Insurance
$145.83
Property Management (10%)
$130
Vacancy (5%)
$65
Repairs (5%)
$65
Misc (Utilities, HOA)
$0
Profit Potential
Monthly Cashflow  
$478.26
Cash on Cash Return (COCR)
18.52%
Cap Rate
10.39%
Rental Property Math 
Monthly Cashflow: Monthly income minus monthly expenses.
Cash On Cash Return (COCR): Annual cash flow divided by the total cash needed to close multiplied by 100. It allows you to compare leveraged properties with mortgages.
Cap Rate: Annual cash flow without mortgage payment divided by the purchase price multiplied by 100. The cap rate allows you to compare properties as if you paid all cash.
Single Family vs Multifamily: Final Thoughts
As you can see from the examples, moving up in size increases returns, but you have to consider all the advantages and disadvantages we discussed earlier to see what is right for you. I would select the duplex above for my first multifamily investment.
The cost per unit is the lowest, the cash needed to close on the property is smaller than larger multifamily units I've seen, the returns are substantial, and the eventual resale of a duplex might be easier when compared to larger multifamily properties.
Either property could be an excellent investment. It all depends on your goals and the area of the country in which you are looking to invest. Good luck and see you in early retirement!
If you're looking to invest in real estate but looking for something a little more hands-off check out Fundrise or RealtyShares. Both companies offer crowdfunded real estate projects.
Get our best strategies, tools, and support sent straight to your inbox.