Do you want to save money? Of course. Do you want to clip coupons? Of course not. We found a way to save money without fussing around with coupons. Read our Ibotta review to find out how.
Do you use coupons? No, neither do I. First of all, I read newspapers online, so I don't get the coupons that come with a Sunday paper. Secondly, they're just too much hassle, clipping, and organizing, remembering to use them, to save a crummy quarter on toilet paper.
But the biggest reason I don't bother is that coupons are mostly for things I would never eat, packaged, processed foods like Rice a Roni and pasta in a can. Gross! But I like saving money, so I wanted to find an alternative to paper coupons. That's how I discovered Ibotta.
What is Ibotta?
Ibotta is an app that gives you cash back on purchases you make in places like grocery and drug stores, general retailers, and online retailers. There are no paper coupons to cut out, keep track of, or annoy the checker and the people behind you in line at the store.
Ibotta makes saving money a digital experience.
Signing Up
To make an account, you just provide some necessary information and create a password. You will see an offers page. You can sort offers by categories like groceries, mobile shopping, beer wine, and spirits, pharmacy, clothing, beauty and wellness, specialty, bars and restaurants, convenience, crafts and gifts, and home and electronics. So you can see Ibotta offers a lot more than just cash back on groceries! When you use LMM's Ibotta code, you get $10 for free!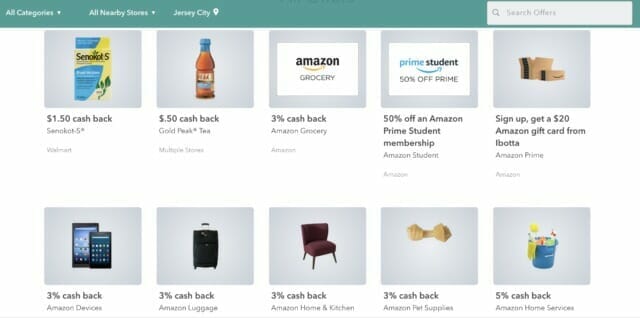 You can also search offers by store, and the app will show stores in your area based on the zip code you provided when you signed up. I found this the best way to search because you might see a great offer for something you need to buy on the offers page only to find out it's not available at a store you shop at.
What Can You Save On?
A lot of things in a lot of categories. I was most skeptical of the grocery section, expecting to see the usual stuff, processed foods, and other junk. But Ibotta does offer cash back on real food. Some items that came up for my offers included a pork roast, herbal teas, and organic milk.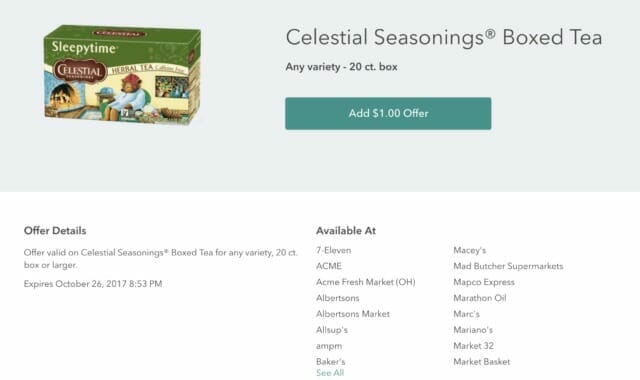 Some of the online offers I saw included cash back for Groupon hotel deals, health and beauty products, flights, and luggage. If you like a drink, you're in luck! There are lots of offers for wine, beer, and hard liquors and you can use them buying alcohol at a store, bar, or restaurant.
You can get cash back at pharmacies for everything from diapers to bread to K cups. Clothing offers included American Eagle Outfitters, Payless, and Clarks. The beauty and wellness section has cashback offers on the typical things you buy in a drug store.
The results I got for the specialty section were a bit odd; a mushroom growing kit, mold remover, and dishwasher cleaner among them. I didn't get many results for bars and restaurants, but that's probably because New Orleans doesn't have a ton of chain restaurants.
There was an offer on Kona beer and an appetizer that presumably works in any bar or restaurant that sells that brand of beer, but there were state restrictions on that.
The convenience offers I saw the same I saw in grocery offers. I just had one offer under crafts and gifts,10% cash back at Joann and one under home and electronics, 2% back on Cost Plus World Market.
Using the App
You can look at offers on your computer or the app. If you select an offer via your computer, it will register in the app. Sometimes you will be asked to answer a question before the offer is added to your account. It's just a simple question like how many children live in your household.
I browse Ibotta offers by store. I shop at Fresh Market so I look at their offers. You'll see how much you can get in cash back and the expiration date of each offer.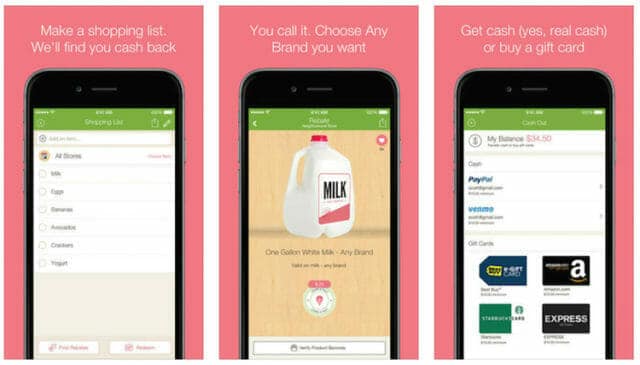 There are currently 273 stores that you can upload receipts from. Grocery stores include Costco, Dollar General, Kroger, Ralphs, Vonn's, and Whole Foods. Pharmacies include the big chains like CVS, Rite Aid, and Walgreens. Specialty shops include Home Depot, Office Max, Petco, and the Vitamin Shoppe.
Ibotta is partnered with several convenience stores too including 7-11, Circle K, Kwik Trip, Speedway, and Sunoco. Home and electronics store partners include Bed, Bath and Beyond, Best Buy, and Cost Plus World Market.
The offers you selected are now attached to your account. Buy those items and take a photo of the receipt. If the receipt is very long, you may need to take more than one photo to capture all the items. Upload the receipt to Ibotta and the cash back will be deposited into your account within 48 hours.
Ways to Earn
There are three methods you can use to earn cash back. The first is described above, you just upload your receipt and get the cash back on the items you selected in the app. You can also link a store loyalty card, those little plastic things that attach to your keychain and are scanned at checkouts to earn points and discounts.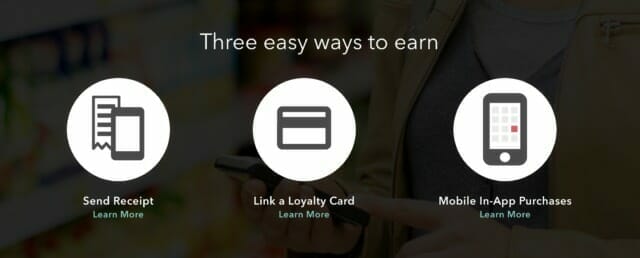 When the items you selected from Ibotta register as having been purchased when the store scans the loyalty card, the cash back is deposited into your Ibotta account within 48 hours, no need to upload your receipt.
Unfortunately, the only store that I regularly shop at that I have a loyalty card that is compatible with Ibotta is Rite Aid. I prefer Walgreens, but their loyalty card doesn't work with Ibotta.
You can also earn cash back on in-app purchases. Select the offers you want, and shop on the retailer's site through Ibotta by tapping on the Shop button. Make your purchase, and you'll receive a confirmation that the offer is pending.
In-app, partners include Amazon, eBay, Barnes and Noble, CheapOair, Gap, Hotels.com, iTunes, Kohls, Overstock, Target, and World Market.
You can earn cash when you refer friends to Ibotta. When a friend signs up using your referral code and redeems their first offer within seven days, you get $5, and they get $10. Tap "Invite Friends" on the navigation bar. You can invite friends via Facebook and Twitter, text, or e-mail.
Not only do you earn cash back with referrals but as friends join but your friends will form your team. Every month the team will be given a unique task or earnings goal. When you reach your individual goal, and the team reaches the joint goal, everyone gets bonus earnings.
You can earn bonuses when you buy featured products, redeem purchases at specific retailers, or complete specific tasks. Some of my featured bonuses were a $5 bonus when I made any purchase from the Mobile Shopping category and a $1 bonus when I buy two or more certain Organic Valley products.
How to Redeem
What sets Ibotta apart from a lot of other couponing apps is that you aren't earning points which you have to then go through the process of redeeming into cash, you're earning cash.
Select "Withdraw Cash" from the main menu. It will show your current balance. You must have accumulated at least $20 to make the transfer. Link your PayPal or Venmo account, and the money will behave accumulated within 48 hours.
You can also turn your cash into gift cards at places like Whole Foods, Target, Sephora, and iTunes. Each retailer has a different minimum, and it will be listed on each card. Select "Withdraw Cash" from the main menu. Scroll through the available choices and make your selection. Verify your identity and confirm the payment. You'll receive an e-mail containing the digital gift card within 24 hours.
Is it Worth It?
According to Ibotta, the average user saves $30 a month. That alone will be worth it to some people. It's certainly more than you can save the .25 cents off mostly worthless "food" coupons you find in the newspaper.
My favorite thing about Ibotta is the kind of things they offer cash back on, healthy food that I eat. Not to mention the dozens of other things you can get cash back for including cosmetics, clothing, travel, and alcohol which I don't think I've ever seen a coupon for.
You also don't have to keep track of paper coupons with Ibotta. What you will have to do to get the most out of Ibotta is the plan when using it for food shopping.
You can either go through the offers and base your meals on the items offered or plan your meals and see if anything you need is on offer before you head to the store. Everyone should be doing this anyway. Meal planning saves time and money, and you eat more healthfully when you do it.
If you plan, even more, go through store circulars and those fussy paper coupons, you can rack up some savings with Ibotta. Stores will often have a caveat that you can't combine offers or coupons, but you aren't making the transaction with the store, the transaction is through Ibotta. So you can take advantage of a store's BOGO, use a paper coupon if it's allowed, and get cash back from Ibotta.
You can also get even more cash back when you pay for the purchases you make using Ibotta with a cash back credit card. The American Express Blue Cash Preferred card gives you 6% cash back on grocery purchases so that would be a great card to charge your Ibotta purchases too.
Ibotta lets you earn money for doing things you already do, always a big plus. Everyone has to buy food so why not let Ibotta help you make some extra cash while doing it? When you sign up with our referral code, you will get $10 so join today and start making some money.
Get our best strategies, tools, and support sent straight to your inbox.