Buying insurance is a necessary evil, but there is a new company changing the rules. When life gives you lemons, Lemonade Insurance has your back.
The Old Model
Insurance companies are in the business of making money, and you can't make money by paying out claims. As a result, lots of insurance companies don't. You faithfully pay your premium every month for years on end. And one day something happens and you finally need to file a claim.
But the insurance company refuses to pay out. Or it does pay out, but it takes weeks or even months for you to get a check. Finally, you get a notice that your premium is being raised or maybe that you're no longer a customer. That's the gist of the insurance industry.
Finally, there is a better way.
Meet Lemonade!
Lemonade Insurance Company is a property and casualty insurance company. They offer both renter's and home owner's insurance (which includes co-ops and condos).
Lemonade uses a peer-to-peer model that sets them apart from traditional insurance companies.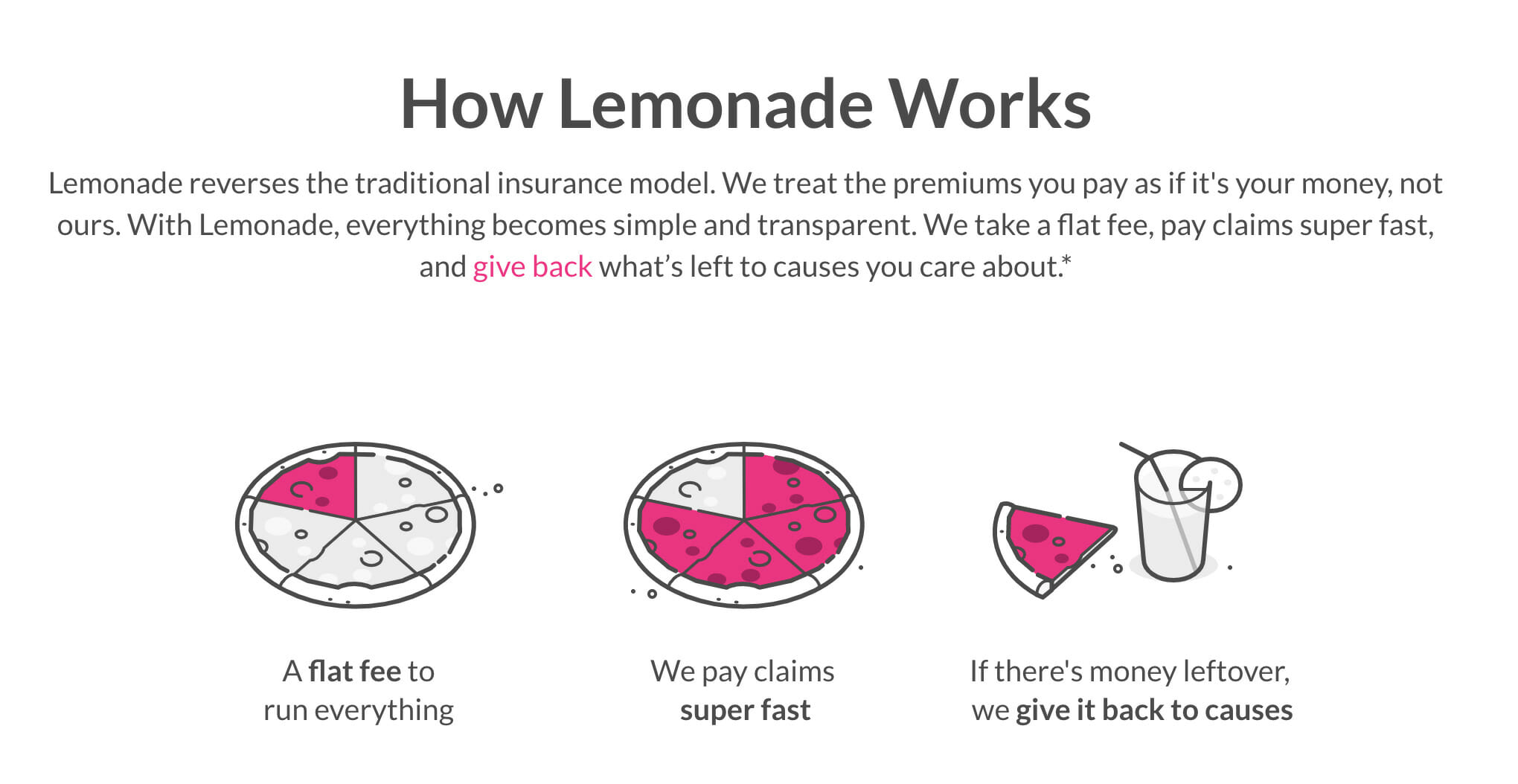 The company takes a fixed amount from customer's monthly payments which are used to pay reinsurance (insurance for insurance companies) and expenses and uses the rest of those payments to pay customer claims.
As a result, Lemonade has no reason to deny or delay legitimate claims because it doesn't profit them. Traditional insurance companies make money by denying as many claims as possible. As a result, they often do.
Get our best strategies, tools, and support sent straight to your inbox.
What Kind of Coverage Does Lemonade Offer?
The basic Lemonade policy offers the same coverage as traditional insurers provide. Fire and smoke damage. Damage caused by wind, lightning or hail. Theft and vandalism both inside and outside your home. Lemonade covers water damage from something like a burst pipe but not from flooding.
You can also choose to add additional coverage for expensive items like jewelry or artwork, earthquake damage, or loss and accidental damage to your possessions.

They also offer personal liability insurance. What does that mean exactly? Personal liability coverage is something included in your renters or homeowners insurance policy which protects you if you're legally responsible for paying for something that happened to someone else.
Let's say someone got injured in your home or your pet injured someone. Lemonade hires a lawyer to defend you if the injured party were to sue you and cover medical expenses incurred by an injured guest.
Ok, so what's not covered?
Earthquake coverage is not offered under the basic policy but can is available in California and Arkansas.
For their pet insurance coverage, high-risk dog breeds which include Pit Bulls, Staffordshire Terriers, Doberman Pinschers, Rottweilers, German Shepards, Chows, Great Danes, Presa Canarios, Akitas, Alaskan Malamutes, Siberian Huskies, and Wolf hybrids are excluded.
There is an exception if the dog is certified as a Seeing Guide Dog, Hearing Dog, or is trained to assist the disabled.
Also, roommates' belongings or personal injuries are not covered automatically under your policy. If your roommate is not platonic but your significant other, you can add them for free to your policy.
Sorry guys, Lemonade is not available everywhere just yet, but they continue to add new states.
Currently, renter's, condo, and homeowner's insurance are available In New York, California, Illinois, New Jersey, Nevada, Georgia, Pennsylvania, Maryland, Arizona, Michigan, Connecticut, and DC.
Renters and condo insurance are available in Texas and Rhode Island. Renters insurance is available in Iowa, Wisconsin, New Mexico, Ohio, Oregon, and Arkansas.
Signing Up Is Easy
Signing up is fast and easy. Lemonade isn't available where I live, so I used my old New York City address.
Enter your first and last name, if you rent or own, have roommates, a fire or burglar alarm, a dog and any particularly valuable items like jewelry, cameras, a bike, or fine art.
Next, enter your email address and date of birth. Lemonade runs the data to learn things like the age of your home or building and its proximity to a coast. My monthly cost for a basic policy is $12.25.
Now you can add extra coverage for your high dollar items. I added my bike; bikes have a payout limit of $1,000. Adding my bike only costs an additional $1.84 a month.
This gives me $40,000 in personal property coverage, $100,000 in personal liability, $12,000 in loss of use for living expenses, and $1,000 in medical payments to others.
You will have the option to add your property manager or landlord (something some require) and spouse to the policy for free. If you have a significant other living with you, you can add him or her for an additional cost, for me it was just $1.67.
Finally, you will choose a deductible amount. My choices ranged from $250-$2,500. The deductible is the amount subtracted from any claim payment you receive. If you choose a $500 deductible and fille a $4,000 claim, your payout will be $3,500.
My total with a basic policy, additional coverage for my bike, and a $250 deductible came out to $14.09 per month! Each customer will have a different payment depending on their particulars. Lemonade renter's insurance starts at $5 per month and homeowners at $25 per month.
You can pay for your policy with a credit card or debit card.
No Hassle Cancel
If you've read this and other Lemonade Insurance reviews and think it sounds excellent and wants to switch from your current company, you don't have to lift a finger! Just provide Lemonade your policy number and the name of your current insurer, and they will notify them of the change.
For homeowners, Lemonade will notify your mortgage holder and handle your escrow payments to transfer you over.
How to File a Claim
Many insurance companies make the claims process and ordeal. Lemonade makes filing a claim easy. You can do it directly through the App. After you've completed the claim report, you'll provide your bank account information so that once the claim is approved, your payment (minus any deductible) can be sent straight to your account.
Simple property claims get paid almost instantly. If the claim requires review, such as property damage or liability claims, it can take longer.
If you have an emergency claim, a situation that requires immediate assistance like temporary housing, you don't have to file through the app. You can contact Lemonade directly via telephone.
There is no harm in hoping for the best as long as you're prepared for the worst.
Tweet This
Lemonade may request video documentation of damage, and while receipts are almost always helpful, they are not necessary. Knowing where and when you purchased the items you're claiming are usually sufficient.
Zero Everything
Zero Everything is something offered by Lemonade that lets users "undo" losses. Claimants can have their claims paid with no deductible taken out and no rate increase for up to two claims per year!  This is in contrast to traditional insurance companies which nearly always raise rates after a claim.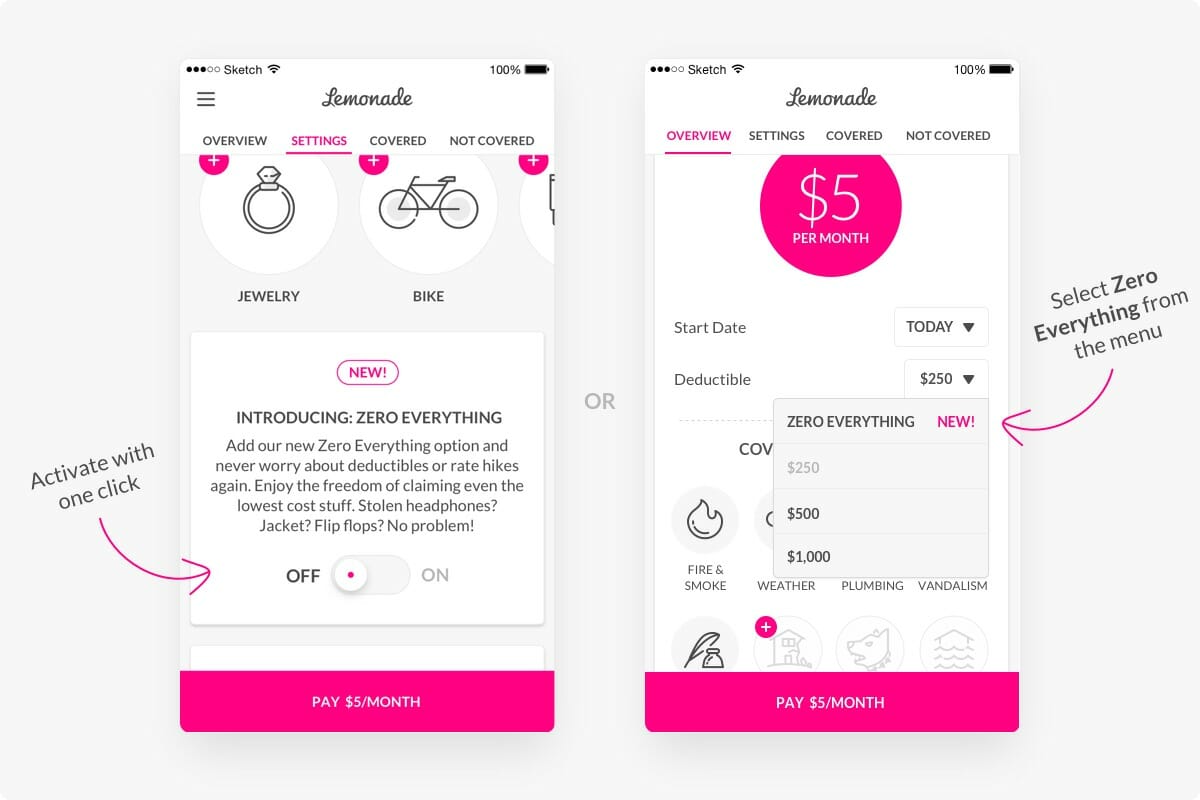 The program is currently available for renters and condo/co-op owners in California, Illinois, Texas, Nevada, Georgia, Pennsylvania, Maryland, Arizona, Connecticut and the District of Columbia, and renters in Iowa, Wisconsin, New Mexico, Ohio, Michigan, and Oregon. It will eventually be available to all service areas.
Giving Away the Leftovers
If Lemonade only takes a 20% flat fee and doesn't fight customers over their claims, what do they do with any money left over? The money (up to 40%) goes to the Giveback program. Customers choose from a selection of charities, and the leftover money goes to them!
So far in 2018, Lemonade has given back $162,135 to charities including Teach For America, ACLU, New Story, Code to Inspire, and NYSPCC.
Thanks, I'll Pass
Most homeowners already have insurance because while not required by law, most lenders do require it. Renters are another story.
A 2016 Insurance Information Institute poll conducted by ORC International found that 95 percent of homeowners had homeowners insurance. Among renters, only 41 percent said they had renters insurance. However, this proportion has been increasing since the first time the question was asked in 2011 when 29 percent of renters said they had renters insurance.
There are primarily two reasons for this. Renters think the landlord's insurance covers their belongings and they think insurance will be expensive. Both of these things are false.
The landlord's insurance covers damage to the structure, the building itself. It does not cover tenant belongings. And you can see here how inexpensive renter's insurance with Lemonade is. You can see for yourself too. It only takes a few minutes to get a quote, and there is no impact on your credit score to do so.
Make Lemonade
We vote with our dollars. It's increasingly the only vote I think makes a damn bit of difference. Peer-to-peer lenders like Lending Club let us give big banks, who have been screwing consumers for years, the middle finger.
Now Lemonade is giving us the chance to do the same to insurance companies. Not only will you be a part of a customer-focused insurance company, but you will also be giving back via the charitable donations Lemonade makes with part of the leftover premiums. Check it out and see what you can Lemonade can do together.
Get our best strategies, tools, and support sent straight to your inbox.