Table of Contents
Why I'm Leaving PNC Bank for Simple.com
Bank fees are the worst! Which is why I've decided to switch my personal banking to Simple.com. So far it's been a blessing and I can't wait for it to grow.
I've been banking with PNC for a while now. They've been great. I made good use of their Virtual Wallet service, they had branches close to my home, and they took care of me when a Philadelphia cab driver tried to rip me off. But, I'm sad to say that I'm done with PNC, and here's why…
Recently I became self-employed. I no longer receive direct deposits from my job and I get checks from the person who rents my condo. In order to continue using PNC's Virtual Wallet program, I need to have at least $2,000 a month in direct deposits or keep at least $1,000 in my account at all times. Since I no longer have direct deposits, and I believe it's stupid to keep your money in an account with no paid interest, they are charging me $10 a month to have the account.
NO F**KING BANK FEES!!! I refuse to pay a bank extra money when they use my money to make MORE money for themselves. Sorry, that's just the way I feel.
Of course, there are other options for me (like doing all my banking online or using one of their automated ATMs). But if I have to do that, why not just switch to a better bank?
Welcome Simple.com
A few months ago I was invited to join Simple, but I was currently happy with PNC, so I saw no urgency to switch. But now that I'm having these issues, I'm switching.
Simple.com is completely online, and they have a beautiful interface — both on the web and with mobile apps. They have NO FEES at all, which was very appealing to me right off the bat.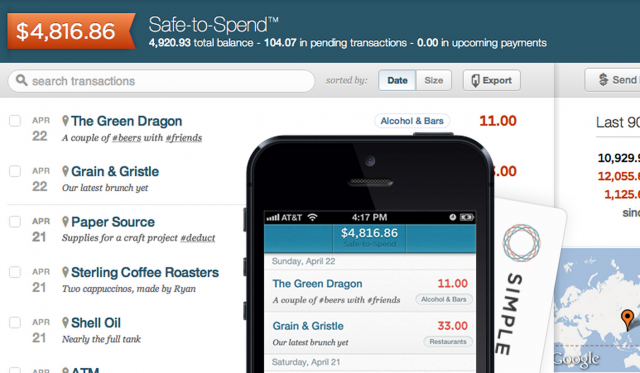 Another perk was the fact that they display what's "Safe to Spend." It always boggled my mind as to why banks can't display this simple figure in their online web apps. It's not like they need to change the way the do banking, just display the number I'm allowed to spend right now without getting a ridiculous overdraft fee.
I'm a simple man, with simple needs, and Simple is…simple. Their debit card is beautiful, their online interface is beautiful, and being a web designer, this was right up my alley.
I've only been dealing with Simple for a few weeks, but so far they've catered to me hand and foot. They have an excellent customer service because they are a startup, and I know they plan to continue that great service.
I will continue to write about Simple the more I use it. I hope to become a brand ambassador. I've had so much trouble with banks over the years that I have high hopes this will be a life-changer for me…but we'll see of course.
NOTE: PNC is a great bank. I have nothing but love, since they treated me well over the years. I currently have a business account with them and plan to remain a customer. I just don't do bank fees, so they have to understand.
The End of Bank Fees!
Are you currently getting hit with bank fees and tired of it? Voice your anger in the comments below. Let's put an end to frivolous bank fees and switch to banks that actually give a s**t about their customers.
Get our best strategies, tools, and support sent straight to your inbox.