I remember a time when my parents told me investing in a career in art would never bring me financial stability. An art career is still pretty unrealistic for many people unless you have the financial backing but you can still gain some financial stability investing art.
According to a recent Deloitte Art & Finance report, report, 88% of wealth managers recommend including art in every investment portfolio and on average art sees a 9% – 15% return.
Typically this has been for individuals who can afford to purchase masterpieces valued at millions of dollars and then turn a nice profit. Now art investments are now accessible to the average person with Masterworks.
Masterworks is a unique investing platform that allows average Joes to invest in Picasso's, Monet's, and Warhol's. Yep, multi-million dollar paintings are something you can actually get in on.

Why Invest in Art?
Until this last year, the stock market was having a solid nine-year run. Many of our Listen Money Matters Community members experienced exponential growth over the previous 12 months, this sadly has come to an end.
It has left many of us in search of ways to diversity and looking for new investments that will help our portfolio grow in 2019.
Diversify with art….really?
According to Bloomberg, the art market is set to make record sales in 2019 with significant art auctions posied to sell Masterworks of art for over $150 million. While the S&P declined 5.1% in 2018, the art market returned 10.6%, according to the Wall Street Journal.
Wait, but what if the market crashes?
During April 2008, Sotheby's and many other art dealers were selling art as usual, and even when the market crashed, it took around eight months for the art market to feel the effects.  And even still, the impact on the art market was minimal.
The most significant risks to the global art market are political and economic uncertainty. Instability in these areas can affect artwork pricing and trading.
But, art has a low correlation to more traditional investments such as stocks, meaning it has the potential to remain stable or increase in value if the market declines.
We no longer live in an age where we have to invest millions into the purchase of a piece of art. Scott Lynn, the founder of Masterworks, started in 2017 with a uniquely democratic approach to art investments. Instead of paying more than $2 million to purchase a painting, you can pull out a twenty to buy a share in it.
Sounds pretty un-risky right?
Before you jump off the deep end and pull your cash away from other financial investments, evaluate how much you can take away from your portfolio going into 2019.
Understanding how Masterworks functions are going to be a key-detail to understanding how to fit it into your 2019 financial plan.
The First Investment Platform For Fine Art
Masterworks only deals in blue-chip art.  Blue Chip Art is an art that's expected to reliably increase in economic value regardless of the general economic conditions.
Blue-chip galleries tend to focus solely on reselling the work of well-established names, artists whose works are well cataloged and authenticated, and reliably bring higher and higher prices at auction.
For us, as average investors, we want to make sure you understand from the get-go that investing in art, in whatever format you choose, is a long-term investment.
Here's a step-by-step process the Masterworks team goes through.
Selection of Art Piece: Masterworks selected paintings based on a review of sales data for similar works with historical appreciation rates between 9-15% and attempts to buy them below fair market value through auction guarantee strategies and established auction house relationships.
They Take it Public: After they purchase a painting, they file it as qualified security offering with the Securities and Exchange Commission.
Shares Become Available for Purchase: Once the offering is qualified by the SEC, investors will be able to buy shares for $20 per share.
Track Your Investment's Progress: We use analytics and big data to bring transparency to the world's largest unregulated market.
Planning Process For Investors to Trade Shares: Masterworks facilitates trading or sales through brokerage relationships, although they do not expect any such trading or brokerage relationships will be available within the next twelve months. No assurance can be given that they will be able to establish a trading market for the shares.
An Art Collector Makes an Offer, You Vote on Whether to Accept: Masterworks intend to own each painting for a five to ten-year period. At any time, a collector can make an offer to buy a painting that you've invested in, triggering a vote to sell with all shareholders. If holders of a majority of shares vote to sell, your percentage of the net proceeds, if any, will be distributed to you (after the costs we disclose in our Offering Circular on file with the SEC).
Who Can Buy-in?
Once Masterworks has purchased a painting, filed with the SEC, you can view the first offering on their website. Here's a live offering you can invest in right now. It's an Andy Warhol painting worth over $1.7 million.
Anyone can invest at $20 a share for a minimum amount as set forth by the piece Masterworks currently has up for the offer. Minimum buy-in is typically between $500 and $1000. As a shareholder, you are given certain rights afforded to you under securities laws of the U.S. and can rely on the disclosures in our public filings.
Masterworks plans to acquire new artwork about every 2 months. This allows interested investors to diversify their portfolio more. So if you're in the art game for the long haul, you'll see a fresh opportunity a few times a year.
This makes Masterworks an attractive investment platform because if you're not interested in the painting they have available for buying shares in, you can check back in every few months to take a look at new paintings they have available.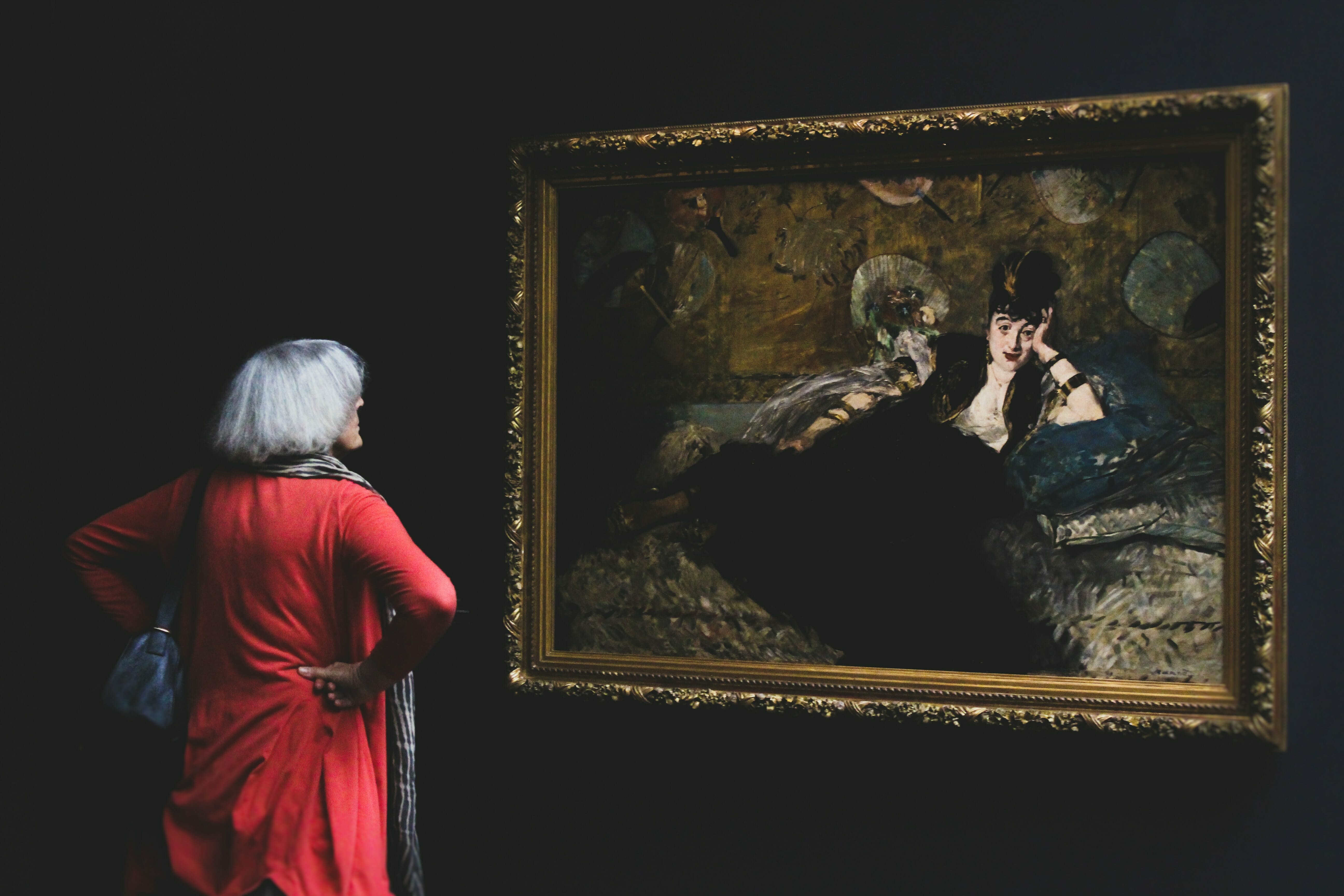 When You'll See A Return
Like many talent markets, the art market is a winner-takes-all kind of deal. By that we mean the top names capture most of the rewards, with the rest selling for far less.
As a result, there is very little liquidity in the art market, other than for the handful of stars whose works appear regularly at auction. By contrast, stock investors can easily sell company shares with relative ease.
Masterworks will only purchase blue-chip art that they are confident will re-sell at higher prices and will give their customers a nice profit.
Here's a projection of ROI based on blue-chip art vs. the S&P 500. Mind you, this model is based off a $10,000 investment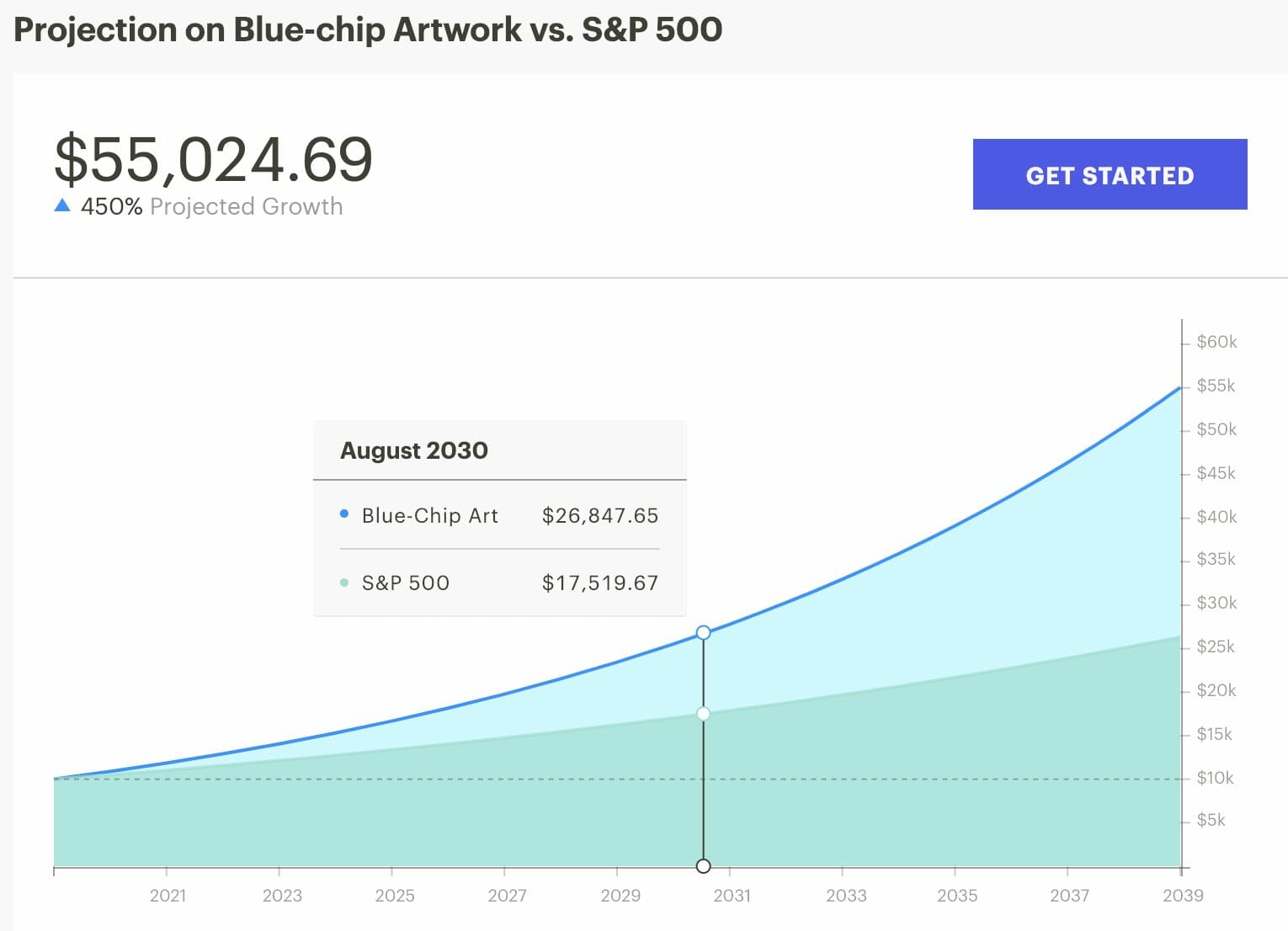 Here are the two significant ways you'll make money with Masterworks:
Upon a sale of the painting.
Potential buy and sell options (similar to how you trade your stocks currently).
To elaborate on this second way a little more; they are seeking to establish brokerage relationships that will enable trading or sale of the shares similar to a publicly traded company, though we cannot assure you when or if such market will be available.
Costs Involved in Investing With Masterworks
Masterworks charges an annual 1% management fee. This fee covers distribution costs, regulatory expenses, store, gallery space, insurance, and other costs that come along with the purchase and sale of art.
Upon the sale of any piece you've invested in, Masterworks takes 20% off the top pre-distribution of shareholders but only if the painting has increased in value.
What Makes Investing In Art Different
When you invest in the stock market, you're making one of the best long-term wealth building decisions you possibly could. There is a lot of emotion involved in managing your stock portfolio though, especially with how volatile the market was in 2018.
The highs and lows of the stock market can cause investors to sell, trade, or buy impulsively without knowing for sure if the move will pay off.
When you purchase stock in an art piece, you're not going to see as much fluctuation in the price of that painting vs. an individual stock. AKA buying shares in a piece of art are much safer and generally has a higher long-term return.
Let's look at an actual example of how investing in a piece of art paid off for Dmitry Rybolovlev.
This art collector thought he had overpaid for a da Vinci piece when Swiss art dealer Yves Bouvier sold the painting, Salvator Mundi,  for $127.5 million for in 2013. Rybolovelv thought this because Bouvier had paid between $75 and $80 million for it.
Years later Salvator Mundi's sale in November at Christie's for $450.3 million meant that Rybolovlev turned a nice profit. That's a 322.8 million dollar pre-tax and the costs required to disclose the sale with the SEC.
Investing in art is a long-term strategy, but one that significantly pays off and can really give strength to your investment portfolio.
Keeping transparency top of mind, we want you to understand that buying art is easy and selling it can be hard. Yes, you'll turn a profit based on your investment, but it could take ten years to receive that return. We can't stress enough that this is a long-term strategy, a solid one at that.
Risks You Should Know About
There are no reliable art market price indexes for measuring risk and returns. Typically within investing we rely on S&P 500, Dow Jones Industrial Average, and the Barclays U.S. Aggregate Bond Index to define the securities that make up an asset class.
It's not possible to create an art index for a few reasons.
First, about half the art market's annual sales ($63.7 billion in 2017) are off-limits to create an index, because they occur in the gallery market where public price disclosure is not required.
Second, the indexes researchers have built using repeat sales of artworks at auction, such as Sotheby's Mei Moses, paint an incomplete picture of the market and the movement of prices over time.
Third, even if those indexes accurately captured the performance of the auction market as a whole, there is nothing in the real world you can buy to replicate that performance because each art piece is entirely different from the next.
Final Thoughts
Investing in art is an amazing opportunity, especially if you're someone who has always wanted to become involved or be more involved in the art world. From a return perspective, art is like any other investment, and there's a certain degree of risk involved.
You can create financial stability with investing in art and making it a part of your overall investment portfolio. Plus, think of the sweet conversations you could have with your friends and family when you talk about your kick-ass investments.
Get our best strategies, tools, and support sent straight to your inbox.