Table of Contents
Chomp Down Your Bills With Billshark
Whatever you're paying for things like cable, internet, and your cell phone, it's probably more than you have to pay. Now it's easier than ever to have those bills lowered with Billshark.
Let's Count the Reasons
If you read our site or any other personal finance site, you already know that you can call up companies that provide specific services and negotiate a better deal. It's always something listed in articles about how to save money.
These companies have entire departments dedicated to customer retention, and you can almost always get them to play ball with you because they know they have competitors. If they refuse to lower your bill, you can cancel your service with them and sign up with a rival company.
So why don't more of us do it? Well, because it does require some work on our part. You have to know if the new deal you're offered a good one which means you'll have to do some research to see what else is out there.
But worst of all you 'll not only have to speak to someone on the phone, but you'll also probably be stuck waiting on hold too. There are all kinds of horror stories about people being stuck on hold for hours with companies like Comcast and TimeWarner.
Whenever I call a company and get put on hold, I never really feel like I'm being held.
Tweet This
Most of us don't have enough hours in the day as it is and we don't want to waste what little free time we have researching cell phone carrier rates and talking to customer service reps.
If only there were a way that someone else could do all of that for you. There is, that's what Billshark is here to do for you.
What is Billshark?
Billshark will negotiate with your current providers to lower your bills. They can work with your cable, wireless phone, satellite TV and radio, internet, and home security providers. Billshark is good at it too. They have an 85% success rate. According to Billshark, the average customer who gives them two bills to negotiate will save as much as $1,500!
How it Works
Billshark is easy to use. Enter your email address and create a password. Take a photo of the first two pages of each bill you want Billshark to negotiate. The images have to include your name, the account number, the list of charged services, and the amount you're being charged.
Send the photos to Billshark through their website, app, or via email. Your bill is then assigned to a shark who is specially trained to negotiate that kind of bill. They know what offers your provider, and other providers have available, and they know what other consumers are paying for the same service.
Once your bill has been successfully negotiated down, Billshark will send you an email showing the total they were able to save you, the amount you'll save per month, the date the lower rate goes into effect, how much you owe Billshark and the due date of your first payment. The service is open to both individual consumers and businesses.
You can check the status of your request at any time on the site.
The Cost
Billshark charges a fee of 40% of the money they save for you in a year. If they save you $100, the fee is $40. If they cannot successfully negotiate savings for you, there is no charge. Billshark will send you an invoice via email, and there is a link to enter your credit card or PayPal information.
You can pay the entire amount immediately or for a one time fee of $9, pay it over the course of two to six months.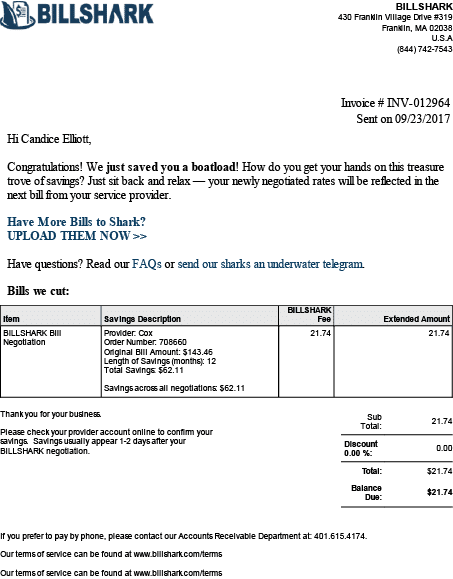 The Scope
Well, I guess Billshark could lower your bundled cable bill by canceling your cable. Don't worry; they don't. The company only negotiates what you allow them to negotiate. They won't cancel any services without your consent.
Billshark doesn't send you what they have negotiated so you can accept or decline it unless it's a case of extending the length of your contract with the provider to reduce your bill. In that case, they will contact you first for approval.
They will also not change your service provider without your okay. They may change your data capacity to lower your costs but only if your account has consistently shown that over a 12 month period, you are not using as much as you are paying for, especially if you're paying for unlimited data:
"Most "unlimited" plans are throttled after a certain point, which means that once you hit around 5GB of data usage you can expect your connection speed to slow down considerably."
Get our best strategies, tools, and support sent straight to your inbox.
Rewards
When you send bills to Billshark, you are eligible for their rewards program! You will receive a code that you can exchange for a $25 dining reward, a $50 travel reward, $50 grocery reward, or a $100 shopping and dining reward.
You Just Did It!
Damn, a few months ago you spent an hour on the phone with insert crappy company here and got a better deal. If only you had known about them hen. Oh well. Carriers offer new deals all the time because they are all competing amongst themselves. See what they can do for you even if you renegotiated your bill recently.
See For Yourself
Billshark has a calculator you can plug your numbers into and see how much they can potentially save you. Use the slider to indicate the amount of your bill, choose the bill type and see your estimated yearly savings.
I did my bundled cable (cable, wireless, landline although I don't even have a landline phone, it was cheaper than not including it) which costs me about $150 a month. Billshark shows that they can save me as much as $332.64 per year.
Moving is a Pain in the Ass
On the looooong list of things, you have to do when you move long distance is canceling things like your internet and phone service. Billshark can take this chore off your plate. For a flat fee of $25, they will cancel those services for you.
For the same price, they can also arrange changes to your accounts like adding or canceling services.
Is it Worth It?
Yeah! Of all the services I have reviewed for Listen Money Matters, Billshark and Trim are my favorites because they saved me money and time, two things all of us could use more of. I used Billshark to negotiate my Cox internet, phone and cable services.
I was paying $30 more per month than what I was for the same services in New York with Time Warner. Cox has crappier internet, so I was pretty mad I was paying so much.
My shark was Kristen, and we communicated via text messages. The one thing she needed that was not on the bill I submitted was my PIN which I couldn't remember. I had to reset that and send her the new PIN so if one of your providers requires a PIN, make sure you have it before you get started.
I sent my information to Billshark on September 16th. Just four days later they had successfully negotiated my bill. Here is the invoice detailing what they saved me and the invoice for payment.
Billshark was able to save me a total of $62.11 per year. My shark Kristen was friendly and helpful. The most arduous thing I had to do was reset my PIN with my cable provider. I was pleased with the service and the savings.
Give Billshark a try. They weren't able to save me hundreds of dollars but $62 a year saved for almost no effort on my part was a pretty great thing.