Table of Contents
Paying Off Student Loans With Sofi
There is $1.2 trillion of outstanding student loan debt in the US; the average balance is $29,000. Interest rates vary widely for student loans, but if you have a loan with an interest rate of 6-8%, that is too damn high! Are you one of the 40 million Americans struggling with student loan debt? Let's talk about how you can start paying off student loan debt, faster.
Drowning in Debt
There is $1.2 trillion of outstanding student loan debt in the US; the average balance is $29,000. Interest rates vary widely for student loans, but if you have a loan with an interest rate of 6-8%, that is too damn high! We want to help you start paying off student loan debt, faster.
You also may have several different loans that you have to keep track of. If you are in either or both of these situations, you should consider refinancing those loans.
Refinancing loans means you save money by lowering your interest rate, and we have learned that the two most expensive things in life and interest and taxes. The less we can pay in both, the more money we have and the more money we have, the faster we can achieve financial freedom.
SoFi
SoFi specializes in refinancing and consolidating student loans. They offer two choices; fixed rate and variable rates. Fixed rate loans have, well, fixed rates. The interest rate doesn't change during the fixed rate period of the loan. This makes it easy to budget in your loan payment because you know the amount you owe each month will remain constant. SoFi offers fixed rates starting at 3.50%.
Variable rate loans have an interest rate that changes with the prevailing interest rate. Variable rates are usually based on changes to a well-known index. SoFi uses the one month LIBOR. This means your rate can change monthly which makes it harder to plan into your budget.
The upside to this type of loan is that the rates can be very low, starting as low as 2.14%. There is a cap on how high that rate can go, though. SoFi caps the rate for student loans at 8.95 or 9.95%, depending on the term.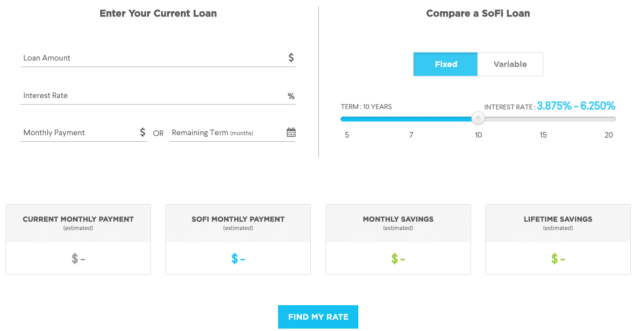 Which option should you choose? That 2.14% is pretty tempting. If you're a high earner who has a lot of extra cash to throw at the loan, the variable rate might be your choice. You can pay down a big chunk of the loan while the interest rate is low so even if it rises, you will still have saved money because you shortened the length of the loan and paid a lot of it off while the rate was low.
If you don't like uncertainty or are going to need several years to pay off your loans, then stick with fixed rate.
Loan consolidation means combining multiple loans into one loan from a single lender. Consolidating just makes life easier. You have one lender and one loan to deal with and keep track of. The more your finances are spread around, the easier it is to let something slip through the cracks which can cost you money and damage your credit.
Get our best money lessons:
Better Rates and Better Service
Typically when you refinance your student loans, you get approved, and the lender doesn't expect to hear from you again unless it's via check (or auto pay). But that's not the case at SoFi. If you lose your job through no fault of your own, you can apply for SoFi's Unemployment Protection Program. SoFi will put your loans into forbearance for up to one year over the life of the loan in increments of three months at a time.
SoFi also provides one-on-one career counseling, interviewing and negotiation strategies, and help with resumes and managing your online presence.
Proceed with Caution
While SoFi offers some great perks, there is a possible downside to refinancing student loans, and not just with SoFi, but with any lender.
If you have a federal student loan, there are several programs that you can take advantage of if you are having trouble making your payments like income-based repayment, pay as you earn, and public service loan forgiveness. If you refinance or consolidate federal loans, you won't have access to these programs.
So should you refinance and give up access to those programs? If you think there is a possibility that you would need those programs, your job is uncertain, low paying or your fixed expenses are high, you probably should stick with your federal loans rather than take a chance in order to save on interest.
If you have a steady job, are well paid, or don't have a high cost of living, then it's less likely you'll have problems making your monthly payments and saving money on that interest makes sense for you.
What Would You Do with $18,000?
So how much money will you save if you refinance your student loans? SoFi saves their customers an average of $18,936 over the life of the loan. If you refinance at age 30 and invest those savings for thirty years, you will have nearly $80,000. Refinancing isn't just the money you save; it's how much you can turn that money into if you're not paying it to interest.
And it's not just the lower interest rate that saves you money. Unlike a lot of lenders who offer to refinance, SoFi doesn't charge a fee for every little detail. There are no application or origination fees. If you want to overpay on your loans, SoFi makes that easy. Some lenders complicate it because the longer you have the loan, the more money they make. If you want to overpay, just let SoFi know where you want the extra money to go, to the principle or to interest, and they will apply it correctly.
SoFi in the House
In part because of student loan debt, homeownership, once part of the American dream and a marker of adulthood, has declined among young people. In the first quarter of 2005, 43.3% of those under age 35 owned a home. By the first quarter of 2015, that number was down to 34.6%.
Many banks require at least 20% down to approve a mortgage and depending on the real estate market where you live; that is a big ask. SoFi offers mortgages with as little as 10%, and you can borrow up to $3 million.
Traditional lenders only look at a few concrete numbers when deciding whether or not to approve a mortgage; credit score, outstanding loans (like student or car loans), the down payment amount, and income. SoFi considers those things but also your employment and education histories, and income potential which makes it easier for younger people just starting their careers to get a mortgage.
Many lenders also require mortgage insurance if you put down less than 20%. Mortgage insurance is typically between 0.5-1% of the entire loan amount annually. SoFi does not have this requirement which means pretty big savings. They also don't charge application or origination fees.
SoFi offers 30 and 15 year fixed rate mortgages and 7/1 adjustable rate mortgages. The process is faster than it is when going through some traditional lenders, There are five steps in the process, and most of it can be handled online. It usually takes fewer than 30 days to close with SoFi which is more than two weeks less than the average closing time.
Refinance Your Mortgage Over Dinner
Just as SoFi offers student loan refinancing; they also offer mortgage refinancing with fixed or adjustable rate loans. A lot of homeowners would like to refinance, but the process can be overwhelming and time-consuming. SoFi makes the process quicker and easier than traditional refinancing.
Dan told us about being at dinner with a friend who wanted to refinance but didn't want to deal with the hassle. Dan urged him to pull out his phone and apply with SoFi right at the dinner table. He did and got a rate in about a minute.
Kill Those Credit Cards!
SoFi also offers personal loans. Many clients use them to pay off high-interest credit card debt, but you can borrow money for anything. SoFi offers both fixed-rate and variable loans with terms of three, five, and seven years. The fixed rate APR's range from 5.95-12.99% and variable rates range from 4.74-11.34%. If you enroll in autopay, you get a 0.25% discount on either type of loan.
SoFi's personal loans also come with their protection services. If you lose your job, they will put your loan into forbearance, and you will have access to their employment services.
The application process is just a few steps long and is as easy as the applications for SoFi's other offerings. You create an account and choose the type of loan you are looking for. You fill out basic information like your address, income, employer, and how long you've been employed there. You'll get a slider where you can play around with the numbers. How much you want to borrow, for how long, and if you want a fixed or variable rate APR. It's pretty neat to see all the information laid out for you before you pull the trigger.
Enter your banking information (so you can get the autopay discount) and your application will be processed. That's it! Quick and easy.
What Are You Waiting For?
Lowering your interest rate whether it's on a student loan, a mortgage, or credit card debt, can save you tens of thousands of dollars. It's understandable that you might have considered the process in the past but given up because refinancing seemed like such a hassle. And it was! But SoFi makes the process fast, easy and straight forward. Create an account today. SoFi has customer service available seven days a week to answer any questions you have.
Show Notes
SoFi Student Loan Refinancing: Lower your student loan payments. Use this link to get an extra $100!
SoFi Mortgages: See what you can save today.
Keegan Ales Hurricane Kitty: An India pale ale.
Tennent's: A Scottish beer aged in whiskey oak.