Table of Contents
The Money Matters Manifesto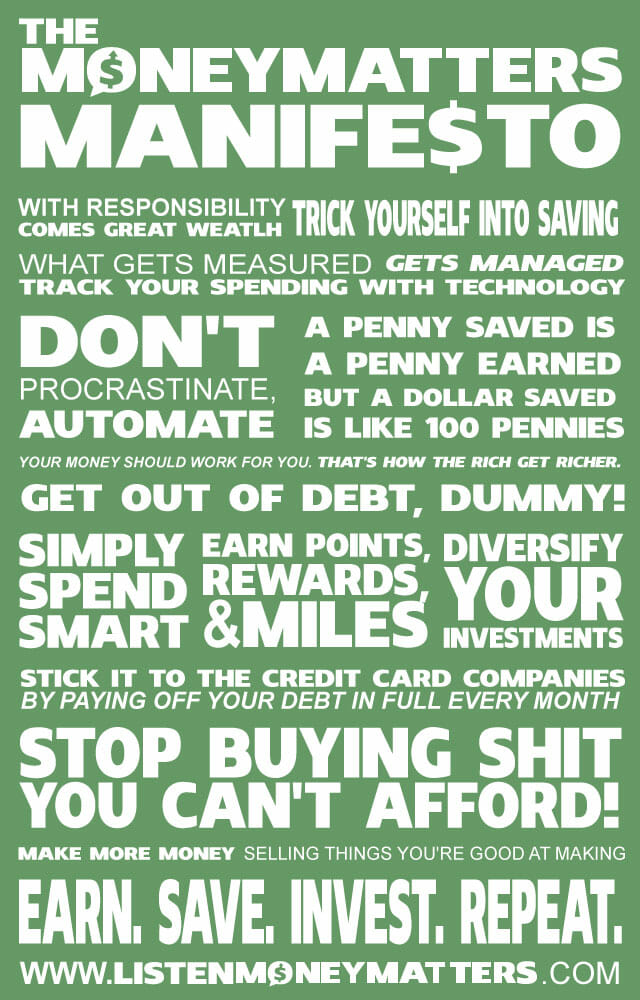 The Money Matters Manifesto is a collection of phrases we live by and believe in here. We don't sugar coat that managing your money will be easy at first, but we promise it gets better the more time you spend with you finances.
If you want to become better at managing your money, I suggest you bookmark this page and review the graphic every time you're starting to feel overwhelmed or stressed out about money. It's not something you should ever stress about. Plus, I can tell you from my own personal experience that gaining control of your finances is the best therapy you'll ever get, and it's free. In fact, it's makes you money.
Feel free to share this Money Matters Manifesto graphic anywhere, please just link back here if you don't mind.
Here are some more words of wisdom to manage your money by:
Live like a pauper with a ton of cash, not like a king going broke.
Sell shit you never use, then put that money in your savings account.
Invest like you're gonna live forever.
Debt is your financial kryptonite.
Retire Before You're 65.
If cash is king, then you need to be God.