We've all made money mistakes. Sometimes we're able to fix them with ease, but other times it can be extremely difficult to shake off bad habits. With a plethora of apps and tools at our fingertips, it's becoming easier than ever for us to get the help we need to create better habits.
That's where Charlie comes in. Charlie is an adorable little AI penguin who is here to help you analyze, track, and keep an eye on every single financial goal you set. We're going to walk you through all the details you need to know to get started on your path to better money habits.
Who is Charlie?
Charlie is a free financial tool you can utilize through Facebook messenger or  SMS text messages. Charlie syncs up to all of your accounts to access your daily transactions, hidden fees, late charges, and where you might be overpaying.
The secure app Charlie doesn't ever gain access to your bank account information or your credit card numbers. It and only examines the transactions in the accounts you choose to link and gives you the information you need to create financial goals.
Overpaying and mismanaging your money can really add up. With Charlie's help, you can avoid paying late fees, find ways to save, score better deals on the things you need, and start boosting your savings over time.
On top of that, Charlie helps you avoid late payments, hidden fees, and all of those pesky overdrafts banks and merchants try to sneak in.
On average this smart penguin helps people save $80 per week and connects to over 14,000 different financial institutions across the country!
Doing all of this on our own can be incredibly time-consuming. This penguin's mission is to rid us of that issue.
Charlie is a financial assistant that's ready to help 24/7. Because of it's AI technology, this penguin is always learning from you and adapting its behavior to meet the goals you set up. Anytime you need the answer to a question all you need to do is send a quick text message or a message through Facebook.
Is Charlie Safe to Use?
Charlie is one of the smartest, well-encrypted systems to date and utilized the same 256-bit SSL encryption that banks use to encrypt all connections to the website.
Charlie takes everyone's security very seriously. Which, these days really does mean a lot.  
All data that is connected through and transferred on the site are properly secured and protected from unauthorized access. Charlie relies on the most advanced cryptographic algorithms available. They will never see your login information and has zero access to your account information.

After connecting all of your accounts, your new robo-penguin BFF will begin creating personalized insights for you.
Everything Charlie analyzes about your financial data is for your eyes only. Just as your personal data remains private, your hard-earned cash remains safely secured in your account. Charlie couldn't gain access to your money even if you wanted it to.
Charlie's Pros & Cons
| | |
| --- | --- |
| Pros | Cons |
| 100% Free | When Charlie identifies an issue, you have to contact your bank |
| Runs the numbers for you | Can't open new accounts |
| Identifies hard-to-find fees you might be paying | |
| 24/7 Access | |
| Easily accessed through Facebook or Text | |
| Secure AF | |
| Finds deals on rates | |
| Creates a budget for you | |
Here's What Charlie Can Do For You
Charlie can help you with a variety of financial tasks so you can take your mind off the day-to-day work and focus on the big-picture stuff –like that trip to New Zealand you've been dying to plan (we get it, Hobbits are cool).
Here's a breakdown of everything Charlie can do:
24/7 account monitoring
24/7 alerts so when anything comes up, Charlie can let you know.
Checks your balances and recent transactions (basically forces you to confront the numbers)
All the number crunching so you can understand how much you spend on coffee, beer, super cool movie prop replicas…
Helps you save for specific goals with genius savings plans
Identifies unnecessary expenses so you can cut them
Finds deals on the services you already use.
You have absolute control over what Charlie can do for you and what Charlie tells you. Through simple messaging, you can configure each alert Charlie sends you.
Just type in "alerts" to choose whatever notification suits your style. Charlie wants to help you enjoy your money, not beat you over the head with whatever mistakes you've made in the past and will never spam you.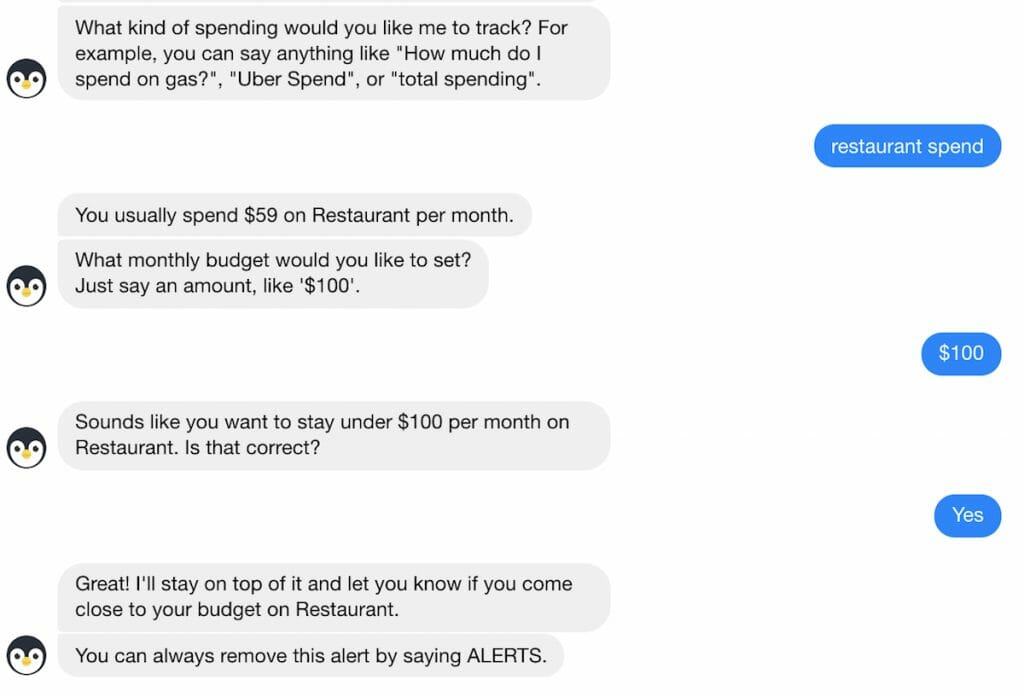 Charlie is a smart AI tool and he learns from everything you tell him. If a suggestion isn't helpful or doesn't suit you, just let Charlie know. Do keep in mind that the more you choose to share with Charlie, the better the suggestions will be. Being honest about your financial situation.
I think what I love most about Charlie is how easy it is to set up goals with him. Let's say you want to set aside enough money for a trip you've always wanted to take. He will begin creating the exact steps you need to take in order to achieve that goal.
Maybe your goal is paying off credit card debt — Charlie can help with that too!
When it comes to paying off debt, saving for epic vacations, and managing more of your finances, you need to have a budget. But setting up budgets can be kind of a pain in the ass sometimes.
Charlie can jump in to make your life easier and set up a budget for you. Since he works hard to keep track of all your spending, he can look at where you might be overspending, give you some advice on how to nip that bad spending habit in the bud, and re-allocate that money towards hitting your goal.
 It's as  simple as messaging, "Help me budget."
It can sound too good to be true, but AI is still less than perfect. If Charlie ever makes a mistake, letting the developers know that there's something wrong is easy. All you have to do is type out what was wrong and add "#feedback" to your outgoing message.
Getting Started With Charlie
Signing up for Charlie is easier than signing up for most other financial accounts. You just have to go to hicharlie.co on your mobile device or desktop and sign up via Facebook Messenger or send Charlie your phone number.
Once you've started texting with Charlie you'll need to connect your accounts. The penguin works with over 14,000 financial institutions and makes connecting any bank account easy peasy.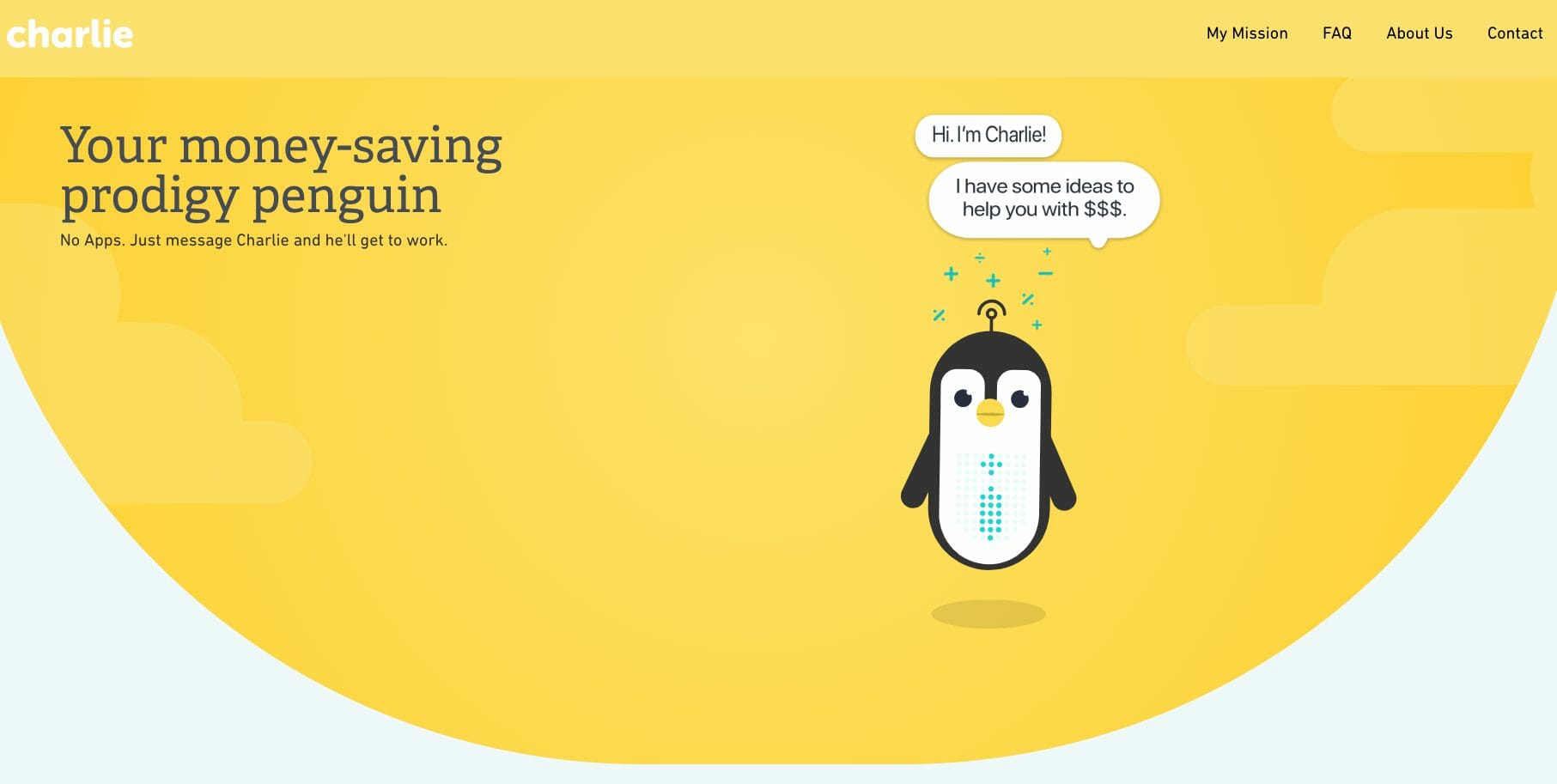 Upon signing up with my accounts, I thought they wouldn't be able to serve USAA or my credit union. When Charlie didn't automatically pull my bank, a simple search remedied the issue and after answering all of my USAA security questions, I was hooked up and ready to go.
Logging into my bank accounts is quick and easy and the professional analysis Charlie was able to run some numbers, and talk to my banks in order to figure out my transaction history and study the trends hidden within my accounts.
After Charlie has performed a professional analysis of your accounts, you can move right into setting goals and budgets and set personalized alerts. You can have your personalized alerts sent as often or as little as you would like.
Anytime you have money questions, someone is there to help you figure it all out.
Here are some examples of things you can ask Charlie to do for you:
What expenses can I cut?
How much did I spend on Uber this month? What about last month? (You can ask about any merchant)
How much did I spend on gas last year? And on groceries? (You can ask about any category)
What are my recent transactions?
What are my last 5 Amazon transactions?
Let me know if I spend more than $400 on Costco.
What are my subscriptions?
What is my balance? (or just write '💰')
What was my income? What about last year?
I want to save $2000 by Christmas. How do I do that?
How soon can I pay off my debt?
What deposits did I get this month? What about this year?
Please send me daily updates.
Charlie is 100% free and you can cancel anytime by typing in the words DELETE and everything will be erased from your Facebook messenger or phone. Once your account is deleted, you never have to worry about Charlie accessing your information again.
Using Charlie
You don't have to work your way through some long-winded list of keywords in order to make Charlie work the way you want it. You can literally have a one on one conversation with Charlie and never have to worry about not getting a response back.
Charlie is only available within the United States at the moment but could be expanding over the next year or so. Charlie is a 100% self-funded company and is honestly here to just help good people like yourself get your financial shit together. Any time Charlie can't answer a question you can email the Charlie team a with [email protected].
At Listen Money Matters we care more about giving you the opportunity to take control of your money for good and begin making healthy financial choices in both the short and long-run. Thousands of satisfied users are already signed up and chatting with Charlie and saving hundreds of dollars.
This no-download required, full-control, the text-based messaging system is great fior those who aren't quite ready for a Mint.com commitment but still want to work on some basic goals that will allow you to create a business and career you love.
Get our best strategies, tools, and support sent straight to your inbox.